The BGN News Archive
May 6, 2019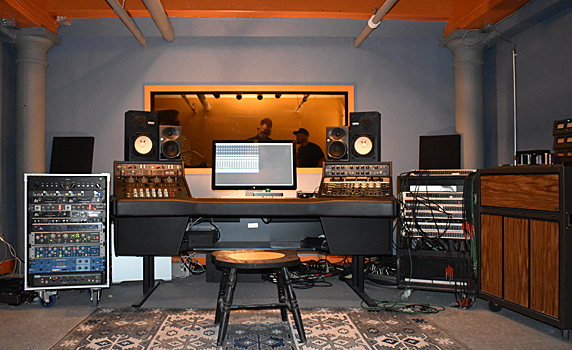 The New Alliance Studio in Union Square
Photo: Blowfish
We had two adventures in Union Square Somerville this last Friday. One was the new home of New Alliance and the other was the new club The Jungle.
So many recording have come out of New Alliance Studios. It was a big loss when it had to stop because of the demise of the EMF building last June. Friday was the inauguration of it's new digs in Union Square in the building beside the Market Basket. You have to go around the back of the building housing the India Market.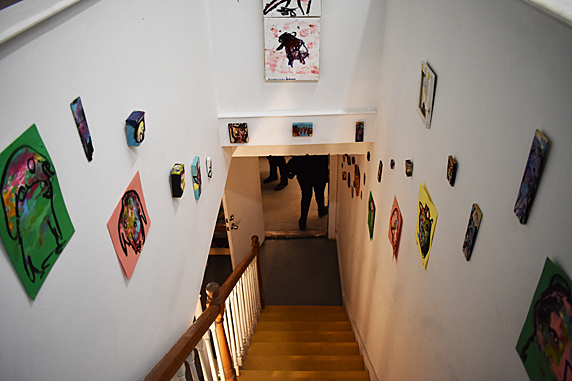 Entrance to New Alliance Studio - art everywhere
Photo: Blowfish
There are two floors. Almost every wall has artwork hanging and good art at that!! The street level floor has a large hall and a few rooms down a side corridor. Downstairs was a beehive of rooms. It has a dozen small rooms for artists studios feeding off long corridors with art hanging on the walls.
In the middle of the floor is the New Alliance studio rooms. They were very inviting. You can imagine the magic that will happen there very easily. The studios have been fitted with double doors for soundproofing. They work because there was a band playing and the sound didn't travel through the space even with the doors open. There was a second smaller studio off in one corner also.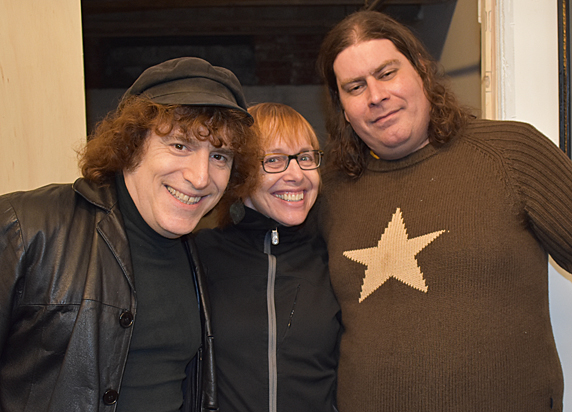 Evan, Joanie and Joe Packard
Photo: Blowfish
The opening attracted a lot of people. Matt Ford from Zip-Tie Handcuffs was there. Zip-Tie recorded there last album at New Alliance. Joanie Lindstrom was there, as required by law, we also saw Tony Kaczynski, Tim and Judith Sprague, Nicole Tamaro, Jess Punk, Janice Clougherty, Evan Shore...and he's loathe to interact with people, but Joe Packard forced himself in this public space to show support. And oh ya, Evert has broken up! Chuck White who we haven't seen in a while popped in. Chuck works in The Space Center which is another center of art activity. The place was packed to say the least.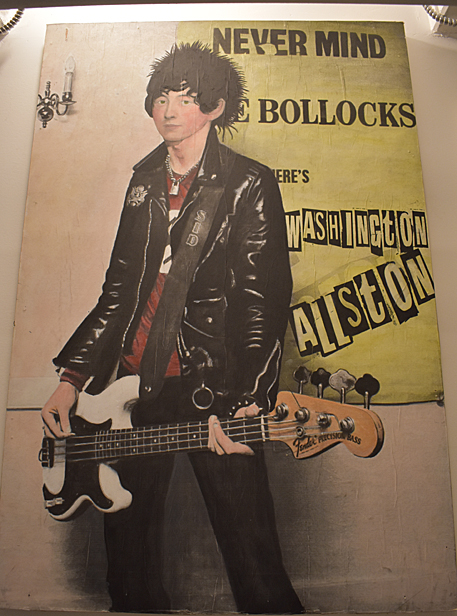 Dave Tree artwork - Washington Allston
Photo: Blowfish
Dave Tree has moved to the New Alliance space. We were super impressed with his art. We were attracted to more than a few images and they all turned out to be his work. He had a piece that combined the Sex Pistols LP cover modified to "Never Mind the Bollocks Here's Washington and Allston" and put the face from an 1805 self portrait by the artist Washington Allston over Sid Vicious face. Dave's work is provocative and has accomplished technique. This guy is good!!
There was a lot of hope and expectation in the crowd. This is the sort of thing you dream of when you think of a space for creativity. This night proved that they have the community support for this new endeavor. We figure there will be some more events there. More importantly it seems like a place where you can always pop in and interact with artists, as a matter of fact, they expect it.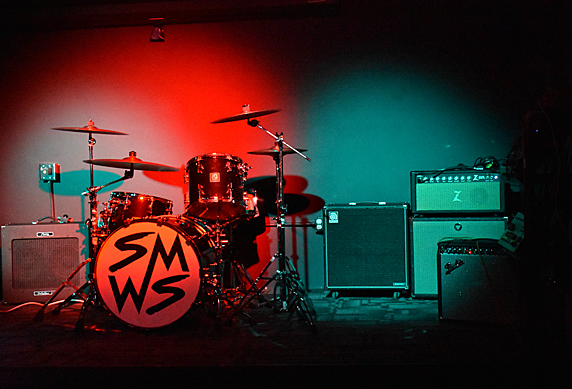 The Jungle stage
Photo: Blowfish
After that it was a walk across Union Square to The Jungle. Friday was the 'soft opening' for the staff to get up to speed. The night was invite only so there was small amount of people. The big opening is this coming Friday with Major Moment, Exit 18, and Tzivia & theband Vu.
They told us didn't want any press but we hit it anyway coz hey are we actually press?? So we won't give too much away about the club itself now, we'll just tell you it's basically square and about the size of Sally O's but more open. You get there by going down the alley beside the Independent.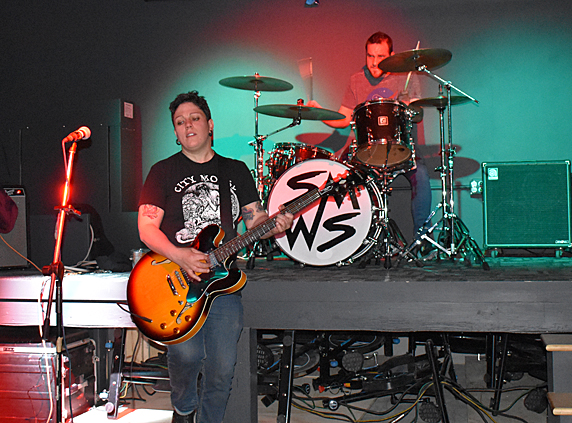 Stubborn Hearts
Photo: Blowfish
The first band to christen the stage was Stubborn Hearts from Provy. We saw the band just over a month ago at Charlie's Kitchen. This set was even more raw and rocking than that set. We recognized a few of the same songs like "Jeremy" that are becoming faves for us. There was another song that stood out because Jenn Lombardi made it matter with heartfelt and gritty vocals. That song was called, "Another Love Song Using Drowning As A Metaphor". The title alone shows creativity dealing with self-awareness that is appealing. The sound was good and you could hear guitar, vocals and drums in the mix.
Listening to all this was DJ and man about town, Skybar. Jenn Lombari has his contact info so we expect some play on The Rising on WMFO.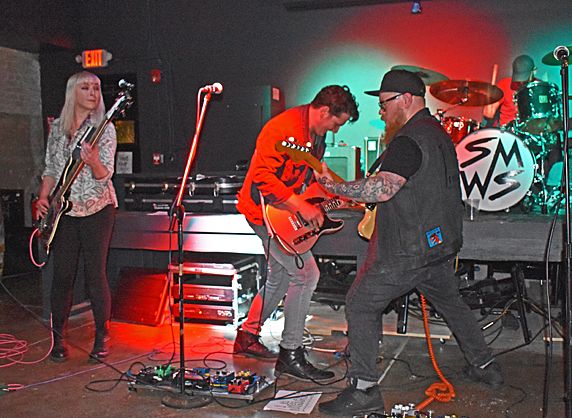 Salem Wolves
Photo: Blowfish
Following was the Salem Wolves. We saw them open up for Roky Erickson at the Brighton Music Hall in 2017. They looked like a pro rock group that night with the professional light show for that gig. They now have Cat Verlicco on bass. Lead singer Gray Bouchard has a very expressive delivery, he looked very theatrical in the spotlight at the Jungle. What we loved most was the garage riffs from the guitar player, they were a fuzzed up delight. Cat V. nailed the intro to "Blood and Roses" by the Smithereens (video below), their only cover.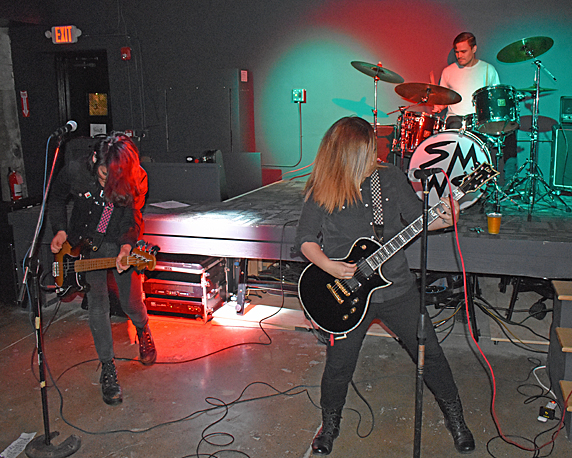 Carissa Johnson & the Cure Alls
Photo: Blowfish
Carissa Johnson is booking Thursday nights at The Jungle, she also did the final set with Carissa Johnson & the Cure-Alls. The band still had that fire that won them the Rumble in 2017. They have a punky attack in their well written songs. Carissa has it all together. We've said it before; if this was the heyday of indie rock she would have been scooped up in a nanosecond. Carissa has toured continuously since 2017 and now is even doing some photography (which is very good) for other local groups. She, like Jenn Lombari, is working all the time to make the rock work in this current fractured environment.
The Jungle is going to be another big boost to the Boston rock scene!! We are happy it's here!! Let's think about this, now Union Square has the New Alliance Studios, Thunder Road, The Union Tavern, The Greek American Club, Sally O'Brien's and The Jungle and the Tavern at the End of the World is not far from that either.
All the clubs had shows we wanted to go to on on Saturday, in the end we picked a show that had an earlier end time. The Loser's Circle, Dial Drive and The Runouts show at the Hong Kong Restaurant in Harvard Square started at 8pm and end at 11pm. Outside the Hong Kong we could hear Loser's Circle playing even with the club two floors up and no open windows. We managed to catch most of the set anyway.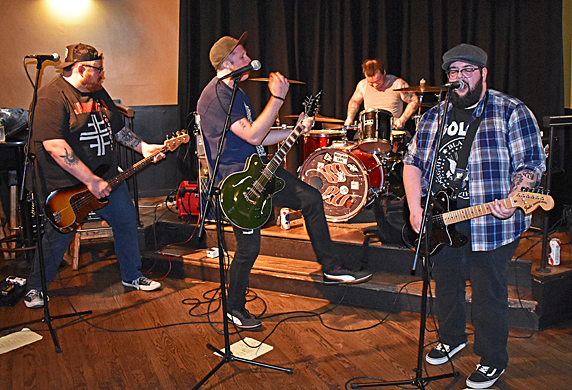 Loser's Circle
Photo: Blowfish
Even though they say they never practice much Loser's Circle sounded tight. The drummer was sweating up a storm. You could see he was working hard and his drums were the prominent sound. It seems like the two flights of stairs have the groups bringing their smaller amps and sharing equipment. That brought the sound down to a more human level. We could get used to that.
Loser's Circle played a few new songs that were in the same mold as their fantastic album, Took Long Enough. Talking to them later it seems that they have recorded some new material and are thinking of an EP now. After the new songs they played some faves from the album like, "Ghosts of Yesterday" and "Who's Bitter, I'm Not Bitter". That material seems like hits to us now.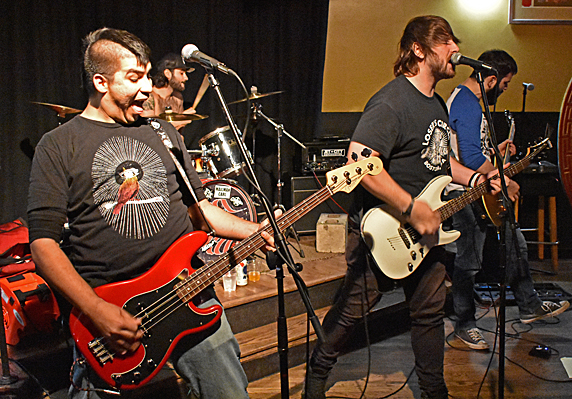 Dial Drive
Photo: Blowfish
Out of towners Dial Drive were next, they're from Orlando, FL and they were on tour with Loser's Circle last year. They're in the same Pop Punk territory as Loser's Circle. As the set went on we were struck with how they brought so much to that format. It's like any music genre really; if you have creativity you can shape any material. They had constant twists and change ups that gave every song a stamp of its own. We are dying to give a good listen to their CD's so we can get familiar with the songs.
They were bounding around the stage during the set. At times they were just jumping in the air as if to expend excess energy. Once they were jumping alternately like horses on a merry-go-round. It all made for a fun set. You can see some of that action in the video above.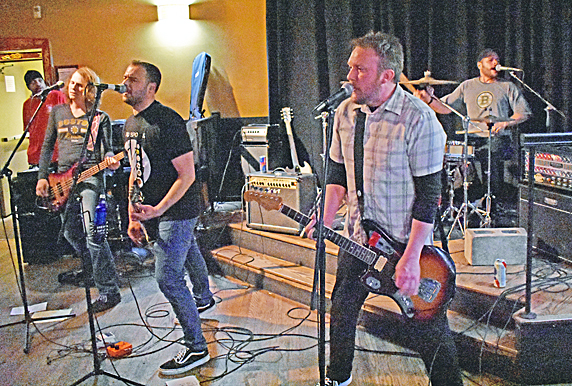 The Runouts
Photo: Blowfish
We saw The Runouts a month ago at the Midway. Over the course of a few years they've developed a bank of good songs and have become super tight, it was noticeable the minute they started playing. The group attack and sharp playing was a step above. Again the drumming stood out in this setting. Every band had the same drums but this guy had a snare sound that stood out. He had some fast rolls and a multiple drum style that kicked up the excitement level. Andrew on guitar was slotting in some crunching solos along with the simple single line, ear worm hooks. Sometimes they have all four voices going at the same time. They take advantage of that capacity with good background arrangements. It was a winning set and they do it every time.
All that and it was done by 11pm. That works for us.
Click Here for more band photos.
On Saturday WMFO, home of a lot of our favorite shows, had an all-day live music festival. John Keegan was there…all day. He has loads of photos in a slide show presentation and a write up summing up the acts. We suggest you go to John's page for the write up and the video in a large size by clicking John's Review Page. If not here's the slide show in a slightly smaller version below.
---
And in other news.....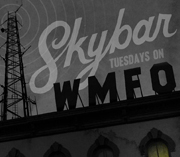 Skybar was at the soft opening of The Jungle this week. On his Rising show on WMFO (Tuesday 8pm 91.5FM) he's got Carissa Johnson who will talk about The Jungle (she's booking a night there) and all her activities. She'll also play a few songs.
Any of you out there remember The Mess Me Ups?? Jessy Drastic was the bass player. They were one of our favorite bands. Well Jessy says they are playing two shows. One is June 9th at The Lily Pad in Inman Sq Cambridge. The other is June 14 at Club Bohemia. Here's some Mess Me Ups music to get you warmed up to be Messed Up.
Joe Packard says that Evert has broken up. We hated to hear that. They had very good songwriting and the otherworldly bass playing by Packard. Joe says he may be doing some duo gigs with Jim Alger the Evert guitar player/song writer.
New Venue!!! The Square Root is in Roslindale Village. It has just gotten an entertainment license. Their first rock show is May 18th with The Hi-End, The Worried and the Thigh Scrapers. The Street address is 2 Corinth St
The Dogmatics are doing a documentary…no, that's a Dogumentary. They're looking for your Dogmatics tale! Have something to add? Go to their Facebook page for contact info.
Rich Gilbert, of Human Sexual Response fame, will play on your record! That's what he's saying on his website. He does it remotely in Pro Tools. You send him the file. It's $50.00 a song. Check out his site to read more about it.
Sylvain Sylvain of the NY Dolls has a fundraiser up to help with medical expenses. He's dealing with cancer and after surgery a year long recovery. Help him out here!!
We have another vacation log in by Joanie Lindstrom. She headed out west to Palm Springs and LA. She hit every donut and record shop in the area. She also hooked up with some ex-Boston people and got to see Walter Lure's show out there. Take a trip via Joanie's pics here!!
---
Here's some good shows coming up this week.....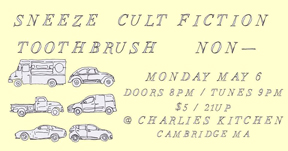 May 6 (Monday) Sneeze, Cult Fiction, Toothbrush, Non- at Charlie's Kitchen
May 7 (Tuesday) Listen to Skybar's show The Rising on WMFO at 8PM he's got Carissa Johnson as a gust tonight.
May 7 (Tuesday) Dougie Flesh, Coffin Salesman, Ciderdown, Hannah Jay at The Tavern at the End of the World.
May 9 (Thursday) The Guillopointagers (Matt LeBel and Will Barry), Baluchitherium, Black Leather Lagoon, The Nuclears (NYC), The Natty D's at Club Bohemia
May 10 (Friday) The Grand Opening of Somerville's latest music club, The Jungle! with 10:50pm: Major Moment, 9:55pm: Exit 18, 9pm: Tzivia & theband Vú
May 10 (Friday) The Devil's Twins, Nemes, North By North, The Gala at O'Brien's Pub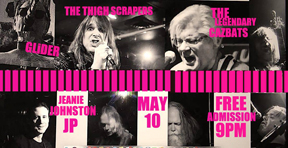 May 10 (Friday) Thigh Scrapers, GLiDER, Legendary Cazbats at Jeanie Johnston Pub in JP
May 10 (Friday) Oh The Humaity, SkyTigers, Tied to a Bear, Shrug Dealer, Weaklings at Uncharted in Lowell
May 11 (Saturday) It's Porchfest in Somerville...find out who's playing where but here's the website.
May 11 (Saturday) Art Thieves, Donaher, The Last Noelle at The Jungle- 5 Sanborn Ct Union Sq Somerville.
May 11 (Saturday) The Knock Ups, Ila Minori, Erel, Chad Gosselin of The Big Lonesome at The Midway night show
May 11 (Saturday) Lo Wreck's birthday with The Downhauls, The Dents, Duck & Cover and Skytigers at Sally O'Brien's
May 11 (Saturday) Back Central, Kind, Distressor, DNZL at Thirsty First in Lowell
May 11 (Saturday) FUs, GLiDER, Classic Ruins, Screw Cart at KOTO Salem
May 11 (Saturday) Cactus Attack, Diablogato, Jittery Jack & Amy Griffin at the Dover Brickhouse Dover NH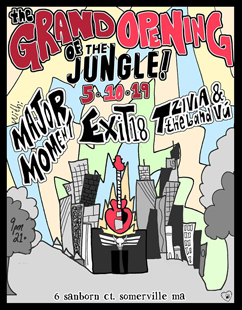 May 13 (Monday) Happy Accidents (UK), Greed Island, Birdwatching, Traders at Charlie's Kitchen
May 15 (Wednesday) Jon Snodgrass, Lenny Lashley, Micah Schnabel at O'Brien's Pub
May 15 (Wednesday) The Blasters with Diablogato and Dead Trains at ONCE Ballroom
May 16 (Thursday) Powerslut, The Melatonins, The Daily Pravda, Heist at The Lizard Lounge
May 17 (Friday) Lily Black, Highway Chapel, Thee Fightin' Fish, The Negans at Club Bohemia.
May 17 (Friday) Andy California, The Swettess, Heavy Connection at Jeannie Johnston's Pub in JP
May 17 (Friday) the Fourth Lemmy Fest is at Once. Motörhead songs to be performed by Iron Fisted, T.A.N.K songs performed by Blood, Guts, and Beer, DIO songs performed by SavvDIO. Proceeds from LemmyFest benefit the "Stand Up And Shout" Ronnie James Dio Cancer Fund.
May 17 (Friday) Parlour Bells, Gene Dante and The Future Starlets, and Smitt E. Smitty & The Feztones @ OPUS Underground in Salem,
May 18 (Saturday) Marko And The Bruisers, Color Killer, Shore City, Punk Band - 3-7 matinee at The Midway
May 18 (Saturday) Lily Black at Asgard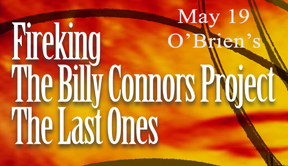 May 19 (Sunday) The Last Ones, Billy Copnnors Project and Fireking at O'Briens.
May 20 (Monday) Coffin Salesman, Molly Rhythm, Talk Me Off, Double Star at Charlie's Kitchen
May 22 (Wednesday) GLiDER live! On the Town w/MikeyDee~91.5 FM/wmfo.org live stream
May 23 (Thursday) Swivel and Modern Day Idols at The Jungle
May 24 (Friday) Radium Girls 7"party with Happy Little Clouds and Abbie Barrett & Band at The Lizard Lounge
May 25 (Saturday) The Cranktones at Atwwod's 4-6PM
May 25 (Saturday) Lara Hope, Jittery Jack & Amy Griffin, The Demon Seeds at Opus! Salem
May 27 (Wednesday) Natterers, Yooth Decay, SAP at O'Brien's Pub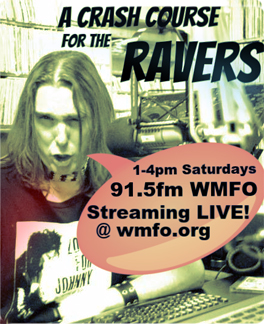 June 1 (Saturday) Vicky and the Vengents, Muck and the Mires, The Electric Mess at The Midway
June 2 (Sunday) Slimedog's 22nd Annual Punk Pizza Poetry Party featuring Kermit's Finger, Cry Havoc, Jerry's Got Jokes, The Grommets, Jake Tringali (between sets) at The Midway 3-7PM
June 2 (Sunday) the second Out of the Blue Benefit with a TON of bands….starting at 2PM -this is in order of appearance: Club Linehan A Go Go, Mimsey Mack & the Skinned Knees, Bob Cenci, Richard Mirsky Band, Randy Black & the Heathcroppers, Thee Fighting Fish, Climate Change Band, The Stigmatics, The Laces , The Thigh Scrapers, Gary Shane & the Detour, Sara Billingsley & Friends, GLiDER, Baabes, Butterscott. FB page for more info
June 5 (Wednesday) Mad Painter Live at WMFO 91.5 10PM
June 7 (Friday) 61 Ghosts, Cal Cali Band at Tavern at the End of the World.
June 7 (Friday) Jittery Jack & Amy Griffin at The Book & Bar, Portsmouth
June 12 (Wednesday) Glider will be on the Heavy Leather Topless Dance Party. Check out the FB page for access. 8:30-9:30PM
June 12 (Wednesday) bloom., Smilin' Issac, Threat Level Burgundy, The New Limits at The Hong Kong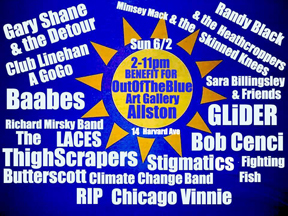 June 14 & 15 (Fri. & Saturday) The Fuzztival at Once Ballroom.
June 15 (Saturday) Thee Fightin' Fish, The Billy Connors Project, A Bunch Of Jerks, Club Linehan A Go Go - 3-7 matinee at The Midway
June 15 (Saturday) The Daylilies, Justine and The Unclean, The Chelsea Curve at Sally O'Brien's
June 15 (Saturday) The Gala, Zip-Tie Handcuffs, Ben & Jolly Janes, Green Pieceat at UnchARTed Lowell
June 21 (Friday) Kid Gulliver, Stars Like Ours, The Rationales at Sally O'Brien's
June 22 (Saturday) It's Quincy Porchfest!!! At 62 Prospect Ave Quincy you can find - Order of appearance starting at 1pm and every hour on the hour- The Fringe, Thee Fightin' Fish, The Stigmatics, Baabes, Glider, The Thigh Scrapers, Charlie Don't Surf a tribute to The Clash FB page for directions etc.
June 22 (Saturday) The Gala, The Dazies, Haunted Horses NYC, Lockette at The Midway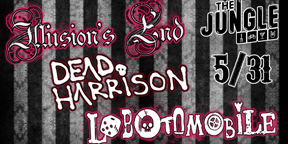 June 22 (Saturday) writer Joe Milliken is having a book event to promote his Ben Orr bio Benjamin Orr and The Cars at 9 Wallis 8-10:30PM FB page
June 22 (Saturday) Stars Like Ours, Little Billy Lost, Thinner, and The Stigmatics at Ralph's Rock Diner Worcester.
June 23 (Sunday) Teenage Bottlerocket with Ramona, The Young Rochelles at Once
June 27 (Thursday) Let's Go! Author Event & Cars Tribute Concert at 9 Wallis in Beverly FB page
June 27 (Thursday) Powerslut, Thrust Club, Radium Girls @ The Jungle
June 29 (Saturday) The Old Edison, Coffin Salesman, Time & Place, Loser's Circle at The Midway
July 5 (Friday) Cal Cali Band, GLiDER, Mad Painter at KOTO Salem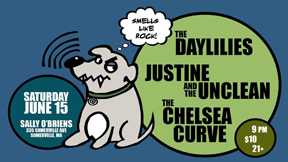 July 9 (Tuesday) Some Kind Of Nightmare, Losers Circle, Nick Barbarian, And Live Nude Girls at Thirsty First Tavern Lowell.
July 11 (Thursday) The Thigh Scrapers, Baabes, State of the Union and The Laces at The Jungle 5 Sanborn Court Union Square Somerville.
July 11 (Thursday) 61 Ghosts, Thee Fightin' Fish, Pop Gun at Opus in Salem
July 18 (Thursday) Stars Like Ours, Blindspot, Justine & the Unclean at The Jungle Union Sq Somerville
July 20 (Saturday) Thee Fightin Fish, Warthog (Ramones tribute), Charlie Don't Surf (Clash tribute), and Meat Depressed at The Midway for a 3-7PM show
July 20 (Saturday) Dogmatics, Jittery Jack & Amy Griffin, Stop Calling Me Frank at the Back Room at The Burren Davis Sq Somerville 6-9PM folks!!!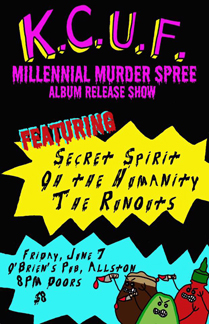 July 27 (Saturday) Corner Soul, The Knock Ups, Motel Black at The Jungle Union Sq Somerville
July 27 (Saturday) The New England Ska Summit; Bim Skala Bim, Copacetics, Hempsteadys, El Grande at Once Ballroom
August 8 (Thursday) Otto Records present 145 & The Thigh Scrapers at The Plough & Stars
August 14 (Wednesday) Deke Dickerson, Bloodshot Bill, Jittery Jack, DJ Easy Ed at Once FB Page
August 15 (Thursday) 1.4.5., Crunchtime and Glider at The Jungle Union Sq Somerville.
August 15 (Thursday) The Queers, Stubborn Hearts, Meat Depressed, The Parkwoods at Alchemy in Provi RI
August 31 (Saturday) Time & Place, PowerSlut, The Daylilies at The Jungle
CONTACT US AT....misslynbgn@yahoo.com Send us your gig listings, your news and anything else ya got!! You want your CD reviewed?? Contact us for that too.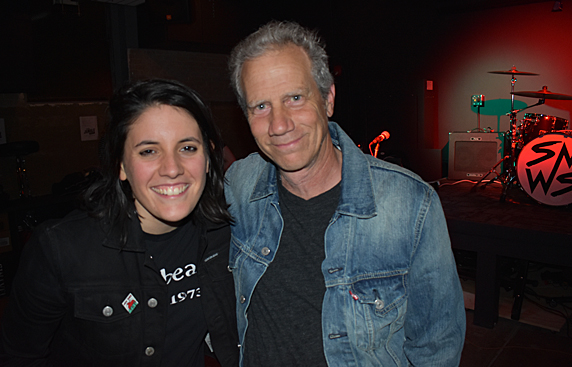 Carissa and Skybar
Photo: Blowfish
Dial Drive
Photo: Blowfish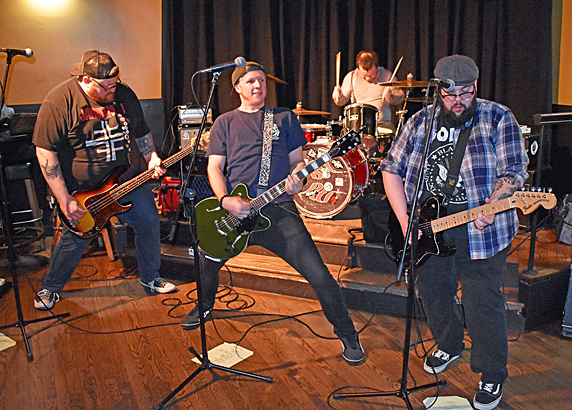 Loser's Circle
Photo: Blowfish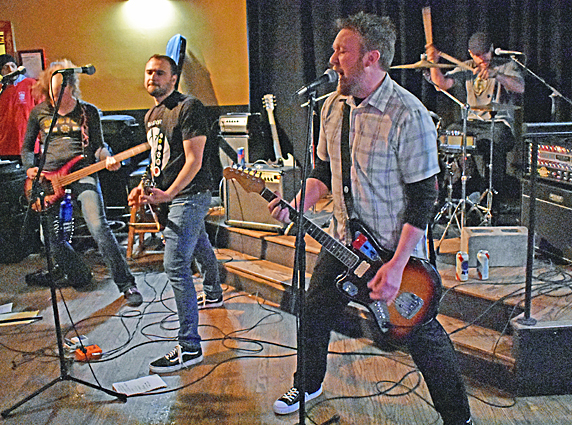 The Runouts
Photo: Blowfish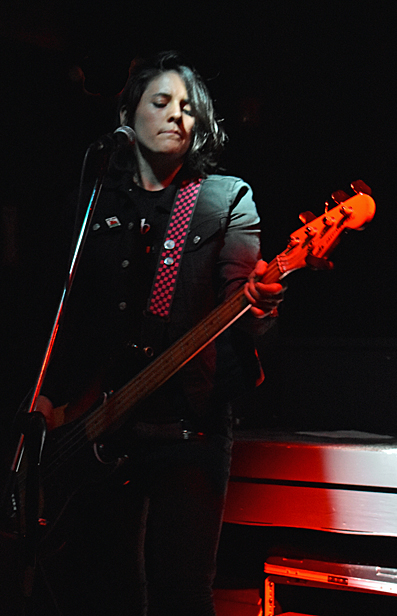 Carissa Johnson
Photo: Blowfish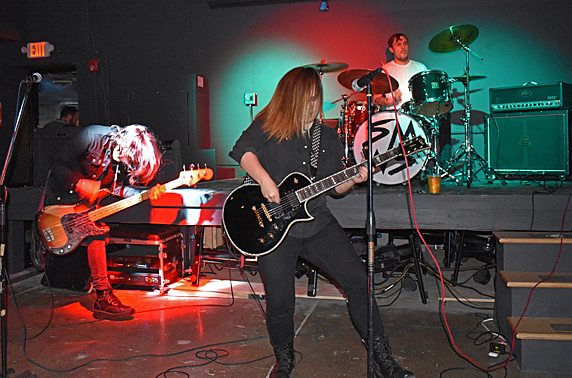 Carissa Johnson & the Cure Alls
Photo: Blowfish
Stubborn Hearts
Photo: Blowfish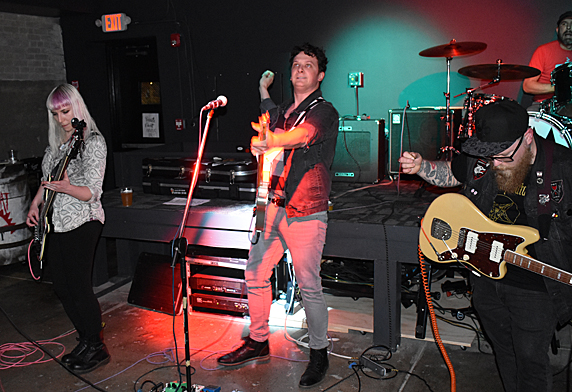 Salem Wolves
Photo: Blowfish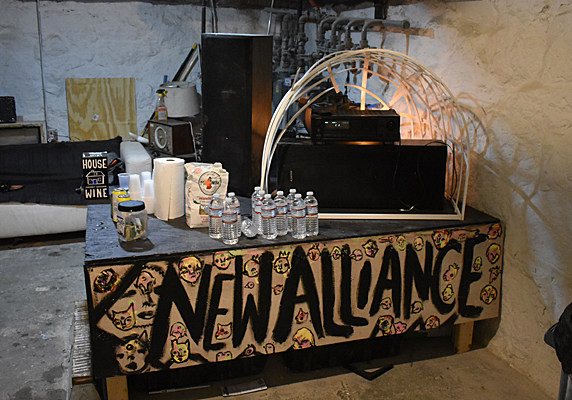 New Alliance
Photo: Blowfish
New Alliance
Photo: Blowfish