The BGN News Archive
May 8, 2017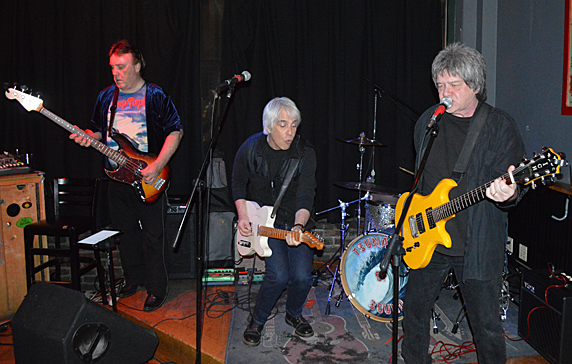 Billy Connors Project
Photo: Blowfish
The first musical hit of the week was at O'Brien's as expected. The first two bands were in the Pop Punk category.
The early band was Hospital Beds. What to make of that name? Their Bandcamp page revealed a rockin' outfit so we tried it out.
The drummer was dressed up Polynesian style with a grass skirt. We were leery at what was to ensue with that.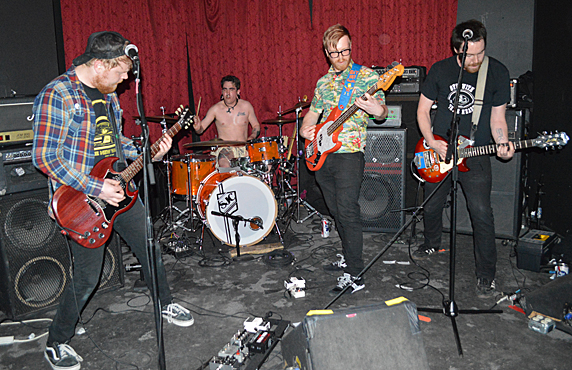 Hospital Beds
Photo: Blowfish
They start and they are rockin' hard. The sound was messy but strong. Hey, they're pretty good!! The drummer is working like a madman, he's really pounding. The costume is forgiven. They have a real in-your-face attack, they are throwing it all out. You could catch a few nice moves in the songs as they blasted them in turn.
All the merch is going for an expensive operation to a band member's dog, just a reminder that there are a lot of caring people out there amidst all the bickering in the news. That made us like them more.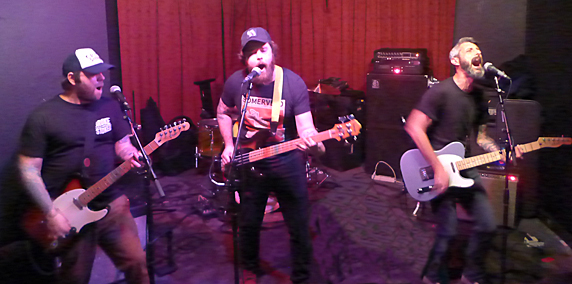 Tied to a Bear
Photo: Blowfish
Tied to a Bear, a Boston band, was a lot like WWD but they were much tighter. They had their stops and turns down precisely, very noticeable after the different style of WWD. They created a wall of instrumental and vocal sound. They had three voices going almost the whole time and that had a big impact. The have lots of notable songs. I'm amazed that a group this good hasn't gotten more attention...and attention by us too! The O'Brien audience was in on it though, they were up front and fist pumping. Check their songs on Bandcamp. We like Bedtime Stories a lot.
Two bands rocking hard and there were two more to go. This is Boston these days – full of bands worth hearing.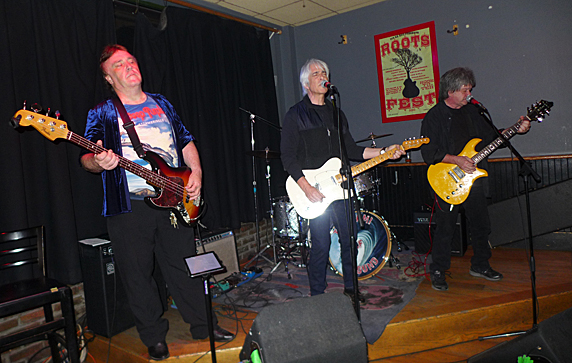 Billy Connors Project
Photo: Blowfish
Billy Connors' new material, that we featured last week, was exciting for us...so we headed to Sally O'Brien's to catch his new line up. There was RayBoy Fernandes in the drum seat. The recording by Dave Minehan gave him a crisp drum sound and RayBoy knew it. He said despite his long producer experience he sat aside and let Dave do his thing...the restraint payed off. Mike Quirk on bass had his enhanced set list (includes chord info) set up on his tablet. He's now in practice with Blue Oyster Coughlin a line up that boasts John Hess and.....Matt Burns. Matt is back in action people! They are playing the last JoeFest coming up at the Midway this Saturday.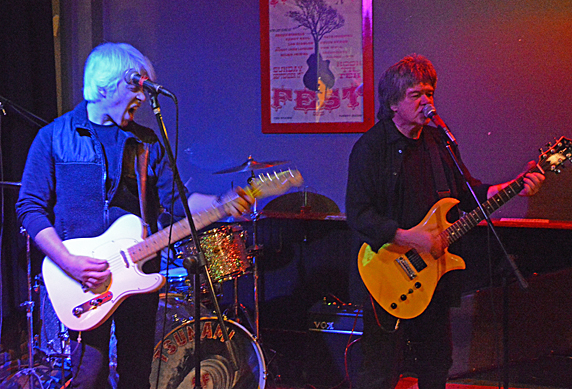 Adam Sherman and Billy Connors
Photo: Blowfish
Also back in action is Adam Sherman who used to be in Private Lightning and the Souls. Adam is a triple threat, he sings, plays guitar and writes songs too. He seems to be a perfect fit with Billy Connors. Together they're writing up a slew of new material. The four songs on this soon to be released EP is just the beginning.
In the set they played all the EP plus some older favorites. Stranded sticks out on the EP and also live (video of song below). The chord progression grabs like Sweet Jane and the vocals by Adam are spot on.
Some of Billy's punk roots show in two songs, I Don't Like You and I Know My Place. Another song that was heard for the first time was Knockdown Day. It's a dark moody musing on the holiday season (Christmas is mentioned in the opening line). We love that idea. It'll be an antidote to the sugary sap we usually put up with around that time. Adam's voice, which is expressive without yelling, drove the lyrics home. That might have been the best song of the set.
They all had small amps that made the levels suitable for Sally O's. We've seen them other times where they let the volume go up. Soon we hope to bring you Billy Connors story. He was part of the original punkers back in 1976. As part of The Boize he was on Live At The Rat...but what happened after that? We'll find out!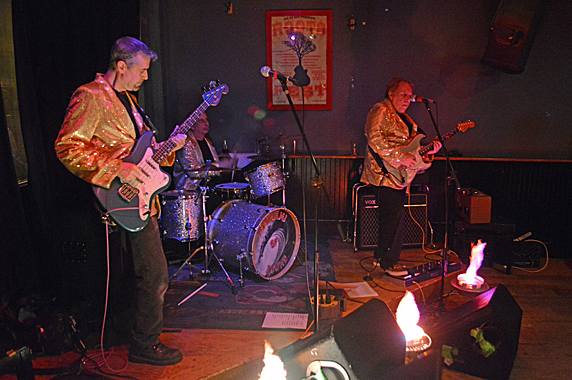 Tsunami of Sound
Photo: Blowfish
You know what you're getting with Tsunami of Sound: surf with fire pots. We've seen them many times before and they get sharper with constant playing and the audience now seems to be more accepting of surf generally. We're now reading Surf Beat: Rock 'n' Roll's Forgotten Revolution so we were in the mood for this set.
In the book they peg Mr. Moto by the Belairs as one of the earliest surf songs (video of song above). The Tsunami's played that at the beginning of the set.
David Esposito's guitar has the best drippiest reverb sound ever. Rick on drums knows all the moves and does them his own flair. All decked out in gold lame and lit with the fake fire pots; it's instant beach party. It isn't just the music with these guys, they've worked hard gigging everywhere and have become the representative surf outfit on the scene. The Sally O'Brien's crowd loved it all. And there were two members of Los Straitjackets in the audience to make it an even more special moment.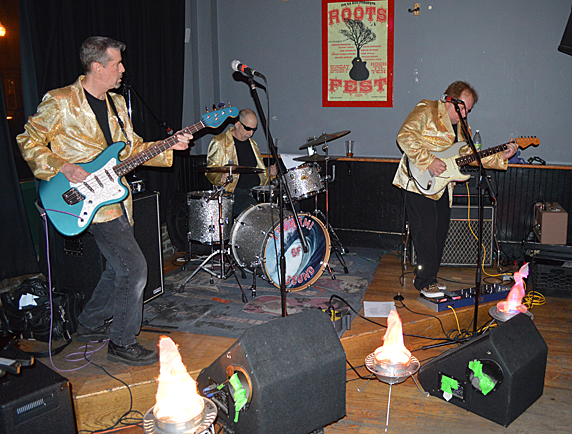 Tsunami of Sound
Photo: Blowfish
As an aside for surf aficionados the Harvard Film Archive will have a cool series of surf films from July 13 to August 4 called The Innermost Limits of Pure Fun: Psychedeliv Surf Films. They'll kick-off the program with an outdoor screening and party on the balcony complete with a live instrumental surf band.

Left to go was Bikini Whale a B52's cover group but we left knowing the gigs where not stopping for days to come. The town is musically very busy. There were many other shows to hit on this Friday and that would be true of Saturday too.
Saturday afternoon we went to the Jam for Jay at the Midway which was a benefit for Jay Henderson to pay for medical bills...but it was sold out. That was good for Jay and bad for us. But all was not lost. Kenny Highland got there before it sold out and he'll have a report in his weekly wanderings at Kenny at Large next week. You can give to Jay on his GoFundMe Page And as an update they raised over $1700 yesterday- that's awesome!!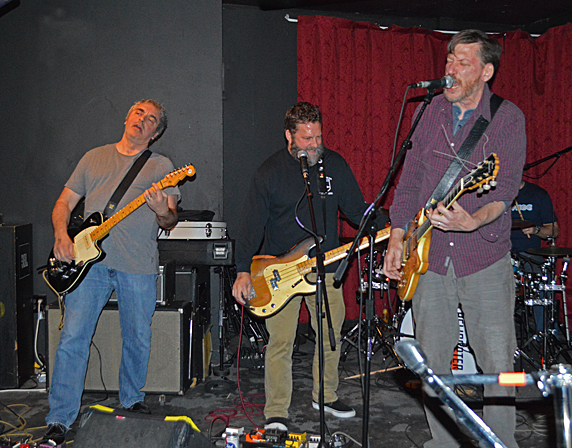 Black Helicopter
Photo: Blowfish
Later that night was a chance to see Black Helicopter at O'Brien's. It was their CD release party which is this material on Bandcamp. The club was full and people gave them rapt attention and there's a lot to catch. Overall they give you a familiar punk roar but they have lots of tricks. They attack songs differently. Some are usual power chord presentations where they hammer on a riff. Other times it's a rattle of six string chords. They go for minor chords here and there. Both guitarists trade leads and accompanying counter melody lines.
All that may not get your notice but overall you can catch the smarts behind the music. The lyrics even when you can't hear a lot of them are sung like they mean something. It got us running to the lyrics which they supply on the Bandcamp page. They seem like stories that are obscured just enough to make you wonder what's going on. We liked them when we saw them at Great Scott's last November and this time we got an even deeper appreciation of what they are doing.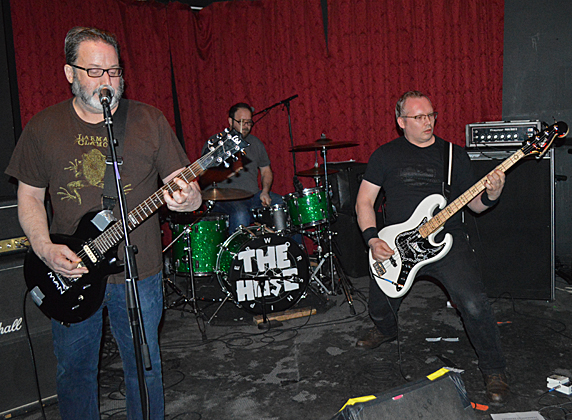 Test Meat
Photo: Blowfish
They were followed by Test Meat (love that name) who had all the power of Black Helicopter but none of the complexity. Their thing is to keep things very very simple. The trio pound on a riff in unity. The lyrics have no depth and doing that with absolute conviction worked. It was a cool set. Just goes to show that there's more than one way to rock the house.
There's no easy way to transition this - John Keegan reviews the Matisse show at the MFA - below.
Here's some good shows coming up .....
May 8 (Monday) Indonesian Junk.....who have just released a digital single "Turn to Stone" on Rumbar Records..... are at O'Brien's. HearTurn to Stone here. Also on the bill Jay Allen & The Archcriminals and The Von Traps
May 10 (Wednesday) Zip-Tie Handcuffs, The Mad Doctors, Idiot Genes, Future Spa at O'Brien's Pub...FB page
May 11 (Thursday) Cruel Miracle, The Stops!!!, DiNOLA and The Scrapes are at O'Brien's
May 12 (Friday) The Johns, The Martians, If We Go At All and Hambone Skinny at The Midway
May 12 (Friday) Mike Watt (Minutemen) and Meat Puppets are at the Brighton Music Hall Here's the FB page
May 12 (Friday) Rockin' Bob Punk Band w/ The Lost Riots. Michael Kane & The Morning Afters and Mongerellis at O'Brien's FB page
May 13 (Saturday) A Crash Course For the Ravers has Glider on - WMFO 91.5 1-4PM
May 13 (Saturday) Watch City SteamPunk Festival in Waltham...Website FB Page
May 13 (Saturday) DJ Easy Ed presents The Cranktones plus Easy Ed's Record Hop! at The Midway - this is a 4PM show.
May 13 (Saturday) There's a punk show at the Skate Stage at the Wake Up the Earth Festival i n JP- its from Noon to 6PM. On stage will be The Manglers, Stray Bullets, Uncle Spudd, Angelic Slugs, The Instamatics, The Grommets. And as SlimeDog says...far away from the smelly hippies. For directions and more info check out the FB page here.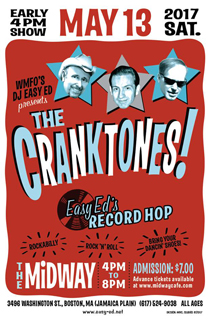 May 13 (Saturday) The 5th Joe Coughlin Memorial Show.....we love Joe and will never forget him!!! On the bill: M.O.T.O., Super Special Guest Star, Blue Oyster Coughlin, Classic Ruins and Jay Allen at The Midway!! (9PM show)
May 13 (Saturday) Silver Screams, Chanticlear, The Runouts, Sonic Libido are at The Spotlight in Beverly.
May 13 (Saturday) Roy Sludge is doing a Mother's Day show at The Midway - starts at 4PM
And further out....
May 16 (Wednesday) Bash and Pop are at the Middle East down
May 17 (Tuesday) CJ Ramone, Big Eyes, The Dazies at the Middle East Up
May 20 (Saturday) A Crash Course for the Ravers will be featuring The Black Souls & Classic Ruins! Check it out on 91.5 WMFO 1-4PM
May 20 (Saturday) - Jon Cauztik (of Stray Bullets), Dann Russo, Jenn Lombari (of Lucky United), Travis Woods and Ferris Mueller celebrate Cheryl's 40th Birthday- this is a day show 1-4PM
May 20 (Saturday) Jenny Dee & The Deelinquents, Muck and the Mires, Vicky and the Vengents at The Middle East Up.
May 22 (Monday) Whoopi Sticks, Fire In The Radio (Philly) and Cook Bag at O'Brien's
May 26 (Saturday) Reddy Teddy and State of the Union are @ the Cantab
May 26 (Saturday) Corin Ashley and Modern Day Idols are at The Plough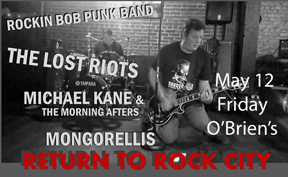 May 27 (Saturday) A Crash Course for the Ravers will be featuring the new Greg Allen's Fringe Religion! Check it out on 91.5 WMFO 1-4PM
May 27 (Saturday) A Cal Cali show: Lyres, The Black Souls, Classic Ruins and CalCaliBand You can buy tix here (Only ten bucks!!) FB page
May 27 (Saturday) The Runouts, The Martians, Blame Shifters, Nymphidels at The Midway this is an afternoon show - 4-8PM
May 28 (Sunday) Yankee Power, The Stigmatics and Violet Intent at The Midway for an afternoon show 4-8PM
May 29 (Monday) Teenage Bubblegums (Italian Pop Punk), Jagger Holly, Mongorellis, Jimmy Jacked at Opus Underground in Salem (FB page)
June 2 (Friday) awesome punk show with Jerry's Kids, Stranglehold and Panzerbastard at Once
June 3 (Saturday) Chicago Vin, who is actually here in Boston and was in Greg Allen's Fringe Religion and is now solo is on A Crash Course For the Ravers 1-4PM 91.5FM WMFO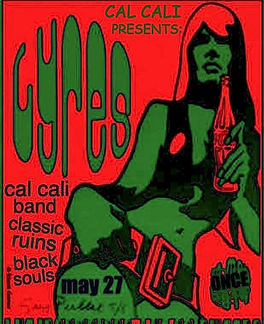 June 3 (Saturday) Parks, Psychic Dog, Me In Capris and Surf Vietnam at The Midway
June 4 (Sunday) Mike's Monster Guitars is having its 4th Birthday at the Midway! It's a 2-8PM show and features M.O.T.O., The Worried, Hambone Skinny, Axemunkee, Shiny Beasts, The Guilloteenagers, headband and most likely others too! Last year's bash was a blast and we hope they have another Guitar Fashion Show! FB page for the show
June 4 (Sunday) Birdsongs of the Mesozoic are at Once
June 4 (Sunday) GIUDA (from Rome Italy) and Unnatural Ax & The Hi End at Once Tix etc here
June 8 & 9 (Thursday & Friday) Reverend Horton Heat along with Agent Orange, and Flat Duo Jets at Once in Somerville
June 9 (Friday) are they back from a tour or going on a tour?? OC45 are at The Midway with Mickey Rickshaw and AMDX (American Discord) ...gotta go!!
June 10 (Saturday) Psycho, Conclave, Whoopi Sticks, Gant, Spillers an afternoon 4-8PM show at the Midway
June 10 (Saturday) The Real Kids (back from touring Europe!) Muck and the Mires and Greg Allen's Fringe Religion at The Spotlight Tavern in Beverly- FB page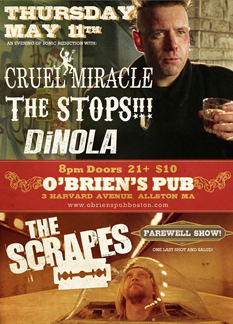 June 11 (Sunday) A Sunday Punk Matinee at the Midway with M.A.T.B. (frm Worcester), Worm, The Hideout and No Good (frm Maine) 4-8PM only $5!!and All Ages.
June 14 (Wednesday) Eve Minor (from NYC), DnA's Evolution, The Stigmatics, Doug Linse at The Midway
June 16 (Friday) Kids Like You & Me' s Rama Lama Ding Dong 2017! Featuring.. The Monsieurs, Creaturos, Littlefoot, Germhouse & more! at The Middle East - check out the FB page
June 17 (Saturday) A Crash Course for the Ravers will be featuring Anthony Kaczynski! Tony is the consummate musician, he should have some interesting stories to tell and picks to play. Check it out on 951.5 WMFO 1-4PM
June 17 (Saturday) The McGunks, Pint Killers, The Martians and Taxi Driver - 4PM Show at The Midway
June 17 (Saturday) Quiggs, Diablogato, Duck & Cover, Loser's Circle at O'Brien's Pub
June 17 (Saturday) Held Hostage, Point Blank, Infernal Diatribe, Profit Margin at Koto in Salem (FB Page)
June 18 (Sunday) Help Save Out of the Blue Gallery Too - this will be an all day affair (3PM-11PM) with FOURTEEN bands including: Brian Young -WMFO as Emcee plus Thalia Zedek, Fireking, Randy Black, The Knock Ups, Tsunami of Sound, The Stigmatics, State of the Union, Cal Cali Rockin' Trio, The Last Ones, The KENZ (Highland & Kaiser), The Thigh Scrapers and Club Linehan A Go Go ~ 50th Birthday Party for Joe Quinn. Check out the FB page
June 23 (Friday) Club Linehan A GoGo, Johnny Plankton, The Unoriginals, Mad Painter and Nonzerochance at McGann's Pub FB page for directions etc
June 25 (Sunday) Punk Oi Matinee at The Midway with Working Poor USA, Moose Knuckle, DestrOi! and The Abductors 4-8PM
June 25 (Sunday) Nonzerosum Present: Conflict, Who Killed Spikey Jacket, Cinderblock, Pandemix - ALL AGES, $20, 8:00 PM Doors at the Middle East Up.
July 19 – July 30: The Midway's Dirty 30th Anniversary Celebration Spectacular
July 17 (Monday) Township, The Dents, Love Love and Weather Weapon at The Midway
July 22 (Saturday) DJ Easy Ed Night with The Cranktones, The Barley Hoppers and Fearless Leaders at The Midway!! Night 6 of the Midway Dirty 30.
July 22 (Saturday) The Real Kids, Muck & The Mires, Watts and Gene Dante & The Future Starlets night 13 of the Midway Dirty 30!!
July 30 (Sunday) Fast Times & guests 4-8Pm at The Midway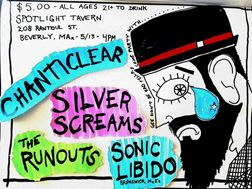 August 5 (Saturday) The Silver Mirrors, Instant Shawarma, The Facc-Tones and The Sound Down Cellar at The Midway
August 12 (Saturday) The Modern Voice, Black Helicopter, Wrought Iron Hex, Scuzzy Yeti at The Midway
August 12 (Saturday) Stop Calling Me Frank, State of The Union, The New Frustrations, The Only Things at The Midway - afternoon show 4-8PM
September 16 (Saturday) Chameleons VOX At the Middle East Also on the bill: Soft Kill , Way Out and The Milling Gowns FB Page
November 3 (Friday) Human Sexual Response at HOB
CONTACT US AT....misslynbgn@yahoo.com -Send us your gig listings, your news and anything else ya got!! You want your CD reviewed?? Contact us for that too.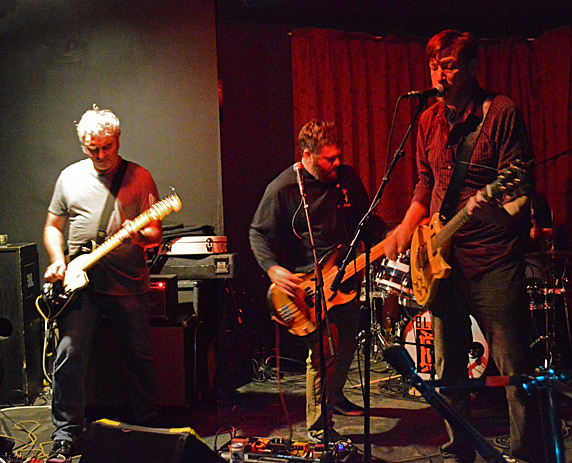 Black Helicopter
Photo: Blowfish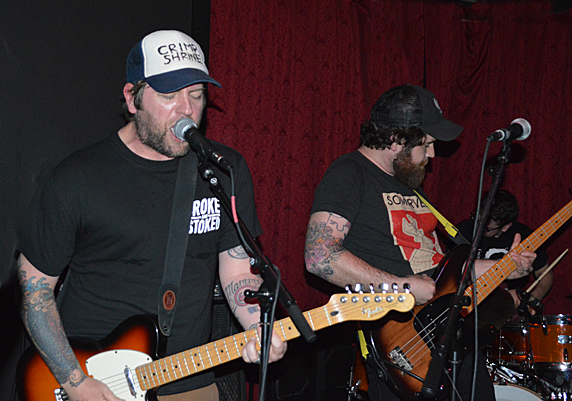 Tied to a Bear
Photo: Blowfish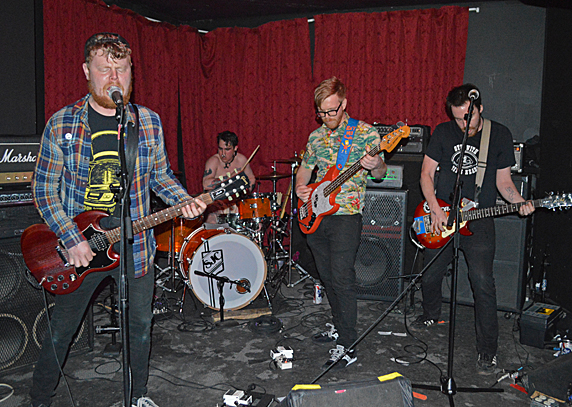 Hospital Beds
Photo: Blowfish