The BGN News Archive
May 9,2016
Bop Thrills
Photo: John Keegan
Saturday - from Hardcore to Rockabilly....
There was a midday matinee Birthday show for Slimedog of Thrash'n'Bang at the Middle East. Blowfish went over to check out the festivities :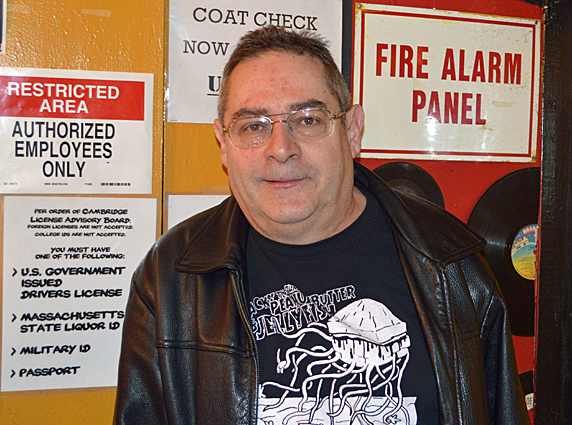 Slimedog from Thrash 'n Bang
Photo: Blowfish
Slimedog and his bud Andy have carved themselves a niche by featuring the harder side of local rock ("The Good, The Bad, and the Bangin'") in Thrash'n Bang. It's been a welcome voice for a section of the scene that's never had a suitable web presence. Like this show, Slimedog books the occasional gigs featuring some of his favorite groups.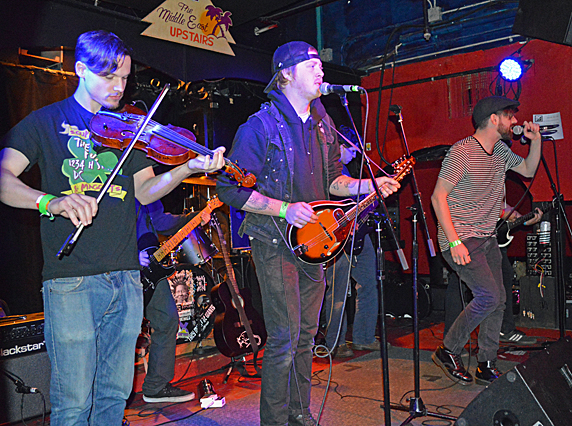 Mickey Rickshaw
Photo: Blowfish
I missed Whoopie Sticks but saw all of Mickey Rickshaw. There were seven guys in this group which featured violin and mandolin. The core sound was a burst of high energy punk. The violin and mandolin color the sound and fit in with the Irish-punk slant of the songs. They had a thundering bottom to the overall sound thanks to the hard working and capable drummer and bass. Most of the beats were centered on the Celtic jig that the songs are derived from. It's an upbeat rhythm that makes you want to do a round of Riverdance, as if that was a possibility. I'm not a big fan of that but there was no denying the cohesive playing. They are very successful in playing exactly what they want.
The front man was a strong focus and he made you want to hear what he had to say. In that vein the best song for me was "Non Profit Warfare" that had a message. They had a song with lyrics celebrating Allston. I'd like to hear that one again. Check out their No Heaven for Heroes.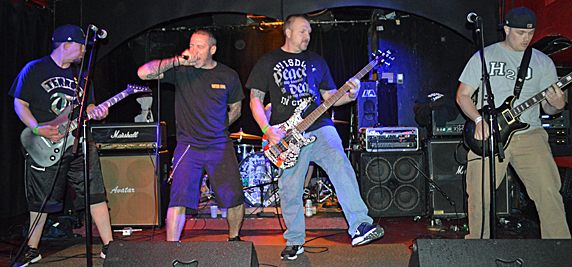 Reason to Fight
Photo: Blowfish
Reason to Fight is a hardcore group from Providence, RI. I can see why Slimedog likes these guys. They were no bull hardcore. They didn't play fast which gave the vocalist some room. As a result you could catch the words and I found that to be a big overall plus. I like what a lot of hardcore lyrics express but you usually can't catch it. I think at hardcore shows they should do what the operas now do which is to have a moving electronic text displaying the lyrics; they actually did put lyric subtitles to some of the hardcore videos in All Ages, The Boston Hardcore Film - brilliant idea!!
Anyway, I liked Reason To Fight more and more as the set went on and it was capped by some of the last songs which were covers. One was a political song by Providence hardcore band Product of Waste called Welcome to America which had the chorus, " I won't fight for you, 'cause you won't fight for me". The other one had the lyric "I'm gonna stay young until I die". I want to see them again right now!! Their Bandcamp page has their CD
Video of Reason to Fight doing Welcome To America
Video of Reason To Fight doing I'm Gonna Stay Young Till I Die
I left before the last band, Disaster Strikes, because the marathon Easy Ed 10th Anniversary Party was starting at the Midway. Last week was the three day Abbey-fest, you had to get there early to get in, so this was two weeks of lengthy club living.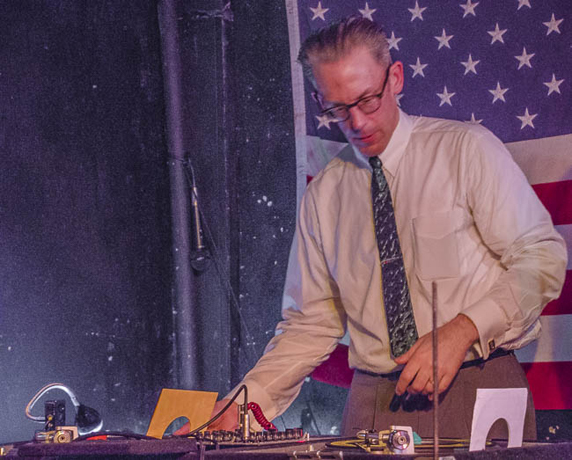 Easy Ed spinning
Photo: John Keegan
DJ Easy Ed decided to celebrate his 10th Anniversary of rockabilly radio (Fridays on WMFO 95.1) We love, and have gone to many, Easy Ed's rockabilly nights. We knew generally what to expect. This time Easy Ed went out of his way to make sure all the acts were the best. One of the special things about the Easy Ed nights is the DJing/record playing between the acts. Usually one dials out the piped in music between sets but not on these rockabilly nights. There are gems that you want to hear and often they're things you never knew even existed! This time Ed shared the turntables with a couple of other DJ's, but I like it the best when he does the duty.
This night had two phases; the early part which was low key and comfortable and the later part that was pumped up and crowded.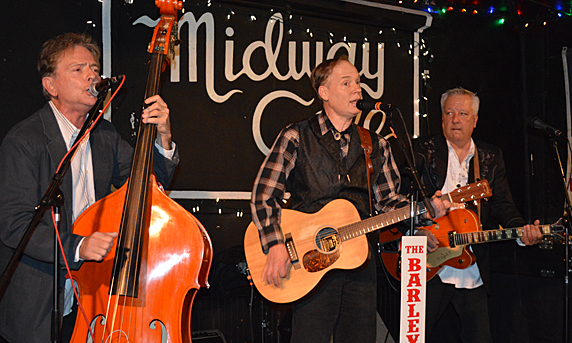 Barley Hoppers
Photo: Blowfish
We missed Fearless Leader but caught the smooth Barley Hoppers. They pull off that trick where the bass plays so good you don't notice there's no drummer. The three of them are all in sync with their playing and singing. You sit in marvel as they sing those close Everley Brothers' harmonies with off handed ease. The Gretsch playing guitarist had a million riffs that moved the songs along and added variety. They covered "Lonesome Town" and captured that moody sadness and the guitarist nailed all the riffs.
We loved the Grand Ole Opry style sign they had affixed to the mike stand, what a great touch. There were times I felt like I was almost actually there. The long time rockabilly fans were dancing. That's another feature that makes these nights special. The rockabilly fans are a friendly warm group of people. Between the group and the crowd, you just feel glad to be there.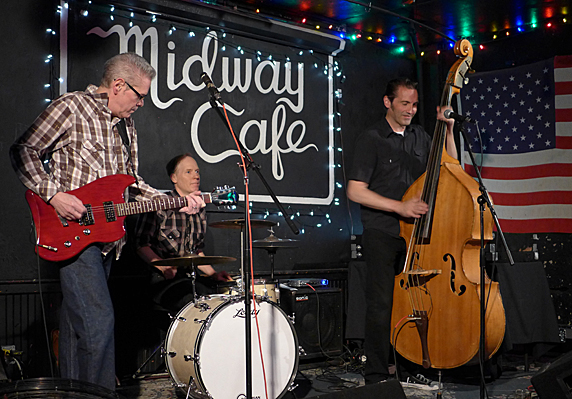 Roy Sludge
Photo: Blowfish
That continued with Roy Sludge bringing his jokey self deprecating persona along with his truck driving songs. You know he has the lowest voice this side of Johnny Cash but you still can't believe it when your chest vibrates when he just says, "hello". He actually told the sound man to turn the bass up on the speaker - I thought that was a joke… but it wasn't!! It really was a joke when he played a wrong note twice and said to the audience "This thing is broke!" as he pointed to his guitar.
We've heard his biggie "Back The Truck Up" more than a few times and we love it still. Roy was also the MVP of the night as several of the groups called him up to add his voice, and some simple drumming, to their songs.
Video of Roy Sludge doing Back the Truck Up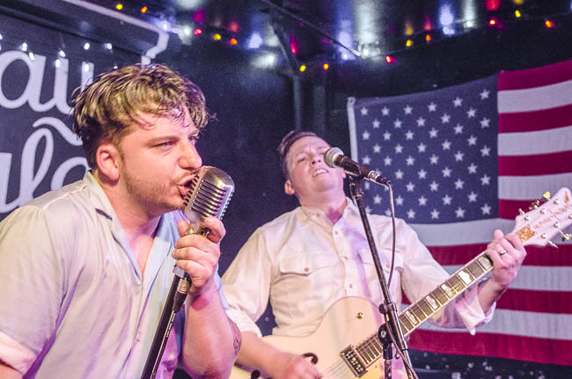 Bop Thrills
Photo: John Keegan
Roy ended the first part of the night as Bop Thrills started an energetic set and the club filled to pretty much crowded. The lead singer had some Elvis moves and he throws his head back and drops to the floor to add visual punch to a set that was already musically rocking along. They were out to give a show to remember and they succeeded. You could feel the whole club willingly joining them in the rockabilly spirit. Everything went into overdrive with this set. The guitarist had a gorgeous white and gold Gretsch and he did justice to it with flashy rockabilly fills.
The songs were about roadhouses and teen goings on. One song "My Baby's A Werewolf" gave the singer an excuse to howl. The music, the spirit and the party atmosphere; Easy Ed had reached his goal of a memorable night right there.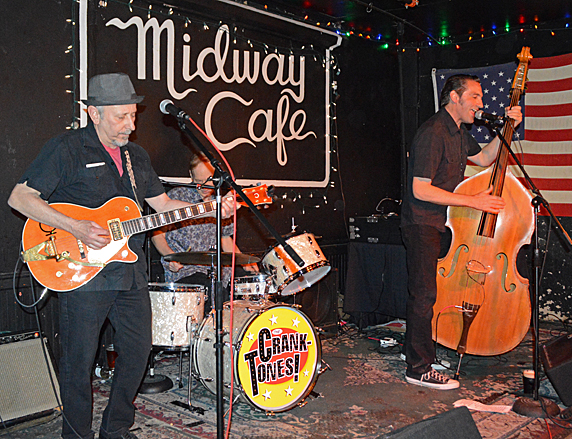 The Cranktones
Photo: Blowfish
But there was more as Cranky Franky lead his Cranktones though another set of guitar riffing rock. Frank is different from all the others because he's the real deal and has been playing rockabilly since - forever. His playing is a guitar players dream. It can seem like regular rockabilly but he adds jazz stylings with arpeggios and elaborate chording. The playing seems flashy and subtle at the same time because of his low key presentation and clean tone. They play their own material from their long ago released Vibrate with the Cranktones (they did the title song) and they covered two Carl Perkins songs.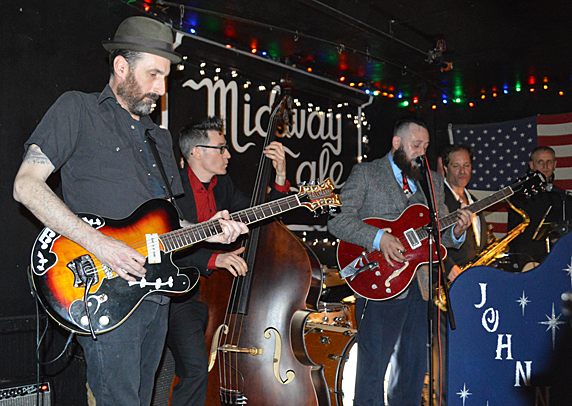 Johnny Carlevale
Photo: Blowfish
Enough? Yes, but there was more as the Johnny Carlevale All Stars filled the stage. They are a large group featuring a ton of brass which included the BGN's own John Keegan on sax. Carlevale even had a sort of bandstand partition with his name on it. The first song featured the brass and it was striking. I can't remember the last time I heard a full bodied brass attack like that. All that brass just gave it the uplift to make it a rousing party song. From there they seemed to alternate a song with horns and then a song without. The guitarist played single note runs with an ultra-clean tone that was very distinctive and won him several rounds of applause after his solos.
Here's a short video clip of Johnny Carlevale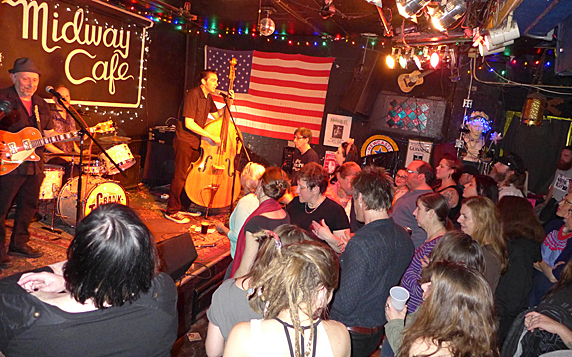 The Cranktones and the crowd
Photo: Blowfish
By this time it was 12:30 and the club was still full and hot and the people were still rocking. This wasn't about one group it was the whole night and Easy Ed that made it memorable. Meanwhile the rocking for us had started at 2 pm. Wasted but feeling wonderful we left with Keegan still playing on stage.
And in other news ...
And even at a rockabilly show the talk was about how we FINALLY get to see it in its entirety - The Boys From Nowhere!! If you are gonna watch anything watch this film. It's SUCH a great chronicle of the glory days of Boston punk/garage with DMZ, The Real Kids, Nervous Eaters, The Neighborhoods, Wille Alexander, the Modern Lovers ...they even have hard to come by interviews with Jonathan Richman and Jeff Connolly!! Here ya go......The Boys From Nowhere. But of course there's nothing like seeing it on the big screen so September 29th there's a screening of BFN along with Willie Alexander performing at the Cape Ann Cinema.
Here's a cool video- Allston Pudding does another practice space invasion - this time it's local punk band Black Beach
Just a reminder that - The Harvard Square May Fair date has been changed due to inclement weather - It is now May 15...lotta local bands playing...see below for listings.
Store 54 and Wayne - we'll miss you!!!! We went over to Store 54 to interview Wayne Viens since he's closing up shop at Store 54...there are still music happenings their until the end of May and the final show...with loads of guest stars in Sunday May 29 6PM- 12AM.
Here's some good shows coming up this week.....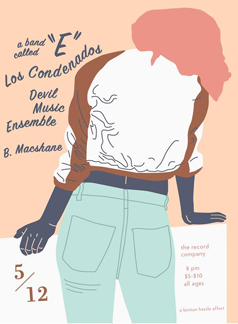 May 12 (Thursday) UYB (formerly Up Your Bucket + members of Kilslug & AxCx) along with Positive Negative Man and (DJ) Spo are at The Cutting Room in Providence RI (FB PAGE for more info)
May 12 (Thursday) A Band called E (featuring Thalia Zedek, along with Devil Music and B. McShane are at The Record Company here's the FB page for more info
May 13 (Friday) Barry & the Remains, Lyres, Cal Cali Band and Muck & the Mires are at ONCE Ballroom -This show STARTS at 8PM The Remains are on at 9:30.
May 14 (Saturday) We loved him...he was unforgettable so the show goes on...Joe Coughlin Memorial- Classic Ruins, John Powhida,MOTO and Alan Shienfeld doing Electric Sludge.
May 14 (Saturday) Chanticlear, Silver Screams, Martians and Campaign Committee are at O'Brien's
May 14 (Saturday) Benefit for Papercut Fanzine Library at The Democracy Center with Laughing Stock, Piss Dogs, Profit Margin and Destroi 7-11PM, here's the FB page
May 15 (Sunday) The Harvard Square May Fair is today...in Harvard Square...Today Junior is at the Church Street stage at Noon, Township at the Church St Stage at 5PM, The Sheila Divine are at the Main Stage at 5Pm - You can check out the whole shebang here...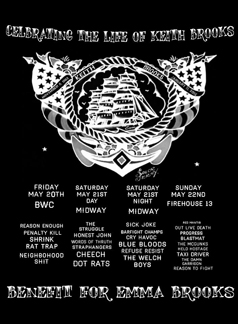 May 20 (Friday) Celebration of Keith Brooks at the BWC, with Reason Enough, Penalty Kill, Shrink, Rat Trap and Neighborhood Shit.
May 21 (Saturday) Chetstock 2016 2.0...at Once Lounge...this time we get Harlequin, Xanna Don't (with Peter Phair, Kevin Patey, William M. Hoar III, and Jay Arcari) , The Real Kids, Randy Black, Classic Ruins, The Hopelessly Obscure, Choir Boys and Chelsea Clutch and Linda Viens
May 21 (Saturday) Quenby and the West of Wayland Band, Shiny Beasts and Hambone Skinny are at the Tavern at the End of the World. No cover!
May 21 (Saturday) A Celebration of Life of Keith Brooks (friend and hardcore music lover) will be at The Midway - ALL DAY - From 4-8PM you have: The Struggle, Honest John, Words Of Truth, CHEECH, Straphangers, and DOT RATS -From 9 - 1AM there's The Welch Boys, Refuse Resist
The Blue Bloods, Cry Havoc, Barfight Champs and Sick Joke. One of the best things about it is that they are doing everything they can to raise money that day for Emma, Keith's daughter. It's a good time to show up. They have already raised $385.00 on the Go Fund Me page
May 21 (Saturday) Scissorfight, White Dynomite, Murcielago and Idiot Genes are at Great Scott
May 21 (Saturday) The Founders, Lizzy Borden Band, Girl On Top, Z company are at PA's Lounge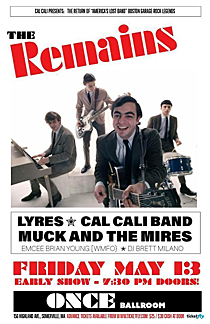 May 22 (Sunday) Kid Congo Powers and the Pink Monkey Birds with Tiger Bomb and The Tarantula Brothers are at The Space Gallery in Portland ME
May 22 (Sunday) At Firehouse 13 the Celebration fo the life of Keith Brooks continues with Reason To Fight, Blastmat, the McGunks, Taxi Driver, Damn Garrison, Held Hostage, Progress, Out Live Death, and Red Mantis - doors are at 2PM!!
And further out past this week....
May 26 (Thursday) It's getting down to the final days - and final shows - at Store 54 and this is one of those- its also a GREAT one!....MiniBeast (featuring Peter Prescott) and the return of Akacod featuring Monique Ortiz, Larry Dersch and Dana Colley....Here's the FB page check for updates
May 28 (Saturday) Thought Bomb with Matthew Flynn featuring Lydia Lunch, Joyce Brabner, Cassie J..."Thought Bomb with Matthew Flynn is a show where eccentric writers, stand-up comics, illustrators, etc. get the chance to perform a story and then do a karaoke song with the aid of a live band." Here's the FB page
June 2 (Thursday) Kilslug, Psycho, Horrible Earth, Deathtaker and Mad Gasser of Bostoon at O'Brien's. Mark yr calendars for this one folks, it should be a show you'll not soon forget.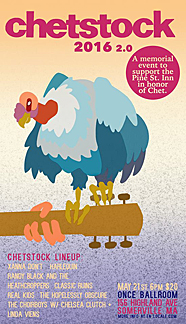 June 4 (Saturday) When Particles Collide are having their vinyl release party along with Aloud at Great Scott.
June 4 (Saturday) The Humanoids along with The Heave Ho, Ass Tractor and The Straight Eights are at the Midway (8PM)
June 5 (Sunday) GREAT all Punk show at The Midway with the Nervous Eaters, Fast Times, Interfectum, and Jumper!...and they're keepin' it in the family with this show...Eater Alan Hebditch's son Nick is in Fast Times!!
June 11 (Saturday) A day show 4-8PM with Fireking, Big Giant, The First Supper, and Universe Narrows at The Midway
June 11 (Saturday) The Upper Crust, Thee Fabulous Itchies, The Hi-End and Shiny Beasts are at The Midway - there's a lot going on this night- and the show starts at 8PM -check out the FB page.
June 18 (Saturday) Thunder Road has The Dwarves, The Queers, White Dynomite, and Decent Criminal Get tix here.
June 27 (Monday) Pere Ubu at The Sinclair
July 11 (Monday) Guided by Voices are at The Paradise
July 16 (Saturday) OC45 celebrates their 5 year anniversary at the Middle East Up along with Burning Streets, The Jukebox Romantics and Jumper!
July 22 (Friday) Fur Purse, Thalia Zedek, Weather Weapon, Phurnne, Death Cloud at the Midway
October 15 (Saturday) The Upper Crust, Hickoids, The Grannies & Devil On Horseback at Once
CONTACT US AT....misslynbgn@yahoo.com - Send us your gig listings, your news and anything else ya got!!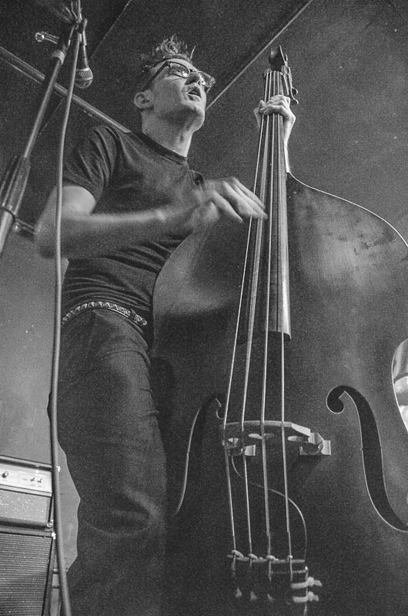 Bassist for Bop Thrills
Photo: John Keegan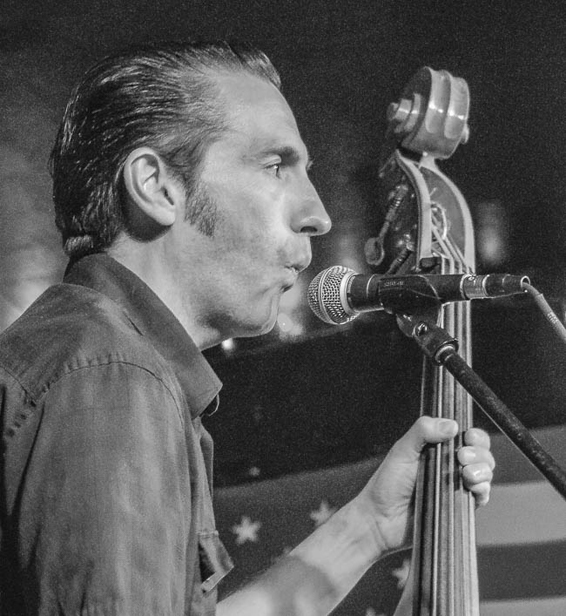 Bassist for the Cranktones
Photo: John Keegan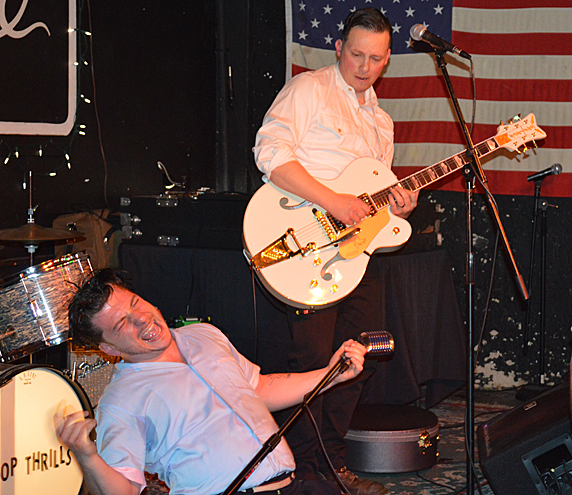 Bop Thrills
Photo: Blowfish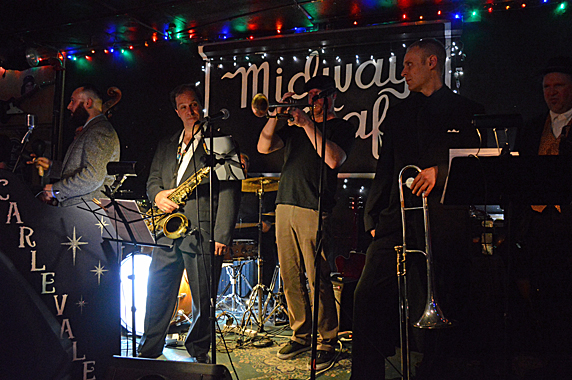 Johnny Carlevale's horn section
Photo: Blowfish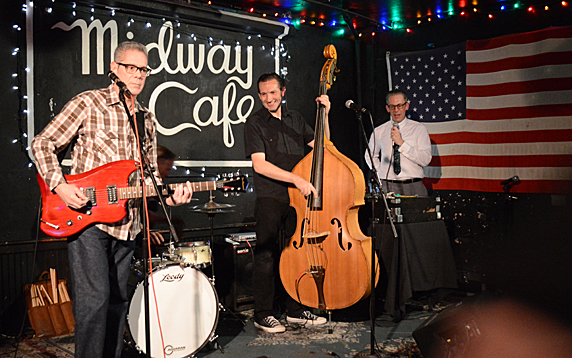 Roy Studge and Easy Ed
Photo: Blowfish