The BGN News Archive
May 10, 2021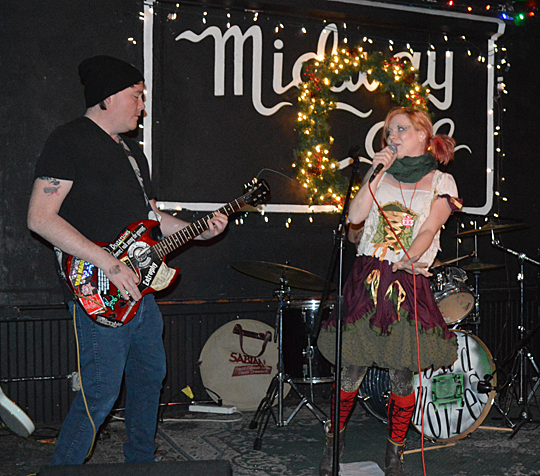 Colman Burns-Takki and Linnea Sturdy - Bad Movies

The band Bad Movies lost two of their members in the last two months! First was guitarist Colman Burns-Takki (also in Worm) and then singer Linnea Sturdy. The news was so shocking! We actually didn't think we understood it, it seemed they were so young and being in the same group that it couldn't be.
Slimedog of Thrash 'n Bang introduced us to Linnea. She had a vibrant bubbly personality that was impossible not to like. We saw Bad Movies in 2015 at the Thrash n' Bang Christmas party and Linnea in a duo at the Christmas party in 2018. Here's an appreciation of Linnea by Slimdog in Thrash n' Bang.
Obituary for Linnea Obituary for Colman
Now to other news......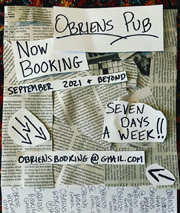 There are a few live shows coming as early as June. Check out our listings below the news. It seems like things are beginning to turn the corner. The vaccination rate is getting higher all the time but with the anti-vaxxers there may be a threshold that is below herd immunity.
Daniel Carswell who has taken over booking O'Brien's now has work to do. He announced he is starting to book shows in September – and the bands are out of the gate! In a band? Think your band is right for O'Brien's? Artists can reach Carswell at obriensbooking @ gmail.com and daniel @ refuserethinkrebuild.com.
This week we talked to Peter Laurence of the Harvard Loeb Music Library about the Boston Rock City: Explore Wikidata and Learn about Local Music event happening later this month…see specifics below in the club listings.

This is a virtual event. Participants will be at their own computers. The main idea is to gather information to add to a database – the Wikidata. This information is the one point where all future links or references to a group or club must start. After a group or club is in the Wikidata then it has a virtual identity. Most Boston groups don't have this, but to grow and build the presence of the Boston scene online this has to be done. So let's do it!!!
There is a template to go by to fill in info like: genre, initial date, location, record label etc. Look at this page for Bound & Gagged on the Wikidata site to get an idea.
For a further explanation you can read this from Peter Laurence who makes things a bit clearer. Notice from Peter Laurence - CLICK HERE.
And bands please read this too!:
One of the best things is for the bands themselves to get in there and fill in that info. We can't emphasize this enough – bands should be involved in this to promote their legacy. Look to these two web pages – on the left is a list of bands, if you are on that get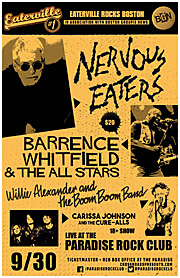 in touch with this Wikidata event. Audio band list here. Video Band list here. We will have some more descriptive info on this in a day or two. So check back.
The much postponed Nervous Eaters/Barrence Whitfield/Willie Loco and the Boom Boom Band/Carissa Johnson show at the Paradise is now booked for September 30, a Thursday and it is supposed to be definite. Get Tickets Here!
The New England Shake Up is back. The rockabilly festival will happen this year on September 24,25 and 26 out in Framingham. The line-up of bands is way long. They also have a picnic record party 11AM-4PM on Saturday the 25th with Barrence Whitfield spinning vinyl. Get more details and ticket info on their website.
Don't forget to check the Gig Listings below...they're baaaack!!!!
Poly Styrene: I'm a Cliché will be shown as part of the Independent Film Festival Boston. It will be an online viewing on May 14, this Friday and you can watch for 48 hours after that. Tickets are $12.00. Get tickets at the IFF:Boston.
Linnea's Garden have an interview on the Club Bohemia Blogspot. Linnea says she has a show at The Jungle on June11, as of Saturday (5/8) that was sold out. She also has a show at Dusk in Providence on June 13. The Dusk show is outside. Read the interview here.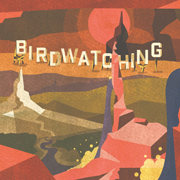 Local group Birdwatching released an album on Friday on Bandcamp. The proceeds are going to help the employees of the long closed clubs. They received some attention this week from Allston Pudding. Article here Birdwatching have an indie sound. The singing and the song arrangements separate them from the crowd. Their lyrics are intriguing. The titles are funny in a surrealistic way too, like "A Dog Named Lightbulb" and "Behind the Hoodsie Cup".
If you start to listen you will get drawn in. Start with "All Smiles in the Snack Aisle".
Presto Records did their relaunch party on Once Virtual Venue. Chris Porter talked about what it took to start a label in 1989 with the Classic Ruins' Ruins Café.
The other acts on the label were: Miranda Warning, The Terrible Parade (from Cleveland), Miles Dethmuffen (with Linda Bean and Ad Frank), the Visagoths, Evol Twins and the Trojan Ponies. After Chris' review they had current performances by the bands. Miranda Warning sounded very together and better than most on a Zoom style performance. The ringing riff by the lead guitarist was killer. Miles Dethmuffin did their song in Linda Bean-Pardee's now very familiar garage. It was another very good song. After the performances they did interviews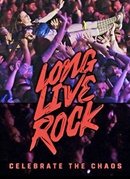 with some of the bands.
On Monday May 10th (5-5:45PM) the Globe is showing a movie called Long Live Rock...Celebrate the Chaos. It will be online followed by a Zoom discussion with critics. The movie is about hard rock and features talks with members of Metallica, Guns N' Roses, Slipknot, Korn, Avenged Sevenfold, Rob Zombie, Five Finger Death Punch, Rage Against the Machine, Greta Van Fleet, Halestorm, and many more. It's not all fun and music, oh no, there will be talk of substance abuse and depression.
The movie can be seen online and is actually available right now if you go in and RSVP at this link.
That Vitamin album from 1981 that was just released a few weeks ago got us thinking about that art rock/no wave scene. Margie Politzer the violinist from Vitamin talks about how she got into the scene in her interview online in Dosage magazine. It's revealing how many familiar touchstones she mentions…the Velvet Underground, RISD, Patti Smith's Horses, the Village Voice, the and Talking Heads. Read the interview here on Dosage.
Again Jonathan Richman has been called on to talk about the Velvet Underground. This time it is in Uncut magazine. They have 15 pages on the Velvets. This bands continues to fascinate. Jonathan talks about Doug Yule and what he brought to the group. Through these articles you can see Jonathan really studied the VU and got lessons out of it that he could use. As a musician he can get into the actual way they played and the gear they used.
Another article resurrects an old write up by Richard Williams who reviews a performance by the post-Lou Reed-version of the group. That's of interest to us because Willie Loco was in that line up. He says that the group played "Down on the Farm" which was Willie's song from the Bagatelle.
You can get Uncut at the better magazine stands, say at Barnes and Noble. Uncut website.
This week was Episode #6 for Bands, Beer and Banter. The beers were: Aeronaut's Double Hop Hop, Startline Brewery's Hop Load Citra and Greater Good's GG Vibes. They all got 'thumbs up' from the thirsty trio.
Vids started with the Chelsea Curve's "Cavedog Girl". We love the Chelsea Curve more and more and it's no secret why, these singles they're putting out are the balls.
Following was "Thanks for the Anxiety" by the Promise Game, then Justine and the Unclean doing "Scorpion Bowl to Go" and Little Fuss with "Watch Out". They play the vids, they talk them up and drink while they do it…that's a show! It rules!!
---
SHORT CUTS.................

This weeks' episode of Punk Rock Aerobics features an interview with Robert Craig of Buck Biloxi and the Fucks who do the exercise song "Streets of Rage". Listen to the interview then get up and move with Hilken Mancini's aerobics. Watch here.

And Hilken's shop 40 South Street Vintage was featured in Boston Magazine this past week in their article "15 Boston-Area Stores Where You Can Score Collectibles and Antiques" Read here.

Ralph Fatello has Tsunami of Sound on one of his latest videos. You can view/hear on Vimeo.

Paper Tigers released a video for their song "I Smell a Rat".

Dino Records is starting a remix of Kenne Highland's Vatican Sex Kittens' songs for their never released second album Raunch and Roll (after Be More Flambloyant) The songs were recorded in 2004...better late than never!!!

Looks like Somerville will be taking over the ownership of the Armory Building. The Slater brothers who also own the Middle East have owned the Armory since 2004 and have used it as an arts center. Somerville is afraid that the Slaters will soon use the space for some commercial tenants (a high tech company or two) and want to stop that. They will pay 5 million for the property and keep it as an arts center. No word from the Slaters yet. Is 5 million a good figure for them? We'll see. The article is in Cambridge Day.
---
PODCASTS.....................

All Your Things Are Gone has Richie Parsons as a guest this last week. There's one thing about Unnatural Axe - they never toured. They were offered a tour with Ultravox but said no, they all had jobs. Right now they are lining up a festival show in Cleveland. Richie has gone through a few bands but he relates that things seemed to change in 2006. There were personal challenges and he started to write songs again.
He also runs down how the solo albums came about. He says there's a third album like his previous two and also on punkish EP in the works too.....Then there's the story of Sting farting!
All Your Things Are Gone also has a long Chris Brokaw interview in the line-up. You can hear that below.
Steeve on Blowing Smoke with Twisted Rico got religious this week with the Reverend Hank Peirce (pronounced "purse") Rev. Hank went from punk to the priesthood. You might have seen him in the news here or there. He's with the very inclusive Unitarian Church.
Steeve takes the opportunity to get serious and talk about the Mark Chauvin trial and the social implications in America and Rev, Hank tells of a brawl at a Slapshot show in Yugoslavia that he inadvertently started.
Here's more details on Rev. Hank.
Steeve also posted another podcast episode with Margaret Garrett of Mr. Airplane Man. He gets the Mr. Airplane origin story which involves advice from Mark Sandman. The band has a few recordings that they are working to release and Margret is working on a solo project.
Margret said there was a new outside performance space now at the Notch in Brighton. It's at the intersection of Western Ave and Soldier's Field Rd. Article from a while back in the Globe about it is here. Here's an article in Boston Magazine about it.
Rat Tales notches up another podcast with the indefatigable Mach Bell. Fresh from his Cowboy Award show (see last weeks' news about the award the BGN won!!) .
Mach starts from the beginning, which for him was before punk. He spends lots of time on the early years. A lot of stuff was packed into those years. Mach gives a good summary on
that early rock that led into the punk scene. He has a great memory. He relates it like it happened yesterday.
For anyone who wasn't around this podcast is a way to get the story of early Boston punk from the inside. Mach puts you in the place and time.
After that Mach tells the whole Thundertrain story. Even we didn't know how the Teenage Suicide album ended up on GEM records.
Rat Tales makes the point that Mach was shooting to be an arena rock star with Thundertrain and actually did become one with his stint in the Joe Perry Project.
Mach's next book will be about his rock experiences from 1966 to 1986.
---
CDs/ MUSIC..........................
This getting a song every week or so from Nat Freedberg is fun, we're up to the fourth song from what will eventually be his next album – Freeloader II.
"When I See You In My Dreams" is a quiet love song…until it isn't. It's dainty arpeggiated chords until 1:45 when all of a sudden the band crashes in with some hard rock riffs and Charles Hanson rips it up. It goes back to the initial romantic sound and then once more... it cranks out. We can't remember the last time when a songs construction surprised us like this. We love it.
The second song from The Dents new EP has been posted on Bandcamp. There's nice riffage on this one from Craig Adams and again a more serious tone to the music. Two voices singing together give this song a boost. The song picks up steam with Craig's solo and it keeps the excitement for the last half which makes the song seem too short, which is a good thing.
Los Chicos is another Rum Bar Records find from Spain. The title of their album is a laugh – 20 Years of Shakin' Fat & Launching Shit by Medical Prescription. It's 23 cuts. Three songs can be heard currently on Bandcamp. They call up pub rock and garage rock in their descriptions. We have to say there's that and more in these tunes.
Listen to "Living Legends" where they sound like a 60's party band playing in your basement now, its bass heavy and laced with horns.
---
Here's some good shows coming up (live stream and actually LIVE!! .....
May 14 (Friday) Poly Styrene: I'm a Cliché will be shown as part of the Independent Film Festival Boston. Online viewing on this Friday May 14, and you can watch for 48 hours after that. Tickets are $12.00. Get tickets at the IFF:Boston.
May 16 (Sunday) Back Porch Carousel - Benefit for Tunefoolery Facebook event page
May 21 (Friday) and May 22 (Saturday) 10AM-2:30PM - Boston Rock City: Explore Wikidata and Learn about Local Music (this is an online event) help search for and compile info concerning bands that will be used for the Arthur Freedman Collection at Loeb Music Library. For info and to register in advance: Here.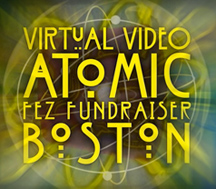 May 22 (Saturday) Diablogato and The Devils Twins at The Porch in Medford (Tix and info here)
May 27 (Thursday) Virtual Video Atomic Fez Fundraiser for Boston - A Benefit for Boston Area Local Music Venues starts at 8:15PM.
The beneficiaries are: ONCE, The Midway Cafe, The Jungle, The Square Root, Sally O'Brien's, The Magic Room, O'Brien's Pub, and KOTO, with more to be added. And the list of performers and special appearances is LONG!!! Read more - and donate- here. and watch for the BGN spot along the way!!
May 28 (Friday) The English Beat are at the House of Blues.
May 30 (Sunday) Color Killer with The Prozacs - a free, live Facebook event. FB page.
June 3 (Thursday) The Grommets and Trusty Sidekick are doing a live stream at the Midway on June 3, 7 to 9:30pm with . The Facebook event page.
June 11 (Friday) Linnea's Garden and Home Despot are doing an outdoor show at The Jungle but it is sold out already, sorry!!
June 17 (Thursday) M8 with Motel Black - this is a LIVE show 40 people - Max. Masks and social distancing required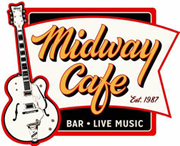 June 17 (Thursday) Color Killer at Union Common Marlborough Ma @ 7PM. outdoor show.
June 18 (Friday) E w/ Omoo Omoo at Nova Arts in Keene, NH. FB page
June 19 (Saturday) The Jacklights and Double Star Live stream from The Midway Cafe FB page
June 24 (Thursday) This should sell out fast – Tommy Stintson of the Replacements will be doing an outside house show in Mansfield, MA on June 24 with his current duo set up called Cowboys in the Campfire. Tickets at Eventbrite.
August 14 (Saturday) Kid Gulliver has a Record Release Party at Dusk in Providence. It is not listed on the Dusk Facebook page yet but here's a link.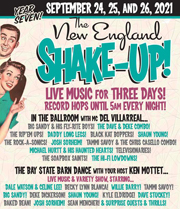 September 3 (Friday) The Zulus rescheduled show at The Paradise - doors 8PM, music 9PM. FB event page
September 24, 25 and 26 The New England Shake Up is back. The rockabilly festival will happen this year in Framingham. The line-up of bands is way long. They also have a picnic record party 11AM-4PM on Saturday the 25th with Barrence Whitfield spinning vinyl. Get more details and ticket info on their website.
September 30 (Thursday) Nervous Eaters/Barrence Whitfield/Willie Loco and the Boom Boom Band/Carissa Johnson at the Paradise . Get Tickets Here!
CONTACT US AT....misslynbgn@yahoo.com Send us your gig listings, your anything else ya got!! You want your CD reviewed?? Contact us for that too.
---