The BGN News Archive
May 11, 2009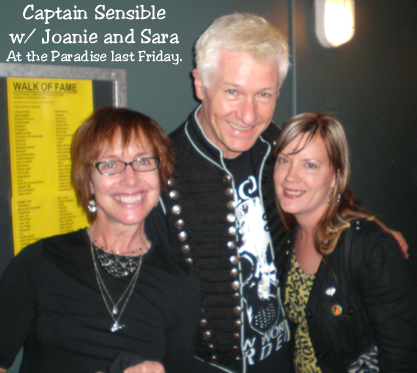 It looks like there may be new venues for music in Union Square Somerville doing shows on a regular basis : Bull McCabe's has Squallie Greenthumb doing a record release show on Wednesday May 13th...so check out Squallie for all the info and dates and order the disc!!
And then on Thursday May 13th at Precintct in Union Square there a great show with The Swinedells and Jordan Valentine and The Sunday Saints.....(also Muck and The Mires and Andrea Gillis on May 29th!)
The Konks are at The Cantab on Friday May 15th

Saturday, May 16th , Richard Lloyd and The Sufimonkey Trio are at Church again along with FoxPass and Brett Rosenberg....
Also on The 16th is a very different show, this is where Blowfish and I would be having a hard time as to where to go...he likes the pop and I like the punk...Middle East Up has The Have Nots, 007 Hundred Club and Chanticlear...that's a good show!!
The Middle East also has a good show on Sunday the 17th : Chaser's Working Class Drink Up with Blood Stained Brindle, Faulty Conscience, The Designer Drugs, The Acro-brats, The Cham-peons

Wednesday May 27th there's a benefit for Kitty Angels at TT The Bear's...Kitty Angels is a No Kill Cat Shelter ...Buster and Bongo thank you all for going to this show but there is also some great music such as The Sharp Lads, The Russians, The New Alibis, Vulgarrity and Rick Barton......
Of course if I could I'd take in every stray cat myself, but Buster and Bongo would NOT be happy....
June 6th at O'Brien's are Pulp 45, The New Alibis and The Allrighters - excellent show!!

Also its a the Johnny Angel invasion in June....more on that again later
There you have it for this week friends....
email me huh....????.... Lyn