The BGN News Archive
May 12, 2008
At Arthur Freedman's Photo show.

| | |
| --- | --- |
| | |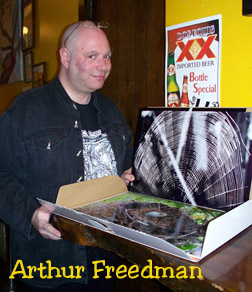 Now that I am unemployed I am rabid for things to do to get me out of the house!! So this Saturday I took a walk to the Middle East Corner to check out the Illyrians who were playing at Artie Freedman's Photo Show Opening.
Before going in I met up with Wayne Viens telling Jan Collins and Michele Meadows about his trip to New Orleans for this year's Ponderosa Stomp. He said Question Mark and the Mysterians did a 2 ½ hour set!! And, he said, it was just all around amazing! No doubt!
.....inside the Illyrians were on, Eric Martin just plainly has one of the most handsome voices in all of Boston, no question!! And Artie's photos were on the walls, this show is in conjunction with Out of The Blue Gallery's Anniversary celebration. It s a great cross section of Artie's work with his street people photos and some newer animal and nature pics as well...so go over and check it out!!...
while hanging around Rico Petroleum and his son Trevor came in and they were on there was to the Out of The Blue Gallery for more art but mentioned that Kilslug were playing down the way at All Asia!! Hey I didn't know about this!
Turns out it was a warm up gig for this Thursday's show at Church (see below), they have new guys in the band and wanted to make sure they sound up to par and ya know they DO!! They are tight and do the dirge to perfection!! Larry Lifeless was up there screaming about hating people and other things, sporting a very recent black eye and what looks to me like a broken nose!!...but it doesn't stop him from putting on a great show that's for sure...so it'll be worth it to make it over the Church this Thursday.....
Kilsug at ALL ASIA

| | |
| --- | --- |
| | |
I went home for a little while to feed my cats and stuff and then Blowfish and I went to The Cantab for Triple Thick and the Killer Abs...first off I just gotta say: Hey, Pariah Beat lead singer: take your yearly bath before a gig!! The whole freaking club stunk while he was baking under the stage lights...ick! The music was bad enough...some uncomfortable combination of kleshmeer, rock and who they hell knows what else....that set went on WAY too long...
finally Triple Thick were up and they are just so great: excellent, simple Garage music and they always make me smile, their songs are short fun and you know they are loving it!! I like their new bass player Elias AND the addition of Henry as mad-fan percussionist/non dancing go-go guy really really takes 'em up a few notches in my book!! They did a great new song too, I think it was called Typical....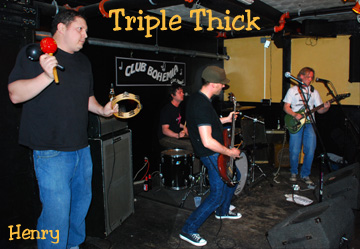 Killer Abs were up next and what a perfect bill to have these two bands together, another fun band, as you must know they are ALL covers but oh they covers they choose! All punk all the time and Mud Honey's "Touch Me I'm Sick"...just great!...
so I went home and stayed up for quite a while wired from the two good bands I saw....if I could have afforded a beer I would have had one, maybe I'd have slept sooner but the prices at The Cantab are so completely ridiculous for a place of its....type, that I find I must abstain while there.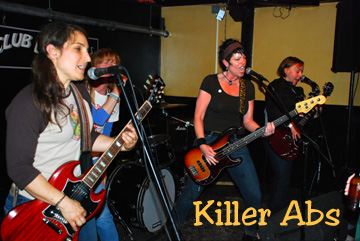 So anyway, they are lots more great shows coming up as you can imagine, say stuff like:
This Thursday Tuesday May 13th it's a punk rock night at The Middle East down with Tiger Army, The Unseen and War Tapes - AND its an All Ages show! And early too with doors at 7PM, should be quite a night!!
Thursday, May 15 at Church is the "A..C.."Reunion with Kilslug and Psycho...whoa, what a bill,
Friday the 16th at The Abbey is good: Coffin Lids and Tampoffs as well as The Swaggerin' Growlers doing an acoustic set over on the "Pub Stage"!! Looks like the Lids may be going on tour to Europe again this June.
And the Abbey on Saturday the 17th has The Throwaways!!!!
Tuesday the 20th Should be a very interesting even of good and innovative music at The Middle East UP with Martin Bisi, Black Fortress Of Opium and Walter Sickert & The Army of Broken Toys
then, at Church Thursday the 22nd another excellent 'goth' kinda night with Mankind is Obsolete, Melt and Lucretia's Daggers, the the next night at Church again, Friday May 23rd another excellent show with Red Invasion, The New Frustrations and Crimson Ghosts....and on the 23rd, on the other side of the water are The Classic Ruins and the Radio Knives at The Abbey
OK, I'd say that's about it for this week...email us and say hello and let us in on what's up....ML