The BGN News Archive
May 13, 2013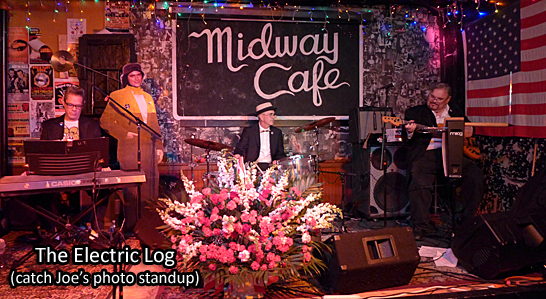 It was a night of remembrance and celebration at the Midway for one of the great personalities of the Boston punk scene, Joe Coughlin. It was a quirky affair full of oddities just like Joe would have loved. At the center of the stage was a large funeral/cemetery spray of flowers ...all red and white with Canadian flags in it along with the flowers.
The line up was The Classic Ruins, BJ Snowden, MOTO, The Electric Logs and Stump the Undertaker. Unfortunately we missed the beginning of the night. Opening act was BJ Snowden who is a one of kind living in her own musical world, just that sort of thing that attracted Joe. Check out her song Canada here. Like the Shags you either get it or you don't.
Stump The Undertaker was Roy Sludge solo doing oddball songs. I'm not familiar with this part of Roy's career but by all reports it was fun and we got to see Roy in the end in the Electric Logs who were a cult favorite from the 80's. They haven't played since the late 90's but wanted to be part of this celebration of Joe.
We came in to Classic Ruins playing at the top of their form despite the absence of Jeff Crane (again with a job Jeff! Get your priorities straight mister!). They knew as a trio they had to play up to snuff and they had Matt Burns burning brightly and saving the day. You know the Classic Ruins drill: the 'hits' from their many albums and singles, Frank's acid comments and Carl's stunning bass work.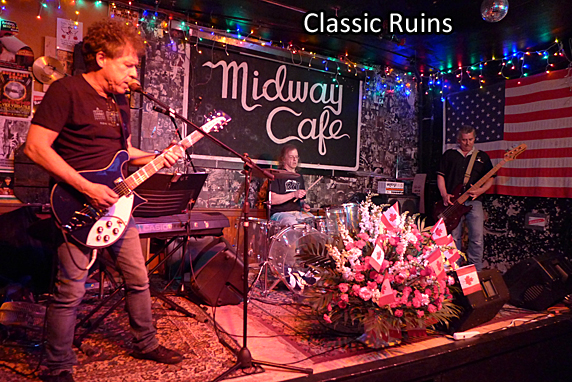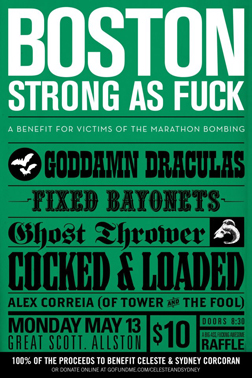 As The Electric Logs came on they stood up a full sized cardboard figure of Joe that fittingly stood over the proceedings for the rest of the night. The Electric Logs is Roy Sludge on keyboard with a drummer and a bass player who also played Theremin. The Theremin is always a novelty and it was tonight. We'd like to see more of those around. The Logs do cheesy send ups of songs you know...maybe don't want to know but do....they played The Elephant Walk, Carpenter songs, Sugar Sugar in a soft jazz style, New Cape Cod (like Old Cape Cod but full of ugly realities) etc. They opened themselves to requests but were stumped by Frank Rowe's suggestion of the Theme from The Rifleman and then someone throwing out Windmills of Your Mind, that's a unconventional tune hard to fake on any level. It was all and all, lots of fun. After this Masters of the Obvious - MOTO were in line. We exited but had a full load of entertainment for the time we were there.
And there were lots of people there to show tribute: Jon Seamans, Dave Fenichel, Michele Meadows, Jay Allen, even folks like Betsy Button and Sandy Neades showed up!!
What a nice night for saluting Joe. His friends should be proud of this celebration. We miss ya Joe.
So here's some stuff coming up: This Monday May 13th there is another Boston Marathon Bombing Victims benefit - this one goes to a specific family -check it out and go- on stage will be Goddamn Draculas, Cocked'n'Loaded, Ghost Thrower and others - there's also lots of really awesome raffles so go!!
This Thursday Jay Allen and The Archcriminals are at The Tavern at the End of the World...over by Sullivan Station
OH the drama, oh the suspense.... This weekend is Cal Cali birthday party and now the official line up does not include the Lyres... so - this Saturday May 18th is at the Rosebud! with a completely new line up- of Jetset (Latest news the The Illyrians with Eric Martin has been added) and Cadillac Heart....and as a special treat Rayboy Fernandes is coming back to Boston for a visit and will be playing with CH. The band, with Rayboy, will be on Crash Course for Ravers that afternoon at 2pm!! ....YAY Happy Birthday Cal Cali!! and welcome home Rayboy! Come down and wish Cal a most wonderful bday. He's a great guy!!
Also Saturday the 18th The Pity Whores are at Radio
On that same day 5/18 in the afternoon 2:00 PM - 4:00 PM at 9 Charnwood Road, Somerville, Jon Bernhardt of WMBR's Breakfast of Champions will be doing Theremin versions of songs that are completely inappropriate for that instrument (mostly punk and new wave classics).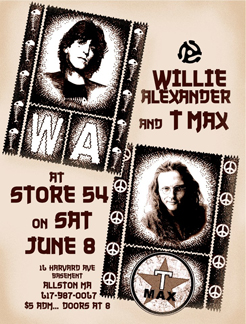 Next Monday May 20th The Upper Crust are playing a late show (10:30) at The Midway on one of those Monday is my Friday nights...
May 23rd Cal Cali goes even further north to Salem for a special gig at the Seaport Café - the Cali Leger Experience will play...
Friday May 24th is a great night at Radio: James Straight and The Wide Stance are at Radio with Gyro Lula and special guest T Max whgo finally makes his way back to Boston if only for one night! -Radio Down has Teenage Heart Records presents the Horny Bitches, Give Up and the Bad Leiutenants
And thankfully Cal Cali is taking full advantage of the Rosebud situation!! We have The Nervous Eaters, Asa Brebner & The Roman Sauna Warriors and Sourpunch on Saturday May 25th...at The Rosebud.
The Middle East Up on Friday May 31th are The 360's, Classic Ruins and Terrible Beauty.
Lots o'good stuff in June!
The Stranglers and The Nervous Eaters are at the Brighton Music Hall. That's a great bill!
Ducky Boys do a Dead End Streets Record Release show on Sunday June 9th with The Swinger Utters , Goddamn Gallows, Welch Boys at Middle East Down...
Thursday June 13th - Viva La Eva Benefit for Eva Lipton at TT The Bears:
Ivan Lipton is a huge Boston music fan, and was the VP of Strawberries back in it's heyday. His daughter Eva was in a horrible crash last year -- she's still on life support and fights to recover daily. The lifelong costs for her care are astronomical, so her family really needs your support. Boston rockers are going to help here's who's playing:
Classic Ruins (going on at 8:30) ... Roy Sludge...The Bristols... The Neighborhoods... The Dogmatics...The Downbeat 5...The Dents and Upper Crust (Ending the night). That's one hell of a night for a great cause...You can buy tix here....TIX
Oh one more thing: From Ivan Liptpon: We hope as many friends as possible can make it to TTs to see all these great bands! If you can't make it, but still want to support Eva you can donate on Paypal to: EvaLiptonBenefitFund@gmail.com
Jonathan Richman is at The Somerville Theater!! And Tommy Larkin on the drums!
Also on 6/15 The Middle East Down has The Adolescents, The Casualties, Tenebrae, and Done With You
June 22 - GG Allin Remembrance Show - and bake sale - at The Midway!!! - This is going to be a great show folks!! The original Jabbers are making their way down from NH to play at The Midway...This is the 20th Anniversary of GG's death and all proceeds from this show go to GG's daughter.
Here are the bands: The Jabbers, The Pity Whores, Antibodies, Meat Depressed, Red Line Rebels, The Manglers, Insult, Taxi Driver, Connection and more!!! Folks - now listen up friends, the Jabbers want this to be a positive, fun show…no nasty shit...here's what Chris Lamy has posted:
So this does not spin out of control given any recent events, The Jabbers want to say this..... We have been working on setting up this show with Jay and Brian at the Midway for a few weeks (as well as a NH show with a respected booker there). Every one of us Jabbers has a daughter. Later in life, The Jabbers were given opportunities which may not have presented themselves were it not for the Jabbers of 77-84. We have since played festivals, had records released, tributes released, traveled, met lots of people, and played cool places like the Midway, etc. Thru whatever divine intervention we Jabbers are all still here and able to provide for our daughters. This is our way of thanking the GG we knew and were friends with and giving to his daughter as he was not able to. It may not be much given all we have in life, but it is collectively "our" (meaning The Jabbers, Brian & Jay, The Midways and everyone else on the bill) way of saying thanks and remembering GG. We'd like to thank all the bands playing, the Boston first responders who have emailed us, and all the fans who will be attending. It should be a good show."
Also note this from Teenage Heart Records: The official poster for the show will answer almost any question about the show. At the risk of being repetitive, this is NOT a Murder Junkies show. But it keeps coming up, and people keep asking, and trolls keep trolling, so here's the deal: It can't be stated much more clearly than on the show poster that the show is a remembrance of GG Allin's life and music and that the show proceeds are going to GG's daughter. Come enjoy the bands, the beer (21+), and the bake sale. If you have some other agenda, please take it elsewhere. Thank you."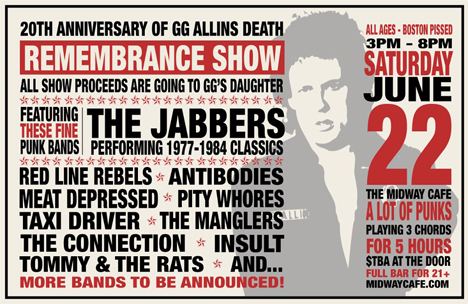 And we have to wait way too long to see Petty Morals again...their next gig is July 19th at Great Scott in Allston
Adam Ant being a swamp thang at The Royale on August 19th
On the things to do list we have: Punk being spun over at The Ramrod every Tuesday from 10PM to 2AM ...IT'S FREE and it's a revolving cast of Punk DJs -All vinyl! All Punk! And there's FREE POOL too.
And on Fridays there's Chris Atwood's Friday night radio show called The Alternative plays punk and new wave hits.
And for our video of the week: Here 's one by Bob Colby of Foxpass closing their set at Precinct on 5/21/11 with a medley of "Wanda", The Modern Lovers' "Roadrunner", and The Velvet Underground's "Sister Ray"
We want to send out a HUGE congratulations to Brett Milano and Marlene on their upcoming nuptuals this coming weekend! Here's wishing you many many many happy years together!
We have the latest instalment of Joanie Lindstrom's vacation sagas. This time it is a very exotic Peru...Machu Picchu and all that. Great photos as always. Joanie Lindstrom's Peru Vacation.
Anyone go to see the Punk at The Met show yet????
EMAIL US AT.......misslynbgn@yahoo.com