The BGN News Archive
May 14, 2018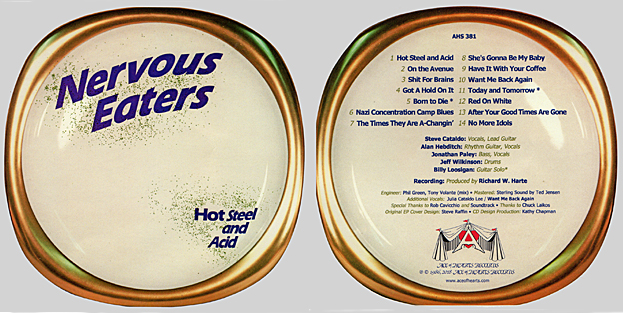 The reissued and expanded Nervous Eaters CD
---
We know Richie Parsons is near to recording his second solo album, so we went to his Tavern at the End of the World show on Thursday looking to hear a few new songs, which we got.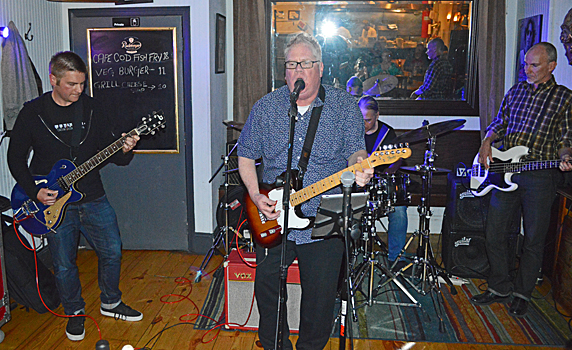 Richie Parsons
Photo:Blowfish
The band line up had Doug Harper on guitar, Frank Dehler on bass, Malcolm Travis from Human Sexual Response on drums and, for a few songs, Elisa Birdseye on viola. They began with "When Fall Begins". That was the first song on Honey and Tears and signaled Parsons turn to pop. That move was a surprise to long time fans and it opened up a whole new world of music that Richie has continued to explore. One of the new songs makes a mention of "listening to the Raspberries".
Another of the new songs hit a Velvet Underground tone and that was enhanced with Elisa's viola part. There aren't a lot of bands that have had viola players in them but the Velvets were one. Later Elisa's playing gave the songs a more traditional melodic sweetness to the material. Another new song that hit it's mark was "Six Hours Ahead".
Richie Parsons
Photo:Blowfish
"Hey Little One" by Glen Campbell was an out of the blue cover on the first album. At the Tavern Parsons revealed a few more unusual covers that will be on the new album. One was "Behind the Parade" by Tommy Keane. Another was "This Is For You" from Mick Ronson's Play Don't Worry album. The song was written by Laurie Heath a member of the New Seekers. There were a few songs from the first album interspersed like the moody "Blue Sands" , "When You're Dancing" and "Love Letters" which had a great bass line by Frank. We love hearing Frank's bass playing with this material. it's way different than his attack with the Axe material.
The last song was called "Beverly" a love song and tribute to the North Shore musicians that made up a big percentage of the Boston punks. That song really resonated. It was inspired by Ralph Fatello telling Richie that Beverly was to Boston what Liverpool was to London. There was some filming going on for the presentation on the Kickstarter page that will begin soon.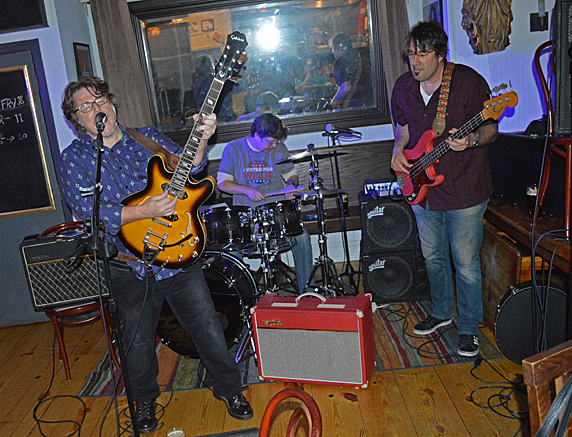 Corin Ashley
Photo:Blowfish
Next set was by Corin Ashley, the mind boggling master of the English Invasion mature period. His last CD, Broken Biscuits, is an Anglophile's wet dream. And the set was much the same. He had two other guys that had the chops to deliver the goods with him. The drummer had all the Ringo style fills, the bass player was from the school of Paul McCartney and then they both sang sweet harmonies effortlessly. If you like the style, and who doesn't, it's like ice cream, well, with this guy an ice cream Sunday. It was hard to believe that just three guys could give that feeling you usually get from those super produced sixties albums.
He played a cover of "Cold Turkey" just because he felt like it. and he finished off the set with a spot on version of "A Million Miles Away" by the Plimsouls.
It was an enjoyable set made enhanced with the friendly environs of The Tavern. They was even a few rounds of applause that came from the bar room as they overheard. The bar was full up with regulars.
Friday at the Midway they had a bill of hard rocking outfits. It was topped by Loser's Circle. We left before their set but we talked to Jamie from the group. The big news was that he became a father two weeks ago. The baby was a few weeks early but is healthy and thriving. Congrats to him!! It was great to hear the stories and to be reminded of what's important on the road of life.
The Midway has a new sign on stage now as you will see in these photos below.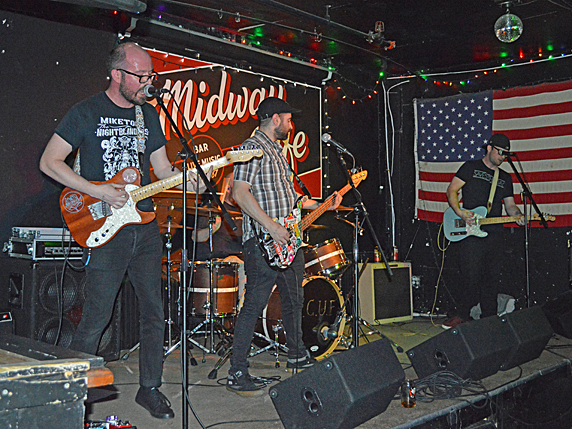 You Scoundrel
Photo:Blowfish
You Scoundrel from Boston began. They had a post punk sound with a some indie influencers. They had a scrunchy wash working though a four chord progression and often it didn't vary. That would be a big no-no normally but in this case that's their thing. There were a few songs where it worked and we liked it a lot. There was a lot of energy and emotion in the singing. They have a song on Bandcamp called "Let's Face it Shawn, You're Not Exactly Boyfriend Material". That's somebody whose been in the relationship wringer. Their Bandcamp page.
Next up was K.C.U.F. which stands for Ken and Chris's Undecided Franchise. Ken and Chris played drums and guitar respectively. They also had Aria Rad of the Coffin Salesmen on bass. They were very lively and punky. The songs had a point and a chorus that was memorable. One had a chorus of "American boy, American girl," that stood out and another was, "Russian spies don't scare me anymore." We liked "Four Walls" and that's on their Bandcamp page. They have two EP's and there is good material there.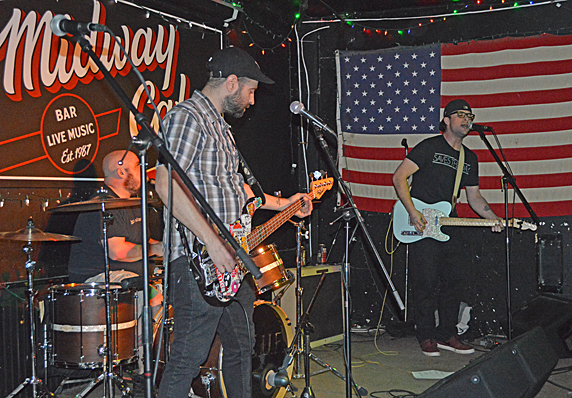 K.C.U.F.
Photo:Blowfish
The notable thing was that you could hear what the singer, Chris, was saying because of his clear singing style. He was very comfortable with his singing as you can see in the video below at the 30 second mark. That was a point where if you got it, flaunt it. They are a comparably new group. We hope they keep it a trio. That bass helped a whole lot. We'll be looking to hear them again.
It was back to the Midway Saturday for a line up that was full of our favorites. It was the Nervous Eaters, Justine and the Unclean, The Gala, and The Hi End. No way we were missing that.
In the afternoon the Midway had a show that included Killer Colors. Killer Colors is that North Shore band we mentioned last week with the young band members that fail every age and height requirement for everything. They include Lincoln who got onstage with the Lillingtons at the Middle East. Eddie from Stop Calling Me Frank was there. He said he wanted to quit the business when he saw how good they were.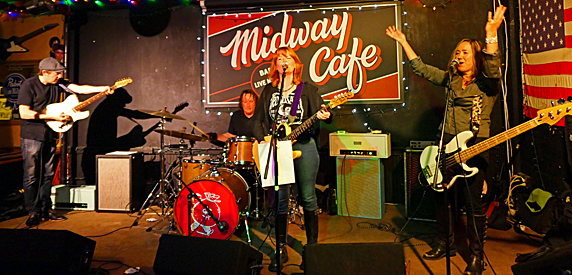 Justine and the Unclean
Photo:Blowfish
We walked in to the Midway with Justine and the Unclean onstage and the crowd completely wrapped up in the set. We caught about half of it. It's been a while since we've seen them so we soaked up every note. They were in top form, as were every other group this night. Charles Hansen was whipping through his arsenal of masterful moves. We go crazy for that mix of voices with Justine and Janet. Jim Janota was at his mad dog best.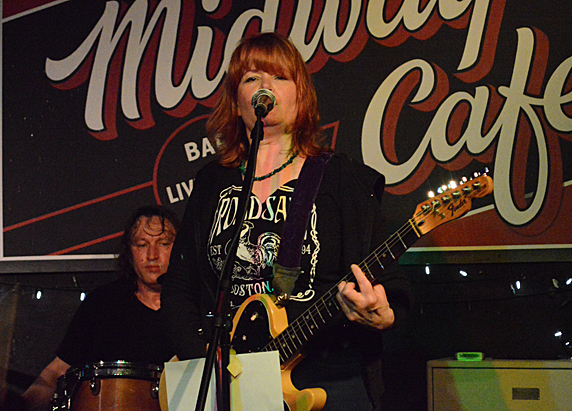 Justine and the Unclean
Photo:Blowfish
The songs that seemed too good to be true when we first heard them turned out to be our true favorites. It's been too long between live shows for them, but we know they've been recording. It was great to hear "Passive Aggressive Baby" and it's new companion "My Monosyllabic Man". They also did "Rock and Roll Blackmail" from the album. We only want to see them again right now.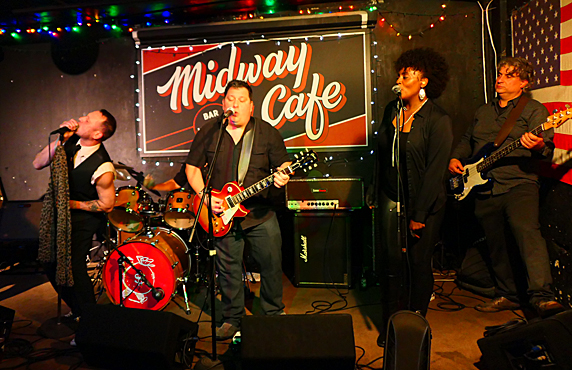 The Hi End
Photo:Blowfish
We last saw the Hi End at this same venue just before Curt went on his European tour with his other group The Mochines. Curt just got back, so, we believed it when Johnny Carlevale said that they hadn't practiced, but then how could they be so tight? It was the gas pedal to the floor for the whole set.
Other groups should take a close look at how the Hi End arranged their two guitars to complement each other. Their guitar parts were filled with creativity and variety as they interacted with each other. At times it felt like they had a horn arrangement going on. Carlevale would have loved that, having done that with other groups. They signed up a new singer, Nina, to the line up and that added another layer to the full sound. Sound-wise they draw from the seventies. The song we got on video was one of their best and shows how they take a few punctuated chords and rev them up. See video above.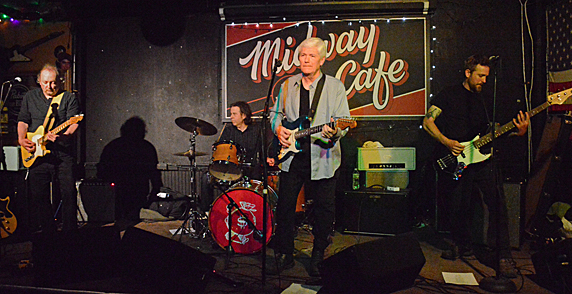 Nervous Eaters
Photo:Blowfish
The Nervous Eaters took the third set. They have better gigs going on lately, like that set after the Boys From Nowhere film in Beverly. They played a few newer, and less known, songs (one was "why U Telling Me Now" - video below) and then got into faves with "On The Avenue", "Girl Next Door", "Degenerate", and "Loretta". Steve was incendiary on all his leads. Alan matched him with a few, especially in "Loretta". Dave McLean was hitting harder than ever, we love that. Nick is getting comfortable in his bass slot and the vocals he adds with Alan make the best back-up singing the Eaters have ever had.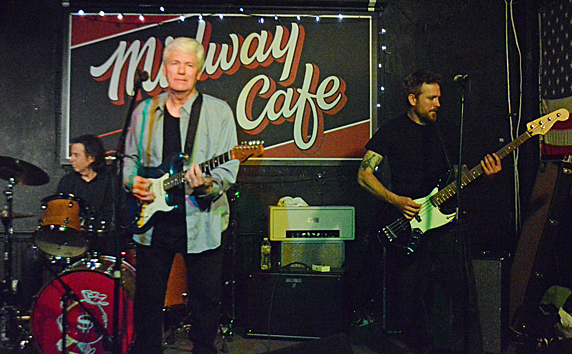 Nervous Eaters
Photo:Blowfish
Unfortunately the set was on the shorter side as Steve was having a hard time on stage, although you couldn't tell until he walked off. Every group had complained that it was very hot on stage and you could see band members sweating all night. We were hot on the floor ourselves. We assumed just time in the fresh air would help. The AC should have been turned on for this show.
Rick Harte was there and had news. Both the reissued Hot Steel and Acid CD with bonus tracks and a new Real Kids CD with eight songs are just about done and release is imminent. We got the CD cover to show you – Photo above. Rick also showed some more photos for the inside.
It isn't just the old album tracks on this CD. Rick said he has worked on how they sound. He said he used all his tricks from the Mission of Burma album on the song "Hot Steel and Acid" and it sounds way different from the original. Nobody but nobody puts in the time and effort into a release like Rick. He lives with the material and fashions it for years. That's why groups love him.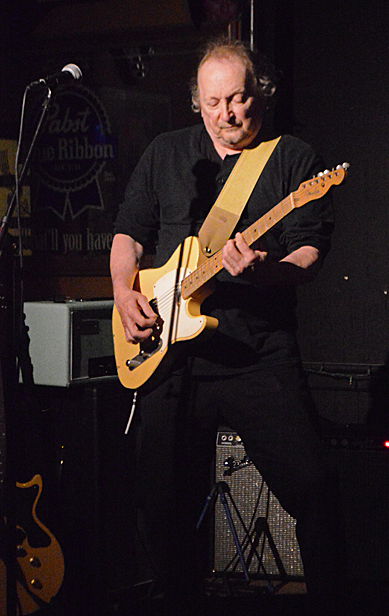 Alan Hebditch
Photo:Blowfish
We also talked to Alan Hebditch who said that Steve was writing new songs like crazy. The Eaters are into a whole new chapter now.
John Surette was taking in the show. He says he's feeling much better after a bout with a mystery illness, now diagnosed. We shared John's story on Facebook about hanging with the Jam. Read that if you haven't. John's posts almost make Facebook worth all the crap. John's love of punk is contagious.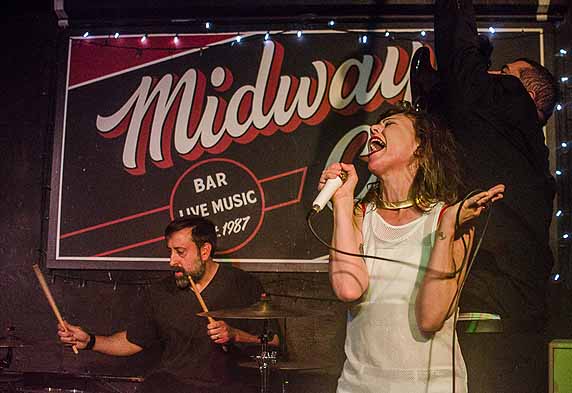 The Gala
Photo:John Keegan
It was now The Gala's job to wrap up the night. There really was no doubt, knowing their group attack, that they were up for it. Sure enough it was the set that we have come to know as their standard since we first saw them by chance at Great Scott's in February. Was it really only a few months ago?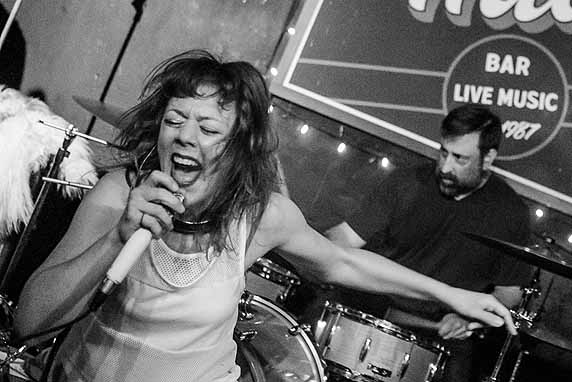 The Gala
Photo:John Keegan
They cranked up the whirly organ and staccato chords to get a poppy new wave sound but with balls. That was solidified by Emily's strong vocals. Emily is a whirlwind on stage and beside her Justin Perilli tried to poke the celling with his bass. He put that dull bass player stereotype to rest. The video we have is the same song we have recorded before, not by design, but it's one of their best as Emily stresses, "I don't want to talk about it".
We're trying to spread the word on The Gala and get people out to hear them. They were a worthy ending to this solid rock bill. There were a few good shows in town so the club never filled up but those that were there got a hot show – in more ways than one.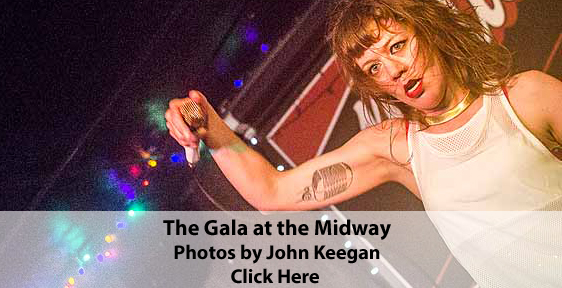 More band photos below the show listings
---
And in other news.....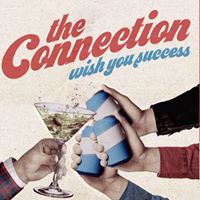 The Connection got another play from their new album on The Underground Garage on Sunday 5/6/18. The song was "In The End". And the third week for "So Lonely" from Kurt Baker
This Friday Andrea Gillis is releasing the first single from her new album Ladies Love Thunder! She has a show this Saturday at Once with Kingsley Flood and Glenn Yoder.
We were excited about a new band we saw at Starlabfest last summer called Jojo and the Angry Girls but we never found them having another gig. Jason Ring the singer with a unique stlye has started another group called Baabes. They have a video of one song called "AllaMyGunz". They remind us of the Monsieurs. It's raw garage. Looks like they will be a blast live and they have an album release show this Friday at the Middle East Up. Also on the bill are The Knock Ups, The Gala, and Hambone Skinny. Check out the Baabes video here.
---
Here's some good shows coming up this week.....
May 14 (Monday) Salem Wolves w/the Very Reverend, LE Yikes, SURF CLUB, the Maxims at Charlie's Kitchen
May 16 (Wednesday) Sean Patrick Carney (of The Scandals) with special guests Michael Kane and the Morning Afters, The Callouts, and Coffin Salesman at the Midway
May 17 (Thursday) Tsunami Bomb, Diablogato at Once
May 17 (Thursday) Girls Rock Campaign Boston Pizza Party and Karaoke- there's a pizza buffet, live music from Hilken & Thalia, Charlo & Studs Green, and Jennifer T & Liz W, PLUS Karaoke with Jean Crawford and entry into a raffle!
May 18 (Friday) The Facc-tones, A Bunch of Jerks, Sugar Cones, Charlie Don't Surf at The Midway
May 18 (Friday) It's a cool line up of Kid Gulliver, The Stigmatics and The Very at the Jeanie Johnston Pub.
May 18 (Friday) Baabes "Album Release Party" with The Knock Ups, The Gala, Hambone Skinny at The Middle East Up
May 19 (Saturday) A Crash Course For The Ravers 1pm to 4pm on 91.5FM Medford. featuring Simon Ritt talkin' 'bout Johnny Thunders!
May 19 (Saturday) Kingsley Flood, Glenn Yoder & The Western States, Andrea Gillis at Once - music starts at 8PM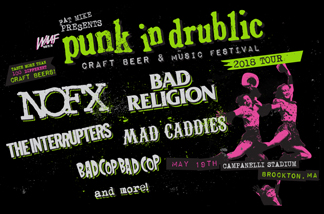 May 19 (Saturday) The Knock Ups, State of the Union, The New Frustrations, The Imposers at The Midway- early show 4-8Pm
May 19 (Saturday) WAAF Presents: Punk In Drublic Festival with NOFX, Bad Religion, The Interrupters, Mad Caddies, Bad Cop Bad Cop at Campanelli Stadium in Brockton, MA FB page for more info/directions
May 19 (Saturday) Celebrate Sue (Miniachello's) 50th Birthday!! at Sally O'Brien's celebrate Sue with friends and family and food and drink and cake and, of course, MUSIC! A stellar lineup of bands and special guests is in store. More details to come on that, although a few surprises will be kept under wraps. FB page for updates
May 20 (Sunday) Sunday Mess Around - 4 PM - 6 PM at The Plough - There's Jay Allen, Justine Couvault and Tom Baker and this week's special guests are Jen D'Angora, Michelle Pauhaus and Evan Shore.
May 20 (Sunday) The Scurvy's Black Market Flea 4-8PM at The Scurvy Dog in Provi RI. it's a mini flea with stuff like records, CDs, cassettes, T Shirts, books etc. More info on FB page here
May 20 (Sunday) It time again for Slimedog's 22nd Birthday Party. The line up is Kermit's Finger, The Lost Riots, The Revilers, Uncle Spud, and Time Out Timmy. Linnea Svedka will play between sets. All that and FREE PIZZA too! Starts at 4PM.
May 20 (Sunday) The Crank-tones (Record Release), Jittery Jack and DJ Easy Ed at Great Scott this is a 2PM show start
May 20 (Sunday) Red Hare, Sweet Jesus (Last Show), Holy Hands, Silver Screams are at AS220 in Provi, RI FB page
May 20 (Sunday) The Proletariat are at Alchemy in Providence RI FB page This show is FREE and All Ages.
And further out we have.......
May 23 (Wednesday) Boys From Nowhere: The Story of Boston's Garage Punk Uprising is at the Cape Ann Cinema - 7:30 show time. FB page
May 23 (Wednesday) Simon Ritt is performing Johnny Thunders' So Alone album with him are The Bristols, Evan Shore, Tony Savarino, Mark Chenevert, Adja Snyder, Joe Mazzari, Phil Aiken, Eric Martin and Bill Dougherty - wow!!! also on the bill 61 Ghosts...at the Lizard Lounge.
May 24 (Thursday) Thrust Club with Dump Him & Sapling at Once
May 25 (Friday) Whore Paint, E (record release), Arch Cape at The Midway
May 26 (Saturday) A benefit for Nate at The Rhumbline Upstairs in Gloucester featuring Sternman and a bunch of other bands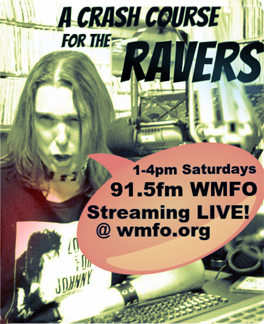 May 27 (Sunday) Roy Sludge at Sally O's, Sun. Memorial Weekend 6- 8:30Pm

May 27 (Sunday) The Four Point Restraints, The Guilloteenagers, Surprise Party, American Affairal (Jess & Tom of Man Trouble) at ZuZu

May 31 (Thursday) Red Hare, Sweet Jesus (Last Show), Holy Hands, SilverScreams, Pummel at AS220 in Provi RI FB page

May 31 (Thursday) Atlantic Thrills, The Mad Doctors, Fire Heads, Heavy Connection at the News Cafe Pawtucket, RI.

June 1 (Friday) Tom Baker & The Snakes, Swilson and Duck and Cover at The Tavern @ the End of the World.

June 1 (Friday) Thee Fightin' Fish Record Release Party at Club Bohemia also playing are EVERT, Birdgangs, Captain Martini and the Key Stoners

June 2 (Saturday) A Crash Course for the Ravers featuring Charlie Don't Surf! 91.5 WMFO 1-4PM

June 2 (Saturday) Check out JJ Gonson's pics with Slam Dance - Pictures from the Pit it's out in Framingham, 4-8PM FB page for info

June 2 (Saturday) The Black Souls, Crunchtime & Guests, do a Midway Cafe Matinee 4-8PM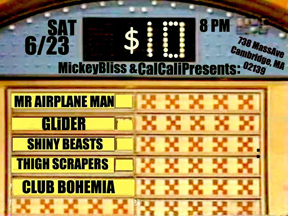 June 2 (Saturday) Fur Purse, Lady Pills, Miss Geo & DJ Sit and Spinat the Midway 9PM show
June 2 (Saturday) Sheer Terror, Nothing But Enemies, Brando, American War Machine at The Middle East - this is an early show 5:30-10:30
June 2 (Saturday) Worshipper, Sidewalk Driver, Flight Of Fire, Blood Built Empire at Sonia
June 3 (Sunday) The FUs, Working Poor USA, The Straight Eights, Worm at The Midway for a 4-8PM show
June 3 (Sunday) Gang Green and Taxi Driver at Alchemy in Provi RI also a matinee 2-6Pm
June 5 (Tuesday) Rock and Roll Trivia w/ Erin and Brett at Sinclair 8PM
June 9 (Saturday) Sternman, Nightbird and Tragedy at The Middle east Up.
June 9 (Saturday) Scissorfight, Diablogato, Scrimmy the Dirtbag at Opus in Salem - and its sponsored by Lord Hobo Brewing company- you know what that means
June 9 (Saturday) The Neighborhoods at the Ocean Mist in RI on June 9, Tickets
June 10 (Sunday) Tokyo Tramps, Jody Moore, Billy Connors Project, Club Linehan A Go Go at The Midway for a 4-8 PM show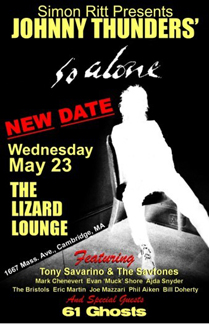 June 13 (Wednesday) doing their G.G. ALLIN 25th Death Anniversary Tour the Murder Junkies are at Cafe Nine in New Haven CT FB page
June 13 (Wednesday) Some Kind Of Nightmare (CA), Silver Screams, BDSX, Sweet Bangs at Opus in Salem
June 13 (Wednesday) Supersuckers, Speedealer, Salem Wolves are at Alchemy in Provi, RI
June 14 (Thursday) The Dickies (40th Year Anniversary) w/ The Queers, Duck & Cover and Cookbag at The Middle East FB page for tix etc
June 15 (Friday) Robert Gordon is at the Greasy Luck Brewpub in New Bedford, MA opening is Johnny Barnes & The Nightcrawlers. FB Page
June 16 (Saturday) GLiDER Live on Radio 91.5FM Crash Course for the Ravers! wmfo.org stream 1-4PM
June 16 (Saturday) Benefit for Rosie's Place with Jerry's Got Jokes, Threat Level Burgundy, Whoopi Sticks, Blame it on Whitman, The Runouts this is a DAY show at The Midway
June 16 (Saturday) The Nervous Eaters, Justine and the Unclean, Stop Calling Me Frank are at Thunder Road
June 16 (Saturday) GBH with Pinata Party are at The Middle East Down.
June 17 (Sunday) Micah Schnabel, Live Nude Girls, Olde Boy, Amy Griffin at O'Brien's Pub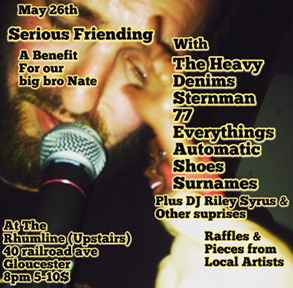 June 20 (Wednesday) Blk Squirrl Record Release with special guests Andy California and Sundog at The Midway
June 20 (Wednesday) Reverend Horton Heat, Big Sandy, Lara Hope & The Ark-Tones at Alchemy Provi RI
June 22 (Friday) Greg Allen's Fringe Religion, Pop Gun, Muck and The Mires and 138 at KOTO in Salem
June 22 (Friday) Tied To A Bear, Duck &Cover, The Von Traps, Sonic Libido at Opus in Salem
June 23 (Saturday) Gene Dante And The Future Starlets, Parlour Bells, The Gala, Smitt E. Smitty and special guest DJ, Gang of One (Hugo Burnham formerly of Gang of Four) at Once - 8:15PM show time!
June 23 (Saturday) Mr. Airplane Man, GLiDER, Andy California, Shiny Beast, Thigh Scrapers at Club Boho/The Cantab
June 23 (Saturday) The 7CS and The Rolling Who, are at the Plough & Stars
June 24 (Sunday) Opposition Rising Boston Record Release Show! with Not A Part Of It, Infernal Diatribe, Neighborhood Shit, DNZL 4PM matinee show at the Midway
June 24 (Sunday) The Adolescents, Electric Frankenstein and Duck & Cover at Brighton Music Hall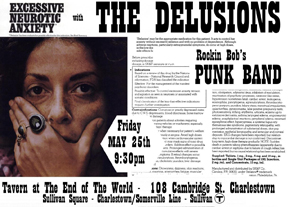 June 29 (Friday) Nervous Eaters, The Gamma Goochies, Euphemia at Geno's in Portland, ME
June 30 (Saturday) Goddamn Draculas, Jason Bennett and The Resistance, Art Thieves at Middle east Up 6:30 PM show
June 30 (Saturday) Rockin' Dune Tunes at Whitecrest Beach Wellfleet Cape Cod. It's rocking on the beach – well, the parking lot next to the beach. Line up : Mr Airplane Man, Atlantic Thrills, Shiny Beasts, 5 SPF4. It's FREE & ALL AGES. it starts at 5PM. The town charges to park for the beach until 4:30. Bonfire on the beach after the show. In memory of our friend Trey Helliwell. More info here on FB
July 1 (Sunday) G.G. ALLIN 25th Death Anniversary show with The Murder Junkies, Smoking Triples, Jonee Earthquake, They Hate Us, Malcolm Tent at The Dutch Treat Franconia NH Here's the FB page
July 7 (Saturday) Pajama Slave Dancers (reunion) with special guests Trusty Sidekick, Grey Matter (ft. Eric Gaffney), and The Weisstronauts
July 8 (Sunday) Step 13, Genuine Rust, The Martians, Cry Havoc at the Midway for a 4-8PM show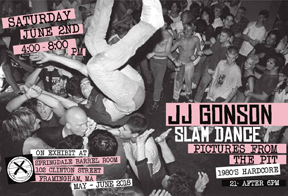 July 11 (Wednesday) The Goddamn Gallows, The Koffin Kats, Viva Le Vox at Alchemy in Provi, RI
July 12 (Thursday) Koffin Kats, The Goddamn Gallows, Viva Le Vox at The Middle East
July 13 (Friday) Last Ones and CalCali Band are at Tavern at the end of the world. (Rick must be back from his Grand Tour!)
July 13 (Friday) Fireking, The Grip Weeds, Watts, Modern Day Idols at Thunder Road -get tix here.
July 14 (Saturday) il Mostro, Psychic Dog, The Laces, Jim Healey for a 4-8PM show at the Midway
August 4 (Saturday) Scissorfight, White Dynomite, Northern Skulls, Red Mantis at Once Somerville
August 4 (Saturday) Descendents w/ A Wilhelm Scream & Pavers at State Theatre, Portland, Maine FB page
August 8 (Wednesday) The Blasters come back to ONCE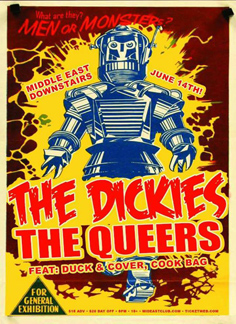 August 13 (Monday) Agent Orange, Fea, and more at Ralph's Diner in Worcester FB page
August 16 (Thursday) Agent Orange w/ FEA, Zero Holds at Alchemy in Provi, RI
August 24 (Thursday) Lyres, Glider, Pop Gun, Knock Ups at Koto in Salem
September 9 (Sunday) Slim Cessna's Auto Club and Kid Congo Powers at Once - music starts at 8:30
September 11 (Tuesday) Killing Joke on their 40th Anniversary Tour at the Paradise FB page
October 12 (Friday) Salem Horror Fest After Party with Diablogato, Gray Bouchard and the Dedications and Petty Morals at Opus in Salem
October 20 (Saturday) Nervous Eaters, Indonesian Junk, Duck & Cover at the Middle East Up
October 27 (Saturday) The Descendents w/ Teenage Bottlerocket at The Palladium in Worcester FB page for tix etc
CONTACT US AT....misslynbgn@yahoo.com Send us your gig listings, your news and anything else ya got!! You want your CD reviewed?? Contact us for that too.
The Gala
Photo: Blowfish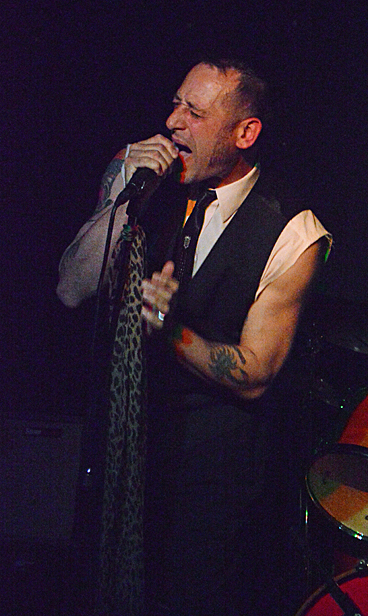 John Carlavale
Photo:Blowfish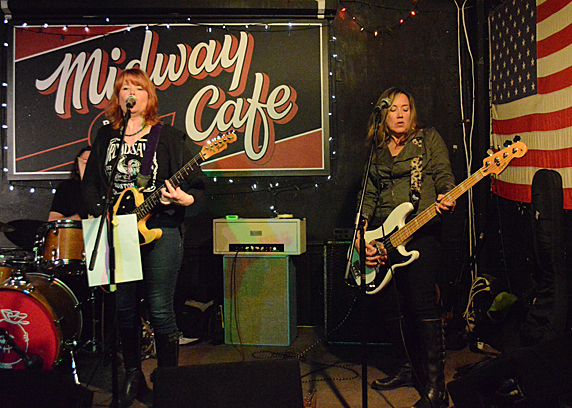 Justine and the Unclean
Photo:Blowfish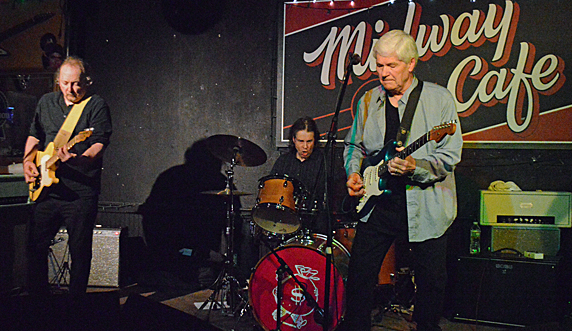 Nervous Eaters
Photo:Blowfish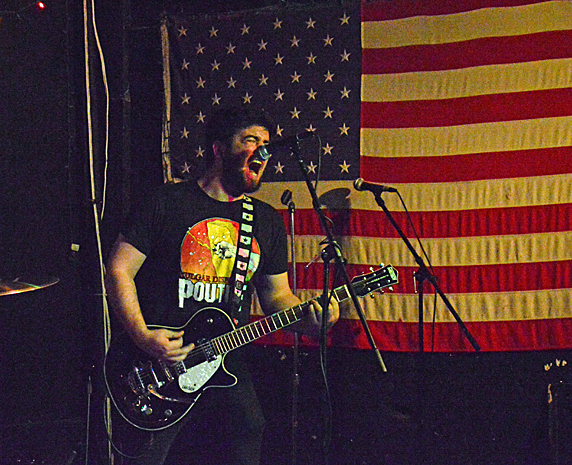 K.C.U.F.
Photo: Blowfish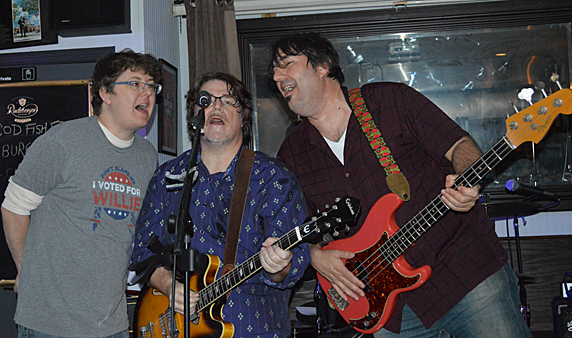 Corin Ashley
Photo: Blowfish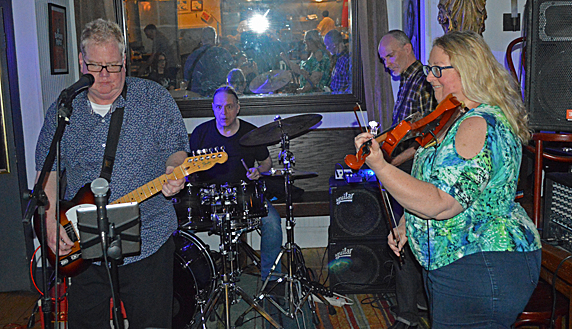 Richie Parsons and Elisa Birdseye
Photo: Blowfish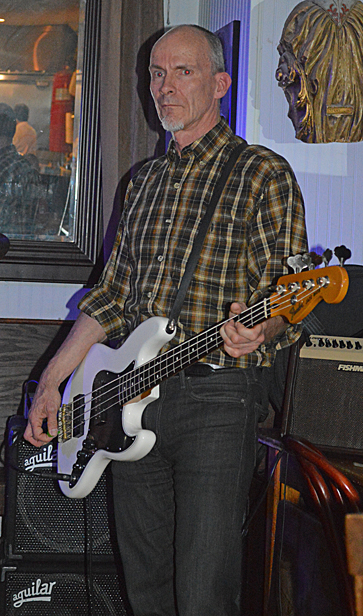 Frank Dehler
Photo: Blowfish