The BGN News Archive
May 15, 2017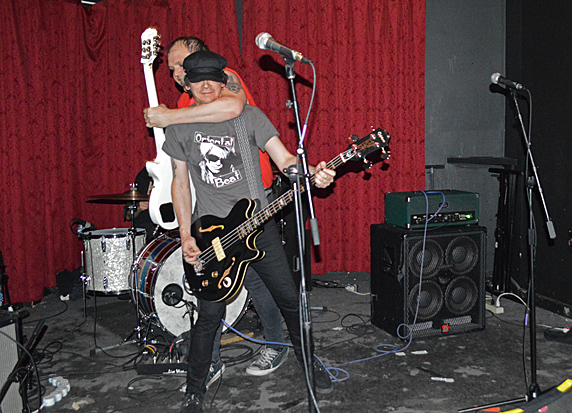 Indonesian Junk
Photo: Blowfish
Hate to be repetitive but we hit O'Brien's on Monday. As it turned out we hit it three more times before the week was out. Hey, they got the good shows!!

Monday had a Rum Bar Records related show with Indonesian Junk and Jay Allen.
The whole night was a feel good time with not a lot of people but people we knew; Joanie Lindstrom, Eric Law, Vinny Bratty, Justine Couvault, Sara Billingsley, Tom Baker and Andrew Hegarty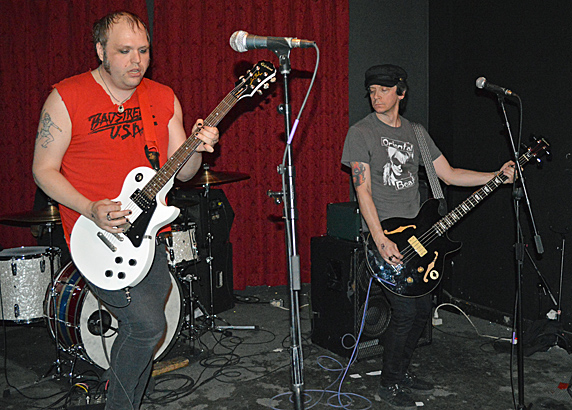 Indonesian Junk
Photo: Blowfish
Indonesian Junk from Milwaukee were all upbeat in the music and stage patter. The songs are fast and rough rock. There were hooks in the chord sequences done with a ragged guitar crunch. The guitarist and bassist were all over the stage and played with lose abandon. It could have fallen apart but the drummer was a human metronome. He was steadier than a heartbeat and hitting the drums with a force that had those two guitarists in a headlock. His bass drum seemed HUGE. What was going on there?
The band members had big personalities and the stage banter was directed at Lou Mansdorf and Tom Baker at times. Just before the show they had formalized a contract with Rum Bar and will have a CD with them again in the future.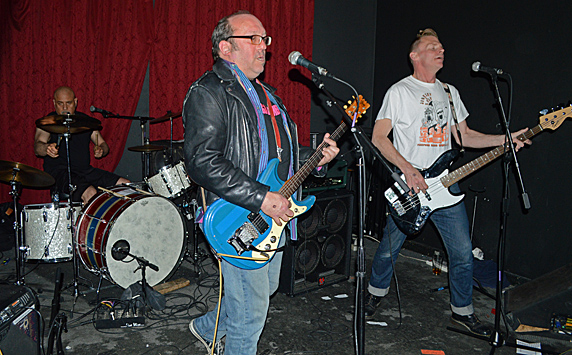 Jay Allen and the Arch Criminals
Photo: Blowfish
Then it was Jay Allen and the Arch Criminals turn at bat. They being one of the first Rum Bar signings. Jay is a local treasure. One of his strengths is his wide knowledge of punk that is infused into his song writing and performances. This night he bookended his set with covers, at the beginning it was The First Time by the Boys and at the end Stay With Me by the Dictators (in video above) . That alone is ice cream for the punk soul. He played some of his off beat songs like Chopped Liver (in video above) and Balls. He played two new ones which hit their mark big time. He's got a new album on the way too.
One more video from the night Jay Allen video.
It was two punk rocking sets but beyond that it was the high spirits exhibited by the bands and shared by the small audience that made this a special night.

Wednesday it was a chance to catch up with Zip Tie Handcuffs who have been playing around but we have missed them.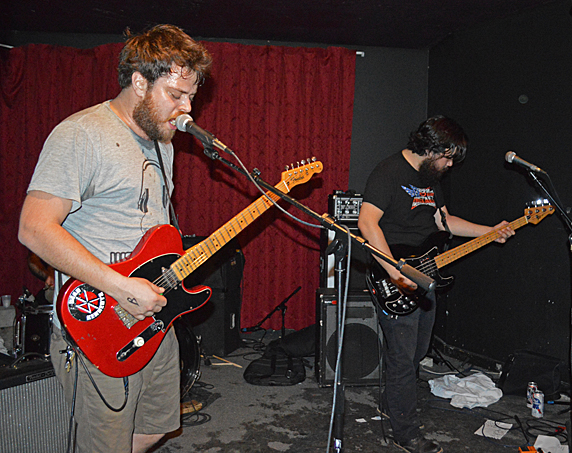 The Mad Doctors
Photo: Blowfish
The Mad Doctors from Brooklyn opened up. As they were getting on stage, dressed in doctor's smocks another 'doctor' was passing out sterile masks and gloves. People were wearing the masks and blowing up the rubber gloves to make balloons.
On stage the group took off the smocks after two songs and that was the end of any references to the medical profession. The idea seemed to fall flat.
They put out a thick echo laden din. It's a sound favored by many new groups and we like it well enough. The set had lots of energy and the crowd of about 40 gave them close attention.
Zip Tie Handcuffs
Photo: Blowfish
We were surprised to see that Zip Tie Handcuffs had a new bass player. Just a trio with an exacting style we wondered what the difference would be. There was some difference but not enough to change the identifiable quirks that make them stand out. The number one thing is those high vocals. Some songs have more high pitched 'oohhs' and 'ahhhs' than lyrics. The set list was familiar material, much from their last album. You should give it a try if you haven't yet:Headspace. There's so many melodic moments and hooks to catch that it bears repeated listens.
They are super tight musical outfit. Everything is nailed in place. They have the fun things they do, like stopping in the middle of a song and miming that they are playing hard but it's completely silent, or throwing the guitars between each other…just for show. They should be on every list of the city's best rock bands.
And then there's The Scrapes. They never seemed to get rolling and they never got the attention they deserved but then they didn't seem to be gigging as much as they should. Thursday at O'Brien's was their final show.
We heard them at Quincy's South Shore Music Hall, a well-appointed venue that never had many shows in our genre. When they played TT's Farewell shows they impressed a lot of people who hadn't seen them before.
We were disappointed to see they were going acoustic for the show. Albeit it was acoustic guitars with pickups put through Marshal amps but still not the full out rock set we love. They always did have the acoustic/Irish folk influence in their material but it was pushing it through the punk meat grinder that made the magic.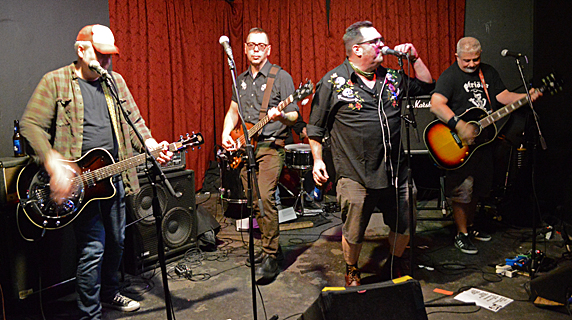 The Scrapes
Photo: Blowfish
They have the well written songs that have lyrics with local check points, like Brighton and Allston. Their lyrics are always worth catching and that came to the fore in this set. There were places in the songs where a line or couplet just jumped out. They began with Pissing Up a Rope . The penultimate song was the pointed Something Else. I wish a could catch all the lyrics but at one point it's something close to - "you walk around like Picasso but you're a frigging fiasco". Our favorite, which they did, was There's a Hole in My Heart Where the Rat Used to Be. That song hits us right there…you know what we mean? It's in the video above. It's getting to the point where there could be a CD of all Rat songs…someone get on that!
They are all excellent musicians that play effortlessly. It was a strong showing for Chris the last minute fill in drummer who had rehearsals that went up to the hour of the show.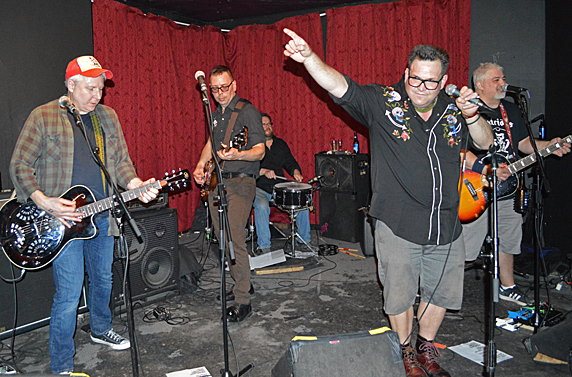 The Scrapes
Photo: Blowfish
Talking to Howie and Chris afterwards revealed that Walter Gustafson (ex- Gang Green) the drummer left for personal reasons and momentum went downhill from there. Howie is going on to do solo things although he said he will probably be calling on Scrapes bandmates to fill in.
Scrapes – we hardly knew ye!!
Friday at O'Brien's was a punk bill headed by Rockin' Bob Punk Band.
We missed the openers Mongorellis who we sure chewed up the stage. We were very sorry to miss The Morning Afters that turns out to have Sheryl Crane (ex-Crybabies) in it. We'll catch them next time.
The club was on the empty side which was strange for a Friday night. There was all sorts of competition around town. There was The Meat Puppets and Mike Watts (doing lots of Minutemen Songs we heard), at the full Brighton Music Hall, Face to Face at Once and a Red Sox game to boot.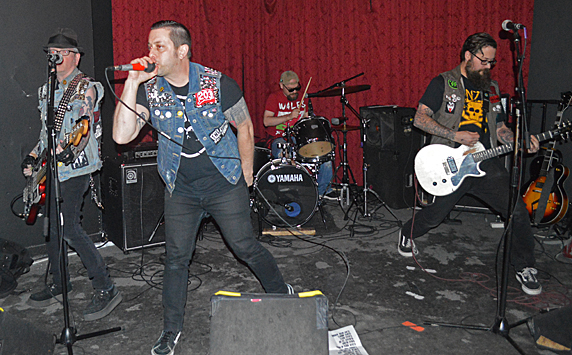 The Lost Riots
Photo: Blowfish
But nothing seemed to matter when The Lost Riots from New Haven exploded on stage. They play in an early punk style with sing along choruses. The songs had hooks and lyrics with phrases that stuck. One that got our attention had a beginning that mimicked Teenage Wasteland by the Who at the beginning but went it's own way. That's a new one and we were it'll be recorded soon. This is exactly the stuff we live for so we were eating it up.
They dedicated We're Getting Old to birthday boy Slimedog who said this was one of the best sets he's seen this year. Slimedog had to take a day off work to catch the set so maybe they ought to have dedicated their song This Job Sucks to him.
Jeffrey the singer was knocking around the stage like a pin ball. He didn't just leave the stage he bounded off the stage in a Spiderman leap. You can see that in the video above. All part of a super stage show. This group has it all going on. We just have to have them play some more local gigs.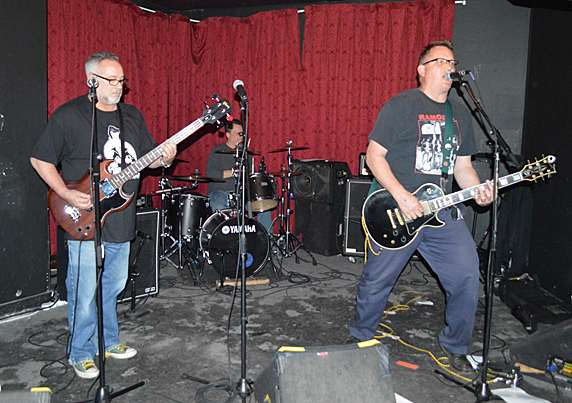 Rockin Bob Punk Band
Photo: Blowfish
We've seen Rockin' Bob Punk Band a few times before. Once at the defunct Beachcomber in Quincy in 2015 and at the Cantab. I remember a lot of the songs in this show from' those shows which proves they are memorable. Gun Mounted Drone (video above), Hey Scum Bag, I'm Offended (video above), and Never Trust a Terrorist (ClICK FOR VIDO HERE) are all like hits to me.
Live, it's hard to beat Bob's guitar tone; the Les Paul through the Marshall. It's classic. The drummer had rock solid timing. To top off the night there was 'special quest' John Sox. They played three old punk favorites; Neat Neat Neat by the Damned, All This and More by The Dead Boys and I've Got a Right by Iggy. You couldn't get a better band to pump out these classics . Then they went way way back and did up Louie Louie.

It might not have been a big crowd but everyone there got a night to remember.

Finally on Saturday we got out of O'Brien's and went to the JoeFest at the Midway. This was the fourth year bands got together to celebrate the bigger than life Joe Coughlin and his interesting taste in music.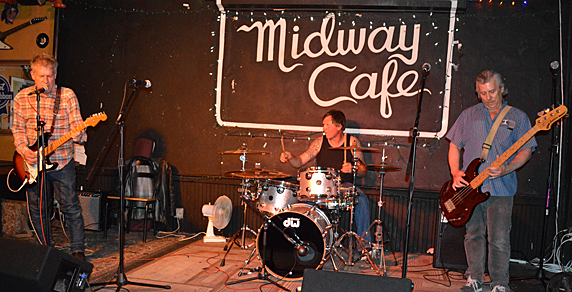 Classic Ruins
Photo: Blowfish
It was long time faves Classic Ruins who began. That would be a long time fave of Joe, and everyone else in Boston Rock. It was a sharp set for the Ruins. We love watching Dave Kowalachek who seems to love playing and is grinning the whole time. It's hard not to go to Carl's bass lines and admire the constant variety and invention in the playing. Then there's Frank who was playing a mongrel Fender which put a sting into those riffs that are ingrained in our psyche after all these years.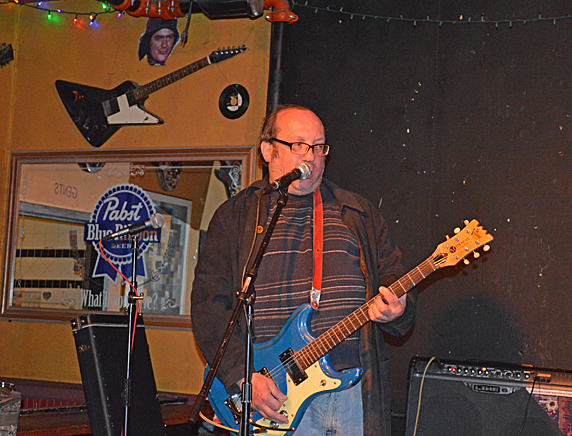 Joe Coughlin photo overlooks Jay Allen at the JoeFest
Photo: Blowfish
Jay Allen and the Arch Criminals, who we saw at OB's on Monday, are a perfect example of Joe Coughlin's offbeat taste. The sarcastic/ironic/funny lyrics capture the nutty characters that would fascinate Joe. Much of the set repeated what we heard on Monday but Jay has a large repertoire and many were different. Jay's new song Big Lie was still a stand out. The closer was Toaster Thrower by Underball a cult classic.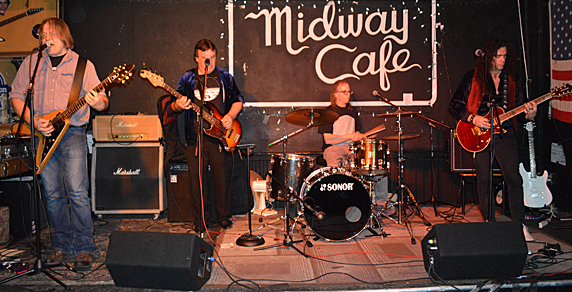 Blue Oyster Coughlin
Photo: Blowfish
Then it was the band that came to organizer Jim Foley in a dream – Blue Oyster Coughlin. He had the vision and then they made the band. We had our first look at Matt Burns back on stage. He was playing as strong as he ever has. He was wondering if he could do it himself just before - but no problem as it turned out. After a long absence we had John Hess back on stage. He seemed to be the focus. Then it was Mike Quirk on bass who was the guy who actually got the group together. They were better rehearsed than a lot of bands we see. It was interesting to hear the twist and turns of the BOC riffs and songs. Well done.
After five nights out we had to call it quits and missed MOTO who was Joe's big love. We miss you Joe Coughlin!! RIP friend.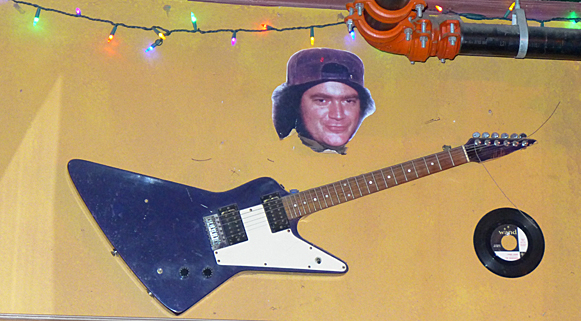 Joe Coughlin
Photo: Blowfish
And in other news...
The Damned back on tour!! The Captain is sitting on a punk rock 'throne' i.e. toilet for the show at Asbury Park's Stone Pony. This was his first show after the spill. Brooklyn Vegan has a video that shows him moving very slowly like he is really hurt from his fall in Toronto. Check out the video here. They also mention: "The Damned have signed with Search and Destroy who will release The Damned's new album, which they're recording this summer. It will be their first album since 2008's So, Who's Paranoid?" We can't wait to see them at the sold out May 24 Paradise Show!!
Joe Viglione is rereleasing the Summer Sessions EP. That was the first EP's to come out of the Boston scene. It's on CD Baby.

Los Straightjackets have a whole CD of Nick Lowe songs. Here's a video of What's So Funny About Peace Love and Understanding.

Here's some good shows coming up .....
May 16 (Wednesday) Bash and Pop are at the Middle East down
May 17 (Tuesday) CJ Ramone, Big Eyes, The Dazies at the Middle East Up
May 20 (Saturday) A Crash Course for the Ravers will be featuring The Black Souls & Classic Ruins! Check it out on 91.5 WMFO 1-4PM
May 20 (Saturday) - Jon Cauztik (of Stray Bullets), Dann Russo, Jenn Lombari (of Lucky United), Travis Woods and Ferris Mueller celebrate Cheryl's 40th Birthday- this is a day show 1-4PM
May 20 (Saturday) Jenny Dee & The Deelinquents, Muck and the Mires, Vicky and the Vengents at The Middle East Up.
And further out....
May 22 (Monday) Whoopi Sticks, Fire In The Radio (Philly) and Cook Bag at O'Brien's
May 26 (Friday) The Billy Connors Project, Reddy Teddy and State of the Union are @ the Cantab
May 26 (Friday) Corin Ashley and Modern Day Idols are at The Plough
May 27 (Saturday) A Crash Course for the Ravers will be featuring the new Greg Allen's Fringe Religion! Check it out on 91.5 WMFO 1-4PM
May 27 (Saturday) A Cal Cali show: Lyres, The Black Souls, Classic Ruins and CalCaliBand You can buy tix here (Only ten bucks!!) FB page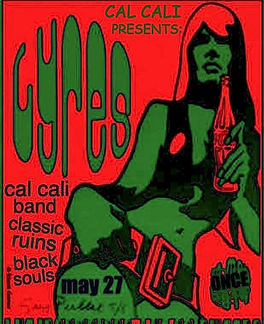 May 27 (Saturday) The Runouts, The Martians, Blame Shifters, Nymphidels at The Midway this is an afternoon show - 4-8PM
May 28 (Sunday) Yankee Power, The Stigmatics and Violet Intent at The Midway for an afternoon show 4-8PM
May 29 (Monday) Teenage Bubblegums (Italian Pop Punk), Jagger Holly, Mongorellis, Jimmy Jacked at Opus Underground in Salem (FB page)
June 2 (Friday) awesome punk show with Jerry's Kids, Stranglehold and Panzerbastard at Once (Jack Grisham from TSOL will not be here)
June 3 (Saturday) Chicago Vin, who is actually here in Boston and was in Greg Allen's Fringe Religion and is now solo is on A Crash Course For the Ravers 1-4PM 91.5FM WMFO
June 3 (Saturday) Parks, Psychic Dog, Me In Capris and Surf Vietnam at The Midway
June 3 (Saturday) Birdsongs of the Mesozoic are at Once
June 4 (Sunday) Mike's Monster Guitars is having its 4th Birthday at the Midway! It's a 2-8PM show and features M.O.T.O., The Worried, Hambone Skinny, Axemunkee, Shiny Beasts, The Guilloteenagers, headband and most likely others too! Last year's bash was a blast and we hope they have another Guitar Fashion Show! FB page for the show
June 4 (Sunday) GIUDA (from Rome Italy) and Unnatural Ax & The Hi End at Once Tix etc here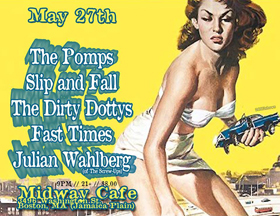 June 8 & 9 (Thursday & Friday) Reverend Horton Heat along with Agent Orange, and Flat Duo Jets at Once in Somerville
June 9 (Friday) are they back from a tour or going on a tour?? OC45 are at The Midway with Mickey Rickshaw and AMDX (American Discord) ...gotta go!!
June 10 (Saturday) Psycho, Conclave, Whoopi Sticks, Gant, Spillers an afternoon 4-8PM show at the Midway
June 10 (Saturday) The Real Kids (back from touring Europe!) Muck and the Mires and Greg Allen's Fringe Religion at The Spotlight Tavern in Beverly- FB page
June 11 (Sunday) A Sunday Punk Matinee at the Midway with M.A.T.B. (frm Worcester), Worm, The Hideout and No Good (frm Maine) 4-8PM only $5!!and All Ages.
June 14 (Wednesday) Eve Minor (from NYC), DnA's Evolution, The Stigmatics, Doug Linse at The Midway
June 16 (Friday) Kids Like You & Me' s Rama Lama Ding Dong 2017! Featuring.. The Monsieurs, Creaturos, Littlefoot, Germhouse & more! at The Middle East - check out the FB page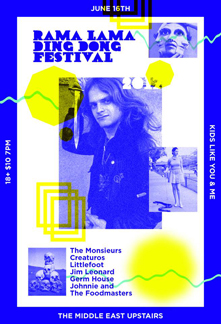 June 17 (Saturday) A Crash Course for the Ravers will be featuring Anthony Kaczynski! Tony is the consummate musician, he should have some interesting stories to tell and picks to play. Check it out on 951.5 WMFO 1-4PM
June 17 (Saturday) The McGunks, Pint Killers, The Martians and Taxi Driver - 4PM Show at The Midway
June 17 (Saturday) Quiggs, Diablogato, Duck & Cover, Loser's Circle at O'Brien's Pub
June 17 (Saturday) Held Hostage, Point Blank, Infernal Diatribe, Profit Margin at Koto in Salem (FB Page)
June 18 (Sunday) Help Save Out of the Blue Gallery Too - this will be an all day affair (3PM-11PM) with FOURTEEN bands including: Brian Young -WMFO as Emcee plus Thalia Zedek, Fireking, Randy Black, The Knock Ups, Tsunami of Sound, The Stigmatics, State of the Union, Cal Cali Rockin' Trio, The Last Ones, The KENZ (Highland & Kaiser), The Thigh Scrapers and Club Linehan A Go Go ~ 50th Birthday Party for Joe Quinn. Check out the FB page
June 23 (Friday) Club Linehan A GoGo, Johnny Plankton, The Unoriginals, Mad Painter and Nonzerochance at McGann's Pub FB page for directions etc
June 25 (Sunday) Punk Oi Matinee at The Midway with Working Poor USA, Moose Knuckle, DestrOi! and The Abductors 4-8PM
June 25 (Sunday) Nonzerosum Present: Conflict, Who Killed Spikey Jacket, Cinderblock, Pandemix - ALL AGES, $20, 8:00 PM Doors at the Middle East Up.
July 19 – July 30: The Midway's Dirty 30th Anniversary Celebration Spectacular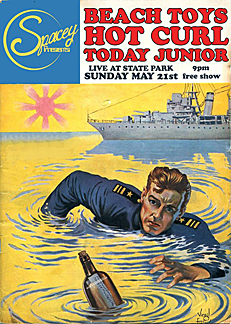 July 17 (Monday) Township, The Dents, Love Love and Weather Weapon at The Midway- Night 1 of the Midway Dirty 30.
July 21 (Friday) Stray Bullets, Hobo Chili, Warning Shots and Stop Calling Me Frank at The Midway!! Night 5 of the Midway Dirty 30.
July 22 (Saturday) DJ Easy Ed Night with The Cranktones, The Barley Hoppers and Fearless Leaders at The Midway!! Night 6 of the Midway Dirty 30.
July 29 (Saturday) The Real Kids, Muck & The Mires, Watts and Gene Dante & The Future Starlets night 13 of the Midway Dirty 30!!
July 30 (Sunday) Fast Times Nervous Eaters, BarRoom Heroes, The Revilers -4-8PM at The Midway!! Night 14 of the Midway Dirty 30. at The Midway
August 5 (Saturday) The Silver Mirrors, Instant Shawarma, The Facc-Tones and The Sound Down Cellar at The Midway
August 12 (Saturday) The Modern Voice, Black Helicopter, Wrought Iron Hex, Scuzzy Yeti at The Midway
August 27 (Sunday) Stop Calling Me Frank, State of The Union, The New Frustrations, The Only Things at The Midway - afternoon show 4-8PM
September 16 (Saturday) Chameleons VOX At the Middle East Also on the bill: Soft Kill , Way Out and The Milling Gowns FB Page
November 3 (Friday) Human Sexual Response at HOB
CONTACT US AT....misslynbgn@yahoo.com -Send us your gig listings, your news and anything else ya got!! You want your CD reviewed?? Contact us for that too.
Indonesian Junk with Lou Mansdorf
Photo: Blowfish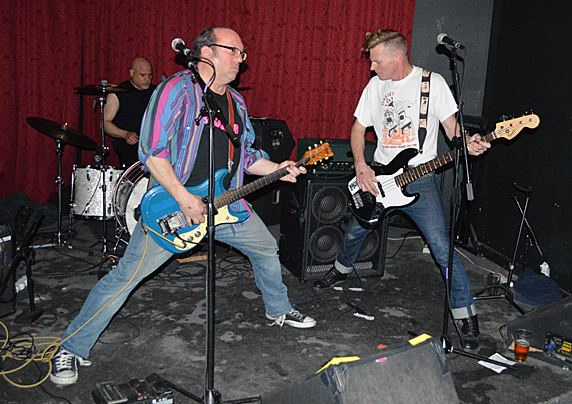 Jay Allen
Photo: Blowfish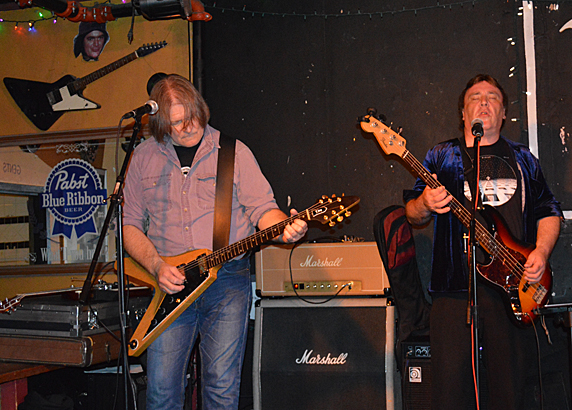 Blue Oyster Coughlin
Photo: Blowfish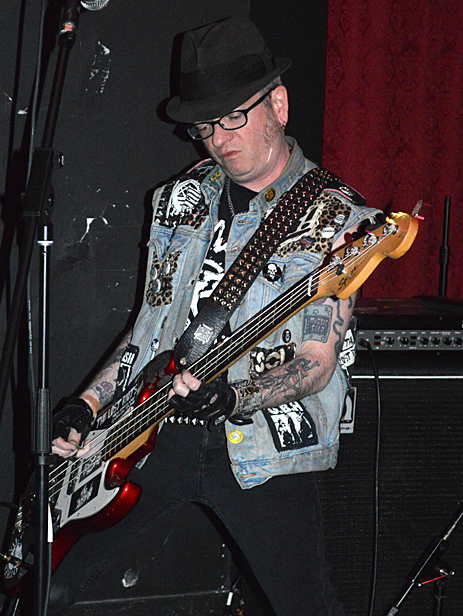 The Lost Riots
Photo: Blowfish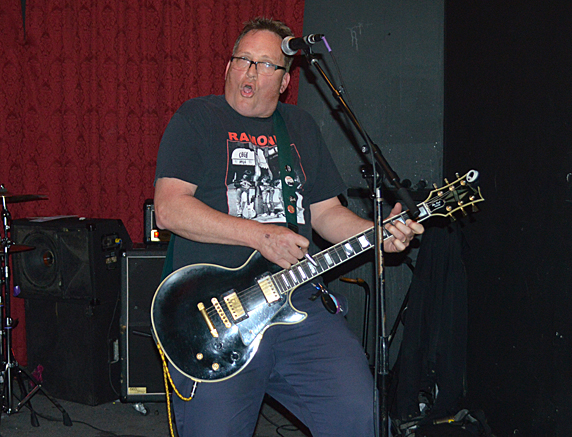 Rockin Bob Punk Band
Photo: Blowfish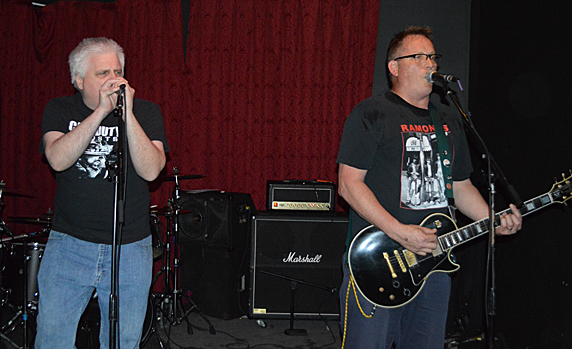 John Sox and Rockin Bob
Photo: Blowfish