The BGN News Archive
May 16,2016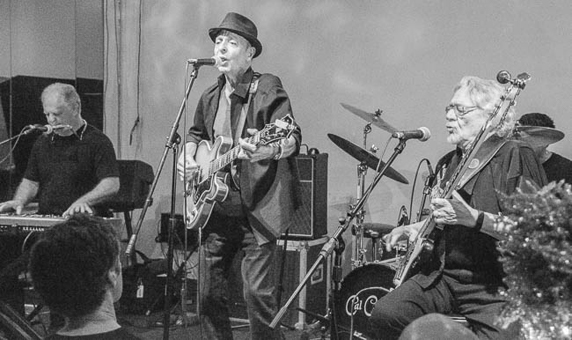 The Remains at ONCE
Photo: John Keegan
This week's Barry & The Remains show at Once was a long time coming and much anticipated. The Remains were enough but then the good line up of the bill added to it. This was a Cal Cali production which means he had a stake in how the night went. As it turned out it there was a good crowd; enough to make it a monetary success.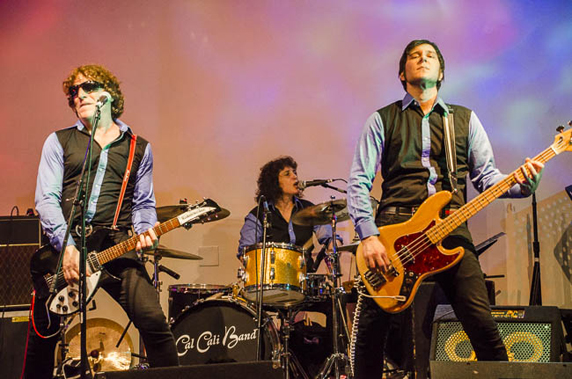 Muck and the Mires
Photo: John Keegan
A back up from a bad accident on the Expressway made my arrival later than I planned and I missed most of Muck. It doesn't take much to feel that fast paced supped-up stage show that transmits the Muck and the Mires excitement. The crowd was captivated and I was feeling bad that I missed the set.
Video of Muck and the Mires last song I'm Your Man.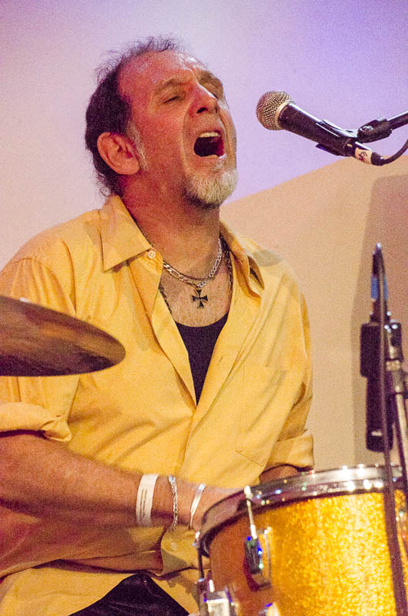 Cal Cali
Photo: John Keegan
The Cal Cali has several outfits. The Cal Cali Band is the one that does cover songs. They started with "Pale Blue Eyes" with Nancy Neon singing. To me there's always one song in their set that hits me. This time it was "I Can't Let Go" by the Hollies which was sung by Yuke Fujii the bassist. It almost could have been a New Wave nugget the way they played it. I also liked "She's About a Mover" and "Needles and Pins".
I loved the Remains back in 1965. I loved the songs and couldn't believe they got a spot on Ed Sullivan. That was a huge thing then. I missed the show because even then I was out seeing live music. It took forty years before I saw that performance on YouTube. I saw them at the Paradise about 15 years ago and that fulfilled a long time wish. They play the occasional gig these days.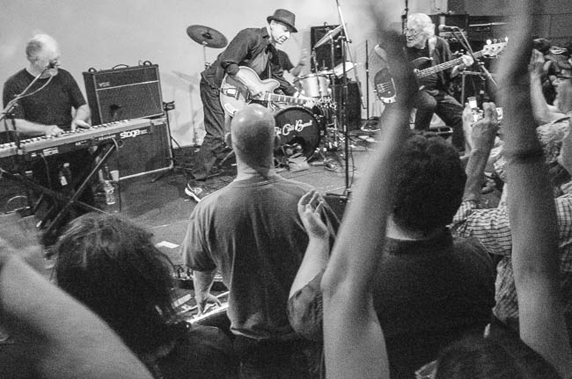 The Remains
Photo: John Keegan
Time has taken its toll and Chip Damiani the drummer has died and Vern Miller plays the bass sitting down. Barry Tashian looks very trim. They start with playing "Hang On Sloopy" and that turns out to be a sign of what was to come which was lots of covers. Barry said at that Paradise show that they didn't play their album material live much back in 1966 even. As good as their versions are it's the album material I want to hear. All the highlights for me were the album material: "Don't Look Back" and "Why Do I Cry" especially.
Living in different parts of the country and gigging so little they didn't have the punch of old but all the characteristics that make them the Remains were there and that was a pleasure to take in. This was a real insight into how a band sounded mid-sixties.
A taste of The Remains doing Why Do I Cry?.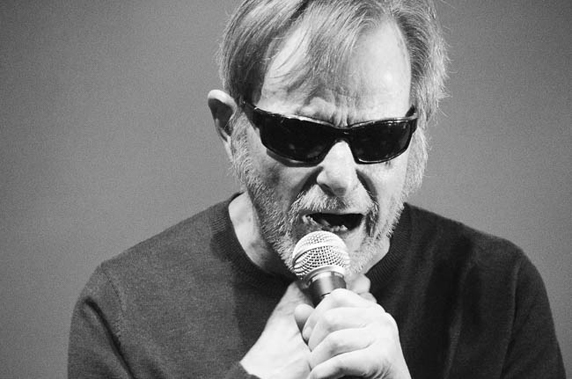 George Leh
Photo: John Keegan
They had a surprise guest - George Leh, almost forgotten now he was a big presence on the Boston music scene in the late sixties and early seventies. Take in this publicity blurb to get up to speed:
"Rockin' George has been on the music scene since the early 60's. He was a member of The J. Geils Band, Swallow, Skyhook, Powerhouse, & The Thrillers. He has worked with a lot of great musicians such as: Jimi Hendrix, Janis Joplin, Alice Cooper, James Montgomery, James Cotton, Joe Turner, and many others. He has released albums on Warner Brothers, Aladdin, Rulu, Powerhouse, Fast Track, & Bow. Rockin' George is a singer of power & emotion. His ability to inspire an audience is legendary."
People used to talk about his performances with awe. I don't know how many even in this savvy group remembered him (WMBR Lost and Found DJ Eli Polanski did) but his take on "Shake Rattle and Roll" got him maybe the biggest ovation of the night. It was a heartwarming moment.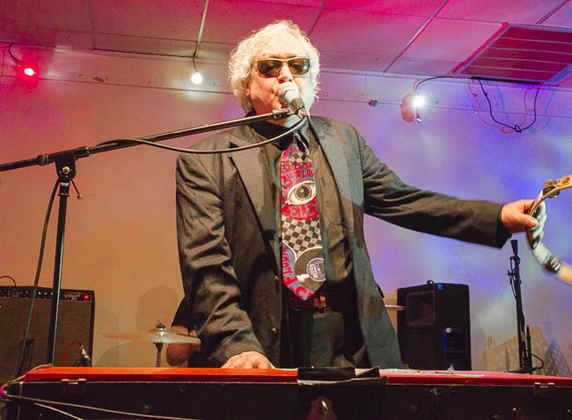 Lyres
Photo: John Keegan
The Lyres are used to playing with the legends, and they are legends as everyone in the room knew. The Lyres have a large repertoire to call on. I've seen shows with the majority of material I never heard them do before. This show they play mostly familiar songs. There was a stretch where they played about 5 of their hits in a row and that was Lyres Heaven. We got the classic songs plus the organ sound, Aquino's sharp riffs, Dave Szczepaniak's pumping bass and Jeff's full of character vocals all piled up with Paul Murphy at the top of his form. Rick Harte was there and at one point he just glanced up and said "Paul Murphy". That was all you needed to do, because you could hear him hitting as hard as anyone ever does.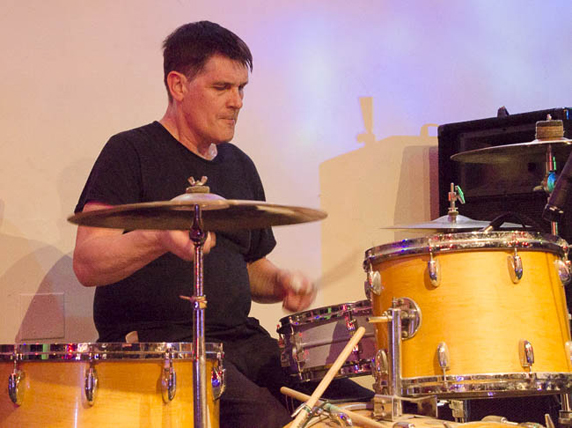 Paul Murphy of Lyres
Photo: John Keegan
The obvious things to hear are Jeff's always changing nuanced vocals and Paul's propulsive drumming but there is so much more to hear in the group sound. Great set.
Video of Lyres doing Don't Give It Up Now
Next day it was on to the Midway where I see Cal Cali outside. He's a little tired from the ordeal of the show but also has the glow from it. There he is though ready to see more music at the 4th Joe Coughlin Memorial show.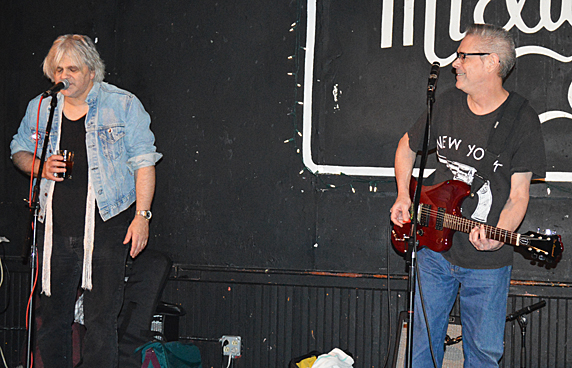 Paul MOTO and Roy Sludge
Photo: Blowfish
Onstage is Roy Sludge doing Electric Sludge, helped by Paul Caporino of MOTO. Roy continues on to play mostly jokey songs about the Midway with electric guitar accompaniment. He was playing hit songs with the lyrics changed to apply to the Midway. I loved "Midway, Bloody Midway" to the tune of U2's "Sunday Bloody Sunday". He also did "Henry the VIII" which everyone joined in on the chorus and where he spelled out H-E-N-R-Y Village People style.
He's so comfortable on stage and makes his humor filled music seem effortless but you know there's depth in his musical knowledge and creativity in the material and that makes if all work.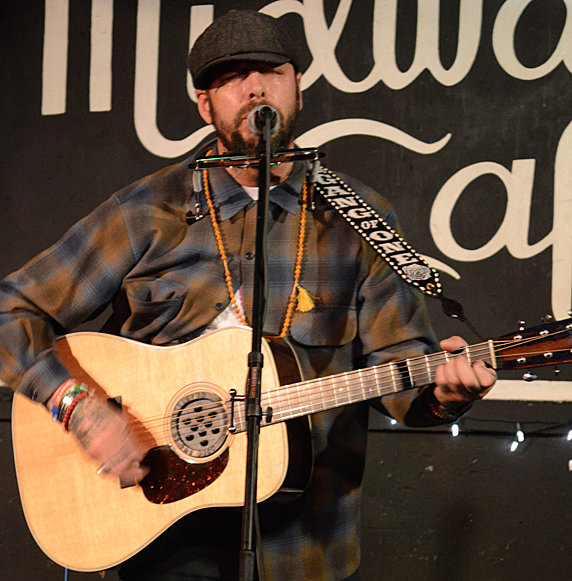 Lenny Lashley
Photo: Blowfish
Lenny Lashley came out from the back of the bar and did a set with just acoustic guitar. Lenny has a wide range of what he can do. His solo material titled Gang of One has a more serious tone than say Darkbuster. The material is anything but love songs and that is refreshing. A song that had a line about having to "move far away" had an emotional tug to it. Another song that reference the Rat parking lot and Central Sq. (if I heard right) told a story of people "back when we were hooligans". His songs are working because his life stories are in them and that makes for quality material.
Classic Ruins
Photo: Blowfish
After two solo acts we get a dose of full out rock with the Classic Ruins. The songs - we all know them, the group - we all know them, the performance - we know what to expect and we love it - like always. They are even sharper than the recent Cantab gig. Dave Kowalachek on drums has been steady presence to the long timers, Frank and Carl. He was a Ruins fan long before he played with them. He's learned the parts from the records and supplies those various drumming parts to the live show and always makes sure they have the drive that makes the songs rock. They get a great response from the knowing crowd.
The club is about half full with familiar faces. Some I saw yesterday at the Remains show like Cal, Meg Ormond (form NY), Sara Billingsley, Joanie Lindstrom and Mitch (Shiny Beasts) and then the faithful club goers like Eric Law and Matt Burns and also Sue Lamont, Kenne Gizmo and Gee Julie.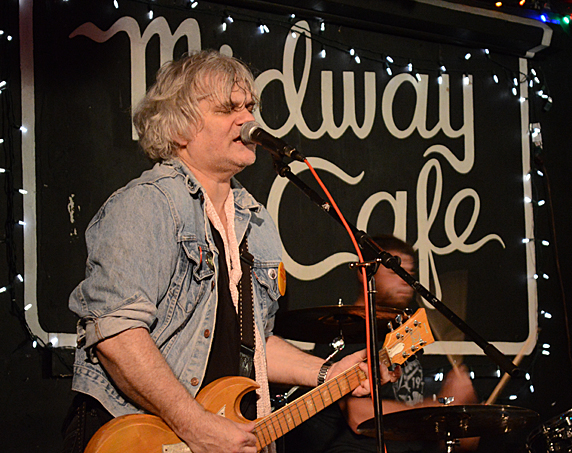 MOTO
Photo: Blowfish
MOTO is greeted like the cult hero he is; people that like MOTO really LOVE MOTO. They soak up all his off center songs right to the end. One of the many things about Paul Caporino is that he has a ton of material and loves to play it. He has a prolific songwriting gift. He did a song about falling off a catamaran. Why? Because he could, I would say.
Video of MOTO doing Catamaran
He has a rolodex of rock in his head and can draw out a riff or reference at the drop of a hat. In Chicks Can Tell he channels some girl group vocals at the end. Video of Chicks Can Tell. On stage he plays easily flowing guitar that puts across his punky pop perfectly and he's not shamed to mug his way through a lyric. When someone yelled out his tune Metal Man he immediatly did it. You can hear that at the beginning of this video of Metal Man from Joefest. Joe Coughlin would love his offbeat tunes.
Joe is always overlooking the Midway
Jim Foley did a fine job getting this show together. Joe was one of the characters that the Boston scene has sprouted up with regularity and lovingly regards. We're still thinking of you Joe!!
And in other news .....

John Surette has been working on his sequel to punk rock opera Tomorrow The World with Tomorrow the World Act 2 and now has a Kickstarter page to raise funds for studio time.... Please help! Check out the Kickstarter page...
John and many of the musicians in Tomorrow the World are also involved with the Boston Rock Opera and their performances and Boston Rock Opera is wokring on two new productions: Stardust to Blackstar: The Lives of David Bowie (in August) and a new staging of the '60s Tribal Love-Rock Musical HAIR (In October) For more info see below for dates and check out their website
Here's some good shows coming up this week.....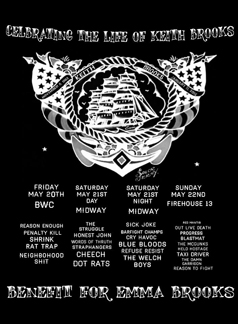 May 16 (Monday) At Opus in Salem - Rawstrum will be playing along with Whoppi Stix, Commit Samantha and I Was Awake

May 20 (Friday) Celebration of Keith Brooks at the BWC, with Reason Enough, Penalty Kill, Shrink, Rat Trap and Neighborhood Shit.

May 20 (Friday) The Knock Ups and Mosaic Mirrors (Andrew Scandal) do a double feature! Acoustic sets followed by rock'n'roll sets at The Jeanie Johnston Pub in JP (FB page)

May 20 (Friday) at Opus again are Rawstrum, Pet Sounds and Heel & Arrow

May 20 (Friday) HarpoonFest 2016 is upon us and Petty Morals are playing this Friday (7.30-8.30 Stage 1) and Township at (7.40- 8.40 Stage 2) Tix and info here

May 21 (Saturday) Chetstock 2016 2.0...at Once Lounge...this time we get Harlequin, Xanna Don't (with Peter Phair, Kevin Patey, William M. Hoar III, and Jay Arcari) , The Real Kids, Randy Black, Classic Ruins, The Hopelessly Obscure, Choir Boys and Chelsea Clutch and Linda Viens

May 21 (Saturday) Quenby and the West of Wayland Band, Shiny Beasts and Hambone Skinny are at the Tavern at the End of the World. No cover!

May 21 (Saturday) A Celebration of Life of Keith Brooks (friend and hardcore music lover) will be at The Midway - ALL DAY - From 4-8PM you have: The Struggle, Honest John, Words Of Truth,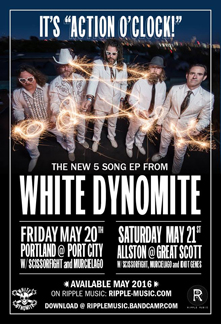 CHEECH, Straphangers, and DOT RATS -From 9 - 1AM there's The Welch Boys, Refuse Resist
The Blue Bloods, Cry Havoc, Barfight Champs and Sick Joke. One of the best things about it is that they are doing everything they can to raise money that day for Emma, Keith's daughter. It's a good time to show up. They have already raised $385.00 on the Go Fund Me page
May 21 (Saturday) Scissorfight, White Dynomite, Murcielago and Idiot Genes are at Great Scott
May 21 (Saturday) The Founders, Lizzy Borden Band, Girl On Top, Z company are at PA's Lounge
May 21 (Saturday) The Hassle Party is happening- its an all day affair with many bands - including Streight Angular , Dyr Faser, Tin Flowers - starts at Noon at the Pearl Street Studio - check out the FB page for info.
May 22 (Sunday) Kid Congo Powers and the Pink Monkey Birds with Tiger Bomb and The Tarantula Brothers are at The Space Gallery in Portland ME
May 22 (Sunday) At Firehouse 13 the Celebration fo the life of Keith Brooks continues with Reason To Fight, Blastmat, the McGunks, Taxi Driver, Damn Garrison, Held Hostage, Progress, Out Live Death, and Red Mantis - doors are at 2PM!!
And further out past this week....
opus Monday may 16th @9pm to 1155pm with whoppi stix commit Samantha and I was awake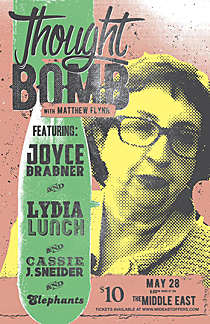 May 26 (Thursday) It's getting down to the final days - and final shows - at Store 54 and this is one of those- its also a GREAT one!....MiniBeast (featuring Peter Prescott) and the return of Akacod featuring Monique Ortiz, Larry Dersch and Dana Colley....Here's the FB page check for updates
May 27 (Friday) Ex-Cult, Far Corners, Andy California, Sticker Shock are at O'Brien's
May 28 (Saturday) Thought Bomb with Matthew Flynn featuring Lydia Lunch, Joyce Brabner, Cassie J..."Thought Bomb with Matthew Flynn is a show where eccentric writers, stand-up comics, illustrators, etc. get the chance to perform a story and then do a karaoke song with the aid of a live band." Here's the FB page
May 28 (Saturday) Join Al Janik's Plastic Cheese Band for a celebration of Polish subculture in honor of the Patron Saint of Poland, St. Stanislaus, who was martyred for his courageous stance against the unbridled lust, savage cruelty, and acts of rapacity of the Polish King Boleslaus II. No matter whose side you take in that argument, come dressed in red and white for an evening of polkas, pierogies, and Polish beer. Many for-the-night-polish people you know will be performing at the Polish American Club Cambridge Ave Cambridge!! See the FB page
May 28 (Saturday) The Offseason, School Damage, Tied to a Bear, and Lucky United are at O'Brien's
May 30 (Monday) Some Kind of Nightmare, The Pity Whores, Broken Glass Kids and Damnation are at Opus Underground Salem.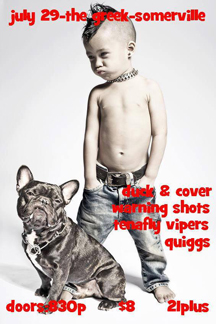 June 2 (Thursday) Kilslug, Psycho, Horrible Earth, Deathtaker and Mad Gasser of Bostoon at O'Brien's. Mark yr calendars for this one folks, it should be a show you'll not soon forget.
June 4 (Saturday) When Particles Collide are having their vinyl release party along with Aloud at Great Scott.
June 4 (Saturday) The Humanoids along with The Heave Ho, Ass Tractor and The Straight Eights are at the Midway (8PM)
June 5 (Sunday) GREAT all Punk show at The Midway with the Nervous Eaters, Fast Times, Interfectum, and Jumper!...and they're keepin' it in the family with this show...Eater Alan Hebditch's son Nick is in Fast Times!!
June 11 (Saturday) A day show 4-8PM with Fireking, Big Giant, The First Supper, and Universe Narrows at The Midway
June 11 (Saturday) Cherie Currie along with Gene Dante, MarianneToilet & The Runs and others at Brighton Music Hall - this is a benefit for Bagly.org
June 11 (Saturday) The Upper Crust, Thee Fabulous Itchies, The Hi-End and Shiny Beasts are at The Midway - there's a lot going on this night- and the show starts at 8PM -check out the FB page.
June 17 (Friday) The Stoves, Topheavy (a reunion), Diablogato, and Stars Like Ours are at The Midway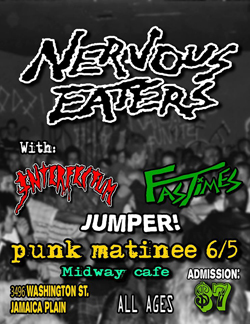 June 18 (Saturday) Thunder Road has The Dwarves, The Queers, White Dynomite, and Decent Criminal Get tix here.
June 23 (Thursday) Do Not Forsake Me Oh My Darling are saying Bye Bye Boston with their last show here - joining them are Petty Morals, Endation, and Psychic Dog - at the Middle East Up
June 27 (Monday) Pere Ubu at The Sinclair
July 9 (Saturday) Tsunami of Sound, Fireking, Popgun, and The Beachcombovers are at The Midway
July 11 (Monday) Guided by Voices are at The Paradise
July 16 (Saturday) OC45 celebrates their 5 year anniversary at the Middle East Up along with Burning Streets, The Jukebox Romantics and Jumper!
July 22 (Friday) Fur Purse, Thalia Zedek, Weather Weapon, Phurnne, Death Cloud at the Midway
July 23 (Saturday) The FUs, Silver Screams, Electric Street Queens, Il Mostro (mems of The Humanoids) are at The Midway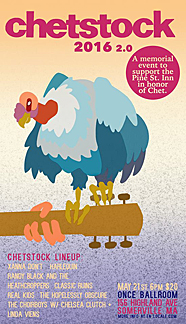 July 29 (Friday) The Warning Shots, Duck & Cover, Quiggs, and Tenafly Vipers are at the Greek in Union Square (FB page)
August 6 & 7 (Sat & Sunday) The Boston Rock Opera presents Stardust to Blackstar: The Lives of David Bowie at Once Ballroom: a concert dedicated to the late rock god David Bowie. "David Bowie taught us all so much about performance and stagecraft. If B.R.O. is going to, like Lazarus, rise up again then it should be to honor and celebrate his amazing music." The night begins with fellow B.R.O. co-founder Mick "Mondo" Maldonado directing and performing Bowie's "The Rise and Fall of Ziggy Stardust and The Spiders from Mars" with a full band and guest vocalists. Following that, is an original live arrangement of of Bowie's final opus work "Blackstar" performed by an all star band and chorus under the direction of Either/Orchestra's Russ Gershon. The evening continues with a celebration of songs from Bowie's vast catalog as even more Boston musicians take the stage to perform.
October 15 (Saturday) The Upper Crust, Hickoids, The Grannies & Devil On Horseback at Once
October 21, 22 & 23 (Fri., Sat & Sun) The Boston Rock Opera presents Hair at Once Ballroom.
CONTACT US AT....misslynbgn@yahoo.com - Send us your gig listings, your news and anything else ya got!!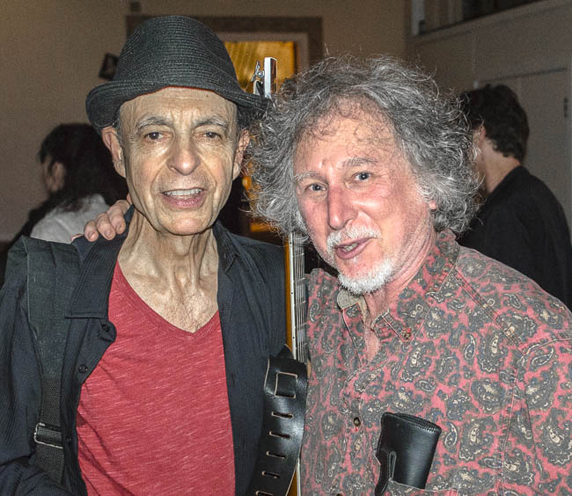 Barry Tashian and Ed Moose Savavge
Photo: John Keegan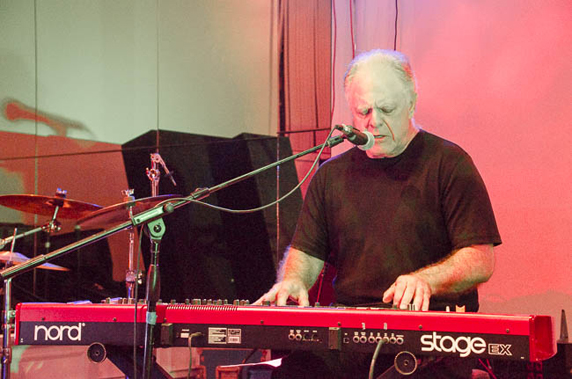 Bill Briggs
Photo: John Keegan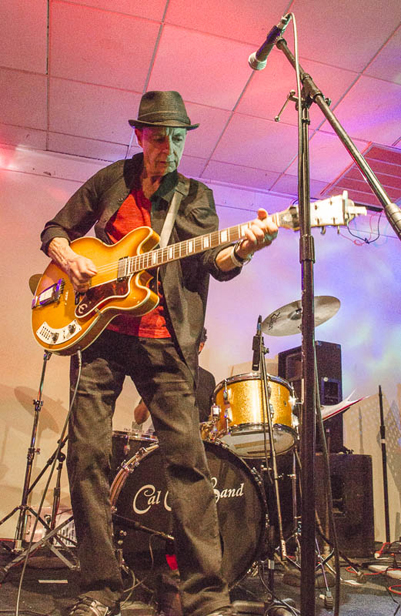 Barry Tashian
Photo: John Keegan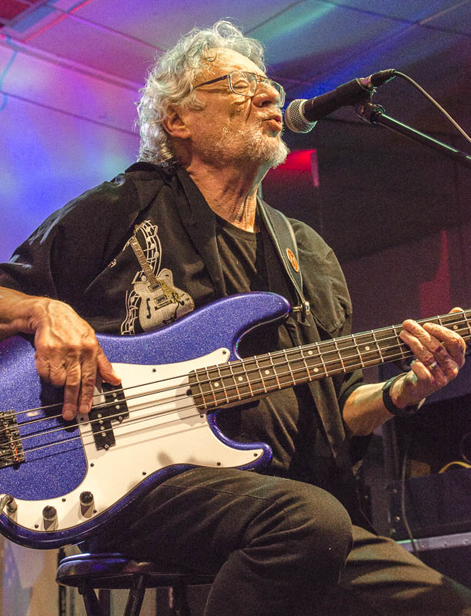 Vern Miller
Photo: John Keegan