The BGN News Archive
May 18, 2009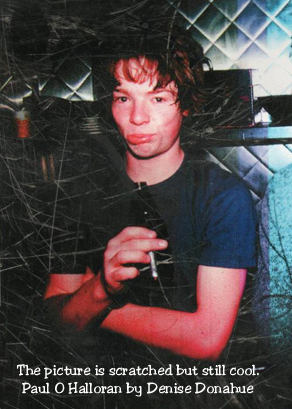 We've been in cahoots (just a little bit really)with Susan Rowe (she's doing all the work!) who is putting together and Denise Rowe Tribute Party this weekend, Saturday May 23rd at 3PM.
The party is a throwback to when we were kinds in so many ways!! Remember those days in Allston/Brighton? Partying at places like The Neats' house on Kelton Street or on the ever hip Ashford Street...well you can do it again my friends, you can relive your youth by going to a House Party in Allston, and it is in fact just a short stone 's throw from Ashford Street.
Susan Rowe (Frank & Denise's daughter ) is hosting the
Denise Rowe Photo and Tribute Party
at 12 Wadsworth Street, Allston (click for map!!)
This Saturday May 23rd at 3PM....
On display will be some really choice Denise Donahue-Rowe photos from the Cantone's, Rat, The Club and The Space days.
These pics evoke those days like nothing I have seen recently!! So come on down and have a barbeque, bring some beers and listen to Classic Ruins while you peruse on some awesome photos that will bring you back to the days of long ago! We all hope to see you there!!
Then on Sunday May 24th at Harper's Ferry are The Supersuckers, The Dirty Truckers and Death & Taxes....
Another show close to my heart:
Wednesday May 27th there's a benefit for Kitty Angels at TT The Bear's
Kitty Angels is a No Kill Cat Shelter ...My guys Buster and Bongo thank you all for going to this show but there is also some great music such as:
The Sharp Lads, The Russians, The New Alibis, Vulgarity and Rick Barton......
it's a super long list so here, go to TT's (click!) and see the list..and then go to the show!!!
X are at The Paradise Tuesday May 26th,
Saturday, June 6th is an excellent night in Allston!!:
First you have an great show at Harper's Ferry: The Unseen, along with August Spies, For The Worse, Razors in the Night and The Morgan Knockers....(note: this is an ALL AGES SHOW to !) and it is an EARLY SHOW at 6PM!!!....
After which you can walk 2 minutes to O'Brien's to catch Pulp 45, The New Alibis and The Allrighters - what a night!!
The Meat Puppets are at The Paradise Wednesday June 10th....
And Jason Bennett and the Resistance, Yesterday's Heroes, Ten Pints In, The Rebel Dead, Burning Streets Are doing at daytime show at 1:00pm @ The Middle East Ups onm Saturday June 20th.......
OH!! and the Johnny Angel invasion is getting closer.....
There you have it for this week... email has been very very slow lately...!I'm getting LONELY and want to hear from you......click and write me damn it!.... Lyn