The BGN News Archive
May 18, 2020
We know now that things are not going back to the way they were for maybe a year or two, at best. Mayor Walsh hinted he thoguht no live shows or large gatherings until 2021 was a good idea. We're trying getting our heads wrapped around that idea.
There are some people who arelearnign and using the digital/remote way of making music, as time goes on these people will be at an advantage. We know that there will be a whole new generation of people who will actually find their voice during this time. Others may be cooking up new music and that will come out later when they can control Covid 19 with a vaccine and we can interact live again.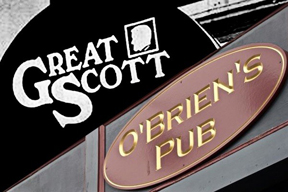 It's great that musicians and people are finding ways to support the small venues and especially the people that worked in them. The outpouring of concern and support for Great Scott continues. It wasn't just a story that cropped up and disappeared. The GoFundMe page to support the staff is still getting mentioned in news outlets. The Allston Pudding night collected $1,700.00 Altogether the fund has collected $26,264.00. To donate use this link: Great Scott's Go Fund Me
Ben Stas' website Noise Floor is selling prints to benefit Great Scott. He's had photos in all major Boston outlets. Go to Noise Floor and click on a pic to purchase.
Ian McGregor co-manager of Great Scott is getting together an online bulletin board of photos and memories that should be posted soon.
Brooklyn Vegan gives more reality checks on what clubs will look like when they reopen. They have guidelines set up already like no crowd surfing or moshing, no bunching up in front of the stage and areas marked for standing so you are socially distanced. Read more here.
Anngelle Wood of Boston Emissions has been doing an interview a week. This week it's Goddamn Glenn of Parlour Bells. Parlour Bells just put out a new song done by passing the recording between the separated band members. It's called "The Ballad of Flex Moncla"
Anngelle and Glenn both have a realistic outlook at what's ahead. We like hearing these down to earth interviews. It puts the situation right in front of you. You can see there's no easy way out; it's just real people trying their best in a bad time. The earliest they predict that live music may start to happen - spring of 2021.
Wednesday night Death Pesos did a live stream show on the website Higher Ground. It was the rockingest set we've seen anyone do. Nice and loud. One problem: they had the video feed sideways. A shame but still, this was way closer to what we are hoping to hear with these concerts. No reason not to do it again and get that feed oriented right!
The Dropkick Murphys have cancelled all 2020 shows. You can read more on Carter Allen's WZLX page.
Carmelita did her first fledgling post-WAAF version of Bay State Rock on Soundcloud. It sounded like the old show, there no reason that this or something like it shouldn't fly. It sounded clearer than the WAAF signal that we used to try to tune in south of Boston. She ended with a current fave of ours "Beautiful Chaos" by Jay Allen and the Criminals.
Sara at Gorilla Got Me did a five song set of Little Richard songs (with a commercial and Letterman interview) in remembrance of his passing. The rest of the show is an eclectic mix including "Tell Her I'm Ill" by The Freshies" – excellent taste! You can catch her show on the WMBR archives
The recording that Simone Berk did from her mini-van last week turned out to be a Goffin/King song that was for an entry to the ISO BOOTH cover contest sponsored by the Goffin & King Foundation. This really features Simone's voice in the best light. We're finding out she can sing all sorts of music. She brings a lot to this sixties song "He Knows I Love Him Too Much" originally done by the Shirilles. It's all the more amazing in that it has minimal instrumentation and the vocal was done sitting in a car. Simone's voice transmits a lot of feeling. We wouldn't mind a whole album of this experiment. This song is done under the umbrella of her group Sugar Snow. Watch it/listen here...and video below.
Then Rich Mirsky decided to get in the contest too. He does "I'm Into Something Good" the hit by Herman and the Hermits. He transforms the song from a light pop to a bluesy burn. great job Rich!! Video above.
Crow Follow has a video of "Cadillac" off their forthcoming album. They have that Morphine kind of sound down pat. They call it Swamp Low Rock. John Keegan's sax work is responsible for a lot of that. Judging by "Cadillac" and the previous song "The Wrong Devil" this is going to be a moody gothic slow burner of an album. Watch it here.
One of the things that's been happening lately is that people are going back and catching up on things they might have missed when they were busy. We did that with Jonathan Perry's three part series on The Real Kids. Perry recently posted links to these articles and said that they were some of the most requested pieces he's written over the years.
Part One "Solid Gold Thru n Thru" Part Two: John Felice Part Three: This focuses on Rick Harte - Heart to Harte
And here's something we came across while surfing during isolation. It's a very early Jonathan Richman and the Modern Lovers recording. The song is called "Wake Up Sleepyheads" and was recorded at Harvard University in 1971 or 1972. John Felice is on guitar at this time.
Rum Bar has finally released the whole of Brad Marino's album False Alarm . That's the one that includes "What's My Scene" the Hoodoo Guru's cover. He also covers Holly's "Peggy Sue Got Married". Brad has a true rock and roll heart.
Stubborn Hearts has a new seven song album called Tales from a Red Flag Galaxy. Jenn Lombari has a strong work ethic and has done live feeds during this last two months. The Stubborn Hearts are a two person band, we're talking just voice, guitar and drums. The quitar is very thick and the drums are busy. On top of that Jenn unloads some heavy baggage in the lyrics. You always get the feeling of one person working their way through some personal issues that are also universal. We think they all hit home.
Some of the songs are familiar from seeing the group live. From seeing them live we also know there are even more good songs to be recorded. The last song is "Outer Space" a Muffs cover. CHeck out Tales from a Red Flag Galaxy on Bandcamp.
Ok, now we really feel like sloths. Color Killer keeps it going with another song and video, again well done. The song is a cover of "Dear Maria, Count Me In" by All Time Low. We watch in awe as they continue to pump out the music and performances. It's on their Bandcamp page.
Every year there is a Joey Ramone Birthday Bash in NYC, this year it's going to be a virtual birthday party. They have TONS of people/groups listed. One is the Dune Rats from Australia. We saw them in 2016 at O'Brien's and they were some crazy guys. To see the show go to the Joey Ramone Facebook page on Tuesday May 19th at 8pm.
The Damned Show Episode #12 has Captain Sensible introducing an early TV clip of the band playing "Neat, Neat, Neat" on the show Supersonic. Video above.
The Damned Show Episode #11 is yet more readings from the Memories of Monty Oxymoron. We would love to spend a day with Monty, he is such a charming fellow. Video above.
The Drive-In concert keeps gaining traction. Orlando is going to have the first drive in festival.
You think you have a lot of time on your hands? What about Funk Turkey who uploaded the lyrics to every AC/DC song and let a computer write a song. "Great Balls" is the result. Video below.
Brooklyn Vegan has a page with some YouTube video concerts. One was a primo Adam and the Ants 1982 Prince Charming Revue. Adam is in full elegant pirate gear and the sound and visuals are good. If you like the "Antmusic" go for it. Video below.
Devo are making Covid 19 face shields with a red Devo flowerpot top (oh, um, we mean – 'energy domes'). It's the 40th anniversary of the energy dome which was first worn in 1980. With the shield you can whip the corona virus and whip it good! The story in Brooklyn Vegan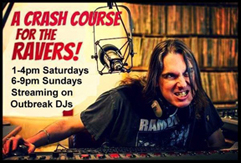 Moon Martin died this week. He wrote "Cadillac Walk" which was recorded by Mink DeVille.
It's the 40th anniversary of Joy Division's last album and Ian Curtis' death. Peter Hook is going to stream a concert film featuring Joy Division's entire catalog. It's three hours long. I will be available for 24 hours starting May 18th at 7am. That's this Monday – so get on it!!
From The Consequence of Sound website:
"Watch on Division's YouTube and Facebook pages, as well as The Lights' Facebook. While the concert film will be free to watch, Peter Hook and company highly encourage viewers to donate to the Epilepsy Society in honor of Curtis, who suffered from the disease." There's also a link on the COS website here
Dont' forget to check out:
May 21 (Thursday) WhistleStop Rock Festival: Virtual Show 7-9PM Watch it here
CONTACT US AT....misslynbgn@yahoo.com Send us your gig listings, your anything else ya got!! You want your CD reviewed?? Contact us for that too.
---