The BGN News Archive
May 19, 2008
The Cantab 5/17

| | |
| --- | --- |
| | |
So we went out again this weekend to the Cantab. The opening band was The Doug MacDonald Band and I liked 'em quite a bit! In fact we wished we had arrived earlier to catch more of their set. But ah, like, duh, I noticed the guitarist but couldn't place him…then after they got off stage John Sox (of The F.U.s) walked in!!! Wow, haven't seen John Sox in years! But he looked just the same except grey hair. We exchanged hello's and he asked if Bob Cenci's band had gone on already…yup, (the later version) Gang Green's Bob Cenci is the guitarist for the Doug MacDonald band.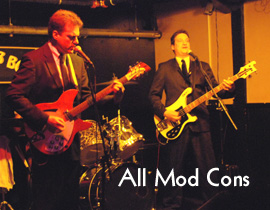 Next up was The Museum Directors , this was their reunion show, well they were your quintessential nerd rock 80's type band, in the first few seconds of the first song all I could think about was Gang of Four. And as Blowfish said, it was like being transported back to The Underground or something, like a day had never passed. They played their old songs and were well rehearsed.
Last set was All Mod Cons, a Jam tribute band. Yeah the lead singer had the Paul Weller voice down for sure and they sounded pretty good but they looked the a Mafioso version of the Jam with baggy suits and what were supposed to be black and white mod brothel creepers but were more like those shiny, thin soled Italian loafers that have always creeped me out…anyway they were very Jam like and the drummer made the wildest, freakiest faces..I mean way weirder than anything I have ever seen. Entertaining for sure. Talk was that John Surette (Boy's Life/De Niros) was going to join them for a song or two. Blowie and I disagreed on whether the guy we saw in the audience was John Surette or not, I said it was especially since he was sitting with Jesse, ex- Mess Me Ups bass player, and I hear those two are discussing the possibilities of a band in the near future…wouldn't that be awesome?!?! Anyway, Blowie said no. I think I was right. We did not see him get up for any songs wither but we left before the last song. Oh and if that was Surette he looks freaking GREAT!!
Now as to what is coming up for shows…. At Church, this Thursday the 22nd an excellent 'goth' kinda night with Mankind is Obsolete, Melt and Lucretia's Daggers, then the next night at Church again, Friday May 23rd another excellent show with Red Invasion, The New Frustrations and Crimson Ghosts….and on the 23rd, on the other side of the dirty water are The Classic Ruins and the Radio Knives at The Abbey
OK, I'd say that's about it for this week...email us and say hello and let us in on what's up....ML
Blowfish says…Ed Moose Savage has a lot going on these days. Friday he was on the Three Ring Circus a show we should remind you of right now. It's on WMBR Fridays 4:00 to 5:30 pm. Moose did a great new song called KENO that takes the piss out of that whole waste of time and money. Then Moose & the Mudbugs along with Corolla DeVille and special guests play Ralph's Diner (Worcester) on May 31 (it's a Birthday bash for Moose and going away party for Paul, the drummer, who's moving to California). Ed's also has a myspace page now at …http://www.myspace.com/edmoosesavage
I went to NYC last week. The CBGB's address is now a store for John Varvatos. At St. Marks Place there is an outlet store for CBGB's regalia but that looks like it's closing also. More NYC pictures…click here.
| | |
| --- | --- |
| CBGB's address now. | The CBGB store at St. Marks Place. |