The BGN News Archive
May 19, 2014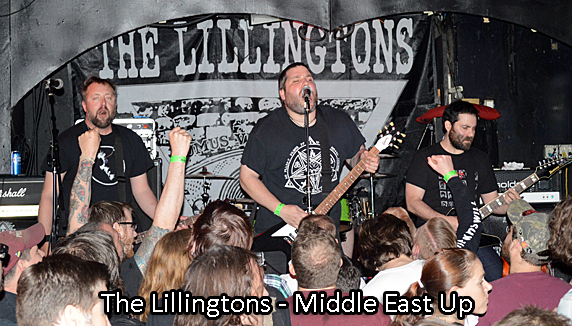 The Lillingtons started in 1999 and their last CD came out in 2006. They are having some reunion gigs and swung by the Middle East Up. Through the years I heard the group but no song ever struck me as memorable. Listening to them now I can see their Ramones like attraction. They lay down the power chord pulse and then the lyrics give interest and hooks.
This gig had a 7pm start. With four bands the Lillingtons came on last at 9:30pm. I was home by 11:30pm - nice.
Mikey Erg was on before the Lillingtons . He was a member of the Ergs but tonight he played solo. I'm not a big lover of the one man band although Mikey kept it lively with a noisy electric guitar. He also played Jonathan Richman's I'm A Little Dinosaur. Loved that.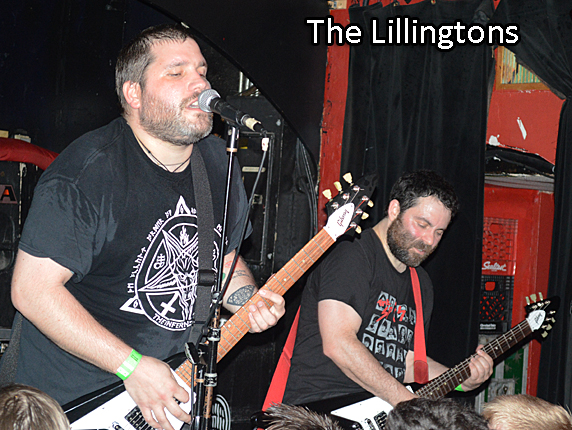 The Lillingtons came on stage to a recording of Orson Wells' War of the Words. UFO's are a favorite subject matter for the group. They blast out the power chords at top volume and along with the ground shaking bass and drums this is one powerful attack. It never leaves that level. Even though the music is just 95% power chords the songwriting miraculously keeps things varied enough that boredom never rears its head. Some of the songs that stick out were: I Saw the Apeman, X-Ray Specs, War of the Worlds, Black Hole in My Mind, I Got Screwed Again. A mosh pit opened in the middle of the floor and there were lots of sing-alongs.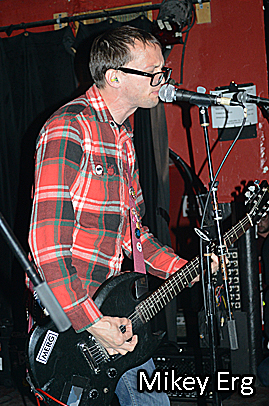 This was a dedicated audience and the club was full. The band didn't talk to the audience much at all. They did something unusual, they stopped playing every 10 to 15 minutes and the lights went down and some recorded music came on. They'd swig some refreshment and retune. It looked like they were just giving themselves a break. I saw Ghost Box Orchestra do this a few weeks ago so they could all retune also. Maybe this is a new thing. The Lillingtons gave a nice long set, I think those breaks helped them do it. I felt like I had a good dose of rock and I'm a bigger Lillingtons fan now.
In other news:
There's a new beer out celebrating Dorchester called Dot Ale 1630. They are hoping to have the next batch (there's been some production hiccups) ready for 1st week of June. Right around Dorchester Day! It's served at bars in Dorchester and available at several liquor stores...um, packies! Mostly on Dorchester, check their site for the list! It will come with a CD featuring Dot Rats, Welch Boys, The Street Dogs and others. How cool is that?? Get all the latest news abut availability on their FB page
Mary Lou Lord posted some info about the loss of a club in Beverly (as well as other news): "Hey friends...Just letting you know that the Open Mic Tuesdays at Kitty O'Sheas Beverly is now Cancelled for tomorrow, as well as future dates. It appears that Kitty's has been sold to new owners, and they will be doing a bit of an overhaul and reconstructions, etc. I want to thank each and every one of you who came to these open mics over the last year and a half, and helped make it such a special night for me, and hopefully for most of us. I am also going to be very busy with my record over the next several weeks, and then publicity and a tour. Thank you all so much. It's been a wonderful experience. Xo"
So it looks like there are some interesting gigs coming up at Church...the new guy booking the place is starting to get some bands of interest to us in there again! See below for listings....
Pipeline on WMBR is having a big anniversary (their 25th!) and a big anniversary celebration in the fall. http://pipeline.wmbr.org/ Bob Dubrow told us a few details: There are going to be 25 bands and in that group there will be 18 reunions. The club is being lined up. . Kenne Highland (in his column this week) says Bob asked him if the Gizmos would play!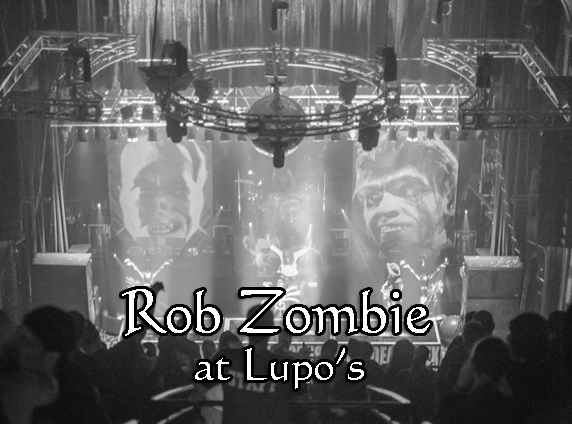 And for upcoming shows we want to mention.....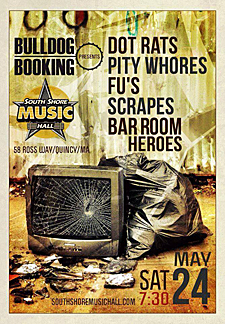 The famous Q Division Yard Sale.....this one'll be the 4th Annual...is now THIS coming Saturday May 24th........ 10AM- 2PM. They say to expect: instruments, audio gear, stomp boxes, belt buckles, vinyl, cables, light bulbs, and much more. But they usually have a lot of items other than musical instruments and paraphernalia as well.
This Thursday, May 22 at The Middle East Up........ The Woggles with Muck and the Mires, Lyres - we know a lot of you have been waiting for this show!
Friday May 23th The Classic Ruins are up in Salem at In A Pig's Eye ...great place to have dinner too!
And check this out - flash from the PAST Digney Fignus (!!!) is playing at The Pig" (In A Pig's Eye) on Saturday!!! It's actually the Digney Fignus Trio, which is comprised of Digney, Tim Fiehler on bass, and Russell Lane on drums and they'll be paying original music from Digney's last 3 TOP 40 Americana and Roots CDs..
Saturday, May 24 at 6:00pm The Spot Underground (101 Richmond St, 2nd Floor, Providence, Rhode Island 02903) has punk extravaganza going on. It's featuring Boston and Providence hardcore with DYS, The FUs, The Loud Ones, Words Of Truth, Honest John, Penalty Kill, Futile Justice
Interesting event on Saturday the 24th: Boston Hassle & B.O.W. Shows present...Boston Underground Summit 7 @ Cambridge Elks Lodge (55 Bishop Allen Drive Cambridge) this is a round robin show with a TON of various types of bands.....Grave Ideas (Boston, MA) Boston garage pop and punk upstarts...Particulars (Boston, MA) Latin groove influenced experimental sounds...Big Huge (NYC) Garage punk scuzzers visiting and causing trouble...Abdul H Sherzai (Worcester, MA) Experimental electronic sounds from Worcester in the vicinity of the Firehouse...Designer (Boston, MA) Bufu Records noise rock party pop fun boys...Bees (Boston, MA) Darker hued noise rock & no wave vibes from a warehouse near you...Joe Degeorge (Providence, RI) Askew pop heading up from PVD, saxophone in hand...Los Greys (Boston, MA) Experimental electronic/ rhythmic noise and pop from a famous cave in Allston. Their return show from SAVAGE WEEKEND fest in North Carolina...Joe Mygan (Boston, MA) Experimental electronic music from a famous cave in Allston. His return show from SAVAGE WEEKEND fest in North Carolina...Ben Hersey (Western MA) Massachusetts' most wild, strange, and hilarious performance artist. It's 7-11PM and its $7-10 to get in ..sliding fee scale.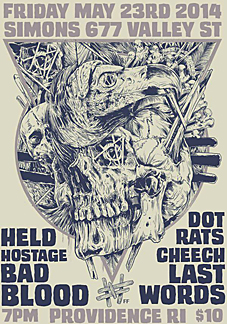 It's also Awesome Day Fest 2014 over in Allston as they have 15 bands at three venues...Store 54, O'Brien's and Pizzaria Regina's (more info here)
Here's the schedule:
O'Briens (Doors at 3PM - $10) 6PM Quarterly, 7- Jim Healey, 8- Tired Old Bones, 9- Soccer Mom, 10- The Proselyte, 11- Hey Zeus and at 12- Gondoliers
Store 54 (show starts at 9 pm- donation is usually $10 here) 9 PM -M.G. Lederman, 10:00 Thalia Zedek Band, 11:00 The Televibes, 12:00 Beware the Dangers of a Ghost Scorpion.
Regina Pizzeria
(show starts at 9 pm- donation ) 9PM Earthquake Party!, 10:00 Eldridge Rodriguez, 11:00 Lifestyle, and (in between) DJ Ken Cmar.
Monday May 26th...you better be there coz it's your only Mass. chance to see 'em - The Murder Junkies for "A night of good clean family fun!" at The Gourmet Oriental Restaurant in Weymouth MA....
Thursday May 29th at Red Star Union is When Particles Collide, The Self-Employed Assassins and Sara Rabdau
Also on May 29th is the On The Town with Mikey Dee 25th Anniversary show at TT's. Playing will be The Unholy III, The Rationales, The Wrong Shapes, Corin Ashley & friends and Butterknife. Get your tix now!
Saturday May 31st ...there's a great afternoon hardcore show at (4pm - 8pm $7.00) with Foulmouth, Dot Rats, Ache, Traces of Empire, Honest John. Dot Rats are on our Top Ten,
And at The Midway starting at 9Pm is The Splinters, Black Fortress of Opium, Rotary Club (NYC), and Yankee Power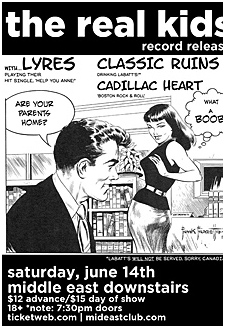 There's also WMFO's DJ Easy Ed Presents: Lynnette and DJ Easy Ed's Honky Tonk Dance Party, with The Pioneer Valley Pioneers, Honky Tonk Masquerade, as well as Easy Ed's Record Hop at the Canadian-American Club, 202 Arlington Street, Watertown, MA. Doors 8:00 pm to Midnight. DJ Easy Ed kicks off the event followed by sets from The Pioneer Valley Pioneers and Honky Tonk Masquerade. Admission is $12 at the door.
Sunday June 1 at The Middle East down is The Cro-Mags, Anti Nowhere League, Taxi Driver and Neighborhood Shit. This is an early show folks, doors are at 6:30PM
Also on June 1 there's an all ages matinee The Wet Hot Bostonian Summer Show at The Midway with PowerSlut, Happy Little Clouds, Band Without Hands and Wet Dress. Looks like fun! This is a 4-8:30 PM show!
Watts are opening again for Cheap Trick at the Hampton Beach Casino on June 5.
Saturday June 7th Paul Robinson and Patti Moore are putting on a benefit for Autism and the organization Surfers Healing. Its at The Dog Bar in Gloucester and playing will be, from New York, Drive aka Talk Of The Town, Funbucket, Inge Berge, Girl On Top, Cripple Cove Quartet, and more TBA. This is a daytime show, Noon - 6PM More info here.
Thursday June 12th at Church is a Boston Hassle sponsored event with some low key noise bands Ed Schrader's Music Beat presents The Abominable Skimask, Gondoliers, (New England) Patriots
Gizmos World Tour ...Thurs-Sat, June 12, 13 & 14.....Here's their Kickstarter page (they could still use some $$ folks)....this Gizmos is the original Gizmos oplus some guests: Kenne Highland, Eddie Flowers, Ted Niemiec and Rich Coffee with Max Demata bass from Sonic Daze, John Terrill drums from Dancing Cigarettes and Ian Brewer guitar from the Panics....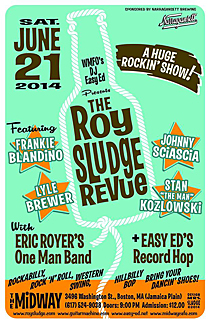 Thursday June 12 at The Bishop (Bloomington, IN) its the very first Gizmos reunion gig with Indiana Scuzz Punk bands: Apache Dropout, Deezen, and Cowboys, sharing the bill....
Friday June 13 at The Melody Inn (Indianapolis, IN) also on the bill: Apache Dropout, Deezen, and Brothers Gross....
Saturday June 14th at Blind Bob's Bar (Dayton, OH) also on the bill: New Regrets, The Give-Ups, Apache Dropout, and Deezen.....
and it looks like John Felice definitely IS doing well...The Real Kids are at The Middle East down on Saturday June 14th with Lyres, Classic Ruins and Cadillac Heart!!
see more Church gigs....June 20th The Welsh Boys, Sprained Ankles, Guns of Brighton and The Blue Bloods.
Ken Scales says : Adventure Set will be at Bill's Bar on Thursday June 26TH....with very special guests Casey Desmond & Cemetery Girl also....Adventure Set's new 4 song EP "GAZEBO" will be out in June 2014.
Friday July 25th at The Midway, Cincinnati band Wussy is playing along with locals Slowdim and Brother Fight.....
And here's some big news Terry Brenner's bringing The Real Kids and Nervous Eaters and Greg Allen's Fringe Relgion to The Spotlight Tavern in Beverly on August 2, that's a Saturday night !!! Thank you Terry!!
Echo and The Bunnymen are at the Paradise August 14th!!!
In August John Lydon hits Boston in a huge production of Jesus Christ SuperStar , he's playing King Herod...man I want to see that show!!
We finally get to see Dave Minehan with The Replacements since they are on the bill for the Boston Calling Show in September (5,6 & 7) later this year!
The 2nd Annual Rat Beach Party is already well in the planning stages...its set for September 14th& 15th and here's a list of bands so far: Saturday night- Red Parrot Beach Bar starting at 7PM: Hardwired -- Heavy Weddle & Sweet Release -- Severance (or Band To Be Announced) -- JetSet -- Billy Rath & The Street Pirates -- Open Jam to close
Sunday afternoon/evening: Red Parrot Function Room, Beach Bar and Back Room Lounge starting at 12:00 -- The Beachcombovers (Function Room) -- Hardwired (Beach Bar) -- The Boize (Function Room) -- Gino Caira Band (Beach Bar) -- Count Viglione Love & Flame (Function Room) -- Hixx (Beach Bar)-- State of Union (Function Room) -- GraveDancers (Beach Bar) -- The Derangers (Function Room) -- The Workers (Beach Bar) -- Liz Borden (Function Room) -- Kenne Highland Clan (Beach Bar) -- Slow Children (Function Room) -- Pop Gun (Beach Bar) -- Gyro Lula (Function Room) -- Moose & The Mudbugs (Beach Bar) -- Tsunami of Sound (Function Room) 8:30 -- Masters of The Obvious (Beach Bar) -- Red House (Beach Bar) - Real Real Bayou Band (Beach Bar) -- All-Star Jam led by Cindy Daley, formerly of Lovelace.
September 14th -a Sunday daytime show- at the Midway will bring us The Members!!
October 5th - a Sunday daytime show at The Midway will bring us The Vibrators!!!
CONTACT US AT........misslynbg@yahoo.com Send us your gig listings, your news and anything else ya got!!