The BGN News Archive
May 20, 2013
By all reports the Brett Milano/Marlene Silva wedding was a glorious affair in a mansion in Arlington. But we were invited to the reception, which was after the wedding and at Q Division in Somerville.
There was a large gregarious crowd outside, and then soon inside, for a wonderful thank you speech from Marlene and an on purpose funny/bad punning salute from Roy Rubenstein and Perry Adler. They talked about married life but inserted band names to replace various words in their speech. They had lines like "We are they sure will iron out The Kinks." and "They will love each other INXS." It was well thought out and entertaining! That alone was so nice, but in addition, the general feelings in the room were so loving toward the newly married couple that it said everything that needed to be said.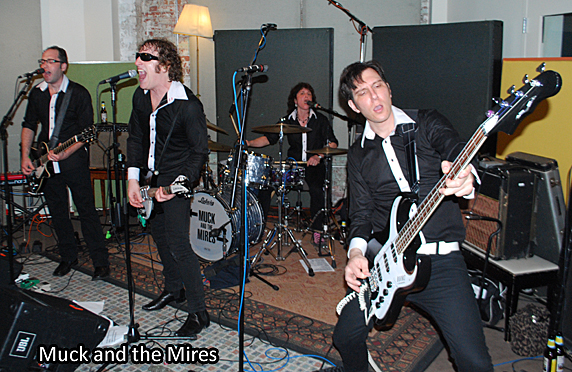 Of course it's never enough with this crowd, and Brett and Marlene coz it's all about the music, so Muck and the Mires came on stage for a wild set. They never fail and today they were giving it all. They said they were going to play a song from Brett and Marlene's record collection and that was "Lies" by the Knickerbockers. They also had one song request from Brett - "Pussy Whipped" by the Dogmatics. Now that was funny and where else in the world would you hear that song at a wedding reception? That says it all.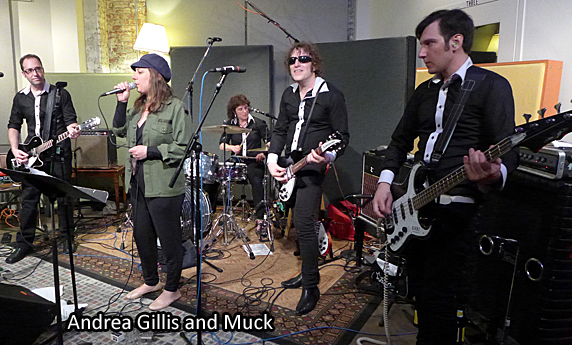 Andrea Gillis sang two songs. She had some funny comments and that voice on top of the Muck and the Mires accompaniment was a treat. Cam Ackland, who we have been missing on stage lately, did four songs with Muck which raised the energy level even higher. I don't know how long it lasted, being lost in the moment, but it felt like a large dose of great music by the end.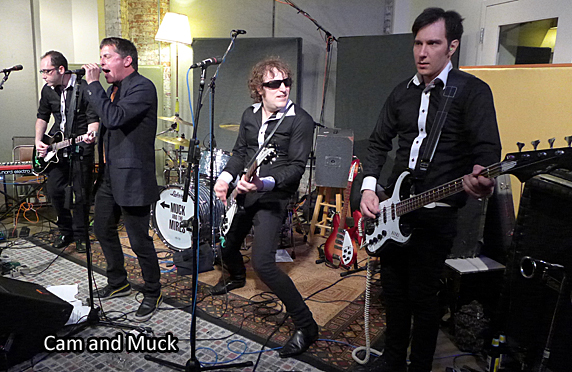 Meanwhile though there were tons of party goers in the adjoining room, where there were kegs of beer and bottles of wine, multiple wedding cakes and a buffet. The crowd was a veritable who's who of our Boston music scene with Mr. and Mrs. Johnny Black, Boby and Anya Bear, Chris Thompson and DJ Mistress Laura, Sue and Steve from MOWE, Des Desmond, Aca Brebener showing off pix of his twins who are starting to form sentences now, Tom Baker and Nicole Tamaro, Liz Borden, Jonathan Pressman who is working on a new CD so we may see a new version of Butterscott out and about….we saw Ed Moose Savage, Bob Colby, and of course Amy Prohaska was there and graciously helped to serve up the cake.
Luckily we were right in Davis Square so we could shoot over to Rosebud (not really having a large enough dose of rock after all, I guess) for Cal Cali's birthday celebration and find we missed Cadillac Heart. But we caught Eric Martin and the Illyrians' last two songs. They were slow, deep, soulful songs that impressed immediately. Eric's voice has so much character that that element alone can carry the show. And of course there was cake! We're not the only ones that came from the wedding either and so many are having their second or third dose of cake this day. Cali with Jetset did a sludgy/noise set -I don't mean that in a bad way but in a Flipper sort of way. They set up a dirgey base and riff on top. They did our favorite "Just Shut Up" and people were dancing to it. The Rosebud has been on again off again with the gigs and this night almost didn't happen but we enjoyed the club more knowing it's soon to close.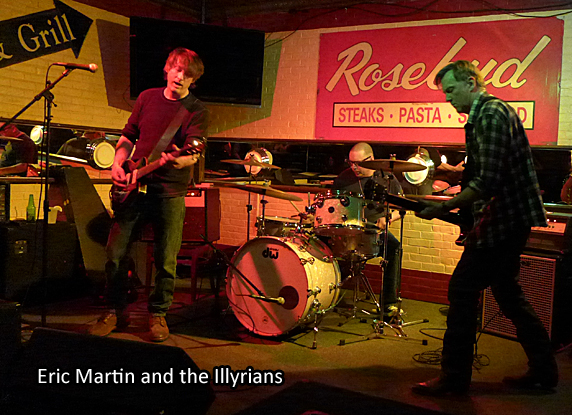 We missed Cadillac Heart but got to talk to Rayboy who came by bus from Cincinnati for the gig. That's 24 hours of BUS if you want to think about it but I don't. Rayboy is having a hard time adjusting to Cincinnati (that's called 'understatement' in the literary world). He says there is no punk/garage music, the Rap music is not of a higher quality and it's mainly blues that carries the day. He is in a blues band that is going to be in a huge competition and festival that will attract around 10,000 blues lovers, so all is not lost. It was good seeing Rayboy. You have to love someone who will bus 24 hours to drum for you.
And in closing a big congrats and all the best to Brett & Marlene and a big happy bday to everyone's pal Cal Cali!!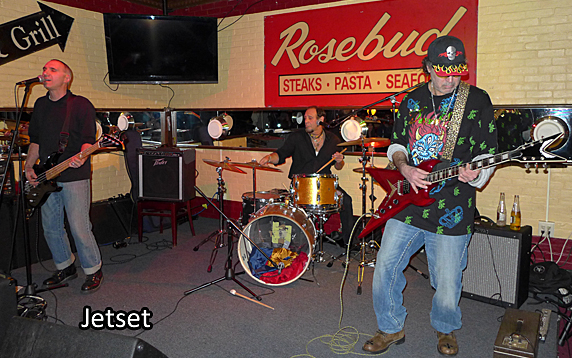 At the Milano reception we got to talk to Johnny Black who visited Joe Coughlin in his final days. Johnny had contacted the Dictators asking if they could do anything for Joe whereas he was a huge fan. Joe was at the Church gig that the Dictators did, that must have been one of his last getting out days. The Dictators responded right off. Richard Manitoba sent one of his bobble head dolls, Ross "The Boss" Friedman sent a whole CD he made of some wild lead playing and Scott "Top Ten" Kempner sent his latest Del-Lords CD. I didn't think I could love the Dictators any more but that did it. Dictators Rule. Joe was pretty weak at that point but Johnny said he reacted when he heard "The Boss" riffing away.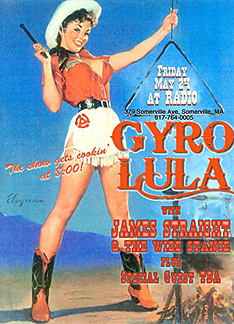 Now for stuff that's coming up:
THIS very Monday May 20th The Upper Crust are playing a late show (10:30) at The Midway on one of those Monday is my Friday nights...
May 23rd Cal Cali goes even further north to Salem for a special gig at the Seaport Café - the Cali Leger Experience will play…
If you missed the huge Willie Loco Birthday Party back in January…or just want to relive it again go to the The Cape Ann Community Cinema (21 Main St Gloucester) for an exclusive showing of Willie Alexander's Birthday- The Movie flollowed by a concert by The Persistence of Memory Orchestra. It all starts at 7PM.
This Friday May 24th is a great night at Radio: James Straight and The Wide Stance are at Radio with Gyro Lula and special guest T Max who finally makes his way back to Boston if only for one night! -Radio Down has Teenage Heart Records presents the Horny Bitches, Give Up and the Bad Lieutenants
This Saturday - OK we now here this is IT…the LAST SHOW AT THE ROSEBUD The Nervous Eaters, Aca Brebner & The Roman Sauna Warriors and Sourpunch this Saturday May 25th...at The Rosebud. Oh Rosebud we will miss ye surely and truly!! But Tony Savarino and his Savtones are at Atwood's on Cambridge Ave in Cambridge this Saturday as well.
The Middle East Up on Friday May 31th its Pop Gun's CD Release Party! Also on the bill will be The 360's, Classic Ruins and Terrible Beauty.
Lots o'good stuff in June!
The Stranglers and The Nervous Eaters are at the Brighton Music Hall. That's a great bill!
Ducky Boys do a Dead End Streets Record Release show on Sunday June 9th with The Swinger Utters , Goddamn Gallows, Welch Boys at Middle East Down…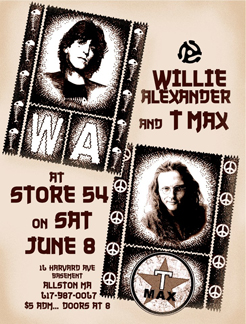 Thursday June 13th- Viva La Eva Benefit for Eva Lipton at TT The Bears:
Ivan Lipton is a huge Boston music fan, and was the VP of Strawberries back in it's heyday. His daughter Eva was in a horrible crash last year -- she's still on life support and fights to recover daily. The lifelong costs for her care are astronomical, so her family really needs your support. Boston rockers are going to help here's who's playing:
Classic Ruins (going on at 8:30) ... Roy Sludge...The Bristols... The Neighborhoods... The Dogmatics...The Downbeat 5...The Dents and Upper Crust (Ending the night). That's one hell of a night for a great cause...You can buy tix here....TIX
Oh one more thing: From Ivan Lipton: We hope as many friends as possible can make it to TTs to see all these great bands! If you can't make it, but still want to support Eva you can donate on Paypal to: EvaLiptonBenefitFund@gmail.com
Also on Thursday June 13th is the first Bob Colby Second Thursday at Club Bohemia Downstairs at The Cantab...and he has a great line up with Mary Lou Lord, Matt Mingell, Kingdom of Love and Randy Black.
On June 15th - Jonathan Richman is at The Somerville Theater!! And Tommy Larkin on the drums!
Also on 6/15 The Middle East Down has The Adolescents, The Casualties, Tenebrae, and Done With You
June 22 - GG Allin Remembrance Show -and bake sale- at The Midway!!! - This is going to be a great show folks!! The original Jabbers are making their way down from NH to play at The Midway…This is the 20th Anniversary of GG's death and all proceeds from this show go to GG's daughter. Here are the bands: The Jabbers, The Pity Whores, Antibodies, Meat Depressed, Red Line Rebels, The Manglers, Insult, Taxi Driver, Connection and more!!! Folks - now listen up friends, the Jabbers want this to be a positive, fun show…no nasty shit…here's what Chris Lamy has posted:
So this does not spin out of control given any recent events, The Jabbers want to say this…. We have been working on setting up this show with Jay and Brian at the Midway for a few weeks (as well as a NH show with a respected booker there). Every one of us Jabbers has a daughter. Later in life, The Jabbers were given opportunities which may not have presented themselves were it not for the Jabbers of 77-84. We have since played festivals, had records released, tributes released, traveled, met lots of people, and played cool places like the Midway, etc. Thru whatever divine intervention we Jabbers are all still here and able to provide for our daughters. This is our way of thanking the GG we knew and were friends with and giving to his daughter as he was not able to. It may not be much given all we have in life, but it is collectively "our" (meaning The Jabbers, Brian & Jay, The Midway and everyone else on the bill) way of saying thanks and remembering GG. We'd like to thank all the bands playing, the Boston first responders who have emailed us, and all the fans who will be attending. It should be a good show." And now there's talk of a Wimpy Rutherford Kissing Booth....oh OH OH!! I'm saving up my pennies starting NOW!!!
And we have to wait way too long to see Petty Morals again...their next gig is July 19th at Great Scott in Allston
And oh good gawd this is too funny. It seems a "Christian" group is up in arms about the spawns of Satan we call Unnatural Axe playing a gig in their city!! In response to the Axe playing at the Hozac Blackout Fest in Chicago a bunch of "religious" nuts put up posters stating: "Please join us in keeping this notorious and abominable "punk rock group" from performing their violent, anti-social, fascist-themed, and pro-euthanasia-themed "music" in our neighborhood, at the "BLACKOUT FEST," a morally bankrupt celebration of anti-Christian values that draws a morbidly fascinated crowd to each year's festival. Enough is ENOUGH. Please call your local aldermen and voice your concern." You can read about it here on the Huffington Post!!
On the things to do list we have:
Punk being spun over at The Ramrod every Tuesday from 10PM to 2AM …IT'S FREE and it's a revolving cast of Punk DJs -All vinyl! All Punk! And there's FREE POOL too.
And on Fridays there's Chris Atwood's Friday night radio show called The Alternative plays punk and new wave hits.
EMAIL US AT…….misslynbgn@yahoo.com