The BGN News Archive
May 21, 2012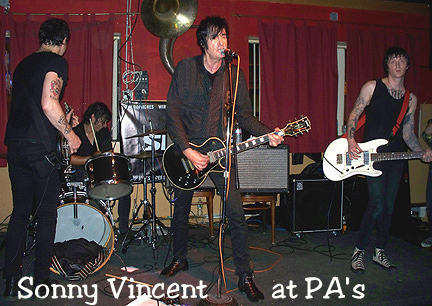 Friday night was Sonny Vincent & The Bad Reactions at PA's Lounge...I like this place...I wish they'd have more bands I'd like to see there....we got there at about 9:30/10PM...and sorry but the first two bands were terrible...I heard someone say "What is this amateur night?" lots of horrible singing...bad playing on every instrument...just terrible....we hung out and talked, waiting and waiting for Sonny. The third band showed us a glimmer of hope; Bad Reactions guitarist Josh got up on stage but got behind the drums...this was his band.......well, Josh should stick to guitar or get a lot more practice on the drums...but I will say they were a significant step up from the other bands on the bill so far. Now it's getting LATE...and this is a 1AM club...."Where's Sonny!!??" We're pleading!! THAT's what we want!!! Finally at about 12:15 he hits the stage...and woohooo!!!! They were on FIRE fabulous through the whole set.
This band Sonny has with him is just plain amazing. All super cute young guys with black hair and black clothes and awesome musicians too!! The drummer Luis puts to shame every drummer I know off...he was show stopping, putting his heart and soul and everything he had into every song. Sonny was killin' it on guitar and everyone was super high energy; the songs were straight ahead garage punk classic sound, fired one right after another for a straight 45 minutes!! It was great...everyone wanted more..much more but they shut off his mike and turned up the lights and that was that. Frankly I wish he was paying a second night, I would have gone back....
I just came across a really great interview with Sonny on a site called Coilhouse... please click and read it....here's a quote I absolutely love...
Coilhouse: Any thoughts on the punk-looking bands on MTV?
Sonny: Those motherfuckers owe me royalties. If any of them are reading this, they should send checks made out to Sonny Vincent care of this website! Some of these bands are trying to carry on some tradition, but most are just pretending to be punk. It's never been clear what punk is and it's funny for me to use the term. The first time I saw it was on a Ramones album. I didn't like it until the industry came out with the term "New Wave." It made me want to be punk.
And here's a clip of the Bad Reactions on You Tube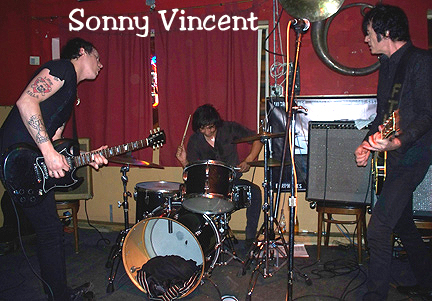 Now Saturday.... Cal Cali, ubiquitous man about town, marked his birthday with a gig at the Rosebud. Lyres were topping the bill. We got there early figuring the Rosebud is small and it would sell out. Did it? No. Should it have? Oh ya. Meanwhile across town tens of thousands gathered for Earthfest, the draw there? The Spin Doctors! In my world that's crazy but I think you know that.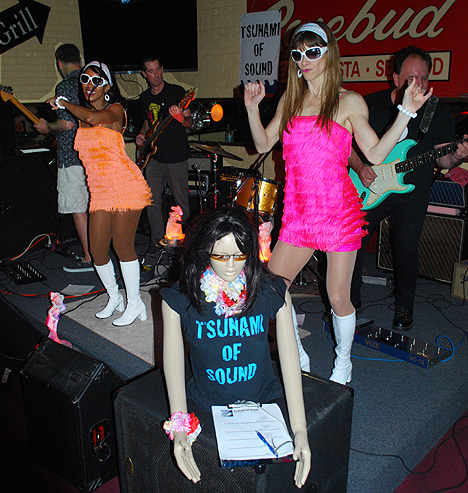 Tsunami of Sound started off. They are a surf band and played the stuff you expect (Hawaii 5-0, Penetration, Theme from the Munsters etc.). They had a good surf sound, solid beat, and the lead guitarist was soaked in a classic reverb tone. Oh, did I mention the GO GO GIRLS? They were dancing like they were in a cage on Hullabaloo circa 1964. Bet the Spin Doctors didn't have that. Damn son-of-a-bitch Spin Doctors.
Just as The Tsunami of Sound ended I hear a perfect segue into " 7 and 7 is" by Love and turn to see Brett Milano at the turntables, I had forgotten we was spinning. It was the icing on the birthday cake for this night.
Despite his many gigs we have missed Cal Cali's group JetSet but then again his lineup change names. This one was The Cal Cali Experience and it turned out that he played all covers. And what good taste in covers. The Raspberries, Cheap Trick, and Ramones as examples. Cal is one of the rarest of animals...a drummer with personality and he sings. He sits upright with his head forward and snaps his wrists a lot like the drummer for the Rascals back in the day. His vocals were highlights.
Lyres are up next. Over thirty years of these guys and we still get excited and we are not wrong. Their last gig at Church was spectacular and this turned out similar. Everyone in this group brings so much from their background and musical sensibility to the performance and then the whole becomes bigger than the parts. It's musical nuclear science or something. The beat starts and the organ begins and you get transfixed and transported to Lyresland not to come out till the last note falls. They play a lot of songs. Many they have played for years but I don't know the names. In the middle of that they will start a riff from one of the known hits and well that's just beyond ecstasy. I can tell you about it and maybe you can see a video but in reality you have to experience this live in a room of dancing fans. They play a long time and even though I know they are cutting into the Classic Ruins time I still don't want it to stop...lord forgive me, I'm weak as water.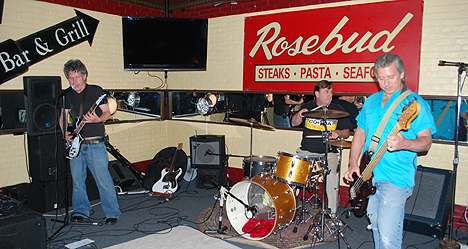 It's a hard act to follow but the Classic Ruins hit the floor and mange to play four songs before time ran out. Jeff Crane is still missed. We hope he gets over this 'job' thing he's going through.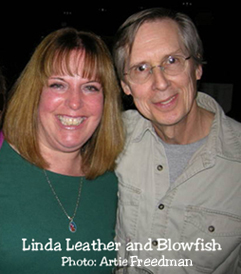 Beyond the groups it was a big night of socializing. The big surprise was Linda Leather hanging out and she promises to be around more too. Wayne from Store 54 made it in time for the Lyres. He's getting ready for the logistics of combining with Loony Tunes in his space on Harvard Ave; those logistics being TONS OF VINYL. He says it's going to be more hard work but he can do it. (The Sunday Globe had a 40 page mag on Boston 's 100 most successful companies. What do I care about? - a thrift store and a used record store.)
Another welcome face was Rick Harte who praised the Lyres for being 'all business' this evening. He also revealed that he has four songs by the Nervous Eaters from back in the day going on a comp CD. He says the recordings are fantastic and when he says that...well, you know the rest. He's been working on this CD for three years. How lucky are we to have this guy working on the music we love? He's still got the fire in the belly all these years along.
We talked to Artie Freedman who is still getting the details of his film archiving at Harvard hammered out. The hope is that the films will be coupled with flyers and all sorts of info that will put the films in context. As time goes on we here at the BGN will be trying to help by directing some of you to do just that. Itís the only way we all can get into Harvard.
Also around was Matt Burns, BeatGirl Aimee who we haven't seen in ages, Ed Moose Savage, Bob Colby, Roy Rubinstein, Kim and Cam , Michele Meadows, Joe Fagan, and we sat down for a minute with Rick Perry and Toni and someone gave us some birthday cake. Cake, now did the Spin Doctors have that? Foogin' Spin Doctors.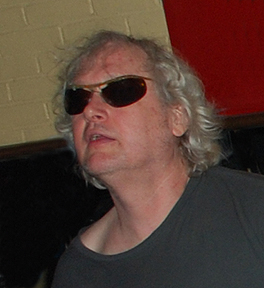 So we have an excellent weekend coming up ....this Thursday May 24th Manitoba le.is at Church...the opening band is a metal outfit called Rule - its gonna be an amazing show !!!
this Friday May 25th, Black Fortress of Opium is at Radio along with Varsity Drag, Peter Buzzelle & Soul Clinic Bible School and BirdsMakeBirds.
And Saturday, The Psychedelic Furs and Pop Gun are at the Salem Performing Arts at The Catholic Center in Salem!! Psyched for this show!!! Also Jenny Dee and the Deelinquents, The Charms and Mike Verge are at Precinct on Saturday the 26th And it looks like summer is finally here folks...June is right around the corner!! On Friday June 1 The Figgs and My Own Worst Enemy are at Church
On Saturday June 2nd there a daytime BBQ at O'Brien's then that night there's a very good show: Tijuana Sweetheart are playing their LAST show ever, also on the bill are The Tenafly Vipers and Razors in the Night...that should be a good night!!
June 6th - Carl Biancucci, with his UK band The Shot Glass Killers are opening up for the Brian James/Rat Scabies (BOTH original Damned members) show at the legendary 100 Club in London!!
Kris Thompson and his band Prefab Messiahs are doing a reunion (micro) tour in June!! They are hitting Cambridge, at the Middlesex Lounge in Central Square on Wednesday June 6th, then off to Northhampton, Worcester and then Brooklyn NY.
And from Ken Scales we have a note: "Why don't you ALL plan on coming to the Waltham RiverFest on Sat. June 16th. Adventure Set will gone on stage from 1 to 2 in the afternoon. See you in Waltham. xox"
and Johnny Angel is coming back to Boston again in July both the 6th & 7th to be exact. He's putting on the "First (And Maybe Last) Annual Johnny Angel Hootenanny At Radio" with a load of awesome bands: WATTS, Robin Lane, Mary Lou Lord, Darling Pet Munkee, 360's, Noggin and Eric Martin/Illyrians. AND Johnny will be playing music from IT! (his latest CD and band click on the link to here the songs, buy the CD and read some info!).
We see that Chrissy ex of Vagiant and Tijuana Sweetheart is in a new band called Sugarcoma ...just can't keep a good girl off the stage and we are glad about that...can't waity to see them play!!
EMAIL US AT.....misslynbgn@yahoo.com