The BGN News Archive
May 21, 2018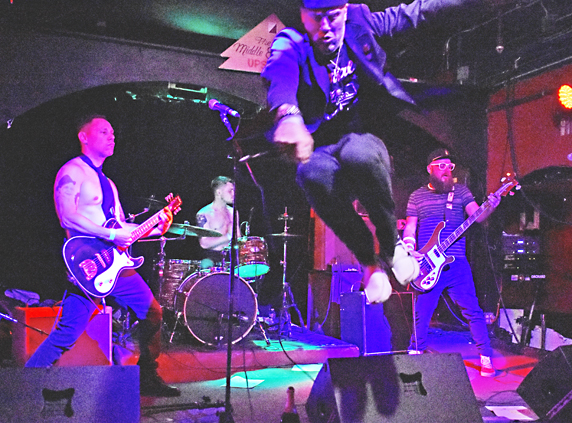 Baabes at the Middle East Up
---
We hit Once on Thursday with Diablogato being the draw for us. They played without the sax player. We don't know if that's permanent. But they were burning it up and it looked like they were burning with the hellish red glow on stage. It actually suited their raging rockabilly.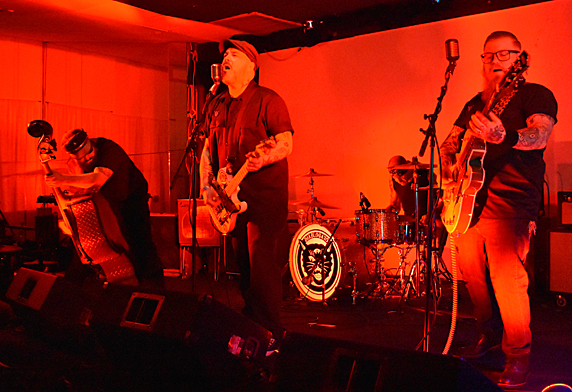 Diablogato
Photo:Blowfish
They sounded even more rockabilly without the sax. That guitar player has it down. The singer's voice was raspy and he was drinking honey to help his throat, again it worked with their music. The bass player was sitting, then standing on his stand-up bass. It was the whole usual Diablogato package nicely done up for a Thursday.
The top of the bill was Tsunami Bomb. This is their 20th anniversary tour. They're a California band and they've played the Warped Tour a few times. They were garage-y with the cheesy organ going on. The vocalist wasn't doing it for us. But there were about 70 people there that seemed to come just to hear them and they were lively and rocking.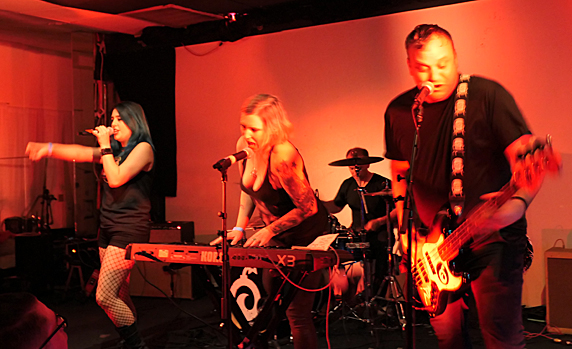 Tsunami Bomb
Photo:Blowfish
More to our liking was the line up at the Middle East on Friday.
We linked the Baabes' new video in the news last week. We don't know what you thought, but we thought – hey, we wanna see this band live…and that's what got us to the Middle East on Friday.
We missed the first two bands, Hambone Skinny and The Gala. The Gala, who we saw last week, are hard to miss these days because of an aggressive live schedule. They're playing wherever and whenever they can and they get new fans each time.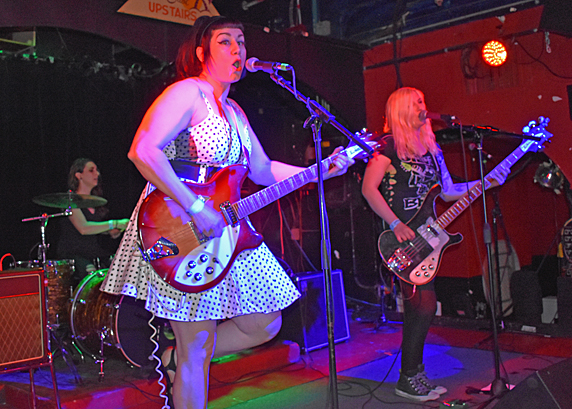 The Knock Ups
Photo:Blowfish
Also on the bill was The Knock Ups who we've seen a few times: Keegan reviewed them three years ago and we saw them a little later, same year....but not recently.
Gretchen Shea was still impressive with the strong voice that commanded your attention, which is a great gift for a performer to have. The bass player Cat Verlico, had a complimentary voice to Gretchen's. Sometimes she would do a call and response style and other times a simple harmony back up, both ways added a lot to the mix. It was the drummer's first show but you couldn't tell.
They have good material. A few songs were very memorable. One was "1969" which we have on video above and here is the song on Bandcamp. It's about that particular year and Gretchen's Rickenbacker through a Vox amp was a perfect tone for that song. They also did an older one that we always love hearing, it's about hating facial hair. It's "The Anti-beard Beard Song (Paul Weller's Blues)". Here's a video of it when they did the Rumble. Another song, that we love, is "Dionysius".
The point being they know how to write songs that make an impression. Overall just a good rocking set.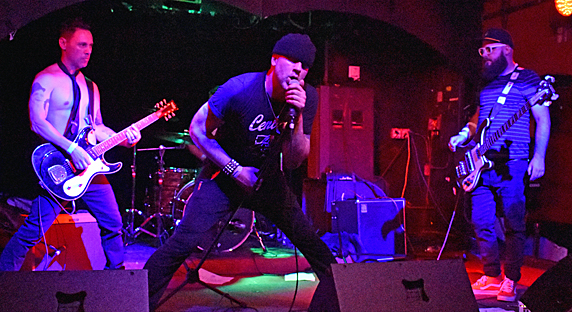 Baabes
We saw lead singer of Baabes at last years Starlabfest. (And here's a reminder to plan to see that outside event in Somerville that happens at the end of the summer.) He was in a group called Jojo and the Angry Girls. We loved the group and his stage presence. And we were right on that as we found out during The Baabes' wild set.
Jason Ring/Johnny BB was pacing the floor in front of the stage as the band was setting up. He was like a caged animal. You knew something was coming. The lead guitarist had a neat looking black and white Mosrite style guitar and he wore a white suit coat, black shirt and tie....which later was reduced to just the tie. Hey, it's a look.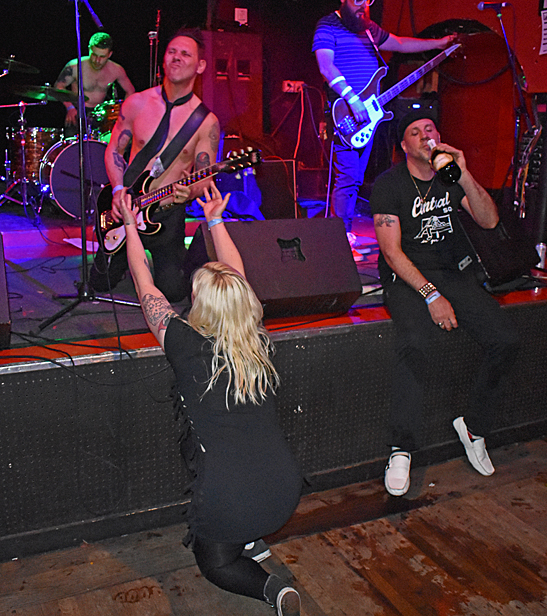 Baabes
The band kicked up a furious fuzz backdrop as Jason spewed out very wordy songs. It always seemed he felt the pressure to jam in all his lyrical points which gave the music some of it's urgency. The guitarist never needed more than a four note riff or two chords alternating to make a song, and some of those were very catchy.
Jason is a big guy but it's not just his physical presence that is imposing but his wild stage antics. He started on the floor, then spent equal time on stage, often transitioning to the floor with a high leap (see photo on top of page). He does a lot of gesturing, mugging and posing which are all to the service of the lyrics. He moves his feet ala James Brown. It all came across as organic. The band members were right with him on all counts.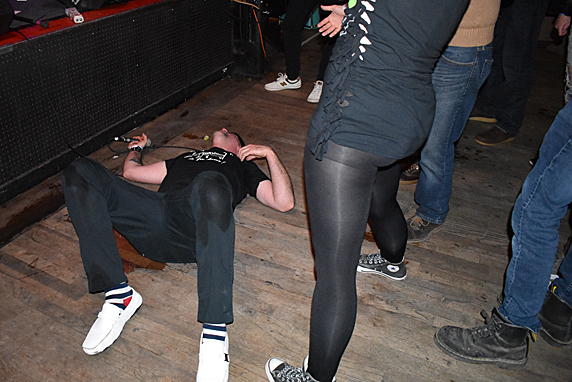 Baabes
You should look at the videos below to get a better idea of what they were doing. He was also slugging from a bottle of champagne, Korbel we think and passed it around to the audience to drink, a lot of it ended up on the floor too as did other drinks as Jason did his crazed struts and jumps.
They are headed to the studio again soon to record more! We look forward to future Baabes shows!!
The Knock Ups' Cat Verlico was in the audience and lovin' it too! We all were!! And this was their third show as a band? That's amazing!! What a show this was!!
---
And in other news.....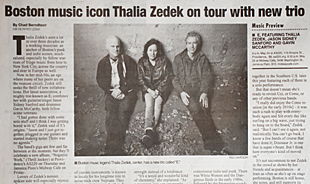 Thalia Zedek has a nice write up in this week's Patriot Ledger. It talks of her career and then the particulars of her new group E that will be playing this Friday at the Midway FB page
Boys From Nowhere got a write up in the Globe on Sunday. They tied it in with another film on the Slits. It's wonderful to see the film getting attention from the large papers.
Ken Stringfellow has been working on Richie Parsons' new album. Now he's got some of his own business to take care of with the 30th Anniversary of his band – The Posies. They will be at Once on June 15. Pop fans, we're talking to you!!! Check out the FB page.
Here's some good ole punk reading: Please Kill Me has an article on the Bromley Contingent from the early punk days in London. There are videos and quotes and more.
And here's a great article on Deborah Harry.
Any of you out there remember the band Chrome, from the late 70's? They are playing at the Middle East UP May 29th
---
Here's some good shows coming up this week.....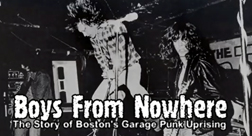 May 23 (Wednesday) Boys From Nowhere: The Story of Boston's Garage Punk Uprising is at the Cape Ann Cinema - 7:30 show time. FB page
May 23 (Wednesday) Simon Ritt is performing Johnny Thunders' So Alone album with him are The Bristols, Evan Shore, Tony Savarino, Mark Chenevert, Adja Snyder, Joe Mazzari, Phil Aiken, Eric Martin and Bill Dougherty - wow!!! also on the bill 61 Ghosts - this is at The Lizard Lounge
May 24 (Thursday) Rocking For A Cure For Huntington's with The Idolators Featuring Sal Baglio, Leader of The Stompers along with Jeff Keithline and Sam Wood Appearing along with these fine musicians Chris Palud with Jamie Walker Sandy Martin & Joe Donnelly John Surrette & Friends Dave Barton & Blame The Whiskey Kelly Knap, Kim Ernst (Bristols) with Eric Martin (Neats) Billy Connors Project.… doors at 7PM at Thunder Road
May 24 (Thursday) Thrust Club with Dump Him & Sapling at Once
May 25 (Friday) Whore Paint, E (record release), Arch Cape at The Midway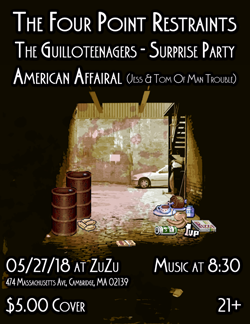 May 26 (Saturday) A benefit for Nate at The Rhumbline Upstairs in Gloucester featuring Sternman and a bunch of other bands
May 27 (Sunday) Roy Sludge at Sally O's, Sun. Memorial Weekend 6- 8:30Pm
May 27 (Sunday) The Four Point Restraints, The Guilloteenagers, Surprise Party, American Affairal (Jess & Tom of Man Trouble) at ZuZu
And further out we have...
May 29 (Tuesday) Chrome at the MIddle East Up.
May 31 (Thursday) Red Hare, Sweet Jesus (Last Show), Holy Hands, SilverScreams, Pummel at AS220 in Provi RI FB page
May 31 (Thursday) Atlantic Thrills, The Mad Doctors, Fire Heads, Heavy Connection at the News Cafe Pawtucket, RI.
June 1 (Friday) Tom Baker & The Snakes, Swilson and Duck and Cover at The Tavern @ the End of the World.
June 1 (Friday) Thee Fightin' Fish Record Release Party at Club Bohemia also playing are EVERT, Birdgangs, Captain Martini and the Key Stoners
June 2 (Saturday) A Crash Course for the Ravers featuring Charlie Don't Surf! 91.5 WMFO 1-4PM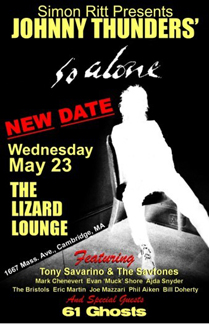 June 2 (Saturday) Check out JJ Gonson's pics with Slam Dance - Pictures from the Pit it's out in Framingham, 4-8PM FB page for info
June 2 (Saturday) The Black Souls, Crunchtime & Guests, do a Midway Cafe Matinee 4-8PM
June 2 (Saturday) Fur Purse, Lady Pills, Miss Geo & DJ Sit and Spinat the Midway 9PM show
June 2 (Saturday) Sheer Terror, Nothing But Enemies, Brando, American War Machine at The Middle East - this is an early show 5:30-10:30
June 2 (Saturday) Worshipper, Sidewalk Driver, Flight Of Fire, Blood Built Empire at Sonia
June 3 (Sunday) The FUs, Working Poor USA, The Straight Eights, Worm at The Midway for a 4-8PM show
June 3 (Sunday) Gang Green and Taxi Driver at Alchemy in Provi RI also a matinee 2-6Pm
June 4 (Monday)Radkey, Aneurysm, Silver Screams
June 5 (Tuesday) Rock and Roll Trivia w/ Erin and Brett at Sinclair 8PM
June 9 (Saturday) Sternman, Nightbird and Tragedy at The Middle east Up.
June 9 (Saturday) Scissorfight, Diablogato, Scrimmy the Dirtbag at Opus in Salem - and its sponsored by Lord Hobo Brewing company- you know what that means
June 9 (Saturday) The Neighborhoods at the Ocean Mist in RI on June 9, Tickets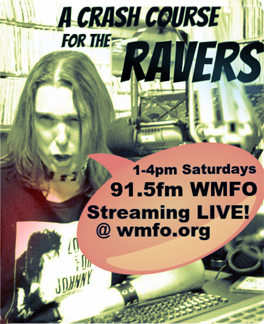 June 10 (Sunday) Tokyo Tramps, Jody Moore, Billy Connors Project, Club Linehan A Go Go at The Midway for a 4-8 PM show
June 13 (Wednesday) The Posies 30th Anniversary Tour with guests Secret Sail at ONCE Ballroom
June 13 (Wednesday) doing their G.G. ALLIN 25th Death Anniversary Tour the Murder Junkies are at Cafe Nine in New Haven CT FB page
June 13 (Wednesday) Some Kind Of Nightmare (CA), Silver Screams, BDSX, Sweet Bangs at Opus in Salem
June 13 (Wednesday) Supersuckers, Speedealer, Salem Wolves are at Alchemy in Provi, RI
June 14 (Thursday) The Dickies (40th Year Anniversary) w/ The Queers, Duck & Cover and Cookbag at The Middle East FB page for tix etc
June 15 (Friday) Robert Gordon is at the Greasy Luck Brewpub in New Bedford, MA opening is Johnny Barnes & The Nightcrawlers. FB Page
June 16 (Saturday) GLiDER Live on Radio 91.5FM Crash Course for the Ravers! wmfo.org stream 1-4PM
June 16 (Saturday) Benefit for Rosie's Place with Jerry's Got Jokes, Threat Level Burgundy, Whoopi Sticks, Blame it on Whitman, The Runouts this is a DAY show at The Midway
June 16 (Saturday) The Nervous Eaters, Justine and the Unclean, Stop Calling Me Frank are at Thunder Road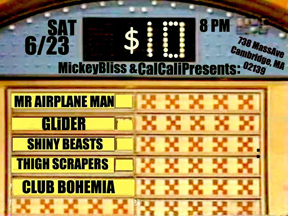 June 16 (Saturday) GBH with Pinata Party are at The Middle East Down.
June 17 (Sunday) Micah Schnabel, Live Nude Girls, Olde Boy, Amy Griffin at O'Brien's Pub
June 20 (Wednesday) Blk Squirrl Record Release with special guests Andy California and Sundog at The Midway
June 20 (Wednesday) Reverend Horton Heat, Big Sandy, Lara Hope & The Ark-Tones at Alchemy Provi RI
June 22 (Friday) Greg Allen's Fringe Religion, Pop Gun, Muck and The Mires and 138 at KOTO in Salem
June 22 (Friday) Tied To A Bear, Duck &Cover, The Von Traps, Sonic Libido at Opus in Salem
June 23 (Saturday) Gene Dante And The Future Starlets, Parlour Bells, The Gala, Smitt E. Smitty and special guest DJ, Gang of One (Hugo Burnham formerly of Gang of Four) at Once - 8:15PM show time!
June 23 (Saturday) Mr. Airpane Man, GLiDER, Andy California, Shiny Beast, Thigh Scrapers at Club Boho/The Cantab
June 23 (Saturday) The 7CS and The Rolling Who, are at the Plough & Stars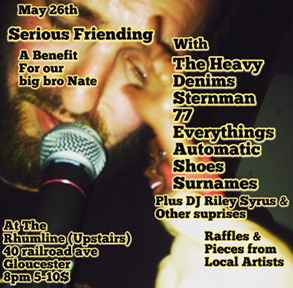 June 24 (Sunday) Opposition Rising Boston Record Release Show! with Not A Part Of It, Infernal Diatribe, Neighborhood Shit, DNZL 4PM matinee show at the Midway
June 24 (Sunday) The Adolescents, Electric Frankenstein and Duck & Cover at Brighton Music Hall
June 29 (Friday) Nervous Eaters, The Gamma Goochies, Euphemia at Geno's in Portland, ME
June 30 (Saturday) Goddamn Draculas, Jason Bennett and The Resistance, Art Thieves at Middle east Up 6:30 PM show
June 30 (Saturday) Rockin' Dune Tunes at Whitecrest Beach Wellfleet Cape Cod. It's rocking on the beach – well, the parking lot next to the beach. Line up : Mr Airplane Man, Atlantic Thrills, Shiny Beasts, 5 SPF4. It's FREE & ALL AGES. it startts at 5PM. The town charges to park for the beach until 4:30. Bonfire on the beach after the show. In memory of our friend Trey Helliwell. More info here on FB
July 1 (Sunday) Today Junior, Milk, Dutch Tulips, Soft Pyramids at Great Scott
July 1 (Sunday) G.G. ALLIN 25th Death Anniversary show with The Murder Junkies, Smoking Triples, Jonee Earthquake, They Hate Us, Malcolm Tent at The Dutch Treat Franconia NH Here's the FB page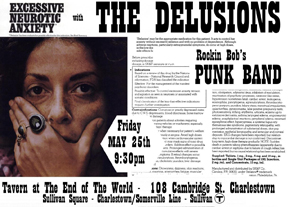 July 7 (Saturday) Pajama Slave Dancers (reunion) with special guests Trusty Sidekick, Grey Matter (ft. Eric Gaffney), and The Weisstronauts
July 8 (Sunday) Step 13, Genuine Rust, The Martians, Cry Havoc at the Midway for a 4-8PM show
July 11 (Wednesday) The Goddamn Gallows, The Koffin Kats, Viva Le Vox at Alchemy in Provi, RI
July 12 (Thursday) Koffin Kats, The Goddamn Gallows, Viva Le Vox at The Middle East
July 13 (Friday) Last Ones and CalCali Band are at Tavern at the end of the world. (Rick must be back from his Grand Tour!)
July 13 (Friday) Fireking, The Grip Weeds, Watts, Modern Day Idols at Thunder Road -get tix here.
July 14 (Saturday) il Mostro, Psychic Dog, The Laces, Jim Healey for a 4-8PM show at the Midway
August 4 (Saturday) Scissorfight, White Dynomite, Northern Skulls, Red Mantis at Once Somerville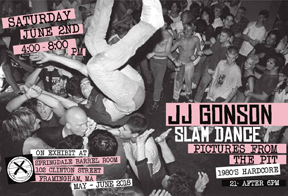 August 4 (Saturday) Descendents w/ A Wilhelm Scream & Pavers at State Theatre, Portland, Maine FB page
August 8 (Wednesday) The Blasters come back to ONCE
August 13 (Monday) Agent Orange, Fea, and more at Ralph's Diner in Worcester FB page
August 15 (Wednesday) Agent Orange are at the Brighton Music Hall TIX!
August 16 (Thursday) Agent Orange w/ FEA, Zero Holds at Alchemy in Provi, RI
August 24 (Thursday) Lyres, Glider, Pop Gun, Knock Ups at Koto in Salem
September 8 (Saturday) Richard Mirsky's CD Release Party at the Midway (night show)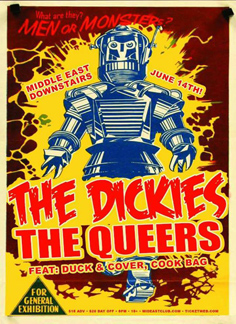 September 9 (Sunday) Slim Cessna's Auto Club and Kid Congo Powers at Once - music starts at 8:30
September 11 (Tuesday) Killing Joke on their 40th Anniversary Tour at the Paradise FB page
October 12 (Friday) Salem Horror Fest After Party with Diablogato, Gray Bouchard and the Dedications and Petty Morals at Opus in Salem
October 20 (Saturday) Nervous Eaters, Indonesian Junk, Duck & Cover at the Middle East Up
October 27 (Saturday) The Descendents w/ Teenage Bottlerocket at The Palladium in Worcester FB page for tix etc
November 2 (Friday) Roky Erikson at Once. Tix here.
CONTACT US AT....misslynbgn@yahoo.com Send us your gig listings, your news and anything else ya got!! You want your CD reviewed?? Contact us for that too.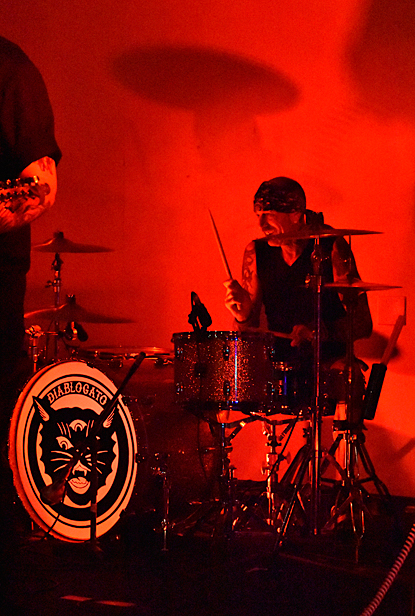 Jesse - Diablogato
Photo: Blowfish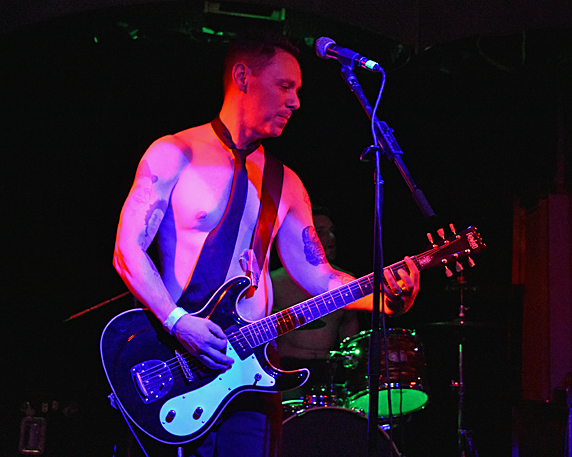 Baabes
Photo:Blowfish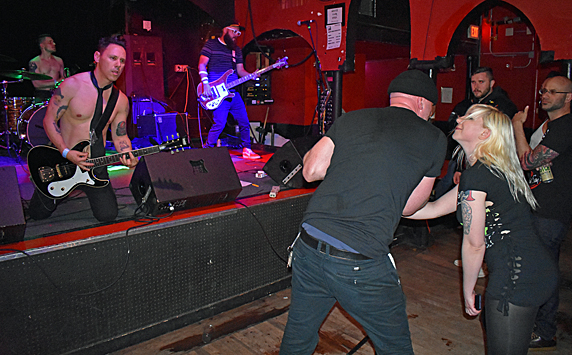 Baabes
Photo:Blowfish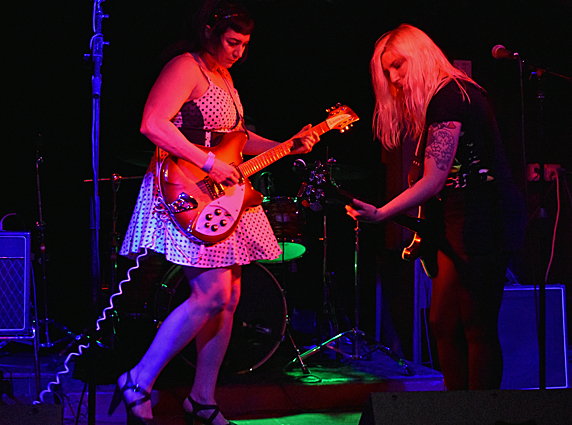 The Knock Ups
Photo:Blowfish