The BGN News Archive
May 23, 2011
RIP Keven Glasheen

| | |
| --- | --- |
| | |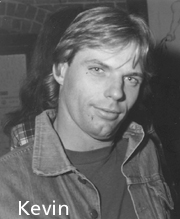 As you may have seen during the past week , we posted a short notice that Boston rocker Kevin Glasheen passed away on May 10th of a heart attack.......Kevin was there when the scene was just starting.....he played the drums in the Real Kids and the Classic Ruins way way way back when....known for his high energy and his crazy personality he was a memorable member of our scene, when I think of Cantone's and the early days Kevin is one of the people I see there...he was a very close friends to many...Mary Jo Felice sent me the news and said Kevin was like the fifth Felice in her family and that "Squanto was such a loyal, loving and devoted friend. The loss is immeasurable" .....it is very sad news, he was 57 and he will be missed.
We went over to the Magic Room on Saturday the 21st to check out the excellent bill going on there. The theme running though this night would be that it is people from the early days of the scene back on stage for more abuse....or admiration I should say....we got there too late to hear Tommy White's band The Beach Combovers but the room was buzzing from their set, and knowing those guys it was a good one.
The debut of the Cadillac Heart (Billy Connors, Gary Soprano, Scott Baerenwald and Rayboy Fernandes) was heightened by the songs that have been posted on Reverb Nation revealing a very together group. The promise was fulfilled with a tight set centered on Rayboy's solid drumming. Scott Baerenwald brings more than just his bass playing to the group his background singing along with Rayboy adds an extra dimensions that elevates many songs.
One of my favorite new songs is "Nothing s Gonna Change" a simple pop ditty sung by Scott and it fits him so well I imagined he had to have written it but no it was Billy Connors who wrote almost every song in the set. I find it amazing that 35 years after he started playing Billy is writing these great songs.
"Fed Up" which is an updating and answer of the Who's "My Generation" is a object lesson on what songwriters on the scene should be doing. He got a subject worthy of commenting on and bringing his life experiences to the lyrics. It's intelligent and emotional. Billy's given us a wonderful anthem. Now, I'm just picking one song out of the set, they were all good.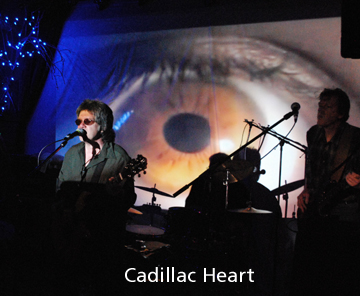 In the middle of all this is Gary Soprano, a sort of ringer. Many might not know this guitarist who used to be with Third Rail and the Count for a short while but he has an impeccable tone that goes to the service of some savory solos all right in the pocket of the tune. I'd love to have all of them available to play over and over. He's been under recorded for way too long.
Wonderful players, wonderful new songs - this was a great set.
People have been giving us an ear boxing for months on seeing James Straight and the Wide Stance - they were right. It took about 2 seconds to get drawn into this lively rocking set.
They do mostly covers, some songs I didn't know that might have been originals. They do songs as far back as the fifties. The main thing they seem to be doing is lifting or co-opting songs and styles from the rock era and stamping them with their own ideas. One example is their cover of "It's All Over Now" by the Rolling Stones. They craft a crunching figure in the verse and barrel ass their way to the chorus where they play it fairly straight. So, you get the old with the new. They obviously are having a ball doing this and it's a ball to listen to.
They do a ZZ Top style boogie which is so rock steady in the fantastic rhythm section that it's impossible not to move. On top of this Joe Fagan is pumping out his dirty untiddy riffage: not too busy, not over the top but perfect for the song.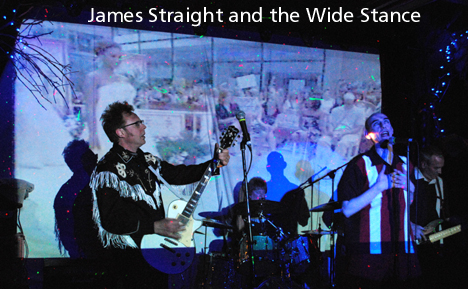 All this and I haven't even mentioned the most outstanding thing about this group - James Straight. He's a personality filled front man with a strong expressive voice; a person who seems destined to be on stage. He was at his best in the signature song "Wide Stance", a long laugh filled song on the whole Sen. Larry Craig bathroom incident. I don't want to brand him with the Lou Miami comparison but ya, he reminds one of Lou and like Lou he brings the party with him. And of course they ended the night with "Psycho Date", a Lou Miami classic.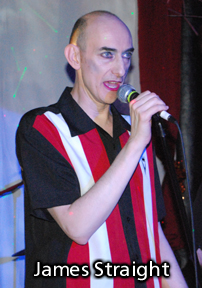 We were a little giddy at the end of this night getting two rocking sets under out belt. The place was packed and everyone was very vocal with smiling faces.....and we had just partied beyond the purported end of the world.
On this very Saturday May 28th, the Classic Ruins - who haven't been playing very often lately....(we miss 'em It'll be good to see them again), are playing at The Cantab with Musclecah and 1 4 5.
Also on this Saturday if you happen to be down the Cape....namely in Hyannis....our pal Rick Paige, yes the one who was responsible for the great scene at the Johnny D's in Allston years back, is opening his new Atomic Dimestore at 253 Main St, Hyannis- true to form Rick is offering for sale the best of the 1950s, 60s, 70s, and even some 30s, 40s, and 80s! Toys, dolls, ephemera, advertizing, furnishings, fun stuff and weird stuff. Ans since it is a special opening party - Craft beer tasting provided by Grain & Vine Liquors. It's Noon to 7PM....oh yeah!!...
Some excellent stuff coming up in June!:
Yeah there are a lot of gigs coming up in June that are awesome but here is something even extra cool: The What Cheer/Rock'n'Roll Yard Sale folks have been very very busy....Chris Daltry's band The 'Mericans are releasing a new album on June 17th called So Late I t Hurts...go here to check it all out .....AND....this is so cool, Chris and Jennifer Daltry have secured a month long series of Rock'n'Roll Yard Sale events at The ICA in June!! (click to see specifics )..for example: Friday, June 3rd- Record Sale + DJs + Collectors Spinning Vinyl, Friday, June 10 - DJs + Collectors Spinning Vinyl in the ICA cafe, Friday, June 17 - DJs + Collectors Spinning Vinyl in the ICA cafe and Friday, June 24 - Record Sale + DJs + Collectors Spinning Vinyl - regular admission price of $15 still applies but you can also check out the exhibit The Record
June 3rd The F.U.s are in Lowell at Gemstones.....
Friday June 10 at 9 at the Paradise - The Dogmatics, The Neats, Band 19 AND Last Stand - OH wait - Classic Ruins have been added to the bill as well!! - are playing a show in support friends who will ride in the Pan Mass Challenge This'll be a blast from the past event and it's 16 bucks and well worth the dough
June 11th is Rich Mirsky's cd release event at The Midway!! This is an afternoon show - 2-6PM 5 Point just got added to the bill and surprise surprise The Real Kids are NOT playing now....I was wondering when that would change, damn too bad!!! Since it is a Mommy What's a Mirsky? CD Release that means the star of the show Rich Mirsky will be playing in his band Heavy Sirip (featuring for this special event the best bass player in Boston- Carl Biancucci!!) , and Cum's Chris Brokaw doing a solo set
And of course the Del Fuegos reunion at The Paradise to benefit Right Turn; June 23rd with the Nervous Eaters and the 24th with the Lyres. Can wait for that one!
June 17th there's an excellent show at the Middle East Up with The Paul Collins Beat , Muck and the Mires , Watts , The Dirty Shames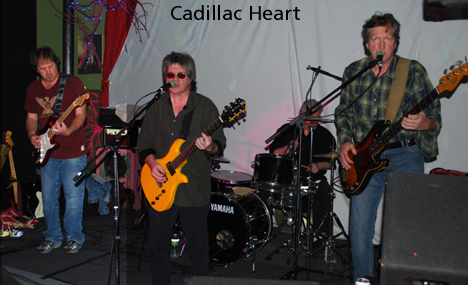 Saturday June 25th at The Beachcomber in Quincy is an awesome, practically all day event: Hotrods & Hooligans- Fisher House Benefit-Greg Burke Memorial Show. A Hotrod Show during the day and a punk rock show at night with The Pug Uglies, Welsh Boys, Dead Friends, Cradle to Grave and Lenny Lashley
Then in July Harvard Film Archives is having a few days (July 1-11), of Classic Punk Films from the 70's and 80's...more info to come on that...just wanted to make you aware to save some dates on your calendar.
OH if you want to keep your punk rock bobble head doll collection up to date you better get over to Aggronautix quick and grab their Roky Erickson bobble head before it sells out their GG Allin one!!
and....as is Roky.....as would be GG....we is all getting' old my friends....and to prove it we have some serious as in 60th birthday celebrations coming up....I just have to say I never in a million years thought I would be announcing to you all some fellow rockers 60th bdays but here we are it is happening and well, I am thankful I am here to help them celebrate and I hope I reach my own in the future..... Ed Moose Savage is having a hugely gigantic 60th bday bash from 2-8PM on Sunday June 5th at the fabulous, Knight's of Pythias Hall, 251 Maple St. corner of Chestnut St. (above the trophy store), Lynn, Mass. - Ed says of the event: All are invited! See: Moose and the Mudbugs, Ed "Moose" Savage" and His Litany of Complaints, with Paul "bing bang boom boom" Dionne, on drums and assorted percussive items, fresh off his flight, from California ! There will be additional live music,(contracts are just about being signed), food, lots of special guests, and surprises! Like I said at my 50th, (the number has changed,) but the sentiment is the same: "I only plan on turning 60, once!"; so don't miss it!
Next in line is our long time friend Frank Rowe....this guy crosses the line to 60 in a celebration at The Midway on August 13th Oh its gonna be a excellent evening.....
...Email us click click click