The BGN News Archive
May 23,2016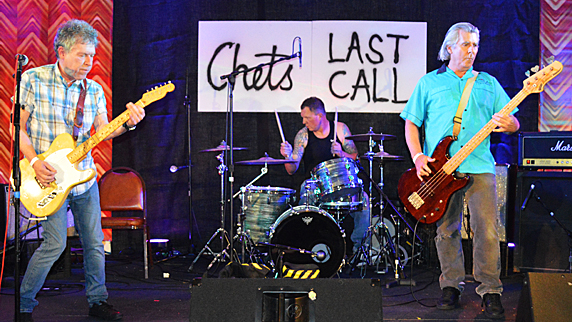 The Classic Ruins at Chetstock
Photo: Blowfish
I listened to just a few minutes of Cut Up's Bandcamp songs before I wanted to see them live on Wednesday night at O'Brien's. In the club – 25 people.
I liked the little I heard of Weller, from PA, before them. It reminded me a little of the old singer/songwriter idea but with the band much more integrated. They are a indy/pop/emo hybrid maybe in current trends. I think there is some appealing craft in the material. For a listen check 'em out on Bandcamp.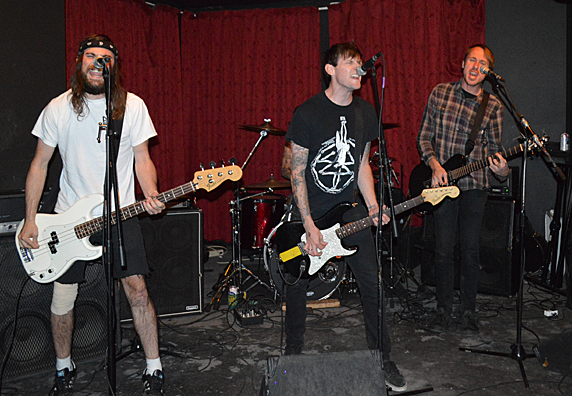 Cut Up
Photo: Blowfish
Cut Up were over 20 days into a long tour from their home in San Francisco. You think they would be tired just a bit? No way. They were jumping and running around the stage from the beginning. It's a full court press with all four contributing. They often had three of them singing full out. Add to that the wall of guitars and it was better than you would expect a Wednesday night to be. They are pop punk but they leave the pop behind to punk it out more often than not.
I have two photos of the singer in midair; he was just jumping the whole time. This video shows the revved up show but the audio does them no credit so go to the Bandcamp page for the songs.
Saturday was the second Chetstock at Once. The first one was February this year . This was a long haul with 8 bands that go 6 hours. Like last time they had a projection with that orange/red wallpaper pattern that was at Chet's.
There were less people than last time with the club never getting more than half full but the spirit was there. We talked to a relative of Chet outside and he was still emotional about the loss but I'm sure the family is buoyed by the whole Chetstock happening.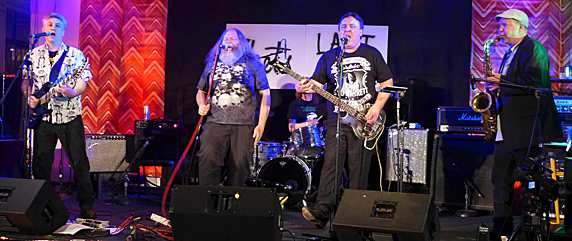 The Hopelessly Obscure
Photo: Blowfish
We arrived as The Hopelessly Obscure crowded the stage. Arguably I think they sounded as good as they ever have or even better. Kenny Kaiser threw in some very sharp creative solos that gave the songs a boost. John Keegan blew some sax and did a cowbell stint that also worked but the best thing was The Thunder Tube on "Twin Cities of Your Mind". It's tube that has a ball in it (or something) that John shakes and it makes a gurgling sound not unlike the electric jug the 13th Floor Elevators used. It gave the songs a psych atmosphere. Matt Burns brought the authenticity with his drum work. He had played a show in NYC on Friday night and then played porchfest on Saturday afternoon before Chetstock. Mike Quirk was rock solid and was the only one to take the spotlight away from Kenne by playing one of his own songs that may be a new Hopelessly Obscure song if they ask nice.
Kenne Highland was in fine voice and doing his 'thing' which means you heard the Doors' "Break On Though" in a the middle of another song and you didn't know how that happened. They have some stand out songs with Jailbait Janet, Rain of Death, She's So Cryptic, The Progression (the lyrics give you the chords to the song – what a concept) and 649 Steps (where he called out "Dr. Jay" and Bob Colby in the crowd).
Video of Hopelessly Obscure doing Jailbait Janet
Video of Hopelessly Obscure doing Twin Cities of Your Mind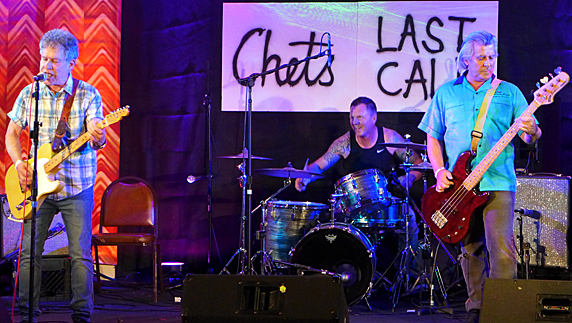 The Classic Ruins
Photo: Blowfish
We just saw the Classic Ruins a week ago at the Midway . We've seen the Ruins/Baby's Arm so many times it's hard to believe. We know now that our remaining life spans will not allow any group to match the record.
They were in top form last week and it was similar for this show with the added boost of the raised stage and the nicely balanced sound at the club. The result was a energized set that started people dancing up front. Frank was doing a lot of his favored pinched harmonics that gave that half nasal squealing tone we have come to know and love. You could see and hear all of Carl's fretboard gymnastics. One thing we loved was looking at Dave Kowalachek smiling all the way through the set even as he's working hard (see photo above). He loves playing for the Ruins.
Xanna Don't
Photo: Blowfish
Xanna Don't : the woman, the voice... the hairdo! Xanna is something to hear and something to look at. She was doing country/rockabilly years ago. She has finely tuned that Xanna Don't style and looked like a real star up there with her signature mega-sized up-do, gorgeous dress and sparkling jewelry. She traveled all the way from Seattle, WA for this show. She pulled together the guys she played with here in the past - the band is so good that Jittery Jack was there as a side man.
They started by entreating everyone to join them on the "Train to Satanville". Then they threw in a curve by doing the Real Kids' "Common At Noon" country-style. With that she re-realized the song with her vocal finesses. Her voice is so much better than what you usually hear that it's a revelation to see it work its magic. She sings through a full range from soft to an ear tingling caterwaul (which she uses just as an effect).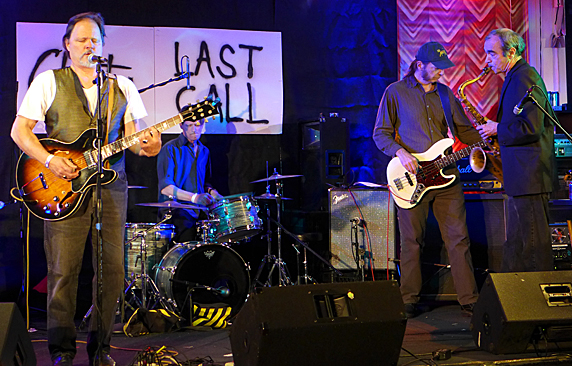 Randy Black and The Heathcroppers
Photo: Blowfish
Randy Black played Chet's with the Randy Black Combo. For Chetstock he played one of those songs but mainly stayed to his current material from the Heathcroppers. Again the raised stage and the clear sound mix helped the Heathcroppers by spotlighting their highly crafted playing and song writing. One of the lyrics that struck us was something like, "He was having problems with his wife/ and thinking of the afterlife."
He brought his ace in the hole Mark Chenevert up to play sax on a song. Mark always finds the sweet spot and digs in. It's always a pleasure to hear him. The Heathcroppers are their own world and we get lost in it. A fine set with plenty of style.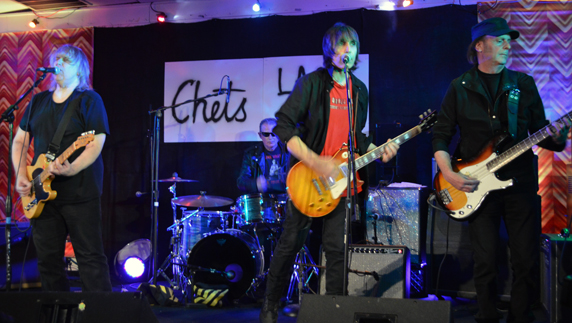 Real Kids
Photo: Blowfish
There seems to be a long wait for the Real Kids to get on stage. We see John and Dickie...We talk to Rick Harte who tells us they're waiting for Billy Cole.
Rick also reveals that they've been in the studio for some time and have recorded 7 songs that he characterizes as "all good" and if Rick says that than they must be fantastic. One song is called "Bad To Worse" and one is going to be used in a movie. All exciting news for Real Kids fans.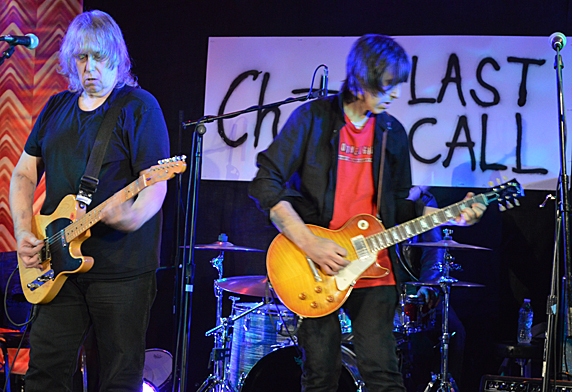 Real Kids
Photo: Blowfish

What wasn't good for Real Kids fans was the long wait which ended up cutting the Real Kids' set to three songs because of the resultant time constraint. It was three good ones though. They played full out. They started with "My Baby's Book" and then went into a new song that was as good as anything they have done. People were stunned as the band walked off stage. Just add it all to your Real Kids stories.
Now really - They cut The Real Kids set short so Harlequin could get on stage??? That's just wrong on so many levels!!

We called it quits there as did most of the audience. But for sure we'll be at Chetstock III.

John Keegan's part of the story....
Blowfish and Miss Lyn missed out on the first two and last band of the night. A quick two cents in addition to the news and the slideshow. Tim Sprague and Linda Vien's Chelsea Clutch set a high bar with well-matched alternating vocals. Engine Judy on backup vocals and Mark Chenevert on tenor sax opened up the sound and the options. I agree with whomever I overheard saying it was the most musical set of the night.
Choir Boys brought a hard pushin' punked up sound that kicked up some grit and contrasted nicely with Chelsea Clutch's more expansive efforts. Real Kids debacle aside, one thing I dig about Matt Gilbert's bands - Gravedancers and the resurrected for the night Harlequin, is that Gilbert has a squirrely vision of what he wants to do and he, Reno and Bubba shred it into reality. For a minute there I thought I had a mullet.

And in other news .....

OC45 are celebrating 5 years together. They say: "It has been an incredible 5 years and it's only getting better, with a European tour just around the corner and a full-length album currently in the works." They are having a birthday party July 16 with other bands -see listings below

On the first day of shows for the Celebration fo the Life of Keith Brooks they say they've made $2,000 from the door and $1,850 from the raffles, and CD sales. All the proceeds go to Emma, Keith's daughter which makes it so good. More shows coming. (also listed below)

Billy Connors has a new band that he calls the Billy Connors Project (for now). The new band also includes Gary Soprano, Arty Plummer on drums (from Johnny Barnes group) and Desi Desautels (Third Rail) on bass. They have a show at PA's Lounge on June 11. Cadillac Heart will be back in the fall.

The creative horn of plenty we call Roger Miller has another group going. His mission statement goes: Miller started The Trinary System to give his guitar playing an outlet freed from a post-punk environment. This new environment covers whatever Miller has absorbed from rock during his 50 years of playing: Psychedelia, funk, skronk, post-punk and blues all rear their heads.
He has Larry Dersch on drums who we know and admire from Randy Black's Heathcroppers. They have a cd out called Amplify the Amplifiers and right off the bat the first song gets your attention. It's called "Dave Davies" .
The songs go through some change ups. "Living by Flashlight" is as quiet as he ever gets. Roger will not be tied down. Listen on Bandcamp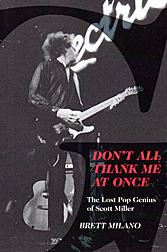 Staying with MOB news - Brett Milano (Check out his latest book via our review ) has a profile of Peter Prescott and Mini Beast in the Boston Herald.
Peter drops this bomb about the MOB's current status…."it's fair to say it's dying down." Oh crap…begin tearing out hair and gnashing of teeth.
Peter's group Mini Beast (we saw them October last year) plays Once with Magic Shoppe, Dyr Fraser and S.S. Cretins, on May 28.

The Forz latest song can be heard on their web page. An album is on the way.

John Surette has been working on his sequel to punk rock opera Tomorrow The World with Tomorrow the World Act 2 and now has a Kickstarter page to raise funds for studio time.... Please help! Check out the Kickstarter page...
Rum Bar records just released a smokin' new Watts CD and digital album: Black Heart of Rock'n'Roll. Watts are no-holds-barred GREAT live so you know they are great in the studio too!! Download etc here....WATTS on RumBar.
Here's a great article on Please Kill me Ernie Brooks talks to Legs McNeil about meeting Jonathan Richman in the early days. In Love With The Modern
Here's some good shows coming up this week.....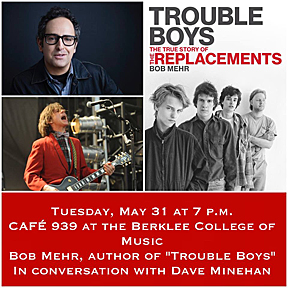 May 26 (Thursday) It's getting down to the final days - and final shows - at Store 54 and this is one of those- its also a GREAT one!....MiniBeast (featuring Peter Prescott) and the return of Akacod featuring Monique Ortiz, Larry Dersch and Dana Colley....Here's the FB page check for updates
May 27 (Friday) Ex-Cult, Far Corners, Andy California, Sticker Shock are at O'Brien's
May 28 (Saturday) Thought Bomb with Matthew Flynn featuring Lydia Lunch, Joyce Brabner, Cassie J..."Thought Bomb with Matthew Flynn is a show where eccentric writers, stand-up comics, illustrators, etc. get the chance to perform a story and then do a karaoke song with the aid of a live band." Here's the FB page
May 28 (Saturday) Mini Beast, Magic Shoppe, Dyr Fraser and S.S. Cretins are at Once Here's the FB page
May 28 (Saturday) Join Al Janik's Plastic Cheese Band for a celebration of Polish subculture in honor of the Patron Saint of Poland, St. Stanislaus, who was martyred for his courageous stance against the unbridled lust, savage cruelty, and acts of rapacity of the Polish King Boleslaus II. No matter whose side you take in that argument, come dressed in red and white for an evening of polkas, pierogies. and Polish beer. Many for-the-night-polish people you knwo will be performing at the Polish American Club Cambridge Ave Cambridge!! See the FB page Doors open at 6p and music begins at 7p (the first of 2 sets)
Polish food is available on a first come first served basis until it runs out.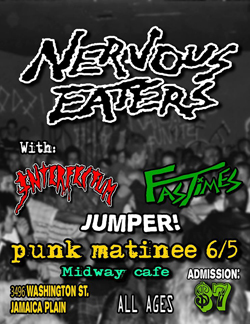 May 28 (Saturday) The Offseason, School Damage, Tied to a Bear, and Lucky United are at O'Brien's
And further out past this week....
May 30 (Monday) Some Kind of Nightmare, The Pity Whores, Broken Glass Kids and Damnation are at Opus Underground Salem.
June 2 (Thursday) Kilslug, Psycho, Horrible Earth, Deathtaker and Mad Gasser of Bostoon at O'Brien's. Mark yr calendars for this one folks, it should be a show you'll not soon forget.
June 4 (Saturday) When Particles Collide are having their vinyl release party along with Aloud at Great Scott.
June 4 (Saturday) The Humanoids along with The Heave Ho, Ass Tractor and The Straight Eights are at the Midway (8PM)
June 5 (Sunday) GREAT all Punk show at The Midway with the Nervous Eaters, Fast Times, Interfectum, and Jumper!...and they're keepin' it in the family with this show...Eater Alan Hebditch's son Nick is in Fast Times!!
June 5 (Sunday) Found Audio, Rock'N Bob Punk Band, The Ungraded, and Duck & Cover at Thunder Road 8Pn show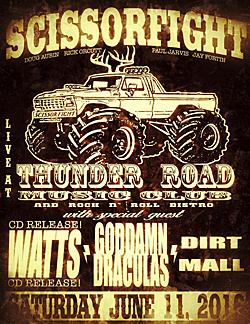 June 5 (Sunday) a Ramone ....this is a stretch - CJ Ramone at ONCE Ballroom with Broken Gold and Meat Depressed. The closest you can get to the Ramones now, sad to say.
June 11 (Saturday) Scissorfight, Watts, Goddamn Draculas, Dirt Mall are at Thunder Road
June 11 (Saturday) A day show 4-8PM with Fireking, Big Giant, The First Supper, and Universe Narrows at The Midway
June 11 (Saturday) Cherie Currie along with Gene Dante, MarianneToilet & The Runs and others at Brighton Music Hall - this is a benefit for Bagly.org
June 11 (Saturday) The Upper Crust, Thee Fabulous Itchies, The Hi-End and Shiny Beasts are at The Midway - there's a lot going on this night- and the show starts at 8PM -check out the FB page.
June 11 (Saturday) The Skeleton Beats and The Black Cheers are at O'Brien's
June 11 (Saturday) The Billy Connors Project is doing a show at PA's Lounge with Stop Calling Me Frank, The Angel Martins and The Boss.
June 12 (Sunday) Mike's Monsters Guitar Third Annual Birthday Bash is on Sunday, June 12 with a long list of bands. Last year it was at TT's
There's a long list of bands: Jay Allen and the Archcriminals, Andy California, Baluchaterium, Axemunkee, Hambone Skinny, A Bunch of Jerks, Ten Dollar Mistake. Doors are at 2PM and all proceeds go to the MSPCA!! Here's the FB page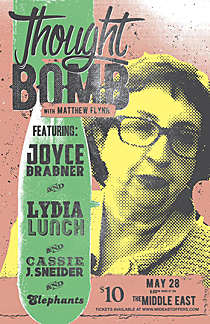 June 17 (Friday) The Stoves, Topheavy (a reunion), Diablogato, and Stars Like Ours are at The Midway
June 17 (Friday) The Brigands, Greg Allen's Fringe Religion, Doug MacDonald...and Pete Cassini will be rocking as well at Tavern at the End of the World
June 18 (Saturday) Thunder Road has The Dwarves, The Queers, White Dynomite, and Decent Criminal Get tix here.
June 23 (Thursday) Do Not Forsake Me Oh My Darling are saying Bye Bye Boston with their last show here - joining them are Petty Morals, Endation, and Psychic Dog - at the Middle East Up
June 27 (Monday) Pere Ubu at The Sinclair
July 9 (Saturday) Tsunami of Sound, Fireking, Popgun, and The Beachcombovers are at The Midway
July 11 (Monday) Guided by Voices are at The Paradise
July 14 (Thursday) The Late Risers Club Punk Rock Trivia night will be at "the Greek" in Union Square (more info to follow) Of course Eric Law's team will win but it'll be fun just the same.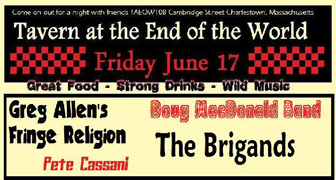 July 16 (Saturday) OC45 celebrates their 5 year anniversary at the Middle East Up along with Burning Streets, The Jukebox Romantics and Jumper!
July 22 (Friday) Fur Purse, Thalia Zedek, Weather Weapon, Phurnne, Death Cloud at the Midway
July 22 (Friday) Screw Cart, Psycho, Rockin' Bob Punk Band, and 4 Sids are at The Cantab down.
July 23 (Saturday) The FUs, Silver Screams, Electric Street Queens, Il Mostro (mems of The Humanoids) are at The Midway
July 29 (Friday) The Warning Shots, Duck & Cover, Quiggs, and Tenafly Vipers are at the Greek in Union Square (FB page)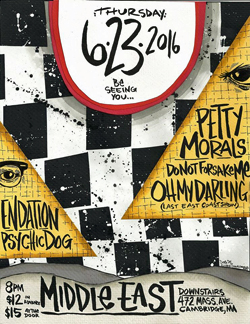 August 6 & 7 (Sat & Sunday) The Boston Rock Opera presents Stardust to Blackstar: The Lives of David Bowie at Once Ballroom: a concert dedicated to the late rock god David Bowie. "David Bowie taught us all so much about performance and stagecraft. If B.R.O. is going to, like Lazarus, rise up again then it should be to honor and celebrate his amazing music." The night begins with fellow B.R.O. co-founder Mick "Mondo" Maldonado directing and performing Bowie's "The Rise and Fall of Ziggy Stardust and The Spiders from Mars" with a full band and guest vocalists. Following that, is an original live arrangement of of Bowie's final opus work "Blackstar" performed by an all star band and chorus under the direction of Either/Orchestra's Russ Gershon. The evening continues with a celebration of songs from Bowie's vast catalog as even more Boston musicians take the stage to perform.
October 15 (Saturday) The Upper Crust, Hickoids, The Grannies & Devil On Horseback at Once
October 21, 22 & 23 (Fri., Sat & Sun) The Boston Rock Opera presents Hair at Once Ballroom.
CONTACT US AT....misslynbgn@yahoo.com - Send us your gig listings, your news and anything else ya got!! .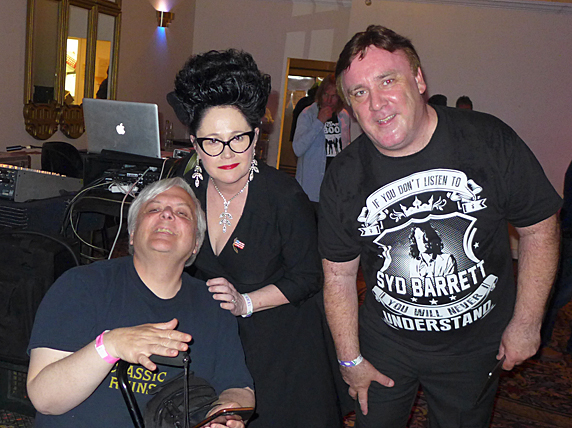 Bob Colby, Xanna Don't and Mike Quirk
Photo: Blowfish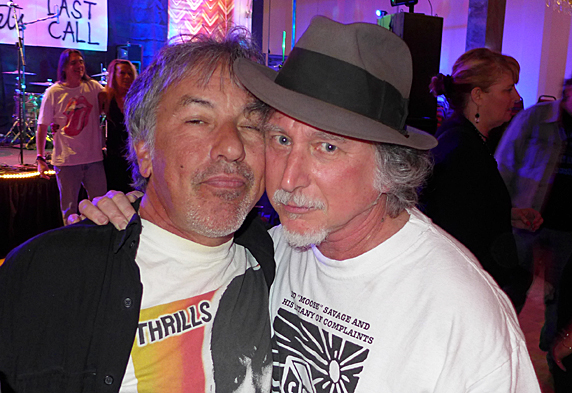 Terry Brenner and Ed Moose Savage
Photo: Blowfish
John Keegan
Photo: Blowfish