The BGN News Archive
May 24, 2010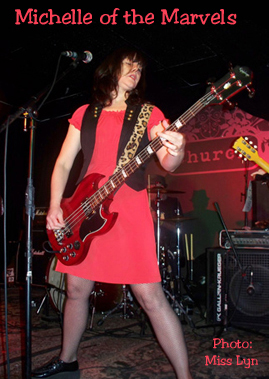 So we went to Church to bid Michelle Paulhaus a fond adieu from the Marvels and of course it was a fantastic show!! They have a new bass player waiting in the wings and the debut is in June! Yeah but man will I miss seeing Michelle up there. I love it when she stands there with her legs apart, slightly leaning back, smiling as she plays the bass...then screams at the rabid fans when the beers spit at Staffy hits her.....don't' be long Michelle, you gotta come back!!!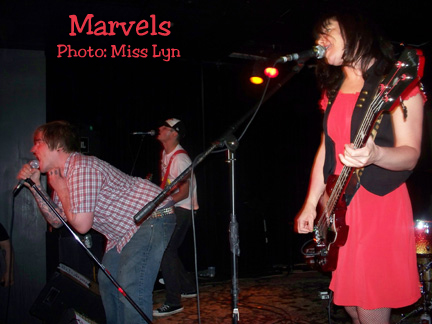 Now what's uuuuup...... Well next Saturday is a really excellent show at The Plough featuring The New Frustrations, Noggin and Eric Martin....
Friday June 4th you can catch The Lyres, The Coffin Lids and Mal Thursday & The Cheetahs at Church
Friday, June 18th has The Curses, The Egos, Classic Ruins Sticky Business and The Varmints at O'Brien's in Allston...
And on Monday June 21st you can catch the new Marvels bass player at The Middle East down , and this is a great bill!!!: The Dwarves, The Turbo A.C.'s and of course The Marvels

Also we got wind of news of Somerville Rock'n'Roll Yard Sale 2010 : Saturday August 7 in Union Square Somerville:
there will be Live Music, DJs spinning Vinyl and who knows what else, in addition to tons of amazing vendors selling everything from Vinyl Records and other music memorabilia, Vintage Eyewear and Apparel, to Local DIY Handmade Goods. See you there!!!
AND Swans are doing a tour and will be at The Middle East down on Thursday September 30th!!! OK, that's it....

... you can email us at: Miss Lyn email......