The BGN News Archive
May 26, 2014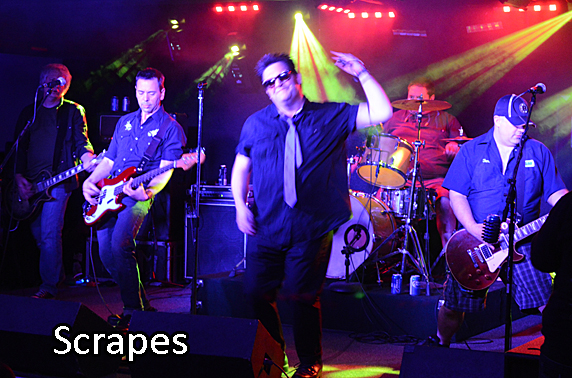 After hearing the Dot Rats material on Bandcamp I wanted to check them out live. They've been playing a lot of gigs lately and they were at Quincy's South Shore Music Hall this past Saturday. It's great, it's convenient for me.
The SSMH turned out to be a comparably large club. It's new, it's clean with plenty of seats and they have green laser lights on stage with some smoke effects. I would go there all the time if the gigs were punky but they are not. There weren't many people at the show at all unfortunately.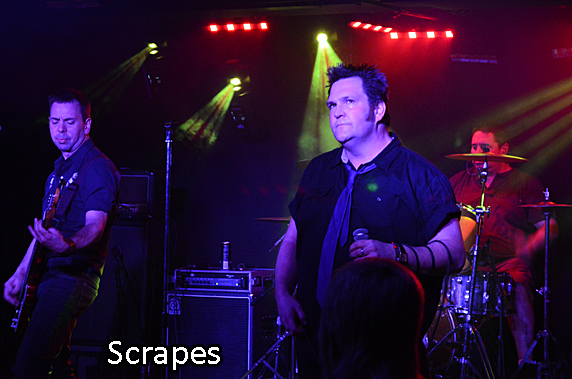 I caught the whole set by Scrapes. They were interesting. They have the Irish thing going on but not full bore and they use it with humor. In the song Sham Rock (the title alone shows the humor) they sing "We're from Boston and I don't have a kilt, and our Four Leaf clover is beginning to wilt." Another great title: Still Kiltless after all these Beahs. Walter Gustafson ex of Outlets, Gang Green etc is on drums. The lead singer is distinctive. He has his own style on stage and wore his purple tie with confidence....Not easy. The songs were memorable and the whole set was very entertaining. I would like to see these guys again.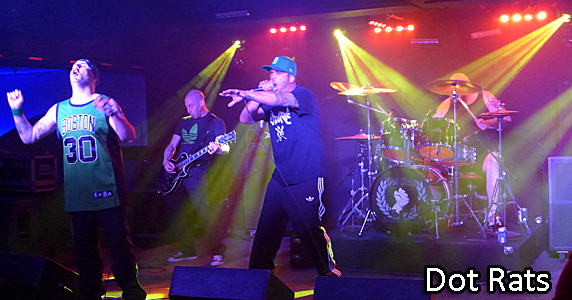 The Dot Rats are all about being "Dot Rats" they will tell you more than a few times they are from Dorchester and proud. That's what they sing about. I love that they took their situation and built their songs and show about it. They do deliver. When they sing Triple Decka and start yelling about the guy walking down their street twice already and..."why are you walking down our f'n street?"...well, they sound like the dagger is coming out. High drama and effective. That amped up angst surfaced time and again and drives the set.
They like old school rap and have two lead singers like that genre. It works for them. One singer did several speaker jumps any one of which could have been an injury. Unlike other groups Dot Rats recordings do capture their punch. The Bandcamp recording are demos but are as good as any final product in my book. Quincy had the 4th Annual Hardcore Cotillion at Presidents Rock Club a few weeks ago now this. I'm hoping for more shows like this but more people have to show up.
Saturday afternoon Miss Lyn headed over to the Q Division Yard Sale with Kim Ackland to check out the wares. There was lots of stuff! Mostly musical equipment but also tons of music books, posters, T Shirts, records, CD and videos. Jenny Dee was there selling vintage clothes and Jewelry as well as some locals CDs like Roy Sludge's Too Drunk to Truck. Also there with tables were Bret Milano, Rick Harte, Skinny Mike (Coffin Lids & Mike's Monster Guitars) Dave "Mire" (formerly of Muck and The Mires, with LOADS of fanatical collectibles!), and Andrea Gillis (and hubby Mark Minansky) with a table of Gilly's Tomato Soup cake slices for free (and they were delish)! Andrea is a multitalented person, besides be a singer and a painter, she is also a pastry chef and is now putting together "Gilly's" so she can sell her tomato soup cake and other throwback snacks. Look out for more on that in the future. Need Party snacks anyone??
Sunday Mike Stewart (Crash Course for the Ravers) invited Blowfish to head to Salem State College station WMWM 91.7 FM to spread the punk gospel on the Talk of the Town show. It was a lively discussion on this truly free form radio show. Music is very eclectic and topics are open to everything. They stream on the web but do not archive the shows, you have to listen in real time. Mike is going to bring his gossip/news show up there on a regular basis along with it being on WMFO.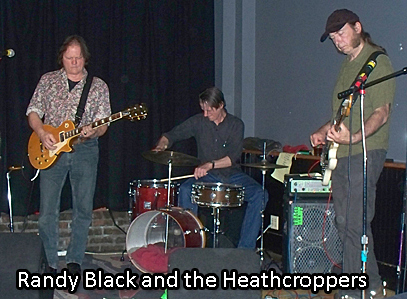 Sunday evening Miss Lyn headed over to Sally O'Brien's to catch Randy Black and The Heathcroppers for a special Randy Black birthday show. Trusty Sidekick and The Natalie Flanagan Band were also on the bill. (we had to leave after Randy's set). There's no cover for these Sunday night gigs, that's cool. But unfortunately Sally O's is a small place and the crowd keeps talking through the sets. The noise level was high which kind of tarnished the experience a bit. But Randy, Matt and Larry came across with a particularly stellar set. Matt Burns let out a "Phew, they are good tonight!" after the set it was so good. In case you haven't gotten a copy of Sky Goes Clear you can get one here my friends!
Cal Cali and Matt Burns were also in the crowd, as was Kenne Highland. You'll read about this show in the Kenne Highland at Large column next week ...this week he talks about horse races, his dentist, Bob Mould, Pere Ubu in 1977, alien abduction, Johnny Sciasha, Lookie-Lookie, and his upcoming Gizmos World Tour among many other things!!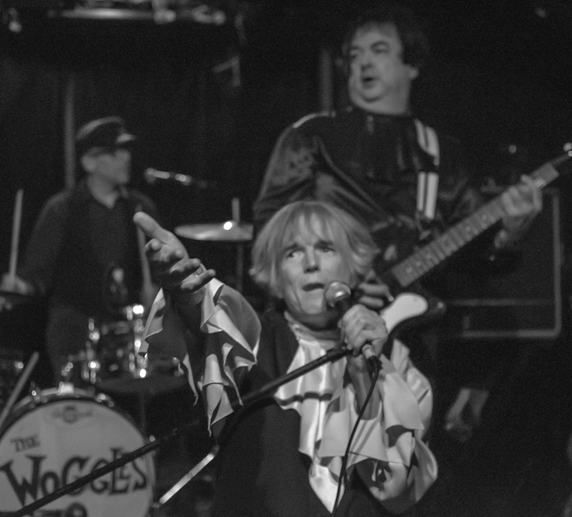 In other news......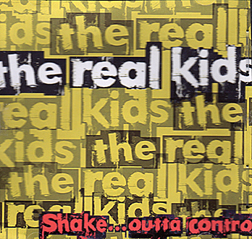 The Real Kids CD Shake...outta control is about to be released, Rick Harte says it should be in about 2 or 3 weeks. We got one of two advanced copies and Blowfish reviews it here.....
The Pixies recorded 6 songs live for Spotify if you have that. Really good too.
Mr. Curt Ensemble/MC3/MC4 has decided to become a new entity. After the recent departure of Clara Kebabian, the vibrant entrance of Geoff Pango has entreated the group to adopt a new moniker! Now called Fun Era Fifty, this is adult, acoustic, rockin' pop that reaches back to a golden age of classic artists and zooms forward to capture contemporary attitudes & sounds. New songs & refurbished older tunes are flowing effortlessly from their wide-open mouths & magic fingers. Positive - upbeat - energetic music of the Here & Now. Live performances are being set up and they can't wait to unleash the Power of Poptimism upon the world.
Previously we mentioned that punk movie that was casting...The folks at Ungovernable Films have now started a Kickstarter page to fund the film An Ungovernable Force so far they do have some interesting people in the cast: my pal Nick Cash (999), also Steve Ignorant (CRASS), Shend (The Cravats), Steve Lake (Zounds), Zillah Minx (Rubella Ballet), Mensi (Angelic Upstarts)...as well as Merle Allin of The Murder Junkies Apache Ramos from The Warriors (best movie evah) and WMFO DJ Brian Young. Even if you dont want to contribute $$ go to the Kickstarter page for a fun read!!
And for upcoming shows we want to mention.....
This Monday May 26th...you better be there coz it's your only Mass. chance to see 'em - The Murder Junkies for "A night of good clean family fun!" at The Gourmet Oriental Restaurant in Weymouth MA....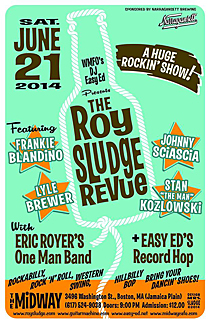 Thursday May 29th at Red Star Union is When Particles Collide, The Self-Employed Assassins and Sara Rabdau
Also on May 29th is the On The Town with Mikey Dee 25th Anniversary show at TT's. Playing will be The Unholy III, The Rationales, The Wrong Shapes, Corin Ashley & friends and Butterknife. Get your tix now!
Saturday May 31st ...there's a great afternoon hardcore show at (4pm - 8pm $7.00) with Foulmouth, Dot Rats, Ache, Traces of Empire, Honest John.
And at The Midway starting at 9Pm is The Splinters, Black Fortress of Opium, Rotary Club (NYC), and Yankee Power
There's also WMFO's DJ Easy Ed Presents: Lynnette and DJ Easy Ed's Honky Tonk Dance Party, with The Pioneer Valley Pioneers, Honky Tonk Masquerade, as well as Easy Ed's Record Hop at the Canadian-American Club, 202 Arlington Street, Watertown, MA. Doors 8:00 pm to Midnight. DJ Easy Ed kicks off the event followed by sets from The Pioneer Valley Pioneers and Honky Tonk Masquerade. Admission is $12 at the door.
Sunday June 1 at The Middle East down is The Cro-Mags, Anti Nowhere League, Taxi Driver and Neighborhood Shit. This is an early show folks, doors are at 6:30PM
Also on June 1 there's an all ages matinee The Wet Hot Bostonian Summer Show at The Midway with PowerSlut, Happy Little Clouds, Band Without Hands and Wet Dress. Looks like fun! This is a 4-8:30 PM show!
Watts are opening again for Cheap Trick at the Hampton Beach Casino on June 5.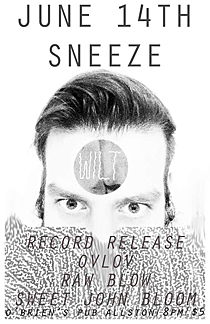 Saturday June 7th Brian Young and Crash Course for the Ravers on WMFO 91.5 (1-4PM) is having LiteHouse live in the studio- tune in for that.
Saturday June 7th Paul Robinson and Patti Moore are putting on a benefit for Autism and the organization Surfers Healing. Its at The Dog Bar in Gloucester and playing will be, from New York, Drive aka Talk Of The Town, Funbucket, Inge Berge, Girl On Top, Cripple Cove Quartet, and more TBA. This is a daytime show, Noon - 6PM More info here.
Thursday June 12th at Church is a Boston Hassle sponsored event with some low key noise bands Ed Schrader's Music Beat presents The Abominable Skimask, Gondoliers, (New England) Patriots
Gizmos World Tour ...Thurs-Sat, June 12, 13 & 14.....Here's their Kickstarter page (they could still use some $$ folks)....this Gizmos is the original Gizmos plus some guests: Kenne Highland, Eddie Flowers, Ted Niemiec and Rich Coffee with Max Demata bass from Sonic Daze, John Terrill drums from Dancing Cigarettes and Ian Brewer guitar from the Panics....
Thursday June 12 at The Bishop (Bloomington, IN) its the very first Gizmos reunion gig with Indiana Scuzz Punk bands: Apache Dropout, Deezen, and Cowboys, sharing the bill....
Friday June 13 at The Melody Inn (Indianapolis, IN) also on the bill: Apache Dropout, Deezen, and Brothers Gross....
Saturday June 14th at Blind Bob's Bar (Dayton, OH) also on the bill: New Regrets, The Give-Ups, Apache Dropout, and Deezen.....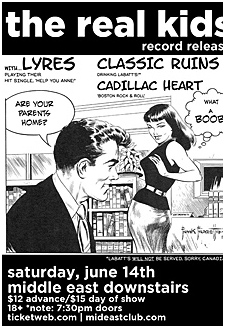 and it looks like John Felice definitely IS doing well...The Real Kids are at The Middle East down on Saturday June 14th with Lyres, Classic Ruins and Cadillac Heart!!
see more Church gigs....June 20th The Welsh Boys, Sprained Ankles, Guns of Brighton and The Blue Bloods.
Also on Friday, June 20th Triple Thick celebrates 15 Years of Triple Thick at The Plough and Stars!! Well we're happy they are still around. So Triple Thick and The Monsieurs will be playing.
June 21st Muck & The Mires are at The Plough.
Also on June 21st at The Midway there's a special Roy Sludge Revue (featuring Frankie Blandino, Lyle Brewer, Stan "The Man" Kozlowski, and Johnny Sciascia!!!) , Eric Royer's One Man Band along with Easy Ed's Record Hop.
At The Tavern at the End of the World there's a "welcome Back party" for Michelle Johnson-Kish on the bill will be Rockin' Bob kicking things off followed by Dots on Dice, The Dirty Truckers and Jay Allen and The Archcriminals
Ken Scales says : Adventure Set will be at Bill's Bar on Thursday June 26TH....with very special guests Casey Desmond & Cemetery Girl also....Adventure Set's new 4 song EP "GAZEBO" will be out in June 2014.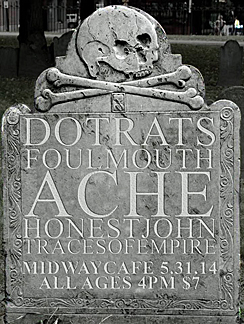 Always promising an interesting experience Walter Sickert & the Army of Broken Toys (12AM) are at TT's along with Parlour Bells, Muy Cansado and Future Carnivores on Friday June 27th
Friday July 25th at The Midway, Cincinnati band Wussy is playing along with locals Slowdim and Brother Fight.....
July 15th has FuzzStompin' GarageSoul with Thee Legendary Rockin' Prophets at O'Brien's.
Friday July 25th has a great show at Great Scott's with Razors In The Night (Record Release Party! & we're happy to see they are out and about again!), Panzerbastard, The Blue Bloods, and Taxi Driver
And here's some big news Terry Brenner's bringing The Real Kids and Nervous Eaters and Greg Allen's Fringe Religion to The Spotlight Tavern in Beverly on August 2, that's a Saturday night !!! Thank you Terry!!
Echo and The Bunnymen are at the Paradise August 14th!!!
It's Hixxmas in August folks! On August 23rd at Club Bohemia at The Cantab it's Hixx and Psychic Dog and more bands TBA...
In August John Lydon hits Boston in a huge production of Jesus Christ SuperStar , he's playing King Herod...man I want to see that show!!
Cal Cali is putting together a late summer show with Lyres--Nervous Eaters--Cal Cali Band-Les Envahisseurs (The Invaders) from Quebec~~~~~~~~~~~ more details soon !
We finally get to see Dave Minehan with The Replacements since they are on the bill for the Boston Calling Show in September (5,6 & 7) later this year!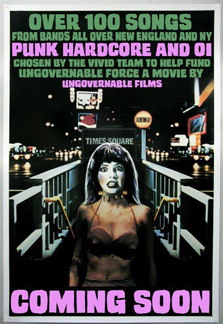 Saturday September 13th is Matt Burns' 60th Birthday Party! He's celebrating at The Lizard Lounge. So far the bill includes Litehouse, The Handymen, Kenne Highland, and more bands to come.....
The 2nd Annual Rat Beach Party is already well in the planning stages...its set for September 14th& 15th and here's a list of bands so far: Saturday night- Red Parrot Beach Bar starting at 7PM: Hardwired -- Heavy Weddle & Sweet Release -- Severance (or Band To Be Announced) -- JetSet -- Billy Rath & The Street Pirates -- Open Jam to close
Sunday afternoon/evening: Red Parrot Function Room, Beach Bar and Back Room Lounge starting at 12:00 -- The Beachcombovers (Function Room) -- Hardwired (Beach Bar) -- The Boize (Function Room) -- Gino Caira Band (Beach Bar) -- Count Viglione Love & Flame (Function Room) -- Hixx (Beach Bar)-- State of Union (Function Room) -- GraveDancers (Beach Bar) -- The Derangers (Function Room) -- The Workers (Beach Bar) -- Liz Borden (Function Room) -- Kenne Highland Clan (Beach Bar) -- Slow Children (Function Room) -- Pop Gun (Beach Bar) -- Gyro Lula (Function Room) -- Moose & The Mudbugs (Beach Bar) -- Tsunami of Sound (Function Room) 8:30 -- Masters of The Obvious (Beach Bar) -- Red House (Beach Bar) - Real Real Bayou Band (Beach Bar) -- All-Star Jam led by Cindy Daley, formerly of Lovelace.
September 14th -a Sunday daytime show- at the Midway will bring us The Members!!
October 5th - a Sunday daytime show at The Midway will bring us The Vibrators!!!
CONTACT US AT.......misslynbg@yahoo.com Send us your gig listings, your news and anything else ya got!!