The BGN News Archive
May 27, 2013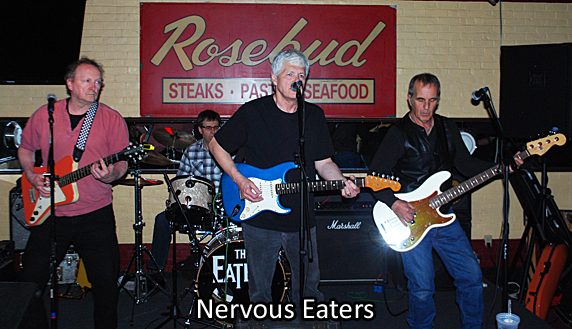 On Saturday night The Rosebud displayed all the attributes that we love: friendly, music loving crowd, the nice no-attitude doormen, great music, comfortable sight lines and available seating. Even the entrance is cooler than any other place bar none. Alas, this would be the last night.
This last gig was booked by Cal Cali with the Nervous Eaters as headliners. First on the bill was Sourpunch from Providence. They have played in Boston a few times but we had yet to see them. This night we just saw a few songs. They are a two piece now, Jenn Lombari has tried to get more members but they never last she says. They were bare as you would expect of a two piece but their attitude carries the performance. One of their most popular numbers has a real throwback feel and by that I mean a fifties sort of rock feel along with a current punk attack. A neat trick. We will try to catch a full set soon.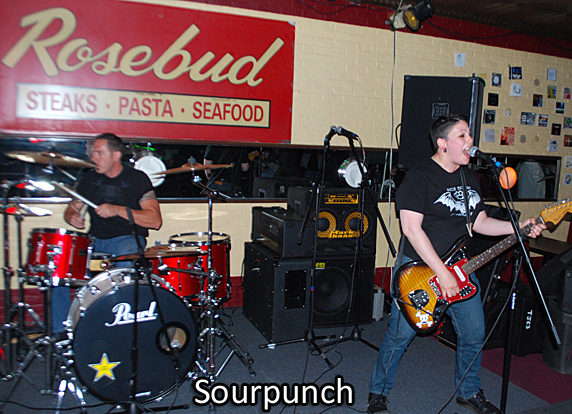 We don't talk as much about Asa Brebner as we should. I would have to say at this point that he's been around longer and played more consistently through the years than anybody. For quite some time now he's played almost weekly. It would be hard for anyone to match his record. That's not even to start talking of his musical accomplishments. Tonight he has Tim Jackson, fellow Chartbusters compatriot, on drums, a bass player, a violin player and guest guitarist Charles Hanson (Andrea Gillis). The violin is a nice addition. The violinist kept it subdued and the tone warm. Asa has a vast collection of songs to pick from. Tonight he features a wide range. He begins by saying that after Sourpunch they will sound like Lawrence Welk, to which someone makes the point that they don't know who that is.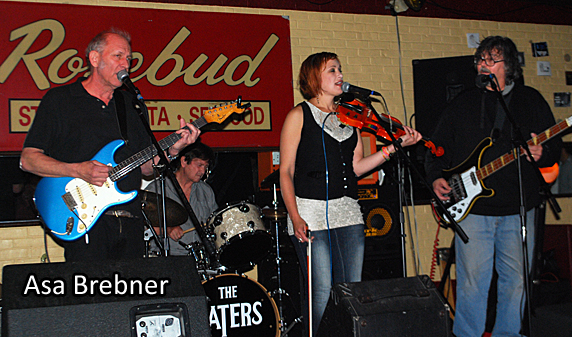 Asa does start slow and calm but slowly worked up the energy over a few songs, then adding guitarist Hanson for a bigger punch and by the time the set ended it seemed like he was just getting warmed up. I was hungry of more. He played Babes In the Bar, a longtime favorite. He also played a song about the Rat- another bar that went bye bye. Many people tonight know all the songs and all the lyrics. One thing Asa does that I love is a sort of recitation where he talks over the beat in a few songs, not rhythmic or rapid in a rap way but more like a fast talking blues. It's one of the many things that make him unique.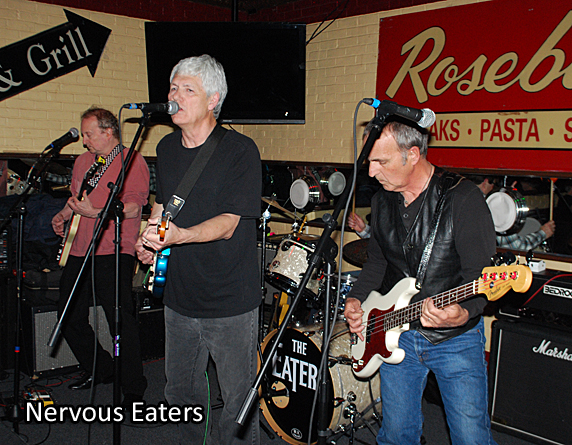 The Nervous Eaters - one of our all time faves -and they didn't disappoint tonight. Along with Steve Cataldo this version has long timer Alan Hebditch on guitar, the original Rob Skeen on bass and in a move that bugged our eyes out...Dave McLean the Boom Boom drummer himself! Wow!!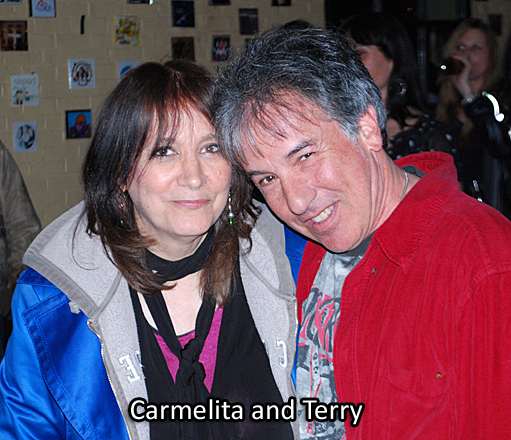 There was a lot to hear on stage. This is the second time I've heard Skeen with the group after a long (20 or 30 year) hiatus. Hearing those original bass lines pumping out makes a big difference and brings back some of that undeniable 'authentic' feel to the songs. For those that were there at the beginning just seeing Rob up there is a thrill, and thrilled we were. Steve had volume up and treble up for this set and as a result delivered primo Eaters riffage. When he's 'on'- and he was 'on' -you can't get tastier fills or more aggressive yet melodic phrasing. The guitar is always reflecting the lyrics. When the lyrics are rough the guitar is gritty, when things are calmer like in Last Chance the guitar will carry you along with a gentle grab and release. He's done this from day one. The mix was real clear and I got to hear many of the fills by Alan that I usually can't catch. All creative counter moves and support for the main part of the song. Even the seemingly simple songs are arranged like this. One of the kicks of current day Eaters is the way that newer songs are equal with the old ones. Call Kevin and No More Idols are songs you want to hear as much as Get Stuffed and Shit for Brains. Another newer gem I want to hear every time and they did play was 528 the song about the Rat. The second time tonight we get a Rat song. 528 says a lot about the scene and people that were around those 35 years ago and only some group like the Eaters could pull it off.
So, the Rosebud will close. It did us good. The Eaters were a nice memorable closer. We can thank Cal Cali for booking a whole slew of gigs there this last year and Bob Colby and Roy Rubenstein for some too.
And speaking of things ending...we are excited but sad to announce that Rick Corraccio has sent us his FINAL entry for A Lyre Retyre Chronicles.....Rick is an amazing writer and we have been thrilled that he has written so many great Journal Entries for us...this last one is a great one as usual and the pics!!! WOW!! Thanks again Rick we will miss your amazing stories and insights into what it means to be a Lyre!!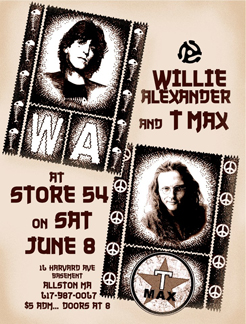 Now for stuff that's coming up:
The Middle East Up on Friday May 31th its Pop Gun's CD Release Party! Also on the bill will be Muck and the Mires, Classic Ruins and Terrible Beauty.
Lots o'good stuff in June! On the Saturday June 1- start out the month by heading over to Q Division's Third Annual Yard Sale....10AM-2PM... then tune into Crash Course for Ravers (WMFO 91.5) from 1-3PM guests are Charles Hansen who has been in several groups (including Asa as mentioned above) and currently in the Andrea Gillis band. Also on the show will be Sarah Borges.
Then I'd say head back over to Davis Square for this show: Walter Sickert and the Army of Broken Toys, Shepardess, Soft Focus and Chris North at Johnny D's...yeah!!
Tuesday, June 4th The Stranglers and The Nervous Eaters are at the Brighton Music Hall. That's a great bill! Alas it's the Stranglers without Hugh Cornwall.
HEY - Saturday JUNE 8TH!!! Blowfish and Miss Lyn will be on A Crash Course for Ravers Show on WMFO 91.5FM 1-3PM talking to Brian Young and Mike Stewart and spinnin' discs of our choice.....listen in!!! We will be followed by special guest Carl Biancucci who will be talking about the Viva La Eva Benefit coming up 6/13.
After the show Brian Young will be heading over to radio for his gig - his band The Thigh Scrapers is playing with The Scrapes, Tsunami of Sound and Bob Cenci....
Ducky Boys do a Dead End Streets Record Release show on Sunday June 9th with The Swinger Utters, Goddamn Gallows, Welch Boys at Middle East Down...
Tuesday, June 11...The Young Adults are at great Scott's...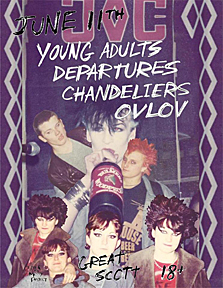 Thursday June 13th- Viva La Eva Benefit for Eva Lipton at TT The Bears:
Ivan Lipton is a huge Boston music fan, and was the VP of Strawberries back in it's heyday. His daughter Eva was in a horrible crash last year -- she's still on life support and fights to recover daily. The lifelong costs for her care are astronomical, so her family really needs your support. Boston rockers are going to help here's who's playing:
Classic Ruins (going on at 8:30) ... Roy Sludge...The Bristols... The Neighborhoods... The Dogmatics...The Downbeat 5...The Dents and Upper Crust (Ending the night). That's one hell of a night for a great cause...You can buy tix here....TIX
Oh one more thing: From Ivan Lipton: We hope as many friends as possible can make it to TTs to see all these great bands! If you can't make it, but still want to support Eva you can donate on Paypal to: EvaLiptonBenefitFund@gmail.com
Also on Thursday June 13th is the first Bob Colby Second Thursday at Club Bohemia Downstairs at The Cantab...and he has a great line up with Mary Lou Lord, Matt Mingell, Kingdom of Love and Randy Black.
On June 15th - Jonathan Richman is at The Somerville Theater!! And Tommy Larkin on the drums!
Also on 6/15 The Middle East Down has The Adolescents, The Casualties, Tenebrae, and Done With You
June 22 - GG Allin Remembrance Show -and bake sale- at The Midway!!! - This is going to be a great show folks!! The original Jabbers are making their way down from NH to play at The Midway...This is the 20th Anniversary of GG's death and all proceeds from this show go to GG's daughter. Here are the bands: The Jabbers, The Pity Whores, Antibodies, Meat Depressed, Red Line Rebels, The Manglers, Insult, Taxi Driver, Connection and more!!!
So Cal Cali is working on booking shows at a couple clubs in the area like The Midway and PA's Lounge in Union Square Somerville...June 28th he's got, at PA's, MOTO and JetSet and he's working on a third band as well.
And we have to wait way too long to see Petty Morals again...their next gig is July 19th at Great Scott in Allston
Pere Ubu is at Brighton Music Hall Saturday, September 4th!!! http://ubuprojex.net/
Hey check out the mention of our review of Sonny Vincent's last show that got posted on Swami Records' site We love Sonny Vincent and hope to see him back in the States and Boston of course soon!! Check out his FB page to see his Euro Tour Dates and pics of his hot new guitarist Aiky from Bilbao, Spain...she's punk personified!
FROM BOSTON TO THE BOWERY: Photos by GODLIS 1970-1979-John Nikolai has put together this show of photography by Godlis over at The JP Art Market - here's the scoop:
In the early '70s, Godlis was a photography student in Boston, relentlessly documenting the city streets and everything that struck his interest. Not long after getting his first review of his exhibited work in The Boston Globe, Godlis was robbed one too many times, the last time being when he walked into his Brighton apartment during a burglary in progress. Held at gunpoint and tied up in guitar straps belonging to a band he shared his living space with, he decided that incident was the last straw and, "to be safe," he left Boston for New York in the mid-seventies. He arrived just in time to become a solid fixture of the foundling NYC punk scene which he found waiting for him at CBGB upon moving to New York. His iconic images of Patti Smith, the Ramones, Talking Heads and other bands who began in that era have become part of popular culture and his many of his photographs of Boston are being shown for the first time in this exhibit. "FROM BOSTON TO THE BOWERY: Photos by Godlis 1970-1979" captures enthralling moments frozen in time in two different places in an exhibit that is very Boston, very NYC, very punk rock and very 1970s.
EMAIL US AT.......misslynbgn@yahoo.com