The BGN News Archive
May 27, 2019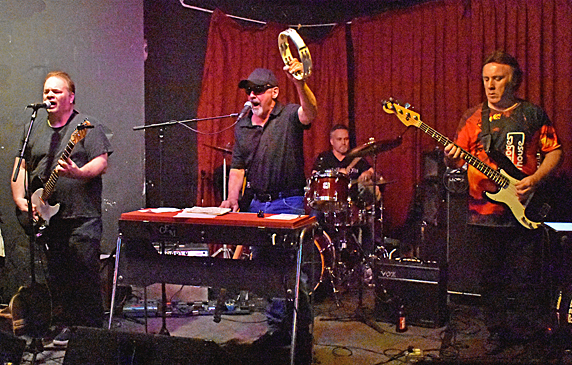 The Last Ones
Photo: Blowfish
We've missed the last two shows by The Last Ones and that's not good because they don't play often. So we made sure to hit their Sunday show at O'Brien's even though Sunday is hard for us because we put the BGN together that day – all day and into the night.
These days The Last Ones are Rick Coraccio on keyboards and guitar, Dan McCormack on guitar, Jimmy Birmingham on drums and Mike Quirk on bass. So you have two members of the Lyres, one of the Real Kids and then Quirk who has been in a zillion bands and still counting.
With Rick you get a link right back to the beginning of Boston punk. He still brings that state of mind and musical direction to the Last Ones. The first few songs were such real garage rock that it made our minds swim. Mitch from Triple Thick was there and we were moaning to him how great that was. He knew.
A big part of the sound was Dan's guitar. It was trebly, almost brittle, and a bit overdriven. Dan says he has one pedal, a small compressor. In one song he was arpeggiating chords (playing (a chord) as a series of ascending or descending notes.-ed) in a way no one does anymore. You can't teach anybody this, you just have to have "it". Jeff Connoly knew he had it and that's why Dan was in the Lyres.
All the songs were Rick's (except for a cover). As a matter of fact The Billy Connors Project has Rick's songs in their repertoire; they started their set with one. The standout song was called "Dreams of a Poor Man's Mind". It was in a Lou Reed/Velvet Underground style - just primo. That's in the video above.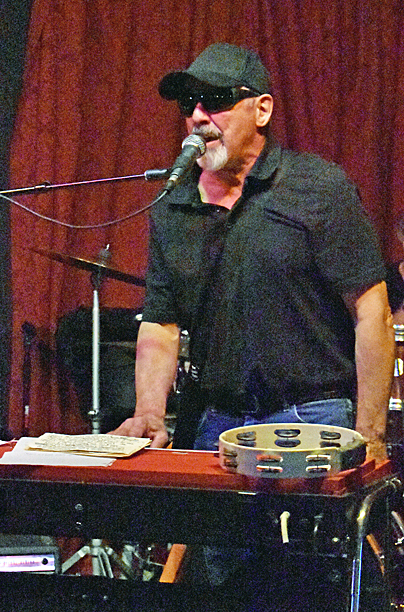 The Last Ones
Photo: Blowfish
Birmingham and Quirk were keeping things simple and that fit the material. One song sounded like a Lyres song, always a good thing. The one cover was "It's Gonna Work Out Fine" by Ike and Tina Turner but they got it via the Manfred Mann version. They ended with "Number One Again" their hit from their EP of many years ago.
Word is that there is a compilation of Rick's material coming out. They also say there will be a few newly recorded songs.
Rick used to do a column with us about the Lyres that still gets traffic and he also has an online journal dealing with his travels on the "Great Loop" and other maritime adventures. See his page for both of those… http://rickcoraccio.com/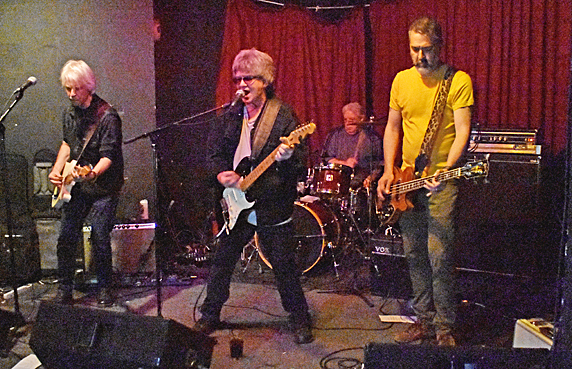 The Billy Connors Project
Photo: Blowfish
Like we said The Billy Connors Project began their set with "Limousine Jean" written by Rick Coraccio. They stuck mostly to their last two EP's. The EP's have been a perfect format for the BCP. They keep writing and are able to record the new material before it gets too old. Both EP's were recorded at Woolly Mammoth Sound and the next one, in the works, will be too.
Some simple chords, made dramatic, outlined the song "Stranded" that Adam Sherman sang. He also did "Knockdown Day" and "Graceless Hideaway". That's another advantage of the EP's, they are easy to digest and we know every song from them.
Billy sang "I Know My Place", "Gone Wrong" and "Hurry Up Sundown". They did a new one and that's in the video above.
Like Rick, Billy and Rayboy on drums go back to the beginning of the Boston punk scene and here they are in 2019 still playing and still creative.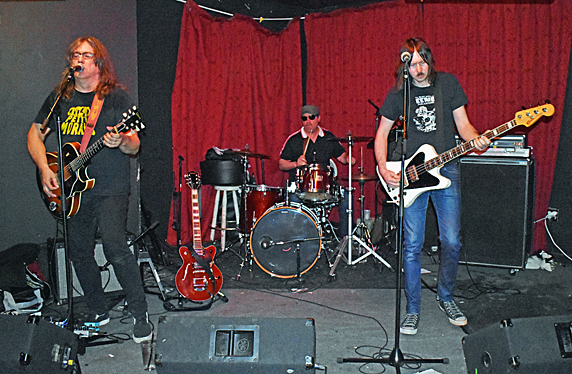 Fireking
Photo: Blowfish
Tony Kaczynski had his early musical experience with Figures on a Beach in the '80's, but he got on our radar with his Double Trouble album as Fireking. That album still knocks us out. The group had some of those songs through the set and every time they played one it put a smile on our face.
You can also ID Fireking from the big guitar sound from his hollow body Gibson. Tony also has a way of moving chord shapes up and around the neck to get a new harmonic twist. They did "Look To the Sun" which has one of those moments when he sings the words "maybe tomorrow" that stick out as an earworm. (Listen to that here)
All the songs really had the same character. Tony's voice had such a distinctive timbre. It's full and mid-range. Then during the song he would crank it and that extra power burst was one of our favorite things. The drums were constantly pushing and the bass by John Sheeran was shifting for the song needs. There's a reason so many bands want Sheeran!!
Great set! There should have been more people there to hear it.
There are people paying top dollar for a seat in the TD Garden to see their favorite music with a few thousand others. To us nothing beats seeing groups like these in a small club.
Click Here for more band photos.
---
And in other news.....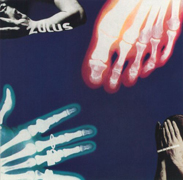 The return of The ZULUS! September 19th at the Paradise. Tickets are on sale now folks so you better grab 'em.
Doug Tuttle, who we've reviewed many times, does some of the best sunshine psych around. He's posted a new song on Bandcamp called Fade
The Podcast about the Channel continues to get attention. This time from the Globe.
A short interview with Ruby Ray, i-D, who worked for Search and Destroy magazine about her new book kalifornia kool. The book and the article have a lot of photos of 70's LA punk scenes. kalifornia kool
We've been griping for years that the Boston Calling festival had precious few actual Boston acts in it. We are not the only ones evidenced by a very smart move by the Hip Hop community in the city. This year they were completely shut out by the festival so they put a show together called Boston Answering (love that) at the Strand. And get this, they got sponsoring from Mayor Marty Walsh's office, the Boston Foundation and others. Ha, way to go! Read more here.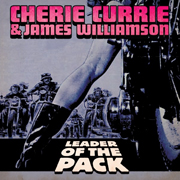 Runaways vocalist Cherie Currie and Stooges Guitarist James Wiiliamson have teamed up to do a new version of The Shangri-Las' "Leader Of The Pack!" It's on Cleopatra records... Buy the 7" or Stream/download
For guitarists only: Premier Guitar has a lesson on punk guitar. They start early with the Velvet Underground "Ostrich" tuning. They get to Richard Hell, Robert Quine, Tom Verlaine and Viv Albertine of the Slits. Learn how to play punk guitar here!!!
In addition to the Sex Pistols bio film that is in the works you can add the documentary by Joe Corre, Malcolm McLaren's son, called Wake Up Punk. But it's not even about the initial punk movement but about the 2016 celebration of the 40th Anniversary of "Anarchy in the UK" single. Seems too far removed to be a much interest. But of course Rolling Stone covered it.
It's useless but let's try to keep up with Rum Bar Records. The latest exciting release is by legend Genya Raven!! Genya's had a few incarnations from the 60s to early 70s and then to the punk era. We've loved that husky voice the whole time. Now Rum Bar releases Icon which is new material.
Then there's a new Lassey Fairs album.....a new Cromm Fallon album....and that's right on the heels of the Brad Marino and Geoff Palmer albums.
Then there is the Cheap Gunslingers. Holy crap, are we hooked on this song called "Good Time". It soundds like Mink DeVille. Three chords is still all you need. We have it on our Top Ten Songs were you can find the link to play it.
Rumbar also has a show booked for June 1 (Saturday) at the Midway. It's 9PM show with Easy Ed spinning and the bands are Muck and the Mires, Vicky and the Vengents and the Electric Mess.
---
Here's some good shows coming up this week.....
May 31 (Friday) Stubborn Heart, The Hi-End, Benny Sizzler, The Worried at The News Cafe Pawtucket RI
June 1 (Saturday) Vicky and the Vengents, Muck and the Mires, The Electric Mess at The Midway
June 1 (Saturday) Kal Marks, Lady Pills, Banana, Aneurysm at Great Scott
June 1 (Saturday) Nat Freedberg & Hayley Thompson King at Plough & Stars
June 2 (Sunday) Slimedog's 22nd Annual Punk Pizza Poetry Party featuring Kermit's Finger, Cry Havoc, Jerry's Got Jokes, The Grommets, Jake Tringali (between sets) at The Midway 3-7PM
June 2 (Sunday) the second Out of the Blue Benefit with a TON of bands….starting at 2PM -this is in order of appearance: Club Linehan A Go Go, Mimsey Mack & the Skinned Knees, Bob Cenci, Richard Mirsky Band, Randy Black & the Heathcroppers, Thee Fighting Fish, Climate Change Band, The Stigmatics, The Laces , The Thigh Scrapers, Gary Shane & the Detour, Sara Billingsley & Friends, GLiDER, Baabes, Butterscott. FB page for more info
June 5 (Wednesday) Mad Painter Live at WMFO 91.5 10PM
June 7 (Friday) The Natty D's, FiDEL, Coffin Salesman at The Jungle Union Sq Somerville.
June 7 (Friday) KCUF, Secret Spirit, Oh The Humanity!, The Runouts at O'Brien's Pub
June 7 (Friday) 61 Ghosts, Cal Cali Band at Tavern at the End of the World.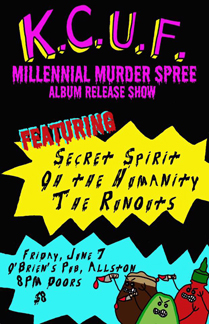 June 7 (Friday) Billy Connors Project, Jay Allen & Archcriminals at Club Bohemia

June 7 (Friday) Jittery Jack & Amy Griffin at The Book & Bar, Portsmouth

June 8 (Saturday) It's Arlington Porchfest and Justine and Her Black Threads (featuring Justine Covault, Johnny Sciascia and Jim Scoppa) will be playing Porchfest at 15 Lombard St at 2PM Here's the FB page for more info.

June 8 (Saturday) A Crash Course For The Ravers WMFO 91.5FM has Lucretia X. Machina of Lucretia's Daggers

June 8 (Saturday) Medical Maps, Peachfuzz, Triple Thick, Church & Puppets at Union Tavern (formerly PAs)

June 8 (Saturday) Tad Overbaugh and The Inebriations at The Square Root in Roslindale FB page

June 10 (Monday) Cook Bag, Voice of Addiction, Local Cult, See This World at Charlie's Kitchen

June 12 (Wednesday) Glider will be on the Heavy Leather Topless Dance Party. Check out the FB page for access. 8:30-9:30PM

June 13 (Thursday) bloom., Smilin' Issac, Threat Level Burgundy, The New Limits at The Hong Kong

June 13 (Thursday) Order 66, Circus Battalion, Deranged Youth at the Jungle

June 14 & 15 (Fri. & Saturday) The Fuzztival at Once Ballroom.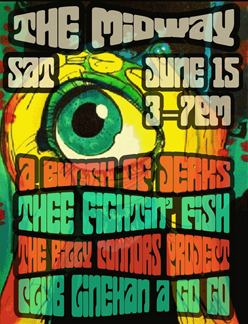 June 15 (Saturday) Thee Fightin' Fish, The Billy Connors Project, A Bunch Of Jerks, Club Linehan A Go Go - 3-7 matinee at The Midway
June 15 (Saturday) The Daylilies, Justine and The Unclean, The Chelsea Curve at Sally O'Brien's
June 15 (Saturday) Nervous Eaters with The Stigmatics at Pete's Grill in Quincy cover charge is only $5!!! FB page
June 15 (Saturday) Silver Screams, Brix'n Mortar, The Downhauls at Atomic Cafe (Cabot St Beverly)
June 15 (Saturday) The Gala, Zip-Tie Handcuffs, Ben & Jolly Janes, Green Pieceat at UnchARTed Lowell
June 16 (Sunday) OC45, Hobo Chili, C.O.B., DNZL at The Midway a benefit for the New England Center and Home For Veteran's 3-7PM All Ages
June 18 (Tuesday) Deaf Poets, Black Beach, Friendly Psychic Strangers at O'Brien's
June 21 (Friday) Sky Tigers, Secret Spirit, The Lipstick Boys at The Jungle
June 21 (Friday) Kid Gulliver, Stars Like Ours, The Rationales at Sally O'Brien's
June 22 (Saturday) It's Quincy Porchfest!!! At 62 Prospect Ave Quincy you can find - Order of appearance starting at 1pm and every hour on the hour- The Fringe, Thee Fightin' Fish, The Stigmatics, Baabes, Glider, The Thigh Scrapers, Charlie Don't Surf a tribute to The Clash FB page for directions etc.
June 22 (Saturday) The Gala, The Dazies, Haunted Horses NYC, Lockette at The Midway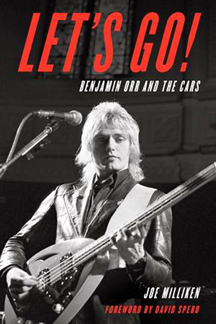 June 22 (Saturday) writer Joe Milliken is having a book event to promote his Ben Orr bio Benjamin Orr and The Cars at 9 Wallis 8-10:30PM FB page
June 22 (Saturday) Stars Like Ours, Little Billy Lost, Thinner, and The Stigmatics at Ralph's Rock Diner Worcester.
June 23 (Sunday) Teenage Bottlerocket with Ramona, The Young Rochelles at Once
June 23 (Sunday) The Ones You Forgot, The Burning Lights, Stubborn Hearts, Waiver Wire at O'Brien's
June 27 (Thursday) Let's Go! Author Event & Cars Tribute Concert at 9 Wallis in Beverly FB page
June 27 (Thursday) Powerslut, Thrust Club, Radium Girls at The Jungle
June 28 (Friday) Labor Hex, Ultra Major, The Endorphins at O'Brien's
June 28 (Friday) State Line Records Night at the Midway Round 1: Stray Bullets, Secret Spirit (NH), Stolen Wheelchairs (PA), Doc Rotten (NJ) at The Midway
June 29 (Saturday) The Old Edison, Coffin Salesman, Time & Place, Loser's Circle at The Midway
July 5 (Friday) Cal Cali Band, GLiDER, Mad Painter at KOTO Salem
July 6 (Saturday) The Hi-End, Nat Freedberg, The Worried at Sally O'Brien's
July 9 (Tuesday) Some Kind Of Nightmare, Losers Circle, Nick Barbarian, And Live Nude Girls at Thirsty First Tavern Lowell.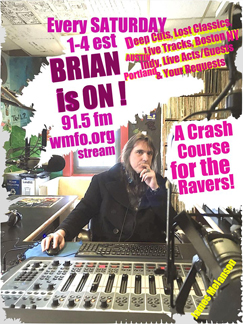 July 11 (Thursday) The Thigh Scrapers, Baabes, State of the Union and The Laces at The Jungle 5 Sanborn Court Union Square Somerville.
July 11 (Thursday) 61 Ghosts, Thee Fightin' Fish, Pop Gun at Opus in Salem
July 14 (Sunday) State of the Union, The Only Things, The Tsunamibots, Pop Gun matinee at The Midway 3-7PM
July 14 (Sunday) The Messthetics, Trinary System (Roger Miller) at Great Scott
July 18 (Thursday) Cruel Miracle, Blindspot, Justine & the Unclean at The Jungle Union Sq Somerville
July 20 (Saturday) Thee Fightin Fish, Warthog (Ramones tribute), Charlie Don't Surf (Clash tribute), and Meat Depressed at The Midway for a 3-7PM show
July 20 (Saturday) Dogmatics, Jittery Jack & Amy Griffin, Stop Calling Me Frank at the Back Room at The Burren Davis Sq Somerville 6-9PM folks!!!
July 21 (Sunday) A Bunch of Jerks, The Stigmatics, 1.4.5, TRiPLE THiCK at The Midway matinee 3-7PM
July 27 (Saturday) M.O.T.O., Jerry's Got Jokes, Cook Bag, The Trades, The Runouts at The Midway matinee 3-7PM
July 27 (Saturday) Corner Soul, The Knock Ups, Motel Black at The Jungle Union Sq Somerville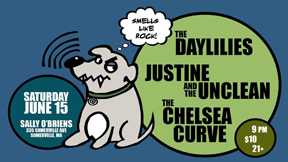 July 27 (Saturday) The New England Ska Summit; Bim Skala Bim, Copacetics, Hempsteadys, El Grande at Once Ballroom
July 31 (Wednesday) Black Leather Lagoon, Poison Boys, Thee Fightin' Fish at The Jungle Union Sq Somerville
August 3 (Saturday) A Crash Course For The Ravers 1pm to 4pm on 91.5FM has Powerslut
August 8 (Thursday) Otto Records present 145 & The Thigh Scrapers at The Plough & Stars
August 10 (Saturday) No Small Children, PowerSlut, and The Knock Ups, at Once
August 14 (Wednesday) Deke Dickerson, Bloodshot Bill, Jittery Jack, DJ Easy Ed at Once FB Page
August 15 (Thursday) 1.4.5., Crunchtime and Glider at The Jungle Union Sq Somerville.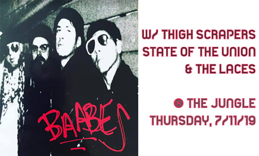 August 15 (Thursday) The Queers, Stubborn Hearts, Meat Depressed, The Parkwoods at Alchemy in Provi RI
August 31 (Saturday) Time & Place, PowerSlut, The Daylilies, Lonely Leesa & The Lost Cowboys at The Jungle - Music starts at 8PM
September 8 (Sunday) Somerville Rock And Roll Yard Sale - Union Square - 11 AM – 5 PM FB page for more info
October 5 (Saturday) Mudhoney, Pissed Jeans at Brighton Music Hall 6PM doors.
October 20 (Sunday) Stiff Little Fingers, The Avengers at Brighton Music Hall doors 7PM
CONTACT US AT....misslynbgn@yahoo.com Send us your gig listings, your news and anything else ya got!! You want your CD reviewed?? Contact us for that too.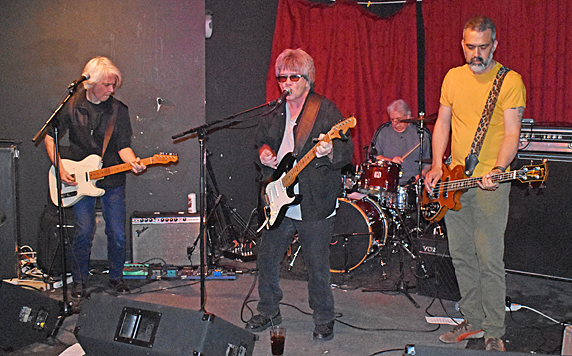 The Billy Connors Project
Photo: Blowfish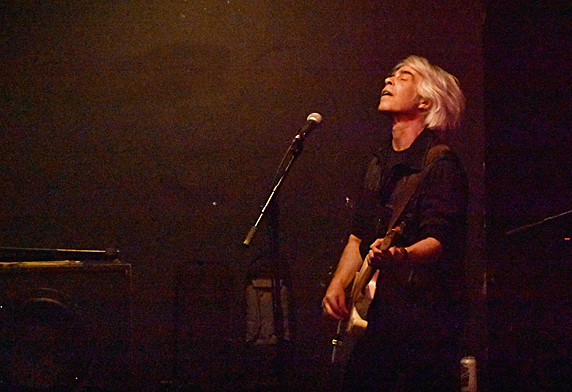 Adam Sherman - The Billy Connors Project
Photo: Blowfish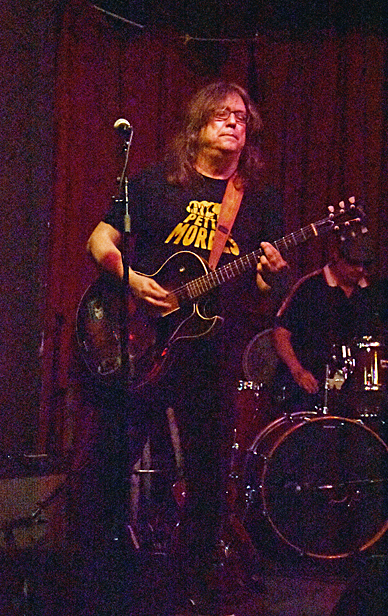 Tony Kaczynski - Fireking
Photo: Blowfish
Fireking
Photo: Blowfish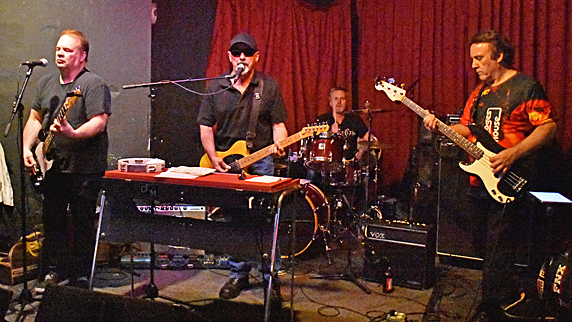 The Last Ones
Photo: Blowfish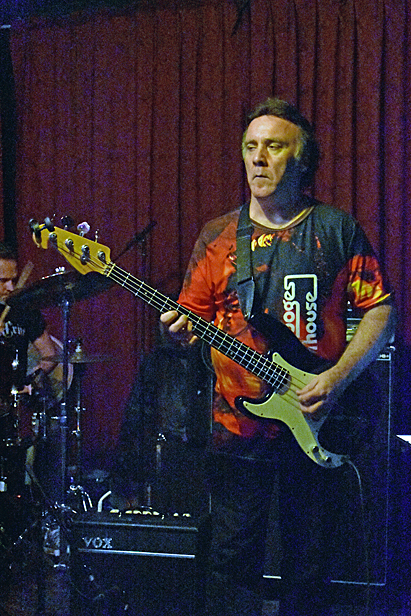 Mike Quirk - The Last Ones
Photo: Blowfish