The BGN News Archive
May 28, 2018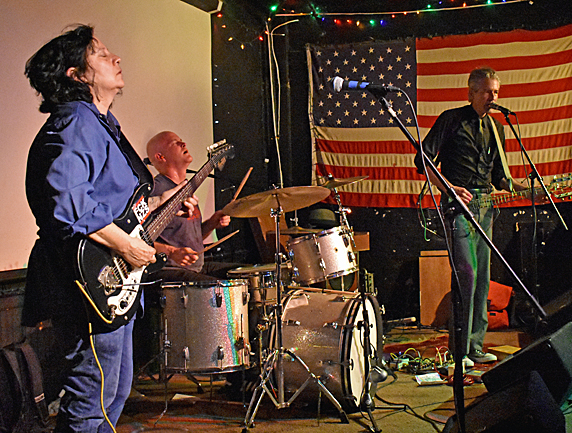 E with Thalia Zedek
---
Slimedog had the yearly celebration of his existence at the Midway. For this auspicious occasion he footed the bill for free pizza. The show was a line up of Slimedog's and Thrash n' Bang's favorite bands.
There was Time Out Timmy from NH and Uncle Spudd from Maine. Uncle Spudd are so from Maine that they once hit a moose on the way to a gig.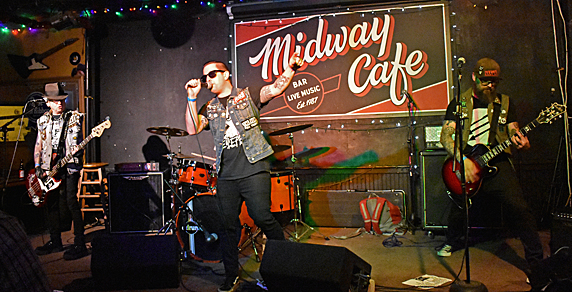 The Lost Riots
Photo:Blowfish
We came in on Lost Riots from Connecticut. They are punk all around; they look it and they play it. They did a memorable performance at O'Brien's a year ago with the Rockin'Bob Punk Band. At the Midway they played the song we wanted to hear, "We're Getting Old". Here it is on Bandcamp. The singer did his patented pacing back and forth around the stage. They had the raw roar going. Mostly it was all about being punk, pure and simple. They come from New London where they say the people come out for the punk shows.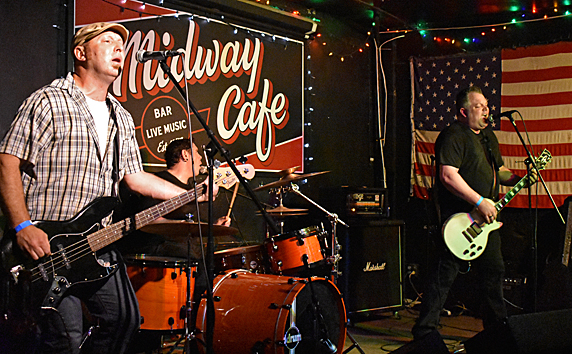 The McGunks
Photo:Blowfish
Next up was The McGunks. They seem like regular guys just playing what they love. It was a mix of rock and punk. The guitarist had some tasty solos. We actually thought there should have been more but they are very song oriented.
They ended with the 60's party song "Shake" where Slimedog ended up on the ground. He later explained he was doing the appropriate dance – The Worm. See the photo below the show listings – you decide, is that The Worm or is that too much party juice?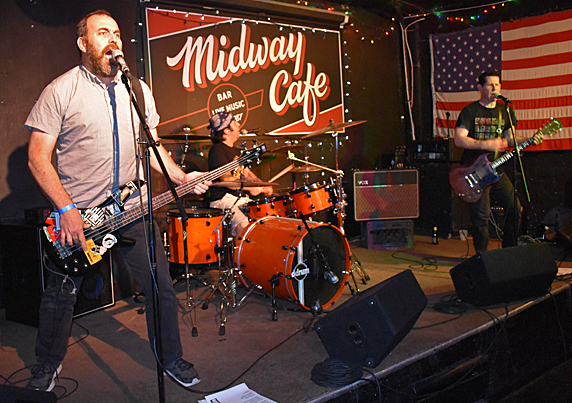 Kermit's Finger
Photo:Blowfish
Last up was Kermit's Finger. They are locals who started in 1992. They play raw and hit it hard. There's very little flash with this band with one exception: on the last song the guitarist was doing a sort of hand ballet on the fret board, which was entertaining. See the video below. Slimedog compares this to Jackson Pollack splattering paint on a canvas which we think is an apt comparison.
In between sets were filled with a few tunes by Linnea and Joe. That would be Linnea of Bad Movies. They did one cover, Jimmy Eats World's "The Middle", a nineties fave. There's a video of that below.
Linnea and Joe
Photo:Blowfish
More than any individual band it was all of the bands that reflect the music that Thrash'n'Bang (i.e. Slimedog and Andy) gives a platform. If they weren't doing it, there would be a real gap there. Often that's the reality of the punk scene – you do it or it doesn't get done.
We are glad to have Thrash n' Bang around. Oh! and Happy Birthday Slimedog.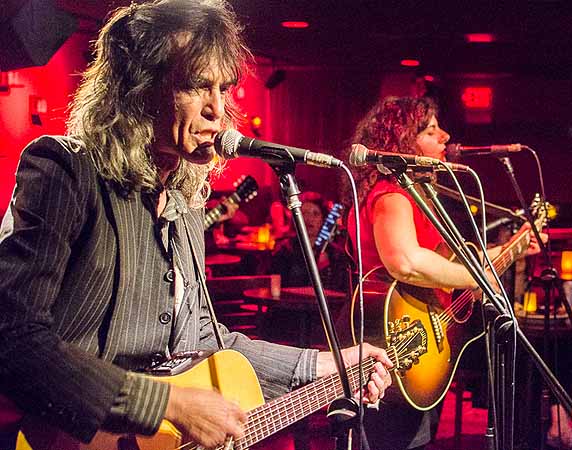 Simon Ritt and Ajda
Photo:John Keegan
John Keegan went to The Lizard Lounge on Wednesday to catch "So Alone- Johnny Thunders Tribute": Thunder's alum Simon Ritt and a cast of local luminaries dug up the bones of Johnny Thunders, spanked him with a big hit of Narcan and took back Johnny's ghost for a celebratory night. Tony Savarino and the Savtones did backing band duty. They were tighter than most of the band Johnny brought to town. They seamlessly thread the wire through Thunder's mix of rocked up 50's, New York punk to twists and turns from clean ("You Can't Put Your Arms Around a Memory") with Ajda Snyder on backing vocals, to Heartbreaker clatter ("Leave Me Alone"), to Bo Diddly Dolls ("Pills").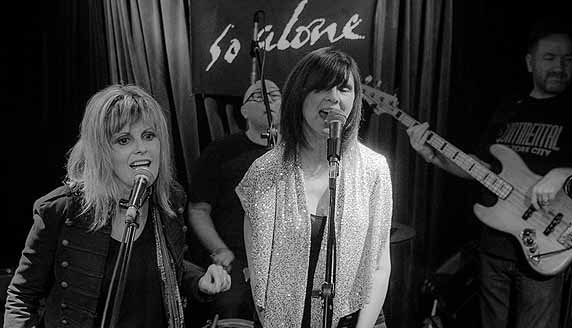 Kelly and Kim - Bristols
Photo:John Keegan
Kelly Knapp and the Bristols added the sass talk to a hip twisting "Great Big Kiss". Mark Chenevert tossed his always good to hear honkin' tenor into the mix to push it over the top. Ritt's former Daughters bandmate Bill Doherty added second vocal to "Ask Me No Questions". "Daddy Rolling Stone" kept the roadhouse end of the party going with Phil Aiken grabbing a little spotlight on the ivories and Evan Shore and Eric Martin giving their harmonicas a workout.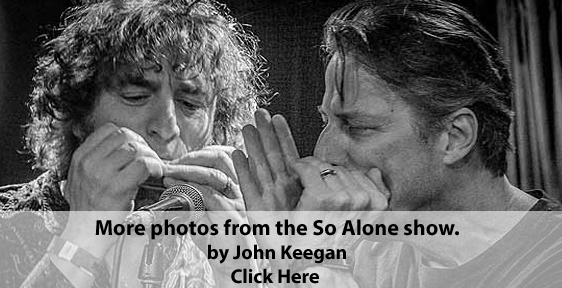 Ritt vocals didn't ape the man but had just enough Queens to make you smile. "London Boys" ripped. People came and went all night long. Chenevert horned up the groovalicious kiss-off "She's So Untouchable". "Subway Train" ran slow and then stomped on the pedal. "Downtown" had that nasty, Stooges feel. "So Alone", which didn't appear on its namesake album, got a deep dark smear with Joe Mazzari adding some of his trademark dirty blues. One off, one on, one up, one hell of a good time.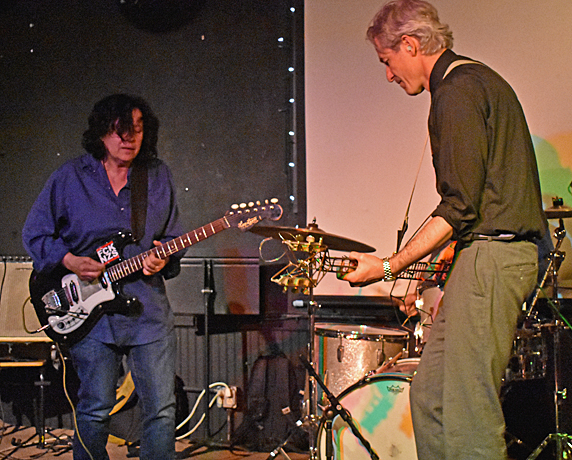 Thalia and Jason - E
Blowfish headed to the Midway. We were overdue for seeing Thalia Zedek. She is now concentrating on the band E. She was doing the solo thing for a while. That was her doing more traditional song sets. E is her flexing her experimental inventive style and boy can she do that. The music was dissonant and serious. There are few that can cover the wide creative area that Thalia can. She is an intrepid artist.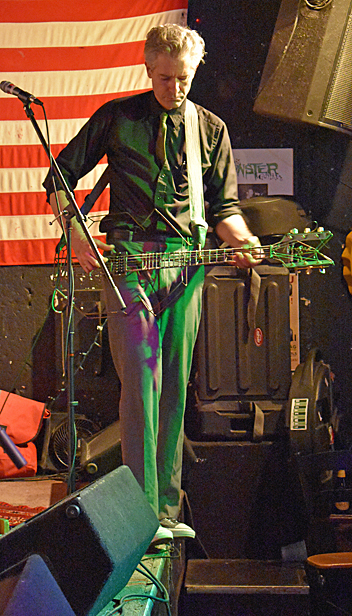 Jason Sanford - E
Photo:Blowfish
There is much talk of Jason Sidney Sanford making his own guitars and instruments. The 'guitar' he was playing was a skeletal outline of a regular guitar. It's neck seemed longer than usual. It did have a different sound – bare and very electronic as one would guess. He also had more tricks in his foot pedals. One that looked like it was housed in a cigar box gave bass booms. There were other sounds that seemed to come from nowhere that must have come from the pedals also.
Meanwhile Thalia was doing some stunning guitar work. A lot was jazz style chording but abrasive in the Come/Live Skull vein. A lot of the time Thalia and Jason played two repetitive lines that were far from harmonious or seemingly in sync but they had their own logic. You had to come to accommodation with them and when you did the reward was there.
As they generated a steady rhythm it gave Gavin on drums a chance to put in variety rather than the drummers usual job as a time keeper. All three took turns singing. The overall sound was like MOB and even more like Peter Prescott's Minibeast. It may sound chaotic on the surface but there are musical gems all the way through. You know you're hearing something special with E. We will always be following Thalia in all her projects.
That was hard to follow but Whore Paint did it by having a compatible sound and adding some humor in the mix. They're from Providence and say they are "pre-post-feminist and rage-fueled". It turned out they were also very entertaining.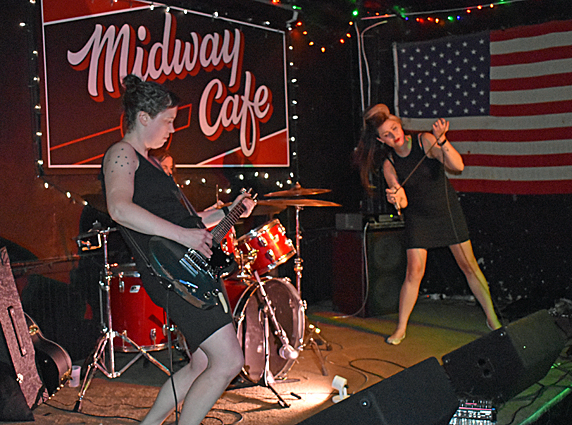 Whore Paint
They are guitar, drums and vocals. Hilary, the guitarist, had a dozen pedals that made her sound as big as all Led Zeppelin or any other group or tone she wanted. There are a lot of bands doing the duo thing and getting it done by doing this. It works, so why not? Meredith, the drummer played busy underneath this to solidify the effect.
Then there was the phenomenon of Reba on vocals. She had a haunting, ghostly way of singing along with a lower register style. But it wasn't just the singing. After the first song it became obvious that she was going to talk a lot. She was throwing out fast observations and wise cracks and she was funny. It kept up all set. We wouldn't mind if she just talked all night. She's got personality and points of view to burn. We have a short talking example in the first video above.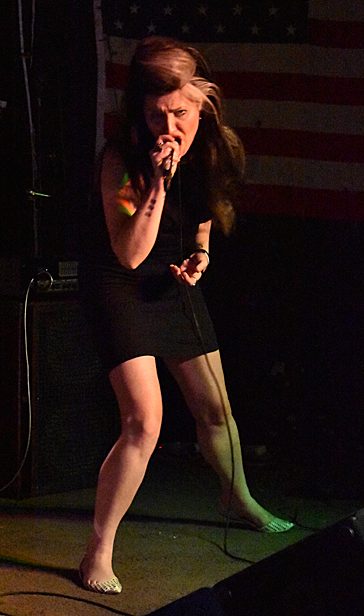 Whore Paint
Photo:Blowfish
It was hard to tell what the songs were about. They had one light on the floor at center stage that gave them a dramatic look. The set kept us there right to the end. There are many bills this group would fit into. We hope to see them more.
We are glad to also have Arthur Freedman's photos from the So Alone show. We have three from that show below. Followed by three more from the Rocking for a Cure for Huntington's Benefit at Thunder Road on Thursday. There are some more of these photos on Arthur's page.
Lizard Lounge 5/23/2018 and Thunder Road 5/24/2018

| | |
| --- | --- |
| 61 Ghosts | Simon Ritt and group |
| The final bow | The Billy Connors Project |
| Rick Barton and Blame the Whiskey | Kim, Kelly, Eric and Steve |
---
And in other news.....
Once Ballroom in Somerville was robbed, big time, this week. Vanyaland has the story. The perps got a lot of money and did property damage. There's a GoFundMe page to help them - Go Here to HELP Once They already have over $15,115.00 toward a $20,000.00 goal as of this writing.
June 23 at the Elks lodge is the Kids Like You & Me's Rama Lama Ding Dong 2018! (FB page) It's from 6:30 to 11:30 and has 8 listed bands and more promised bands. They did a clever rip off of the Boston Calling poster. Actually what the scene needs is a direct response to the Boston Calling festival which hardly has a local band on it. Somebody, work on that!!
---
Here's some good shows coming up this week.....
May 29 (Tuesday) Chrome at the MIddle East Up.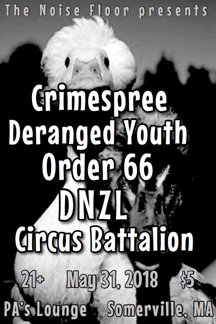 May 31 (Thursday) Crimespree, DNZL, Order 66, Deranged Youth, Circus Battalion at PA's Lounge

May 31 (Thursday) Red Hare, Sweet Jesus (Last Show), Holy Hands, Silver Screams, Pummel at AS220 in Provi RI FB page

May 31 (Thursday) Atlantic Thrills, The Mad Doctors, Fire Heads, Heavy Connection at the News Cafe Pawtucket, RI.

June 1 (Friday) Tom Baker & The Snakes, Swilson and Duck and Cover at The Tavern @ the End of the World.

June 1 (Friday) Thee Fightin' Fish Record Release Party at Club Bohemia also playing are EVERT, Birdgangs, Captain Martini and the Key Stoners

June 2 (Saturday) A Crash Course for the Ravers featuring Charlie Don't Surf! 91.5 WMFO 1-4PM

June 2 (Saturday) Check out JJ Gonson's pics with Slam Dance - Pictures from the Pit it's out in Framingham, 4-8PM FB page for info

June 2 (Saturday) The Black Souls, Crunchtime & Guests, do a Midway Cafe Matinee 4-8PM

June 2 (Saturday) Fur Purse, Lady Pills, Miss Geo & DJ Sit and Spinat the Midway 9PM show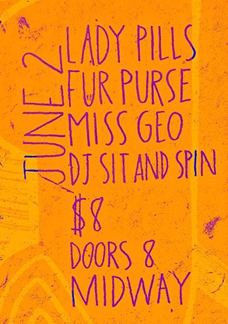 June 2 (Saturday) Sheer Terror, Nothing But Enemies, Brando, American War Machine at The Middle East - this is an early show 5:30-10:30
June 2 (Saturday) Worshipper, Sidewalk Driver, Flight Of Fire, Blood Built Empire at Sonia
June 3 (Sunday) The FUs, Working Poor USA, The Straight Eights, Worm at The Midway for a 4-8PM show
June 3 (Sunday) Gang Green and Taxi Driver, Reason To Fight at Alchemy in Provi RI also a matinee 2-6Pm Also there will be not so surpriseguests Jerrys Kids doing a couple songs.
And further out we have...
June 4 (Monday) Radkey, Aneurysm, Silver Screams at the Middle East.
June 5 (Tuesday) Rock and Roll Trivia w/ Erin and Brett at Sinclair 8PM
June 8 (Friday) Taxi Driver, Brix n' Mortar, Crimespree, Destroi! at O'Brien's Pub
June 8 (Friday) Mooseknuckle, Boot Rot, Tap Water, Whoopi Stick, Rictus Grin at Club Boho at The Cantab
June 9 (Saturday) Sternman, Nightbird and Tragedy at The Middle ast Up.
June 9 (Saturday) Scissorfight, Diablogato, Scrimmy the Dirtbag at Opus in Salem - and its sponsored by Lord Hobo Brewing company- you know what that means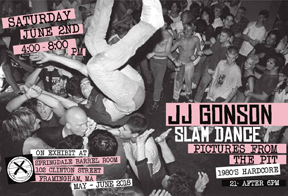 June 9 (Saturday) The Neighborhoods at the Ocean Mist in RI on June 9, Tickets
June 10 (Sunday) Black Market Flea The Boston Hassle and Ignore Rock'n'Roll Heroes present their joint effort, a bi-monthly one-day flea market featuring handmade artwork, prints, patches, records, tees, pins, ceramics, jewelry, zines, body care, tea, fiber art, vintage clothing, accessories, books, as well as tarot readings, haircuts, live drawings, and more! Noon - 6PM $1 to get in. At teh Cambridge Community Ctr -5 Callendar St Cambridge FB page
June 10 (Sunday) Tokyo Tramps, Jody Moore, Billy Connors Project, Club Linehan A Go Go at The Midway for a 4-8 PM show
June 10 (Sunday) Crimespree, Blame it On Whitman, Punksatownie,System Blister, Cap at Koto Salem - 7PM doors
June 13 (Wednesday) The Posies 30th Anniversary Tour with guests Secret Sail at ONCE Ballroom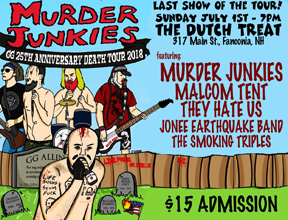 June 13 (Wednesday) doing their G.G. ALLIN 25th Death Anniversary Tour the Murder Junkies are at Cafe Nine in New Haven CT FB page
June 13 (Wednesday) Some Kind Of Nightmare (CA), Silver Screams, BDSX, Sweet Bangs at Opus in Salem
June 13 (Wednesday) Supersuckers, Speedealer, Salem Wolves are at Alchemy in Provi, RI
June 14 (Thursday) The Dickies (40th Year Anniversary) w/ The Queers, Duck & Cover and Cookbag at The Middle East FB page for tix etc
June 15 (Friday) Robert Gordon is at the Greasy Luck Brewpub in New Bedford, MA opening is Johnny Barnes & The Nightcrawlers. FB Page
June 16 (Saturday) GLiDER Live on Radio 91.5FM Crash Course for the Ravers! wmfo.org stream 1-4PM
June 16 (Saturday) Benefit for Rosie's Place with Jerry's Got Jokes, Threat Level Burgundy, Whoopi Sticks, Blame it on Whitman, The Runouts this is a DAY show at The Midway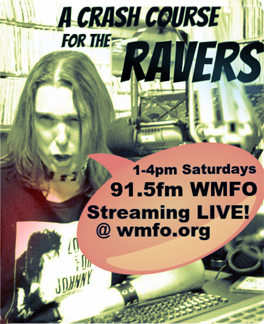 June 16 (Saturday) The Nervous Eaters, Justine and the Unclean, Stop Calling Me Frank are at Thunder Road
June 16 (Saturday) GBH with Pinata Party are at The Middle East Down.
June 17 (Sunday) Micah Schnabel, Live Nude Girls, Olde Boy, Amy Griffin at O'Brien's Pub
June 20 (Wednesday) Blk Squirrl Record Release with special guests Andy California and Sundog at The Midway
June 20 (Wednesday) Reverend Horton Heat, Big Sandy, Lara Hope & The Ark-Tones at Alchemy Provi RI
June 21 (Thursday) There is an all over Boston/Cambridge Music Festival called Make Music Boston, its ALL kinds of music but in particular: The Stigmatics will be playing at the City Square Park Charlestown 7-8PM, Check out their interactive website to see who else is playing and where.
June 21 (Thursday) PowerSlut, Abbie Barrett, Crystal Canyon at Once music starts at 8
June 22 (Friday) Greg Allen's Fringe Religion, Pop Gun, Muck and The Mires and 138 at KOTO in Salem
June 22 (Friday) Tied To A Bear, Duck &Cover, The Von Traps, Not Part of It at Opus in Salem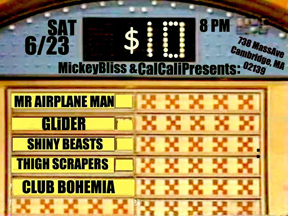 June 23 (Saturday) Gene Dante And The Future Starlets, Parlour Bells, The Gala, Smitt E. Smitty and special guest DJ, Gang of One (Hugo Burnham formerly of Gang of Four) at Once - 8:15PM show time!
June 23 (Saturday) Mr. Airplane Man, GLiDER, Andy California, Shiny Beast, Thigh Scrapers at Club Boho/The Cantab
June 23 (Saturday) The 7CS and The Rolling Who, are at the Plough & Stars
June 24 (Sunday) Opposition Rising Boston Record Release Show! with Not A Part Of It, Infernal Diatribe, Neighborhood Shit, DNZL 4PM matinee show at the Midway
June 24 (Sunday) The Adolescents, Electric Frankenstein and Duck & Cover at Brighton Music Hall
June 26 (Tuesday) 8 pm 14 harvard Ave Allston. Bill Sullivan reads from his book Lemon Jail - On the Road with The Replacements, followed by a q and a session. more info to come!!
June 26 (Tuesday) POPTONE (Daniel Ash, Kevin Haskins, Diva Dompe) will be performing the music of Bauhaus, Tones on Tail and Love and Rockets at the Midde East Down FB page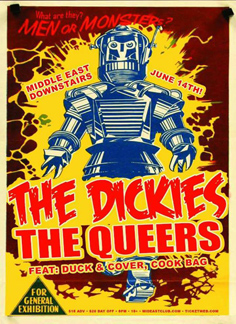 June 29 (Friday) Nervous Eaters, The Gamma Goochies, Euphemia at Geno's in Portland, ME
June 30 (Saturday) Goddamn Draculas, Jason Bennett and The Resistance, Art Thieves at Middle east Up 6:30 PM show
June 30 (Saturday) Rockin' Dune Tunes at Whitecrest Beach Wellfleet Cape Cod. It's rocking on the beach – well, the parking lot next to the beach. Line up : Mr Airplane Man, Atlantic Thrills, Shiny Beasts, 5 SPF4. It's FREE & ALL AGES. it starts at 5PM. The town charges to park for the beach until 4:30. Bonfire on the beach after the show. In memory of our friend Trey Helliwell. More info here on FB
July 1 (Sunday) Today Junior, Milk, Dutch Tulips, Soft Pyramids at Great Scott
July 1 (Sunday) G.G. ALLIN 25th Death Anniversary show with The Murder Junkies, Smoking Triples, Jonee Earthquake, They Hate Us, Malcolm Tent at The Dutch Treat Franconia NH Here's the FB page
July 7 (Saturday) Pajama Slave Dancers (reunion) with special guests Trusty Sidekick, Grey Matter (ft. Eric Gaffney), and The Weisstronauts
July 8 (Sunday) Step 13, Genuine Rust, The Martians, Cry Havoc at the Midway for a 4-8PM show
July 11 (Wednesday) The Goddamn Gallows, The Koffin Kats, Viva Le Vox at Alchemy in Provi, RI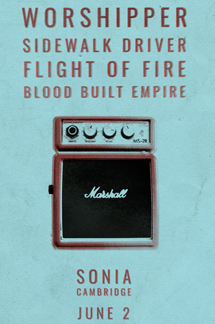 July 12 (Thursday) Koffin Kats, The Goddamn Gallows, Viva Le Vox at The Middle East
July 12 (Thursday) When Particles Collide, Bad Larry's, Whoopi Sticks, The OK Oks at Opus in Salem
July 13 (Friday) Last Ones and CalCali Band are at Tavern at the end of the world. (Rick must be back from his Grand Tour!)
July 13 (Friday) Fireking, The Grip Weeds, Watts, Modern Day Idols at Thunder Road -get tix here.
July 14 (Saturday) il Mostro, Psychic Dog, The Laces, Jim Healey for a 4-8PM show at the Midway
July 14 (Saturday) Walter Sickert & the Army of Broken Toys, The Men That Will Not Be Blamed For Nothing, Frenchy And The Punk, Radiator King at Once Ballroom
July 26 (Thursday) Radium Girls, Thrust Club, Lonely Leesa and the Lost Cowboys, Yes Commander at Once Ballroom
August 4 (Saturday) Scissorfight, White Dynomite, Northern Skulls, Red Mantis at Once Somerville
August 4 (Saturday) Descendents w/ A Wilhelm Scream & Pavers at State Theatre, Portland, Maine FB page
August 8 (Wednesday) The Blasters come back to ONCE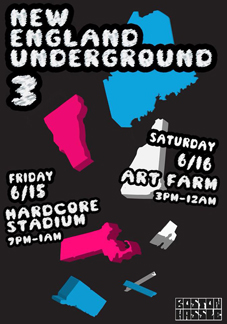 August 13 (Monday) Agent Orange, Fea, and more at Ralph's Diner in Worcester FB page
August 15 (Wednesday) Agent Orange are at the Brighton Music Hall TIX!
August 16 (Thursday) Agent Orange w/ FEA, Zero Holds at Alchemy in Provi, RI
August 24 (Thursday) Lyres, Glider, Pop Gun, Knock Ups at Koto in Salem
August 24 (Thursday) Stop Calling Me Frank, Hi-End, The Stigmatics, The Legendary Cazbats at Club Boho at The Cantab
September 8 (Saturday) Richard Mirsky's CD Release Party at the Midway (night show)
September 9 (Sunday) Slim Cessna's Auto Club and Kid Congo Powers at Once - music starts at 8:30
September 11 (Tuesday) Killing Joke on their 40th Anniversary Tour at the Paradise FB page
September 13 (Thursday) Fall-Fest 5 Day 1: featuring The Avengers! also on the bill - Silver Screams, Boot Rot, City Problems and a bunch more bands. It's at Alchemy. Music starts at 8PM Here's the FB page
October 12 (Friday) Salem Horror Fest After Party with Diablogato, Gray Bouchard and the Dedications and Petty Morals at Opus in Salem
October 20 (Saturday) Nervous Eaters, Indonesian Junk, Duck & Cover at the Middle East Up
October 27 (Saturday) The Descendents w/ Teenage Bottlerocket at The Palladium in Worcester FB page for tix etc
November 2 (Friday) Roky Erikson at Once. Tix here.
CONTACT US AT....misslynbgn@yahoo.com Send us your gig listings, your news and anything else ya got!! You want your CD reviewed?? Contact us for that too.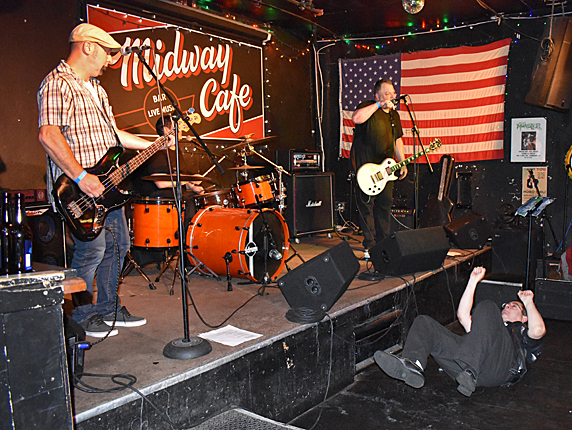 Slimedog doing the Worm
Photo:Blowfish
The Lost Riots
Photo: Blowfish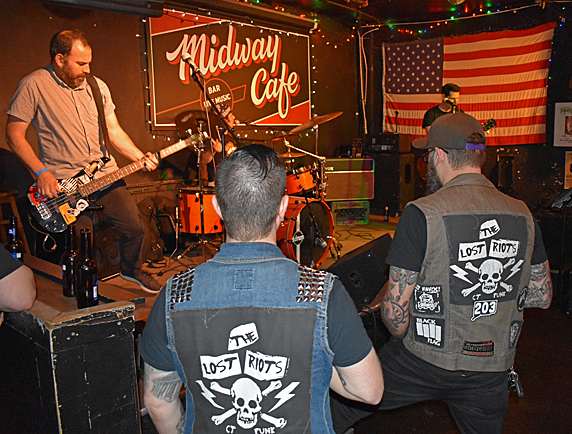 The Lost Riots listening to Kermit's Finger
Photo:Blowfish