The BGN News Archive
May 29, 2017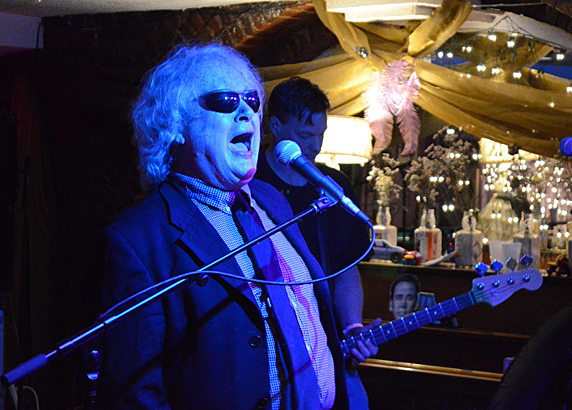 Lyres
Photo: Blowfish
Another Monday at O'Brien's; I can just copy & paste that sentence from the last four weeks of News write ups it seems.
We've seen the name Chanticlear at all sorts of shows but never saw them even though they've been a band 18 years. That was the mission.
Cook Bag
Photo: Blowfish
Cook Bag opened. They've been a band for just over two years and by that standard they are amazing. They play pop punk and they have the chops for it.
They bring other things into the mix. They dropped a short ska section into one song. They also covered a Ronnie Dio song. I actually like it when they stuck to the straight pop punk. The drummer was hard not to notice. He played all sorts of accents and fills with clean precise slams. You can hear the drumming and the ska breaks in some of their songs online here. Joe Riot the singer in Chanticleer said they were the best up and coming band around and I would go with that too.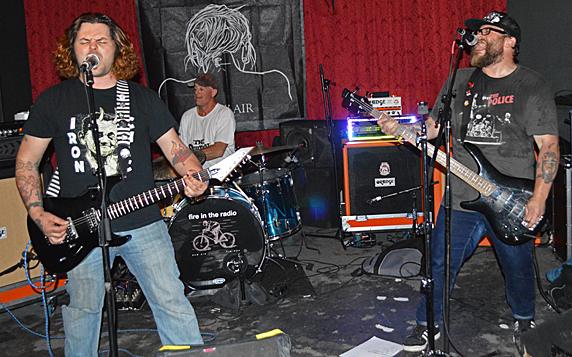 Chanteclear
Photo: Blowfish
Chanticlear are old hands on stage. You feel like they're in control and they know what to do, being in complete ease up there. The singer was very chatty.
They're loud but don't go the usual route with power chords. They play full six string chords and fill up the sound that way. It was about the third song in that gave us the secret of their formula. The melody on top of the roar was unusual. Unusual in that it was very melodic to the point where it seemed like it belonged in a more traditional genre. It didn't just follow the chord line it was ornate beyond it. They did that a few times. It's hard to nail where that's coming from exactly but it's a standout feature. When they were not doing that, it was perky pop punk and nothing wrong with that. They also did a slow song that worked.
Joe Riot the singer/guitarist says their influences are local: "Hoods, La Peste Outlets and beyond that to all different genres." He also said, "We just write music and lyrics from the heart and soul of our lives." And that's true of the song we have above on video called " Hello, I'm a Bastard". Of that Joe said, "It's about being disowned by your own father while becoming a father yourself. " Whoa! One of those melodic sections is there from 28 to 62 seconds.
Their Bandcamp LP is from 2015 and is fine pop punk but I think the newer songs were even better.
Reddy Teddy
Photo: Blowfish
On Friday the Cantab was full up for Reddy Teddy. That's one of the groups that the Boston Groupie News was created to cover. They existed before the scene did in fact. In those early days Reddy Teddy was playing everywhere; suburbs and city. Their signature sounds have not deteriorated one bit in these 40 (yikes!!) years.
For us Jon Morse's voice is ingrained in the memory. When you hear it, and it's still the same, it all comes rushing back. It's full of personality and he delivers some phrases as only he can. We immediately think of Matthew MacKensie who died so early. He was our first interview and we're proud that we captured his voice. You can check that out here.
Jeff Locke who has as long a history coming from the early version of The Atlantics does more than enough fill in with effortless fretwork and songwriting. Those new songs are what has helped Reddy Teddy to survive artistically into the current times. "She's the One" is a complete knockout pop tune.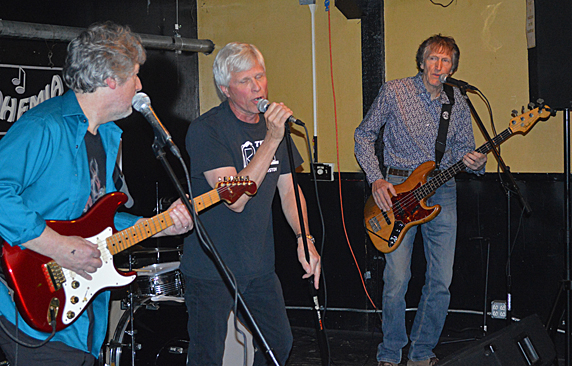 Reddy Teddy
Photo: Blowfish
Scott Baerenwald has taken "Nothing's Gonna Change", the song he sang with the Cadillac Hearts (now the Billy Connors Project), and made it a showcase in Reddy Teddy's set. What a voice. It's a higher register than most and he sings crystal clear while moving the notes with control. It's a crime not to get more of his singing in there.
The video below is of Ooh-Wow! A song from the Reddy Teddy's LP released in 1976.
Gary Soprano was filling in for Ted and got a solo in "Nadine" by Chuck Berry. Chuck is an influence with Reddy Teddy. What new young group in Boston has that influence? None. That's one of the indicators on how things are different today. Joe Marino is essential to the group now more than ever. He gives it the power punch they must have. He works hard. We have the common history with Reddy Teddy. In that regard it's hard to imagine what someone who doesn't know them comes away with. My wish is - Long Live Reddy Teddy.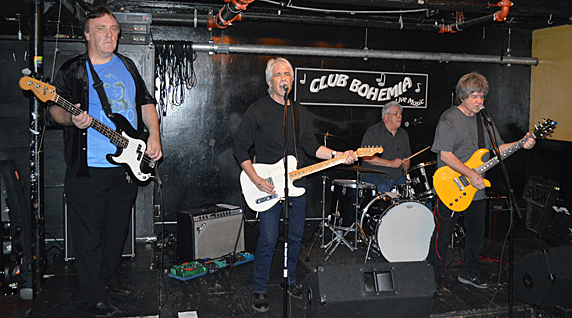 Billy Connors Project
Photo: Blowfish
We had just seen The Billy Connors Project not quite three weeks ago so we knew what to expect. Billy was sick but soldiered on. At Sally O'Brien's the sound was downplayed in that small space, here at the Cantab they upped the volume.
The standout again was "Stranded" sung by Adam. Another was "Knockdown Day" a smoldering downer about the holidays that hit hard. For that song the volume and tempo went down and you could catch Rayboy Fernandes doing some tasty fills. Good stuff. You could tell Mike Quirk is feeling more comfortable with the material in his solid playing. He's tall and he was standing on a slight riser – he looked gigantic up there.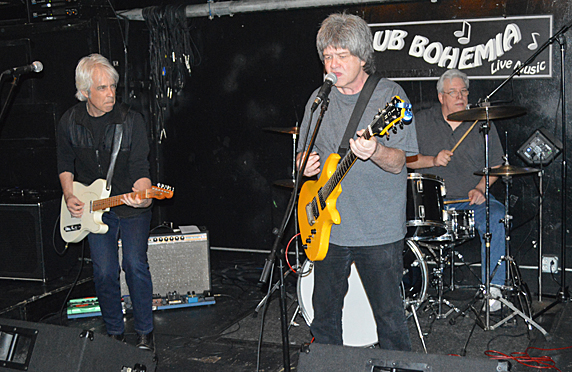 Billy Connors Project
Photo: Blowfish
The coolest thing about the Billy Connors Project is that the newest songs are the best. He had those four new songs on CD at the show. Check it out on Bandcamp
Connors is in the zone these days. Billy Cole was in the audience and he was saying that he is going to do some side project with Billy too. Can't wait for that to come to fruition!
Rule for Boston rockers: Go to every Lyres show.
We know the rule and we were at Once on Saturday. The show had been moved from downstairs to upstairs. We loved that, it's more intimate opposed to the raised stage in the big room. People were sparse at the beginning but the room was on the full side quickly enough.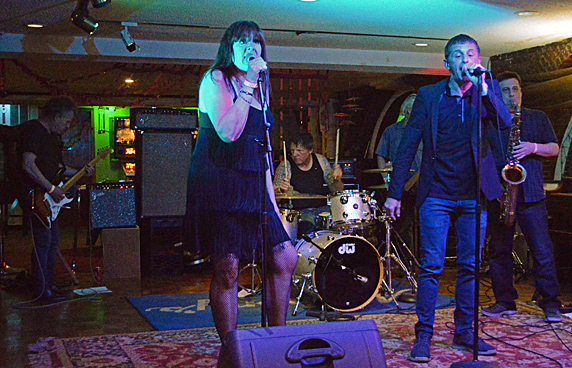 Black Souls
Photo: Blowfish
The Black Souls now are Kim and Cam Ackland backed by the Classic Ruins, plus sax player. The new line up gives Kim and Cam what seemed to be the idea from the start; a sultry soulful backdrop for their duo singing. The Ruins changed their playing to rhythm and blues/soul mode. They all can do it. Listening to Carl Biancucci's bass riffs you could hear the difference between rocking out and laying down a Stax/Memphis foundation. Dave Kowalachec simplified his playing and made it tight and sparse. The sax was the topper. It gave the atmosphere.
The band played at Brian Young's (MC for this night also) show Crash Course for the Ravers the previous week. They played a few songs and Brian insisted they play a few more and then made them play their entire set. He was right. They had it together. We've said it before, no one on the scene has ever provided that duo singing like them. It's about the singing and also about them being a couple that makes the 'show' part of it. The songs are the obscure gems they find. If you can identify them you are a genuine soul searcher.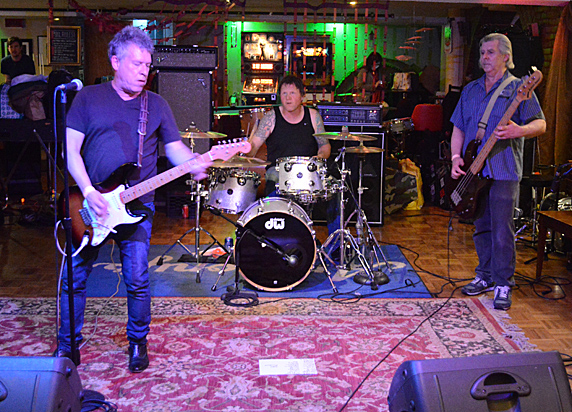 Classic Ruins
Photo: Blowfish
After the set without much ado the already set up Classic Ruins were up and going. The difference tonight is that they were already warmed up and that made a big difference! They were rocking right from the get go. Frank was in top form- his best guitar playing and singing that we could remember. They were so good it seems like they should always have a Black Souls set before.
The played all their familiar material, like Heart Attack, Nyquil Stinger and the current covers of Tales of Brave Ulysses and Please, Please Me.
Rick Harte was there too. He recorded the Classic Ruins' first single. All the early Ace of Hearts recordings (Ruins, The Hoods, MOB, Lyres et al) sound timeless. Those records are a treasure.
Michele Kirsch and Theo Greenblatt walked in just before the Ruins went on....both wrote for Subway News back in the day and Michele is visiting from London. It was great to see her back in town. It was fun to watch her thouroughly enjoy the Ruins' set, seeing them again after all these years. Michele had on these futuristic silver shoes.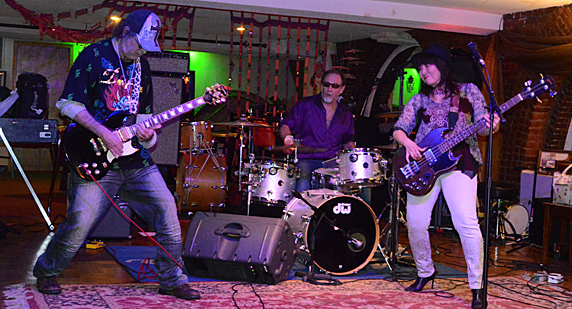 Cal Cali Band
Photo: Blowfish
Cal Cali set up this show. We love people who do that because we know it's not easy. He had his Cal Cali Band this show. There are always a few twists in Cal's sets along with interesting covers. The first song was an original about dieting. Not your usual subject and that was attention getting with its chorus of 'Anna Rexya, Anna Rexya'. Another original was called "Sex Beat" (it's not the Gun CLub song) it had some love/hate punk lyrics in there. It sounded like a seventies punk gem.
They covered Living in the Suburbs and The Velvet's Baby Be Good. The cover of Shonen Knife's Giant Kitty with it's chorus of "Big Cat, Big Cat" was as fun as it should be. Their last song was Maria Bartiromo by Joey Ramone. Just like Cal writes songs about unusual subjects Joey wrote about that Wall Street Reporter. That song fit the bands modus operandi perfectly.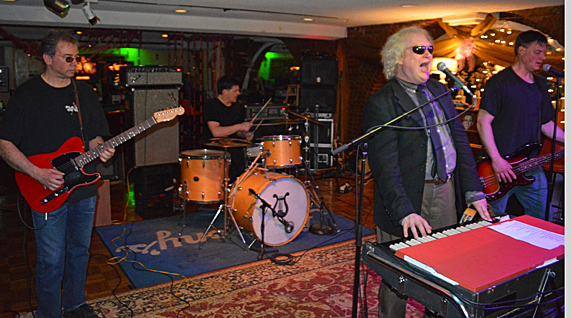 Lyres
Photo: Blowfish
Before we try to describe it let's get it out – this was a Lyres show of legendary proportions. All of us on the scene know that a good Lyres show embodies everything we love about Boston punk. This show had that and then it was another step up. It was transcending. If you were up close and heard and felt was coming out of this band then you know. For those not there we continue to explain but in reality this was all about being there.
There were so many exciting moments. At one point the crowd started to dance and shake the floor when Steve Aquino played that signature riff in the middle of Don't Give It Up Now…not the song,not the beat, not the singing but the guitar riff triggered it. Things were that heightened. When they played We Sell Soul it was so intense that you believed the lyric – you paid the admission and this band was giving you the life force in song.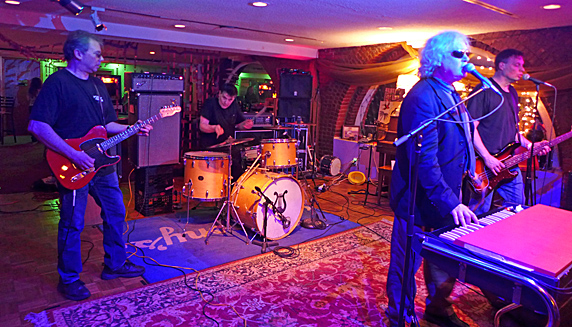 Lyres
Photo: Blowfish
Many songs went on a bit longer than the recorded version where they found a groove and Jeff sang like he was possessed. This happened in How Do You Know where they stayed on a section and Jeff riffed on his vocal and it seemed like a time loop, like you were stuck in this moment and it wasn't going to move forward and you didn't care.
There were dozens of time when Jeff's singing captured that 'thing' in the lyric, that nuance that makes all the difference. That's why he's so exacting. He's always wants to bring out the feature that makes the song special. Sometimes to us that certain something seems indefinable but we're sure Jeff will find it.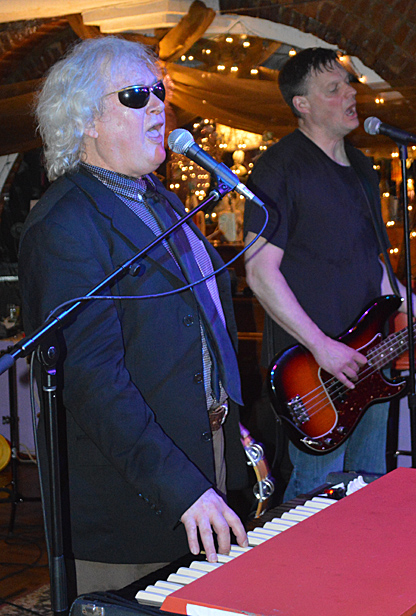 Lyres
Photo: Blowfish
The first half of the set consisted of songs that Jeff finds. There were so many good ones but we don't know them so can't tell you titles. They are like gifts that Jeff gives you. The band was full on during this. We focused on Paul Murphy a few times as his relentless drumming (and not simple) seemed superhuman. Take a look at the video below where we literally focus the camera on him as he goes at it. Dave Szczepaniak on bass has been a big plus from the beginning. His background singing has added another level to the sound. The second half was the songs we knew. You know how that went. Pure joy – don't want to say more.
The video below is a compilation of sections from three songs.
That was a long set. The band stopped and it seemed like that was it, but no, the crowd wanted more. They came back. They played maybe 5 more songs. This was different. The songs were extended with instrumental sections. They did Don't Give It Up again as mostly instrumental. One song kept doing back to Dave on bass. It was like a dub version a song. Jeff bore down on the organ with both hands rather than the signature one hand action. This is something we never heard before. It was like a curtain lifted and you get a glimpse into how they work a song or how they get the group playing like a unit. It was all interesting and very special.
They played 70 to 90 minutes. So, ya know, you shoulda been there.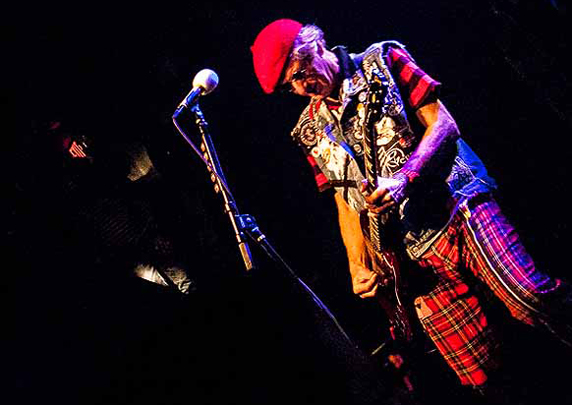 Captain Sensible
Photo: John Keegan
The punks came out for the Damned 40th Anniversary show at the Paradise. The Captain was recovered enough from his fall to be standing. Dave Vanian was sporting a beard. People were also buzzing on the openers the Bellrays and the voice of lead singer Lisa Kekaula. John Keegan was there. Hit the photo below to get to the story and photos.
---
And in other news...
Check out this excellent interview with David Vanian of the Damned about their history and the 40th Anniversary tour....Pretty damned good for …VOGUE!
More woes for Bonney Bouley of TT's and the people who owned River Gods. Because of changing liquor license laws they stand to lose tens of thousands. Read about it here.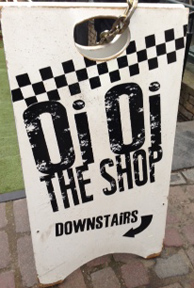 It's a small world. Joanie Lindstrom was in Manchester not long before the bombing. She also was in London. She hit every record store she could, imbibed the local refreshments and got on the radio there too. It's all in Joanie's London/Manchester Vacation.
It's a rumor: There was talk that The Cantab has a sewer main problem that could cost a lot of money to fix and put them out of business, another version said the rent was going sky high and they couldn't afford it. We talked to Mickey Bliss and a doorman (on Fri 5/26) and both had no idea about it. Jim Seery later posted on FB that it was not true.
There's a renewed interest in naming the intersection of Brookline and Green streets Billy Ruane Corner.
The Nervous Eaters are working on a new CD! Hope we get that soon.
Rick Harte said those new Real Kids songs number eight.
---
Here's some good shows coming up .....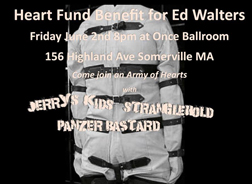 May 29 (Monday) Teenage Bubblegums (Italian Pop Punk), Jagger Holly, Mongorellis, Jimmy Jacked at Opus Underground in Salem (FB page)
June 2 (Friday) awesome punk show with Jerry's Kids, Stranglehold and Panzerbastard at Once (Jack Grisham from TSOL will not be here)
June 3 (Saturday) Chicago Vin, who is actually here in Boston and was in Greg Allen's Fringe Religion and is now solo is on A Crash Course For the Ravers 1-4PM 91.5FM WMFO
June 3 (Saturday) Parks, Psychic Dog, Me In Capris and Surf Vietnam at The Midway
June 3 (Saturday) Birdsongs of the Mesozoic are at Once
June 4 (Sunday) Mike's Monster Guitars is having its 4th Birthday at the Midway! It's a 2-8PM show and features M.O.T.O., The Worried, Hambone Skinny, Axemunkee, Shiny Beasts, The Guilloteenagers, headband and most likely others too! Last year's bash was a blast and we hope they have another Guitar Fashion Show! FB page for the show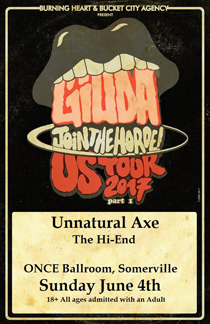 June 4 (Sunday) Hixx are doing an acoustic show at The Tavern at the End of the World 5-7PM
June 4 (Sunday) GIUDA (from Rome Italy) and Unnatural Ax & The Hi End at Once Tix etc here
And further out....
June 6 (Tuesday) Rawstrum are at The Dog Bar in Gloucester
June 8 (Thursday) Cortez, The Humanoids, The Heave Ho and Test Meat are at O'Brien's
June 8 & 9 (Thursday & Friday) Reverend Horton Heat along with Agent Orange, and Flat Duo Jets at Once in Somerville
June 9 (Friday) Rawstrum and Gene Dante & The Future Starlets are at The Middle East with Tragedy a Bee Gees heavy metal cover band...
June 9 (Friday) are they back from a tour or going on a tour?? OC45 are at The Midway with Mickey Rickshaw and AMDX (American Discord) ...gotta go!!
June 10 (Saturday) Psycho, Conclave, Whoopi Sticks, Gant, Spillers an afternoon 4-8PM show at the Midway
June 10 (Saturday) The Real Kids (back from touring Europe!) Muck and the Mires and Greg Allen's Fringe Religion at The Spotlight Tavern in Beverly- FB page
June 11 (Sunday) A Sunday Punk Matinee at the Midway with M.A.T.B. (frm Worcester), Worm, The Hideout and No Good (frm Maine) 4-8PM only $5!!and All Ages.
June 14 (Wednesday) Eve Minor (from NYC), DnA's Evolution, The Stigmatics, Doug Linse at The Midway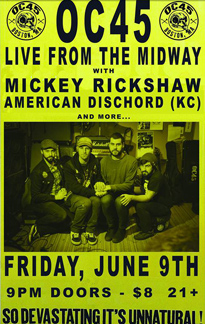 June 16 (Friday) Kids Like You & Me' s Rama Lama Ding Dong 2017! Featuring.. The Monsieurs, Creaturos, Littlefoot, Germhouse & more! at The Middle East - check out the FB page
June 17 (Saturday) A Crash Course for the Ravers will be featuring Anthony Kaczynski! Tony is the consummate musician, he should have some interesting stories to tell and picks to play. Check it out on 951.5 WMFO 1-4PM
June 17 (Saturday) The McGunks, Pint Killers, The Martians and Taxi Driver - 4PM Show at The Midway
June 17 (Saturday) Quiggs, Diablogato, Duck & Cover, Loser's Circle at O'Brien's Pub
June 17 (Saturday) Held Hostage, Point Blank, Infernal Diatribe, Profit Margin at Koto in Salem (FB Page)
June 18 (Sunday) Help Save Out of the Blue Gallery Too - this will be an all day affair (3PM-11PM) with a TON of bands including: Brian Young -WMFO as Emcee plus Thalia Zedek, Fireking, Randy Black, The Knock Ups, Tsunami of Sound, The Stigmatics, The Black Souls, The Classic Ruins, State of the Union, Cal Cali Rockin' Trio, The Last Ones, The KENZ (Highland & Kaiser), The Thigh Scrapers and Club Linehan A Go Go ~ 50th Birthday Party for Joe Quinn. Check out the FB page
June 23 (Friday) Club Linehan A GoGo, Johnny Plankton, The Unoriginals, Mad Painter and Nonzerochance at McGann's Pub FB page for directions etc
June 24 (Saturday) Punk Rock Matinee at the Middle East Up Doors @ 1PM - then Michael Kane & the Morning Afters, Dan Webb and the Spiders, Hudson Falcons, Jason Bennett and The Resistance - show ends at 4Pm FB page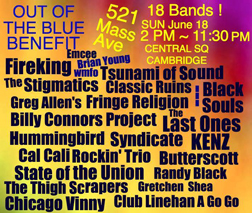 June 25 (Sunday) Punk Oi Matinee at The Midway with Working Poor USA, Moose Knuckle, DestrOi! and The Abductors 4-8PM
June 25 (Sunday) Nonzerosum Present: Conflict, Who Killed Spikey Jacket, Cinderblock, Pandemix - ALL AGES, $20, 8:00 PM Doors at the Middle East Up.
July 19 – July 30: The Midway's Dirty 30th Anniversary Celebration Spectacular
July 2 (Sunday) FOTOCRIME, The Milling Gowns, Bedroom Eyes at O'Brien's
July 17 (Monday) Township, The Dents, Love Love and Weather Weapon at The Midway- Night 1 of the Midway Dirty 30.
July 20 (Thursday) Kal Marks, A Deer A Horse (NY), Nice Guys and Zip-Tie Handcuffs at O'Brien's
July 21 (Friday) Stray Bullets, Hobo Chili, Warning Shots and Stop Calling Me Frank at The Midway!! Night 5 of the Midway Dirty 30.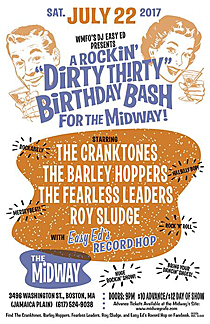 July 22 (Saturday) DJ Easy Ed Night with The Cranktones, The Barley Hoppers and Fearless Leaders at The Midway!! Night 6 of the Midway Dirty 30.
July 29 (Saturday) The Real Kids, Muck & The Mires, Watts and Gene Dante & The Future Starlets night 13 of the Midway Dirty 30!!
July 30 (Sunday) Fast Times Nervous Eaters, BarRoom Heroes, The Revilers -4-8PM at The Midway!! Night 14 of the Midway Dirty 30. at The Midway
August 5 (Saturday) The Silver Mirrors, Instant Shawarma, The Facc-Tones and The Sound Down Cellar at The Midway
August 12 (Saturday) The Modern Voice, Black Helicopter, Wrought Iron Hex, Scuzzy Yeti at The Midway
August 13 (Sunday) - This is Bob Colby's 65th Birthday Extravaganza - it is also he LAST show in Boston!! Viva Gina, DYR FASER, The Land of Enchantment, Kingdom of Love, Cold Expectations, Carissa Johnson (solo acoustic), The Very, Randy Black and the Heathcroppers and The Wrong Shapes. At Once in Somerville and the show runs 3PM until Midnite! FB page
August 27 (Sunday) Stop Calling Me Frank, State of The Union, The New Frustrations, The Only Things at The Midway - afternoon show 4-8PM
September 16 (Saturday) Chameleons VOX At the Middle East Also on the bill: Soft Kill , Way Out and The Milling Gowns FB Page
November 4 (Saturday) Human Sexual Response at HOB
CONTACT US AT....misslynbgn@yahoo.com -Send us your gig listings, your news and anything else ya got!! You want your CD reviewed?? Contact us for that too.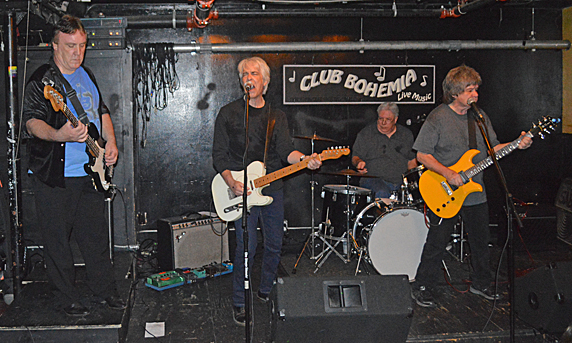 Billy Connors Project
Photo: Blowfish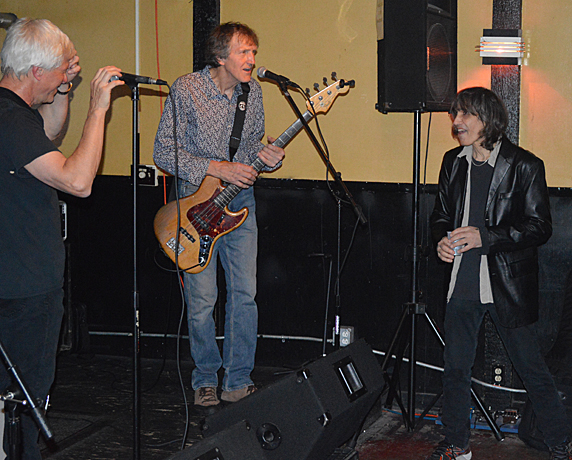 Billy Cole razzes members of Reddy Teddy
Photo: Blowfish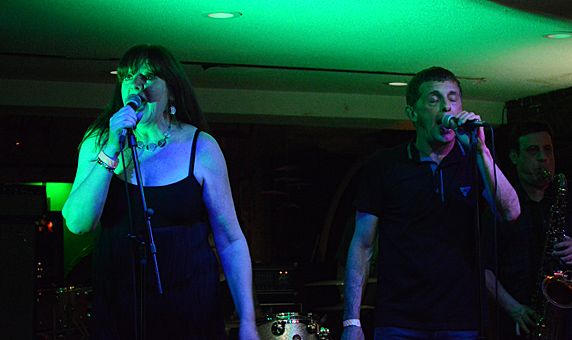 The Black Souls
Photo: Blowfish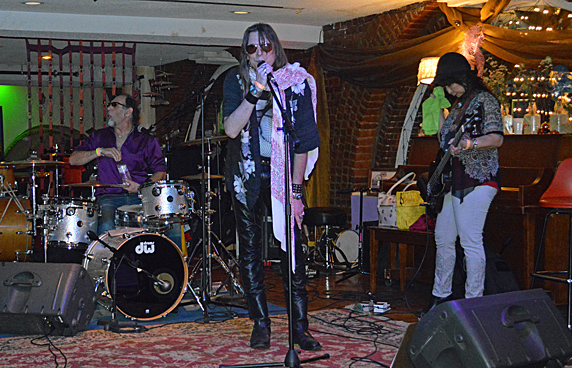 MC/DJ Brian Young intros Cal Cali Band
Photo: Blowfish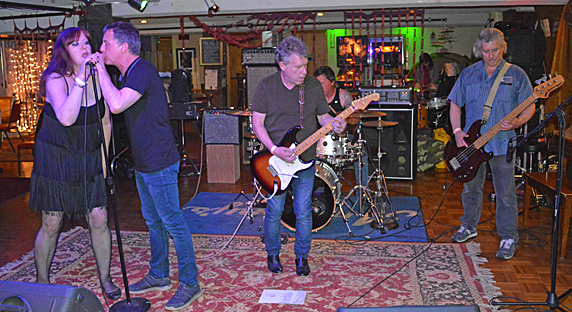 Kim and Cam sing Lights Out with the Classic Ruins
Photo: Blowfish
Cal Cali Band
Photo: Blowfish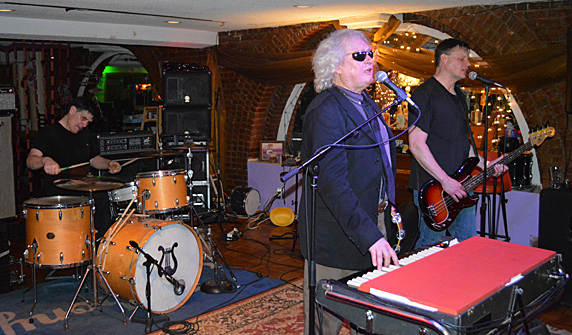 Lyres
Photo: Blowfish