The BGN News Archive
May 30, 2011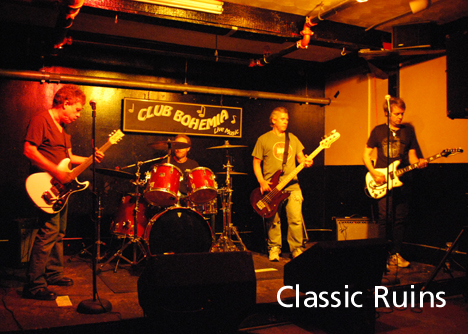 We went down to that sad'n'smelly cavern called The Cantab basement , despite everything, to see the Classic Ruins and Musclecah on Saturday.
There wasn't much traffic around, everyone was out of town for the long weekend so there wasn't much of a crowd. When we got there BeatleTracks was playing. They only play old Beatle tunes and good too. The smelly cavern thing was working for this group. The guy singing Paul's parts had John's guitar and the Bass player was singing John's part which make Frank Rowe say that they were sort of a 'mash up' Beatle band. It was very enjoyable.
The Ruins were awesome, I still firmly believe Frank Rowe is a genius in many ways.....and that Carl Biancucci IS THE bass payers bass player!! They began the set with a nod to the BeatleTracks by playing their instrumental version of Please Please Me. They played the long list of faves that you expect and that has become THE classic Boston punk set.
Musclecah was....well very heavy. Very "rockin". They started up with Kickin' Out the Jams by the MC5 and never let up. They slammed through Communication Breakdown by Zep at at neck breaking speed. They thoroughly cleared out everyghing between my ears...a complete debraining...and I felt great.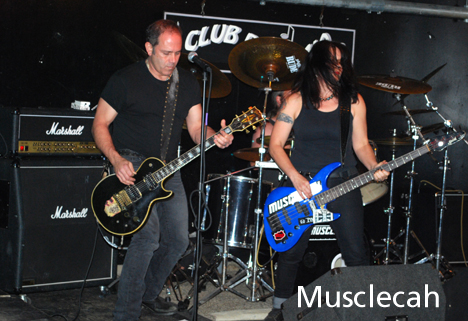 Some excellent stuff coming up in June!:

This Friday, June 3rd The F.U.s are in Lowell at Gemstones....
This Saturday June 4th I, Pistol, Faux Ox and Black Fortress of Opium are at Precinct in Union Square Somerville....
Friday June 10 at 9 at the Paradise - The Dogmatics, The Neats, Band 19 AND Last Stand and Classic Ruins are playing a show in support friends who will ride in the Pan Mass Challenge This'll be a blast from the past event and it's 16 bucks and well worth the dough
Saturday, June 11th is Rich Mirsky's cd release event at The Midway!! This is an afternoon show - 2-6PM 5 Point just got added to the bill and since it is a Mommy What's a Mirsky? CD Release that means the star of the show Rich Mirsky will be playing in his band Heavy Sirip and Come's Chris Brokaw doing a solo set.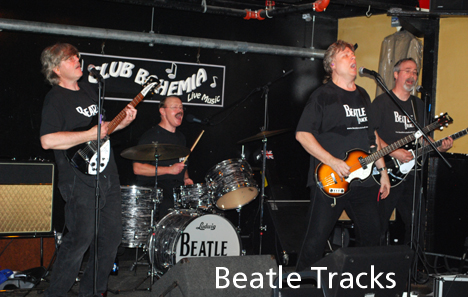 Yeah there are a lot of gigs coming up in June that are awesome but here is something you should definitely be at...
The Charlie Chesterman Benefit...here's the info :
Fans and Friends Unite to Help Boston Rock Legend Charlie Chesterman... Former Scruffy The Cat front man Charlie Chesterman battles cancer; members of the band to reunite for first time in two decades.
A all star musical lineup, including The Upper Crust, The Raging Teens, Barrence Whitfield, and a rare reunion of members of Scruffy The Cat, will play a daytime benefit show at TT the Bear's on Sunday, June 12 from noon until 5:30pm to raise money for Charlie Chesterman's costly battle with cancer.<br>
And note: this is a daytime show- Noon to 5:30 and will kick off promptly at 12:30 pm with a set by The Upper Crust. This will be followed by a parade of artists performing Chesterman songs, often backed by a core "house band." As of press time, the order of performance had not been established, but confirmed artists include The Raging Teens, Roy Sludge Trio featuring Duke Levine, Ray Mason Band, The Weisstronauts, Barrence Whitfield, Dave Herlihy of O Positive, Brian & David Charles, Chaz & the Motorbikes (Chesterman's most recent band), the reunited Scruffy The Cat, as well as the distinct possibility of some last-minute luminaries taking the stage.
Tickets for the show are $20, and are available in advance through Ticketweb or at the TT's box office. Items donated by TT the Bear's Place, Q Division Studio, Rounder Records, Harpoon Brewery, deCordova Museum, Newbury Comics and others will be raffled off. All proceeds will go to a fund set up for Chesterman and his family. For more info you can check out Charlie's website
Also don't forget that during June The What Cheer/Rock'n'Roll Yard Sale folks have secured a month long series of Rock'n'Roll Yard Sale events at The ICA in June!! (click to see specifics )..for example: Friday, June 3rd- Record Sale + DJs + Collectors Spinning Vinyl, Friday, June 10 - DJs + Collectors Spinning Vinyl in the ICA café, Friday, June 17 - DJs + Collectors Spinning Vinyl in the ICA café and Friday, June 24 - Record Sale + DJs + Collectors Spinning Vinyl - regular admission price of $15 still applies but you can also check out the exhibit The Record And of course the Del Fuegos reunion at The Paradise to benefit Right Turn; June 23rd with the Nervous Eaters and the 24th with the Lyres. Can wait for that one!
June 17th there's an excellent show at the Middle East Up with The Paul Collins Beat , Muck and the Mires , Watts , The Dirty Shames
Saturday June 25th at The Beachcomber in Quincy is an awesome, practically all day event: Hotrods & Hooligans- Fisher House Benefit-Greg Burke Memorial Show. A Hotrod Show during the day and a punk rock show at night with The Pug Uglies, Welsh Boys, Dead Friends, Cradle to Grave and Lenny Lashley
Then in July Harvard Film Archives is having a few days (July 1-11), of Classic Punk Films from the 70's and 80's...more info to come on that...just wanted to make you aware to save some dates on your calendar.
OH if you want to keep your punk rock bobble head doll collection up to date you better get over to Aggronautix quick and grab their Roky Erickson bobble head before it sells out their GG Allin one!!
and....as is Roky....as would be GG...we is all getting' old my friends...and to prove it we have some serious, as in 60th, birthday celebrations coming up...I just have to say I never in a million years thought I would be announcing to you all some fellow rockers 60th bdays but here we are - it is happening and well, I am thankful I am here to help them celebrate and I hope I reach my own in the future.... Ed Moose Savage is having a hugely gigantic 60th bday bash from 2-8PM on Sunday June 5th at the fabulous, Knight's of Pythias Hall, 251 Maple St. corner of Chestnut St. (above the trophy store), Lynn, Mass. - Ed says of the event: All are invited! See: Moose and the Mudbugs, Ed "Moose" Savage" and His Litany of Complaints, with Paul "bing bang boom boom" Dionne, on drums and assorted percussive items, fresh off his flight, from California ! There will be additional live musicfood, lots of special guests, and surprises!
Next in line is our long time friend Frank Rowe...who crosses the line to 60 in a celebration at The Midway on August 13th Oh its gonna be a excellent evening.....
...Email us click click click