The BGN News Archive
May 31, 2021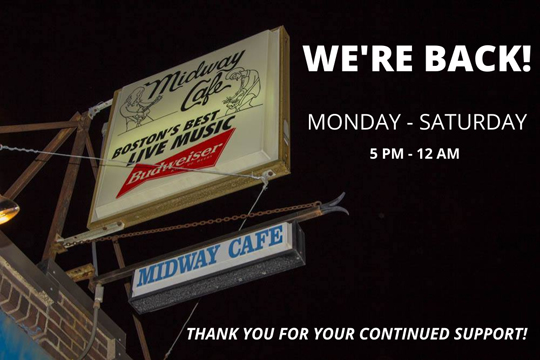 After 14 months we're at this point
We've been waiting for this moment for 14 months – the back to opening the clubs time. It seemed to come fast, almost too fast. First there were shows in September, then it creeped up to August, then outside shows in June. Right now there are shows popping up daily for a few days in the future. It's hard to keep up. Governor Baker has declared a general reopening on June 1.
It's still too early to fathom whether the clubs will be at 100% or how that will work. In fact while trying to get info for our gig listings we found some club sites are down (O'Brien's) and other sites have eliminated their calendar (Midway) or the dates are just empty (Jungle and others)! We would LUV to share that info but it just isn't available at this point. Everything is happening so fast itís probably difficult to keep up!!
John Keegan was at one of the last shows before the shutdown. That was Adam Sherman at the Burren (March 11, 2020). Now, he was at one of the first shows after the quarantine; Diablogato and Devil's Twins at the Porch in Medford last Saturday (5/22). John reports that "The pent up excitement to see a band in a room full of like-minded friends, acquaintances and strangers is palpable." He says that Nicole Coogan of the Devil's Twins actually teared up on stage in response to the situation, and Diablogato for their part showed no rust for a year without a live show.
And so it begins anew. To see John's review and fabulous photos click the link below.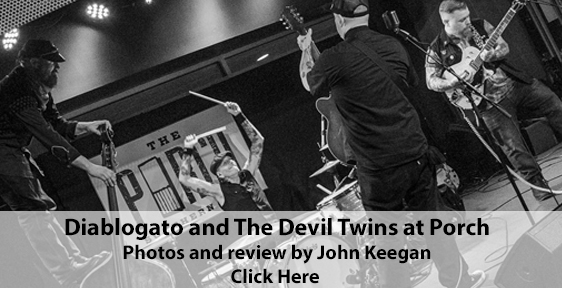 Once is presenting Aural Arcadia x ONCE x The Armory; a one day festival at The Armory (owned by the Slaters of the Middle East…at least for a while). This will be the first live show for Once since it shut its doors because of the pandemic: Aural Arcadia is "dedicated to creating a gentle performance space and to ease the return of live music. Picture a sunrise spreading over an idyllic pasture, the rays spreading across the green landscape. The perfect setting to comfort you as the world reopens and we start to shake off our dust, loosen our anxiety and begin to gather."
The show will start outside the building at 1pm. Acts include: Evan Greer, Taina Asili, The Cheerful Desolation Choir, Kaiti Jones, Eleanor Elektra, Evelyn Blush, Kind Being, and The Only Humans. Tickets.
The Atomic Fez Fundraiser was last Thursday. Smitt E. Smitty does things in a grand way. This virtual fundraiser was just shy of three hours. The large number of acts, the wide variety of presenters and the brisk pacing kept things interesting. The BGN is even in there at the 23 minute mark.
Muck and the Mires opened with a rocking "Open Up Your Door", the cover of the Richard and the Young Lions tune, in a live performance filmed before the pandemic.
Watts had a new black and white video for "Loud and Fast" It's like a scene from an old noir classic. Seeing drummer Lynch with a shovel by the roadside is a chilling image!
| | |
| --- | --- |
| John Lynch in Watts video | The Welch Boys |
Maybe our favorite moment was The Welsh Boys doing a hard hitting video of the song "Methadone Mile" where they face the hard situation at that spot and the music inspires more action. Excellent song, video and sentiments while rocking like crazy.
Smitty himself was a highlight with his Smitt E. Smitty and the Feztones performing their new song "Tall Man Dreams". Like all Smitty's efforts the video had high quality production. It was a black and white with the look of a German Expressionistic silent movie. The song has tribal drums that made it lurch along. Even in a three hour show, it left an impression.
The Chelsea Curve debuted their new video for "Don't Look Down", their third effort in the Singles Series. Live footage from Askew in Providence and Once comprised the video.
Dogmatics sang "Saturday Night Again" in a live performance recorded recently.
| | |
| --- | --- |
| Smitt E. Smitty & the Feztones | The Dogmatics |
Beebe Gallini cranked on "East Side Story" (a Bob Seger tune). There's something about this group that captures us every time. Their garage rock performances always make us feel good.
Little Billy Lost did their song "Dancing with the Devil You Know". This band has it so together it's scary. Their experience puts them at the forefront of the scene whenever things ramp back up.
A Bunch of Jerks wrapped things up with a new song called "Light Breaks". There video made us realize that we have missed their live streams for a few months now.
Those are just some of the moments. There was so much more in the three hour show. That's up to you, to get in there and view. We have the video above. This was all about helping the clubs. You can still donate here: On GoFundMe ... or on Venmo
It's time to jump on the fun train with Los Chicos (from Rum Bar). You're gonna do it sooner or later. We posted a vid last week now try this video of the song "I Don't Wanna Learn Anymore" and see if that gets you.
There's been the years long campaign to make "Roadrunner" the Massachusetts' official song, but it's forever stalled. What about the Massachusetts restaurants new drive to keep the alcohol-to-go program last beyond this shut down? Story here We have the perfect theme song for that – "Scorpion Bowl To Go" by Justine and the Unclean.
Boston Calling has announced its return in May of 2022. Headliners are the Foo Fighters and Rage Against the Machine. Three day tickets go from $299.99 to $1,599.99. HUH??? You lucky people can buy tickets now so that the organization running the show can bank the money and get a year's interest of it. But hey, all ticket agencies do that. We should be Raging Against that!!!
Last week the Hoodoo Gurus released a new song/video . It's called "World of Pain". The song is "is a slightly fictionalized story about the aftermath of a big night on the town that got way too big ", says David Faulkner.
The Hoodoos announced in December 2019 that they were coming to the Sinclair in November of 2020. Even though it was almost a year ahead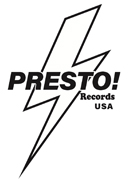 of time, the tickets sold out…but then you know what happened. Now they are scheduled for the Royale in May 2, 2022. The ticket page still shows a 9/30/21 date but the Royale site shows the new postponed May date. Tickets
Presto Records has received attention with the relaunch of their recordings. We talked about it too. Now some of the albums are out there on several platforms. One was new to us. That was Youtube music. We listened to the Classic Ruins album Ruins Café. There were commercials. You can skip some but still it's an inconvenience. Here is the link anyway for the Ruins Café on Youtube. To find various Presto albums on several platforms
We liked Double Star's first EP called Wonder & Mayhem. They are on the threshold of their second EP; Say Something Now to be released on August 13. They are a Roslindale band that straddles indie/ska/pop genres. We liked this ska song's sentiments "Thoughts and Prayers Are Not Enough" off the first EP.
Blondie had it, now it's Joan Jett's turn to get the graphic novel treatment with 40x40: Bad Reputation/I Love Rock 'n' Roll and ... Joan Jet & the Blackhearts will be at the Chevalier Theatre in Medford Square on Friday November 19. Tickets here.
---
SHORT CUTS.........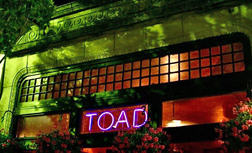 Happy news: Toad has announced on Facebook that they are alive and working on getting the club open soon. Toad Facebook page
On Friday June 18 Bandcamp will contribute 100% of their share from all sales to the NAACP Legal Defense Fund. Bandcamp site.
Richie Parsons and Eric Martin got together again for a live stream at the Midway this last Thursday. Richie covered "Red to Grey" by Richard Lloyd and Eric Martin again displays that amazing voice which he couples with songs from top songwriters. like "24 Hours from Tulsa" by Gene Pitney and "Alone Again Or" by Love. You can see the video her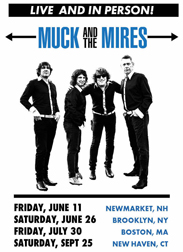 Muck and the Mires are beginning a tour on June 11 in Newmarket, NH. They play in Boston on July 30. Muck Facebook page
We haven't heard a peep from the Middle East Club since the pandemic hit. Their last Facebook post was March 15, 2020. Their webpage reveals that they have some shows starting on August 17. Not anyone we recognize but....check it out.
O'Brien's posted on Facebook that they are now booking for August. To book a gig email them here.
Chris Rodgers & the Dirty Gems have a new album, Still Dirty, on the way. They've got a video for the first single, "I Can Still Feel It". Video here
RADIO...................
Skybar on his Rising show he will be playing all of the new Dents 7 song EP. Rising is on WMFO at 8pm Tuesdays. You can hear it streaming at WMFO https://www.wmfo.org/ And the Dents EP comes out June 4th on Rumbar Records. You can order it on Rumbar records.
PODCASTS....................................

Kids Like You & Me interviewed Joe Espinoza of Sleeper Radio. They talk about the local DIY scene in the last few years. If there is uncertainty in the club openings, there is no information about if the house shows will start up again. There are a ton of live streams posted on the Sleeper Radio YouTube radio
Blowing Smoke with Twisted Rico has the legendary Chris Doherty of Gang Green as a guest. Chris had Mikke Worm with him in the studio. They talk about Gang Green, Jerry's Kids and Stranglehold. Chris said that after Gang Green won the 1986 Rumble at the Orpheum all the advertisers backed out afterwards – they couldn't take Gang Green's anarchy on stage.
They talk up the Gang Green album Another Case of Brewtality which is getting more attention now. Tang is going to rerelease it on green vinyl. Now you can hear it on YouTube here
Chris is still recovering from his stroke but he's strong minded and working on the idea of getting on stage again.
CD'S / MUSIC...........................
It's not just that we are a fan of the slow release of songs from an album per se, but when all the songs are good we certainly do love it. That's the case with The Chelsea Curve and "Don't Look Down" the third beauty in a row from their singles series.
It's just over two minutes long and seems to go by in a flash. The band notes say that the song is about fear of both success and failure. The chorus of 'don't look down' does transmit that vertiginous scary feeling.
The Hotel Massachusetts was an album that Chunk Records released in 1994. As of March they have now rereleased it and added a Volume 2 to make a set. Volume 2 encompasses recordings from 1992 to 2001. Right now it's only available as a digital download, but soon there will be a vinyl version.
Volume 2 includes Sebadoh ("Skull"), The Unband, The Ray Mason Band, Fuzzy ("Four Wheeled Friend") and The Preston Wayne Four. You'll find plenty to like in the 51 cuts.
And.....there's a primo Lyres cut; a cover of the Road Runner's 1967 song "I'll Make It Up to You".
Plumerai was a group we saw by chance and became fans right off. They were going down their own path with interesting soundscapes by using lots of pedals on the guitar, and the singers voice had an ethereal quality to it. They were also calm and moody in their way. Now they have a new song that has more punch to it but is still well crafted as all their material has been. It's called "Turtle Tree".
---
Here's some good shows coming up (live stream and actually LIVE!! .....
June 3 (Thursday) Today Junior and Dutch Tulips play live at The Jungle patio. You can also watch at home because it will be live streamed on Once Virtual Venue as well. Tix and Links on the FB event page.
June 3 (Thursday) The Grommets and Trusty Sidekick are doing a live stream at the Midway on June 3, 7 to 9:30pm with . The Facebook event page.
June 5 (Saturday) The News Café in Providence will have a car show with a food truck and some music by The Hangovers, Sourpunch ( Jen Lombari) and Green Sabbath. Event page for the show: https://www.facebook.com/events/188739056421628/?ref=newsfeed
June 10 (Thursday) The Sheila Devine is at the Sinclair - Tickets
June 11 (Friday) Linnea's Garden and Home Despot are doing an outdoor show at The Jungle but it is sold out already, sorry!! But you can see Linnea at Dusk.....
June 13 (Sunday) The Pond is Good Enough for you Mess-Around 2-5PM - Jerry Lehane will stream live from the pond in his backyard with a couple of sets out on the water as well. Special guests include: Eric Martin with Dave Fredette and, Peter O'Halloran and The Hired Men, A guest band featuring Jerry Lehane, Ed Reimer, and Tommy Long ..... And of course your hosts Justine and her Black Threads, Tom Baker and Jay Allen and his Archcriminals FB page!!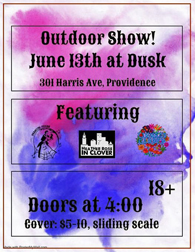 June 13 (Sunday) Phantom Ocean, Linnea's Garden, and Heather Rose In Clover at Dusk! Outdoors, 4PM!
June 17 (Thursday) M8 with Motel Black - this is a LIVE show 40 people - Max. Masks and social distancing required
June 17 (Thursday) Color Killer at Union Common Marlborough Ma @ 7PM. outdoor show.
June 18 (Friday) E w/ Omoo Omoo at Nova Arts in Keene, NH. FB page
June 19 (Saturday) The Jacklights and Double Star Live stream from The Midway Cafe FB page
June 24 (Thursday) This should sell out fast – Tommy Stintson of the Replacements will be doing an outside house show in Mansfield, MA on June 24 with his current duo set up called Cowboys in the Campfire. Tickets at Eventbrite.
July 3 (Thursday) The Thigh Scrapers are at The Midway along with The Bind and Double Barrell!
July 17 (Thursday) Thalia Zedek is celebrating the 20th anniversary of her first solo album Been Here and Gone by performing the entire album at the Midway. Also on the bill will be Richie Parsons and Eric Martin. 6:30 doors…The FB page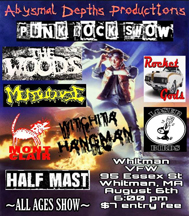 August 6 (Friday) End of Summer All ages hardcore show with The Woods, Witchita Hangman, Half Mast, Mont Clair, Rocket Gods and Loser Birds,at the VFW post at 95 Essex St. Whitman, Ma - 6PM. FB page.
August 14 (Saturday) Kid Gulliver has a Record Release Party at Dusk in Providence. It is not listed on the Dusk Facebook page yet but here's a link.
September 3 (Friday) Rebuilder, Choke Up and Old Soul at the Sinclair - Tickets
September 3 (Friday) The Zulus rescheduled show at The Paradise - doors 8PM, music 9PM. FB event page
September 11 (Saturday) Guided by Voices at the Sinclair. Tickets.
September 16 (Thursday) Bob Mould is at the Paradise - Tickets here
September 19 (Sunsday) It's the return of Tubefest -New England Surf/Instro Showcase! Lots of surf and instrumental bands for your enjoyment! Tubefest Facebook page. This will be an afternoon/early evening show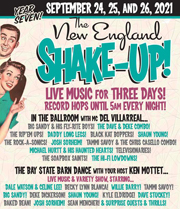 September 24, 25 and 26 The New England Shake Up is back. The rockabilly festival will happen this year in Framingham. The line-up of bands is way long. They also have a picnic record party 11AM-4PM on Saturday the 25th with Barrence Whitfield spinning vinyl. Get more details and ticket info on their website.
September 30 (Thursday) Nervous Eaters/Barrence Whitfield/Willie Loco and the Boom Boom Band/Carissa Johnson at the Paradise . Get Tickets Here!
October 31 (Sunday) Dropkick Murphys At Hogan's Run again 7-11PM...best Tessie costume wins a free drinks bracelet for the night. FB page.
November 19 (Friday) Joan Jet & the Blackhearts will be at the Chevalier Theatre in Medford Square. Tickets.
March 13, 2022 (Tuesday) Reigning Sound at the Sinclair Tickets: https://www.axs.com/events/402182/reigning-sound-tickets
CONTACT US AT....misslynbgn@yahoo.com Send us your gig listings, your anything else ya got!! You want your CD reviewed?? Contact us for that too.
---