The BGN News Archive
June 1, 2015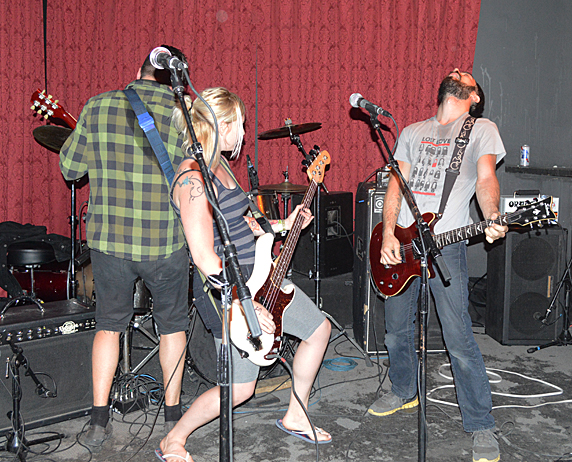 Oh My Snare!
Blowfish went to the Middle East UP on Thursday to catch some new groups but it was sold out:
I moved on to O' Brien's which had a Canadian group from Montreal called Oh My Snare who seemed interesting from looking at them online. They had weird song titles like If Krillin Came Back From The Dead Like 3 Times, I Think We Can Do It Once and Hearken Unto My Behest, Biatch, For Thou Has Boobies. That last one has feminist lyrics and they talk about growing old in I'm Not Robocop Material Anymore :'(. These songs are on their Bandcamp page. They lived up to my expectations and more live. They were very talky on stage and had the most appealing French accent. They sang the first song in French, then switched to English and then sang one in Norwegian. Vocals were often at the top of their lungs loud and they coupled that with aggressive playing that went into a nice groove a few times. They had real fire originating from a busy drummer. They don't rely on power chords but play complete chords which gave them a fuller sound and gave more interesting overtones than a plain slap dash drone.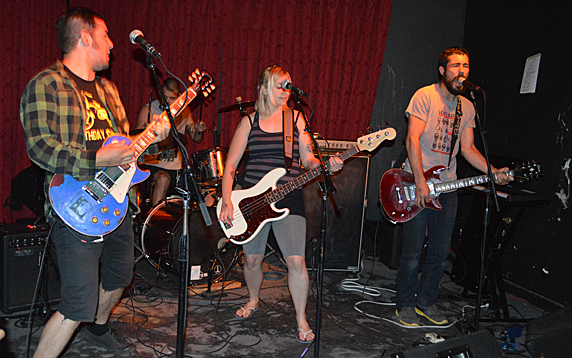 Oh My Snare
I talked to Lily the bass player just a bit. They are on tour and were down as far as Virginia. They were then going to Lowell and Dover NH, then back to Montreal. I was just imagining what the life on the road must be like. So many groups slog through it and we reap the benefits.
Tonight they played for only about 25 people who gave them a great response, I'm happy to report. I bought a CD mainly to help then with gas money. I'm telling you and reminding myself at the same time that we should all be helping these groups on the road.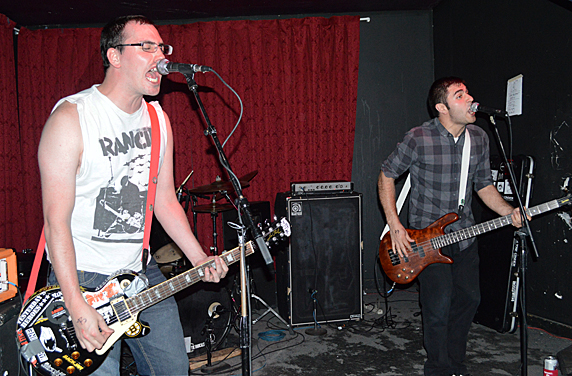 The Radicals
Next up was The Radicals who I had heard do one song at the Thrash n' Bang Christmas party, Six Foot Serenade,and it made an impression on us. That was also the highlight of their set on this night. I thought the mix was a bit messed up but they were pounding it out well enough that it didn't matter. They are very basic punk with a little pop punk in the vocals, it seems to me also. Again the small crowd was upfront and vocal for the band who was talking with familiarity to them.
I had a good two band hit and I split.
I'm always looking at the afternoon shows on the weekends and Saturday had the Boston Hassle Grass Stains Fest show outside at Ringer Playground. At 1 pm there was some people sitting on the ground and Andy California setting up. This is the third week in a row that I've seen Andy McBain, I'm feeling like a stalker but it was just a matter of timing, I swear.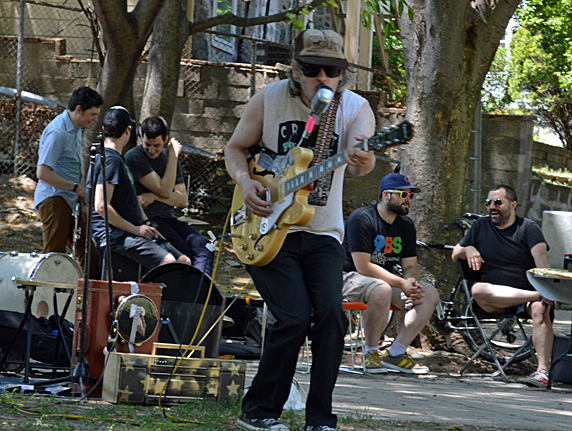 Andy California at Ringer Playground
I wondered what Andy might do to this unsuspecting crowd. He was sitting down doing the blues thing with a drum pedal hitting a suitcase for a drum sound. It sounded rough and authentic in the outside setting. Even in these shorter blues tunes Andy's voice captured the melodic hook. It was all pretty calm until the last song Heart of Stone by the Rolling Stones. He stood up and faced the PA speakers which promptly squealed with feedback. He then walked toward the speakers thereby increasing the squeals and just stood there for a while. People were holding on to their ears. Then he walked toward a guy sitting on the ground and walked up to him to the point where his crotch was in the guys face. The guy then rolled back to the ground and Andy walked over him. Everyone was laughing. The set ends and he got a good response.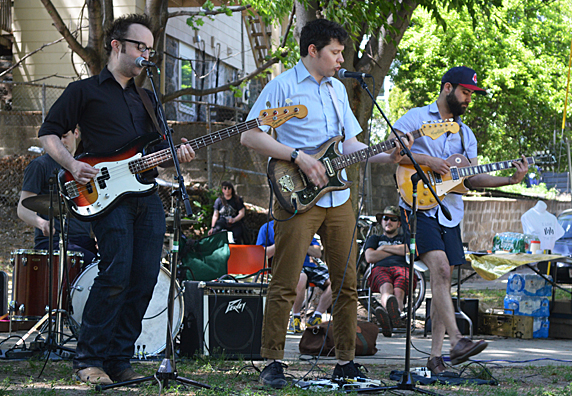 Bent Shapes at Ringer Playground
Playing next was another group I've seen a lot this last month - Bent Shapes. There's no sound check really just sort of plug in and play with small amps and a small PA, yet the sound was very good. I could finally hear the vocals and the guitar interplay was working gangbusters. I'm seeing the benefits of the outside show, something I was never big on. They go through the now familiar set. I loved it. I didn't stay beyond that set but it was going until 6pm.
This was put on by Boston Hassle which is non-profit and has been constantly putting on interesting shows for a few years now. We are lucky to have people who do this because it takes so much time and energy. I know I could never do it and appreciate those that do.
Miss Lyn went to New York City for the weekend and to catch Growing Up in the New York Underground Paul Zone's photography exhibit featuring his photos in his book by the same name. (which you will be happy you bought, and will enjoy for a long time, believe me!!):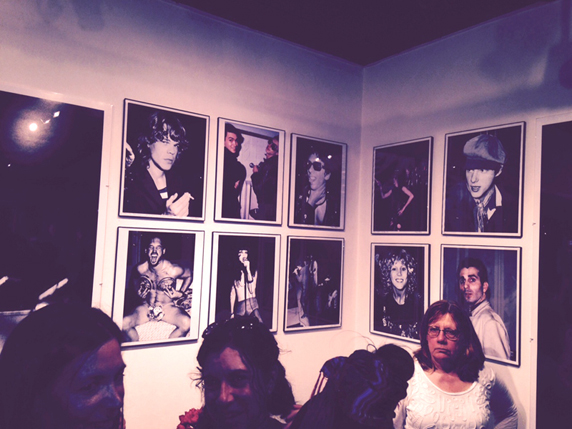 Paul Zone photo Show NYC -
photos of Johanson, Stiv Baters, Mickey Zone and more
The Fast were a great early punk band from NYC who played in Boston often. I became good friends with them, especially Paul and we would always hang out pre-gig and the next day until it was time for them to move on. I remember bringing them to Buzzy's Roast Beef once but I was as appalled as they were because it was in the middle of the day and I had never eaten that food sober!! Anyway the guys in the Fast were super nice and lots of fun. Paul was killer gorgeous, and still is I should add. They wore black leather and vinyl outfits and crazy kabuki make up sometimes, used hilarious props like their giant pencils. They sounded really great too sort of pop punk more than straight ahead punk. it was always so much fun to see them. So I knew I wanted to see this show, Paul started hanging out at places like CBGBs when he was 14 and was somehow smart enough to lug a camera with him to document it all. Good for him and even better for us as we can now see all those fab photos in his book.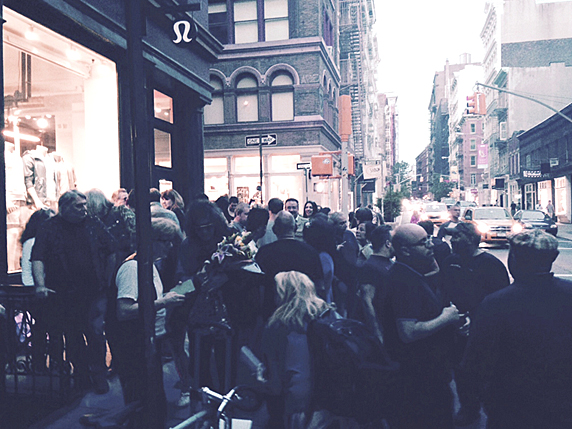 Paul Zone photo Show NYC -
the crowd outside
We arrived at the Leslie + Lohman Prince Street Project Art Gallery around 7 and there was a HUGE crowd outside on the street waiting to be let in! Two doormen would let two or three in at a time when others were leaving. We were let in pretty quickly, they must have known we were from the BGN! We walked down a long thin hallway lined with tons of gig flyers and pages from newspapers and magazine from the old days...mid to late 70's...as well as all the gazillion records that Paul continued to record after the Fast ended. As I walked down that hallway it got warmer and warmer and hotter and hotter and more humid...this place now had its own weather system brought about by the very warm and humid NYC day and the residual body heat coming from all the people packed into the smallish basement gallery space!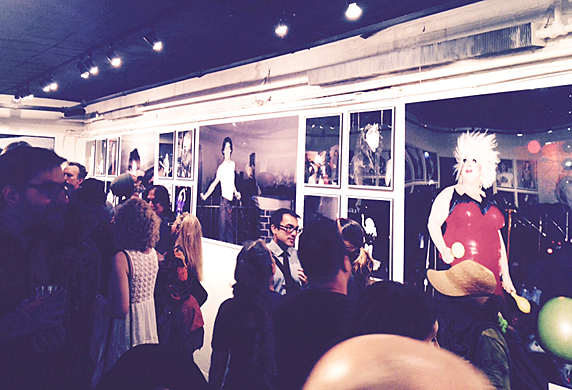 Paul Zone photo Show NYC -
photo of Divine
Wow, it was like a trip through time looking at all the great photos from back then! Stiv, Cheetah Chrome, David Jo, Johnny Thunders, Divine, Lance Loud, Debbie Harry (who showed up to the show...after I left) Jane County, DeeDee, Joey, Lenny Kay, Patti Smith. I did get to talk to Paul, we reminisced a bit but of course he was being bombarded by well wishers and did I mention it was hot hot hot and steamy in there?? And geesh, people in NYC are so cool and SO friendly, very refreshing!! it was a great time.



Paul Zone photo Show NYC -
flyers in halway




Miss Lyn and Paul Zone
in the punk days
Believe me you want the book...you can get it on Amazon easily. Just click here and go for it my friend. And congrats to you Paul Zone on taking all those pics and finally getting them out in this book and having such a great show and opening!!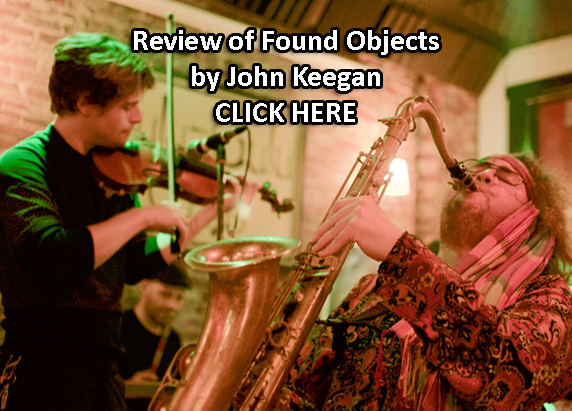 So with that said.....here are some shows that are happening this week....and OMG it's JUNE!!!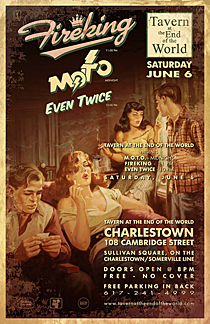 June 4 (Thursday) Motobunny, The Charms, Watts and Greg Allen's Fringe Religion are at TT's. Enjoy the TT's shows while you can!!
June 6 (Saturday) Fox Pass is at Club Bohemia at The Cantab.
June 6 (Saturday) At Tavern at the End of the World you can get MOTO, Fireking and Even Twice.
June 6 (Saturday) Muck and The Mires, The Forz and The Woggles are at The Middle East. Doors are at 7pm- its an early evening show - and its $10 at the door! FB Event page ...buy tix here
June 6 (Saturday) Jittery Jack is up in Manchester-by-the-Sea at 7 Central and it's FREE!!
June 7 (Sunday) The Wrong Chaneys In Residency Night #1 with special guests The Knock Ups, Night Slice at the Midway
And coming up after this week we have.......
June 13 (Saturday) Taxi Driver, Honest John, The Pink Parts and SPO are at The Middle east Up and this is an early evening show starting at 6PM. $10.
June 13 (Saturday) at The Midway - The Kurt Baker Band (from Barcelona - 1 of only 2 US appearances), Jay Allen and The Archcriminals, The Connection and Kris Rodgers and The Dirty Gems...wow now that's a great show!! (FB event page)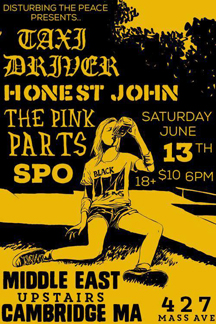 June 18 (Thurs day) Vivi'D Presents : GBH along with Total Chaos, The Welch Boys and Urban Waste at The Middle East down. GBH ruled when they played the ME Down last year!!! (Check out our review b)
June 19 & 20 (Friday & Saturday) it's the Girls in the Garage Music Fest with you guessed it bands with females in them, all at the Lizard Lounge!! For both nights doors are at 7, Music starts at 8PM Check the FB page for set times and to (eventually) buy tix. Check out the particulars below, that's a whole lot of amazing bands!!!
June 19 (Friday) Stars Like Ours (feat. Michelle Paulhus and Kristen Edmonston), The Black Souls, The Charms, Petty Morals, The Evil Streaks and The Dents
June 19 (Friday) Gymnasium, The Titanics and Devil On Horseback are at The Midway
June 20 (Saturday) Cujo, Drab, Axemunkee, Andrea Gillis Band, The Downbeat 5 and The Other Girls
June 20 (Saturday) Bob Colby teams eclectic multi-instrumentalist singer-songwriter Audrey Ryan with Thick Wild (his favorite discovery of last year) at Store 54.
June 20 (Saturday) Rockabilly original Sleepy La Beef played a few punk clubs back in the day. He's turning 80 and having a birthday party gig at Johnny D's , also on the bill are Roy Sludge, Andrea Gillis and Marc Panasky along with DJ Easy Ed spinning discs and setting the mood for the celebratory evening. Check it out and buy tix here. Music starts at 7:30 folks!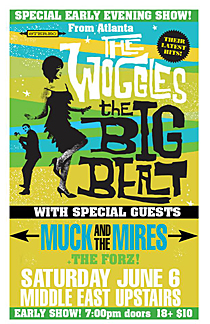 June 20 (Saturday) The Knock Ups, Thalia Zedek Band, plume and Andrew Scandal are at The Midway (a night show)
June 20 (Saturday) You folks in RI check out this show!: The Monsieurs (12), Thee Itchies (at 11PM) Party Pigs (10 PM) and The Neutrinos (9:30) at Dusk in Provi. (FB event page)
June 24 (Wednesday) The Adolescents and The Weirdos with Laughing Stock are at The Brighton Music Hall.

June 27 (Saturday) The Scrapes, The Ungraded, The Swindlers and Yeehaw Jihad are at The Midway. This is a 4-8PM show.
June 27 (Saturday) It's a Spectacular Birthday party at Cuisine en Locale for GRCB- Girls Rock Campaing Boston. It's their 5th Birthday and they are doing it up in style with an ALL AGES carnival themed party 6-10PM --Birthday Cake (a real one!), Carnival Games & Creative Activities, Trivia and Raffles, Temporary Tattoo Station, Photo Booth, DJ SIT N SPIN dance party, Local female rock celebrities playing covers of GRCB band's original songs and tons more cool stuff. Here the FB page so you can stay up to date an all the happenings.
July 5 (Sunday) Caged Heat (yup with Chilly Kurstz, they're back!) , Greg Allen's Fringe Religion, The Low Babies and Lady Pilot are at The Midway. This is an afternoon show at 4PM! Here's a recent interview with Chilly on Blowing Smoke.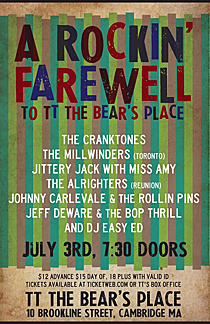 July 10 (Friday) Mr. Airplane Man are back in town with The Monsieurs and Party Pigs are at Cuisine en Locale (FB event page)
July 11 (Saturday) Mudhoney along with White Dynomite will be at The Brighton Music Hall
July 11 (Saturday) it's official The Gizmos (and a TON of other bands) are playing Mutant Fest II at the Blockhouse in Bloomington IN. FB event page
July 14 (Tuesday) - WHAT a great show this will be The Rezillos with Petty Morals and Casanovas in Heat at Johnny D's. And the Rezillos have a new full length CD out. There will be a CD and a limited edition vinyl album available at the shows !! Get tix here.
July 17 (Friday) at Club Bohemia - Greg Allen's Fringe Religion, Caged Heat, and the Black Souls.
July 18 (Saturday) Mission of Burma opens for The Foo Fighters and the Mighty Mighty Bosstones at Fenway Park
July 22 (Wednesday) Jaz Coleman founding member of Killing Joke is doing a Spoken Word performance at The Middle East Down. its al about his new book: "Letters from Cythera". Jaz will delve into his many experiences that have influenced his philosophical outlook on life and also discuss, Supersynthesis, a principle which has facilitated his many accomplishments including acting, conducting, singing, composing, geometry, architecture, and occult history. Tix available here. This one will be different, there's seating and VIP seating tix for this show.
July 24 (Friday) WOW! check this out: Bim Skala Bim and the Pajama Slave Dancers are at The Middle East Down along with Brunt Of It, Zeme Libre and The Porter Squares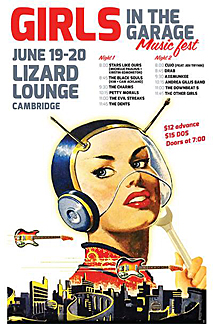 July 26 (Sunday) Screeching Weasel, plus The Queers and The Mr. T. Experience are at The Royale. You can get tix here. This is a 6PM show!!
July 26 (Sunday) Matinee show at The Middle East Up with Band Without Hands, The Knock Ups, Radio Compass, Happy Little Clouds. Doors are a 1PM
July 30 (Thursday) There's a mega hardcore show at Cuisine en Locale with Power Trip, Foreseen, Boston Strangler, Peacebreakers, Freedom, Fury, Red Death, Intent, CIAC and Take Control. Music starts at 6:30 SHARP doors are at 6.
July 31 (Friday) "THE DAMNED: Don't You Wish That We Were Dead" documentary is FINALLY playing in Boston!! It's at the Regent Theater at 7:30. You can buy tix here. Watch the trailer here.
August 3 & 4 (Monday and Tuesday) Darkbuster returns!! at The Sinclair. Get your tix here but act fast friends!!
August 3 (Monday) Tsunami of Sound and The Vista Cruisers are at Opus Underground, Salem.
August 6-8 (Thursday - Saturday) Boston Fuzzstival 2015 is at The Middle East Down. The Fuzztival highlights "the best bands in the region that make psychedelic/fuzz/garage/surf rock" and its goal is "to build bridges within the local music community." Stay tuned for the lineup and more info keep checking their FB page!
August 8 (Saturday) - Head over to Store 54 to help Bob Colby celebrate his birthday (two days early) with The Rationales and My Own Worst Enemy!
August 22 (Saturday) Memphis Rockabilly Band is at the Marshfield Fair. check out the particulars here
and of course The New England Shake-Up! September 25,26,27 2015! Keep yourself updated at their FB page
CONTACT US AT…….misslynbgn @ yahoo.con Send us your gig listings, your news and anything else ya got!!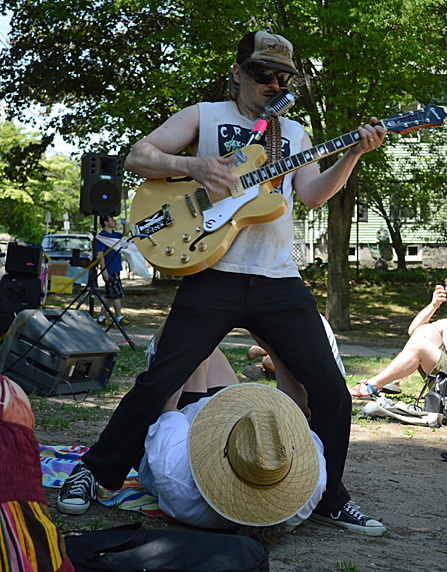 Insect Surfers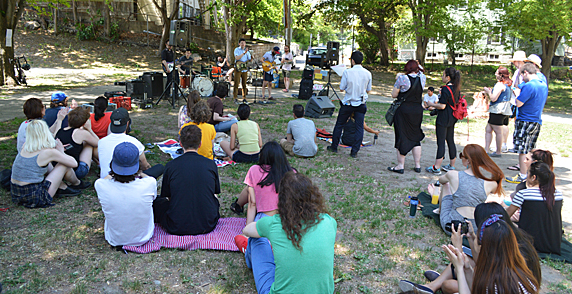 The sparce audience at 2pm Ringer Playground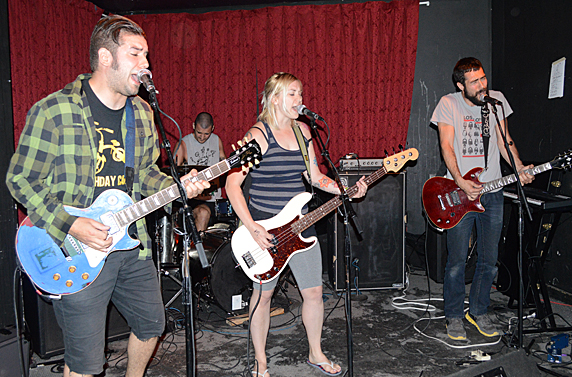 Oh My Snare! at O'Briens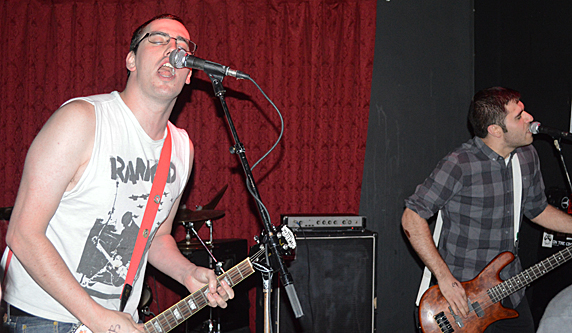 The Radicals at O'Briens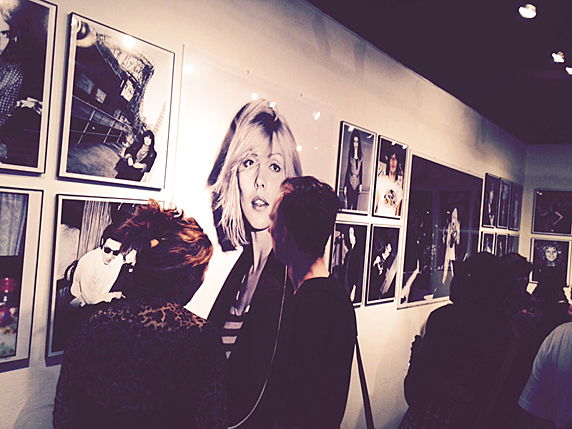 Paul Zone show - Blondie