The BGN News Archive
June 2, 2014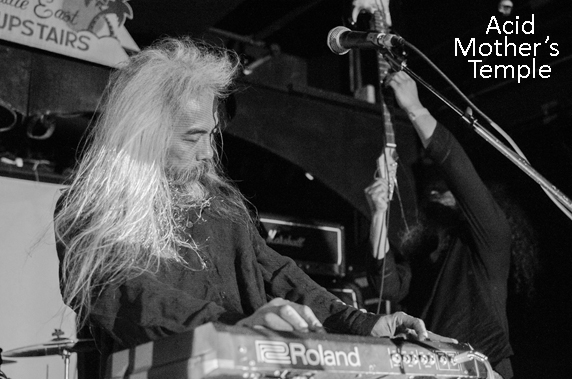 Since it was a vaca weekend for some of us at the BGN there's not much to report for outings on our part on this page BUT John Keegan made it out to see Acid Mother Temple at The Middle East up so check out his appropriately trippy review and always great photos!! Read it here
It's Boston and there's loads of great stuff happening......and of course there's always a very entertaining Kenne Highland at Large column for your reading pleasure as well this week he talks about The Murder Junkies show and Jennifer Love Hewitt too among many other things. Enjoy reading it here, it's a good one this week. .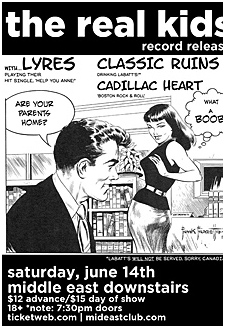 The Let's Go to The Rat movie is going to be premiered in a public showing this coming Saturday afternoon in Lowell (more info below) and Andy has started working on the Women Who Rocked Boston doc as well. Liz Borden and Jody Moore others are helping him with it too.
The Real Kids CD Shake...outta control is is getting closer to being released, Rick Harte. We got one of two advanced copies and Blowfish reviews it here.....check Ace of Hearts Records' website for ordering when its ready!!
Previously we mentioned that punk movie that was casting...The folks at Ungovernable Films have now started a Kickstarter page to fund the film An Ungovernable Force so far they do have some interesting people in the cast: Nick Cash (999), also Steve Ignorant (CRASS), Shend (The Cravats), Steve Lake (Zounds), Zillah Minx (Rubella Ballet), Mensi (Angelic Upstarts)...as well as Merle Allin of The Murder Junkies Apache Ramos from The Warriors (best movie evah) and WMFO DJ Brian Young. Even if you dont want to contribute $$ go to the Kickstarter page for a fun read!!
And for upcoming shows we want to mention.....
Watts are opening again for Cheap Trick at the Hampton Beach Casino this Thursday June 5.
Friday June 6th Gunpowder Gelatine, Bikini Whale and Pretendica are at Johnny D's in Davis Square
Also on Friday At The Plough there's The Dirty Truckers, A Bunch of Jerks and Dots on Dice
And tix are still available for the Rock ON Cruise with the Queers this Friday 6/6....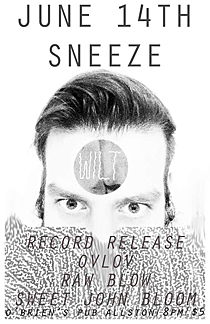 Let's Go to The Rat, the doc by Andy Szava-Kovats is being shown for free at Mill No. 5 in Lowell 2-3PM....it should be nice to see it on
the big screen. Of course Blowfish and Miss Lyn are in it!! YAY!
This Saturday June 7th Brian Young Crash Course for the Ravers on WMFO 91.5 (1-4PM) is having LiteHouse live in the studio- tune in for that.
My Own Worst Enemy is at Sally O'Brien's this Saturday 6/7 along with Desolation Bells and The Easy Reasons ...
Saturday June 7th Paul Robinson and Patti Moore are putting on a benefit for Autism and the organization Surfers Healing. Its at The Dog Bar in Gloucester and playing will be, from New York, Drive aka Talk Of The Town, Funbucket, Inge Berge, Girl On Top, Cripple Cove Quartet, and more TBA. This is a daytime show, Noon - 6PM More info here.
Sunday June 8th The Midway has The Humanoids along with Problem with Dragons and Looker....it's an early evening show at 4PM
Thursday June 12th at Church is a Boston Hassle sponsored event with some low key noise bands Ed Schrader's Music Beat presents The Abominable Skimask, Gondoliers, (New England) Patriots
Gizmos World Tour ...Thurs-Sat, June 12, 13 & 14.....Here's their Kickstarter page (they could still use some $$ folks)....this Gizmos is the original Gizmos plus some guests: Kenne Highland, Eddie Flowers, Ted Niemiec and Rich Coffee with Max Demata on bass from Sonic Daze, John Terrill on drums from Dancing Cigarettes and Ian Brewer guitar from the Panics....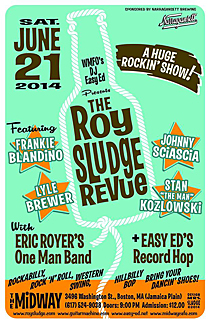 Thursday June 12 at The Bishop (Bloomington, IN) its the very first Gizmos reunion gig with Indiana Scuzz Punk bands: Apache Dropout, Deezen, and Cowboys, sharing the bill....
Friday June 13 at The Melody Inn (Indianapolis, IN) also on the bill: Apache Dropout, Deezen, and Brothers Gross....
Saturday June 14th at Blind Bob's Bar (Dayton, OH) also on the bill: New Regrets, The Give-Ups, Apache Dropout, and Deezen.....
The...The Real Kids at The Middle East down is getting closer! It s Saturday June 14th with Lyres, Classic Ruins and Cadillac Heart!!
Bob Colby Presents Licious, Lair and Missing Mars at Store 54 on the 14th also
see more Church gigs....June 20th The Welsh Boys, Sprained Ankles, Guns of Brighton and The Blue Bloods.
Also on Friday, June 20th Triple Thick celebrates 15 Years of Triple Thick at The Plough and Stars!! Well we're happy they are still around. So Triple Thick and The Monsieurs will be playing.
June 21st Muck & The Mires are at The Plough.
Also on June 21st at The Midway there's a special Roy Sludge Revue (featuring Frankie Blandino, Lyle Brewer, Stan "The Man" Kozlowski, and Johnny Sciascia!!!) , Eric Royer's One Man Band along with Easy Ed's Record Hop.
At The Tavern at the End of the World there's a "welcome Back party" for Michelle Johnson-Kish on the bill will be Rockin' Bob kicking things off followed by Dots on Dice, The Dirty Truckers and Jay Allen and The Archcriminals
Ken Scales says : Adventure Set will be at Bill's Bar on Thursday June 26TH....with very special guests Casey Desmond & Cemetery Girl also....Adventure Set's new 4 song EP "GAZEBO" will be out in June 2014.
Always promising an interesting experience Walter Sickert & the Army of Broken Toys (12AM) are at TT's along with Parlour Bells, Muy Cansado and Future Carnivores on Friday June 27th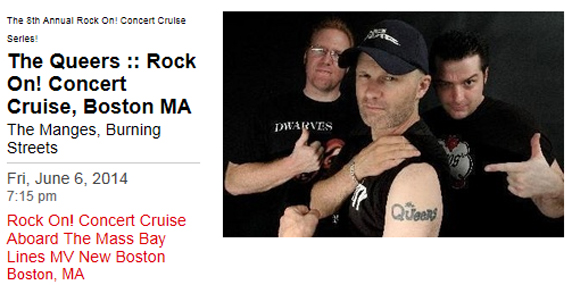 Friday July 25th at The Midway, Cincinnati band Wussy is playing along with locals Slowdim and Brother Fight.....
July 15th has FuzzStompin' GarageSoul with Thee Legendary Rockin' Prophets at O'Brien's.
Friday July 25th has a great show at Great Scott's with Razors In The Night (Record Release Party! & we're happy to see they are out and about again!), Panzerbastard, The Blue Bloods, and Taxi Driver
And here's some big news Terry Brenner's bringing The Real Kids and Nervous Eaters and Greg Allen's Fringe Religion to The Spotlight Tavern in Beverly on August 2, that's a Saturday night !!! Thank you Terry!!
Echo and The Bunnymen are at the Paradise August 14th!!!
It's Hixxmas in August folks! On August 23rd at Club Bohemia at The Cantab it's Hixx and Psychic Dog and more bands TBA...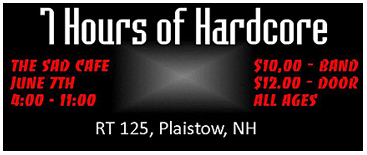 John Lydon was to play Boston in a huge production of Jesus Christ SuperStar , playing King Herod...BUT IT HAS BEEN CANCELLED...you can read about it on BroadwayWorld.com

We finally get to see Dave Minehan with The Replacements since they are on the bill for the Boston Calling Show in September (5,6 & 7) later this year!

Saturday September 13th is Matt Burns' 60th Birthday Party! He's celebrating at The Lizard Lounge. So far the bill includes Litehouse, The Handymen, Kenne Highland, and more bands to come.....

There's also a excellent show at The Midway on Sept 13. Cal Cali brings us Lyres-Nervous Eaters-Cal Cali Band- The Invaders (Les Envahisseurs-from Quebec) - whew!!!

The 2nd Annual Rat Beach Party is already well in the planning stages...its set for September 14th& 15th and here's a list of bands so far: Saturday night- Red Parrot Beach Bar starting at 7PM: Hardwired -- Heavy Weddle & Sweet Release -- Severance (or Band To Be Announced) -- JetSet -- Billy Rath & The Street Pirates -- Open Jam to close

Sunday afternoon/evening: Red Parrot Function Room, Beach Bar and Back Room Lounge starting at 12:00 -- The Beachcombovers (Function Room) -- Hardwired (Beach Bar) -- The Boize (Function Room) -- Gino Caira Band (Beach Bar) -- Count Viglione Love & Flame (Function Room) -- Hixx (Beach Bar)-- State of Union (Function Room) -- GraveDancers (Beach Bar) -- The Derangers (Function Room) -- The Workers (Beach Bar) -- Liz Borden (Function Room) -- Kenne Highland Clan (Beach Bar) -- Slow Children (Function Room) -- Pop Gun (Beach Bar) -- Gyro Lula (Function Room) -- Moose & The Mudbugs (Beach Bar) -- Tsunami of Sound (Function Room) 8:30 -- Masters of The Obvious (Beach Bar) -- Red House (Beach Bar) - Real Real Bayou Band (Beach Bar) -- All-Star Jam led by Cindy Daley, formerly of Lovelace.

September 14th -a Sunday daytime show- at the Midway will bring us The Members!!

October 5th - a Sunday daytime show at The Midway will bring us The Vibrators!!!

CONTACT US AT.......misslynbg@yahoo.com Send us your gig listings, your news and anything else ya got!!

X