The BGN News Archive
June 3, 2013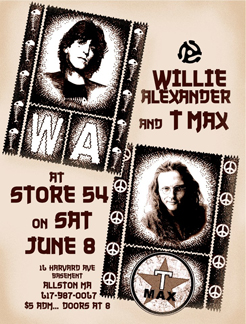 Well all these years and he wanted to be on the cover of a Punk magazine...well we don't officially have a cover anymore but I guess this is the closest we have to it....Gary Storm sent us a link to his video Cover of a Punk Magazine and you have to check it out- it is a trip down memory lane guys!! And of course the BGN is right in there unlike the new book Punk Press..grrrrr. Thanks Gary Storm !!
Hey folks, if you haven't already, make sure to check out Rick Corraccio's FINAL entry for A Lyre Retyre Chronicles.....Rick is an amazing writer and we have been thrilled that he has written so many great Journal Entries for us...this last one is a great one as usual and the pics!!! WOW!! Thanks again Rick we will miss your amazing stories and insights into what it means to be a Lyre!!
Now for stuff that's coming up:
Oh its June! Don't forget this Tuesday, June 4th The Stranglers and The Nervous Eaters are at the Brighton Music Hall. That's a great bill! Alas it's the Stranglers without Hugh Cornwall.
This Thursday!! The opening for
FROM BOSTON TO THE BOWERY: Photos by GODLIS 1970-1979-John Nikolai has put together this show of photography by Godlis over at The JP Art Market - here's the scoop: In the early '70s, Godlis was a photography student in Boston, relentlessly documenting the city streets and everything that struck his interest. Not long after getting his first review of his exhibited work in The Boston Globe, Godlis left Boston for New York arriveing just in time to become a solid fixture of the foundling NYC punk scene which he found waiting for him at CBGB upon moving to New York. His iconic images of Patti Smith, the Ramones, Talking Heads and other bands who began in that era have become part of popular culture and his many of his photographs of Boston are being shown for the first time in this exhibit. "FROM BOSTON TO THE BOWERY: Photos by Godlis 1970-1979" captures enthralling moments frozen in time in two different places in an exhibit that is very Boston, very NYC, very punk rock and very 1970s. ...Godlis will give a special talk at the Opening Reception at 5:45PM!!
we have a great weekend comin up too folks: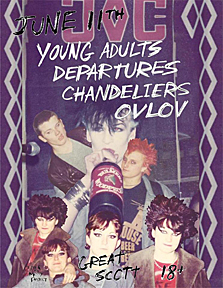 HEY - Saturday JUNE 8TH!!! Blowfish and Miss Lyn will be on A Crash Course for Ravers Show on WMFO 91.5FM 1-3PM talking to Brian Young and Mike Stewart and spinnin' discs of our choice.....listen in!!! We will be followed by special guest Carl Biancucci who will be talking about the Viva La Eva Benefit coming up 6/13.
After the show Brian Young will be heading over to radio for his gig - his band The Thigh Scrapers is playing with The Scrapes, Tsunami of Sound and Bob Cenci....
But HEY! Sat the 8th also - Wayne Viens has Willie Alexander and T Maxx at Store 54 over in Allston! Then during the day on Sunday June 9th 11AM- 4PM is TT's The Bear's Annual Spring Flea Market with loads of awesome vendors they are offering a curated an amazing mix of vendors selling: Vintage, Clothing & Knick Knacks - Tons of Vinyl - Collectables & Kitsch - Handcrafted Items - Jewelry - Rock and Roll memorabilia, Musical Items & MORE! Plus there'll be hot dogs and Bloody Marys!!
Ducky Boys do a Dead End Streets Record Release show on Sunday June 9th with The Swinger Utters, Goddamn Gallows, Welch Boys at Middle East Down...
Tuesday, June 11...The Young Adults are at Great Scott's...
Thursday June 13th- Viva La Eva Benefit for Eva Lipton at TT The Bears:
Ivan Lipton is a huge Boston music fan, and was the VP of Strawberries back in it's heyday. His daughter Eva was in a horrible crash last year -- she's still on life support and fights to recover daily. The lifelong costs for her care are astronomical, so her family really needs your support. Boston rockers are going to help here's who's playing:
Classic Ruins (going on at 8:30) ... Roy Sludge...The Bristols... The Neighborhoods... The Dogmatics...The Downbeat 5...The Dents and Upper Crust (Ending the night). That's one hell of a night for a great cause...You can buy tix here....TIX
Oh one more thing: From Ivan Lipton: We hope as many friends as possible can make it to TTs to see all these great bands! If you can't make it, but still want to support Eva you can donate on Paypal to: EvaLiptonBenefitFund@gmail.com
Also on Thursday June 13th is the first Bob Colby Second Thursday at Club Bohemia Downstairs at The Cantab...and he has a great line up with Mary Lou Lord, Matt Mingell, Kingdom of Love and Randy Black.
June 15th is a happenin' evenin' with - Jonathan Richman at The Somerville Theater!!
Also on 6/15 The Middle East Down has The Adolescents, The Casualties, Tenebrae, and Done With You
and then we have Muck & The Mires at The Plough...
Friday June 21st at The Hard Rock Café (wherever that is ) Boston Rocks for the OneFund with Charlie Farren, LizBorden Band, James Straight and The Wide Stance, Adventure Set and other...
June 22 - GG Allin Remembrance Show -and bake sale- at The Midway!!! - This is going to be a great show and an early show from 2-8PMfolks!! The original Jabbers are making their way down from NH to play at The Midway...This is the 20th Anniversary of GG's death and all proceeds from this show go to GG's daughter. Here are the bands: The Jabbers, The Pity Whores, Antibodies, Meat Depressed, Red Line Rebels, The Manglers, Insult, Taxi Driver, Connection and more!!!
So Cal Cali has been working on booking shows at a couple clubs in the area like The Midway and PA's Lounge so after 8PM at the Midway this same day the 22nd Cal Cali has his New Experience, Tsunami of Sound, Foxpass and Answerman....
At PA's on June 28th Cal's got MOTO and JetSet and he's working on a third band as well.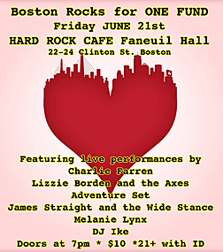 June 29th at The Midway you'll find the Dirty Truckers and Slim Jim and The Mad Cows.
and coming up in July: Awesome Day Festival at O'Briens with Cult 45 and The Humaoids on the 6th....
Fleshtones at Church on the 12th and ....
Petty Morals on the 19th at Great Scott in Allston
Pere Ubu is at Brighton Music Hall Saturday, September 4th!!!
Chris Brat (Marvels, Acrobrats, By The Throat and so on) has yet another new band Duck and Cover and of course they kick ass...we can't wait to see them play out somewhere but until then you can hear rough mixes of their songs here...on SoundCloud
EMAIL US AT.......misslynbgn@yahoo.com