The BGN News Archive
June 3, 2019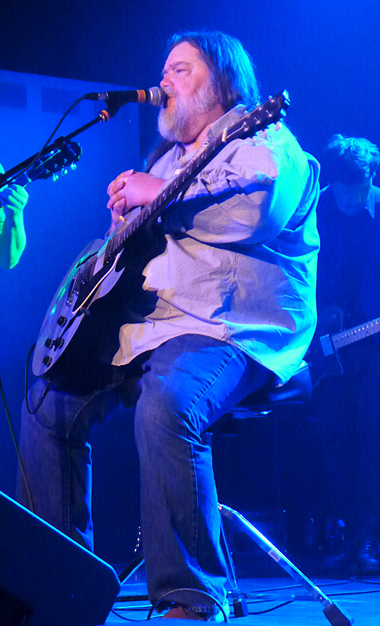 Roky Erickson at the Brighton Music Hall
Photo: Blowfish
This week we heard of the death of Roky Erickson. It was unexpected in the sense that Roky seemed like he was there forever and was indestructible despite a hard life. He influenced decades of musicians. As an example, the whole idea behind the Misfits seems to start with Roky.
When punk started, the older rock acts were mostly dismissed, only a few were seen as worthy. When Roky put out the single "Bermuda" in 1977 it, and him, were embraced by the punk movement. Blowfish was doing the Late Riser Club then and he remembers all the DJ's jumping on that single and playing it as much as new punk act.
Roky's hard life has been documented. We'll never really know if his mental issues were because of his LSD use or if they were exacerbated by it. But those trials became part of the legend. Roky had a second career starting with "Burmuda" and the LP, Roky Erickson and the Aliens, that followed in 1980 is an all-time rock classic of immense influence.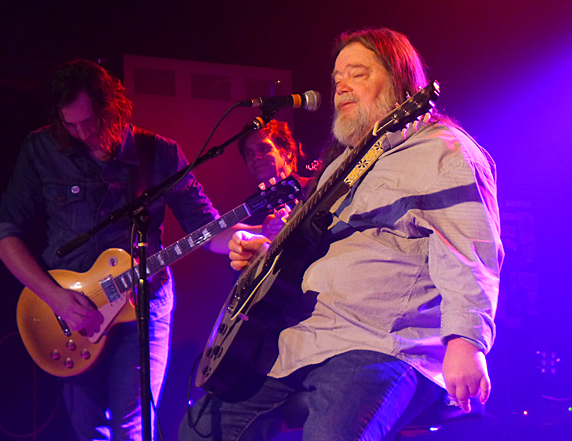 Roky Erickson at the Brighton Music Hall
Photo: Blowfish
We saw Roky play at the Brighton Music hall in September of 2017. He sat for the whole set, in fact he hardly moved and never said a word to the audience but when the band played and he sang all the magic was there. When he sang of demons they seemed real and dangerous. He evoked a horror world of Zombies, Gremlins, Two Headed Dogs and a Creature with an Atom Brain. Those songs sounded like someone observing what they were seeing and telling the story like a reporter. It was genius in its invention and performance. RIP Roky.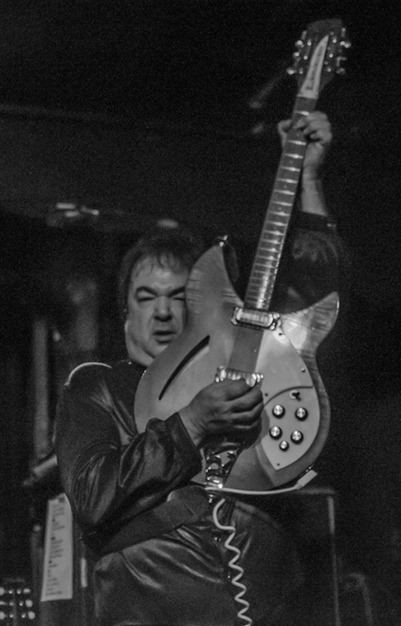 Jeff Walls - Woggles
Photo: John Keegan
On April 28 the Woggles posted on Facebook that guitarist Jeff Walls a/k/a Flesh Hammer had a rare pulmonary disease (PVOD). A month later, this week, on May 29 they posted that he had died. If you ever saw the Woggles live, and if you haven't you are missing something, he stood out as much as the magnetic lead singer, the Mighty Manfred, as a stage presence.
We have posted Woggles' shows we saw in 2009 , 2015 with Muck and the Mires, The last time was October of 2018 again with Muck and the Mires.
In 2009 the band played "Valerie" by the Monkees and Jeff took on that insane run of scales across the neck that are on the record and it was a stunner. We'll always remember that moment but it was with every song and every show, that Jeff was entertaining and memorable. It's such a sad loss in general and specifically for the tight knit band. Our hearts go out to them.
---
Saturday we tried to get to the Middle East to see the Reunion of Artists from Cantones, The Rat, The Club, The Channel. We were headed into Central Square around 6pm but we never got there. We were rerouted because of the Riverfest going on. We then spent almost two hours trying to work our way in from different directions, no way. After the last attempt around 8 pm the streets were still blocked we headed to the Midway. We weren't the only ones that had that problem!
The Midway was over half filled, even on the early side, for the promising bill. It was one of those bills that Muck and the Mires rounds up. Muck not only brings the music, now they are bringing the good shows too.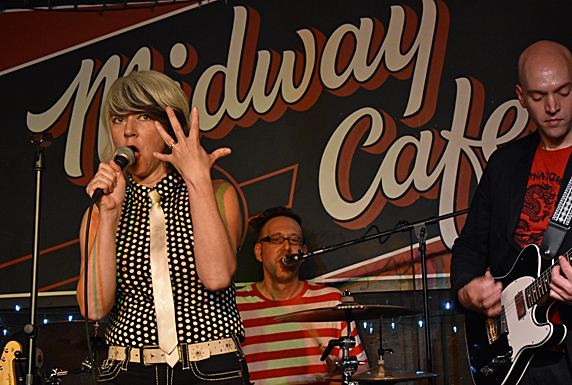 The Electric Mess
Photo: Blowfish
The Electric Mess have played Boston many times. We saw them in 2016. We liked them but they clicked much more this time. They worked better maybe on the larger, raised Midway stage. Even before they played a note we were awed by lead singer Esther Crow's mod outfit. She had a black and white polka dot shirt, white tie, white belt, tight black jeans and really pointy white shoes. Add to that her white hair with a black streak and a cherry red guitar and that was one cool look. The organ player, who had a Farfisa to begin with, also had a 'look' and a pair of shoes even pointier than Esther's. It was hard not to have your attention riveted on Esther. It was a combo of her singing and stage show. Some of her moves got theatrical. She did lots of mugging that added to the effect of the songs.
Their main musical thrust was garage but they seemed to throw anything else in there that fits. They didn't waste time trying to be authentic in any way, they concentrated in rocking it out. The organist stamped many songs with the whirly Farfisa sound, but also tucked in some Korg synth lines. The guitarist was filling some songs with trebly riffs from front to back. Even his lines on the lower strings seemed sharp. The bass player was playing fluid and melodic lines that were a big reason the overall sound held together. If we get to see the group again we would spend more time zeroed in on his interesting playing.
The best song was one where they were singing, "I'm Living in a Cesspool". We can't seem to find it on their Bandcamp page. But all the songs had momentum and carried you along with the high powered performance. The audience was eating it up.
In between bands Easy Ed was spinning his obscure 45's. We would kill to have a collection like that.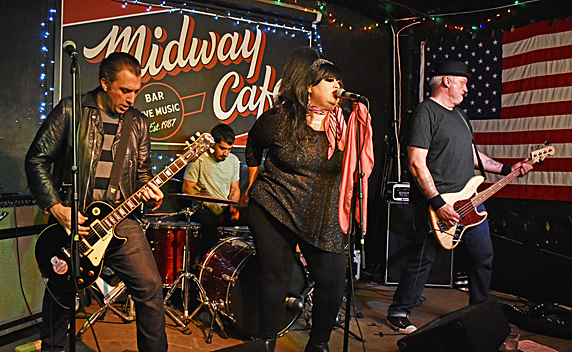 Vicky and the Vengents
Photo: Blowfish
In the posters for this show the face of Vicky of Vicky and the Vengents was prominently displayed. Live you can't look away from her huge hairdo. It's a miracle of engineering. You can see just from Vicky's looks that she takes a lot from the sixties girl groups and that was true musically. What we liked about that group most was that even though those sixties groups were their main influence the band played with a hard rock edge that had a contemporary feel. They didn't try to mimic the sound of the era that way.
The group plays simple. The chords are all straight ahead and the progressions are well worn but they play like they invented it yesterday. In one way it almost didn't matter because Vicky's voice dominated it all. She had a powerful delivery that was always working a solid melody in perfect tune. You just got carried away with it. We see so many groups but don't often hear a voice like that. Vicky would be a phenomenon no matter what she was singing. We are lucky it's in the service of rock.
They played "Do You Wanna Dance" via the Ramones version later in the set (second video above) and was fun to hear her sing a cover. They got an encore which they didn't seem prepared for but got together and worked up -"Shout". That song with that voice!! You better believe it shook the walls.
Muck and the Mires
Photo: Blowfish
As we prepared ourselves mentally for the usual aural avalanche that is Muck and the Mires we realized that both The Electric Mess and Vicky and the Vengents had characteristics that Muck have, which is why they like them probably. All the bands play a rushed set, they take from the sixties...they had strong on stage personalities, they put on a show and are excellent players.
Muck proceeded to do their thing and for us, it never gets tired. If anything they seemed to play even more intensely than ever. Is that possible? Looking at it like a song/energy ratio, it seemed like they were doubling down on the energy side. The two previous bands were no pushovers but Muck and the Mires left no doubt that they rock the hardest, had the most songs and were having the most fun. They only stopped to do fast intros to the next song and then once to mention Roky Erickson and Jeff Walls and play a song for them.
After a generous set it was still not enough for the lucky audience and they did two more encores.
What a friggin' night.
Click Here for more band photos.
Last Sunday John Keegan went to Providence to the Scurvy Dog Parking Lot Mega Fest. Bands included The Hi-End, Little Billy Lost, Death Pesos, New Hell, Zero Hour, MOTO, Throne of Saturn, Towanda and the Blasphemaddicts.
To see a slide show of the bands and crowd and a write up click the photo below.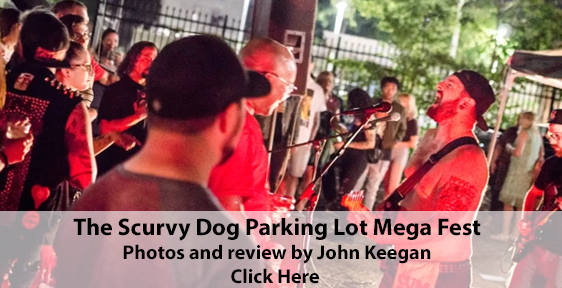 ---
And in other news.....

TheAsa Brebner Memorial and Celebration is happening on June 9 at the Regent Theater in Arlington. It's going on from 2:30 to 7PM. It is described as: A memorial and musical celebration of the life of Asa Brebner with music, memories and pictures. He touched and inspired so many people. Today we will honor his friendship, artistry, and legacy. Eventbrite page

As a tribute to Roky Erikson, Mitch Murphy (Triple Thick) and Kenne Highland are putting together a set of Roky songs and will be doing a show in late October.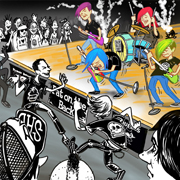 Color Killer have released another single on Bandcamp. "Pat on the Back" is another pop punk gem. The lyrics seem to show they are pretty pissed off at somebody. Also with these newer releases they're getting some cool comic strip images to enhance their brand. Check out Pat On The Back.
A while back we reported on a couple great punk exhibits at museums in NYC. Here's another place to add to your NYC trip, a photo show called "The First Time I Saw the Ramones," by photographer Tom Hearn. Tom was with Legs McNeil as they went out to find the nascent punk scene in NYC. The show is at the 72 Gallery in Lower Manhattan. But hurry up coz it closes June 6th!! Check out some of hte photos on gallery website. and a slide show of a few on Flavorwire. But the best show "Punk Lust" at the Museum of Sex runs through November and is most definitely worth a look.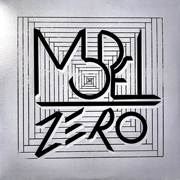 Slovenly Artist Model Zero cover the Buffalo Springfield's "Mr. Soul" and it is Cool, cool, cool. We have it on our Top Ten Songs.
Also in there is another Rum Bar group, Cheap Gunslingers with a song called "Good Time" that echoes Mink DeVille more than a bit.
Both Debby Harry and Iggy have books coming out this year. Debby Harry has Face It and Iggy has 'Til Wrong Feels Right. Read about it here on Radio.com.
There are three new showings lined up for the Chet's Last Call: A Story of Redemption: July 5th Friday The Somerville Theater, July 22nd Monday The WHAT in Wellfleet and August 1st Thursday at The Brattle Theater in Cambridge. Chek out the trailer here.
"Rockaway Beach" by the Ramones is going to be covered by Beach Boy Mike Love on his next album. Read about it on Billboard.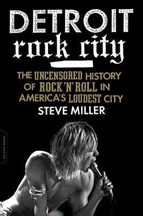 The Trinary System (with Roger Miller) has just (as in June 1) released a new CD Lights in the Center of your Head They're having a CD elease party at Once this Saturday June 8th. Get tix here. They are doing an early 8PM sset.
There's a lot to read at the appropriately titled website Longreads: and this one is a long read but well worth it: An Oral History of Detroit Punk Rock is adapted from Steve Miller's book Detroit Rock City: The Uncensored History of Rock 'n' Roll in America's Loudest City which came out in 2013.
In the works is a film based on Women of Rock Oral History Project which is currently hosed at Smith College. Please Kill Me has a lengthy interview with the founder of hte project, Tanya Pearson...sprinkled throughout are clips of interviews with various women in rock like Lydia Lunch Jean Millington, Excene Cervenka etc.
Here's a great video of the Dead Boys at CBGB's in 1977.
---
Here's some good shows coming up this week.....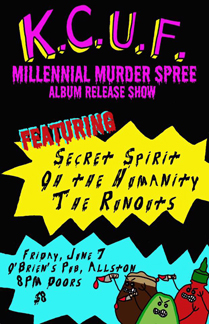 June 5 (Wednesday) Mad Painter Live at WMFO 91.5 10PM

June 7 (Friday) The Natty D's, FiDEL, Coffin Salesman at The Jungle Union Sq Somerville.

June 7 (Friday) KCUF, Secret Spirit, Oh The Humanity!, The Runouts at O'Brien's Pub

June 7 (Friday) 61 Ghosts, Cal Cali Band at Tavern at the End of the World.

June 7 (Friday) Billy Connors Project, Jay Allen & Archcriminals at Club Bohemia

June 7 (Friday) Jittery Jack & Amy Griffin at The Book & Bar, Portsmouth

June 8 (Saturday) A Crash Course For The Ravers WMFO 91.5FM has Lucretia X. Machina of Lucretia's Daggers

June 8 (Saturday) It's Arlington Porchfest and Justine and Her Black Threads (featuring Justine Covault, Johnny Sciascia and Jim Scoppa) will be playing Porchfest at 15 Lombard St at 2PM Here's the FB page for more info.

June 8 (Saturday) Medical Maps, Peachfuzz, Triple Thick, Church & Puppets at Union Tavern (formerly PAs)

June 8 (Saturday) Tad Overbaugh and The Inebriations at The Square Root in Roslindale FB page This is a free event. You can donate if you want to support the organizers.

June 9 (Sunday) Asa Brebner Memorial and Celebration at The Regent Theater in Arlington It's from 2:30 to 7PM. Eventbrite page

And further out there is......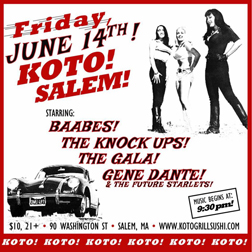 June 10 (Monday) Cook Bag, Voice of Addiction, Local Cult, See This World at Charlie's Kitchen
June 12 (Wednesday) Glider will be on the Heavy Leather Topless Dance Party. Check out the FB page for access. 8:30-9:30PM
June 13 (Thursday) bloom., Smilin' Issac, Threat Level Burgundy, The New Limits at The Hong Kong
June 13 (Thursday) Order 66, Circus Battalion, Deranged Youth at the Jungle
June 14 & 15 (Fri. & Saturday) The Fuzztival at Once Ballroom.
June 15 (Saturday) Thee Fightin' Fish, The Billy Connors Project, A Bunch Of Jerks, Club Linehan A Go Go - 3-7 matinee at The Midway
June 15 (Saturday) The Daylilies, Justine and The Unclean, The Chelsea Curve at Sally O'Brien's
June 15 (Saturday) Nervous Eaters with The Stigmatics at Pete's Grill in Quincy cover charge is only $5!!! FB page
June 15 (Saturday) Silver Screams, Brix'n Mortar, The Downhauls at Atomic Cafe (Cabot St Beverly)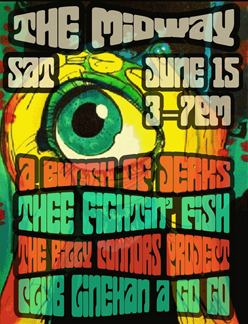 June 15 (Saturday) The Gala, Zip-Tie Handcuffs, Ben & Jolly Janes, Green Piece at UnchARTed Lowell
June 16 (Sunday) OC45, Hobo Chili, C.O.B., DNZL at The Midway a benefit for the New England Center and Home For Veteran's 3-7PM All Ages
June 18 (Tuesday) Deaf Poets, Black Beach, Friendly Psychic Strangers at O'Brien's
June 21 (Friday) Sky Tigers, Secret Spirit, The Lipstick Boys at The Jungle
June 21 (Friday) Kid Gulliver, Stars Like Ours, The Rationales at Sally O'Brien's
June 22 (Saturday) It's Quincy Porchfest!!! At 62 Prospect Ave Quincy you can find - Order of appearance starting at 1pm and every hour on the hour- The Fringe, Thee Fightin' Fish, The Stigmatics, Baabes, Glider, The Thigh Scrapers, Charlie Don't Surf a tribute to The Clash FB page for directions etc.
June 22 (Saturday) The Gala, The Dazies, Haunted Horses NYC, Lockette at The Midway
June 22 (Saturday) writer Joe Milliken is having a book event to promote his Ben Orr bio Benjamin Orr and The Cars at 9 Wallis 8-10:30PM FB page
June 22 (Saturday) Stars Like Ours, Little Billy Lost, Thinner, and The Stigmatics at Ralph's Rock Diner Worcester.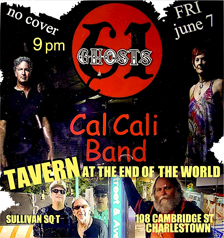 June 23 (Sunday) Teenage Bottlerocket with Ramona, The Young Rochelles at Once
June 23 (Sunday) The Ones You Forgot, The Burning Lights, Stubborn Hearts, Waiver Wire at O'Brien's
June 27 (Thursday) Let's Go! Author Event & Cars Tribute Concert at 9 Wallis in Beverly FB page
June 27 (Thursday) Powerslut, Thrust Club, Radium Girls at The Jungle
June 28 (Friday) Labor Hex, Ultra Major, The Endorphins at O'Brien's
June 28 (Friday) State Line Records Night at the Midway Round 1: Stray Bullets, Secret Spirit (NH), Stolen Wheelchairs (PA), Doc Rotten (NJ) at The Midway
June 29 (Saturday) The Old Edison, Coffin Salesman, Time & Place, Loser's Circle at The Midway
July 5 (Friday) Cal Cali Band, GLiDER, Mad Painter at KOTO Salem
July 6 (Saturday) The Hi-End, Nat Freedberg, The Worried at Sally O'Brien's
July 9 (Tuesday) Some Kind Of Nightmare, Losers Circle, Nick Barbarian, And Live Nude Girls at Thirsty First Tavern Lowell.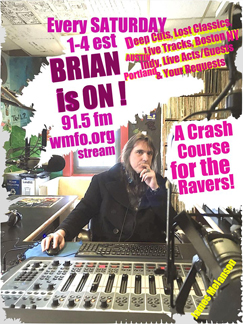 July 11 (Thursday) The Thigh Scrapers, Baabes, State of the Union and The Laces at The Jungle 5 Sanborn Court Union Square Somerville.
July 11 (Thursday) 61 Ghosts, Thee Fightin' Fish, Pop Gun at Opus in Salem
July 14 (Sunday) State of the Union, The Only Things, The Tsunamibots, Pop Gun matinee at The Midway 3-7PM
July 14 (Sunday) The Messthetics, Trinary System (Roger Miller) at Great Scott
July 18 (Thursday) Cruel Miracle, Blindspot, Justine & the Unclean at The Jungle Union Sq Somerville
July 20 (Saturday) Thee Fightin Fish, Warthog (Ramones tribute), Charlie Don't Surf (Clash tribute), and Meat Depressed at The Midway for a 3-7PM show
July 20 (Saturday) Dogmatics, Jittery Jack & Amy Griffin, Stop Calling Me Frank at the Back Room at The Burren Davis Sq Somerville 6-9PM folks!!!
July 21 (Sunday) A Bunch of Jerks, The Stigmatics, 1.4.5, TRiPLE THiCK at The Midway matinee 3-7PM
July 27 (Saturday) M.O.T.O., Jerry's Got Jokes, Cook Bag, The Trades, The Runouts at The Midway matinee 3-7PM
July 27 (Saturday) Corner Soul, The Knock Ups, Motel Black at The Jungle Union Sq Somerville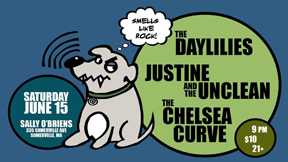 July 27 (Saturday) The New England Ska Summit; Bim Skala Bim, Copacetics, Hempsteadys, El Grande at Once Ballroom
July 31 (Wednesday) Black Leather Lagoon, Poison Boys, Thee Fightin' Fish at The Jungle Union Sq Somerville
August 8 (Thursday) Green Piece, Sorry w/ slo-anne & The Callouts at The Hong Kong
August 8 (Thursday) Otto Records present 145 & The Thigh Scrapers at The Plough & Stars
August 10 (Saturday) No Small Children, PowerSlut, and The Knock Ups, at Once
August 14 (Wednesday) Deke Dickerson, Bloodshot Bill, Jittery Jack, DJ Easy Ed at Once FB Page
August 15 (Thursday) 1.4.5., Crunchtime and Glider at The Jungle Union Sq Somerville.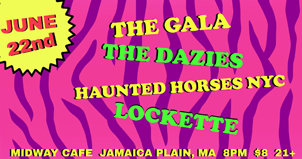 August 15 (Thursday) The Queers, Stubborn Hearts, Meat Depressed, The Parkwoods at Alchemy in Provi RI
August 31 (Saturday) Time & Place, PowerSlut, The Daylilies, Lonely Leesa & The Lost Cowboys at The Jungle - Music starts at 8PM
September 8 (Sunday) Somerville Rock And Roll Yard Sale - Union Square - 11 AM – 5 PM FB page for more info
October 5 (Saturday) Mudhoney, Pissed Jeans at Brighton Music Hall 6PM doors.
October 20 (Sunday) Stiff Little Fingers, The Avengers at Brighton Music Hall doors 7PM
CONTACT US AT....misslynbgn@yahoo.com Send us your gig listings, your news and anything else ya got!! You want your CD reviewed?? Contact us for that too.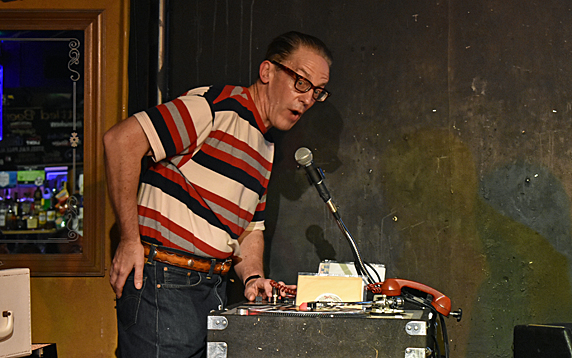 Easy Ed
Photo: Blowfish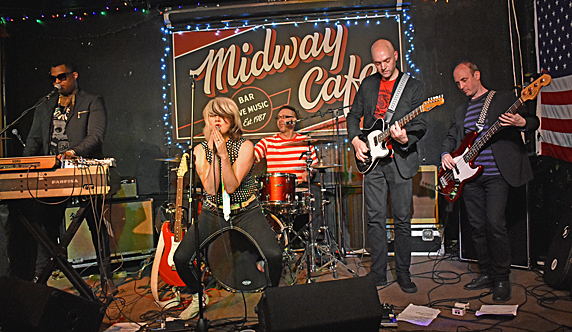 The Electric Mess
Photo: Blowfish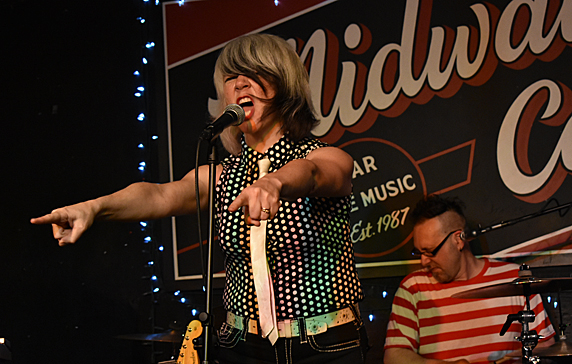 The Electric Mess
Photo: Blowfish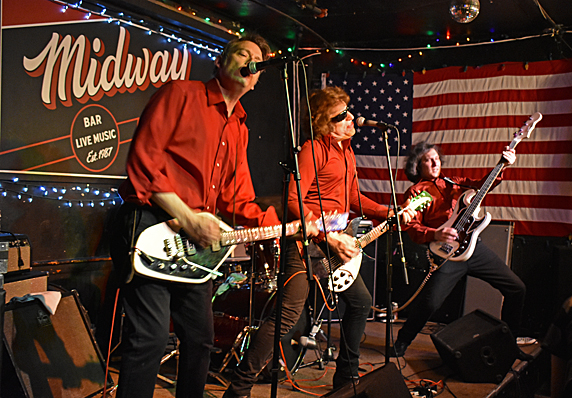 Muck and the Mires
Photo: Blowfish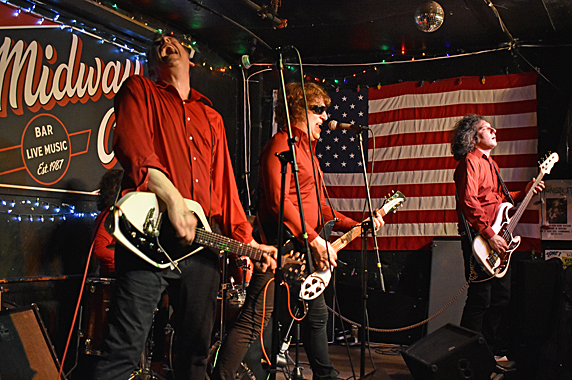 Muck and the Mires
Photo: Blowfish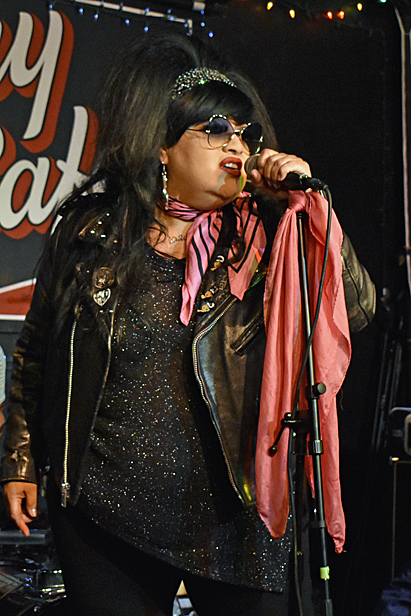 Vicky and the Vengents
Photo: Blowfish

Vicky and the Vengents
Photo: Blowfish