The BGN News Archive
June 5, 2017
Jerry's Kids with John Sox
Photo: Blowfish
We were a bit burnt out after Friday at Cantab and a great but long night at Once with the Lyres. Nonetheless it was onward to Sonia's on last Sunday night for the pop fans current faves The Biters.
We reported last week about the license problems with TT's and River Gods. Somehow because of that whole scenario Sonia still does not have a license itself. It's cokes and ginger ales only. They encourage you run next door to grab a quick foamy in between sets.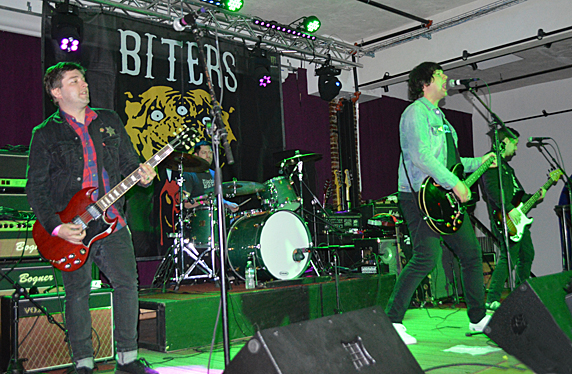 The Connection
Photo: Blowfish
The Connection did their pop thing. Much of their set is covers that were included in their last CD of all cover songs. They have become a go to add on to gigs with good reason. They always deliver.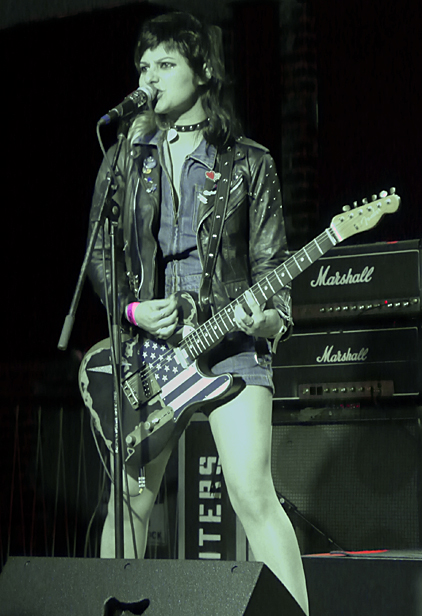 Frankie and the Studs
Photo: Blowfish
On tour with The Biters is Frankie and the Studs. Frankie is a front woman who you can't help but say is like Joan Jett. I didn't even want to say it but I did. She was punky and a strong front person. There was an early song with a cool riff that stood out and it was followed by a cover of Nick Gilder's Hot Child In the City. One could see where Frankie could develop and get more interesting as time goes on. Problem - they has no music available now. It would have helped if they had music because there was Skybar and Joanie Lindstrom there looking for something to play.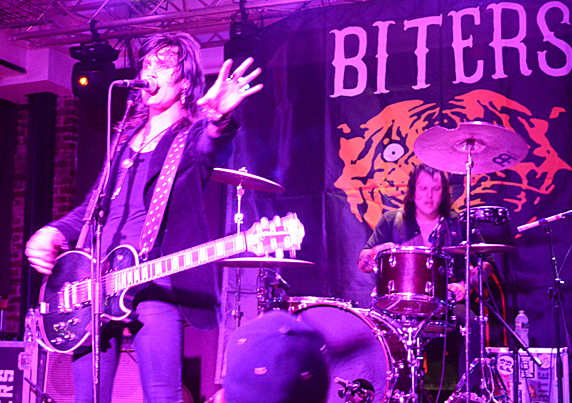 The Biters
Photo: Blowfish
The Biters made a visual impression right off the bat. Indeed they have the visual side down pat. They look great and they have all the cool stage moves. The songs take from the greats like Cheap Trick and David Bowie among many others. There's a real 70's pre punk pop feel to the sound. They had some good songs. One called 1975 VIDEO was fantastic. Some songs were extended out a bit long and that dulled the impact. They didn't knock us out but it was all good enough that we wouldn't pass up a gig by them in the future either.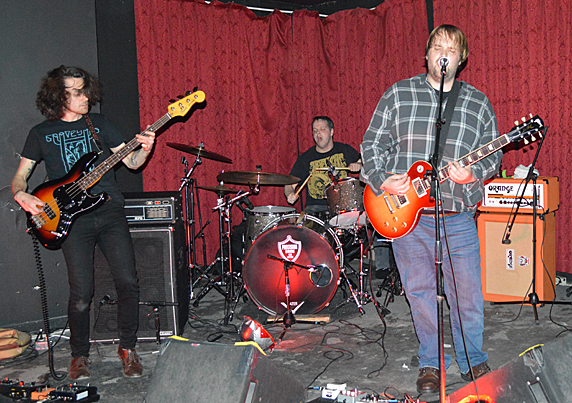 Sundrifter
Photo: Blowfish
Thursday was a chance to see Rumble winner Carissa Johnson.
The band before them was Sundrifter which turned out to be a psychedelic group from Boston. They were spacey sounding but heavy at the same time. They describe themselves as a, "three piece desert/stoner rock 'n roll band." The set seemed to slowly build. Then it became apparent where the desert part of the description came in, it was in Craig Peura's vocals. They became captivating as each song cast a spell. He has a high register voice and he shoots it up and sustains it with Middle Eastern flavored inflections. (Remember Dick Dale's Miserlou as an early example of Middle Eastern music influence in rock.) That on top of the busy rhythm section made for a singular sound. It's a smart move to hone in on this one style and carve out a niche.
It turns out vocalist Craig has a degree in music from UMass Lowell. He's had four years classical singing training in several languages. He uses all that with traditional rock influences the uppermost being Chris Cornell. They played with red floodlights which combined with O'Brien's red curtain backdrop made the stage look like Twin Peaks' Dream Room. You can hear what we describe on their Bandcamp page or above in the video where we captured a song that has those vocals in it.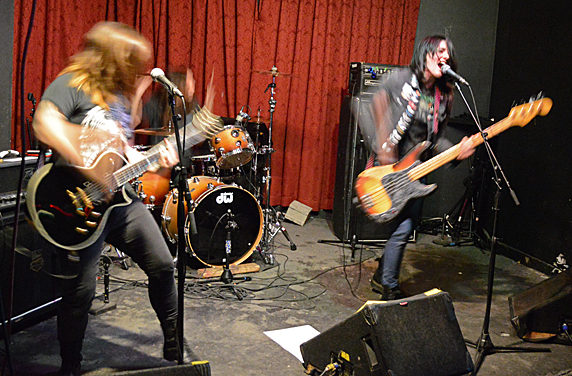 Carissa Johnson
Photo: Blowfish
Carissa Johnson has been on a northeast tour that included New England, New York and New Jersey. It was a one night stand at O'Brien's and then back to the tour. It doesn't take more than a minute to see why see won the Rumble this year. She has a winning formula in the music and a dynamite band. They are a trio where every member has the ability to play with excitement. The music is so lively and vital that when it stops it seems unnaturally still in the club.
Carissa plays bass and bounds around the stage. The guitarist also is flailing her hair and helping with the singing. Overall they remind us of the mid 1990's indie bands that had their day in the spotlight. If she was operating back then she would get a contract and have a video, etc. Today? Let's hope and see.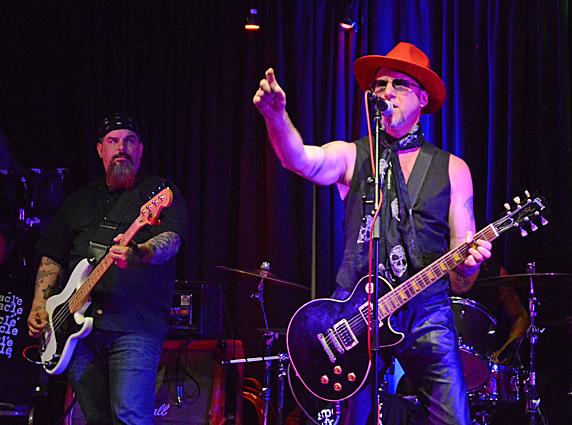 Spectacle
Photo: Blowfish
Jerry's Kids don't play often so when they do the faithful come out. Once had a good crowd.
The openers were Spectacle lead by Paul Fox. He's also an optician and owns Spectacle in the South End. Paul actually sang for Jerry's Kids at their first show at Cantone's. The actual singer was only 14 and his mother wouldn't let him play in a bar. He was 14…think about that!! The drummer Davey was in the Barroom Heroes for a while (we saw them at the Midway last year ).
When we walked in it was to a balls to the wall rocking of Lonely Hearts by The Atlantics. The guitarist nailed those Fred Pineau leads (you can hear in above). That was followed up by a forgotten gem by the Angles No Secrets, that's in the video above. They ended with the Outlets' Eddie. Paul has been an Outlets booster from the beginning. We only heard the covers that were all very enjoyable. They were good openers.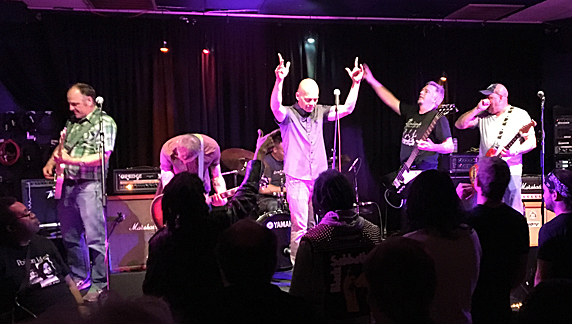 Stranglehold
Photo: Bob Cenci
Next it was Stranglehold originally from Cambridge MA who also don't play much. A Facebook post claimed that it might have been their last show! That would be sad. They had a mighty front row with five guys lined up (even more of a wall in front of the poor drummer). The lead singer: is Jimmy Keough, guitarist: Richie Hughes, guitar: Paul Delano (Mung), guitar: Greg Fiore (Underball), bass: Craig Adams (The Dents, Decals, Freeze), drums: Jack Clark (Jerry's Kids, Unnatural Axe).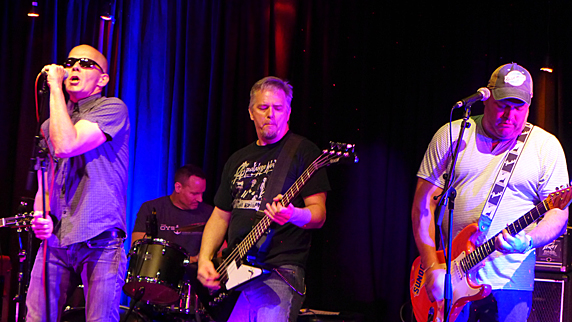 Stranglehold
Photo: Blowfish
This was a lot like the shows we've seen them do at Once before, seems like they favor Once. It was a mixture of memorable originals and dynamic covers.
Doesn't Get Any Better was an early standout. Substitute showed up the drummer. Just as an aside, the Who and Cheap Trick seem to crop up again and again as favorites of bands new and old. They dedicated La Peste's Better Off Dead to Tontileo who has championed them for years.



Stranglehold
Photo: Bob Cenci




Stranglehold
Photo: Bob Cenci
They ended with Same All Over the World that typifies the things that make them a cut above the rest. They rock it out but don't fail to give a hook in the chorus that will leave you singing it way beyond the end of the show. Similar is She's Not Leavin' But it wasn't any one song that made the set it, was the overall performance and camaraderie of the guys themselves. As they give us the good music they're having fun too. If this was their last show they're going to miss it as much as we will; small conciliation. Set List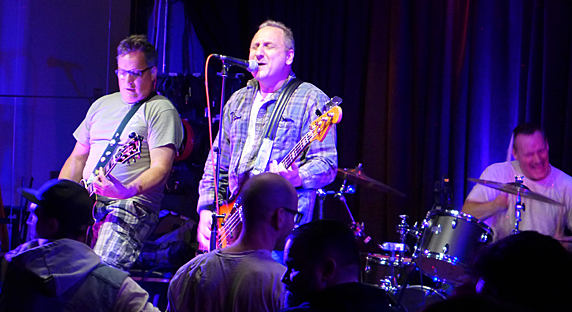 Jerry's Kids
Photo: Blowfish
Boston is known for its hardcore scene in the eighties and Jerry's Kids is one of the bands that proved the worth of that scene. The punk scene even had a lukewarm reaction to the hardcore gang at the beginning. They fought for what they got. Jerry's Kids are now part of the legend. Expectations were high for this gig. The stage at Once is elevated that allows you to do your best. Jerry's Kids met that mark at the speed of sound. The second the group rumble emanated, the moshing began…and it seemed to demand it!! That never stopped, neither did the speed and energy of the group.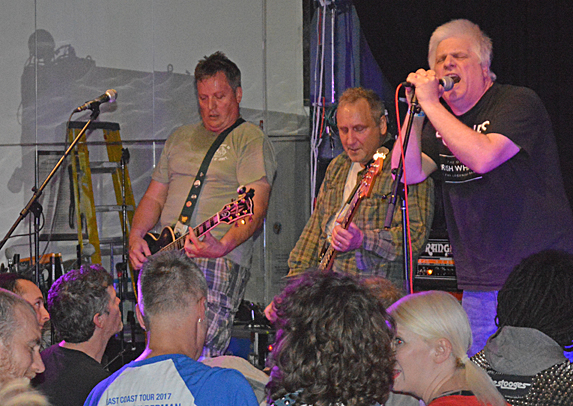 Jerry's Kids with John Sox
Photo: Blowfish
Rick Jones belted out most of the material. His brother Bryan sang a handful. Bryan sang on the very earliest JK's songs. Bob Cenci sang Lost and that was a highlight. It was like a roaring sea of sound with Bob repeating, "I'm Lost" over the top. It was more moving than you'd expect from hardcore. When Bryan first came out he sang Machine Gun and that kicked everything up another notch.
Jerry's Kids with John Sox
Photo: Blowfish
Then John Sox (F.U.s) joined the group for the last two songs and that was another injection of mania. He sang Skull Garnish and Iggy's I Got A Right.
It was an intentionally long set trying and succeeding in making a big impact. It was an example of what Jerry's Kids and hardcore was and is.
Set List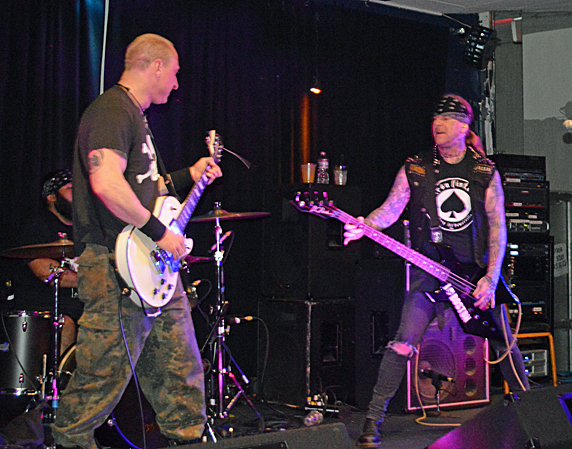 PanzerBastard
Photo: Blowfish
There's one problem with a set like that for us…you don't have any brain power left for the next group. In this case that was PanzerBastard. They've changed since we last saw them at Great Scott's. Now they have Swid playing with them...and not bass but regular guitar. We just didn't have the juice to give them the attention as we headed home.
And in other news.....
Svetlanas has a new record out - yes available in vinyl too- Check it out here This is Moscow Not L.A.
Here's some good shows coming up .....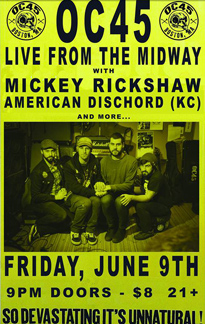 June 5 (Monday) its another Taco Monday and a MessAround at Once Lounge with Jay Allen, Justine Covault, Tom Baker and 2 really cool guests makin' their first mess: Dan Kopko (Watts) and and John Powhida (John Powhida's International Airport) 7:30-11PM
June 5 (Monday) Ghost of Sailors at Sea, Omoo Omoo and Minibeast are at ZuZu - music starts at 10PM
June 6 (Tuesday) Rawstrum are at The Dog Bar in Gloucester
June 8 (Thursday) Cortez, The Humanoids, The Heave Ho and Test Meat are at O'Brien's
June 8 & 9 (Thursday & Friday) Reverend Horton Heat along with Agent Orange, and Flat Duo Jets at Once in Somerville
June 9 (Friday) are they back from a tour or going on a tour?? OC45 are at The Midway with Mickey Rickshaw and AMDX (American Discord) ...gotta go!!
June 9 (Friday) Rawstrum and Gene Dante & The Future Starlets are at The Middle East with Tragedy a Bee Gees heavy metal cover band...
June 9 (Friday) Charlie Don't Surf at McGann's (197 Portland St, Boston)
June 9 (Friday) "The New Darkbuster" w/ The Worried & Brunt of It at The Parlor in Provi - The New Darkbuster is the new reincarnation of everyone's favorite Boston punk rock sing along brainchild of Lenny Lashley. FB PAge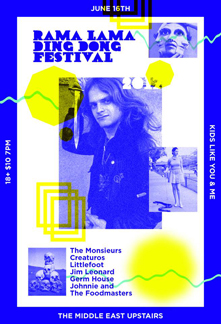 June 10 (Saturday) Psycho, Conclave, Whoopi Sticks, Gant, Spillers an afternoon 4-8PM show at the Midway
June 10 (Saturday) The Real Kids (back from touring Europe!) Muck and the Mires and Greg Allen's Fringe Religion at The Spotlight Tavern in Beverly- FB page
June 10 (Saturday) Watts and Petty Morals with a closing set from Wheel of Awesome at Fury's Publick House in Dover NH. FB page
June 11 (Sunday) A Sunday Punk Matinee at the Midway with M.A.T.B. (frm Worcester), Worm, The Hideout and No Good (frm Maine) 4-8PM only $5!!and All Ages.
And further out....
June 14 (Wednesday) Eve Minor (from NYC), DnA's Evolution, The Stigmatics, Doug Linse at The Midway
June 15 (Thursday) Nice Guys, Black Beach, Ovlov and The Cavemen at Great Scott
June 16 (Friday) Kids Like You & Me' s Rama Lama Ding Dong 2017! Featuring.. The Monsieurs, Creaturos, Littlefoot, Germhouse & more! at The Middle East - check out the FB page
June 17 (Saturday) A Crash Course for the Ravers will be featuring Anthony Kaczynski! Tony is the consummate musician, he should have some interesting stories to tell and picks to play. Check it out on 951.5 WMFO 1-4PM
June 17 (Saturday) The McGunks, Pint Killers, The Martians and Taxi Driver - 4PM Show at The Midway
June 17 (Saturday) Quiggs, Diablogato, Duck & Cover, Loser's Circle at O'Brien's Pub
June 17 (Saturday) Held Hostage, Point Blank, Infernal Diatribe, Profit Margin at Koto in Salem (FB Page)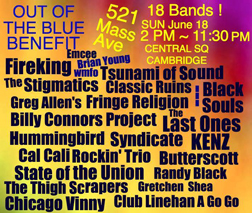 June 18 (Sunday) Help Save Out of the Blue Gallery Too - this will be an all day affair (3PM-11PM) with a TON of bands including: Brian Young -WMFO as Emcee plus Thalia Zedek, Fireking, Randy Black, The Knock Ups, Tsunami of Sound, The Stigmatics, The Black Souls, The Classic Ruins, State of the Union, Cal Cali Rockin' Trio, The Last Ones, The KENZ (Highland & Kaiser), The Thigh Scrapers and Club Linehan A Go Go ~ 50th Birthday Party for Joe Quinn. Check out the FB page
June 23 (Friday) Club Linehan A GoGo, Johnny Plankton, The Unoriginals, Mad Painter and Nonzerochance at McGann's Pub FB page for directions etc
June 24 (Saturday) Punk Rock Matinee at the Middle East Up Doors @ 1PM - Michael Kane & the Morning Afters, Dan Webb and the Spiders, Hudson Falcons, Jason Bennett and The Resistance - show ends at 4Pm FB page
June 25 (Sunday) Punk Oi Matinee at The Midway with Working Poor USA, Moose Knuckle, DestrOi! and The Abductors 4-8PM
June 25 (Sunday) Nonzerosum Present: Conflict, Who Killed Spikey Jacket, Cinderblock, Pandemix - ALL AGES, $20, 8:00 PM Doors at the Middle East Up. This show has been cancelled!!
July 1 (Saturday) Loser's Circle are at The Midway
July 2 (Sunday) FOTOCRIME, The Milling Gowns, Bedroom Eyes at O'Brien's

July 13- 16 VIVA EAST Rockabilly Weekender and Custom Car Show in Marlboro, MA check out the info here.
July 14 (Friday) Bim Skala Bim Concert Cruise (Check out FB page for details)
July 15 (Saturday) LYDIA LUNCH Retrovirus, Doomsday Student, (NE) Pats, Peach Ring are at The Elks Lodge on Bishop Allen Dr. Central Square Cambridge- Thank you Boston Hassle!! FB page here.
July 17 (Monday) Township, The Dents, Love Love and Weather Weapon at The Midway- Night 1 of the Midway Dirty 30.
July 19 – July 30: The Midway's Dirty 30th Anniversary Celebration Spectacular
July 20 (Thursday) Kal Marks, A Deer A Horse (NY), Nice Guys and Zip-Tie Handcuffs at O'Brien's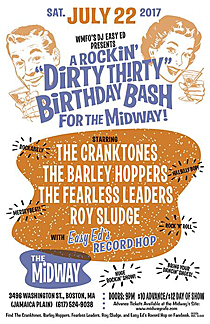 July 21 (Friday) Stray Bullets, Hobo Chili, Warning Shots and Stop Calling Me Frank at The Midway!! Night 5 of the Midway Dirty 30.
July 22 (Saturday) DJ Easy Ed Night with The Cranktones, The Barley Hoppers and Fearless Leaders at The Midway!! Night 6 of the Midway Dirty 30.
July 22 (Saturday) Negative Approach, Bloodclot, Opposition Rising, PanzerBastard, Buried Dreams and Ritual Blade at The Hardcore Stadium Bishop Allen Dr Central Sq Cambridge. Show starts at 6PM.
July 22 (Saturday) Mr. Airplane Man returns to town. They'll be at The Lily Pad in Inman Square with Thalia Zedek. FB page
July 29 (Saturday) The Real Kids, Muck & The Mires, Watts and Gene Dante & The Future Starlets night 13 of the Midway Dirty 30!!
July 30 (Sunday) Fast Times Nervous Eaters, BarRoom Heroes, The Revilers -4-8PM at The Midway!! Night 14 of the Midway Dirty 30. at The Midway
August 5 (Saturday) The Silver Mirrors, Instant Shawarma, The Facc-Tones and The Sound Down Cellar at The Midway
August 5 (Saturday) Rancid and The Dropkick Murphys are at the Brockton Fair! 4:30-9Pm check out the FB page
August 12 (Saturday) The Modern Voice, Black Helicopter, Wrought Iron Hex, Scuzzy Yeti at The Midway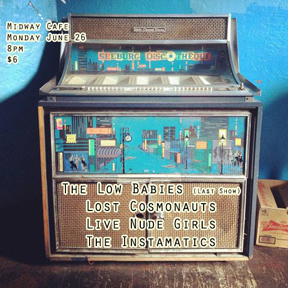 August 13 (Sunday) Pinkerton Thugs all ages punk show at The Middle East = also on the bill The Warning Shots and Duck and Cover. This is a daytime show- 1-6PM Check the FB page for more info as it is posted.
August 13 (Sunday) - This is Bob Colby's 65th Birthday Extravaganza - it is also he LAST show in Boston!! Viva Gina, DYR FASER, The Land of Enchantment, Kingdom of Love, Cold Expectations, Carissa Johnson (solo acoustic), The Very, Randy Black and the Heathcroppers and The Wrong Shapes. At Once in Somerville and the show runs 3PM until Midnite! FB page
August 27 (Sunday) Stop Calling Me Frank, State of The Union, The New Frustrations, The Only Things at The Midway - afternoon show 4-8PM
September 16 (Saturday) Chameleons VOX At the Middle East Also on the bill: Soft Kill , Way Out and The Milling Gowns FB Page
November 4 (Saturday) Human Sexual Response at HOB
CONTACT US AT....misslynbgn@yahoo.com -Send us your gig listings, your news and anything else ya got!! You want your CD reviewed?? Contact us for that too.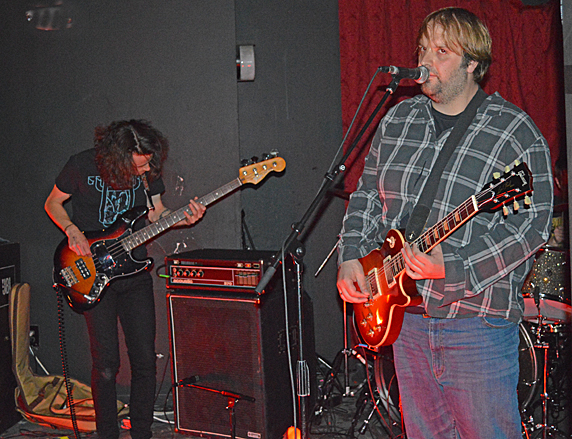 Sundrifter
Photo: Blowfish
Carissa Johnson
Photo: Blowfish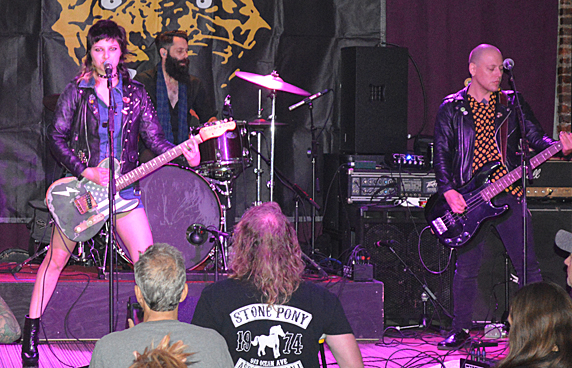 Frankie and the Studs
Photo: Blowfish
Biters
Photo: Blowfish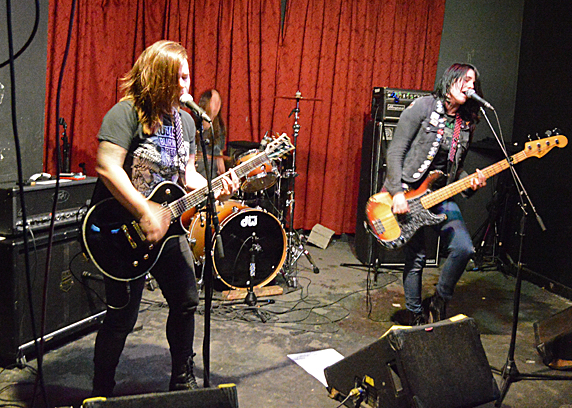 Carissa Johnson
Photo: Blowfish