The BGN News Archive
June 7, 2010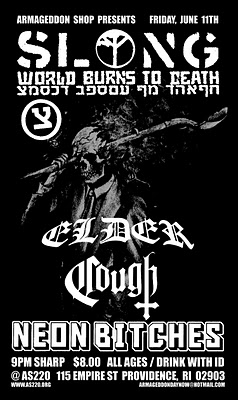 Not to forget Providence which has some gigs going on. This is at AS220 on Friday.

didn't make it out to any clubs this weekend but I did go to the Coolidge Corner Cinema to see the newly refurbished Metropolis with The Alloy Orchestra performing live musical accompaniment. The Alloy Orchestra is Roger Miller (Mission of Burma), Ken Winokur and Terry Donahue and they have an amazing array or musical instruments, junk and found object that they use to create fantastic music for silent films. At first I found it strange that the score wasn't coming from the usual place but from these guys right on the side of the stage but after about 10 minutes it was just wonderful. I really made the event so much more memorable, enjoyable and multi-layered. This was the first stop in a country wide tour of Metropolis for them but they will be back in the area March 5 2011 at The Somerville Theater for the last showing of the film. It is so well worth it to experience a film this way!

Watts got good some good ink in the 'g' section of the Globe. ....WATTS ARTICLE IN THE GLOBE
The New Frustrations also have a nice profile in the Patriot Ledger........NEW FRUSTRATIONS ARTICLE

So again I end up saying : But if going out to a club is what you crave of course it's out there for ya:
This Friday, June 18th looks pretty good at O'Brien's in Allston with The Curses, The Egos, Classic Ruins Sticky Business and The Varmints

And on Monday June 21st you can catch the new Marvels bass player at The Middle East down , and this is a great bill!!!: The Dwarves, The Turbo A.C.'s and of course The Marvels

Also we got wind of news of Somerville Rock'n'Roll Yard Sale 2010 : Saturday August 7 in Union Square Somerville:
there will be Live Music, DJs spinning Vinyl and who knows what else, in addition to tons of amazing vendors selling everything from Vinyl Records and other music memorabilia, Vintage Eyewear and Apparel, to Local DIY Handmade Goods. See you there!!!
AND Swans are doing a tour and will be at The Middle East down on Thursday September 30th!!! OK, that's it....


... you can email us at: Miss Lyn email......