The BGN News Archive
June 8, 2020
We are living in hard times with a pandemic raging there's now social unrest, topped with inflammatory political rhetoric….for starters. We've been waiting for someone to articulate that in art, and for us music, especially. It's not easy to do. It can come off as phony, pandering or opportunistic. Bob Mould, ex-Husker Du, has risen to the occasion with "American Crisis".
The video has the lyrics on screen. There's a lot of good thoughts and jabs in there. Never was the gargantuan guitar sound more evocative of rage. Mould puts a lot of energy into his vocals he's kept the words just audible enough. The song as a whole reminds us of locals Proletariat and Moving Targets, both of which could head into the same territory as this.
This is an epic track. WATCH IT!
Adam Sherman is no slouch in writing a timely song. He wrote "Justice Lies" after reading the morning paper. It's on Bandcamp
Steve Priest of Sweet died this week. Pre punk, glam was one of the few listenable things out there. How many times did we hear the songs "Ballroom Blitz," "Fox on the Run," and "Love Is Like Oxygen."? You can read more here Legacy.com .... and on NME here.
Misfits Drummer Joey Image has died. He was 63. He was with the Misfits from November of 1978 to December of 1979 and was on the songs "Horror Business" and "Night of the Living Dead". Read more here.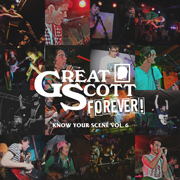 Great Scott has an "online bulletin board" ... it's a large slide show up on the deep cuts site. There are currently 72 pages of photos and tributes from a lot of groups who played the club. The BGN has a page in there – its number 61. Also on the page is Know Your Scene Vol. 6, featuring 67 bands that have all played the Great Scott stage. All money from the comp will go to help the reopening of Great Scott! Check it all out here.
The Brattleboro Museum that has the Roger Miller exhibit "Transmuting the Prosaic" will re-open on Thursday June 18. It's been closed since March 15. The hours are Wednesday through Sunday, 10 a.m. to 4 p.m. There are no reservations necessary, you can just walk in. Roger's exhibit runs through October 12.
It's another drive in movie rock concert. This time it's Southside Johnny and the Asbury Jukes, which is a step up since it's a band and not a solo performer. It's at New Jersey's Monmouth Park Racetrack on July 11. It's reported in Rolling Stone.
June 21 is Father's Day. Looking for a gift for your punk rock daddy. The Please Kill Me website has a lot of good ideas both cheap and expensive. What about a Johnny Thunders' mug? A Blondie scarf? Punk wallpaper? Detroit Grande Ballroom t-shirt? Punk Flyer Coffee mug? If money is no problem there is the copy of the Easy Rider script in paperback. It's signed by Fonda, Hopper and Jack Nicholson.
Finally you can just get a copy of the Please Kill Me book which is one good read.
It's all on the Please Kill Me website.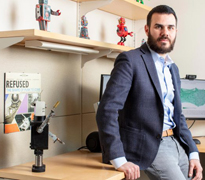 Hey, a punk rocker makes good. Professor David Rand former punk riock guitarist and bass player (they don't name his band) is now at MIT Sloan School doing psychology and politics. He says "Being an academic is like being in a punk-rock band … in both cases, you start by trying to come up with a new idea that nobody's used before. In academia, it's a good research idea, and in music it's a cool riff or melody. Then you take that kernel and spend a lot of time developing it into this cohesive whole that you try to make a perfect as possible." Seems so simple. Read more here. and here.
Baabes cover the Clash's Police On My Back on their Facebook page. it cuts out in the middle but it's a nice little dose of Baabes. Coz we miss 'em bad!!
Smitt E. Smitty & The Feztones have done a quarantine cover of "Rebel Rebel". Video above. Smitty does some re-arranging of the tune, and added some dynamics. He keeps it low and simmering for a minute before letting the volume go up.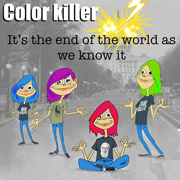 The video has lots of visual style. Smitty's a graphic artist and it shows in the way he uses color. The band sounds very together which is an accomplishment since every member is separated. Slowly with vids like this you can see the bar rising. Production values are going to matter as we go on. REBEL REBEL.
Color Killer log in another song and video. This week the very appropriate cover of REM's "The End of the World As We Know It". They handle that avalanche of lyrics deftly. Excellent work boys!! The video is overflowing with coronavirus jabbing/joking snippets. It's a good video and considering the situation we're in, it's a great video. Video above.
Color Killer The End of the World As We Know It ..... The song is also on Bandcamp.
Glowbox returns with a video cover of Fountains of Wayne's "Radiation Vibe". It's tribute to Fountains of Wayne's Adam Schlesinger, who left this world this past April, a casualty of COVID-19. Their first quarantined video of "Band on the Run" proved that they could make a quality video/audio product. That's what we have here with Radiation Vibe. Glowbox were up and coming into their own before the pandemic problem. There are one of the groups that we look forward to seeing live in the future and seeing their careers develop.
We cannot miss one episode of The Damned Show!! Video above. This week's Episode #17 is Punk Rock Planting Part 2 with Paul Gray. He's showing how to start veg from seeds. And some good pointers on how to water your tomato plants etc.... pretty useful stuff! Miss Lyn's growing veg and herbs on her front porch this summer so these vids are useful!! Thank you Paul Gray!
The other video above is a quarantine video of "Roxy Roller" an early Suzi Quatro song done by Cherie Currie & The Black Hearts with help from Nick Gilder AND Suzi Quatro! Check it out its excellent!!!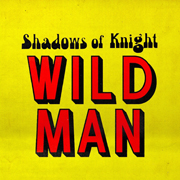 Cal Cali is still down in FLA but he sent us a link to this blast from the future past. This is two members of the Shadows of Knight getting together again with a song called "Wild Man". It sounds just like you hope it would. It's sixties all the way especially the guitar, that's where it sounds like a time machine. At the end of the video you can hear a needle in the end groove as if it's a record.
Somehow they still have the same spirit, the same chops and the same writing style. There are only 500 garage bands right now trying to do this exact thing. The Shadows show them how it's done. 2020 is not so great, go back to 1964 for a little while, courtesy of the Shadows of Knight. Wild Man
Anngelle Wood did another live video interview this week. It was with Paul Hansen of The Grownup Noise. Anngelle makes it a very natural conversation. At the beginning they talk about this coronavirus situation and we love hearing people just be frank about it and see them in the middle of trying to figure out what to do. There are so many facets to rebooting the scene and Anngelle and Paul go into many of them. It's on YouTube now.
| | |
| --- | --- |
| Joanie Lindstrom | Peter Dayton |
| Bob Cenci | The Zoom view |
Joanie Lindstrom was on the May 31st Boston Venue: The Channel Podcast along with Shred, Peter Dayton, Sean McNally, Mark Mckay, Dave Smalley and Bob Cenci... and Kenny Chambers did a few songs. Check it out here (forward through the 1.29 minutes "'til live".
Later on her LRC show Joanie dedicated a set to the Channel. The set was: Ministry, Bauhaus, Biohazard, Youth Brigade, Minor Threat, New Models and Flesh for Lulu. As we all know that doesn't even begin to account for the amazing amount of groups that played that club in its day. Joanie's show is on the WMBR archive page at https://wmbr.org/cgi-bin/arch
The Lipstick Boys, a trio we've seen a few times and liked, were able to record and release a song called "Peaked Before I Was Born" in March. it's got a a rocking sound, which is what we're searching for these days with so many new efforts, by necessity, being solo and acoustic offerings. We like the clanking guitar sound in the intro and again in the solo. A few repeated plays really got us into the song. We have it on our Top Ten Songs. Give it a listen here.
Jerry Lehane of The Dogmatics has a 5 song solo EP coming out on Rum Bar soon. As a teaser you can get "Kiss My Tattoo" for free. It's a cool noisy..and raw.. mid-tempo rocker. In the Dogmatic territory but a bit more energetic even!!
We love the way it's loose. it starts with 10 seconds of amp hum, like they're in the studio waiting to let go. You can feel the way the guitarist just gets carried away in the solo. You want a real rock feeling…it's right there with Kiss My Tattoo. We have it on our Top Ten Songs.
Death Pesos have a new song out called "Spells & Potions". It's another hit of 70s stoner rock that they do better than anyone. The riff is big and it feels like it should just keep going for 20 minutes but they stop at 3:26. Listening to this will whip you back to 1972 which is a lot better than 2020 at the moment. And you guessed it - we have it on our Top Ten Songs.
Dont' forget to check out: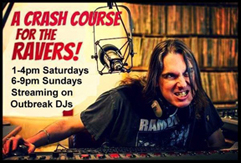 Tuesday June 9th: Punk Rock Aerobics every Tuesday on FB @ 6PM
Tuesday June 16th: Punk Rock Aerobics every Tuesday on FB @ 6PM
Friday June 19th: The Messaround's Fourth Anniversary Celebration and its on the Once Virtual Live Performance Venue at 7PM
Friday June 26th: Back Porch Carousel 8PM
CONTACT US AT....misslynbgn@yahoo.com Send us your gig listings, your anything else ya got!! You want your CD reviewed?? Contact us for that too.
---