The BGN News Archive
June 9, 2008
Moose and the Mudbugs

| | |
| --- | --- |
| | |
Two weekends past was the big gigantic Ed Moose Savage birthday bash and the Good Bye Party for Paul "bing bang boom boom" Dionne Ed's pal and drummer of the last 20 years who got engaged and has moved to California…we hear it was a REAL wild time folks, as you can imagine with Ed!, here's some pics for ya…
Mudhoney at the Middle East

| | |
| --- | --- |
| | |
This last weekend Blowfish and I went out to the Middle East down, (it didn't smell but it was HOT!) To see The Men, The Cynics and Mudhoney. Very good show!!! We got a few pics for your viewing enjoyment as well…..
This Tuesday June 10th Black Fortress of Opium is at the Abbey,
Oh yeah and this Friday is Friday the 13th…at The Abbey they have Drago, Superpower, Dead Like Death and 8Hr. Waste and as a special added attraction Frank Rowe is doing his solo show on the "pub stage" as well. He promises his solo acoustic stuff I s"better this year than it was last year"…..
The Cynics at the Middle East

| | |
| --- | --- |
| | |
Saturday the 14th..Rocky Velvet is at The Plough and Star, that show be an excellent rockabilly show baby!...
And there's a major show coming to The Cantab on Friday June 20th featuring The Templars with Tommy and The Terrors, BZ and Stomper 98. Get your tickets here for 10 bucks at Underground Control or you'll have to shell out $15 at the door!
and of course coming up later this month, weekend of June 27/28 is the Annual Garage Rock Weekend at The Beachcomber! This year its featuring The Swinedells, Muck and The Mires, Andrea Gillis, The Dogmatics, Jay Allen and The Archcriminals, The Prime Movers and many more. The Beachcomber overlooks beautiful Cahoun Hollow Beach, home of the roughest (which to us means best) surf in New England. We like to make it easy for you guys so...Get your tickets at HERE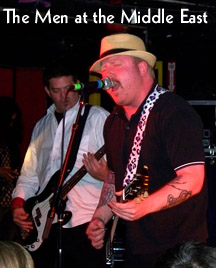 and remember...coming up on September 6th, 3-7pm is The Somerville Rock'n'Roll Yard Sale… it'll be in Union Square and they are looking for vendors of all sorts, anything goes for these sales, whether you want to clean out your closet or if you are a dealer, seller, crafter, artist food vendor, non-profit, whatever! Vendor spaces are $25, but don't contact us at the BGN contact : contact chris or jennifer daltry at what_cheer_records@yahoo.com …and check it out, they will also be putting on an event in Providence RI on Saturday July 19th, it's a music and arts festival called indieArts fest and will be an all-day and all-night event with bands, food, beer, arts, crafts and the rock & roll yard sale element of record, cd and music vendors.


and again, since we are always thinking of you...we have KINODV viddie links for you!
Mission of Burma is featured this month with a killer version of the instrumental "Tremelo". The live video was filmed at the Underground Club in Boston, 1980. MOB opened up for The Cure that night on the second stop of the first Cure American tour. You can see "Tremelo" here
Also added to the Archive Portal is New Order with a live video shot in Barcelona Spain, 1984. "Blue Monday" was one of New Orders better electronic efforts post Ian Curtis and Joy Division.
Well friends that's about it for this week….again just click and email us with your news and shows and comments!! Talk to ya latah….Lyn

RIP Bo Diddley, 12/30/28-6/2/08

Bo had an appeal to punkers. His music was rockin' simple and that is what's it's all about for punk. He was truly DIY in the fact that he built his own guitar, and basically invented his own beat. Also he created his own persona something punkers did in force 20 years later.
Many of us saw him play in Boston several times. He opened for the Clash at the Harvard Square Theatre and he played with Johnny Barnes at the Channel as the picture below shows (I know this picture was in the Herald but I figure who looks at that thing anymore.). I saw him open for the Allman Brothers on the Boston Common if my memory is correct. He also played the Boston Tea Party on Lansdowne Street in 1969 among other gigs.
He was hard working and creative and by all reports he was a nice person. Not a bad role model, I'd say.