The BGN News Archive
June 9, 2014
Blowfish drove six hours from a New Jersey shore trip last Sunday but still had enough energy to hit the Middle East for the big hardcore show headlined by the Cro-Mags and The Anti-Nowhere League:
There was a line a tattooed, studded and green haired punks waiting to get in. Everyone had tickets but the place must have been sold out and it takes time to get everyone in. Neighborhood Shit were already done by the time I got there and I caught the end of Taxi Driver. They were getting the crowd riled. It's obvious that this was one excited group of people and Taxi Driver had a fun time on stage and was getting the love.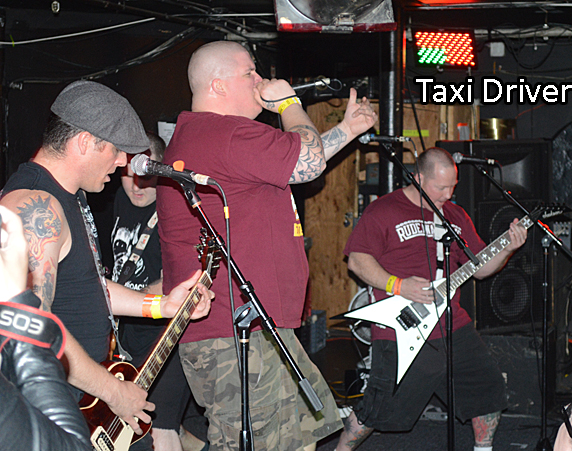 I didn't see Death Before Dishonor listed in the early posters but they were on next. They had the full metal jacket hardcore attack that just bowls you over. It seems to me that you can't go beyond this level of volume, power and punch. I've heard it from several hardcore groups and it shakes you up. Maybe part of it was the Middle East sound system and sound guy. They always have great sound both upstairs and down. There was intense moshing and stage diving. The lead singer encouraged some circle pits. Audience members left a big area in front of the stage expecting this.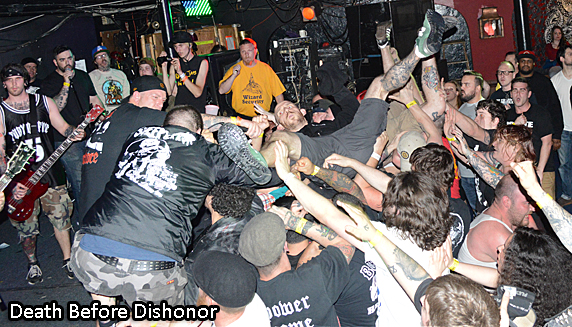 Death Before Dishonor are all very serious. No laughs during this set which is different from the Anti-Nowhere League that follows. The League have lots of laughs in the between song chatter and the songs are over the top scatological diatribes done tongue-in-cheek. Animal is the lead singer and maybe the only original band member. He's a funny figure. He's all punked up but is well groomed with a trimmed beard and has a gentlemanly way about him as he jokes with his British accent. He actually bows after a song, even though the song was laced with fuck this and fuck that. They do lots from the first album: We Are The League, Woman, Can't Stand Rock 'N' Roll, (We Will Not) Remember You, Streets of London, Nowhere Man, and my favorite I Hate People and then their anthem - So What. That's a great run of songs.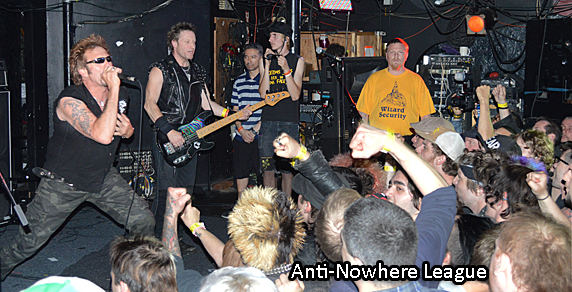 There was all sorts of joyful crowd surfing during this. The packed club was with them at every point. I was up front and it was a vortex of energy. I walked to the back and you could focus on the actual music a bit more.
I wanted to stay for the Cro Mags but my six hours of driving was catching up with me. I can't imagine the scene up front when they came on.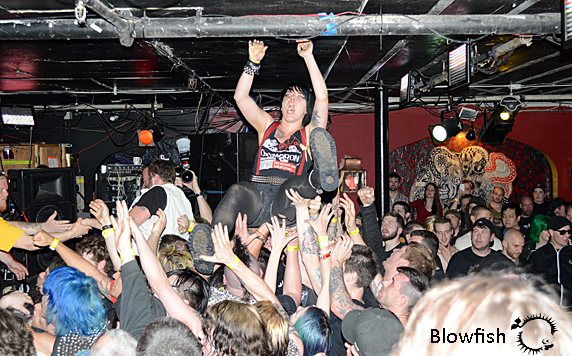 In other news:
The Let's Go To The Rat movie can now be watched in an ''on demand' format. on Realeyz....click here to go there.......and the Howl Mag website has a informative write up on Andy and the film- read it here......Miss Lyn attended the public premier of the film this past Saturday in Lowell at The Luna Theater in Mill #5. What a great place this theater is...rows of huge upholstered chairs and footrests line the graded theater. What a nice comfortable way to watch a film!! And it was free. For me personally it more enjoyable to watch any film on the big screen, and this was really true of this film. It was a fun ride listening to David Minehan, Willie Alexander and Bob Colby and Eric Van reminisce about the glory days there. Also in the film is of course, Jim Harold and Granny the sound man as well as the lead singer for Big Catholic Guilt, Linda Viens, Liz Borden, Billy Connors, Carl Biancucci, and others. It's a walk down memory lane with descriptions of insane nights, the filth, the love, the good times and the bad . It's worth a watch if you ever went to the beloved Rat in Kenmore Square.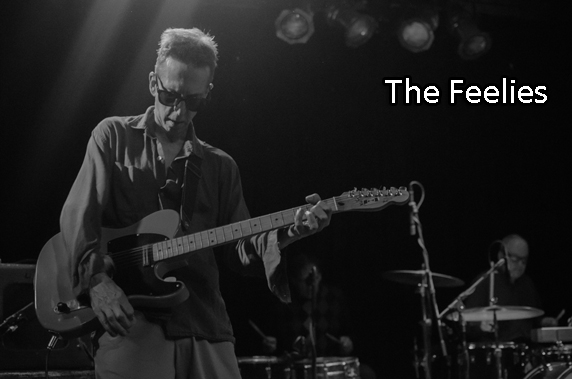 And here's another film Massachusetts Hardcore by Corey Bouchard is a 16 minute documentary style film and a "student project on the Massachusetts hardcore scene and what it means to the people involved"....it covers Central and Western MA as well as the South Shore and North Shore. Watch it here.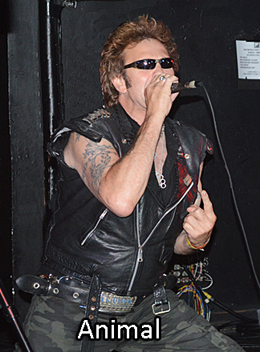 In other news: Fights broke out at The Adicts show at the Brighton Music Hall the other week. It's talked about on the Dying Scene site from what we heard people to the right of the stage were throwing bottles and cans at the band!! WTF people?? How freaking rude!! It's one thing to spit beer its another throw shit at the band. We even got emails about it and one of our readers Mike C put it best when he said: "It was my first time seeing The Adicts and I was disappointed that a Boston crowd would act like that and disrespect a renowned band like The Adicts. We'll be lucky of they ever play here again." So thanks to the twits that started the stupid behavior!

Some of you may have heard of, or even seen, Moondog a character in NYC who looked like a Viking and stood stone still at the corner of Sixth Avenue and 54th Street. Turned out he was a serious composer and put out some amazing LP's in his day. There is a Kickstarter campaign to help fund the film The Viking of Sixth Avenue. Help 'em out if you've ever had the pleasure of seeing Moondog.
For you folks on the cape some sad new - Mill Hill Club located at 164 Route 28 in West Yarmouth will be torn down. Though a disco club for a long time it also had a lot of New Wave and post punk bands from Boston there...The Neighborhoods, Lou Miami etc ...there will soon be a new multi-million dollar Healthcare Facility sitting on the plot of land that has a lot of musical memories for Cape rock and rollers....sigh...its not just Boston that's losing clubs huh?
And here's some shows coming up:
Thursday June 12th at Church is a Boston Hassle sponsored event with some low key noise bands Ed Schrader's Music Beat presents The Abominable Skimask, Gondoliers, (New England) Patriots
This Friday June 13th - My Life with the Thrill Kill Kult along with Gene Dante and The Future Starlets, Vishno, and DJ Toxic Rainbow at The Middle East - Downstairs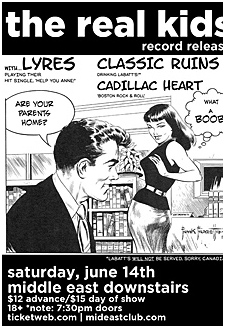 Gizmos World Tour ...Thurs-Sat, June 12, 13 & 14.....Here's their Kickstarter page (they could still use some $$ folks)....this Gizmos is the original Gizmos plus some guests: Kenne Highland, Eddie Flowers, Ted Niemiec and Rich Coffee with Max Demata on bass from Sonic Daze, John Terrill on drums from Dancing Cigarettes and Ian Brewer guitar from the Panics....
Thursday June 12 at The Bishop (Bloomington, IN) its the very first Gizmos reunion gig with Indiana Scuzz Punk bands: Apache Dropout, Deezen, and Cowboys, sharing the bill....
Friday June 13 at The Melody Inn (Indianapolis, IN) also on the bill: Apache Dropout, Deezen, and Brothers Gross....
Saturday June 14th at Blind Bob's Bar (Dayton, OH) also on the bill: New Regrets, The Give-Ups, Apache Dropout, and Deezen.....
And here it is folks...we get to see 'em again....The Real Kids at The Middle East down THIS Saturday June 14th with Lyres, Classic Ruins and Cadillac Heart!! ...and here' a scoop...the promo page that is being sent out with the CD which is just abotu all done up. with a neat quote from Mars Man that reflects the enthusiasm we all have for this new CD.... SHAKE OUTTA CONTROL PROOMO PAGE - CLICK HERE .
Before the show though have a listen to Brian Young and his Crash Course for the Ravers Show on WMFO 91.5FM coz he's having the folks from the punksploitation film An Ungovernable Force on his show. And they will be playing the music from the film ....awesome stuff from bands we love like: The Members, The 4 Skins, The Nervous Eaters, New York Dolls, The Boys, The Nerves, Pointed Sticks, The Jam, Cockney Rejects, The Real Kids, D.R.I., Slaughter & The Dogs, The Freeze, Reagan Youth, The Dead Boys, Poison Girls, Sham 69, The Vibrators, Middle Class, X-Ray Specs, Discharge, Flesh Eaters, and more to come...that's 1-4PM this Saturday 6/14....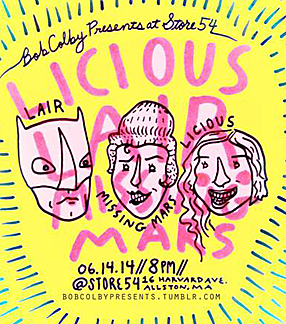 Bob Colby Presents Licious, Lair and Missing Mars at Store 54 on the 14th also
June 14th there's also Surf and Turf at the Midway...no not steak and lobster! It's a surf show with Dustclouds of Mars, Matt Heaton & The Electric Heaters, Trusty Sidekick, Tsunami of Sound!!!
see more Church gigs....June 20th The Welsh Boys, Sprained Ankles, Guns of Brighton and The Blue Bloods.
Also on Friday, June 20th Triple Thick celebrates 15 Years of Triple Thick at The Plough and Stars!! Well we're happy they are still around. So Triple Thick and The Monsieurs will be playing.
Also on Friday the 20th is a great show at TT's with Reverse, White Dynomite, Gymnasium and Devil on Horseback.
Saturday June 21st Muck & The Mires are at The Plough.
Also on June 21st at The Midway there's a special Roy Sludge Revue (featuring Frankie Blandino, Lyle Brewer, Stan "The Man" Kozlowski, and Johnny Sciascia!!!) , Eric Royer's One Man Band along with Easy Ed's Record Hop.
At The Tavern at the End of the World there's a "welcome Back party" for Michelle Johnson-Kish on the bill will be Rockin' Bob kicking things off followed by Dots on Dice, The Dirty Truckers and Jay Allen and The Archcriminals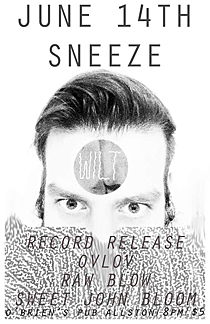 Thee Legendary Prophets who put on a crazy show have a gig at TT's on June 22 Sunday.
Down the Cape on Sunday 6/22 The Beachcombovers will be at the Arts Alive Festival in Falmouth at 4 PM, 300 Main Street
Ken Scales says : Adventure Set will be at Bill's Bar on Thursday June 26TH....with very special guests Casey Desmond & Cemetery Girl also....Adventure Set's new 4 song EP "GAZEBO" will be out in June 2014.
Always promising an interesting experience Walter Sickert & the Army of Broken Toys (12AM) are at TT's along with Parlour Bells, Muy Cansado and Future Carnivores on Friday June 27th
Next Drunk Nuns gig.....Cantab 6/28 its a cool night with not only the Drunk Nuns but also Psychic Dog, The Dead Trains, and The Evil Streaks...and Dave Tree from SweeTreet Ink will be selling cool stuff from his shop.
July 15th has FuzzStompin' GarageSoul with Thee Legendary Rockin' Prophets at O'Brien's.
Friday July 25th at The Midway, Cincinnati band Wussy is playing along with locals Slowdim and Brother Fight.....
Friday July 25th has a great show at Great Scott's with Razors In The Night (Record Release Party! & we're happy to see they are out and about again!), Panzerbastard, The Blue Bloods, and Taxi Driver
And here's some big news Terry Brenner's bringing The Real Kids and Nervous Eaters and Greg Allen's Fringe Religion to The Spotlight Tavern in Beverly on August 2, that's a Saturday night !!! Thank you Terry!!
Friday August 8th - awesome Rock On Cruise with Aquanutz/White Dynomite/Petty Morals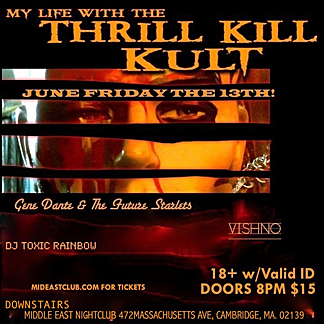 Echo and The Bunnymen are at the Paradise August 14th!!!
It's Hixxmas in August folks! On August 23rd at Club Bohemia at The Cantab it's Hixx and Psychic Dog and more bands TBA...
This should be an interesting evening...at The Cantab August 30th....The Sound Down Cellar, Nelson Slater (tentative), Annie Activator and the once a year gig by Love & Flame featuring Danny Rybar, Lady Carolyn and Joe Viglione along with Mike Quirk on bass, Kenne Highland on guitar. (they are on at 9:30) and The Guns of Brighton


We finally get to see Dave Minehan with The Replacements since they are on the bill for the Boston Calling Show in September (5,6 & 7) later this year!
Saturday September 13th is Matt Burns' 60th Birthday Party! He's celebrating at The Lizard Lounge. So far the bill includes Litehouse, The Handymen, Kenne Highland, and more bands to come.....
There's also a excellent show at The Midway on Sept 13. Cal Cali brings us Lyres-Nervous Eaters-Cal Cali Band- The Invaders (Les Envahisseurs-from Quebec) - whew!!!
The 2nd Annual Rat Beach Party is already well in the planning stages...its set for September 14th& 15th and here's a list of bands so far: Saturday night- Red Parrot Beach Bar starting at 7PM: Hardwired -- Heavy Weddle & Sweet Release -- Severance (or Band To Be Announced) -- JetSet -- Billy Rath & The Street Pirates -- Open Jam to close
Sunday afternoon/evening: Red Parrot Function Room, Beach Bar and Back Room Lounge starting at 12:00 -- The Beachcombovers (Function Room) -- Hardwired (Beach Bar) -- The Boize (Function Room) -- Gino Caira Band (Beach Bar) -- Count Viglione Love & Flame (Function Room) -- Hixx (Beach Bar)-- State of Union (Function Room) -- GraveDancers (Beach Bar) -- The Derangers (Function Room) -- The Workers (Beach Bar) -- Liz Borden (Function Room) -- Kenne Highland Clan (Beach Bar) -- Slow Children (Function Room) -- Pop Gun (Beach Bar) -- Gyro Lula (Function Room) -- Moose & The Mudbugs (Beach Bar) -- Tsunami of Sound (Function Room) 8:30 -- Masters of The Obvious (Beach Bar) -- Red House (Beach Bar) - Real Real Bayou Band (Beach Bar) -- All-Star Jam led by Cindy Daley, formerly of Lovelace.
September 14th -a Sunday daytime show- at the Midway will bring us The Members!!
October 5th - a Sunday daytime show at The Midway will bring us The Vibrators!!!
The Globe Magazine in the Sunday Globe had a neat peice on Sasha Alcott of When Particles Collide...she teaches, she rocks.
Here are some spectacular shots of WATTS at the Hampton Beach show with Cheep Trick.
CONTACT US AT.......misslynbg@yahoo.com Send us your gig listings, your news and anything else ya got!!