The BGN News Archive
June 10, 2013
We hope you listened to Crash Course for the Ravers on WMFO 91.5 FM this past Saturday to hear us (Miss Lyn & Blowfish) on the show. What a blast that was! As we pulled up to the station Carl Biancucci (scheduled to go on after us) drove up, so he was with us the whole time. We sat around for a while figuring out what song to play to go with our various stories we had planned to tell. Oh, about 5 minute to show time Brian Young sauntered in we kind of figured at that point that it was going to be a bit more free form..... and Crash Course is...so we didn't get to a lot of our songs or stories but we did have a ball. We got to tell about how we met, how the BGN started, we told the story of Groupie Towers and The No-Good Groupie News and a few other things....lots of great humor and banter and music with Brian Young, Mike Stewart and Jimmy James....Our playlist: Goo Goo Eyes, Kerouac, When I Talk to Loretta, Who Needs You, Boys From Nowhere, Brakes on You by Tracks (Nothing beyond 1978!)...and as mentioned Carl Biancucci was up after us to promote the Viva La Eva Benefit and played a song from each of the bands on the bill...THAT's an amazing set of music with My Little OCD a great new song from Classic Ruins!....if you didn't get to listen don't be too upset my friends coz they archive their shows and you can listen to it anytime you'd like: Here's the MFO Archives...Next week 6/15 the Ravers have Danny Marquis and Steev Riccardo who are two guys with interesting histories and sure to have great stories.
Earlier in the week on Thursday we headed over to The JP Art Market for the opening of "From Boston to the Bowery: Photos by Godlis" curated by bizarro fashion plate John Nikolai . We arrived late because traffic in that neck of the woods is totally insane...we walked in on David Godlis mid-talk but we got to hear lots of interesting tales. Godlis is a sweet down-to-earth guy, he held up prints of the pics in the show and told a tale for most of them, which was a really nice touch. His artist's statement explains how he was influenced by Brassai...and once in NYC, like Brassai in Paris in the 30's he began taking night time street photography without a flash. Since he hung out at CBGB many of those photos were of the punks that played there or hung out there and much like Brassai many of his subject went on to become famous. His photos are rich and dark and really evoke the feeling of that time. There's Patti Smith and The Ramones, the Dead Boys, that great one of snarling Stiv Bators , the awe inspiring list goes on and on...so many of these photos I've seen a ton of times but never realized they were by Godlis! And now, as he explains in his talk, the Met's recreation of the CBGB bathroom for their Chaos to Couture show is an completely based on his photos! ...and Richard Hell's new book I Dreamed I was a Very Clean Tramp uses a couple of his photos as well. Godlis is everywhere and that's a good thing.
Now for stuff that's coming up:
Tuesday, June 11...The Young Adults are at Great Scott's...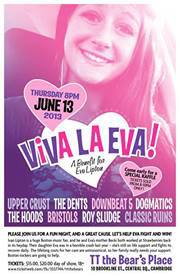 This Thursday June 13th!! The Viva La Eva Benefit - Viva La Eva Benefit for Eva Lipton at TT The Bears:
Ivan Lipton is a huge Boston music fan, and was the VP of Strawberries back in it's heyday. His daughter Eva was in a horrible crash last year -- she's still on life support and fights to recover daily. The lifelong costs for her care are astronomical, so her family really needs your support. Boston rockers are going to help here's who's playing:
This is an amazing bill with Classic Ruins (going on at 8:30) ... Roy Sludge...The Bristols... The Neighborhoods... The Dogmatics...The Downbeat 5...The Dents and Upper Crust (Ending the night). That's one hell of a night for a great cause...It starts at 8:30 and all the bands (except the Crust) are doing 20 minute sets...you don't want to miss one of em!!
You can buy tix here....TIX
Oh one more thing: From Ivan Lipton: We hope as many friends as possible can make it to TTs to see all these great bands! If you can't make it, but still want to support Eva you can donate on Paypal to: EvaLiptonBenefitFund@gmail.com
Also on Thursday June 13th is the first Bob Colby Second Thursday at Club Bohemia Downstairs at The Cantab...and he has a great line up with Mary Lou Lord, Matt Mingell, Kingdom of Love and Randy Black.
June 15th is a happenin' evenin' with - Jonathan Richman at The Somerville Theater!!
New England's only Cheap Trick Tribute band The Clock Strikes Ten is playing this saturday June 15th at JOhnny D's in Davis Square... Clock Strikes Ten (CS10) was originally formed in 2003, when front man John Powhida and bassist Tony Goddess from the Boston based band The Rudds started to play Cheap Trick songs during Rudds shows. Various line-up changes ensued over the next few years and by 2008 CS10 was solidified with Powhida, Goddess, John Brookhouse and John Lynch rounding out the guitar and drum slots respectively. Tony and the 3 Johns love Cheap Trick and play their catalog with Power, Charisma and Magnetism!!!
We saw them in 2009 at Church and they were pretty fabulous.
Also on 6/15 The Middle East Down has The Adolescents, The Casualties, Tenebrae, and Done With You
and then we have Muck & The Mires at The Plough...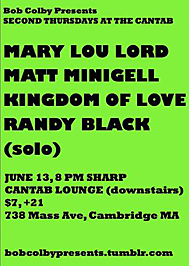 Plumerai has a new CD out...it was recorded in a Masonic Temple! And they are participating in the 5th Annual Make Music Harvard Square / Fête de la Musique next weekend on Sunday June 16th, when the streets of Harvard Square become a free, live music festival featuring more than 70 musicians from across the USA and Canada playing on 11 different stages. Festivities kick off at 2pm and come to a close at 10pm. That's pretty cool! Plumerai is also at the Gulu Gulu Café in Salem on the 28th too!
Friday June 21st at The Hard Rock Café (wherever that is ) Boston Rocks for the OneFund with Charlie Farren, LizBorden Band, James Straight and The Wide Stance, Adventure Set and other... Like night and day we have two separate events on June 22nd:
The Milton Art Center is putting on a very special event: Roger Miller of Mission of Burma, Alloy Orchestra, Sproton Layer will perform in a rare solo performance in the MAC gallery Saturday June 22 at 7 PM. AND The gallery will be featuring Roger's visual artwork throughout the weekend. Roger Miller will also host a demonstration/discussion/workshop on the frottage art technique on Saturday from 12-2:00PM. Miller's art will be on display in the gallery through Sunday 6/23, and select pieces will be available for sale. For more info and to buy advanced tix go to Milton Art Center's site And then at the other end of the spectrum we have:
GG Allin Remembrance Show -and bake sale- at The Midway!!! - This is going to be a great show and an early show from 2-8PM folks!! The original Jabbers are making their way down from NH to play at The Midway...This is the 20th Anniversary of GG's death and all proceeds from this show go to GG's daughter. Here are the bands: The Jabbers, The Pity Whores, Antibodies, Meat Depressed, Red Line Rebels, The Manglers, Insult, Taxi Driver, Connection and more!!!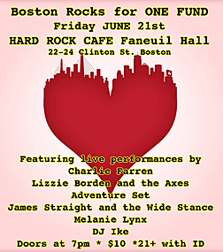 So Cal Cali has been working on booking shows at a couple clubs in the area like The Midway and PA's Lounge so after 8PM at the Midway this same day - the 22nd Cal Cali has his New Experience, Tsunami of Sound, Foxpass and Answerman...
At PA's on June 28th Cal's got MOTO and JetSet and he's working on a third band as well.
June 29th at The Midway you'll find the Dirty Truckers and Slim Jim and The Mad Cows.
and coming up in July: Awesome Day Festival at O'Briens with Cult 45 and The Humanoids on the 6th....
Fleshtones at Church on the 12th and ...
Petty Morals on the 19th at Great Scott in Allston
Pere Ubu is at Brighton Music Hall Saturday, September 4th!!!
Sadly there is another Ramones loss to report: Arturo Vega, Artistic Director for the Ramones has died. RIP Arturo!!
Chris Brat (Marvels, Acrobrats, By The Throat and so on) has yet another new band Duck and Cover and of course they kick ass...we can't wait to see them play out somewhere but until then you can hear rough mixes of their songs here...on SoundCloud
EMAIL US AT.......misslynbgn@yahoo.com