The BGN News Archive
June 10, 2019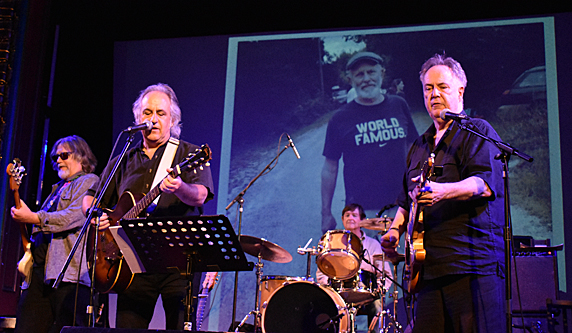 Asa Brebner Memorial and Celebration
Photo: Blowfish
---
This past Sunday, June 9th, was a five hour remembrance concert for Asa Brebner at the Regent Theater.
The people filled the seats and love filled the hall. Asa's family and friends shared their stories. A lot of Asa's friends were his fellow musicians so they brought the spirit of Asa's music with them, and in more ways than maybe even they knew.
We are going to take the time to assemble the material onto a page. We should have that in a few days. We will post a few things on Facebook as we go along.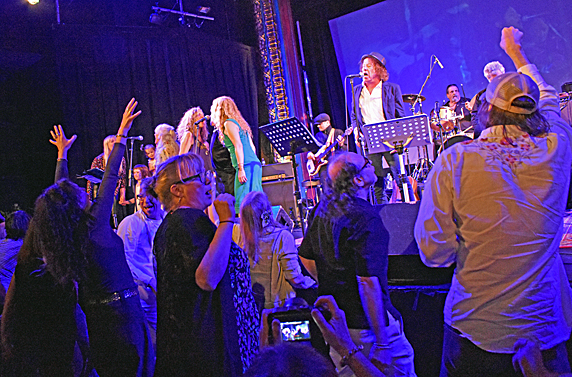 Asa Brebner Memorial and Celebration
Photo: Blowfish
---
Now for the past weeks news.....
Sunday June 2nd, we made two fast hits. We had to go to the Midway to give our respects to Slimedog on his 22nd (times infinity) Birthday party….and get free pizza.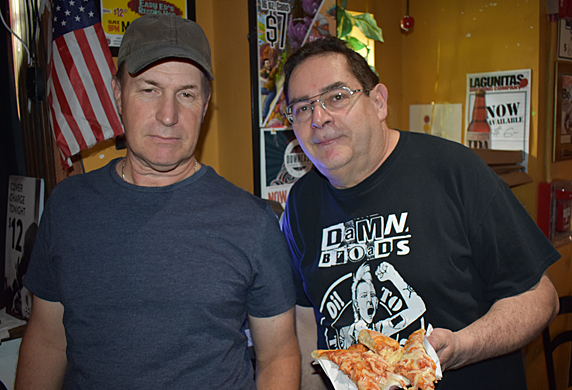 Andy and Slimedog from Thrash n' Bang
Photo: Blowfish
Slimedog was wallowing in the glory as Cry Havoc played a no holds barred hardcore set. The band played fast but the music was not a blur. They had plenty of clear riffs and patterns going on. The singer, Jonny, was a yeller. The lyrics always made a point and Jonny would often say what they were before he cranked up the vocal chords and delivered. He did a lot of jumping too. We have a series of five photos of him jumping through the set that we posted on our Facebook page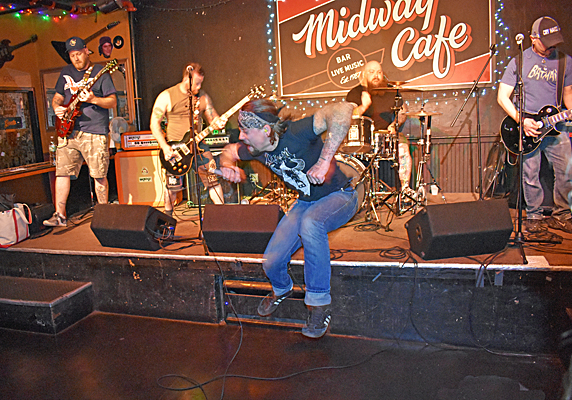 Cry Havoc
Photo: Blowfish
Cry Havoc are from New Britain, CT and have been together since 2006. You can hear some music at their Reverb Nation page. They have two full length CD's out and a split 7" with another of our fave CT bands The Lost Riots. You can check that out here.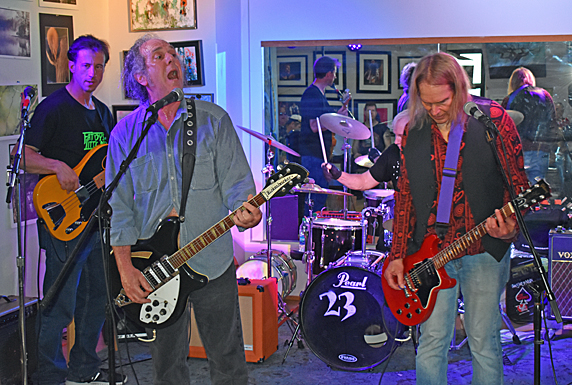 Stigmatics
Photo: Blowfish
The we took off across town to the Out of the Blue Gallery with their all day benefit. We only heard a minute of The Stigmatics when we got there. You gotta hand it to these guys, they're a hard working band and are gigging with a vengeance.
Then it was Kenne Highland playing with Matthew Gilbert. Kenne was on bass and he brings a lot to it. Who would have known!! He plays with his fingers and gets a deep round tone. They were playing some Alice Cooper and some other covers. Cal Cali jumped onto drums at one point.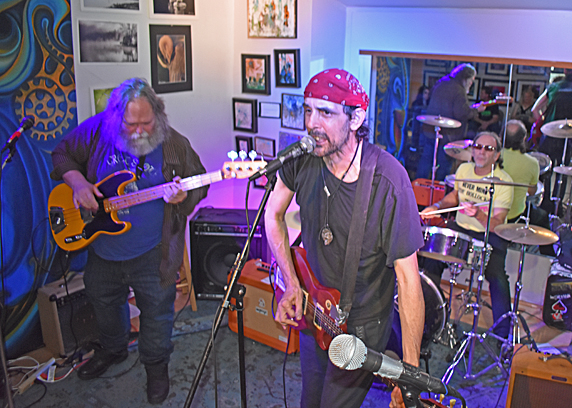 Kenne Highland, Matt Gilbert and Cal Cali
Photo: Blowfish
The OOTB Gallery room is small and there are no monitors there. It must be hard for a band with amps (rather than the solo acoustic sets) to hear themselves.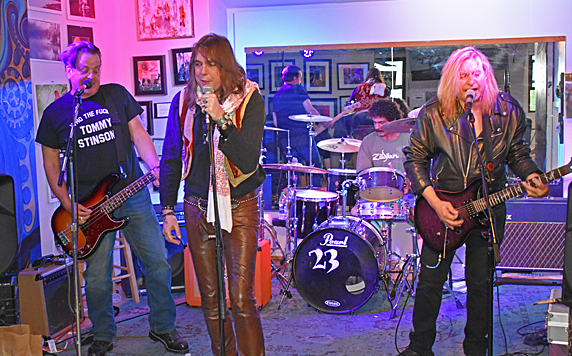 The Thigh Scrapers
Photo: Blowfish
Brian Young of the next band, Thigh Scrapers, said as much later. They did some covers from Cracker, Queers and Brian's fave – Johnny Thunders. But it was their own "On the Radio" that hit the mark. That song is a gift from the heavens for the band. Jimmy cranks that proto metal riff and it's a steamroller. Brian jams the lyrics into the verses and releases an exclamation for the chorus – works like a charm. Hear the Wooly Mammoth recorded version here
There may be more of these benefits. This was the second one at the Allston location. It's a low key take-in that you can dip into at any time and see some interesting sets and hang with the locals.
Bodega
Photo: Blowfish
For months people have been telling us to check out the NY band Bodega. They were playing Great Scott's and on a Tuesday. That says to us – easy parking. So, we took it in. We were hoping to catch Boston Cream who don't do a lot of shows but missed them. They made an impression on the Lyres show in January of 2018.
Bodega are not a usual by-the-numbers rock band. They have two stand up drummers. One who really goes at it, supplying rhythms like Bow Wow Wow. The other drummer gives accents. The push the bass right up front in the sound mix and that bass is big sounding and in the groove. It took about two or three songs to get into but after that we full-on loving it. The guitarists supplied all sorts of sounds generated by pedals. They songs were written well and varied so the set never got predictable. Some songs were two minutes long another one was 10 minutes long.
It was one of those shows were you wanted the band to just keep playing forever.
The second to last song was a long one that was mostly a short riff with an emphatic hand raising cheer at the end. That song went on for a long while and it never got dull. The last song saw almost half the audience going on stage and joining in a communal stomp. That was lots of fun for everyone.
Bodega
Photo: Blowfish
They have had some good gigs and got some attention. NME called them out as one of the most exciting groups in last year's SXSW. (You can read that here)
If you're looking for something new this band is a candidate, as well as our own Boston Cream.
Friday had four hard rocking bands at O'Brien's. We missed the Runouts who developed quickly to quality band worth catching often. We saw them a month ago at the Hong Kong. They have some new material but their last CD called Bohemian Catastrophe is worth listening to right now. Skybar on WMFO has played it a lot.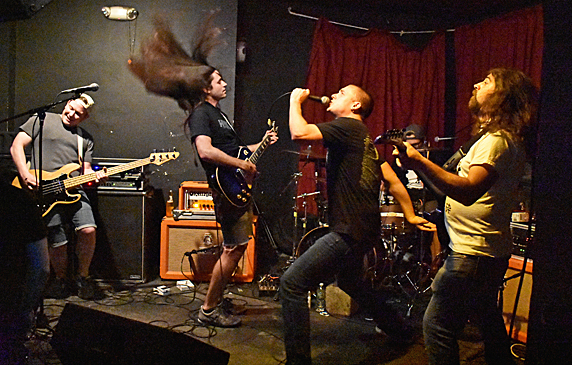 Oh The Humanity
Photo: Blowfish
We were in time to see Oh The Humanity. They also have new material and played a lot of it in the set. They were so tight, they must practice like crazy.
The two guitarists are both proficient players and did a lot of twin leads. At times it was synchronized shredding. The band takes every fast twist and turn with them. We liked it when the guitarists slowed down which they did in intros and at some points in the arrangements. Then you could hear the tone from the two matching Orange amps. They played very melodic when they played slow. Those guys could do it all.
They still don't over shine the singer who was up front and singing/yelling with a little emo in there. There are a few points where he digs into the lyrics and makes it hit you in real time. The last song "Roadsick" had one of those moments in the chorus when he sang "Everything I am is part of everything else". It's a real existentialist epiphany there too. Catch the song on their Bandcamp post. We love those moments and any band that can do that is one you hang on to.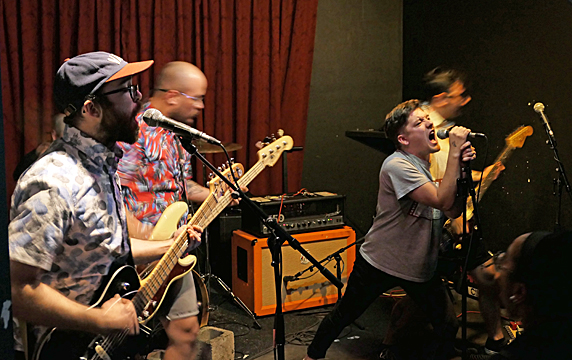 Secret Spirit
Photo: Blowfish
We only recently got on the next band Secret Spirit. We saw them as an opening act in May
They played some post punk/hardcore and played it hard and fast. We loved the first song especially since the singer had some short catchy melody in the vocal. We think it's this song "Feel Good" from their Bandcamp page…. That's a sweet spot; to have the hardness in the band sound and a touch of pop in the vocal.
A lot of the time they were blasting it out so furiously that subtleties got lost and that was alright too. The played a few songs and then when the singer got tired, they brought a guitarist forward and he belts out two songs that would melt your face. Then back to the other singer. It's a tag team effort that keeps the energy at the peak. There was a point where everyone in front of us was head banging with an especially hard pounding section.
Secret Spirit
Photo: Blowfish
They ended with the song "Mother Fucker" which goes about as you would expect. And some people say rock is dead? They're playing a lot this summer. Next show it the Jungle on June 20.
We had to bail so we missed KCUF and it was a CD release for them too. We have to get up to speed on those guys.
Click Here for more band photos.
---
And in other news.....
OK, it's head's up people!! This band called Grade 2 from the Isle of Wight it playing Maggies in Quincy on June 12. Take a listen to this- All I Know.. and this…Pubwatch
THAT should tell you all you have to know. Why they ended up at Maggies, we don't know.
The FU's are looking for a bass player. Any takers?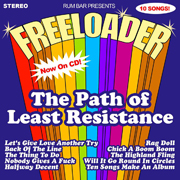 Freeloader is doing a CD release party at the Plough on Friday July 12- Who is Freeloader? Freeloader is: Nat Freedberg, Jim Haggerty, Charles Hansen, Jim Janota.
Drummer, Tara McManus, while touring with Mr. Airplane Man, came down with an acute crisis episode of previously undiagnosed Addison's Disease, which has laid her low. She is unable currently to work or pay her medical expenses. There's a GoFundMe page which has already exceeded the initial goal but I think we all know how these things go; you never have enough money to deal with life's problems. Tara cannot work and has a son to support. To contribute go to Hang Tuff For Tara. Any amount is welcome and appreciated!!
There is a show at the Lizard Lounge on July 5 celebrating the 20th anniversary of the passing of Mark Sandman. It sold out almost immediately but there may be a few tickets on the night of the show. It's called "Mark Sandman / 20 Years Gone / A Musical Memorial". Members of Morphine, Hypnosonics, and the Vapors Of Morphine will be playing.
---
Here's some good shows coming up this week.....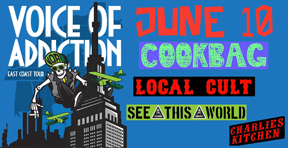 June 10 (Monday) Cook Bag, Voice of Addiction, Local Cult, See This World at Charlie's Kitchen
June 12 (Wednesday) Grade 2 from the Isle of Wight are at Maggie's in Quincy - should be a great show!!
June 13 (Thursday) bloom., Smilin' Issac, Threat Level Burgundy, The New Limits at The Hong Kong
June 13 (Thursday) Order 66, Circus Battalion, Deranged Youth at the Jungle
June 14 & 15 (Fri. & Saturday) The Fuzztival at Once Ballroom.
June 14 (SFriday) GLiDER, The Stigmatics, The Cazbats, Mad Painter @Club Boho
June 15 (Saturday) Thee Fightin' Fish, The Billy Connors Project, A Bunch Of Jerks, Club Linehan A Go Go - 3-7 matinee at The Midway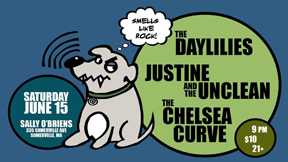 June 15 (Saturday) The Daylilies, Justine and The Unclean, The Chelsea Curve at Sally O'Brien's
June 15 (Saturday) Nervous Eaters with The Stigmatics ans Tsunami of Sound at Pete's Grill in Quincy cover charge is only $5!!! FB page
June 15 (Saturday) Silver Screams, Brix'n Mortar, The Downhauls at Atomic Cafe (Cabot St Beverly)
June 15 (Saturday) The Gala, Zip-Tie Handcuffs, Ben & Jolly Janes, Green Piece at UnchARTed Lowell
June 16 (Sunday) OC45, Hobo Chili, C.O.B., DNZL at The Midway a benefit for the New England Center and Home For Veteran's 3-7PM All Ages
And further out there is......
June 18 (Tuesday) Deaf Poets, Black Beach, Friendly Psychic Strangers at O'Brien's
June 20 (Thursday) Punk/Ska night at O'Brien's with Thirteen Towers, Jerry's Got Jokes, Sweet Babylon, Don't Blow It.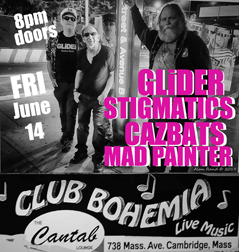 June 21 (Friday) Sky Tigers, Secret Spirit, The Lipstick Boys at The Jungle
June 21 (Friday) Kid Gulliver, Stars Like Ours, The Rationales at Sally O'Brien's
June 22 (Saturday) It's Quincy Porchfest!!! At 62 Prospect Ave Quincy you can find - Order of appearance starting at 1pm and every hour on the hour- The Fringe, Thee Fightin' Fish, The Stigmatics, Baabes, Glider, The Thigh Scrapers, Charlie Don't Surf a tribute to The Clash FB page for directions etc.
June 22 (Saturday) The Gala, The Dazies, Haunted Horses NYC, Lockette at The Midway
June 22 (Saturday) writer Joe Milliken is having a book event to promote his Ben Orr bio Benjamin Orr and The Cars at 9 Wallis 8-10:30PM FB page
June 22 (Saturday) Stars Like Ours, Little Billy Lost, Thinner, and The Stigmatics at Ralph's Rock Diner Worcester.
June 23 (Sunday) Teenage Bottlerocket with Ramona, The Young Rochelles at Once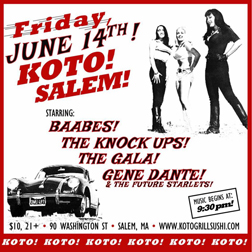 June 23 (Sunday) The Ones You Forgot, The Burning Lights, Stubborn Hearts, Waiver Wire at O'Brien's
June 27 (Thursday) Let's Go! Author Event & Cars Tribute Concert at 9 Wallis in Beverly FB page
June 27 (Thursday) Powerslut, Thrust Club, Radium Girls at The Jungle
June 28 (Friday) Labor Hex, Ultra Major, The Endorphins at O'Brien's
June 28 (Friday) State Line Records Night at the Midway Round 1: Stray Bullets, Secret Spirit (NH), Stolen Wheelchairs (PA), Doc Rotten (NJ) at The Midway
June 29 (Saturday) The Old Edison, Coffin Salesman, Time & Place, Loser's Circle at The Midway
June 29 (Saturday) The Mystery Lights, Future Punx, Boston Cream at Thew Middle East Up
July 5 (Friday) Cal Cali Band, GLiDER, Mad Painter at KOTO Salem
July 6 (Saturday) The Hi-End, Nat Freedberg, The Worried at Sally O'Brien's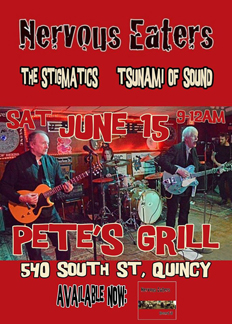 July 9 (Tuesday) Some Kind Of Nightmare, Losers Circle, Nick Barbarian, And Live Nude Girls at Thirsty First Tavern Lowell.
July 11 (Thursday) The Thigh Scrapers, Baabes, State of the Union and The Laces at The Jungle 5 Sanborn Court Union Square Somerville.
July 11 (Thursday) 61 Ghosts, Thee Fightin' Fish, Pop Gun at Opus in Salem
July 12 (Friday) Freeloader is haviing a CD release party at The Plough and Stars. Who is Freeloader? Freeloader is: Nat Freedberg, Jim Haggerty, Charles Hansen, Jim Janota. Also on the bill the Savtones.
July 13 (Saturday) Day Three of the Rama Lama Diong DSong thing: Unnatural Axe, Nice Guys, Atlantic Thrills, Andy California, Johnnie and the Foodmasters at Cambridge Elks Lodge $12 6:30 PM TIX: https://bit.ly/2QoVVVV
July 14 (Sunday) State of the Union, The Only Things, The Tsunamibots, Pop Gun matinee at The Midway 3-7PM
July 14 (Sunday) The Messthetics, Trinary System (Roger Miller) at Great Scott
July 18 (Thursday) Cruel Miracle, Blindspot, Justine & the Unclean at The Jungle Union Sq Somerville
July 18 (Thursday) The Chats, Louzy at the Middle East Down
July 20 (Saturday) Thee Fightin Fish, Warthog (Ramones tribute), Charlie Don't Surf (Clash tribute), and Meat Depressed at The Midway for a 3-7PM show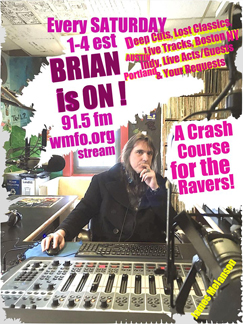 July 20 (Saturday) State Line Records night at the Midway Round 2: Hudson Falcons, The Sprained Ankles, Michael Kane & the Morning Afters, Dressed for the Occasion, Coffin Salesman
July 20 (Saturday) Spring Heeled Jack, Party Bois, Diablogato, Catbite at The MIddle East Down - all ages!!
July 20 (Saturday) Dogmatics, Jittery Jack & Amy Griffin, Stop Calling Me Frank at the Back Room at The Burren Davis Sq Somerville 6-9PM folks!!!
July 21 (Sunday) A Bunch of Jerks, The Stigmatics, 1.4.5, TRiPLE THiCK at The Midway matinee 3-7PM
July 27 (Saturday) M.O.T.O., Jerry's Got Jokes, Cook Bag, The Trades, The Runouts at The Midway matinee 3-7PM
July 27 (Saturday) Corner Soul, The Knock Ups, Motel Black at The Jungle Union Sq Somerville
July 27 (Saturday) The New England Ska Summit; Bim Skala Bim, Copacetics, Hempsteadys, El Grande at Once Ballroom
July 28 (Sunday) Joe Harvard Memorial - 5-10PM Middle East Up. Keep checking the FB page for updates and info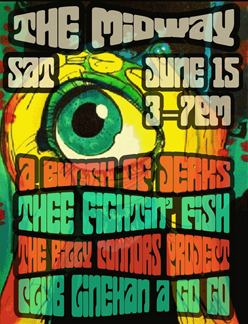 July 31 (Wednesday) Black Leather Lagoon, Poison Boys, Thee Fightin' Fish at The Jungle Union Sq Somerville
August 3 (Saturday) Townies, Bystander, Louzy, Rusty Mullet this is a 3-7PM matinee show
August 8 (Thursday) Green Piece, Sorry w/ slo-anne & The Callouts at The Hong Kong
August 8 (Thursday) Otto Records present 145 & The Thigh Scrapers at The Plough & Stars
August 10 (Saturday) No Small Children, PowerSlut, and The Knock Ups, at Once
August 14 (Wednesday) Deke Dickerson, Bloodshot Bill, Jittery Jack, DJ Easy Ed at Once FB Page
August 15 (Thursday) 1.4.5., Crunchtime and Glider at The Jungle Union Sq Somerville.
August 15 (Thursday) The Queers, Stubborn Hearts, Meat Depressed, The Parkwoods at Alchemy in Provi RI
August 31 (Saturday) A Crash Course For The Ravers LIVE Saturdays 1pm to 4pm at WMFO and transmits on 91.5FM Medford. This week we have RICHARD MIRSKY!
August 31 (Saturday) Time & Place, PowerSlut, The Daylilies, Lonely Leesa & The Lost Cowboys at The Jungle - Music starts at 8PM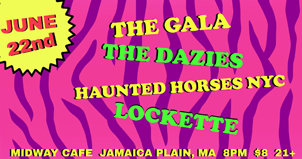 September 8 (Sunday) Somerville Rock And Roll Yard Sale - Union Square - 11 AM – 5 PM FB page for more info

September 21 (Saturday) Lyres and Glider at Once (TIX)

October 5 (Saturday) Mudhoney, Pissed Jeans at Brighton Music Hall 6PM doors.

October 20 (Sunday) Stiff Little Fingers, The Avengers at Brighton Music Hall doors 7PM

October 230 (Wednesday) Flipper with David Yow (Jesus Lizard) "40th Anniversary Show" at The MIddle East Down

CONTACT US AT....misslynbgn@yahoo.com Send us your gig listings, your news and anything else ya got!! You want your CD reviewed?? Contact us for that too.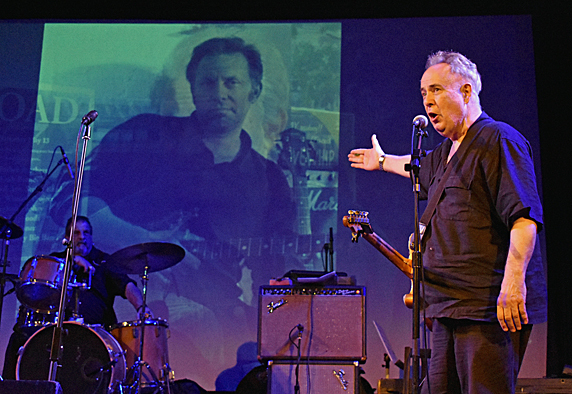 Trick Wallace - Asa Brebner Memorial
Photo: Blowfish
Oh The Humanity
Photo: Blowfish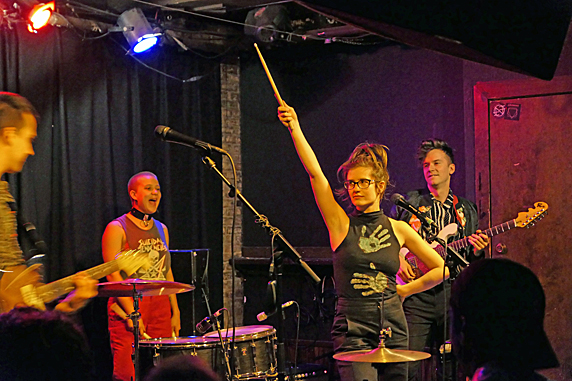 Bodega
Photo: Blowfish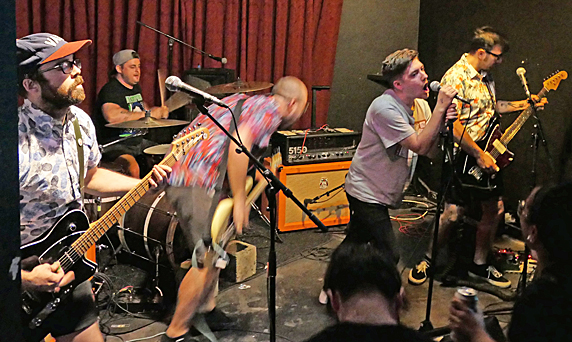 Secret Spirit
Photo: Blowfish

Oh The Humanity
Photo: Blowfish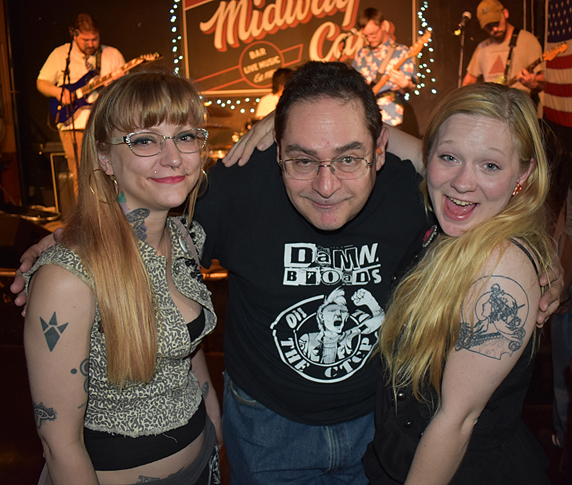 Slimedog and friends
Photo: Blowfish