The BGN News Archive
June 11, 2012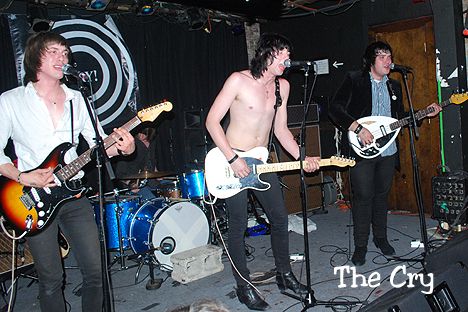 Eric Law sent an early week email trumpeting a show at Great Scotts on Wednesday. It had three video links. After about 15 seconds of The Cryís song my computer froze but that didnít matter those 15 seconds did the trick. The Cry were playing pop with style. The other groups were poppy too.
I found a parking space but even on a Wednesday the spaces are few. Scotts was around half full. Two Mucks (Evan and Linda) are at the bar. Eric is up front and the first band Zip Gun Bomber is playing.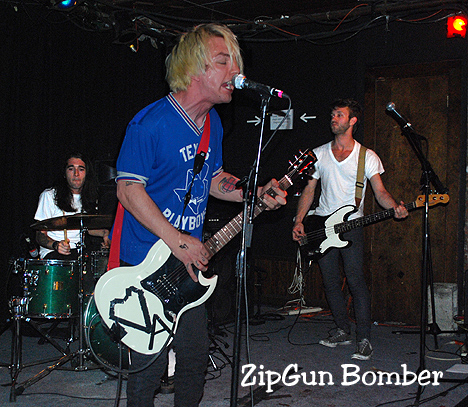 ZipGun Bomber is in the punk/pop vein, like Green Day say. They are doing a fine job. They are pumping and have solid harmonies. As it would turn out all the groups this night would have harmonies of note and no sour notes at all.
The Connection, the next group, had a surprise on bass. It was Andy Casey from Red Invasion. We miss those guys. The Connection were less punky with more focus on the songwriting. They have some nice material and the one song that Andy wrote was my fave. He should write some more and come to think of it, it was more memorable than most Red Invasion songs. The tall lead singer was an attention getting front man. All in all a satisfying set. The first three groups used the same amps and drums so set up times were minimal.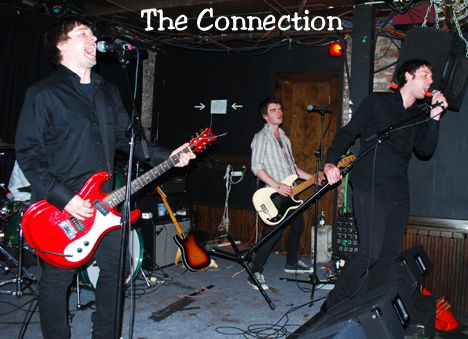 Kurt Baker was in the Leftovers a group I missed seeing but their CD had songs that never failed to get my attention on the radio. Kurt wastes no time taking over the proceedings with some fast talking smart talk, presenting himself in a faux smarmy showman. Can he back it up with music? Oh, ya. This is pop with power. Songs are three minutes tops and they are all catchy. The last time I heard something like this was Paul Collins at Church. The songs are like carnival rides, fast and fun. Chord progressions go by smoothly with little differentiation between chorus and verse. They are seamless mobius strips you donít want to end.
The guitar play from The Connection is also with Kurt but here heís playing with more punch which I put down to more rehearsal maybe but it is noticeable and welcome. The key board player knows what heís doing. Kurt on bass and the drummer are locked together. The group as a whole is super tight. Kurt and the band are from Portland , ME. where he plays at Ginoís. Portland has a nice scene up there and is worth a visit - a tip from us to you (and they have several record stores).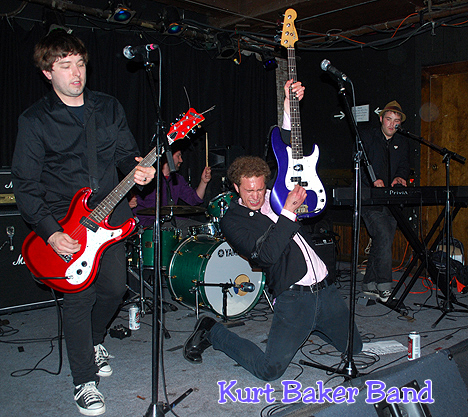 This is turning into a fantastic night. The Cry bring in their own amps (VOX) and drums which turns out to be too bad because the fast sound check they do ends up with mix not as good as the other groups.
Even without hearing the music you can see they have style and panache, then when you hear the music it all comes together. Kurt left the place buzzing and The Cry picked up where he left off, imbibing all their material with excitement and keeping the crowd energized. In an alternate universe their look and sound would translate into loads of teenage fans, hey, it could still happen.
Itís obvious from their material that they have studied and soaked up their influences. The songs have doo wop harmonies, 1-6-4-5 progressions that signify early sixties influences and endings with 6th chords like the British Invasion groups used. They also have a song that apes the Beach Boys "Be True To Your School" and another that begins with Iggyís "Lust For Life". They mix it up and make it their own.
The guitarist has learnt a lot for his young age. He figured a lot in the nightís highlight - a version of "Starry Eyes" by The Records from 1979. It soared with tight harmonies and spot on riffage by the guitarist. Kurt Baker couldnít contain himself and jumped on stage and joined in.
As good as they were I think the video was actually better and the CD makes you see their attributes clearer. Iím being picky here, they were very good.
All in all the whole was even better than the parts. Four pop loving bands feeding the pop loving crowd. That was a great booking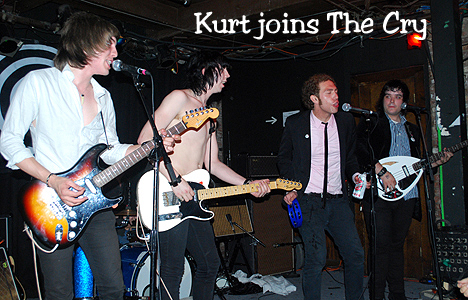 Coming up for shows we got:
In the evening on the 16th there's a good show at The Middle East up with Cocked N' Loaded, The Humanoids , Infernal Overdrive and a couple other bands.....
On Saturday June 23rd Rick Paige is having a big sale at his collectibles shop Atomic Dime Store in Hyannis...and we mean big as in 20% off everything!!! So get your butt on down there!
AND there's a not to be missed show at The Rosebud with James Straight & The Wide Stance along with Cadillac Heart, and the Beachcombovers!!
Also, over at The Midway in JP there's a great show too! The F.U.s along with M-13, The Pity Whores, Damn Broads, Red Line Rebels and Machine Gun Ettiquette this is an early show starting at 4PM folkd.....
And closing out June, on Saturday 6/30 it is a very busy night with lots of good shows:
There's a daytime show at the Middle East (up) (Starts at 1PM) with Razors in the Night, The Blue Bloods and Cradle to the Grave and By The Throat
this gives you time to then head on over to Store 54 in Allston for a "rent party" with ex Red Invasion guitarist Ryan's band Faguettes (USA), along with Engine Judy and Natalie Flanagan....
Then you need to run over to Somerville and get to Precinct...I haven't seen any interesting shows at Precinct in some time so it's good to know they can still put one on: Mars opens up the night followed by My Own Worst Enemy, Muck and the Mires and Brownboot
and in July both the 6th & 7th to be exact and Johnny Angel is back in Boston again- He's putting on the "First (And Maybe Last) Annual Johnny Angel Hootenanny At Radio" with a load of awesome bands: WATTS, Robin Lane, Mary Lou Lord, Darling Pet Munkee, 360's, Noggin and Eric Martin/Illyrians. AND Johnny will be playing music from IT! (his latest CD and band click on the link to here the songs, buy the CD and read some info!).
Thursday July 19 Surf Guitar Legend Dick Dale is at the Middle East down with Muck and the Mires
and some more big news: Jerry LeHane is putting on a benefit for Cancer Research check out this AMAZING line up for this two night show:
Appearing Friday night, July 27 are The Flies (first reunion ever!), Bristols Piranha Brothers, and Sourpuss and the Hired Men (with Peter O'Halloran) .
On Saturday night July 28 are Dogmatics (you KNOW you love them!!), New Frustrations, Lucky 88's, and Lenny Lashley.
The show's at the Johnny D's in Somerville. Tickets can be purchased online here , and in advance for $16 at the club and if still available (coz they are going fast!!) , $20 the night of the show. The show is 18+. Proceeds go to benefit the Pan Mass Challenge and local musician Peter Sisco.
And of course everyone is buzzing about the Human Sexual Response reunion...All the original members...at the Paradise on Saturday, November 10th
EMAIL US AT....misslynbgn@yahoo.com