The BGN News Archive
June 11, 2018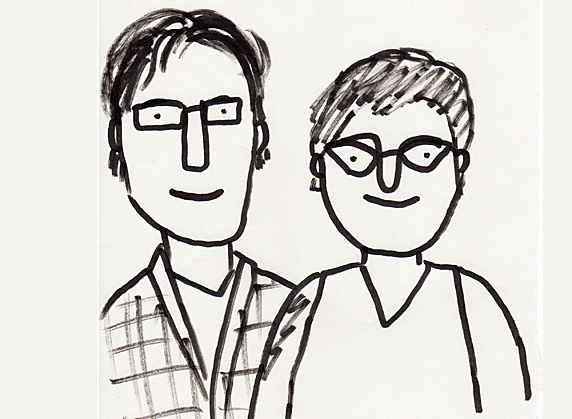 Blowfish and Miss Lyn by Nick Shea
---
Things didn't click with going out this week. It culminated in not being able to find parking near O'Brien's on Friday. Missing that show hurt.
Sunday we checked out the Black Market Flea which has been going on for a while. It's bi-monthly now. We went in being a bit jaded. We've been going to similar things for years. Here's two we went to from 2003 (here and here) . Those were run by Ben Sisto who did a lot for the scene back then. These are being done by Boston Hassle ( and Ignore Rock Heroes. Plus it's been a while.

Black Market Flea
Photo:Blowfish
There was no sign outside the 5 Callender St building. Inside a one dollar entrance fee got us into a very full up room. Full with people and stuff for sale. Our jaded attitude went south. This looked like fun!!
And the best part? - It was very punk. Lots and lots of punk clothes and pins and jewelry. The whole thing had a punk attitude. One of the first tables we looked at was Second Sun Creatives who had jewelry made from used things like old watch parts. Some pendants used old bottle caps. All very well done.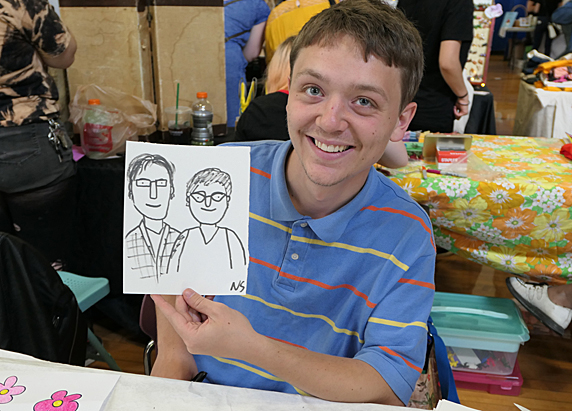 Nick Shea
Photo:Blowfish
At one table we found Susan Rowe, Frank Rowe's daughter. She was selling a friends stuff. She told us Frank has a solo gig coming up at Tavern at the End of the World. We didn't know and will be looking for the specific date on that. Also selling was notable scenester Todd Purple. He moved out to Northampton but comes in town for shows. He said he does all the Boston Hassle Fleas. Todd has some cool tats. He has the Citco sign in there.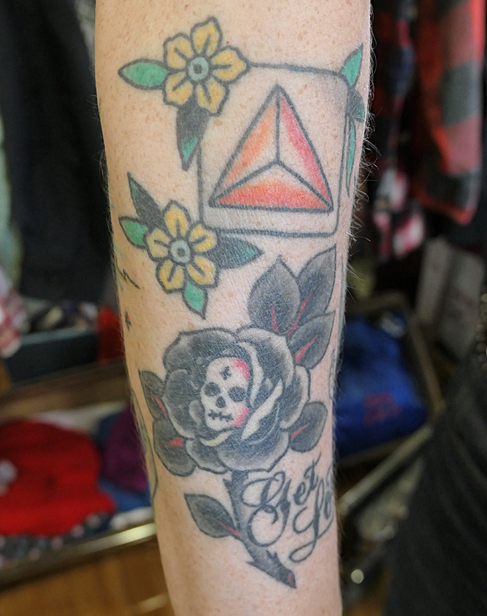 Todd Purple's Citgo sign tattoo
Photo:Blowfish
Then there was Nick Shea. Nick did portraits for $1.00. We splurged for $2.00 and got a BGN group portrait (see top of page). He was always busy and why not? We are thinking of this as the first step in a Boston Groupie News graphic novel!!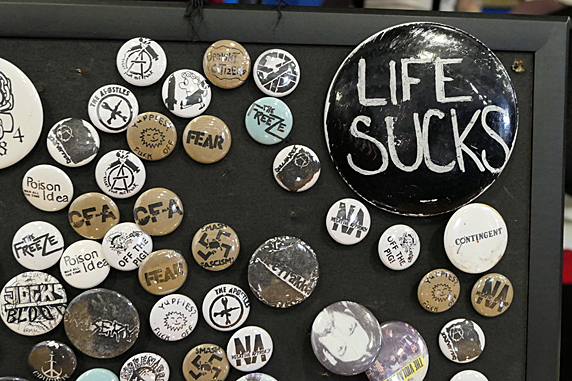 Buttons
Photo:Blowfish
A roommate of Dan Webb had Dan Webb and the Spiders LP's and other Gunner Records (Bundles and Tied to a Bear). We picked those up.
Another guy had a CD on his table called Pizza Day. It's just a self done bedroom recording of Green Day songs changed to reflect his monomania on pizzas. The songs included: "Boulevard of Broken Pizza Dreams" ("I eat alone") and "Good Toppings ( I hope you had the pie of your life"). Had to get that since we just read Green Day FAQ and direct you to that review here.
There was a table of obscure VHS tapes. Worth the time to check out for serious aficionados. We loved looking at all the buttons. They still are items we want to collect. There were a few small press books and fanzines of various subjects.
Taking everything in we were impressed with the punk and DYI spirit and the talent of the vendors. This is what we want to see out there. Boston Hassle gets a big nod on this. They constantly stoke the fires of community projects and artist involvement.
One other thought...there were so many punked out kids there. Where are they when the bands play at night??? We don't see them crowding the clubs...and we wish we would see that. Are we missing something? are there gigs they ARE at that we dont' know about? Let's us in on it if you know!
---
We had the exciting privilege to debut two RumBar Releases this week.
The first on Wednesday was the new song "Gimmme Life" by Stop Calling Me Frank. You can hear and download for Free by hitting the photo link below, or go to our interview page for the band and learn something about this one of a kind band. Stop Calling Me Frank Page.
Thursday it was Justine and the Unclean's turn with their single "Be Your Own Reason" Same deal you can hear the song easy by hitting the photo link below or go to our interview page with Justine Covault
---
And in other news ....
Now the direct opposite of the above Flea ended up in our email boxes today. It's an ad campaign by Century 21. They have co-opted the LP art of Blondie, Devo, Joan Jett, Billy Idol and Springsteen. It's such a direct one to one correlation that it doesn't even seem legal, unless the artists were paid. We don't know what's worse. The mainstream laughed and put punks down for the way they looked, now they use it to sell their products.
Nothing we can do about that. What we can do is go to things like the Black Market Flea and support the talent at our level. We will keep you posted on the ones coming up in the future!!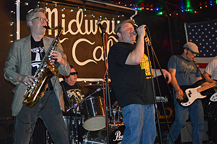 This week the BGN is going to have two premieres of songs to share with you. Both are from Rum Bar Records. The first on Wednesday will be a single from Stop Calling Me Frank. They just finished an album recorded at New Alliance (just before they got kicked out of the EMF building). Stop Calling Me Frank had a small two decade hiatus but now seem to have picked up where they have left off and more.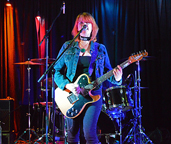 Thursday we will have the new single by Justine and the Unclean. That band had a fast rise that was fueled by their album full of smart punky pop. The name of the new song is called "Be Your Own Reason". This is leading up to the release of their second album. The two singles that preceded their first CD worked their magic and people were waiting on that effort. We expect the same with this. So check back with us later this week!
From Please Kill Me: James Williamson, former Stooges guitarist, is a new band; The Pink Hearts and a new album; Behind the Shade. Read it here.
Also from Please Kill Me is a GREAT and informative article on Dee Dee Ramone by Legs McNeil. Check it out here: Dee Dee Ramone, Portrait of a Punk.
---
Here's some good shows coming up this week.....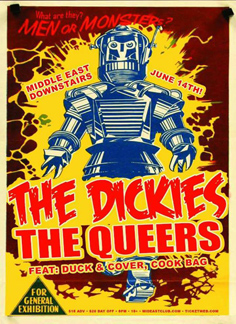 June 13 (Wednesday) The Posies 30th Anniversary Tour with guests Secret Sail at ONCE Ballroom

June 13 (Wednesday) doing their G.G. ALLIN 25th Death Anniversary Tour the Murder Junkies are at Cafe Nine in New Haven CT FB page

June 13 (Wednesday) Some Kind Of Nightmare (CA), Silver Screams, BDSX, Sweet Bangs at Opus in Salem

June 13 (Wednesday) Supersuckers, Speedealer, Salem Wolves are at Alchemy in Provi, RI

June 14 (Thursday) The Dickies (40th Year Anniversary) w/ The Queers, Duck & Cover and Cookbag at The Middle East FB page for tix etc

June 15 (Friday) Robert Gordon is at the Greasy Luck Brewpub in New Bedford, MA opening is Johnny Barnes & The Nightcrawlers. FB Page

June 16 (Saturday) Roy Sludge is at Atwood's for a 4PM show

June 16 (Saturday) GLiDER Live on Radio 91.5FM Crash Course for the Ravers! wmfo.org stream 1-4PM

June 16 (Saturday) Benefit for Rosie's Place with Jerry's Got Jokes, Threat Level Burgundy, Whoopi Sticks, Blame it on Whitman, The Runouts this is a DAY show at The Midway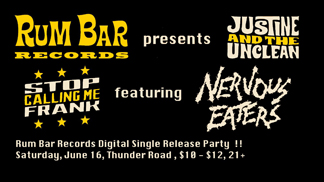 June 16 (Saturday) The Nervous Eaters, Justine and the Unclean, Stop Calling Me Frank are at Thunder Road
June 16 (Saturday) GBH with Pinata Party are at The Middle East Down. Jerry's Kids got added to this bill!!
June 16 (Saturday) Punk Rock Tribute Night with No Future (doing Sex Pistols), Charlie Don't Surf (Clash) and Warthog (Ramones) at Club Boho at Cantab
June 17 (Sunday) Another Sunday Matinee Mess Around (4-6PM) this time it's with: Justine Covault and the duo that brings the sludge to Roy Sludge: Johnny Sciacia and Jimmy Scoppa. also ... Chris Perry (The Modifiers) and Phil Lenker (Barrence Whitfield and The Savages) Plus a return from the mayor himself, Chris DeBarge. At the Plough & Stars
June 17 (Sunday) Micah Schnabel, Live Nude Girls, Olde Boy, Amy Griffin at O'Brien's Pub
June 17 (Sunday) Municipal Waste, GangGreen, Dropdead, Savage Master at Alchemy Provi RI
And further out we have...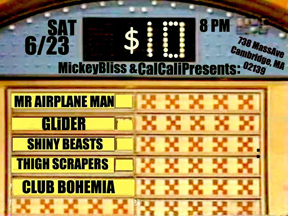 June 20 (Wednesday) Blk Squirrl Record Release with special guests Andy California and Sundog at The Midway
June 20 (Wednesday) Reverend Horton Heat, Big Sandy, Lara Hope & The Ark-Tones at Alchemy Provi RI
June 21 (Thursday) There is a all over Boston/Cambridge Music Festival called Make Music Boston, its ALL kinds of music but in particular: The Stigmatics will be playing at the City Square Park Charlestown 7-8PM, Check out their interactive website to see who else is playing and where.
June 21 (Thursday) PowerSlut, Abbie Barrett, Crystal Canyon at Once music starts at 8
June 22 (Friday) Greg Allen's Fringe Religion, Pop Gun, Muck and The Mires and 138 at KOTO in Salem
June 22 (Friday) Tied To A Bear, Duck &Cover, The Von Traps, Not Part of It at Opus in Salem
June 22 (Friday) Worm, The Money$, Crimespree, Jerry's Got Jokes and Zombii (From CT) at The C Note in Hull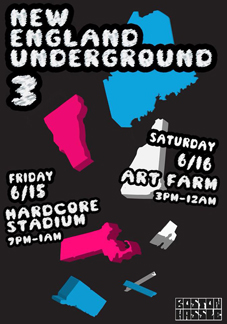 June 23 (Saturday) Gene Dante And The Future Starlets, Parlour Bells, The Gala, Smitt E. Smitty and special guest DJ, Gang of One (Hugo Burnham formerly of Gang of Four) at Once - 8:15PM show time!
June 23 (Saturday) Mr. Airpane Man, GLiDER, Andy California, Shiny Beast, Thigh Scrapers at Club Boho/The Cantab
June 23 (Saturday) The 7CS and The Rolling Who, are at the Plough & Stars
June 23 (Saturday) Sky Tigers, Crowfeeder, DNZL at Thirsty First: Tavern & Grill, Lowell
June 24 (Sunday) Opposition Rising Boston Record Release Show! with Not A Part Of It, Infernal Diatribe, Neighborhood Shit, DNZL 4PM matinee show at the Midway
June 24 (Sunday) The Adolescents, Electric Frankenstein and Duck & Cover at Brighton Music Hall
June 26 (Tuesday) 8 pm -Store 54 - 14 harvard Ave Allston. Bill Sullivan reads from his book Lemon Jail - On the Road with The Replacements, followed by a q and a session. more info to come!!
June 26 (Tuesday) Trophy Lungs Reunion show with Birdwatching, New Warden at O'Brien's Pub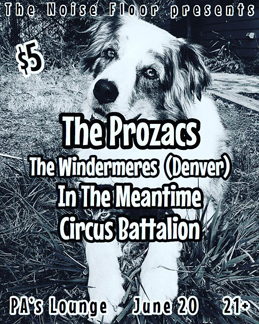 June 26 (Tuesday) POPTONE (Daniel Ash, Kevin Haskins, Diva Dompe) will be performing the music of Bauhaus, Tones on Tail and Love and Rockets at the Middle East Down FB page
June 29 (Friday) The Hi-End, Fireking, Natty D's are at Sally O'Briens Somerville
June 29 (Friday) Nervous Eaters, The Gamma Goochies, Euphemia at Geno's in Portland, ME
June 30 (Saturday) A Bunch of Jerks, Hambone Skinny, Dragline, The Guilloteenagers at The Midway
June 30 (Saturday) Smitt E. Smitty's new band Smitt E. Smitty is playing at Once
June 30 (Saturday) Goddamn Draculas, Jason Bennett and The Resistance, Art Thieves, Michel Kane and the Morning Afters at Middle East Up 6:30 PM show
June 30 (Saturday) Punk Show at the Hotel Vernon with Jonee Earthquake band, Time Out Timmy, More Beer Please, Mongorellis, The Benedicks, Jimmy Jacked, No Good
June 30 (Saturday) Rockin' Dune Tunes at Whitecrest Beach Wellfleet Cape Cod. It's rocking on the beach – well, the parking lot next to the beach. Line up : Mr Airplane Man, Atlantic Thrills, Shiny Beasts, 5 SPF4. It's FREE & ALL AGES. it starts at 5PM. The town charges to park for the beach until 4:30. Bonfire on the beach after the show. In memory of our friend Trey Helliwell. More info here on FB
July 1 (Sunday) Today Junior, Milk, Dutch Tulips, Soft Pyramids at Great Scott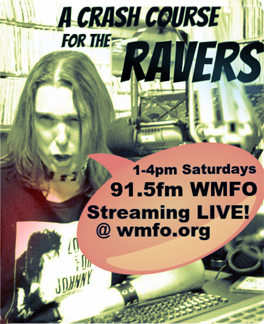 July 1 (Sunday) G.G. ALLIN 25th Death Anniversary show with The Murder Junkies, Smoking Triples, Jonee Earthquake, They Hate Us, Malcolm Tent at The Dutch Treat Franconia NH Here's the FB page
July 3 (Tuesday) it's another Rock'n'Roll Trivia Night with Erin and Brett!! There's no excuse -"JULY 3, OUR MOST PATRIOTIC ROCK AND ROLL TRIVIA YET! YOU DON'T HAVE TO WORK ON THE 4TH - COME ON OUT AND SLEEP IN TOMORROW!"
July 3 (Tuesday) Appalachian Terror Unit, Hard Charger, City Problems, Boot Rot at AS220 Provi RI
July 6 (Friday) Bloodshot Bill, Jittery Jack & Miss Amy Griffin, DJ Easy Ed are at Sally O'Brien's
July 7 (Saturday) Pajama Slave Dancers (reunion) with special guests Trusty Sidekick, Grey Matter (ft. Eric Gaffney), and The Weisstronauts
July 8 (Sunday) Step 13, Genuine Rust, The Martians, Cry Havoc at the Midway for a 4-8PM show
July 11 (Wednesday) The Goddamn Gallows, The Koffin Kats, Viva Le Vox at Alchemy in Provi, RI
July 12 (Thursday) Koffin Kats, The Goddamn Gallows, Viva Le Vox at The Middle East
July 12 (Thursday) When Particles Collide, Bad Larry's, Whoopi Sticks, The OK Oks at Opus in Salem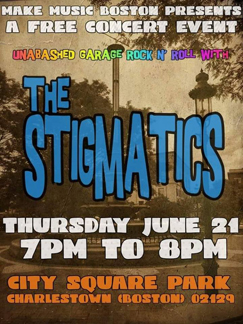 July 13 (Friday) Last Ones and CalCali Band are at Tavern at the end of the world. (Rick must be back from his Grand Tour!)
July 13 (Friday) Fireking, The Grip Weeds, Watts, Modern Day Idols at Thunder Road -get tix here.
July 14 (Saturday) il Mostro, Psychic Dog, The Laces, Jim Healey for a 4-8PM show at the Midway
July 14 (Saturday) Walter Sickert & the Army of Broken Toys, The Men That Will Not Be Blamed For Nothing, Frenchy And The Punk, Radiator King at Once Ballroom
July 14 (Saturday) Revilers, TheVonTraps, LEWD, Pint Killers and Foul Fellows at the Hotel Vernon in Worcester
July 20 (Friday) Crunchtime, Doug MacDonald, Highway Chapel at Sally O'Brien's
July 21 (Saturday) It's O'Brien's' Grub Sweat and Beers weekend - Day 1- Saturday is Bible Of The Devil, Sasquatch, Sundrifter, Hey Zeus, Birnam Wood, Scaphism, The Northern Skulls, Labor Hex, The Humanoids, Test Meat, Red Mantis = 15 bucks starts at 3PM
July 22 (Sunday) It's O'Brien's' Grub Sweat and Beers weekend -Day 2 Sunday - Wolfsmyth, Mollusk, The Rupert Selection, The Heave Ho, Witchkiss, Backwoods Payback, Set Fire, Diablogato, Freak On! Starts at 2Pm - 10 bucks
July 26 (Thursday) Radium Girls, Thrust Club, Lonely Leesa and the Lost Cowboys, Yes Commander at Once Ballroom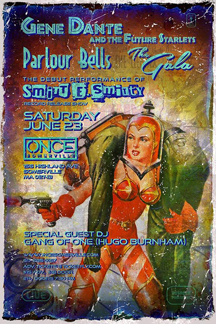 July 27 (Friday) The F.U.'s, Grey Matter, Scare City at Ralph's Rock Diner, Worcester
July 29 (Sunday) Color Killer, State of the Union, The New Frustrations, The Stigmatics at The Midway for a Matinee Show 4-8PM
August 4 (Saturday) Scissorfight, White Dynomite, Northern Skulls, Red Mantis at Once Somerville
August 4 (Saturday) Descendents w/ A Wilhelm Scream & Pavers at State Theatre, Portland, Maine FB page
August 8 (Wednesday) The Blasters come back to ONCE
August 13 (Monday) Agent Orange, Fea, and more at Ralph's Diner in Worcester FB page
August 15 (Wednesday) Agent Orange are at the Brighton Music Hall TIX! Silver Screams will be opening up for them. TIX here.
August 16 (Thursday) Agent Orange w/ FEA, MOTO and Zero Holds at Alchemy in Provi, RI
August 24 (Friday) Lyres, Glider, Pop Gun, Knock Ups at Koto in Salem
August 25 (Saturday) Stop Calling Me Frank, Hi-End, The Stigmatics, The Legendary Cazbats at Club Boho at The Cantab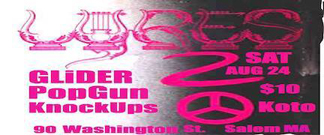 September 8 (Saturday) Richard Mirsky's CD Release Party at the Midway (night show)
September 9 (Sunday) Slim Cessna's Auto Club and Kid Congo Powers at Once - music starts at 8:30
September 9 (Sunday) The Queers, The Prozacs, CityState, Color Killer, Wretched Hive at the waterfront Tav ern Holyoke MA FB page doors at 7Pm
September 11 (Tuesday) Killing Joke on their 40th Anniversary Tour at the Paradise FB page
September 13 (Thursday) Fall-Fest 5 Day 1: featuring The Avengers! also on the bill - Silver Screams, Boot Rot, City Problems and a bunch more bands. It's at Alchemy. Music starts at 8PM Here's the FB page
September 13 (Thursday) Hudson Falcons, Genuine Rust, Sonic Libido and more TBA at This is an ALL AGES Matinee! at Thirsty First: Tavern & Grill, Lowell.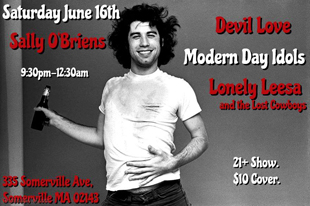 September 18 (Tuesday) Cheetah Chrome's "Dead Boys" with The Ghost Wolves are at Sonia
October 12 (Friday) Salem Horror Fest After Party with Diablogato, Gray Bouchard and the Dedications and Petty Morals at Opus in Salem
October 18 (Thursday) The Proletariat, Savageheads, Silver Screams at Sonia
October 20 (Saturday) Nervous Eaters, Indonesian Junk, Duck & Cover at the Middle East Up
October 27 (Saturday) The Descendents w/ Teenage Bottlerocket at The Palladium in Worcester FB page for tix etc
November 2 (Friday) Roky Erikson at Once. Tix here.
CONTACT US AT....misslynbgn@yahoo.com Send us your gig listings, your news and anything else ya got!! You want your CD reviewed?? Contact us for that too.