The BGN News Archive
June 12, 2017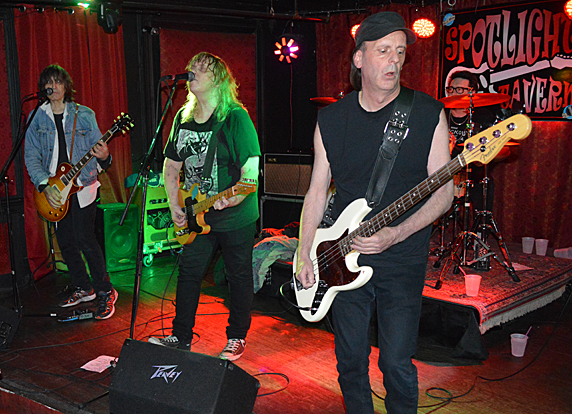 Real Kids
Photo: Blowfish
Once has come up with some noteworthy bookings. That Robyn Hitchcock show with Al Kooper as guest was a winner. They even have Janeane Garofalo coming up way in the future. This week they had Reverand Horton Heat for two days with Agent Orange and the Flat Duo Jets. We hit it on Thursday. The club was fullish and Friday was sold out.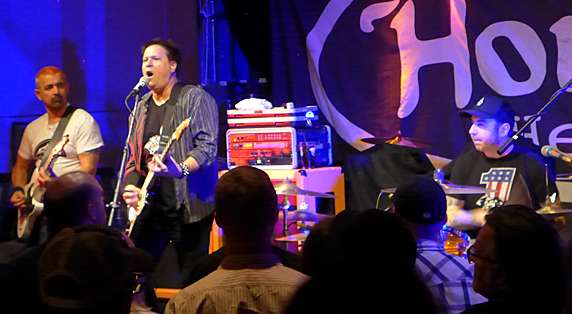 Agent Orange
Photo: Blowfish
Agent Orange started in 1979 and still delivers a set with lots of energy. The first half of the set had bounce in the punk. They seemed sunny and displayed some influences beyond punk if you wanted to go looking. It was easy to get into. Then the second half it was more on the straight punk southern cal style. During all of it surf music pops up. They did a rauchy Mirsirlou by Dick Dale. All in all it was a lot to put into a set. There was some small moshing in the middle of the floor. We thoroughly loved the set. That would have been a good night right there. This video will give you a taste.
Reverend Horton Heat
Photo: Blowfish
But the Rev had yet to hit the stage. When he did the crowd had a noticeable change. No mulling around now it was all to the front to catch the Heat. You don't need us to tell you about what the Reverend Horton Heat does. We will just tell you that he delivered the goods. His set is almost all guitar antics (catch some in the video below). The vocals are sparse. He told one long story. He covered Little Queenie by Chuck Berry. They ended with a nod to Lemmy and doing Ace of Spades (Video below) . Hear that in the video above. See the Reverend once, see him a million times it will always be a Psychobilly Freakout.
Saturday we were listening to Crash Course for the Ravers where Brian Young was interviewing Greg Allen of Greg Allen's Fringe Religion. Boy, does that guy have the stories. He was in NYC in the middle of things in the early 80's. That got us in the mood for that Real Kids show at the Spotlight later that night. Greg and Muck and the Mires were also on the bill.

Walking in we saw Rick Harte, John Felice and the band at the bar. This was the first time seeing John since we posted our John Felice interview. John was pleased with it and has gotten good response from people...as we have. That interview drove more people to the site last month than we've ever had.
Greg Allen's Fringe Religion
Photo: Blowfish
Greg Allen's Fringe Religion was playing in the other room and it was sounding good. Then there was a song that sounded so snappy and appealing we had to get in there and hear it close up. It was in a more simple and direct style than of days past. Greg has changed the lineup. Now it's a three piece. All the material that followed connected like the song that first drove us in. Greg has considerable song writing chops and probably can pick his direction. This all was working. Next, thing is to hear a whole set and get a better handle on the songs from our end. We'll be doing that.

After the set we could meet up with the North Shore regulars like Terry Brenner and Ed Moose Savage. Amy Prokaska also made it. The Spotlight is a comfortable place. They even have a big comfy couch area. Take that no-seats-in-the-place Boston clubs.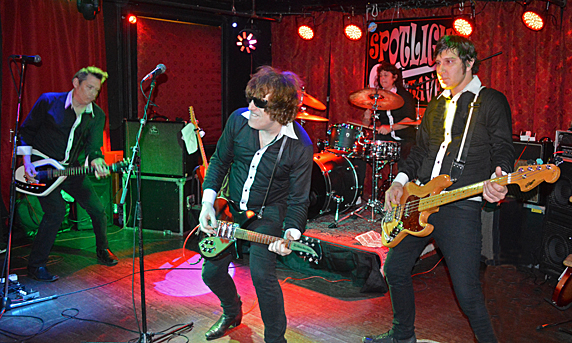 Muck and the Mires
Photo: Blowfish
Before you know it Muck & The Mires is up there. These guys set up and break down in three minutes. Then its aural whiplash as the fast tempo tunes are flung out without stopping for almost the whole set.
And then the songs…they have still not got the credit they deserve for the well-crafted hook laden songs that they seem to write at will. There's no other set of songs by another group one can think of that has the sheer pop pleasures of their set. Radio in the sixties would have a series of songs by the Beatles, Stones, Who, Beach Boys etc. A Muck and the Mire set hits like that but all the songs are by one group. Ya know, it's amazing.
As we wait for the world to give Muck and the Mires their due what can we do but listen and love it.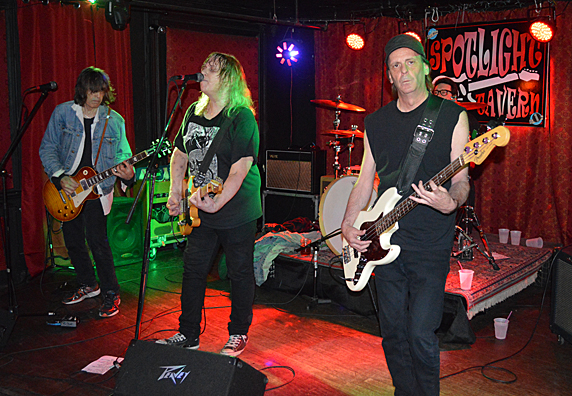 Real Kids
Photo: Blowfish
Randall Gibson was on drums for Real Kids this show. We have been used to Judd Williams. They started with Better Be Good. The sound was deep. Randall hits hard. He had a big impact on My Baby's Book where it gave it back beat that could not be denied. Dickie has that round smooth tone on bass which constantly draws your ears. Billy and John had their duo guitar action going big time. One of the pleasures of this set was during All Night Boppin' where they brought the volume down and riffed for an extended section. Billy and John were jumping in and out with short tasteful playing. This was a band confident and having fun. They did it again at the end with All Kindsa Girls.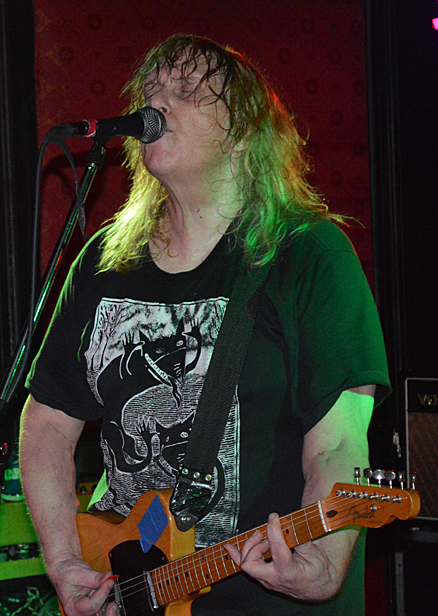 Real Kids
Photo: Blowfish
Another brilliant moment was during Fly Into the Mystery (read about that song in our interview) where John sang, "Get in my car and drive down Route 128 towards Beverly, " and there we were in Beverly! That song transports you to a reflective zone as it's intended to do. There were a few songs from Shake Outta Control. It all felt right up there in Beverly with the North Shore crowd.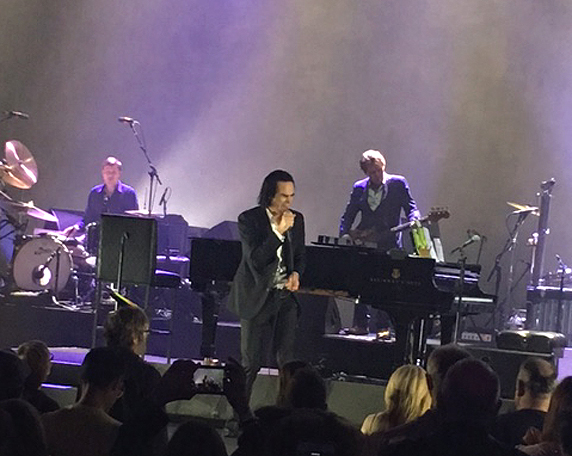 Nick Cave
Photo: Miss Lyn
On Saturday night Miss Lyn went to see the sold out Nick Cave and The Bad Seeds show at The Wang Center. All reports on FB, via The Cult of Nick Cave and devout Nick fan Arlene Boyer who went to 4 shows in various places, said Nick was "on fire" this tour. Those reports were true! Most of the show was material from his newest release Skeleton Tree but there were alot of old favorites too. There was a floor to ceiling back drop behind the band who stood mostly in the shadows, except for Warren Ellis. I remember when Warren Ellis first toured with Nick, he would never face the audience...now he has to because he plays more than just the violin and is a huge part of the band. (If only he would shave off that beard!!) Anyway the sound was great and Nick's voice only gets better and better every year.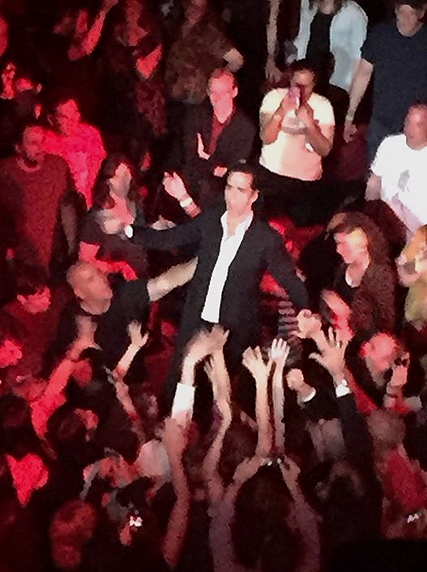 Nick Cave crowdsurfing
Photo: Doug Melcher
Nick was very much into being with the audience, he kept going down into the crowd for longer and longer times. He annouced to us that it was important for him to touch...and everyone complied with that no question. As with all his shows Nick was very physical but he seemed to have energy to spare, energy and emotion was spewing out of him like a volcano erupting...it was infectious!!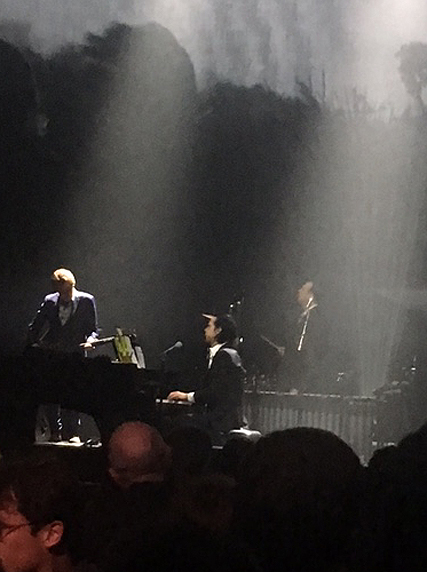 Nick Cave with backdrop
Photo: Miss Lyn
That floor to ceiling backdrop came into play when it was used to project images...but only a few times and tastefully- black and white footage of palm trees in a hurrican during Tupelo and a woman singing her part in one of his newer songs, also in black and white...and stunning.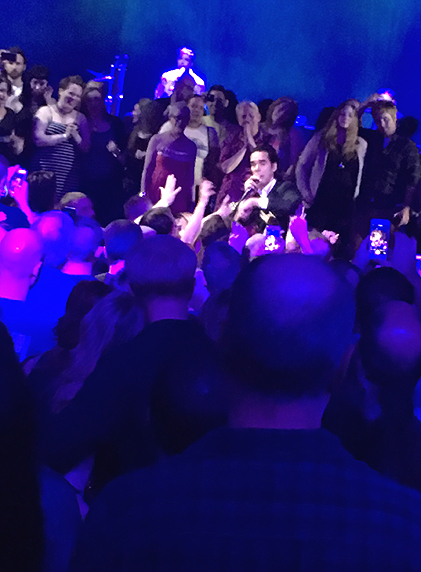 Nick Cave with dancing crowd
Photo: Miss Lyn
The final encore song was Stagger Lee and Nick kept pulling more and more people up onto the stage with him and having them sing along. Even our own Arlene Boyer was up there with her friend Palma -who was I must say- a stand out!!
The one sad point I need to mention though was the anger and physicallity shown by people in seats up front. I got kicked by some macho asshole - twice. And he kept yelling at people like he wanted to start a fight. Then another instance a guy came up next to me and this little shorty dude ran up to him, got in his face and yelled "You're a fucking asshole!!" Why? WTF people!!?? How disappointing that there were people like that in the crowd. But they couldn't really make much of a dent in the amazing experience everyone else had. Nick never diappoints.
Last Sunday John Keegan was at Once. Richee Parsons has that Italian connection. He's brough over Giuda before and we've learned that an Unnatural Axe and Giuda show was going to be a crazy gig. They also had the newer The Hi-End to round out the bill. Antother success for Once. Hit the photo below to read about it and see the fantastic photos.
---
And in other news.....
Converse Rubber Tracks is now not going to record local acts. Damn! It was always too good to be true. Read about it on Vanyaland

Just announced!!! Fred Pineau and Big City Rockers will be opening for Mike Peters and The Alarm July 21st @ ONCE Ballroom in Somerville, MA Tickets $29 in advance, $35 day of the show. Check out the FB page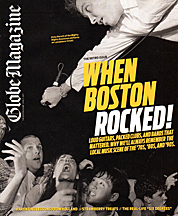 We've been posting links on Facebook to articles from the Globe about the Boston scene. We were wondering why they were cropping up. Now on Sunday we see all the articles in the Boston Magazine. It's a 14 page section with the largest article by Brett Milano which is a nutshell version of his book The Sound of Our Town. There is probably nothing much new for people reading this, with the exception of the page on Syncro Sound.
A BIG problem we have with this is the title and its implication: WHEN BOSTON ROCKED! ...Really?? So what are we doing now?
And lastly we want to wish a big GET WELL SOON to Skybar who does his show Rising on MFO on Tuesdays at 8PM. He's had a mystery illness but is getting better....keep that going Skybar!!
---

Here's some good shows coming up .....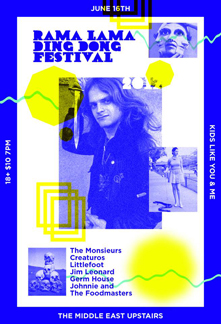 June 14 (Wednesday) Eve Minor (from NYC), DnA's Evolution, The Stigmatics, Doug Linse at The Midway
June 15 (Thursday) Nice Guys, Black Beach, Ovlov and The Cavemen at Great Scott
June 16 (Friday) Kids Like You & Me' s Rama Lama Ding Dong 2017! Featuring.. The Monsieurs, Creaturos, Littlefoot, Germhouse & more! at The Middle East Up- check out the FB page
June 16 (Friday) Dave Tree is having an art show "The New Normal" at his Sweetree Ink shop (281A Mt Auburn St Watertown) 6-11PM
June 17 (Saturday) A Crash Course for the Ravers will be featuring Anthony Kaczynski! Tony is the consummate musician, he should have some interesting stories to tell and picks to play. Check it out on 951.5 WMFO 1-4PM
June 17 (Saturday) The McGunks, Pint Killers, The Martians and Taxi Driver - 4PM Show at The Midway
June 17 (Saturday) Quiggs, Diablogato, Duck & Cover, Loser's Circle at O'Brien's Pub
June 17 (Saturday) Il Mostro, Point Blank, Neighborhood Shit, Infernal Diatribe at Koto in Salem (FB Page)
June 17 (Saturday) The Canned Ham String Band with Chris DeBarge...Racous, high-energy string band music of the 1920s and 30s. Fiddles, banjo, guitar, maybe some clogging too, $10, cheap! At the Canadian American Club of Massachusetts in Watertown. Check out the FB page for directions etc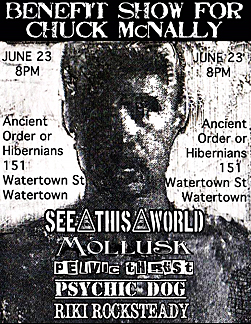 June 17 (Saturday) In Worcester at The Hotel Vernon The FU's, Pus, Barfight Champs The Abductors and probably some other bands too...FB page
June 18 (Sunday) Help Save Out of the Blue Gallery Too - this will be an all day affair (3PM-11PM) with a TON of bands including: Brian Young -WMFO as Emcee plus Thalia Zedek, Fireking, Randy Black, The Knock Ups, Tsunami of Sound, The Stigmatics, The Black Souls, The Classic Ruins, State of the Union, Cal Cali Rockin' Trio, The Last Ones, The KENZ (Highland & Kaiser), The Thigh Scrapers and Club Linehan A Go Go ~ 50th Birthday Party for Joe Quinn. Check out the FB page
And further out....
June 23 (Friday) Club Linehan A GoGo, Johnny Plankton, The Unoriginals, Mad Painter and Nonzerochance at McGann's Pub FB page for directions etc
June 23 (Friday) Dave Tree is putting on a benefit for his friend Chuck McNally at Hibernia Hall in 151 Watertown St in Watertown - bands will be See This World, Riki Rocksteady, Mollusk and Pelvic Thrust. Starts at 8PM
June 23 (Friday) Billy Connors Project, Corolla DeVille and Carissa Johnson at The Tavern at the End of The World
June 24 (Saturday) Punk Rock Matinee at the Middle East Up Doors @ 1PM - Michael Kane & the Morning Afters, Dan Webb and the Spiders, Hudson Falcons, Jason Bennett and The Resistance - show ends at 4Pm FB page
June 25 (Sunday) Punk Oi Matinee at The Midway with Working Poor USA, Moose Knuckle, DestrOi! and The Abductors 4-8PM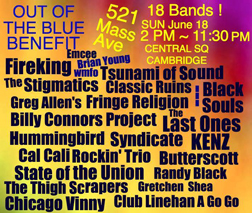 June 25 (Sunday) Roy Sludge is at Sally O'Brien's and its a FREE sgow! 6 - 8:30 PM
June 25 (Sunday) The Monsieurs, Neutrinos, Harvey Garbage and Super Natural are at The News Cafe News Cafe
43 Broad St, Pawtucket, RI
June 25 (Sunday) Nonzerosum Present: Conflict, Who Killed Spikey Jacket, Cinderblock, Pandemix - ALL AGES, $20, 8:00 PM Doors at the Middle East Up. This show has been cancelled!!
July 1 (Saturday) Loser's Circle are at The Midway
July 2 (Sunday) FOTOCRIME, The Milling Gowns, Bedroom Eyes at O'Brien's
July 7 (Friday) Mr. Airplane Man, Tall Teenagers, Andy California and Little Tomb are at The Providence Garage Fest at the News Cafe in Pawtucket, RI.
July 7 (Friday) Cortez, The Humanoids, The Heave Ho and Test Meat are at O'Brien's
July 13- 16 VIVA EAST Rockabilly Weekender and Custom Car Show in Marlboro, MA check out the info here.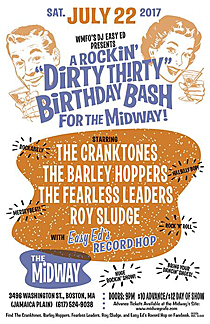 July 14 (Friday) Bim Skala Bim Concert Cruise (Check out FB page for details)
July 15 (Saturday) LYDIA LUNCH Retrovirus, Doomsday Student, (NE) Pats, Peach Ring are at The Elks Lodge on Bishop Allen Dr. Central Square Cambridge- Thank you Boston Hassle!! FB page here.
July 15 (Saturday) Charms, Tiger Bomb and The Knock Ups are at the Chit Chat Club in Haverhill MA.
July 17 (Monday) Township, The Dents, Love Love and Weather Weapon at The Midway- Night 1 of the Midway Dirty 30.
July 19 – July 30: The Midway's Dirty 30th Anniversary Celebration Spectacular
July 20 (Thursday) Kal Marks, A Deer A Horse (NY), Nice Guys and Zip-Tie Handcuffs at O'Brien's
July 21 (Friday) Stray Bullets, Hobo Chili, Warning Shots and Stop Calling Me Frank at The Midway!! Night 5 of the Midway Dirty 30.
July 22 (Saturday) DJ Easy Ed Night with The Cranktones, The Barley Hoppers and Fearless Leaders at The Midway!! Night 6 of the Midway Dirty 30.
July 22 (Saturday) Negative Approach, Bloodclot, Opposition Rising, PanzerBastard, Buried Dreams and Ritual Blade at The Hardcore Stadium Bishop Allen Dr Central Sq Cambridge. Show starts at 6PM.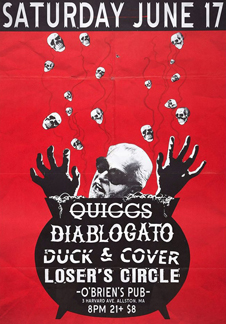 July 22 (Saturday) Mr. Airplane Man returns to town. They'll be at The Lily Pad in Inman Square with Thalia Zedek. FB page
July 29 (Saturday) The Real Kids, Muck & The Mires, Watts and Gene Dante & The Future Starlets night 13 of the Midway Dirty 30!!
July 27 (Thursday) The Upper Crust, Supersuckers at ONCE Ballroom
July 27 (Thursday) Hambone Skinny, Detroit Rebellion and Jon Bach are at The Plough & Stars
July 30 (Sunday) Fast Times Nervous Eaters, BarRoom Heroes, The Revilers -4-8PM at The Midway!! Night 14 of the Midway Dirty 30. at The Midway
August 5 (Saturday) The Silver Mirrors, Instant Shawarma, The Facc-Tones and The Sound Down Cellar at The Midway
August 5 (Saturday) The Knockups, The Caught Flies, Black Hatch and the Labor Pains are at The Chit Chat Club in Haverhill
August 5 (Saturday) Rancid and The Dropkick Murphys are at the Brockton Fair! 4:30-9Pm check out the FB page
August 6 (Sunday) World/Inferno Friendship Society with Diablogato and Stars Like Ours at The Middle East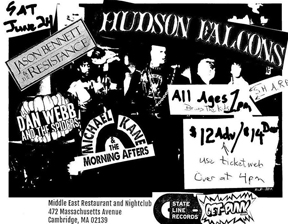 August 8 (Tuesay) Poptone...which is Daniel Ash and Kevin Haskins from Bauhaus Tones on Tail and Love and Rockets are at The Paradise
August 12 (Saturday) The Modern Voice, Black Helicopter, Wrought Iron Hex, Scuzzy Yeti at The Midway
August 13 (Sunday) Pinkerton Thugs all ages punk show at The Middle East = also on the bill The Warning Shots and Duck and Cover. This is a daytime show- 1-6PM Check the FB page for more info as it is posted.
August 13 (Sunday) - This is Bob Colby's 65th Birthday Extravaganza - it is also he LAST show in Boston!! Viva Gina, DYR FASER, The Land of Enchantment, Kingdom of Love, Cold Expectations, Carissa Johnson (solo acoustic), The Very, Randy Black and the Heathcroppers and The Wrong Shapes. At Once in Somerville and the show runs 3PM until Midnite! FB page
August 27 (Sunday) Stop Calling Me Frank, State of The Union, The New Frustrations, The Only Things at The Midway - afternoon show 4-8PM
September 7 (Thursday) Teenage Bottlerocket and OC45 at The Middle East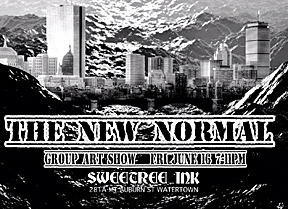 September 10 (Sunday) GBH and The Casualties at The Brighton Music Hall
September 16 (Saturday) Chameleons VOX At the Middle East Also on the bill: Soft Kill , Way Out and The Milling Gowns FB Page
September 20 (Wednesday) X doing their 40th Anniversary Tour- athte Brighton Music Hall
September 22 (Friday) The Ataris and The Queers at The Middle East - this is an early show- 6PM -10Pm
November 4 (Saturday) Human Sexual Response at HOB
CONTACT US AT....misslynbgn@yahoo.com -Send us your gig listings, your news and anything else ya got!! You want your CD reviewed?? Contact us for that too. .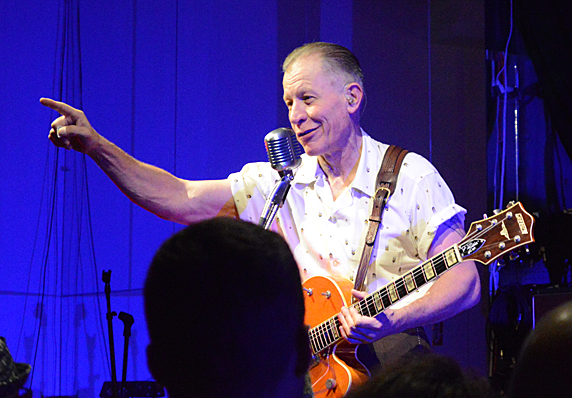 Reverend Horton Heat
Photo: Blowfish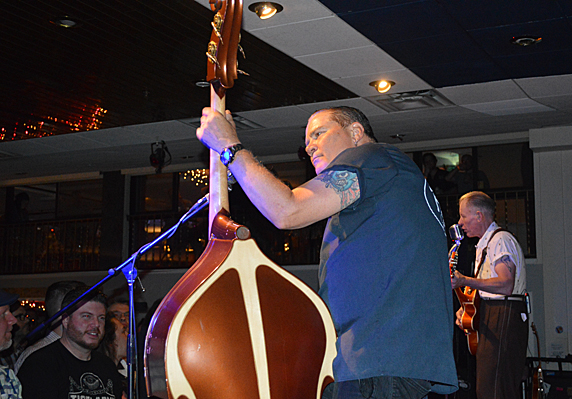 Reverend Horton Heat
Photo: Blowfish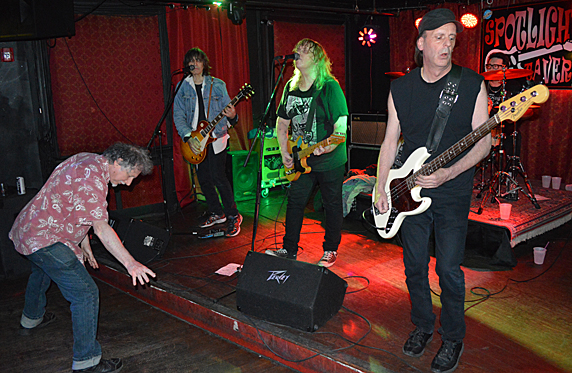 Ed Moose Savage gives his propers to the Real Kids
Photo: Blowfish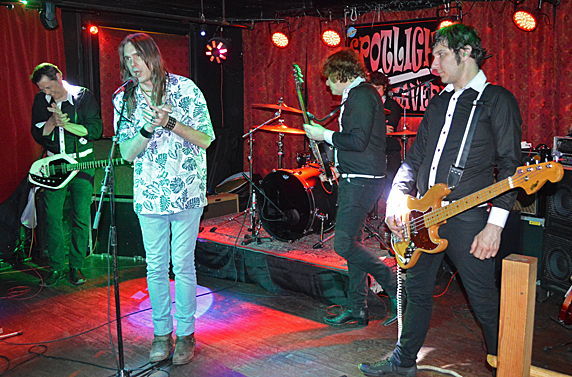 Brian Young of WMFO intros Muck and the Mires
Photo: Blowfish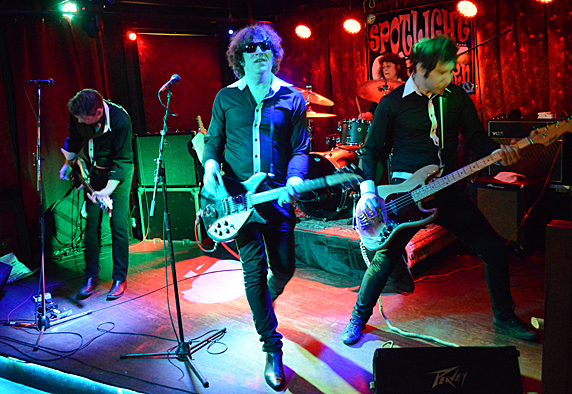 Muck and the Mires
Photo: Blowfish