The BGN News Archive
June 13,2016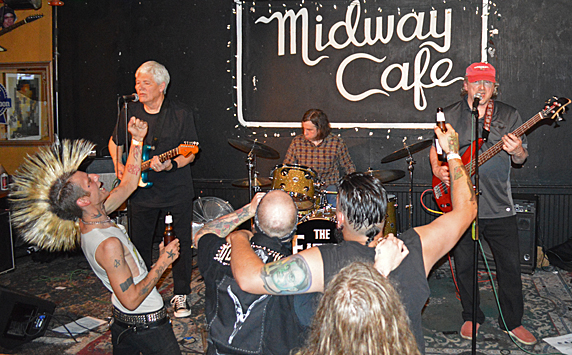 The Nervous Eaters
Photo: Blowfish
It happens all the time but it was really obvious it was happening at the Midway on Sunday (June 5) - different generations rocking out together. In the case of Nick of Fast Times and Alan of the Nervous Eaters it was a father/son thing. It was set up that way by Nick Hebditch who put the show together.
Walking in we could see some of the old school fans hanging amidst the younger crowd. Slimdog was there. He's actually part of the décor on weekends. He introduced us to Nick a while ago. Interfectum from Plymouth was tearing up the place with fast angry punk. Listen to some of their songs and you will soon hear that ( Here's their Bandcamp page.) The energy level was way way up there. The front man was a font of energy and motivation. He was a presence even after the set. He's a guy who likes to get the excitement up. I'd like to see these guys again.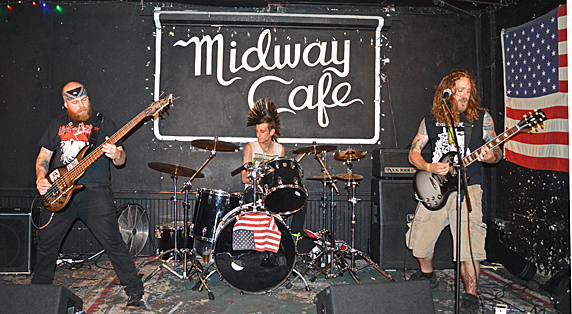 Fast Times
Photo: Blowfish
They got the people moving and some moshing. All night, even with the Eaters, you had to watch out for the mosh action, for the occasional rogue mosher. Nick was actually on bass for Interfectum and moved to guitar for his group Fast Times. They began with Nick just singing a sort of shanty by himself. That was unusual for a hardcore group like his but indicated that there is a little more to the group than one would expect. The set was mostly punk/hardcore.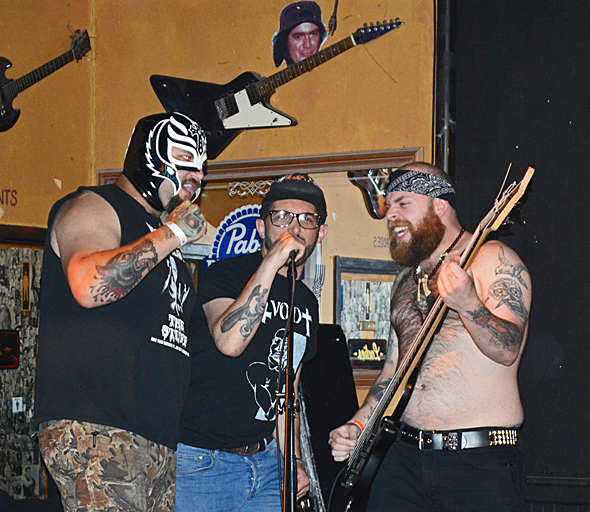 Fast Times
Photo: Blowfish
There was a few times when there were melodic sections of the hardcore. To me it was very noticeable because I think that's the golden ring for 'core. I'm looking for the group that can get that mix down. Fast Times put on an involving hardcore circus with the bass player standing on the ledge/amp for a few songs and the people moshing and jumping up and singing. The singer from Honest John was up and singing most of the time. There was some guy in a Mexican wrestling mask. The band ended their set with a NOFX song. It wasn't just about the stage it was about the whole front part of the club moving and having a rocking time. Fast Times on Bandcamp.
Short video of Fast Times at The Midway.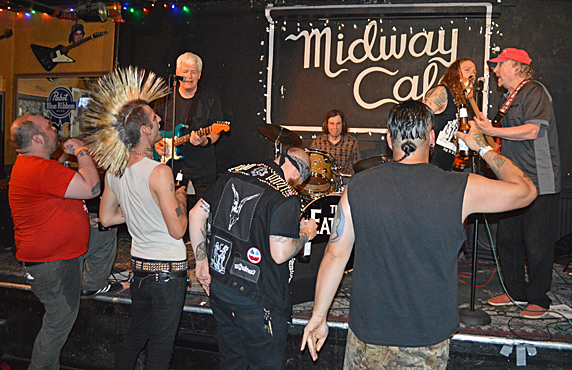 The Nervous Eaters
Photo: Blowfish
One of the best things about this show was the music loving crowd. The Nervous Eaters people gave the hardcore groups full attention and the hardcore group knew the Eaters and were right up front with pumping fists for them. Rob Skeen of the Eaters had pneumonia so the group played with three: Cataldo on guitar, David McLean on drums and Alan switching to bass. On top of that Steve's amp blew a tube. I think they were worried but other than the sound being sparser it sounded good to me. Everyone wanted things to go well and there were hardy applause right from the beginning and by the time they did Shit For Brains (with Slimedog up front pointing to examples) it was a full on great show. Songs went: Today and Tomorrow, Call Kevin , On the Avenue, I'm a Degenerate, After Your Goodtimes Gone, Shit for Brains, Poe Boy Bluez, Smell Like Fish, Just Head and one or two more I'm missing.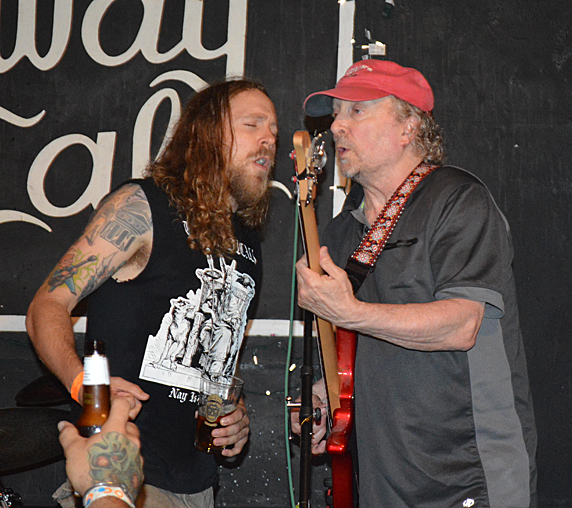 Nick and Alan Hebditch
Photo: Blowfish
The feel good moment and the symbolic one was when Nick jumped on stage and sang with his father Alan Hebditch. Wow, how great. See that photo at the top of the page here and see the Eaters with Nick on stage and the hardcore gang at the foot of the stage - do that and I can forget the words here.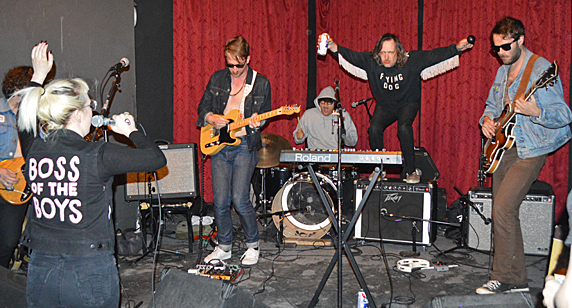 The Mardi Kings
Photo: Blowfish
Like a moth to the flame I ended up at O'Brien's on Wednesday. Again it seemed obvious. The Mardi Kings is one of Andy McBain's groups (how many is he in?) and that meant crazy time right there. Then the Atlantic Thrills from Providence who go bonkers on stage too. There were more than the usual 20 people there this time, a more lively club than other Wednesdays. The Mardi Kings have members of the Barbazons and The Nice Guys in it along with a woman singing and playing a small synth. Six people rather than three people, in the Monsieurs, allowed for more fleshing out of the bubblegum pop traits that Andy has affection for. The songs were ear candy. The group heaped on hooks and ornamentation, as well as keeping the raspy edge to the sound. The woman sang some songs alone and they were successful and then she sang along with Andy and that combo added yet another facet to the sound.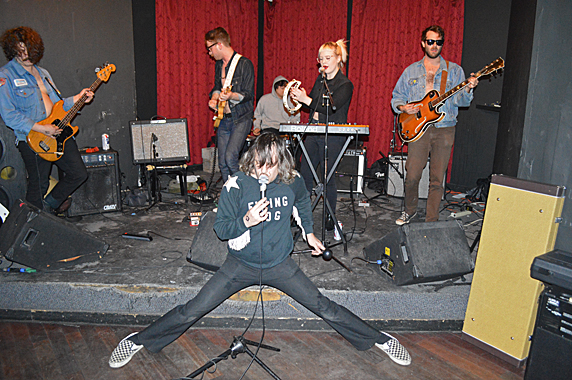 The Mardi Kings
Photo: Blowfish
With any other group that would be enough....but then there's Andy. He was doing his confrontational glaring and prowling. He climbed on top of an amp and had a hard fall. He rode the microphone stand like a pony. He had a mini-maraca that he shook at/on a woman's crotch for a full minute. He sang in someone's face. He dropped the microphone on the floor a few times. Finally the soundman came through the PA and said, "Don't drop that mike again." That was a shocker! Andy, taken up short, asked, "Is that the soundman?" "Yes," he answered, "don't drop that mike again." Andy walked away and the group did the last song without him. You never know what's gonna happen at these gigs with Andy.
Short video of the Mardi Kings at O'Brien's.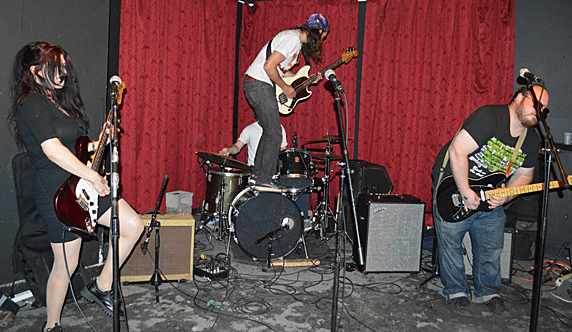 Atlantic Thrills
Photo: Blowfish
The Atlantic Thrills do things a little more by the book and that's not bad. It's juiced up garage rock at high volume with some of their own stage antics. The Atlantic Thrills have a lot of Boston fans and they get played on radio a lot. They know how to write a song that evokes the garage era groups like the Shadows of Knight and Syndicate of Sound and still put in a modern edge. They only stop a few times. For the most part it's song after song building up momentum that they take advantage of by letting themselves get loose for a few minutes every now and then with some musical anarchy. The guitarist does some meaty solos and also adds riffs that define the songs.
Even after that there was another worthy band from NY The Numerators who do a surf/psych mix. I didn't stay. But do check out their Bandcamp page!!
Video of the Atlantic Thrills at O'Brien's.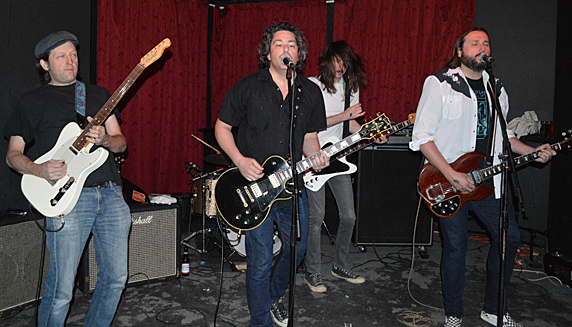 Tom and the Snakes
Photo: Blowfish
Friday......O'Brien's - Tom Baker and the Snakes snuck up quickly in the scene. Some low key gigs were enough to get people talking. They are a mash up of musicians from other bands. Guitarist John Blout shows some versatility by playing drums. There are three guitarists; Charles Hansen, John Brookhouse and Tom Baker; John Sheeran is on bass. All those names are probably familiar to someone reading this.
The Snakes are in the Rum Bar stable of acts. Methinks Rum Bar wants to conquer the world. I don't know if these guys think this is a side project from their other bands or just another band. In any case this was a cozy show with just enough people for O'Brien's on a Saturday. There were familiar faces. There's a whole coterie of people that follow these musicians. The Snakes are straight up pre punk rock as you might expect from the personnel. The three guitar line up made an instant impact. In fact the guitarathon's sonic effect was stunning at times. This is not only three guitarists but three extremely good guitarists. At times the air was sizzling with trebly overtones that recall the Clapton/Allman jams from Layla. They got to that point about a half dozen times.
I also fell in love with Tom Baker's voice. I'm late to the party on this but it was prominent in the mix. It's a mid-tone voice with lots of character. It adds heft to the lyrics. John Blout proved more than capable on drums. The thing I loved was his snappy intro patterns that were the perfect set up for the wailing guitar strike you knew would happen. You can hear one of those intros, and Tom Baker's voice, on Doll Eyes from their EP on the Bandcamp page - and catch that descending cyclical bass line! Live they rode that baby for everything it could give.
Video of Tom and the Snakes from O'Brien's.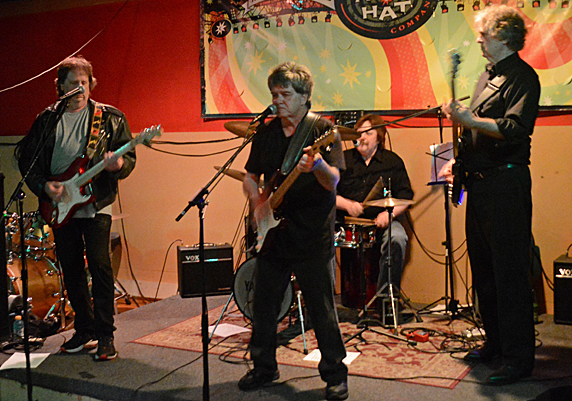 The Billy Connors Project
Photo: Blowfish
There was a ton of gigs on Saturday but since the main mission of the BGN is carrying on the spirit of Boston punk originators so we headed to a gig at PA's by someone on Live At The Rat. Billy Connors (then of the Boize) was playing even before the BGN started in 1975...hard to beat that.
His current group Cadillac Heart is on a hiatus so he put together a new group which was basically an old Third Rail group. Along with Gary Soprano who's also in Cadillac Heart he had T.B. Player on bass and Artie Plummer on drums. Though the years those names have been thrown around in stories about Third Rail.
They have their own stories too. T.B. Player came from a good family and knowing the disreputable goings on in the Third Rail world told Richard Nolan he would be known as T.B. (The Bass) Player.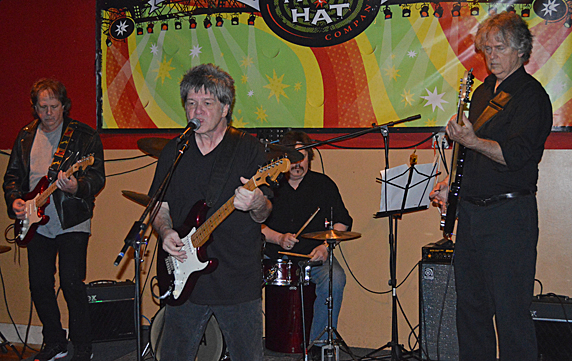 The Billy Connors Project
Photo: Blowfish
Not a load of people in the Club but The Billy Connors Project has it is known had their cheering section. They did a familiar song list. They warmed up with Elvis' Little Sister before playing Ecstasy, the song Billy wrote with the Paley Brothers. Artie Plummer navigated Nothing's Gonna Change's wonderful melody that Scott Baerenwald usually sings. It was the highlight it always is for me. It's doubly meaningful because this is one of Billy's newer songs showing his creativity is better than ever, which is also the case with Fed Up, a sort of answer song to My Generation with a view from where we are now. They also covered Rick Coraccio's Only Andrea Knows. We miss Rick!!!!
The playing by everyone was self-assured and earned from experience. The three Third Rail musicians were picked, of course, by Richard Nolan. On our Nolan interview page we list 11 versions of the group. All of those groups were great because one the things Richard could do was find quality musicians.
Gary Soprano was his usual stellar self. He plays things you usually only hear on records by legendary guitarists. He's criminally underrepresented on recordings. You have to make it your business to hear him when possible.
Hear some of the songs mentioned above at the Cadillac Heart ReverbNation page.
Video of Billy Corners Project at PA's - Nothings Gonna Change.
Video of Billy Corners Project at PA's- Ectasy.
Video of Billy Corners Project at PA's- Only Andrea Knows.
It felt like the old days hanging with these guys. I love that Billy brings that, but adds the connection to right now with his new songs. That's a nice reward for all of us who have been around since the early punk days.
And in other news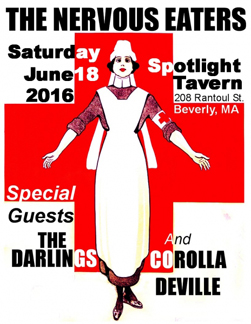 Jan Crocker, that Fabulous Billy Goon, has created a new site on his Kinodv - Boston Flashpoint and it is a great one and a great concept. Photos from the old days along with video interviews of musicians and scenesters who were there at the time. Right now there's a lot of pics and remembrances of The Underground by the likes of Clint Connolly, Jim Sullivan, Jan, Eric Martin, Peter Dayton and a host of others. The great thing about this site is anyone can contribute so it will grow and change as time goes on. There's a punk timeline of events, there's videos of bands, and tons more stuff. You have to check this out!! Boston Flaspoint Music & Arts Explosion from 1978 to 1982.

Reminder- And there's a GoFundMe project Boston punks should know about...Mark Kennedy of Vivisect, Toecutter, 5 Point and a bunch of other bands is in need of a little help from his friends. Please check it out here: A New Bed for Sydney.

And here's another arty Iggy video for your viewing pleasure: Iggy American Valhalla

Here's some good shows coming up this week.....

June 16 (Thursday) Randy Black & The Heathcroppers are at the Tavern at the End of the World.

June 17 (Friday) The Stoves, Topheavy (a reunion), Diablogato, and Stars Like Ours are at The Midway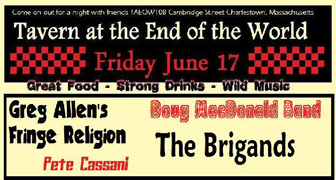 June 17 (Friday) The Brigands, Greg Allen's Fringe Religion, Doug MacDonald...and Pete Cassini will be rocking as well at Tavern at the End of the World
June 18 (Saturday) Daytime show- Roy Sludge Trio at Sally O's. starts at 1 PM
June 18 (Saturday) an afternoon show 4-8PM with Kenne Highland Clan, HIXX, Jody Moore Band and Club Linehan A Go Go at The Midway
June 18 (Saturday) Thunder Road has The Dwarves, The Queers, White Dynomite, and Decent Criminal Get tix here.
June 18 (Saturday) Corolla Deville, the Darlings and the Nervous Eaters are at the Spotlight in Beverly
June 18 (Saturday) Fuzbrains presents - Electrolux (featuring Steve Aquino, lead guitarist of the Lyres), on at 9, Thee Sonomatics (10:30), The Black Souls (12) at the wicked cool Hotel Vernon.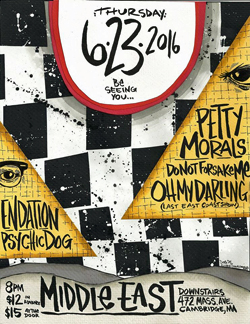 June 19 (Sunday) The Sunday Night Mess Around at The Plough & Stars will hopefully be the first of many where local musicians will perform in a stripped down setting. This will be all acoustic, in what will be a round robin format. Each performer will play a couple of songs and they'll will keep going throughout the evening in that fashion. This Sunday they have Jay Allen-(Jay Allen and The Archcriminals), Justine Covault (Justine and The Total Bastards), Tom Baker (Tom Baker and The Snakes), Kevin Stevenson (The Shods), Tad Overbaugh (Tad Overbaugh and The Late Arrivals) and Keith Pierce (Party Bois, Mellow Bravo) 9:30- Midnight
And further out past this week....
June 21 (Tuesday) Allston Pudding Presents an All Ages show with Free Pizza, Nice Guys, and The Monsieurs - at the Middle East Up
June 23 (Thursday) Do Not Forsake Me Oh My Darling are saying Bye Bye Boston with their last show here - joining them are Petty Morals, Endation, and Psychic Dog - at the Middle East Up
June 25 (Saturday) The FORZ have a new album out! To celebrate the release they are doing a show at the New World Tavern, Plymouth MA. Also on the bill will be Muck and The Mires and Viewers Of.
June 25 (Saturday) Dead Kennedys are at The Paradise and they have an AWESOME line up bands playing before them!! Jerrys Kids - 10.15pm, Straw Dogs - 9.30pm, The Welch Boys - 8.45pm and Burning Streets - 8.00pm- Get tix HERE!!
June 26 (Sunday) Making Waves For Autism benefit - featuring John Powhida, The Dogmatics, Girl On Top at Sally O's (this is a 1-5PM show)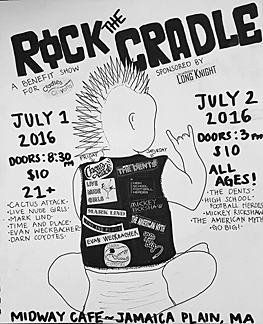 June 27 (Monday) Pere Ubu at The Sinclair
July 1 (Friday) Rock The Cradle - A Two Day Benefit for Cradles to Crayons Night 1 is with Cactus Attack, Live Nude Girls, Mark Lind, time and place, Evan Weckbacher and Darn Coyotes at The Midway
July 2 (Saturday) Rock The Cradle - A Two Day Benefit for Cradles to Crayons -Day 2 (this one's 3-8PM) is with The Dents, High School Football Heroes, Mickey Rickshaw, The American Myth and Go Big - at The Midway
July 9 (Saturday) Happy Little Clouds (It's their Album Release), The Rationales, Powerslut and The Knock Ups at O'Brien's
July 9 (Saturday) Tsunami of Sound, Fireking, Popgun, and The Beachcombovers are at The Midway
July 10 (Sunday) Boston Hassle's BLACK MARKET is taking it outside for the summer! They'll be at 420 Amory Street in Jamaica Plain!
The location is T accessible, just a two minute walk across the street from Green Street Station on the Orange Line. Hours - 11AM- 5PM. This one-day outdoor event will spotlight a featured artist, and boasts everything from secondhand to handmade: artwork, zines, body care, records, baked goods, patches, pins, books, T-shirts, leather goods, knits, woodwork, pottery, vintage clothing, jewelery, tea, hair cuts, tarot card readings, face-painting, portraits, & MORE!!
July 11 (Monday) Guided by Voices are at The Paradise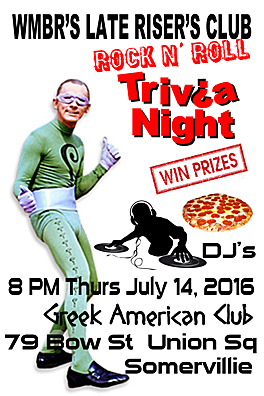 July 14 (Thursday) The Late Risers Club Punk Rock Trivia night will be at "the Greek" in Union Square (more info to follow) Of course Eric Law's team will win but it'll be fun just the same. Starts at 8PM - And there'll be free pixxa!! Team BGN will be there too!
July 16 (Saturday) OC45 celebrates their 5 year anniversary at the Middle East Up along with Burning Streets, The Jukebox Romantics and Jumper!
July 22 (Friday) Fur Purse, Thalia Zedek, Weather Weapon, Phurnne, Death Cloud at the Midway
July 22 (Friday) Screw Cart, Psycho, Rockin' Bob Punk Band, and 4 Sids are at The Cantab down.
July 23 (Saturday) The FUs, Silver Screams, Electric Street Queens, Il Mostro (mems of The Humanoids) are at The Midway
July 29 (Friday) The Warning Shots, Duck & Cover, Quiggs, and Tenafly Vipers are at the Greek in Union Square (FB page)
August 6 & 7 (Sat & Sunday) The Boston Rock Opera presents Stardust to Blackstar: The Lives of David Bowie at Once Ballroom: a concert dedicated to the late rock god David Bowie. "David Bowie taught us all so much about performance and stagecraft. If B.R.O. is going to, like Lazarus, rise up again then it should be to honor and celebrate his amazing music." The night begins with fellow B.R.O. co-founder Mick "Mondo" Maldonado directing and performing Bowie's "The Rise and Fall of Ziggy Stardust and The Spiders from Mars" with a full band and guest vocalists. Following that, is an original live arrangement of of Bowie's final opus work "Blackstar" performed by an all star band and chorus under the direction of Either/Orchestra's Russ Gershon. The evening continues with a celebration of songs from Bowie's vast catalog as even more Boston musicians take the stage to perform.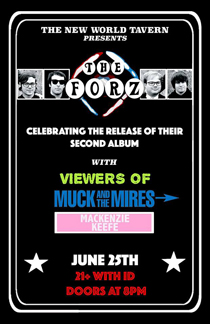 August 13 (Saturday) FRANK ROWE's 65th BIRTHDAY PARTY!!! starring: Kenne Highland, Stop Calling Me Frank, The Dogmatics, Classic Ruins, Richie Parsons Band, and The Stigmatics - at The Midway
August 15 (Monday) X are at The Brighton Music Hall - nice venue to see them!!
August 20 (Saturday) The Road Devils C.C. Boston Massacre Pre-Party!!! featuring Taxi Driver, The Hi-End AND MORE!!! FB page for more info as it develops
August 20 (Saturday) There's a great daytime (4-8PM) show at the Midway with The Lost Riots, The Scrapes, Whoopi Sticks, Go Blank and Point Blank
August 20 (Saturday) The Upper Crust, Devil on Horseback, Watts, Gymnasium at The Middle East Up.
October 15 (Saturday) Idiot Genes, Duck & Cover, Chanticlear and Jack Widows are at O'Brien's
October 15 (Saturday) The Upper Crust, Hickoids, The Grannies & Devil On Horseback at Once
October 21, 22 & 23 (Fri., Sat & Sun) The Boston Rock Opera presents Hair at Once Ballroom.
September 1 (Thursday) Thalia Zedek Band, Minibeast , Black Helicopter, Positive Negative Man are at Great Scott
CONTACT US AT....misslynbgn@yahoo.com - Send us your gig listings, your news and anything else ya got!!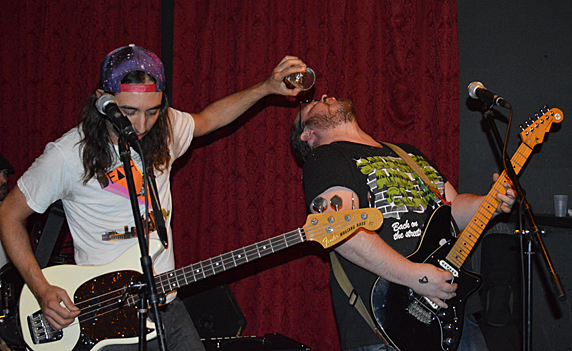 Keeping hydrated - The Atlantic Thrills
Photo: Blowfish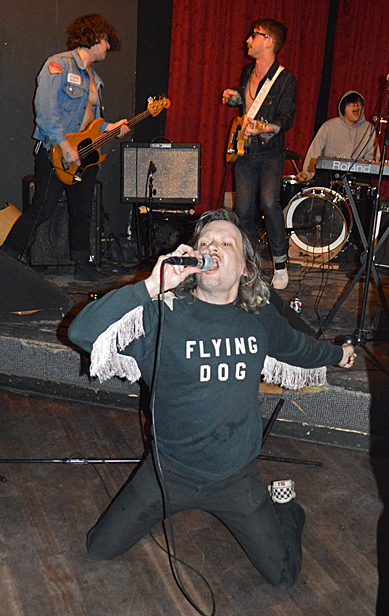 The Mardi Kings
Photo: Blowfish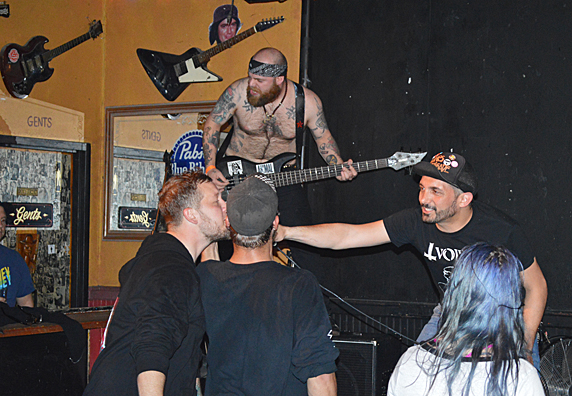 Fast Times
Photo: Blowfish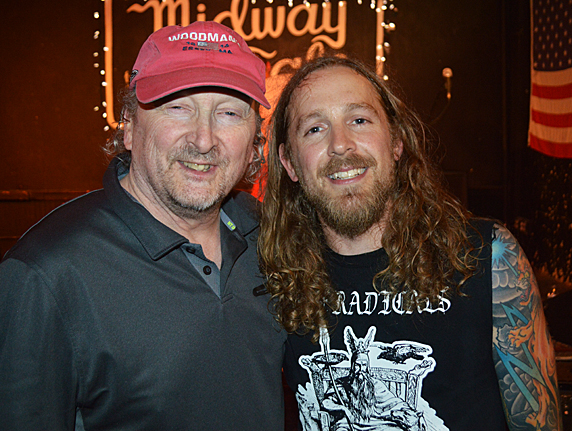 Alan and Nick Hebditch
Photo: Blowfish