The BGN News Archive
June 14, 2010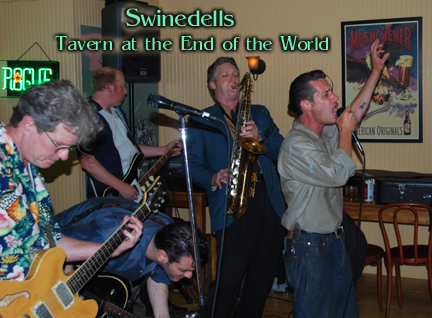 Well you know how it is ....it has been a couple of super tough weeks at work and come Friday we were really chompin' at the preverbal bit to go out and let loose….so I went to dinner with Judy W. at Nebo and ran into Joanie Lindstrom dining there as well, she said she was planning on going to the Tavern at the End of the World to see the Swinedells and Blowfish and I had decided we were heading there too!
SO we all went on down and we are all glad we did. I've been to The Tavern...World once before, for the opening of the band shows there but never did head back....tonight was amazing! We got there at about 10, it was a little sparse but the Swinedells went on a little while later and they were in TOP FORM!! Sean was just inspiring!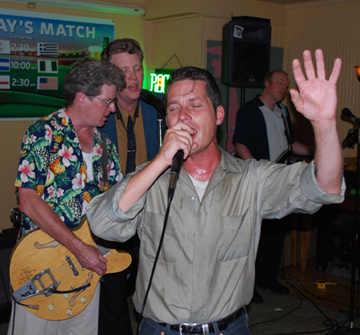 Blowfish says:
It was a low key gig in a low key club but The Swinedells at the Tavern were astounding.
I've seen them a few times but this time it all came together and made a mind altering musical statement for me. The Swinedells are old school rock, not old school punk mind you, old school rock and roll issue date 1959 somewhere. Other bands that go back that far mine the rockabilly sounds, the Swinedells went back to find nothing less than the soul of rock and roll itself and that's what we were hearing on Saturday.
Sean the lead singer channels the fire that Little Richard and Jerry Lee Lewis used to spew. He sang with the passion that comes from gospel via the church and early rhythm and blues. That's the background that fueled Elvis along with County music influences.
The sax player honks for the rockers and then pours out the syrup for the ballads. The guitarists play six string folk chords at the bottom of the neck a lot, just like the old days. You notice the sound of the amp more than the guitar itself with these guys. The drummer is all about hitting the 2 and 4 beat.
What the Swinedells know and others don't is that it's not about the rockabilly riffs, it's about the feeling. We were getting some old time religion. Sean's singing makes you feel like there is a fiery sermon going on. There's the idea that good and bad are in the room having a fight and the outcome matters.
I don't want to give a history of early rock influences that's fully been explained what I'm saying now is that all that fire, that life and salvation in the balance fearfulness has been shed from rock in its genre to genre jumping up to the present. Looking back we can see about 20 years of searching for the ultimate power chord combo that has driven the mainstream.
The lesson of the Swinedells is that the music has to have the guts of life and death in it. What in the modern world has the ability to fire the soul? Time to look.
The great thing about Tavern...World is, since they've added tables and it is so small, its like having a private show at home or something only better. Unfortunately the Swinedells are breaking up, they have one more gig and they are calling it quits(see below) ...but I cannot imagine Sean is going to go on for long without a singing gig in his life. Can't wait to see what he comes up with next!
So, as it turns out there is a good show this Thursday, June 17th at The Tavern: it's a Solo Show by Jay Allen and since Jay has a gazillion friends he will be joined by a load of pals while performing....up a motley crew with the likes of John Powhida, Ed "Moose" Savage, Kenne Highland, Tony Kacynski, and Joe Davis...sounds like a good one...
This Friday, June 18th looks pretty good at O'Brien's in Allston with The Egos, Classic Ruins, Sticky Business and The Varmints
And on Monday June 21st you can catch the new Marvels bass player at The Middle East down , and this is a great bill that just got better !!!: The Dwarves, The Turbo A.C.'s , The Marvels and Spitzz
Of course maybe you want to stay in Boston and not cross the river well Church has Powerpop Monday on the 21st - ONLY 7 bux I might add and you get The Jetty Boys, Kepi Ghoulie (Electric), The Roman Line and Zatopeks.
Oh yeah and now we are going into July: Thursday July 1at the Middle East Up you got The Saints, Acrobrats, 007 Hundred Club and Burning Streets
Friday July 2nd is that final Swinedells gig I was mentioning (I think) its at The Midway and its a great bill: DJ Easy Ed is spinning some fine tunes and on stage will be Nick Curran and The Low Lifes along with the Swinedells. Also as a special added treat: if you show up early at like 8PM you can get free 50's dance lessons from the lovely ladies Miss Arinae and Miss Beck
Saturday, July 17 at The Middle East up is Bonecrusher, The Welch Boys, Buddha & The Boys and The Beantown Boozehounds
and don't forget the Somerville Rock'n'Roll Yard Sale 2010 is coming up on : Saturday August 7 in Union Square Somerville:
there will be tons of amazing vendors selling everything from Vinyl Records and other music memorabilia, Vintage Eyewear and Apparel, to Local DIY Handmade Goods. See you there!!!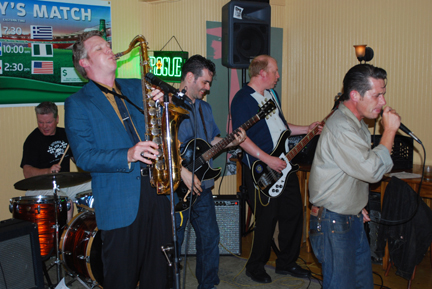 Check this out: This is a very special show, at Club Lido in Revere on August 29th.
In celebration of the film: xxx ALL AGES xxx and it is also a Gallery East Reunion!
Boston pioneer hardcore punk bands DYS, Jerry's Kids, Gang Green and FUs will perform with New York City's Antidote and guests for a monumental reunion show
These early eighties bands that spawned myriad influential groups and defined Boston's unique hardcore movement still strong today, will play the all-ages Gallery East Reunion Show to be featured in the film xxx ALL AGES xxx.
Produced by Gallery East in association with Stone Films NYC and the Boston Punk Rock Oral History Project (BPROHP), the film explores the origins and lasting cultural impact of Boston hardcore.
Tickets are not yet available as other bands continue to be added to the line up but you should definitely SAVE THIS DATE!!.
Here's some cool quotes about the show and The Gallery East:
"Of all the reunion offers we've received over the years, the chance to do it in our home city, in support of old friends, and have it all filmed as a climax to the Boston Hardcore movie was the one we had to say yes to," said Jonathan Anastas, DYS co-founder and bass player. Added DYS co-founder and singer Dave Smalley, "Duane and Gallery East were very important to our growth as a band. We look forward to bringing it back to Boston." "Jerry's Kids are scheduled to play the Gallery East Reunion Show and nothing else. If you want to see us, you better come." said Bob Cenci, singer of Jerry's Kids. "We promise to make it worth your while."
And some history: Founded in Boston in 1979 by Duane Lucia and Al Ford, Gallery East showcased young artists and musicians, including original hardcore punks. The Gallery closed its doors in 1983 but re-emerged in 2006 as a driving force that continues to support and organize community events and local artists.
In 2010, Duane Lucia and BPROHP founder, Catherine "Katie The Kleening Lady" Goldman, teamed with director Drew Stone of Stone Films NYC to begin filming xxx ALL AGES xxx.
And my friends THIS is the way to start off your September:
a stupendous show at The Middle East UP, lots of tatts, stand up bass and crazyness: The Cockabilly Records Tour Featuring: Viva Le Vox, Jason and the Punknecks, Guitar Bomb, The Holy Roller Sideshow, Hickry Hawkins with The Squidling Bros. Circus Sideshow and Live Burlesque! Whew...hooo
AND Swans are doing a tour and will be at The Middle East down on Thursday September 30th!!! OK, that's it....
... you can email us at: Miss Lyn email......