The BGN News Archive
June 14, 2021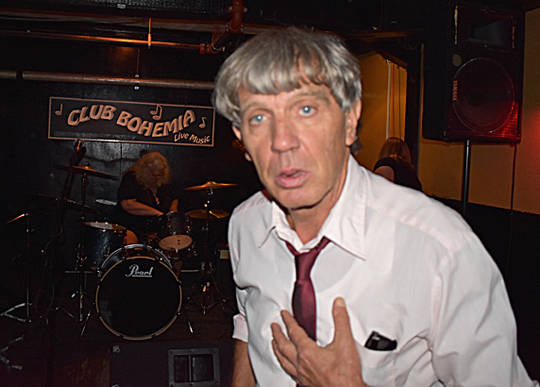 Cantab has new owner and we hope Mickey Bliss returns.
Well...things are really opening up now. There are outside shows and even inside shows!! The Midway has brought its calendar back to life ... and there are gigs schedules. Once has several shows at Boynton Yards lined up. The Jungle has inside and outside shows. The Linnea's Garden show at the Jungle on Friday that was sold out practically as soon as it was booked! it was moved inside and more tickets were released for sale. That's the way things are going. YES!! We'll see how this all pans out. Hopefully we will get back to some semblance of normal.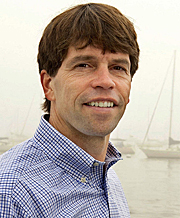 Tim Dribble

The Cantab has been bought by a long time Cantab fan Tim Dibble. That means things will stay basically the same ... we hope. No mention of any drastic action the new owner may make, no mention of Club Bohemia or Mickey Bliss.

The new article said: "[Dibble] is very adamant about continuing a long-standing tradition of local and creative endeavors at the Cantab, including the Boston Poetry Slam, a weekly bluegrass series and other activities which provide a venue for the promotion of the arts," Barnosky said. It will be "a place where the independent musicians and artists within Cambridge can congregate, create and perform, all of which had been a constant of the Cantab."

There were more good words from Michael Cronin who will be the acting manager. "It's a privilege," Cronin said. "I would really just want to revive the Cantab … and hopefully be able to not skip a beat, even though it's been a tough, tough past year and a half."

Another reassuring quote from Dibble was in the WBUR story: "It's going to be what it was before." He does mention - new bathrooms!

full article on Cambridge Day website ... and The WBUR story.



Jay Balerna

The WBUR website zeroed in on the Midway this week. They spoke with owner Jay Balerna. These club owners really have been put through the mill. We all know the money crunch they're in and Jay outlines some of what he's gone through. The Midway has been proactive with the live streams and it looks like they will make it through but they still will owe money that will take years to recoup. Sobering stuff. We appreciate business people like Joe and the sacrifices they are going though. Read the article.

Once Ballroom announced the location of their 20 live shows this summer: Boynton Yards in Somerville, just outside Union Square. Tickets are available on the Once website. Here's J.J. Gonson's statement. and there's more on Vanyaland.

The Rockin' Dune Tunes outdoor rock 'n roll parking lot party is happening again! Yay! This Cape Cod tradition happens at Whitecrest Beach in Wellfleet on June 26 starting at 6pm.

John Keegan has been there a few years and reported on it: 2017 with the Dogmatics ... In 2016 John did a slide show of the scene there, view that here!!

The line up for this year is: 6pm Beware The Dangers Of A Ghost Scorpion, 7pm Crow Follow, 8pm Margaret Garrett of Mr Airplane Man, 9pm Atlantic Thrills and a Bonfire down the beach after the show. There's camping at Wellfleet Hollow State Campground (508) 349-3007 about 2 miles away. it's Free. All ages. Bring a chair. Bring a cooler.

Now, it's funny: the band Beware the Dangers of a Ghost Scorpion were wearing masks on stage as part of their show before the pandemic. (See their Facebook banner)

We found this art/music/poetry video above fascinating: art by Gerhard Richter, music is by Patti Smith and John Cage and the poetry by Smith. The paintings as a group are called 'the Cage paintings". They look like faded fabrics or weather worn walls. The colors are subdued. There are vertical and horizontal sweeps to them. They look both minimal and heavily worked at the same time. The distressed look is not unlike much punk artwork.

Patti reads from her notebook about creativity in front of the painting whose gray color echos her gray hair. She also comments on the paintings. Having the art and the live performances in front is very satisfying when you have people and art of this quality.

Stupidity from Sweden have played Boston a few times. John Keegan caught them at Store 54 in 2016. They have a new video of a song called "Stupid Like Me". (That sounds like the first song they should have written.) The video features a recognizable face to us - Keith Streng from The Fleshtones. The song, like "Shit for Brains", is something us low achievers can cheer for. The band says they will have a new album later this year, they've recorded 20 songs with Keith Streng.

There's probably a lot of videos of The Ramones, but we still say this one is worth watching. It's from 2004 and is now on YouTube. It's their story, with the Ramones telling a lot of it through interviews. They have all the main characters you expect. They have Joe Strummer talking about their first show in England. Someone who heard the first Ramones' album says, "that immediately made half my record collection obsolete". So true.
---
SHORT CUTS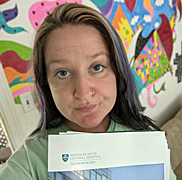 Maddie from Stormstress, photo to the right, revealed on Facebook that she is going to have brain surgery at Mass General on June 16. We send her best wishes!!

You think it would be a crazy rocker but the song "High as Johnny Thunders" is a slow ballad by Chuck Prophet. Listen on YouTube

Juliana Hatfield continues her live streams from Q Division. This Saturday June 19 she will perform her whole album Beautiful Creature. Facebook event page.

Mitch Easter talks about recording REM's first record, Radio Free Europe forty years ago in his garage on the Music Radar website.

Larry Newman has so far recorded these artists for the next ASA tribute CD: Kenne Highland's Air Force, Emily Grogan, Trick Wallace Trio, Sandy Martin, John Felice, Willie Loco Alexander, Jonathan Paley and more…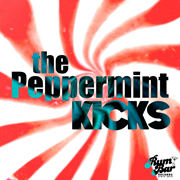 Peppermint Kicks is a new band with members Dan Kopko, Sal Baglio and Chris Anazlone. They have a video on their Facebook page that gives some samples from an album that will be streaming fully on July 23. It sounds like Dan and Sal were good songwriting partners. The results seem like a 50/50 mix of the duo. The video has 50's and 60's imagery and the songs sound like that era also. The Facebook page for Peppermint Kicks.
Friday, June 18th Bandcamp is donating 100% of their share of sales to the NAACP Legal Defense Fund, a racial justice organization with a long history of effectively enacting change through litigation, advocacy, and public education. This would be a time to buy some music from your favorite group: Bandcamp.
U-ey at the Buoy, Bob Cenci's side band, does their blues thing with their new video "Don't Wait a Single Minute". You can view on Youtube.
---
PODCASTS......
Blowing Smoke with Twisted Rico had three guests this week members of 50ft. Furies, Tracey Noel and Susan Lutin, are interviewed. Like Martin and Rick Harte from last week these women have a lot of vitality and opinions and the talk pours out effortlessly. There is some political talk and catching up with side groups.
CD'S/ MUSIC....................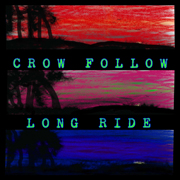 Crow Follow keep it slow and moody and way way low. No one does the low thing better than Keegan on sax these days. The song is about the trouble "spirit tribes" (native Americans) have been have been subject to.
---
Here's some good shows coming up (live stream and actually LIVE!! .....
June 17 (Thursday) M8 with Motel Black - this is a LIVE show 40 people - Max. Masks and social distancing required
June 17 (Thursday) Color Killer at Union Common Marlborough Ma @ 7PM. outdoor show.
June 18 (Friday) Kid Gulliver "Gimme Some Go!" EP Release/Video Show - at Dusk in Provi, RI. ...this is an EARLY 2PM !!!! FB page.
June 18 (Friday) E w/ Omoo Omoo at Nova Arts in Keene, NH. FB page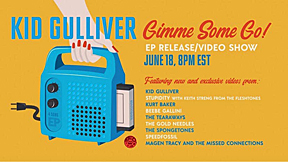 June 18 (Friday) Kid Gulliver has a video Record Release Party. To view check thier Facebook page.

June 19 (Saturday) The Jacklights and Double Star Live stream from The Midway Cafe FB page

June 19 (Saturday) Diablogato, Brunt of It, Neutral Nation and Michael Kane & TMAs at Dusk for an outside show - doors 6PM.

June 24 (Thursday) This should sell out fast – Tommy Stintson of the Replacements will be doing an outside house show in Mansfield, MA on June 24 with his current duo set up called Cowboys in the Campfire. Tickets at Eventbrite.

June 24 (Thursday) Adapter Adapter, Rawstrum,Waiver Wire at The Midway - a LIVE night time show! set times on FB page.

June 26 (Saturday) Rockin the Dunes is on! Atlantic Thrills (9pm), Margaret Garrett (8pm), Crow Follow (7pm), Beware The Dangers Of A Ghost Scorpion (6pm) ... and a bonfire on the beach after the show. at Whitecrest Beach Parking Lot, Wellfleet Ma Cape Cod. FB page

July 3 (Saturday) Doug MacDonald Band, Double Barrell, The Thigh Scrapers, The Bind at The Midway - this is a LIVE in person show!! 8-1AM. FB page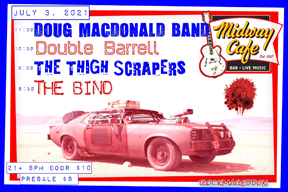 July 17 (Thursday) Thalia Zedek is celebrating the 20th anniversary of her first solo album Been Here and Gone by performing the entire album at the Midway. Also on the bill will be Richie Parsons and Eric Martin. 6:30 doors…The FB page
July 23 (Friday) At The Breakaway in Danvers Guns of Brighton as special guest in a Motley Crue tribute show.
July 30 (Friday) Motel Black, Gene Dante & TFS, M8, The Jacklights are at Ralph's Rock Diner
July 31 (Saturday) Walter Sickert & the Army of Broken Toys (Matinee) 1:00 pm - 4:00 pm - ONCE Somerville @ Boynton Yards.
July 31 (Saturday) Walter Sickert & the Army of Broken Toys - 6:30 pm - 11:59 - ONCE Somerville @ Boynton Yards.
August 5 (Thursday) No Small Children, Thrust Club, Bad Larrys, Tiffy - ONCE Somerville @ Boynton Yards - a 6PM show.
August 6 (Friday) End of Summer All ages hardcore show with The Woods, Witchita Hangman, Half Mast, Mont Clair, Rocket Gods and Loser Birds,at the VFW post at 95 Essex St. Whitman, Ma - 6PM. FB page.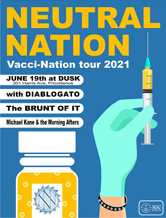 August 14 (Saturday) The Winter Project, A Bunch of Jerks, HIXX, Screwcart at The Jungle, 7:30 doors
August 14 (Saturday) an evening with legendary rocker Robin Lane in support of her nonprofit Songbird Sings, which helps trauma survivors heal through songwriting and music. Performers include: Kid Gulliver, Justine and The Unclean, Nightspell,
The Jacklights ... and of course Robin Lane! FB page.
August 14 (Saturday) The Mal Thursday Quintet with special guests Tiger Bomb at Sun Tiki Studios Portland, ME FB page.
August 20 (Friday) Bonecrusher, The Welch Boys, Riotgun at The Midway
September 3 (Friday) Rebuilder, Choke Up and Old Soul at the Sinclair - Tickets
September 3 (Friday) The Zulus rescheduled show at The Paradise - doors 8PM, music 9PM. FB event page
September 11 (Saturday) Guided by Voices at the Sinclair. Tickets.
September 12 (Sunday) Mark your calendars! Frank Rowe's 70th Birthday Party featuring Classic Ruins and friends (more info soon) - at the Midway

September 16 (Thursday) Bob Mould is at the Paradise - Tickets here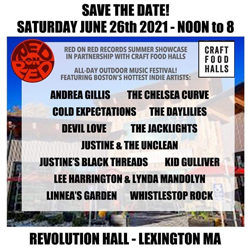 September 18 (Saturday) Martin, Morell, Fredette are having a residency at The Midway. These are early shows - 3-7PM
September 19 (Sunday) It's the return of Tubefest -New England Surf/Instro Showcase! Lots of surf and instrumental bands for your enjoyment! Tubefest Facebook page. This will be an afternoon/early evening show
September 24, 25 and 26 The New England Shake Up is back. The rockabilly festival will happen this year in Framingham. The line-up of bands is way long. They also have a picnic record party 11AM-4PM on Saturday the 25th with Barrence Whitfield spinning vinyl. Get more details and ticket info on their website.
September 30 (Thursday) Nervous Eaters/Barrence Whitfield/Willie Loco and the Boom Boom Band/Carissa Johnson at the Paradise . Get Tickets Here!
October 4 (Monday) Gary Neuman at the Paradise Tickets
October 14 (Thursday) Ministry at the House of Blues. Tickets
October 18 (Sunday) Martin, Morell, Fredette are having a residency at The Midway - 3-7PM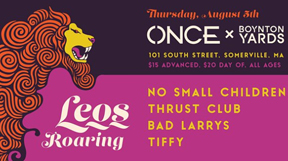 October 31 (Sunday) Dropkick Murphys At Hogan's Run again 7-11PM...best Tessie costume wins a free drinks bracelet for the night. FB page.
November 19 (Friday) Joan Jet & the Blackhearts will be at the Chevalier Theatre in Medford Square. Tickets.
November 27 (Saturday) Dinosaur Jr. at the House of Blues on Saturday Nov 27. Tix
March 13, 2022 (Tuesday) Reigning Sound at the Sinclair Tickets: https://www.axs.com/events/402182/reigning-sound-tickets
CONTACT US AT....misslynbgn@yahoo.com Send us your gig listings, your anything else ya got!! You want your CD reviewed?? Contact us for that too.
---