The BGN News Archive
June 15, 2015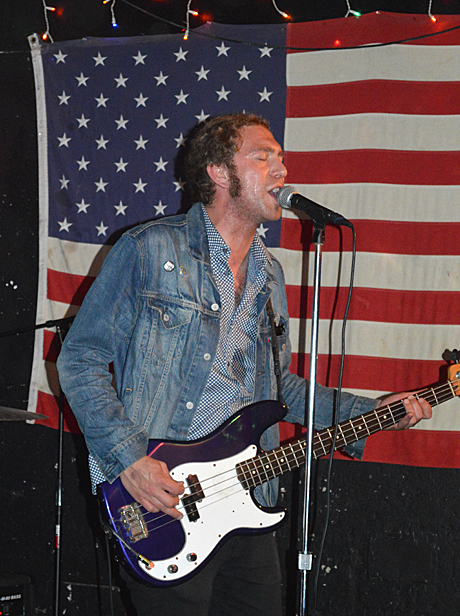 Kurt Baker
Blowfish did a fast hit at TT's on Wednesday: There were around 45 people there at 9 pm. It was a five band bill with a lot of non punk acts with the exception of Death by Bill. They are a young band. I thought there was a lot of inexperience in the music and performance but some creativity in the songwriting at the same time. They are not cookie - cutter punks and they did their best to rock it out. If they keep going they are bound to develop.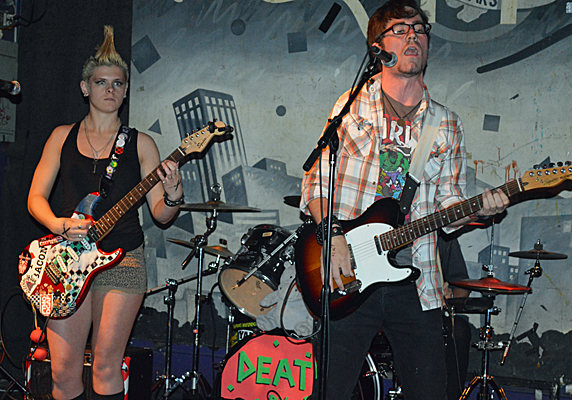 Death by Bill
We went to the Midway on Saturday for a Rum Bar Records showcase. Rum Bar is hot now. They have the best pop acts around and there is a series of regular releases that keep their name in front of the public. Kris Rogers has played with Kurt Baker and the Connection but is now fashioning his own career as Kris Rodgers and The Dirty Gems. He has a lot to offer. He can play many styles of rock keyboards. His gig at TT's a while back was impressive . We heard the end three or four songs of his set and by that time the crowd seemed wrapped up in his upbeat sound. The guitarist has a lot of moves that help the keyboard driven songs come across.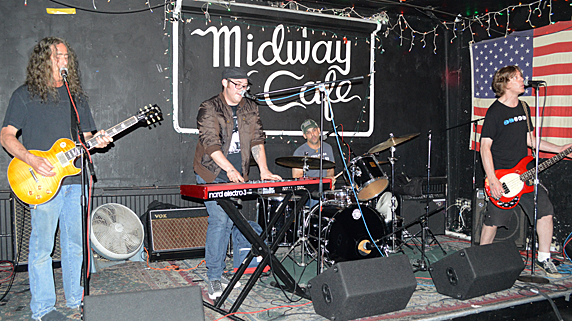 Kris Rodgers and the Dirty Gems
Leading up to Saturday there were some concerns that the Connection wouldn't be able to play this show but they pulled a few people together and made the gig. They did a shorter set than usual but just as good as we have come to know them. On stage they sweep you up in the fast pace and excitement. All the songs are rocking and catchy, just ask Little Steven who has featured a few of them on the Underground Garage. They have a CD that's on the verge of coming out right now with a few songs being released early. One they played - Pathetic Kind of Man).
The Connection
Jay Allen has done his thing for a long time now. His current incarnation is Jay Allen and The Archcriminals. He plays a style of punk that is bare bones musically and lyrically has a sardonic bite to it not unlike Frank Rowe. Half the fun is to try and catch what he is saying. He played Twist My Nuts and dedicated it some newlyweds.
With the Connection playing a short set Jay was able to play a longer one. He has plenty of songs, so that's not a problem. He has a new single coming out on Rum Bar called Chopped Liver. There used to be more of this style of punk around but the landscape has changed and Jay looks like the last man standing at this point. Here's Twist My Nuts from a 2009 Midway show. Here's a song from Saturday's show posted by Jay Balerna.
Jay Allen
After Jay we were really primed to hear Kurt Baker. Since his move to Spain he has come back once or twice year for whatever reason and has been doing a Boston gig most times. It's the songwriting that immediately puts him on the top of the pack. Somehow he's assimilated all the twists and turns of the style. He was all revved up Saturday night but then he always is. He always urging you to drink up and most importantly enjoy the night. He did some of his more well-known songs like Weekend Girls and Why You Gotta Lie. He also does juicy covers and in that vein he did The Nerves - Hanging on the Telephone. He didn't have a lot of time to have the band practice but they sounded fine to me. It was a satisfying dose of Kurt. Next time he visits from Spain we'll be there again.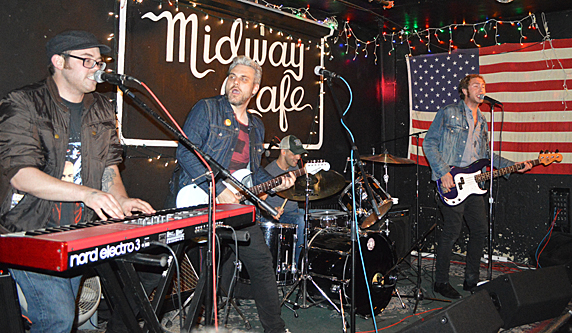 Kurt Baker
In other news ......
Mr. Airplane Man is making it back to Boston for their July 10 Cuisine en Locale show once their Euro Tour winds down...and in May they recorded a new CD while in Switzerland. They are looking for support on INdieGoGo...so go check it out and donate.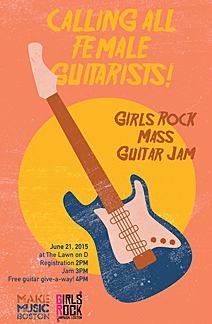 Are you a girl and do you play guitar???? Even if you aren't- well this coming Sunday (6-21) There's gonna be Girls Rock Mass Guitar Jam and its an outside festival...at The Lawn on D which is 420 D Street (Southie/Seaport) ...also note - By participating, you can enter to win a Martin guitar! Here's some times: Registration/practice: 2 - 3pm, The Jam!: 3 - 4pm, Raffle and mingle: 4 - 4:30pm. Here's the FB event page with link for registration. Sounds like FUN!! it's also part of Make Music Boston with all kinds of music being performed all over the city that day.
Muck and The Mires and The Monsieurs are playing The Funtastic Dracula Carnival in Benidorm, Spain this coming October along with The Sonics, The Pagans, Nikki Corvette and a ton of other bands...don't go buying any plane tix though, it sold out in 8 minutes!!
Hey when we were at The Midway this weekend we ran into Skybar of WMFO who's always at the great shows in town...guy's got great taste in music and knows what's going on out there...his show "Rising" is on every Sunday 8-9PM (WMFO 95.1) ...what a great way to wind down the weekend......check him out!! You can listen to some older shows here and check out his playlists too.
So with that said.....here are some shows that are happening this week....
June 15 (Monday) Jittery Jack, Cactus Attack, Jonee Earthquake Band and The Backalley Ramblers are at Opus Underground.
June 18 (Thursday) Vivi'D Presents : GBH along with Total Chaos, The Welch Boys and Urban Waste at The Middle East down. GBH ruled when they played the ME Down last year!!! (Check out the John Keegan review of that show)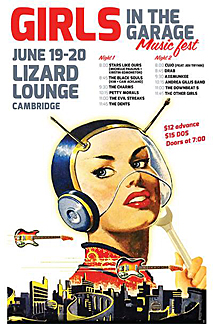 June 18, 19 & 20 (Thurs-Sat) it's the Girls in the Garage Music Fest with you guessed it bands with "girls" in them, all at the Lizard Lounge!! For both nights doors are at 7, Music starts at 8PM Check the FB page for set times and to buy tix. Check out the particulars below, that's a whole lot of amazing bands!!!
June 18 (Thursday) Girls in the Garage Music Fest: Band without Hands, The Knock Ups, The Other Bettys, Thrust Club, Corolla Deville and Reindeer at the Lizard Lounge
June 19 (Friday) Girls in the Garage Music Fest: Stars Like Ours (feat. Michelle Paulhus and Kristen Edmonston), The Black Souls, The Charms, Petty Morals, The Evil Streaks and The Dents at the Lizard Lounge
June 19 (Friday) Gymnasium, The Titanics and Devil On Horseback are at The Midway
June 20 (Saturday) "sigh" .....1-6PM it's TT's Everything's Gotta Go closing sale.....they say: "So we've accumulated 40 plus years of stuff and it's all gotta go! Come by and say hi to TT's owner and amazing lady Bonney Bouley and pick up some momentos. There's some great stuff we found up in the attic, everything from the restaurant days, dishware, glassware, some antiques, furniture all sorts of stuff! Of course the bar will be open!"
June 20 (Saturday) Girls in the Garage Music Fest: Cujo, Drab, Axemunkee, Andrea Gillis Band, The Downbeat 5 and The Other Girls at the Lizard Lounge.
June 20 (Saturday) Bob Colby teams eclectic multi-instrumentalist singer-songwriter Audrey Ryan with Thick Wild (his favorite discovery of last year) at Store 54.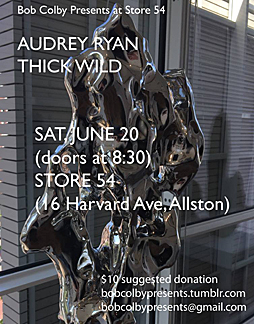 June 20 (Saturday) Rockabilly original Sleepy La Beef played a few punk clubs back in the day. He's turning 80 and having a birthday party gig at Johnny D's , also on the bill are Roy Sludge, Andrea Gillis and Marc Panasky along with DJ Easy Ed spinning discs and setting the mood for the celebratory evening. Check it out and buy tix here. Music starts at 7:30 folks!
June 20 (Saturday) The Knock Ups, Thalia Zedek Band, plume and Andrew Scandal are at The Midway (a night show)
June 20 (Saturday) You folks in RI check out this show!: The Monsieurs (12), Thee Itchies (at 11PM) Party Pigs (10 PM) and The Neutrinos (9:30) at Dusk in Provi. (FB event page)
June 21 (Sunday)
And coming up after this week we have.......
June 24 (Wednesday) The Adolescents and The Weirdos with Laughing Stock are at The Brighton Music Hall.
June 24 (Wednesday) at TT's Powerslut, My Own Worst Enemy, Uranium Daughters, and Maximum Hackman
June 24 (Wednesday) at the Middle East Up - Destruction Unit, Creepoid, Sneeze and Sleep Crimes (we had a great time seeing Sleep Crimes last year. check it out)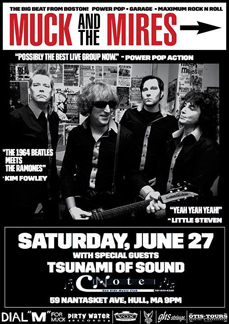 June 26 (Friday) Tsunami of Sound are at PA's Lounge in Somerville
June 27 (Saturday) Crash Course for the Ravers on WMFO 95.1 - 1-4PM has lots of good music AND The Cal Cali Band!!!
June 27 (Saturday) an early show with 5:30 doors at TT's with Continental, Absinthe Rose and The Charms
June 27 (Saturday) The Scrapes, The Ungraded, The Swindlers and Yeehaw Jihad are at The Midway. This is a 4-8PM show.
June 27 (Saturday) Cal Cali Band and The Last Ones are at Tavern at the End Of the World
June 27 (Saturday) It's a Spectacular Birthday party at Cuisine en Locale for GRCB- Girls Rock Campaign Boston. It's their 5th Birthday and they are doing it up in style with an ALL AGES carnival themed party 6-10PM --Birthday Cake (a real one!), Carnival Games & Creative Activities, Trivia and Raffles, Temporary Tattoo Station, Photo Booth, DJ SIT N SPIN dance party, Local female rock celebrities playing covers of GRCB band's original songs and tons more cool stuff. Here the FB page so you can stay up to date an all the happenings.
June 27 (Saturday) heading north- in Salem at In a Pig's Eye - they are back- The Darlings. (FB event page) This is a great little place and a great one to hear the Darlings!
June 27 (Saturday) Up in Portland, ME at Bayside Bowl you can see S.S. Cretins, Tiger Bomb and Video Nasties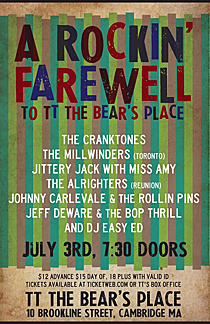 June 28 (Sunday) Ceremony, Tony Molina and Pity Sex are at Cuisine en Locale (FB Page)
June 28 (Sunday) at The Middle East Up - Old Gray, Milo, Clique and Yeehaw!
July 3 (Friday) A Rockin' Farewell to TT's - sigh- with The Cranktones, The Millwinders, Jittery Jack , The Allrighters, Johnny Carlevale &The Rollin Pins, Jeff Deware &The Bop Thrills and DJ Easy Ed setting the tone between sets are at TT's (here's the FB page for this one) Be there or be square
July 5 (Sunday) Caged Heat (yup with Chilly Kurstz, they're back!) , Greg Allen's Fringe Religion, The Low Babies and Lady Pilot are at The Midway. This is an afternoon show at 4PM! Here's a recent interview with Chilly on Blowing Smoke.
July 10 (Friday) Mr. Airplane Man are back in town with The Monsieurs and Party Pigs are at Cuisine en Locale (FB event page)
July 11 (Saturday) Mudhoney along with White Dynomite will be at The Brighton Music Hall
July 11 (Saturday) The FUs, Ungraded, Sewer Rats, Jay Allen and the Arch Criminals and Kenny Chambers are at Cuisine en Locale
July 11 (Saturday) it's official The Gizmos (and a TON of other bands) are playing Mutant Fest II at the Blockhouse in Bloomington IN. FB event page
July 12 (Sunday) it's the final TT's Rock n Roll Flea Market & Bloody Mary Bash 11AM- 5PM and its Free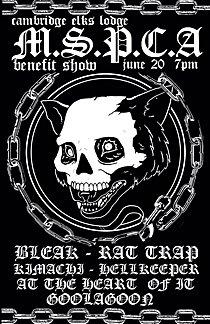 July 12 (Sunday) at The Midway are Beantown Boozehounds, El Escapado, Lucky United, Deranged Youth and Bad Movies
July 14 (Tuesday) - WHAT a great show this will be The Rezillos with Petty Morals and Casanovas in Heat at Johnny D's. And the Rezillos have a new full length CD out. There will be a CD and a limited edition vinyl album available at the shows !! Get tix here.
July 15 (Wednesday) The Milling Gowns are at Middlesex.
July 17 (Friday) through July 25 (Saturday) - make sure to keep your calendar open for the TT's Farewell Bash happening all week!!
July 17 (Friday) at Club Bohemia - Greg Allen's Fringe Religion, Caged Heat, and the Black Souls.
July 17 (Friday) at Sally O Brien's - Richie Parsons, Aca Brebner and The Trick Wallace Trio
July 17 (Friday) at The Midway - The Dirty Truckers, A Bunch of Jerks, The Dents and Jay Allen & The Archcriminals
July 18 (Saturday) Mission of Burma opens for The Foo Fighters and the Mighty Mighty Bosstones at Fenway Park
July 22 (Wednesday) Jaz Coleman founding member of Killing Joke is doing a Spoken Word performance at The Middle East Down. its al about his new book: "Letters from Cythera".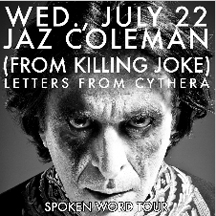 Jaz will delve into his many experiences that have influenced his philosophical outlook on life and also discuss, Supersynthesis, a principle which has facilitated his many accomplishments including acting, conducting, singing, composing, geometry, architecture, and occult history. Tix available here. This one will be different, there's seating and VIP seating tix for this show.
July 24 (Friday) WOW! check this out: Bim Skala Bim and the Pajama Slave Dancers are at The Middle East Down along with Brunt Of It, Zeme Libre and The Porter Squares
July 24 (Friday) at The Midway - BrownBoot, Barbusters and Hambone Skinny
July 25 (Saturday) The final day of TT The Bear's Place...and they have Scruffy The Cat this night!!
July 26 (Sunday) a Matinee Show at the Middle East Up - 1PM doors with Band Without Hands, The Knock Ups, Radio Compass, and Happy Little Clouds
July 26 (Sunday) Screeching Weasel, plus The Queers and The Mr. T. Experience are at The Royale. You can get tix here. This is a 6PM show!!
July 26 (Sunday) Matinee show at The Middle East Up with Band Without Hands, The Knock Ups, Radio Compass, Happy Little Clouds. Doors are a 1PM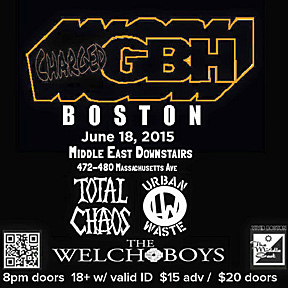 July 30 (Thursday) There's a mega hardcore show at Cuisine en Locale with Power Trip, Foreseen, Boston Strangler, Peacebreakers, Freedom, Fury, Red Death, Intent, CIAC and Take Control. Music starts at 6:30 SHARP doors are at 6.
July 31 (Friday) "THE DAMNED: Don't You Wish That We Were Dead" documentary is FINALLY playing in Boston!! It's at the Regent Theater at 7:30. You can buy tix here. Watch the trailer here.
August 1 (Saturday) The Static Dynamic, The Wrong Shapes, Hope & the Husbands and Alchemilla at The Middle east (FB page for upcoming updates)
August 3 & 4 (Monday and Tuesday) Darkbuster returns!! at The Sinclair. Well, no tix available anymore congrats to Darkbuster for two night of sold out shows!!!c
August 3 (Monday) Tsunami of Sound and The Vista Cruisers are at Opus Underground, Salem.
August 6-8 (Thursday - Saturday) Boston Fuzzstival 2015 is at The Middle East Down. The Fuzztival highlights "the best bands in the region that make psychedelic/fuzz/garage/surf rock" and its goal is "to build bridges within the local music community." Stay tuned for the lineup and more info keep checking their FB page!
August 8 (Saturday) - Head over to Store 54 to help Bob Colby celebrate his birthday (two days early) with The Rationales and My Own Worst Enemy!
August 8 (Saturday) The Memphis Rockabilly Band are doing an early show at Johnny D's (FB page) 7-9PM

August 14 (Friday) at The Midway are The Connection, The Above, Fireking & Special guest to be announced...watch for updates on the FB event page
August 22 (Saturday) Memphis Rockabilly Band is at the Marshfield Fair. check out the particulars here
and of course The New England Shake-Up! September 25,26,27 2015! Keep yourself updated at their FB page
CONTACT US AT…….misslynbgn @ yahoo.con Send us your gig listings, your news and anything else ya got!!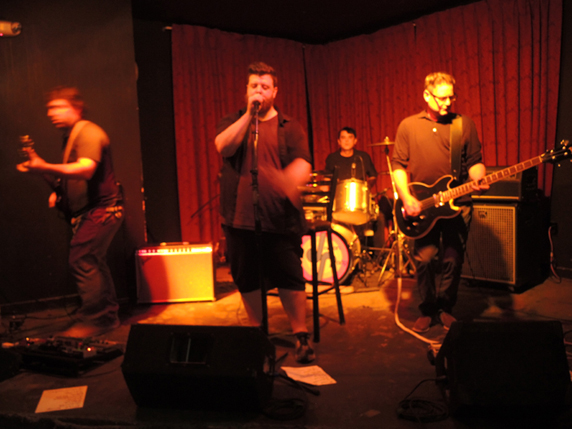 Milling Gowns at O'Briens
Photo by Arthur Freedman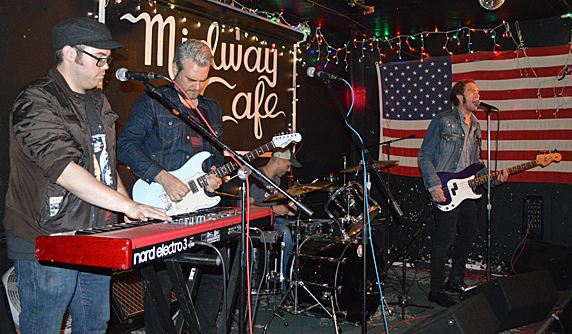 Kurt Baker
Lou Mansdorf with Jay Allen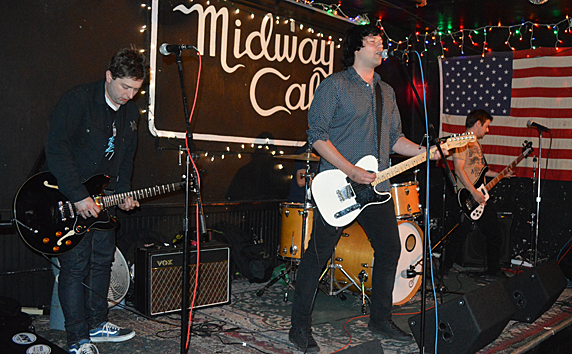 The Connection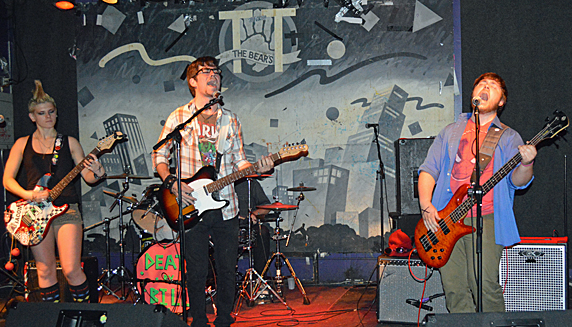 Death by Bill