The BGN News Archive
June 16, 2008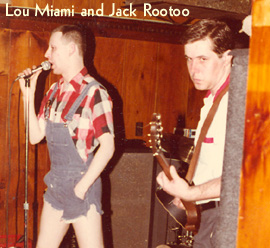 First and foremost we are very very sorry to report that Boston musician Jack Rootoo passed away this week....
Blowfish, a huge Rootoo fan has this to say:
Jack Rootoo was a unique gem. Upfront he was just a nice man. All conversations with Jack were pleasant; he had no agenda to push which is a little unusual in the local punk scene which revolves around getting attention.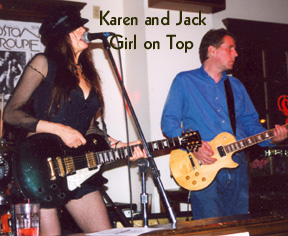 His alliance with Lou Miami got attention of course. Lou was an outrageous front man but the music is what made him important and that hinged on Jack. The way Jack played those cover tunes created a fruitful area for the Kosmetics and was a template for groups afterward, but not many were able to play a cover song and make it new like the Kosmetics, even to this day.
It was all about that guitar tone. Jack had his own sound, something every instrument player searches for. I don't know where he got his but he had it from the first day I heard him. His tone was not as thick and distorted as say the Ramones but was meaty and dirty in its unique way. He kept his solos simple in a way it always added to the total song.
Many people know him from his work with Lou but you really missed out if you didn't catch him with Girl on Top. This group gave him a platform for his abilities equal to the earlier group. Playing mostly original work Jack brought so much to the sound that everything was worth hearing.
It was always a good night of music if Jack was playing. I know there is a big world out there and I know our little Boston punk scene is small, so be that as it is, but our world just lost an irreplaceable voice and it means a lot to us. No one will ever sound quite like Jack. We will miss hearing him again.
RIP, and SO much respect to Jack!!!
Nancy's Party

| | |
| --- | --- |
| Nancy and Tommy | Drummers |
Earlier in the weekend ...I went to the birthday party for the most fabulous Nancy Maisley, ex-Clueless Clubhouse host (founder I think even!), and let me tell you, anyone who was anyone was there dear!! Here's a couple pics but I ca't begin to show ya everyone there, needless to say it was loads of fun and I tore myself away to run over Church....but hey if you were ever a Clueless Clubhouse fan send a bday wish to Nancy cuz she is really a fabulous girl!! Say Happy Bay Nancy...here...
sdo yeah, then I was on my way to Church...and oh what a night,,,LOTS O'fun..Apple Betty opened the evening, and though we did not see them we happen to know they are awesome, great and fun garage.....we came in to Pulp 45 playing...fabulous hot and gorgeous front person lead singer and bass player Amy Von Eerie was just wonderful to watch and the band was great, they did entertaining covers and equally interesting originals, great band!! ...check 'em out at Harpers Ferry with Agent Orange in July (see below)
| | |
| --- | --- |
| Pulp 45 | Buried In Leather |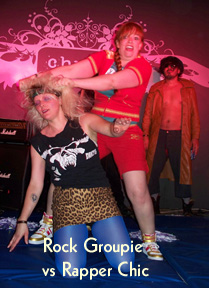 then there was Buried In Leather...
well what can we say about these guys?...it was like a heavy metal punk lounge act..
I see this mustachioed, ill fitting leather pants clad guy who's a total nut case up there, and wonder "eeewww, huh?"...he screaming really strong respectable punk vocals while coyly playing with the strings of his hoodie, I was perplexed.....I hate facial hair as you reader well know and I also hate ill fitting leather pants, ain't nothing worse...but I gotta say this band was entertaining in a very big way and that was because of frontman Keith Buble, he is one fun front man. He kind of reminded me of Jack Black and I have to say Blowfish was laughing the whole time... the on stage patter was just TOO funny, he is a gem that Keith. No question....oh, also, I thought Sensible Seth was hot, and even hotter when he put on his glasses at the end of the set. Anyway the music was good heavy thrash punk metal and Keith is just Mr. Entertainer... awesome...
but hey, it didn't stop there, this as I say was quite a night!, next up was B.L.O.W.W. or Boston League of Women Wrestlers, again another great show.....out come the musicians. Drummer as bunny, guitarist as goth metal man, the cast of characters went on and on my friends, then the announcer, and then the gorgeous "ref" and then we get the rasslin' as....first we get the Chicana who can't seem to search the web right, out come s the holier-than-thou librarian to condescend that maybe little Chicana should take an ESL class..whew!! sparks fly and wrestling beings for real.... Next up is the washed up heavy metal groupie and the hip hop rappin' wanna be...groupie suggest little miss rapper is actually grammatically correct...oh oh, sparks fly and rasslin' beings anew....you get the gist.... FUN for all...you gotta check 'em out next time it is pure fun entertainment and these folks damn well deserve an audience!!!...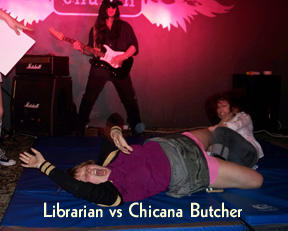 This Friday June 20th at The Cantab good show with The Templars with Tommy and The Terrors, BZ and Stomper 98. Get your tickets here for 10 bucks at Underground Control or you'll have to shell out $15 at the door!
Also Friday the 20th is the big shoooo at the Middle East UP with Lyres, The Black Hollies, Traveling Circle (the Light Kings of NYC), The Time Beings, Black Box Revelation (fr. Belgium) whew! Yeah!!....
and of course coming up later , as in NEXT weekend is the Annual Garage Rock Weekend at The Beachcomber! This year it's featuring The Swinedells, Muck and The Mires, Andrea Gillis, The Dogmatics, Jay Allen and The Archcriminals, The Prime Movers and many more. The Beachcomber overlooks beautiful Cahoun Hollow Beach, home of the roughest (which to us means best) surf in New England. We like to make it easy for you guys so...Get your tickets at HERE
now if you can't wait there's a sorta preview party at The Abbey this Saturday, June 21st with The Movers, Muck , Coffin Lids and Cougars Kill Cobras......
And mark your calendars for this really great show!!!: Agent Orange (!!!) and Jason Bennett & The Resistance, The Scars and Pulp 45 at Harper's Ferry July 2nd I can't think of a better way to make your way in to the 4th of July weekend..... Well friends that's about it for this week....again just click and email us with your news and shows and comments!! Talk to ya latah....Lyn