The BGN News Archive
June 16, 2014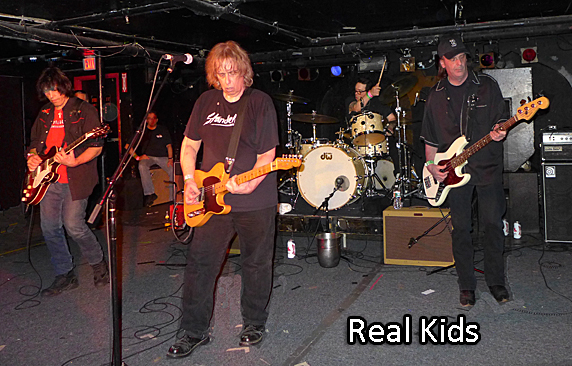 There is so much to a Real Kids show these days. There is a whole buildup of excitement.
This time we had the CD slowly revealing itself. First we had the EP with four primo songs and then just days ago the arrival of the CD, Shake Outta Control. The material is so rocking good that it makes you feel you've got to see the band live. The other thing has been John's health. The last time at the Middle East he came from the hospital to play. That whole scenario adds drama and urgency. More and more it seems that every show is precious.
This Saturday night there was a four group lineup and an early 7:30 "door"...so the night was going to be long. Miss Lyn and Judy Wilburn were at Central Square eatery and after dinner, around 7:30 pm they actually did run into some people in front of the Middle East. Cal Cali and Johnboy Franklin were there. Scott Baerenwald, Randall Gibson and Billy Corners were getting ready for their sets. The dedicated Rick Harte was already setting things up....you're a lucky group if you have Rick helping you. Billy Borgiolli was across the street just sitting on a bench. All in all it was like Kenmore Square back in the day with people from the scene walking around.
We ended up being later than we planned...which is usual for us. We missed Cadillac Heart. Earlier in the day Crash Course for the Ravers on WMFO played the song I always pine for - Nothing's Gonna Change and Brian Young, from the show, was MC-ing the night. Cadillac Heart had a good set from what everyone was saying.
We walked in on Classic Ruins who were reaping the benefits of the Middle East's excellent sound system and mixing. Frank Rowe sounded sharp and the rhythm section was cooking. Drummer Dave Kowalachec was hitting hard. I talked to him later as he lined up to hear the Real Kids and he is just thrilled to be playing in a band he always loved and says Frank and Carl are easy to work with.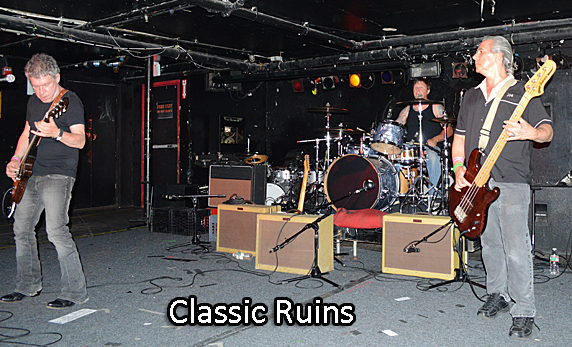 The club was only about half full but got up to two thirds full which is good for a bill of local bands. It wasn't as full as last December's crowd but size isn't everything. This group was very engaged and vocal. The ends of songs were greeted with cheers. This continued through the whole night, all the bands got hearty responses and it never flagged. This was one part of the good feeling night. There were lots of familiar faces like....Jimmy Harold, Willie Loco and Annie Rearick, Cal Cali, Helanie Saad, Artie Sniederman, Evan and Linda Shore , Amy Prohaska, Brett Milano, Ed Moose Savage, Artie Freedman, Gail Corcorran and Ed Lynch, Erna Connors, Steve O'Donoghue (longtime Late Risers Fan still waiting for his LRC Pillowcase for 30 yrs now-ha), Michele Meadows and Larry, Kim Ackland, Kathy Chapman, Paul Robinson, Steve Morse, Sue Lamont, Kenny Kaiser and Jennifer, John Keegan, Frank Dehler, Richie Parsons, Kevin Griffin (taping), Terry Brenner, Sue and Steve from My Own Worst Enemy. There was also Jimmy Felice but sadly no MaryJo!! Everyone seemed to be local music fan/Real Kid fan and with this bill they were all in a good mood.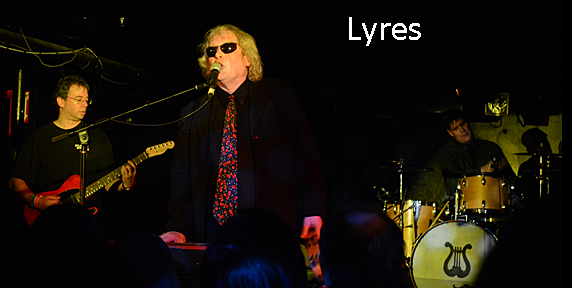 Now it was Lyres turn on this dream local bill. They have it all together and they seemed primed to take full advantage of the Middle East stage and set up. Even the usual undemonstrative guitarist Steve Acquino was showing bits of enthusiasm and even laughing at points and it seemed he had extra articulation gaving real snap to his fills and leads. He was in top form.
We never mention Paul Murphy enough but he is at the heart of Lyres magic. Every time we see him play we are amazed at what a talent he is! He makes sure he moves around his kit using the tom tom more than most drummers do. Not many people play like this anymore. Linda of Muck and The Mires does and she was in the audience. I'm sure she was taking notes. Paul who always dons a dress shirt and tie is also always soaked in sweat by mid-set.
I don't know if we ever will get over not seeing Rick Coraccio up there on bass but the new guy has been gaining ground every gig and this night he showed he can do the job. He had lots of moving, but not too busy, bass lines and he was handling the back up vocals too. Then there's Jeff Connolly. He seemed to be in a good enough mood and he came out to knock you out and did it. He hit a stride immediately and that carried right to the end of the set. The crowd was with him the whole way and with every note. How can you describe the feeling when the opening chords to Help You Ann start up and the crowd cheers around you.....the organ kicks in and ....well I can't describe it but if an alien landed amongst the crowd I think he would recognize the blissful state of the humans around him. Now that's just one song. The band kept this up for a long time. That was a long set.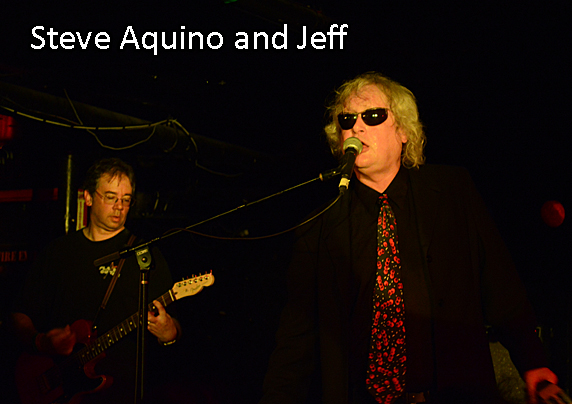 Jeff's singing and playing showed again why he commands respect from audiences and musicians around the world. They ended with How Do You Know a request from an audience member who asked via a note and a bill of some denomination that Jeff stuffed in his fancy shirt pocket......There it is if you want to hear some favorite tune. After a minute How Do You Know hits a high point and the band stays there. They keep up this intense driven power point for over a minute - no variation of music except for Jeff's pleading vocal on top. Any other group would fall to the temptation of breaking the suspended tension. When the end came and the tension released the crowd just erupted. What a moment. What a band!!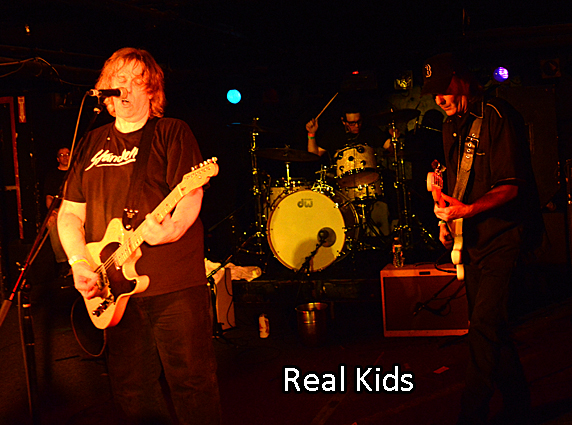 The the Real Kids slowly started setting up. Billy Cole seemed to be comfortable and ready. John Felice was having amp trouble and....John is not looking well. He seemed pale and gaunt, he was slow walking around. Last time he was horribly sick and still did a long set by any standard. We were wondering how things would go. Finally they start up. John's was a bit shaky but he played that riff that started it all for the Real Kids - the opening to All Kindsa Girls. The guitar sounded rock and roll gritty and he gained momentum as the song kicked in. The band sounds strong. Drummer Randall Gibson was pounding it hard. There it is, the SOUND of the Real Kids. That's one thing they have all night - that sound. That's what we are here for so we're halfway home.
The interplay between Billy Cole and John define a lot. Billy has hung in there for a long time and is part of the legend. Then John starts that riff from the beginning of She Don't Take It from the EP and new CD. Just a simple riff played real dirty and it signals the fulfilled promise of the new CD. New material just as good as the old and tonight played after the first and iconic hit. If it wasn't as good ...well then tonight would have been different....and the fact that it is makes all of this more thrilling.
Yet after a few more songs you can see John dragging. You can see him trying to sing and play with effort. He talks to Rick Harte on stage. Rick later said John was saying he couldn't go on. At the point you would call half a set John says thank you and good night and walks slowly off stage. No one is ready for this. The lights stay low and no one in the audience moves. People clap for more. I'm thinking "why do that?" he would play if he could but he was just tapped out. That's it. It's an odd moment. After a while Billy Cole comes back out. I couldn't imagine John would, but he did!! Somehow he recouped a bit and played another 4 or 5 songs; Common at Noon being one. They end with Just Like Darts. It was a heroic feat to keep going. In the end we got a good set.
As sick as John was there was some great guitar work still and the set as a whole was satisfying. The Real Kids do have the drama.
Afterwards we got to talk to John in the dressing room thanks to Rick Harte. John was pale and I wouldn't want to see him even stand because he seemed short of breath. He was super clear talking however. He has a heart arrhythmia that was knocking him out. He was hoping that he had given enough and talked about how he loves his fans. He knows they come out for him and love the music. As proof to that there was a constant stream of fans bringing thanks as well as EP's and CD up to John to autograph. He was giving praise to Rick Harte for getting that CD together. He made the point that both he and Rick saw this as the follow up to that original Real Kids LP and I think it is.
It's been a long trip to 2014 for the Real Kids.....and us Boston punk fans too. The Real Kids gave us the music that didn't exist in a time of mellow rock. It turns out we always want that music and only the Real Kids can give us Real Kids music. The BGN has been around since 1975 and the Real Kids a bit longer than that. The Real Kids keep writing another chapter in their story and we'll keep writing about them. In the end the whole night gave us a warm and fuzzy feeling; a full night of Boston old school punk with a club full of fans. That's as good as it gets for us.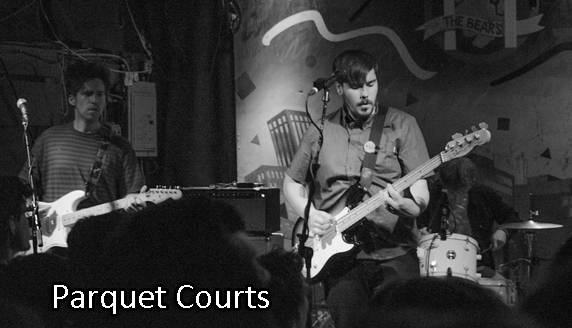 In other news.....
We don't have a Kenne Highland at Large column this week since he's traveling for the Gizmos World Tour but we DO have a brand new Rick Coraccio entry for his "My Back Pages:" remembering The Lyres getting to Barcelona in the mid 90s.

After a big debut ARCH/Studio 52 has been MIA. It seems they are still getting things in order. Now mainly getting zoning appeals so they can do what they have already spent time and money on setting up……they've sent out a plea....

"Dearest Allston/Brighton Family and Friends, tenants of Studio 52, and supporters of the Boston Music scene,
"As many of you know, there have been a number of delays regarding the opening of ARCH in recent months. Now, our ability to open at all depends on you; our family of artists, musicians, and residents, to support us, Studio 52, and the progression of our community as a whole.
"On Wednesday, June 18th, our staff will be presenting at the Allston Civics Association at the Honan Library in Allston, at 6:30pm. The hearing will address current community concerns with Studio 52, and will pave the way for our future zoning appeals to assure that we can accomplish what we set out to when creating this space. In order to set a positive and productive tone in this meeting, we ask for the help of anyone who lives or works in Allston/Brighton, who supports Studio 52 and what we at ARCH aim to do, to attend this preliminary hearing, as it will be the first of many in the coming months.
"Allston Rock City Hall was dreamt up and created with the goal of uplifting the Boston Music and Arts scene, but now in order to exist to achieve that goal, we must call on the community we aim to serve. Please, if you are available, and you want to see us finally open our doors, come show your support.
If you have any questions at all, feel free to contact me at: nick at studio52boston.com"

And here's some shows coming up:

This Friday, June 20th we have some great shows around town: At Church The Welsh Boys, Sprained Ankles, Guns of Brighton and The Blue Bloods.

And it's Happy Anniversary to the guys of Triple Thick who celebrate 15 Years of Triple Thick at The Plough and Stars this Friday!! Well we're happy they are still around. So Triple Thick and The Monsieurs will be playing.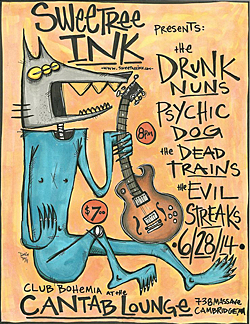 Also on Friday at TT's with Reverse, White Dynomite, Gymnasium and Devil on Horseback.
And up north on Friday the 20th...Kenny Chambers/The Electric Ears at The Madfish Grille
Saturday June 21st Muck & The Mires are at The Plough. it's Muck all night!
Also on June 21st at The Midway there's a special Roy Sludge Revue (featuring Frankie Blandino, Lyle Brewer, Stan The Man Kozlowski, and Johnny Sciascia!!!) , Eric Royer;s One Man Band along with Easy Ed's Record Hop.
At The Tavern at the End of the World there's a "welcome Back party" for Michelle Johnson-Kish on the bill will be Rockin' Bob kicking things off followed by Dots on Dice, The Dirty Truckers and Jay Allen and The Archcriminals
Thee Legendary Prophets who put on a crazy show have a gig at TT's on June 22 Sunday.
Ken Scales says : Adventure Set will be at Bill's Bar on Thursday June 26TH....with very special guests Casey Desmond & Cemetery Girl also....Adventure Set's new 4 song EP "Gazebo" will be out in June 2014.
Always promising an interesting experience Walter Sickert & the Army of Broken Toys (12AM) are at TT's along with Parlour Bells, Muy Cansado and Future Carnivores on Friday June 27th
Another interesting film is at the Regent Theater in Arlington - Tom Rush - No Regrets.....this would be for 60's Boston music fans, and many rockers have always loved Tom Rush even though he's on the folk end of things. This film also has an appearance by Dick Summer a legendary DJ who's Subway show promoted the Bosstown Sound. There should be loads of local music luminaries at that showing. There'll also be a Post Screening Q&A with Filmmakers and Tom Rush. It's playing on Saturday, June 28th at 8pm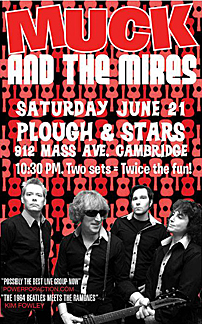 Next Drunk Nuns gig......Cantab 6/28 its a cool night with not only the Drunk Nuns but also Psychic Dog, The Dead Trains, and The Evil Streaks...and Dave Tree from SweeTreet Ink will be selling cool stuff from his shop.
Also on the 28th: The Ten Foot Polecats will barely be off the plane from their first European tour to play Sally O'Brien's for the first time in their career. Along with them, Stevie Tombstone returns since he had such a blast last time he was in town. Matt Charette starts the night off....all this for only 5 buckaroos!!
July 15th has FuzzStompin' GarageSoul with Thee Legendary Rockin' Prophets at O'Brien's.
Friday July 25th at The Midway, Cincinnati band Wussy is playing along with locals Slowdim and Brother Fight.....
Friday July 25th has a great show at Great Scott's with Razors In The Night (Record Release Party! & we're happy to see they are out and about again!), Panzerbastard, The Blue Bloods, and Taxi Driver
Terry Brenner's bringing The Real Kids and Nervous Eaters and Greg Allen's Fringe Religion to The Spotlight Tavern in Beverly on Saturday August 2 Thank you Terry!!
In Boston on August 2 there's the Boston Fuzzstival at the Middle East....check out this Line up…..28 degrees Taurus, Abadabad, Atlantic Thrills, Beware the Dangers of a Ghost Scorpion!, Black Beach, Creatorus, Dinoczar, Doug Tuttle, The Fagettes, Fat Creeps, Ghost Box Orchestra, Gymshorts Magic Shoppe, The New Highway Hymnal, and , The TeleVibes
Friday August 8th - awesome Rock On Cruise with Aquanutz/White Dynomite/Petty Morals
Echo and The Bunnymen are at the Paradise August 14th!!!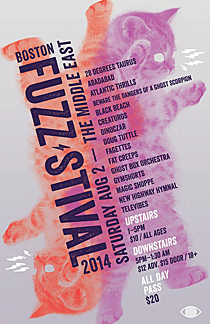 It's Hixxmas in August folks! On August 23rd at Club Bohemia at The Cantab it's Hixx and Psychic Dog and more bands TBA...
This should be an interesting evening...at The Cantab August 30th....The Sound Down Cellar, Nelson Slater (tentative), Annie Activator and the once a year gig by Love & Flame featuring Danny Rybar, Lady Carolyn and Joe Viglione along with Mike Quirk on bass, Kenne Highland on guitar. (they are on at 9:30) and The Guns of Brighton
We finally get to see Dave Minehan with The Replacements since they are on the bill for the Boston Calling Show September (5,6 & 7)! The Legendary Shake Shakers are coming to the Middle East down September 12th.
Saturday September 13th is Matt Burns' 60th Birthday Party! He's celebrating at The Lizard Lounge. So far the bill includes Litehouse, The Handymen, Kenne Highland, and more bands to come.....
There's also a excellent show at The Midway on Sept 13. Cal Cali brings us Lyres-Nervous Eaters-Cal Cali Band- The Invaders (Les Envahisseurs-from Quebec) - whew!!!
The 2nd Annual Rat Beach Party set for September 14th& 15th
September 14th -a Sunday daytime show- at the Midway will bring us The Members!!
October 5th - a Sunday daytime show at The Midway will bring us The Vibrators!!!
And September 22nd at the Middle East up is a great show with Shonen Knife and Petty Morals.
CONTACT US AT.......misslynbg@yahoo.com Send us your gig listings, your news and anything else ya got!!