The BGN News Archive
June 17, 2013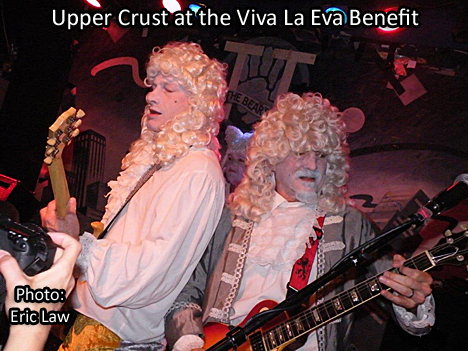 Miss Lyn, along with Judy Wilburn and Kim Ackland, took a trip to NYC this past weekend to see Punk at Met: Chaos to Couture … there were several rooms making up the show. All the mannequins wore a some kind of take on fright wigs in various colors, covering anything that would have been a face…for music there was drone/noise instead of actual punk music. Each room had large almost floor to ceiling length videos of punk images/icons (with the sound turned down!!) One of the first things you see is the recreation of the CBGB's men's room, based on original photos by Godlis. The videos in this room were or Blondie/Patti Smith/Richard Hell and Television.
But after that the emphasis turned pretty much British Punk and couture….American punk got left behind and almost completely forgotten! In fact the next three rooms were all clothes by Malcom McClaren and Vivian Westwood from their stores Seditionaries and Sex intermixed with designer couture …some stupid and clueless (Versace and Givenchy) some fabulous, from designers who seemed to "get it" ( my fave: Junya Watanabe, and Gareth Pugh, Rodarte and of course Alexander McQueen). There was even a recreation of the Sex shop and lots of the muslin t-shirts we saw the Sex Pistols wearing in photos all those years ago.
I was happy to finally come upon a room that had a quote by Jane County on the wall as well as video of her performing. This room was all Jane County inspired trash bag gowns! This is where the McQueen pieces are. They were silk and synthetic purposely made to imitate the look of black garbage bags. And they were just drop dead gorgeous.
One of the last rooms had particularly crazy juxtaposition of a floor to ceiling black and white photo of shirtless Sid Viscous at the end of a long row of black and white designer gowns. All in all it is an amusing show…it doesn't treat punk as a living entity though, but rather as a long dead historical event from the past….and it just didn't feel punk…at all…of course it's not really it's the Metropolitan Museum of Art Costume Institute and it's about how that movement inspired these designers.
It was intresting to see though, and I felt proud to be part of a movement that did in fact have such a deep and wide effect on culture in general….this show does prove that.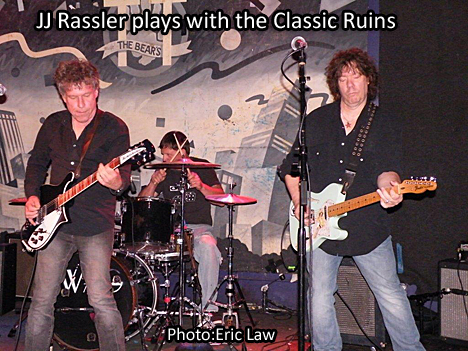 Since we were away for the weekend we had a couple of our roving reporters go to the Viva La Eva Benefit at TT's this past Thursday night…we are excited that Eric Law took awesome pics for us and Burt Cokain has this report: It was a night of powdered wigs, band reunions, stand-up basses, and power trios wearing stocking caps, all to raise awareness and badly needed financial aid to assist the family of Eva Lipton.
FOR A FULL PAGE OF PHOTOS BY ERIC LAW - CLICK HERE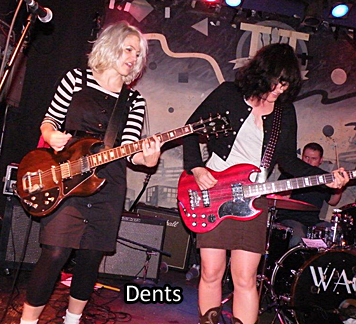 Eva is the daughter of Ivan and Rebecca Lipton, longtime supporters of the Boston music scene (Rebecca was involved in club and concert promotions while Ivan is the former president of Strawberries.) She was injured in a car accident one year ago and has been on life-support in a rehab facility ever since. The bills for her care are staggering so a group of Boston rockers decided to help. The club was full, the beer was flowing, and the hits just kept on coming all night long.
Classic Ruins opened the show, with special guest JJ Rassler on 2nd guitar; he and Frank Rowe are masters of garage guitar individually and together - let's hope there's an encore of this line-up down the road somewhere.
The Roy Sludge Trio followed with their always frenetic shit-kickin' country and rockabilly. It's no accident that Sludge Sundays at Radio are always packed.
Bristols (with ex-Real Kid Jimmy Birmingham on drums) brought Illyrian/Neat Eric Martin onstage for a number, and surprised with a great version of AC/DC's "What's Next To The moon".
There's only one Ed "Moose" Savage and he and Ken Kaiser played material as original as they are.
When The Neighborhoods hit the stage, each member was wearing pantyhose on their heads/over their faces, leaving most of the audience scratching their heads. (apparently it's the result of an inter-band in-joke) In spite of the strange stage attire, the boys rocked hard ,and made it look easy as always.
It's not a true Boston show without the Dogmatics on the bill, and they played lots of faves (MTV OD etc) plus an excellent version of Unnatural Axe's "Can't Wait For The Summertime".
I couldn't tell you the last time The Downbeat 5 played a show, yet here they were, with JJ and Jen completely in command.
The Dents don't play on a regular basis either, but joined forces for a heart-stopping set that never let up.
Topping off the night, those friends of a friend of the working class The Upper Crust showed us peasants that the privileged 1% will still let us eat rock, and rock we did eat…..Or something like that.
By the end of the evening ,almost $5k was raised for Eva's care and rumor has it a Worcester version may take place at Ralph's Diner (more info as it comes in)
If you missed the show,but would like to help out, you can donate for Eva through Paypal by clicking "Send Someone Money" and sending a donation to: evaliptonbenefitfund@gmail.com. - Hey Thanks Burt!!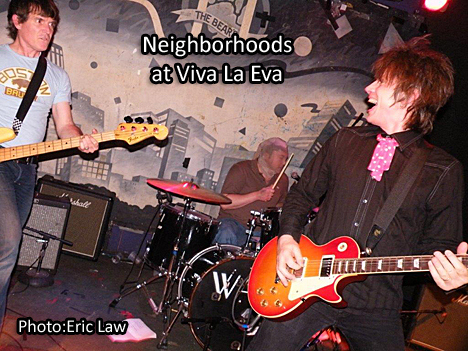 An let's see what's coming up:
Friday June 21st at The Hard Rock Café (wherever that is ) Boston Rocks for the OneFund with Charlie Farren, LizBorden Band, James Straight and The Wide Stance, Adventure Set and other…
Now at O'Brien's on Friday June 21st there is an excvellent show with Guillermo Sexo, The Suicide Dolls and Ghost Modern…
This Saturday there is a TON of stuff going on!...The Make Music Harvard Square / Fête de la Musique is THIS Saturday - I had the date wrong last week (what else is new huh?) So yeah Plumerai and a ton of other musicians play all around Harvard Square on Saturday June 22nd. Festivities kick off at 2pm and come to a close at 10pm. That's pretty cool!
The Milton Art Center is putting on a very special event: Roger Miller of Mission of Burma, Alloy Orchestra, Sproton Layer will perform in a rare solo performance in the MAC gallery this Saturday June 22 at 7 PM. AND The gallery will be featuring Roger's visual artwork throughout the weekend. Roger Miller will also host a demonstration/discussion/workshop on the frottage art technique on Saturday from 12-2:00PM. Miller's art will be on display in the gallery through Sunday 6/23, and select pieces will be available for sale. For more info and to buy advanced tix go to Milton Art Center's site .....And then at the other end of the spectrum we have: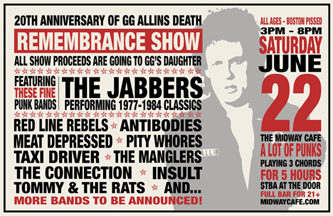 GG Allin Remembrance Show -and bake sale- at The Midway!!! - This is going to be a great show and an early show from 2-8PM folks!! The original Jabbers are making their way down from NH to play at The Midway…This is the 20th Anniversary of GG's death and all proceeds from this show go to GG's daughter. Here are the bands: The Jabbers, The Pity Whores, Antibodies, Meat Depressed, Red Line Rebels, The Manglers, Insult, Taxi Driver, Connection and more!!!
and you can continue the evening here with Cal Cali 's show after 8PM at the Midway Cal Cali's New Experience, Tsunami of Sound, Foxpass and Answerman…
that's not all folks…over at The Cantab on this Saturday the 22nd is Tim Sprague's show "All the Pretty Flowers: An Evening of Female Driven Music" so you have Ruby Rose Fox opening the evening, then Uranium Daughters, Engine Judy and the Boston area debut of Monique Ortiz's new band Alien Knife Fight!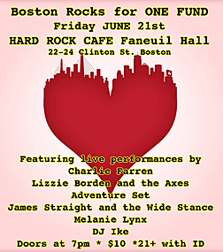 And it still doesn't end there…The Lyres are at The Middle East Up with their Record release Show…please note this is an early evening show and the doors are at 7PM!!
Sunday is the Channel Reunion Show…but since there is no Channel it's at The Royale and there's a list of bands: Jon Butcher, Robin Lane & The Charbusters, Lizzie Borden & The Axes, Charlie Farren, New England, The Stompers, The Fools and there'll be Surprise Special Appearances too Buy tix early and its an earlier opening too, doors are at 6:30
At PA's on June 28th Cal's got MOTO and JetSet and he's working on a third band as well.
June 29th at The Midway you'll find the Dirty Truckers and Slim Jim and The Mad Cows.
and coming up in July: Awesome Day Festival at O'Briens with Cult 45 and The Humanoids on the 6th….
Fleshtones at Church on the 12th and ….
The Neighborhoods are at The Ocean Mist in Mantunuck, RI on the 13th
Petty Morals on the 19th at Great Scott in Allston
Pere Ubu is at Brighton Music Hall Saturday, September 4th!!!
EMAIL US AT…….misslynbgn -AT- yahoo.com