The BGN News Archive
June 18, 2012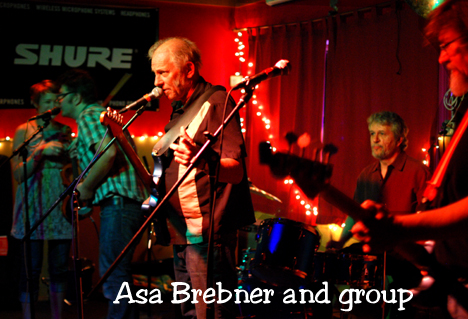 PA Lounge came up with a good idea: a night of different groups playing only Jonathan Richman songs. Knowing it's a good idea they are doing it every year now.
I didn't recognize the acts when it was done before but this year I saw Jon Macey and Asa Brebner listed and that made it necessary to check out.
PA's has a large square space to the right of the bar with a stage on one end - and for tonight's performance there was an area on the opposite end - so there was two stages offering continuous music all night- alternating the front with electric, the one at the back with acoustic sets. The first act, whose name I missed, was a very low key affair. It sort of got by me. I guess I'm used to the big sound and was unprepared for the small acoustic sound but hey, that's Jonathan's way too.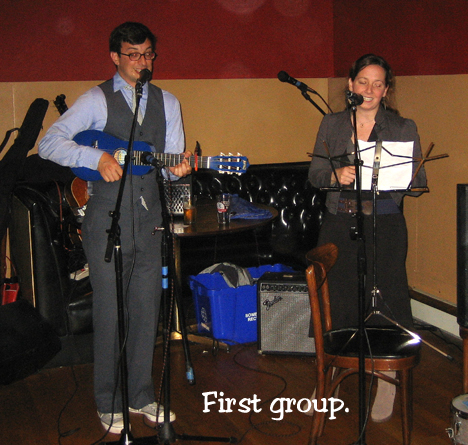 Following that was an exciting lineup featuring two people who played with Jonathan: Asa Brebner on guitar and (I think) Michael Guardabascio who played drums in the Modern Lovers in the early 80's after D. Sharpe left. They did "I'm A little Dinosaur", "I'll Take the Bus", and "Roadrunner". When they did "Roadrunner" I realized Asa was playing the riffs he probably played back in the day and that was very cool. It was the same with Michael on drums. I'm sure Jonathan must dictate specific beats and styles to his drummers. Asa is a local treasure and it pays to get to one of his gigs and give him a listen when you can.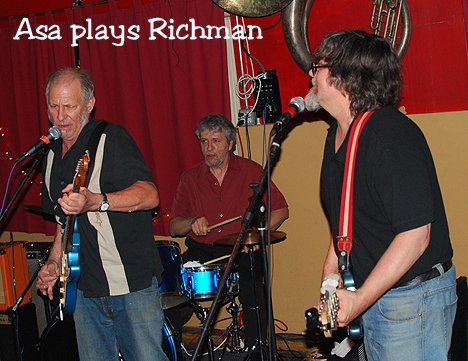 Next another small group whose name I missed, or they didn't give, did a mainly acoustic set. The guitarist had a warm tone. They did "Summer Feeling" very, very slow. They also sang one in Spanish from Jonathans Spanish LP one assumes.
The twenty minute sets were moving things along pretty good as the Double Stops swung into action. The bass player also played the keyboards...simultaneously! And good too. I've never seen that before. The other two guys were a bit ragged I thought, but again, so is Jonathan at times, so it worked. They exuded enthusiasm and that helped. They did "Astral Plane".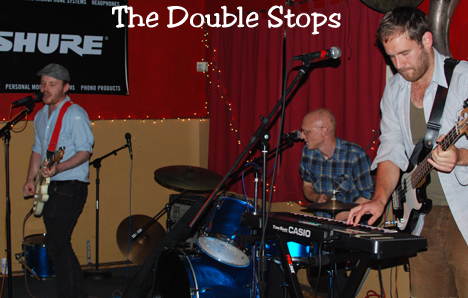 Jon Macey was appearing tonight in Adam and Eve; a newer lineup with him. They feature the gorgeous voices of Linda Veins and Lynn Shipley. Tonight they had Asa on guitar too. There was no raggedness here, of course, this was much more controlled. The voices were clear, on pitch and full of emotion especially on "True Love". They did "Girl Friend" and the voices in the intro were so precise and in place you felt like you could have picked the notes out of the air like ripe fruit. During all this Asa was doing his magic. They ended with "Government Center"; with Jon at full volume for an exciting end.

Jon told us he had just uncovered two cassette tapes of Jonathan. One he recorded in 1972 at the Stone Phoenix coffee house on Boylston St. with John Felice on guitar and an even better one from 1973 but he didn't know where it was recorded. Be still my heart, he's got to make those available!!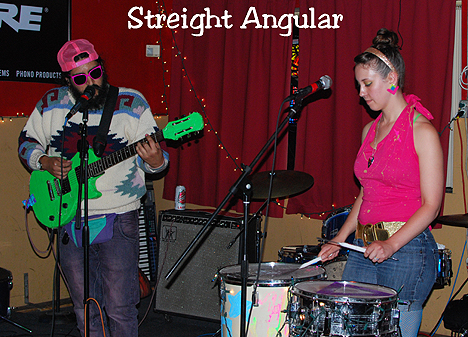 Last group of the night was Streight Angular. Check the picture to see the stand up drummer. They were lose and quirky not a bad combo for Jonathan's music. The singer mentioned how he was glad to do the night because it made him look into Richman's catalog and he ended up appreciating him more. That would be in contrast to say Macey and Asa who know Jonathan from the beginning and that was one of good things about the night. It gave voice to both of those contingents. We got faithful reproductions and some refashioning of the material. It made for an interesting evening. It also showed that Richman's material even though it might seem so personal to him isn't really. It can survive and encourage all sorts of interpretations. And I've been humming "Summer Feeling" ever since.

We also wanted to mention the passing of Steve Kaika, bass player for the Reducers...though they were based in CT Steve had a lot of pals in town...so RIP Steve!!

It's a busy weekend coming up: First off there's another chance to see All Ages, The Boston Hardcore Film, a few chances actually-This coming weekend: Friday(8pm), Saturday (3&8PM) and Sunday(3PM). It's at the West End Museum (150 Staniford St, Suite 7). Tickets are limited my friends so don't put off getting them!! You gotta buy 'em on line or win them from Carmelita on WAAF.....

On Saturday during the day Atomic Dime Store. In celebration of the store's first anniversary Rick Paige is having a big sale ...and we mean big as in 20% off everything!!! So get your butt on down there!

Saturday night is the not to be missed show at The Rosebud with James Straight & The Wide Stance along with Cadillac Heart, and the Beachcombovers along with Cal Cali's New Experience!!

Also, over at The Midway in JP this Saturday there's a great show too! The F.U.s along with M-13, The Pity Whores, Damn Broads, Red Line Rebels and Machine Gun Etiquette this is an early show starting at 4PM folks.....

And closing out June, on Saturday 6/30 it is a very busy night with lots of good shows:
There's a daytime show at the Middle East (up) (Starts at 1PM) with Razors in the Night, The Blue Bloods and Cradle to the Grave and By The Throat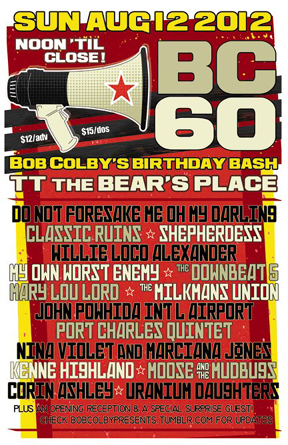 Then you need to run over to Somerville and get to Precinct...I haven't seen any interesting shows at Precinct in some time so it's good to know they can still put one on: Mars opens up the night followed by My Own Worst Enemy, Muck and the Mires and Brownboot
And it's almost here - just a three weeks away!: Johnny Angel (now Johnny Angel Wendell or heretofore referred to as JAW) and his crew of pals takes over Radio in Union Square Somerville July 6 and 7 and Dolphin Striker July 8th in Portsmouth NH to play lots and lots of new and old tunes in his inimitable fashion.
The show on the 6th is a reunion of sorts as it features JAW and old friends Robin Lane (minus Chartbusters) and John Felice (with his Real Kids) (!!!) all together in the same room for the first time since.....well, let's not go there.
Plus, chanteuse Mary Lou Lord and tough guy rockers WATTS round out that line up.
The 7th is another reunion as well, with old friend Eric Martin and the Illyrians kicking it off and Audrey "Up In Her Room" Clark and her smokin' 360's closing the show--with JAW and doing a mini set of Thrills' songs including the "classic" "Hey, Not Another Face In The Crowd". The great Darling Pet Munkee does their wild thang in there as well.
JAW's presentation is a little unorthodox--as touring with band is too expensive and solo acoustic too boring, he brings his "band" with him on disc, a la "Johnny Oke". Included in his set are some of his new disc "IT!!"s popular songs like "Crazy Eyes" and "Do I Ever Cross Your Mind" as well as the tunes off a forthcoming vinyl 7'', including the rousing polysexual anthem "My Lesbian Friend".
Assuming Mr. AW is called back for more, a Blackjacks song or two is likely. Both shows are 10.00. Beginning at 9PM. See ya! IT! (JAW's latest CD and band click on the link to here the songs, buy the CD and read some info!).
On July 14, it's the farewell appearance of The Doom Buggies at the Seaport Cafe, 215 Derby Street in Salem - stop by and say farewell to the king Buggy , Bruce Allen, his missus Rene Watts and their little cherubs Marshall and Mae Pearl, who are headed off to Colorado....Tears and Coors will flow that night for sure!
Thursday July 19 Surf Guitar Legend Dick Dale is at the Middle East down with Muck and the Mires
Jerry LeHane is putting on a benefit for Cancer Research check out this AMAZING line up for this two night show:
Appearing Friday night, July 27 are The Flies (first reunion ever!), Bristols Piranha Brothers, and Sourpuss and the Hired Men (with Peter O'Halloran) .
On Saturday night July 28 are Dogmatics, New Frustrations, Lucky 88's, and Lenny Lashley.
The show's at the Johnny D's in Somerville. Tickets can be purchased online here , and in advance for $16 at the club and if still available (coz they are going fast!!) , $20 the night of the show. The show is 18+. Proceeds go to benefit the Pan Mass Challenge and local musician Peter Sisco.
And then we got some stuff coming up in August you'll want to plan for:
Thursday August 2nd Merle Allin and his band of marauders - The Murder Junkies are playing at The Cantab (oh this should be GOOD!!) By the way it seems all the club sin town are afraid to book these guys which is why they do tours, play all the surrounding areas but nowhere in Boston! I mean com ON!!!!
Of course there BC60 - The Bob Colby 60th Birthday Party at TT's - Sunday August 12th- at this point there are so many bands I think the show will have to start at 9AM!!! But seriously folks it starts at Noon and goes til midnight- it's a huge ton of all awesome bands including Mary Lou Lord, My Own Worst Enemy, The Classic Ruins, even the Port Charles Quintet is getting together for this show...even Willie Alexander is coming to town for this show...even Kenne Highland is making an appearance for this show...and there'll be plenty of BC faves like Shepardess and Nina Violet....I'm taking Monday off that's for sure!!
....And everyone is buzzing about the Human Sexual Response reunion…All the original members...at the Paradise on Saturday, November 10th
EMAIL US AT.......misslynbgn@yahoo.com