The BGN News Archive
June 18, 2018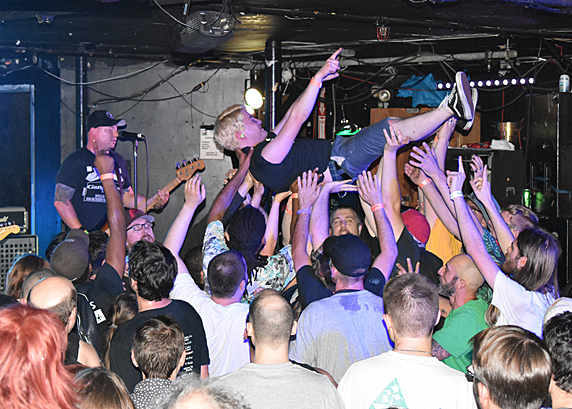 Crowd surfing to The Queers
Photo: Blowfish
---
Got some early sounds in at O'Brien's. It was Monday and the club had a lot of people in it. This is not the norm. Seemed that people were there to see Let It Rot. They have a following in the scene. They are a duo with just drums and guitar. This is not the norm either. We have to hand it to them, they made believers out of us.
Yes, you can get something going with that line up. Their Bandcamp songs were exactly what we heard live. That bass player had good technique and in a way that can make a song. As the night went on there were less and less people, confirming that Let It Rot were the attraction.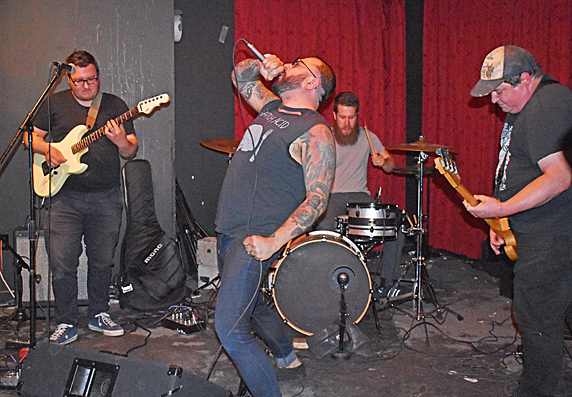 Myocastor Coypus
Photo:Blowfish
The Lesson for the day: Myocastor Coypus, more simply the Coypu, is commonly known as the River Rat. It was also the name of the second band we saw. They were good musicians with elaborately written songs. Is it possible for a song to be over written? It's just that they went through so many changes. They did the soft loud thing. When they were playing soft it was well thought out material. When they went loud, it was fantastic. The singer was practically spitting blood. That intensity is food for the soul if you get into it. That one set satisfied our musical needs for the night. Good one, you River Rats. The Bandcamp offerings are mostly the loud material.
It was The Dickies at the Middle East Down on Thursday. It got the die hards out there on a work night. Though it wasn't sold out the place was very full. It was in October of 2016 that they last played. At that time it was the ME Up with Muck and the Mires. John Keegan caught that action.
Not only was having the Dickies a reason to go clubbing but the bill was packed. It had Cook Bag, Duck & Cover and The Queers along with them.
We missed Cook Bag but we saw them at O'Brien's a while back. They're a newer band and this was a good gig for them. People who saw them told us they liked the set.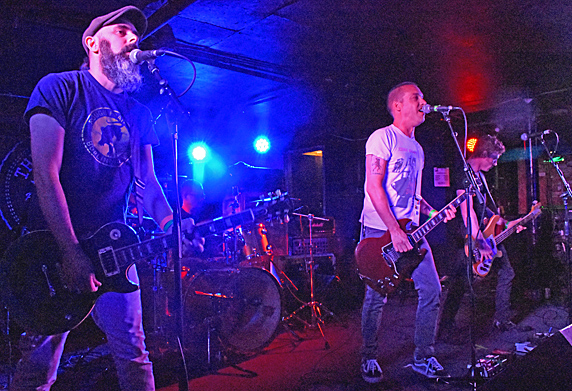 Duck & Cover
Photo:Blowfish
We were there for everybody's favorite: Duck & Cover. They are nice guys, great musicians and they have songs you want to hear again and again. So, what's not to like? They play lots of shows. Often in small clubs but they commanded the larger ME Down with authority. Really they just did the bang up set they always do. They have so many good songs that there were favorites we missed hearing. It's great for a band to have that problem.
The rhythm section just rumbles and roars as the two guitars interact. The leads are often single string style and are longer than say a Buzzcock one that they resemble, and there's no end to them. The guitarist can crank them out. Now and then they do a harmonized guitar section a la the Allman Brothers. They have lots of influences and don't back off admitting them.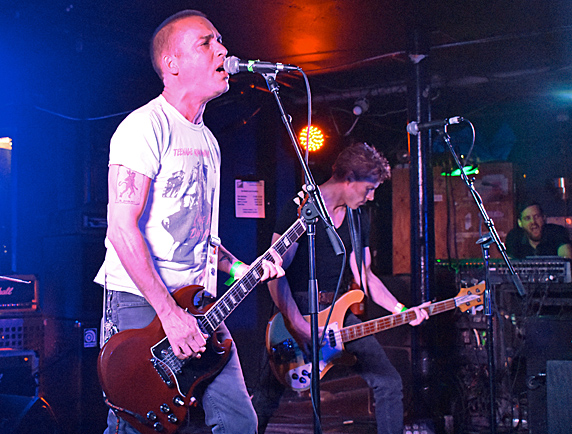 Duck & Cover
Photo:Blowfish
The sound at the Middle East can't be beat and the sound coming off the stage was big. Also, you could hear Chris' voice and that is one of the main attractions along with the songs. Be sure to listen to Duck & Cover's new songs "Live It Up" on Bandcamp. Give it a chance. We love when he sings, "Live it up, because you're going down again." The words are married to the melody.
Remember they're playing with the Adolescents at the Brighton Music Hall on 6/24.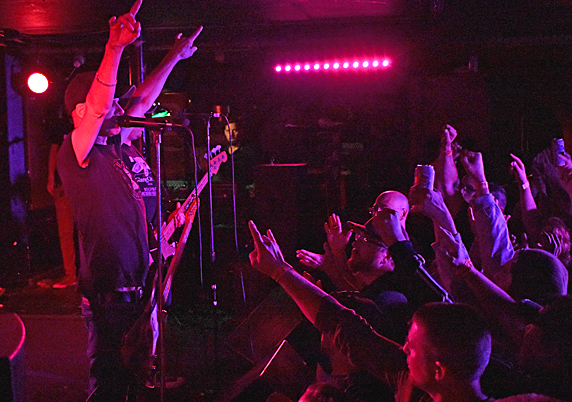 The Queers
Photo:Blowfish
OMG. The Queers, you know? The Queers! You have to love them. They might not have invented pop punk but they codified it and showed all how to run with it. The audience went appropriately bat crazy for them. A vigorous mosh pit opened up and lasted the whole set. That's why our photos are from far away! The line up has changed through the years of course. 44 different band members by one count. They were in trio form and added Joe Queer and also Wimpy for a while.
The songs went whipping by. They played "Wipe Out" which was used in the animated movie Surf's UP. That seems like an interesting effort- check it out here.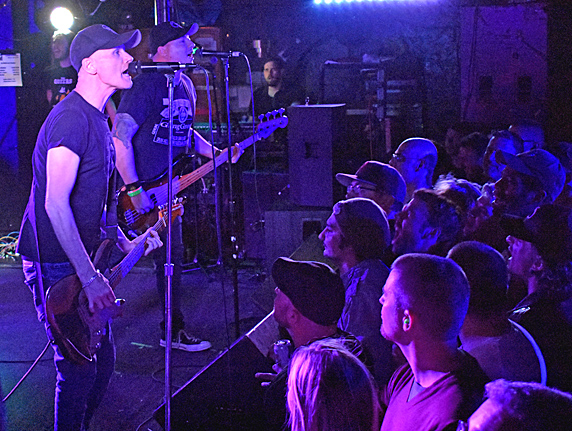 The Queers
Photo:Blowfish
They did "I Hate Everything", Wimpy sang "This Place Sucks", Joe did "Punk Rock Girl". It was a wild set. The strong audience reaction made us think that most people were there to see them. That was not the case coz everyone stayed to hear The Dickies.
The early punk years where very exciting. The Dickies were part of that excitement. Coming out of the stodgy 70's where rock had ossified it was like blasphemy to hear the Dickies ravage "Nights in White Satin". At the time it wasn't just that we liked punk, it was also we hated those old bloated arena rockers. Johnny Rotton put "I Hate" on top of a Pink Floyd shirt to make that point.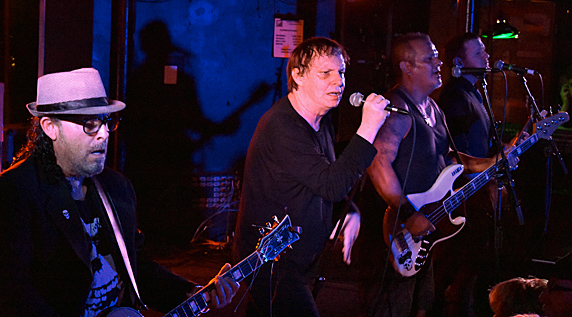 The Dickies
Photo:Blowfish
So, what about The Dickies now? They are still a big draw. And if the songs don't shock they still are fun pop punk. The group is still fast and sharp. The years haven't slowed the tempos. The vocals are still a big selling point. Leonard Graves has a distinctive voice. He can get away with just repeating a short phrase over and over because the gives it a semi-comic twist. The voice along with those wacky songs like, "If Stuart Could Talk" , just held you. And eventually the blow up doll made an appearance then the puppet.
No one claims The Dickies are politically correct. Leonard got in trouble a while back from some on stage banter. It was the over-the-top rocking and comical set that everyone wanted. What a night of music.
Amidst the plethora of tribute bands that play Thunder Road there is the good gig. Saturday was one, with the Nervous Eaters, Justine and the Unclean and Stop Calling Me Frank. This week Rum Bar Records allowed us to premier both Stop Calling Me Frank and Justine and the Unclean's new single releases. We felt that was a big opportunity for us and look forward to more of that.
Anyway, you couldn't getter a better line up for us!!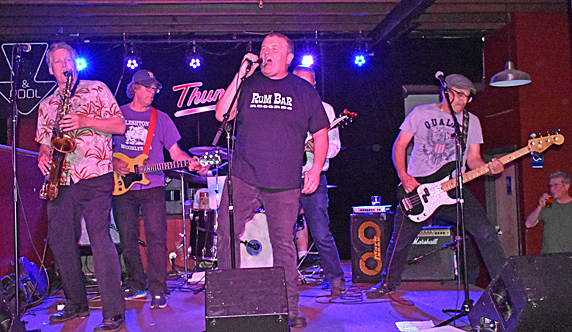 Stop Calling Me Frank
Photo:Blowfish
Stop Calling Me Frank is different in so many ways. We have the interview with them which gives an insight to them. At Thunder Road their set was the best we've seen. The sound was punchy but clean, you could hear every instrument. This was true of all the bands. The sound system there does the job without being overpowering. Eddie on drums was a beneficiary of the good sound. He had some notable turnarounds and you could hear the tone of the drums.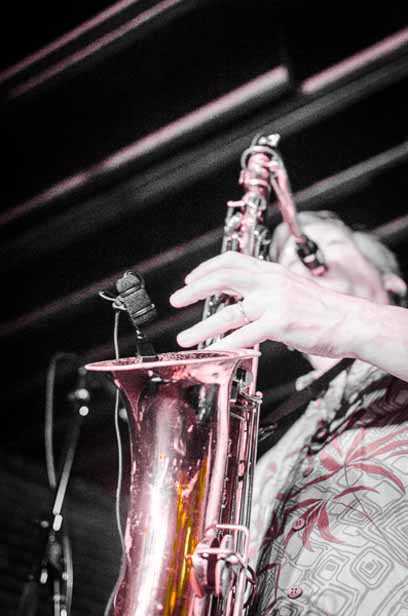 Terry - Stop Calling Me Frank
Photo:John Keegan
John Keegan soaked up the sax work by Terry. He did a few things but one was the short riff that became the hook for the song. What he does goes back to the rock in the 50's. Both Terry and Lenny, the singer, jumped off stage into the middle of the dancers. That's right, the dancers! SCMF got people moving. They did some of their regular favorites like: "My Girlfriend is an Axe Murderer from Wisconsin", "Dash to the Haberdashery", "I Did It Just to Annoy You", "Bug In My Beer" and "Whale Baby" with it's urgent chant of "Save the whales, save the whales".
They also did "Gimme Life" their new single. That song has a more serious tone to it and that's welcome. That new song is also representative of their new creative and career thrust. They're playing out more and are soon to have a new EP out.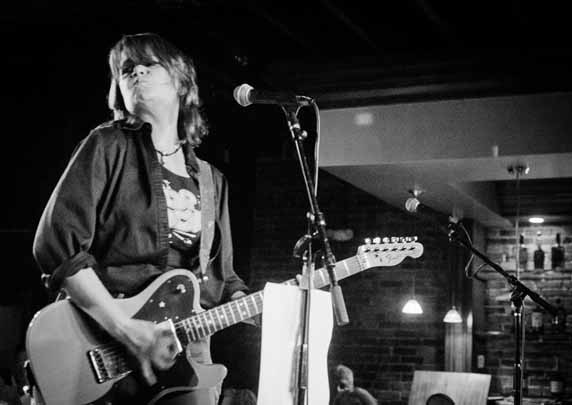 5


Justine and the Unclean
Photo:John Keegan
Justine and the Unclean is the only band on this bill that hasn't been around for decades. It's only been a little over a year since the first recording came out. They earned a high profile in a short time. We heard a lot of people say, "I love Justine and the Unclean" during the night. It's from those amazing songs. Just the titles reflect an attitude: "I'm In Love With You, Jackass," "Passive Aggressive Baby," and "Love Got Me Into This Mess". Again we will refer you to our interview with Justin Covault that was in conjunction with the release of "Be Your Own Reason" where she gives some insights into her writing and what she's trying to achieve.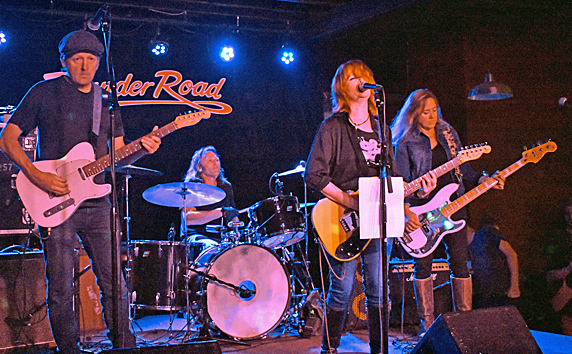 Justine and the Unclean
Photo:Paul Lovell
At Thunder Road the band was greeted with cheers and got whoops throughout. They looked like they were having fun. Charles Hanson was digging in and at points mugging as he played a riff that had a heavy rawk swagger to it. Despite his technical prowess he most often plays the simple chords and power chords that keep the song solid. Then of course he rips a section where his fingers fly and the notes cascade.
You could see that if you could take your eyes off Jim Janota. He's got to be the most visual drummer out there. He helicopters his sticks or throws them into the air as he literally never skips a beat.
Still it was those songs with the identifiable vocal blend of Justine and Janet that were at the center of the whole thing. There were a few songs we didn't recognize and assume they'll be on the new album.
The crowd ate it up!!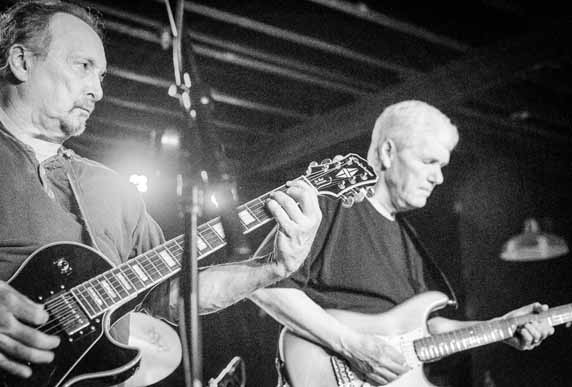 Nervous Eaters
Photo:John Keegan
The Nervous Eaters continue to burn a renewed career path. Amazing really. There's the been the high profile shows like the "Live at the Rat Suite" at the Hotel Commonwealth and the the show in Beverly in conjunction with the Boys From Nowhere movie. Then the Globe article and the immanent release of the expanded Hot Steel and Acid CD.
They were in good form at Thunder Road. They played some classics and a few new songs that they are working on. Alan sang "Want Me Back Again" that will be on the new Hot Steel and Acid CD. A section of the set came from that CD, like "Today and Tomorrow" (which has become a favorite of theirs to play), "On the Avenue, "Shit for Brains" (which brought Jim Janota to the front to fist pump the chorus), and the title tune "Hot Steel and Acid". They did "Chad" a new song they have been playing a lot.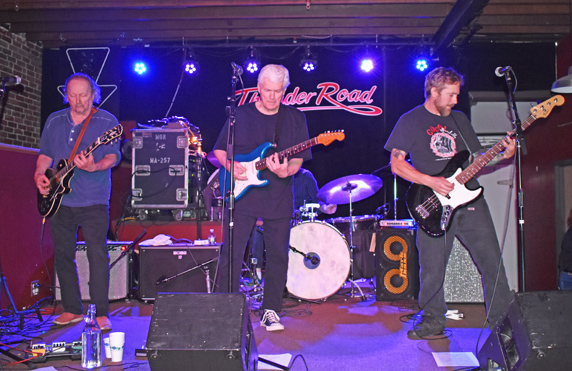 Nervous Eaters
Photo: Blowfish
They hit faves like "I'm a Degenerate", "Last Chance" and "Girl Next Door" and this is the amazing thing about the Eaters: The old songs just make you swoon, there's so many memories in those, then the new material impresses you because it come up equal to the old stuff and that's another pleasure; to see a band you love in a creative groove after all these years.
For us long time fans, seeing the Eaters has a whole other meta level going on. Alan told us there won't be any Eater shows for a few months as they bear down on the new recording they are doing. Those should be the first with Nick on bass.
It was a night where we enjoyed the bands and the whole experience. Met some of the old fans and some new people.
And that's an awesome week of music!!
More band photos after the show listings
Arthur Freedman went to the Matthew Sweet concert at the Brighton Music Hall - photos below. There are more on his dedicated page.
Mathew Sweet at Brighton Music Hall 6/17/2018

| | |
| --- | --- |
| | |
| | |
| | |
---
We were thrilled to debut two RumBar Releases this last week. If you don't follow us on Facebook you probably missed that.
The first on Wednesday was the new song "Gimmme Life" by Stop Calling Me Frank. You can hear and download for Free by hitting the photo link below, or go to our interview page for the band and learn something about this one of a kind band. Stop Calling Me Frank Page.
Thursday it was Justine and the Unclean's turn with their single "Be Your Own Reason" Same deal you can hear the song easy by hitting the photo link below or go to our interview page with Justine Covault
---
And in other news ....
Richie Parsons' Kickstarter for his new album Black Throated Blue is up and going. Let's get in there and give support. The new material is awesome!! The stuff we've heard is an extension of the previous CD but harder sounding and even more production touches.
He's got a short interview clip and a small taste of the song "Six Hours Behind" here. Kickstarter page is here.
The David Bowie exhibit David Bowie Is, at the Brooklyn Museum, has been getting tons of positive reviews by people who've seen it. It's only up til july 15. And tix sell out. Check it out here.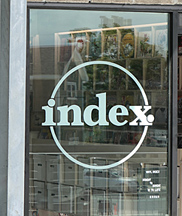 Next time you are in Union Square at Sally O'Brien's, The Greek Club, or PA's Lounge take a look at the alley to the left of PA's. That's called Bow Market and they have a whole slew of new stores in there. Seemingly overnight they have this modern industrial style complex. There's a brewery in there and right now, about 20 small stores. And we mean small! But that gives opportunity for interesting ideas to pop up. And in fact they are doing just that- having a lot of Pop Up stores as well as the permanent ones. There is a record store in there called Index. It's all vinyl. They seem to be the new pressings on quality vinyl. There's just a little 'indie' section but aficionados will find something of interest.
We also want to remember Michael O'Donnell, drummer for The Jabbers and other bands (GG Allin's early band). Michael passed away early this month and was much loved and respected for his love of music and for being an all around great guy! RIP Michael!!!
---
Here's some good shows coming up this week.....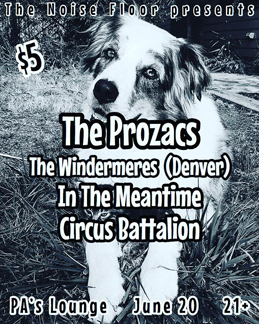 5 June 20 (Wednesday) Blk Squirrl Record Release with special guests Andy California and Sundog at The Midway
June 20 (Wednesday) The Prozacs, In The Meantime, Circus Battalion, the Windermeres at PA's Lounge
June 20 (Wednesday) Reverend Horton Heat, Big Sandy, Lara Hope & The Ark-Tones at Alchemy Provi RI
June 21 (Thursday) There is a all over Boston/Cambridge Music Festival called Make Music Boston, its ALL kinds of music but in particular: The Stigmatics will be playing at the City Square Park Charlestown 7-8PM, Check out their interactive website to see who else is playing and where.
June 21 (Thursday) PowerSlut, Abbie Barrett, Crystal Canyon at Once music starts at 8
June 22 (Friday) Greg Allen's Fringe Religion, Pop Gun, Muck and The Mires and 138 at KOTO in Salem
June 22 (Friday) Tied To A Bear, Duck & Cover, The Von Traps, Not Part of It at Opus in Salem
June 22 (Friday) Worm, The Money$, Crimespree, Jerry's Got Jokes and Zombii (From CT) at The C Note in Hull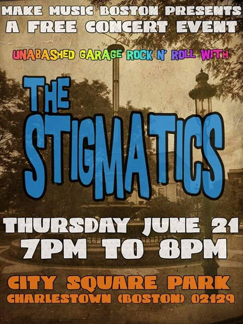 June 23 (Saturday) The Cranktones are playing at the Decordova Museum Fest - set time 3:30!!
June 23 (Saturday) Store 54 Pop Up (Valdez leaves Allston!!) Join Wayne Valdez and guest seller Robert Schnig for a Store 54 pop up store. In our driveway and a ton of stuff on the 3rd floor walk up. Along with items from the collection of the infamous set dresser schnig. Saturday 11am till at least 8 pm. Sunday 10am untill 6 pm. Feel free to byob and hang out as well. Vinyl, books, memorabilia, pop culture artifacts. Tons of paper and photos for collage folks. Magazines ,clothes, promo photos, large rock photo collection, playboy and viva magazines, huge vintage wallpaper collection. And many more unusual items. 14 Harvard Ave Allston. FB page
June 23 (Saturday) Gene Dante And The Future Starlets, Parlour Bells, The Gala, Smitt E. Smitty and special guest DJ Tad from Sidewalk Driver. at Once - 8:15PM show time! (THIS SHOW HAS BEEN MOVED to June 30th.)
June 23 (Saturday) Mr. Airpane Man, GLiDER, Andy California, Shiny Beast, Thigh Scrapers at Club Boho/The Cantab
June 23 (Saturday) The Crank-tones play Atwood's Tavern 10PM
June 23 (Saturday) The 7CS and The Rolling Who, are at the Plough & Stars
June 23 (Saturday) Sky Tigers, Crowfeeder, DNZL at Thirsty First: Tavern & Grill, Lowell
June 24 (Sunday) Opposition Rising Boston Record Release Show! with Not A Part Of It, Infernal Diatribe, Neighborhood Shit, DNZL 4PM matinee show at the Midway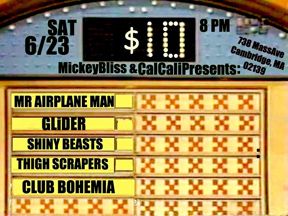 June 24 (Sunday) Supercrush, Black Beach, Big Bite, Strange Passage 6-11PM at 55 Bishop Allen Dr, Cambridge
June 24 (Sunday) The Adolescents, Electric Frankenstein and Duck & Cover at Brighton Music Hall
June 24 (Sunday) Punkcake's Vintage, Kitsch, and Upcycled Market at Ralph's parking lot. PLUS bands like The McGunks, Marko and the Bruisers, Tiny Hueman, Color Killer, Andy Has a Band, 12-5PM FB page
And further out we have...
June 26 (Tuesday) 8 pm -Store 54 - 14 harvard Ave Allston. Bill Sullivan reads from his book Lemon Jail - On the Road with The Replacements, followed by a q and a session. more info to come!!
June 26 (Tuesday) Trophy Lungs Reunion show with Birdwatching, New Warden at O'Brien's Pub
June 26 (Tuesday) POPTONE (Daniel Ash, Kevin Haskins, Diva Dompe) will be performing the music of Bauhaus, Tones on Tail and Love and Rockets at the Middle East Down FB page
June 28 (Thursday) Flatlager CESkidmore CookBag Parkinglot Garbage Dad Frankly Lost at The Greek Club Union Sq Somerville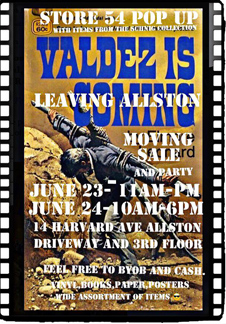 June 29 (Friday) The Fad, Joystick, Brunt of It at O'Brien's Pub
June 29 (Friday) The Hi-End, Fireking, Natty D's are at Sally O'Briens Somerville
June 29 (Friday) Nervous Eaters, The Gamma Goochies, Euphemia at Geno's in Portland, ME
June 30 (Saturday) A Bunch of Jerks, Hambone Skinny, Dragline, The Guilloteenagers at The Midway
June 30 (Saturday) Smitt E. Smitty's new band Smitt E. Smitty is playing at Once along with Gene Dante And The Future Starlets, Parlour Bells, The Gala and special guest DJ Tad from Sidewalk Driver. at Once - 8:15PM show time! (THIS SHOW HAS BEEN MOVED from June 23rd.) FB page
June 30 (Saturday) Goddamn Draculas, Jason Bennett and The Resistance, Art Thieves, Michel Kane and the Morning Afters at Middle East Up 6:30 PM show
June 30 (Saturday) Punk Show at the Hotel Vernon with Jonee Earthquake band, Time Out Timmy, More Beer Please, Mongorellis, The Benedicks, Jimmy Jacked, No Good
June 30 (Saturday) Rockin' Dune Tunes at Whitecrest Beach Wellfleet Cape Cod. It's rocking on the beach – well, the parking lot next to the beach. Line up : Mr Airplane Man, Atlantic Thrills, Shiny Beasts, 5 SPF4. It's FREE & ALL AGES. it starts at 5PM. The town charges to park for the beach until 4:30. Bonfire on the beach after the show. In memory of our friend Trey Helliwell. More info here on FB
July 1 (Sunday) Today Junior, Milk, Dutch Tulips, Soft Pyramids at Great Scott
July 1 (Sunday) G.G. ALLIN 25th Death Anniversary show with The Murder Junkies, Smoking Triples, Jonee Earthquake, They Hate Us, Malcolm Tent at The Dutch Treat Franconia NH Here's the FB page

July 3 (Tuesday) it's another Rock'n'Roll Trivia Night with Erin and Brett!! There's no excuse -"JULY 3, OUR MOST PATRIOTIC ROCK AND ROLL TRIVIA YET! YOU DON'T HAVE TO WORK ON THE 4TH - COME ON OUT AND SLEEP IN TOMORROW!"
July 3 (Tuesday) Appalachian Terror Unit, Hard Charger, City Problems, Boot Rot at AS220 Provi RI
July 6 (Friday) Black Beach, Blood Built Empire, Numbers Have Names at Great Scott
July 6 (Friday) Bloodshot Bill, Jittery Jack & Miss Amy Griffin, DJ Easy Ed are at Sally O'Brien's
July 6 (Friday) Zip-Tie Handcuffs, Graneros, Goddamn Draculas at KOTO in Salem
July 7 (Saturday) Pajama Slave Dancers (reunion) with special guests Trusty Sidekick, Grey Matter (ft. Eric Gaffney), and The Weisstronauts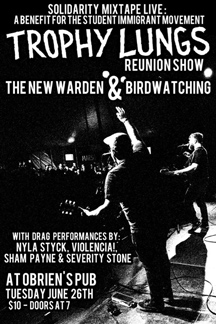 July 8 (Sunday) Step 13, Genuine Rust, The Martians, Cry Havoc at the Midway for a 4-8PM show
July 11 (Wednesday) The Goddamn Gallows, The Koffin Kats, Viva Le Vox at Alchemy in Provi, RI
July 12 (Thursday) Koffin Kats, The Goddamn Gallows, Viva Le Vox at The Middle East
July 12 (Thursday) When Particles Collide, Bad Larry's, Whoopi Sticks, The OK Oks at Opus in Salem
July 13 (Friday) Last Ones and CalCali Band are at Tavern at the end of the world. (Rick must be back from his Grand Tour!)
July 13 (Friday) Fireking, The Grip Weeds, Watts, Modern Day Idols at Thunder Road -get tix here.
July 13 (Friday) The Devil's Twins, Worshipper, Tigerman Woah, Heavy Necker at Once
July 13 (Friday) Morning Afters, The Brave Noise, Jason Bennett & Resistance at Ralph's in Worcester
July 14 (Saturday) il Mostro, Psychic Dog, The Laces, Jim Healey for a 4-8PM show at the Midway
July 14 (Saturday) Zip-Tie Handcuffs, Thompson Springs, Jake Mckelvie And The Countertops, Tyler Berd at O'Brien's Pub
July 14 (Saturday) Walter Sickert & the Army of Broken Toys, The Men That Will Not Be Blamed For Nothing, Frenchy And The Punk, Radiator King at Once Ballroom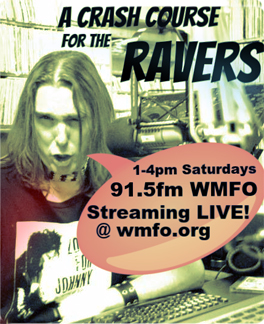 July 14 (Saturday) Revilers, TheVonTraps, LEWD, Pint Killers and Foul Fellows at the Hotel Vernon in Worcester
July 16 (Monday) The Dirty Byrds, Blame It On Whitman, Mojo Rot at The Middle east Up
July 20 (Friday) Crunchtime, Doug MacDonald, Highway Chapel at Sally O'Brien's
July 21 (Saturday) Hub City Stompers, Brunt Of It, Barfight Champs early show at 6:30PM at The Middle East Up
July 21 (Saturday) The Monseiurs are playing Fenway Park with The Foo Fighters!! That should be interesting. Andy won't be able to walk into the crowd for his usual contact.
July 21 (Saturday) It's O'Brien's' Grub Sweat and Beers weekend - Day 1- Saturday is Bible Of The Devil, Sasquatch, Sundrifter, Hey Zeus, Birnam Wood, Scaphism, The Northern Skulls, Labor Hex, The Humanoids, Test Meat, Red Mantis = 15 bucks starts at 3PM
July 22 (Sunday) It's O'Brien's' Grub Sweat and Beers weekend -Day 2 Sunday - Wolfsmyth, Mollusk, The Rupert Selection, The Heave Ho, Witchkiss, Backwoods Payback, Set Fire, Diablogato, Freak On! Starts at 2Pm - 10 bucks
July 26 (Thursday) Distressor, Offside, Psychic Weight, DNZL at O'Brien's
July 26 (Thursday) Radium Girls, Thrust Club, Lonely Leesa and the Lost Cowboys, Yes Commander at Once Ballroom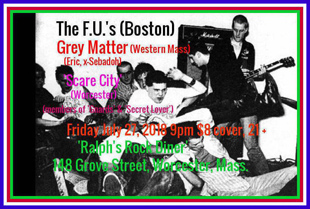 July 26 (Thursday) D.O.A 40th Anniversary Tour at The Middle East Up- doors are at 7PM
July 27 (Friday) The F.U.'s, Grey Matter, Scare City at Ralph's Rock Diner, Worcester
July 28 (Saturday) Punk Night at The Chit Chat with The Radiator Rattlers, Jonee Earthquake Band, Kermit's Finger, Wkeah, The Lipstick Boys at the Chit Chat Lounge Haverhill, MA
July 29 (Sunday) Color Killer, State of the Union, The New Frustrations, The Stigmatics at The Midway for a Matinee Show 4-8PM
August 3 (Friday) Carissa Johnson & The Cure-Alls, The Life Electric, Psychic Dog, The Appleyards at The Middle east Up
August 3 (Friday) Blondie are playing out at Mass MOCA also on the bill And The Kids Mass MOCA page WOW!!
August 4 (Saturday) Scissorfight, White Dynomite, Northern Skulls, Red Mantis at Once Somerville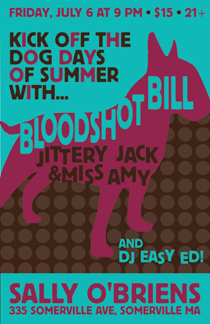 August 4 (Saturday) Descendents w/ A Wilhelm Scream & Pavers at State Theatre, Portland, Maine FB page
August 8 (Wednesday) The Blasters come back to ONCE
August 13 (Monday) Agent Orange, Fea, and more at Ralph's Diner in Worcester FB page
August 15 (Wednesday) Agent Orange are at the Brighton Music Hall TIX! Silver Screams will be opening up for them. TIX here.
August 16 (Thursday) Agent Orange w/ FEA, MOTO and Zero Holds at Alchemy in Provi, RI
August 16 (Thursday) Michael Kane & The MAs, Reverand Dan, Volstead Act, Jonee Earthquake at the 13th Floor Music Lounge -JJs Tavern Florence, MA
August 24 (Friday) Lyres, Glider, Pop Gun, Knock Ups at Koto in Salem
August 25 (Saturday) Stop Calling Me Frank, Hi-End, The Stigmatics, The Legendary Cazbats at Club Boho at The Cantab
August 26 (Sunday) Sunday Matinee with Reason To Fight, Abductors, BFC, Pint Killers at the Midway 4-8PM
August 28 (Tuesday) In The Whale, Tied To A Bear, Blood Built Empire at O'Brien's Pub
September 8 (Saturday) Richard Mirsky's CD Release Party at the Midway (night show)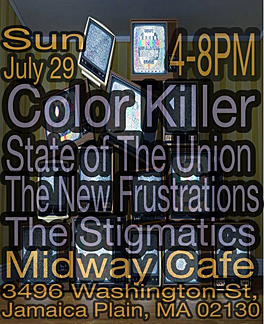 September 9 (Sunday) Slim Cessna's Auto Club and Kid Congo Powers at Once - music starts at 8:30
September 9 (Sunday) The Queers, The Prozacs, CityState, Color Killer, Wretched Hive at the Waterfront Tavern Holyoke MA FB page doors at 7Pm
September 11 (Tuesday) Killing Joke on their 40th Anniversary Tour at the Paradise FB page
September 12 (Wednesday) Cheetah Chrome's new Dead Boys, The Ghost Wolves at Sonia.
September 13 (Thursday) Fall-Fest 5 Day 1: featuring The Avengers! also on the bill - Silver Screams, Boot Rot, City Problems and a bunch more bands. It's at Alchemy. Music starts at 8PM Here's the FB page
September 13 (Thursday) Hudson Falcons, Genuine Rust, Sonic Libido and more TBA at This is an ALL AGES Matinee! at Thirsty First: Tavern & Grill, Lowell.
September 18 (Tuesday) Cheetah Chrome's "Dead Boys" with The Ghost Wolves are at Sonia
September 18 (Tuesday) ALL AGES MATINEE- 1-6PM : Hudson Falcons, Genuine Rust, Sonic Libido, Losers Circle at the Thirtsy First Tavern in Lowell.
September 28 (Friday) Stop Calling Me Frank, Soraia, Hambone Skinny & The Connection at Sally O'Brien's
October 12 (Friday) Salem Horror Fest After Party with Diablogato, Gray Bouchard and the Dedications and Petty Morals at Opus in Salem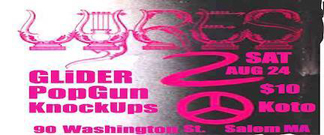 October 18 (Thursday) The Proletariat, Savageheads, Silver Screams at Sonia
October 20 (Saturday) Nervous Eaters, Indonesian Junk, Duck & Cover at the Middle East Up
October 27 (Saturday) Lyres, GLiDER, the modifierS at The Middle East Up- Early show doors at 6:30PM
October 27 (Saturday) The Descendents w/ Teenage Bottlerocket at The Palladium in Worcester FB page for tix etc
November 2 (Friday) Roky Erikson at Once. Tix here.
November 10 (Saturday) The FUs, GLiDER, Classic Ruins at Club Boho @ The Cantab. This is show 1 in a series called The Rosebud Rocks...remembering and celebrating our beloved Rosebud in Davis Square that was sold 4 years ago.
CONTACT US AT....misslynbgn@yahoo.com Send us your gig listings, your news and anything else ya got!! You want your CD reviewed?? Contact us for that too.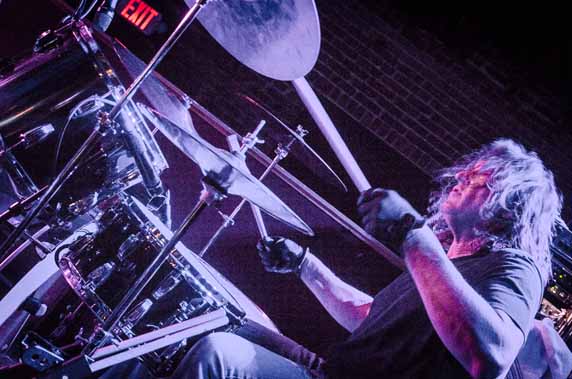 Jim Janota - Justine and the Unclean
Photo:John Keegan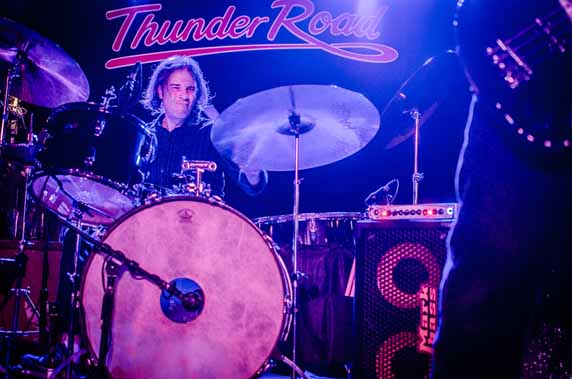 David McLean - Nervous Eaters
Photo:Blowfish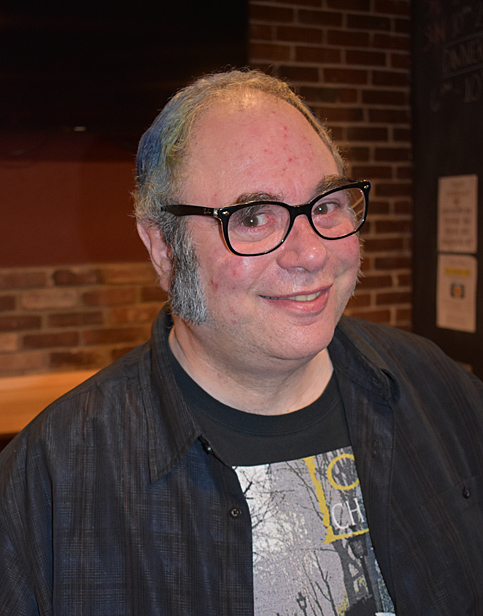 Arthur Freedman sports some blue hair
Photo:Blowfish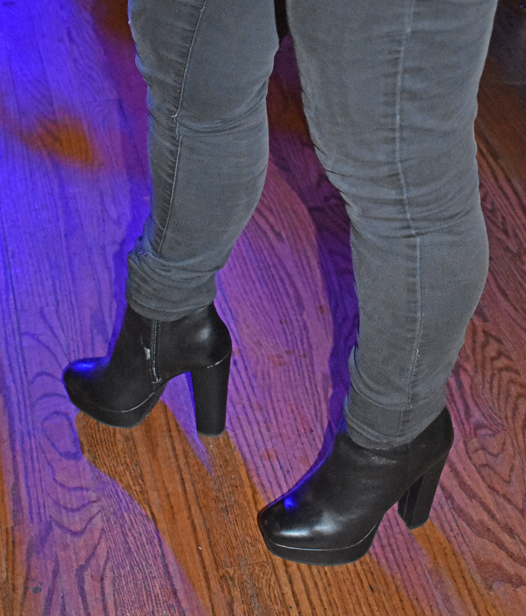 Sarah Billingsly gets high with 8 inch heels
Photo:Blowfish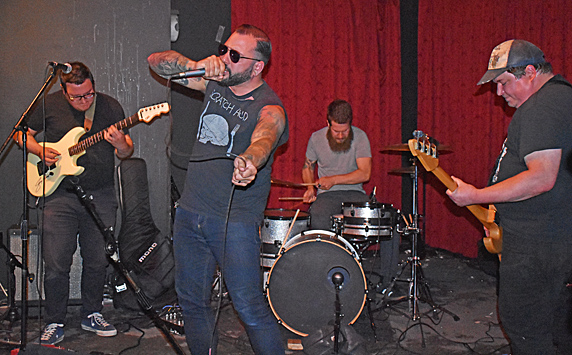 Myocastor Coypus
Photo: Blowfish
The Dickies
Photo: Blowfish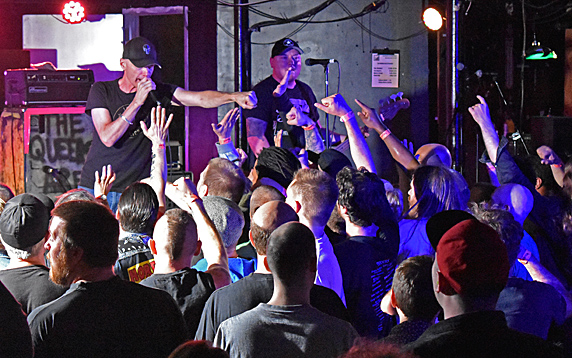 The Queers
Photo:Blowfish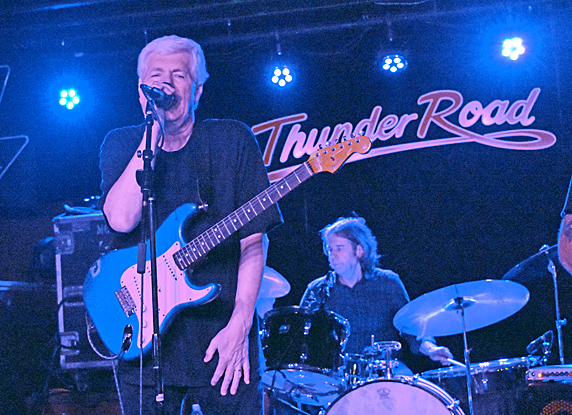 Nervous Eaters
Photo: Blowfish